hi there I love creating free content full of tips for my readers, you. I don't accept paid sponsorships, my opinion is my own, but if you find my recommendations helpful and you end up buying something you like through one of my links, I could earn a commission at no extra cost to you.
Learn more
Everyone has to start somewhere, and it would be nice to get a guitar that won't get in the way of learning it best you can.
As a beginner, you probably don't want to spend too much money, but even for your budget, there's a couple of great instruments that can help you as a beginner to progress.
Discover some really good ones in this article on the best guitars for beginners.
Choosing your first guitar is such a great moment.
However, it can also be quite a daunting process. After all, you don't want to make the wrong choice, waste your money, and get stuck with a beginner guitar that doesn't suit your playing style.
But fear not, in this guide I've made a selection of the best guitars for beginners. Whether you're looking for an acoustic or electric guitar, I've got you covered.
Many beginning guitarists choose to start with an acoustic guitar. It is certainly the cheapest option, you do not have to buy a separate guitar amplifier and you can start playing immediately.
Electric guitars also have more components to learn and understand, but they are also more versatile, especially if you want to play rock or metal, so those are great guitars for beginners too.
Fortunately, there has never been a cheaper or more convenient time to get started with the electric guitar.
The quality available for this price range is better than ever. Some of these beginner guitars just might be lifelong companions, so investing just that little bit more might be worth it.
Let's take a look at the top choices real quick, after that I'll discuss your options a little more in-depth:
Before I get into the full product list, I also have some more advice to help you choose the right beginner guitar.
Top choices
While every guitar in the list is more than worthy of its place, there are a few that stand out above the rest.
Overall Best Electric Guitar for Beginners
If you're looking for a great beginner electric guitar then I'd recommend this Squier Classic Vibe '50s Stratocaster.
Right at the entry level is Squier's Affinity range, which are decent guitars, but just above that is the Classic Vibe range which is ahead of the game in terms of value.
The combination of excellent build quality, excellent tones and stunning looks makes for an attractive package, and one that you are unlikely to grow out of anytime soon.
Overall Best Acoustic Guitar for Beginners
In terms of acoustic guitars, this Martin LX1E is one of the best guitars for beginners and an excellent instrument for players of any age or skill.
Its smaller size makes it portable, but this guitar still squeezes out an impressive volume.
Martin's craftsmanship is also excellent, meaning the LX1E can easily last your entire playing career.
Yes, it is slightly more expensive than your usual beginner guitar, but in terms of sheer value, the Martin LX1E is unparalleled.
How to choose a beginner guitar
It can be difficult to know what to look for when researching good guitars for beginners for the first time. It can therefore be helpful to review some of the options you have and how they best suit your needs.
Acoustic vs Electric Guitar
First of all, the choice you have to make when choosing a beginner guitar is whether you want to go acoustic or electric.
While both provide the experience you're looking for, there are some fundamental differences.
The most obvious is the sound:
Acoustic guitars are designed to operate without amplification. This means they are much louder and do not require additional peripherals to operate.
Electric guitars, on the other hand, can be played without being amplified, but you will find them much quieter. However, plug one into an amplifier and everything changes.
By the way, I always liked the extra quietness of an unamplified electric guitar when practicing in my room in the past so that I didn't disturb anyone late at night and still could practice my riffs, which is not possible with an acoustic guitar.
In terms of ease of play, you will likely find that electric guitars are easier to handle due to their thinner necks and smaller form factor and they are also a bit more forgiving in terms of engineering due to being amplified.
What you need to know about beginner acoustic guitars
When looking for an acoustic guitar for beginners, there are a few factors to consider. body shape is perhaps the most important. Larger body guitars produce a much fuller, rounder sound with pronounced bass tones.
These are great for strummers or anyone looking to join a band with chords. The downside is that they can be cumbersome, especially for less experienced players.
Smaller acoustic guitars are easier to handle, but also have a softer (which isn't too bad) and thinner sound with less bass. However, this may not be a problem if you play fingerstyle, for example.
The famous dreadnought shape, arguably the most common, strikes a good balance between size and projection and is a good place for most beginners to start.
Aside from body shape, you'll want to look at the guitar's neck and fingerboard, and the distance between the strings and frets.
I have seen so many times when someone who wants to learn to play guitar drops out because they are put off after playing acoustic guitar strings that feel like steel wire and need to be pressed way too hard for a beginner.
For this reason, electrics are often a better bet for many learners, especially those with smaller hands.
What you need to know about electric guitars for beginners
If you've decided to start with an electric guitar, the choices are much wider and more varied.
Electric guitars come in many different shapes and sizes, but there are a few basic points that are common to any guitar.
Assuming you want to play plugin, you'll want to check out the guitar's pickups. These are the devices that translate your game into an electrical signal that an amplifier converts into sound.
Single coil pickups are versatile and suit many different playing styles such as rock, jazz and blues (and my favorite twist on funk!).
Humbuckers, on the other hand, produce a thicker, rounder sound that works well vfor heavier styles of music such as hard rock and metal.
Electric guitars also have thinner necks than most acoustic guitars, which make them a good choice if you're a beginner.
I actually had to start out on acoustic guitar because the music school here didn't start teaching electric guitar from age 14 for some reason.
But electrics do make the best guitars for kids and people with small hands because of the easier necks, especially 'short scale' models like the Bullet Mustang I'll talk about a bit more in the review section.
A shorter scale means the frets are closer together, making it a bit easier to play chords and reach more notes.
At the start of your playing career, some factors that more experienced players prefer, such as different woods for bodies and necks, are less important to consider when it comes to choosing the best beginner guitar.
The most important thing in starting is to find a guitar that is comfortable, sounds good, and just plays nicely to keep you coming back to it.
As with anything you get what you pay for, but with this list of the best guitars for beginners, I think I've hit the sweet spot between price, performance, and playability.
These are the best guitars for beginners right now, I'll break them down into electric and acoustic:
Best Electric Guitars for Beginners Reviewed
When choosing a good beginner electric guitar, you probably have a small number of criteria that you are looking for.
Of course you want it to be easy enough to practice on, and you probably want an electric guitar that can withstand the rigors of being transported from home to guitar teacher to band without falling apart.
In any case, that is the minimum requirement.
Fortunately, an electric guitar for beginners can be so much more than that today and there are already beautiful instruments available in different price ranges.
Novice guitarists are frankly spoiled these days in terms of the range, quality and performance of entry-level instruments. So whatever you want to learn, there is always something for you.
But with so many choices, it can be difficult to know where to start, especially when you come to the guitar world with completely fresh eyes.
Therefore, here are my recommendations:
Overall best beginner guitar: Squier Classic Vibe '50s Stratocaster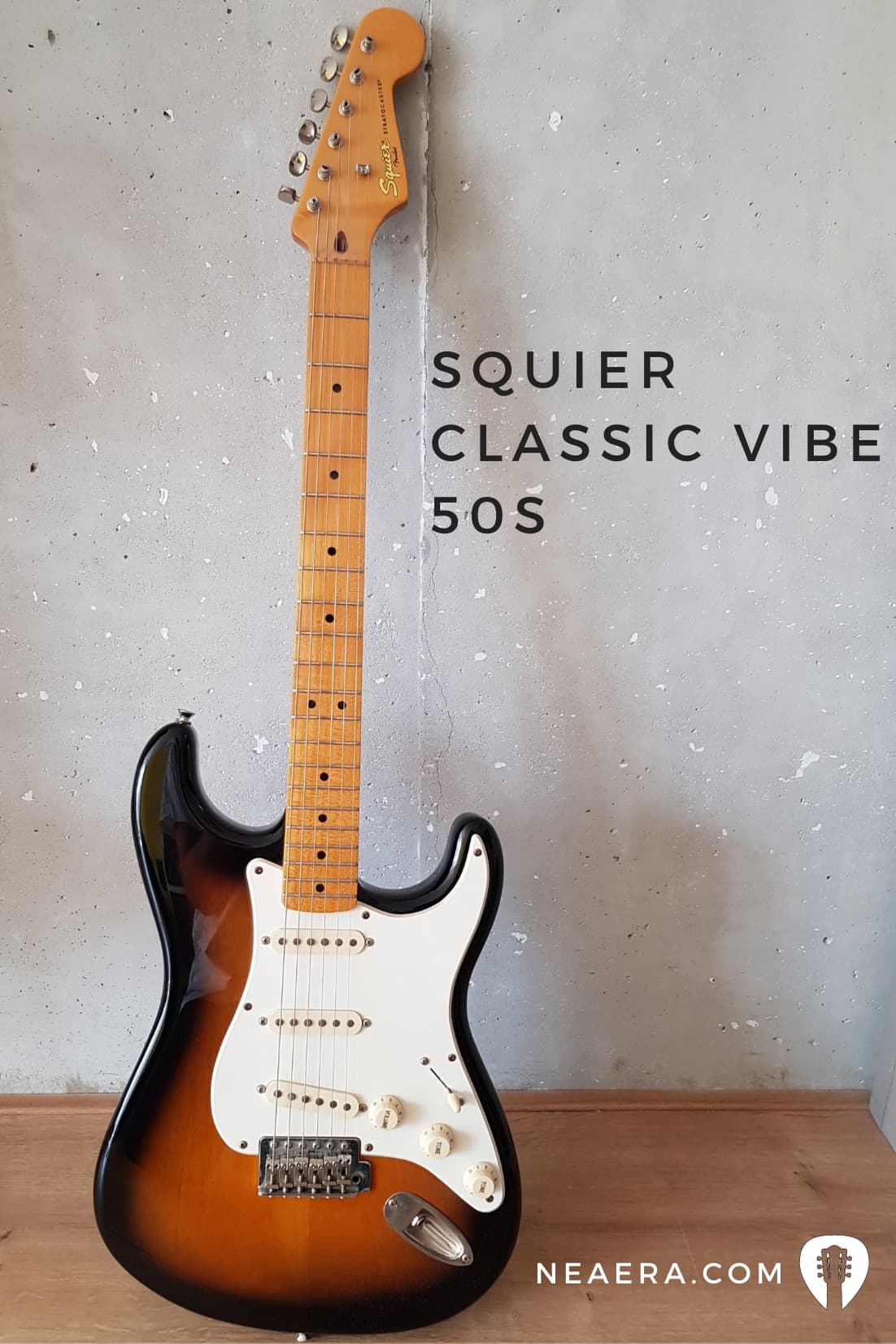 Body: nato
Neck: Maple
Scale: 25.5 "(648mm)
Fingerboard: maple
Frets: 21
Pickups: Fender Designed Alnico Single Coils
Controls: Master Volume, Tone 1. (Neck Pickup), Tone 2. (Middle Pickup)
Hardware: Chrome
Left-handed: Yes
Finish: 2-color Sunburst, Black, Fiesta Red, White Blonde
If you are just starting to play and have no idea what style you want to play, the stratocaster is probably the best option for you because of its versatility and the tone you are likely to hear in a lot of your favorite music.
Maybe you already know specifically what you want to play, for example I also reviewed metal guitars for beginners in this article, because then you need something different than this Squier.
But then which strat should you buy?
The Classic Vibe '50s Strat is definitely a looker, a classic look that is, and it offers a little more quality than the entry-level Affinity range Squier produces. It is a little more expensive but so worth it for the better build quality and pickups you get.
I wouldn't buy the Affinity guitars, my preference in a lower price range Strat goes to the Yamaha 112V or even the 112J I'll talk about in a bit.
I particularly like the vintage tuners and the tinted slim neck, while the sound range of the Fender designed single coil pickups is great.
It's slightly more expensive than Affinity guitars, but the accompanying leap in overall quality makes this a value-for-money guitar.
I would go so far as to say that the Classic Vibe range as a whole has much more expensive guitars, including Fender's own Mexican range, offering some formidable competition.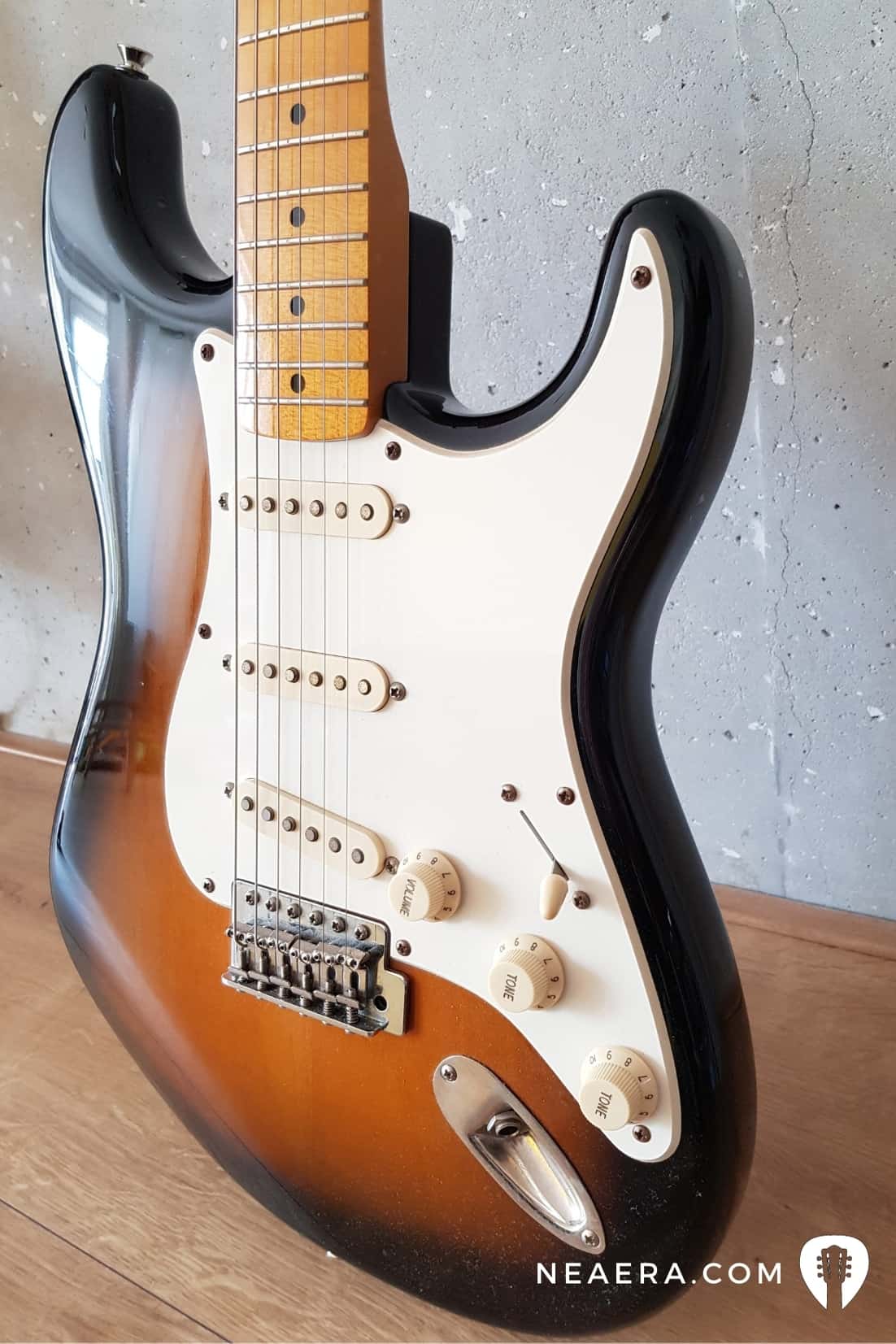 My very first electric guitar was a Squier, along with an amplifier, and it lasted a long time.
After that I switched to a Gibson Les Paul because I was increasingly interested in the Blues Rock regions at the time, but the Squier had always remained the faithful funk companion.
The Affordable Strat Experience
Excellent price / quality ratio
Authentic looks
But not many extras for this price
It's a really nice beginner Squier that will grow with you for a long time to come and I would certainly invest a little more in this one than in the Affinity range so that you have a guitar for life.
Check the latest prices here
Best Les Paul for beginners: Epiphone Slash 'AFD' Les Paul Special-II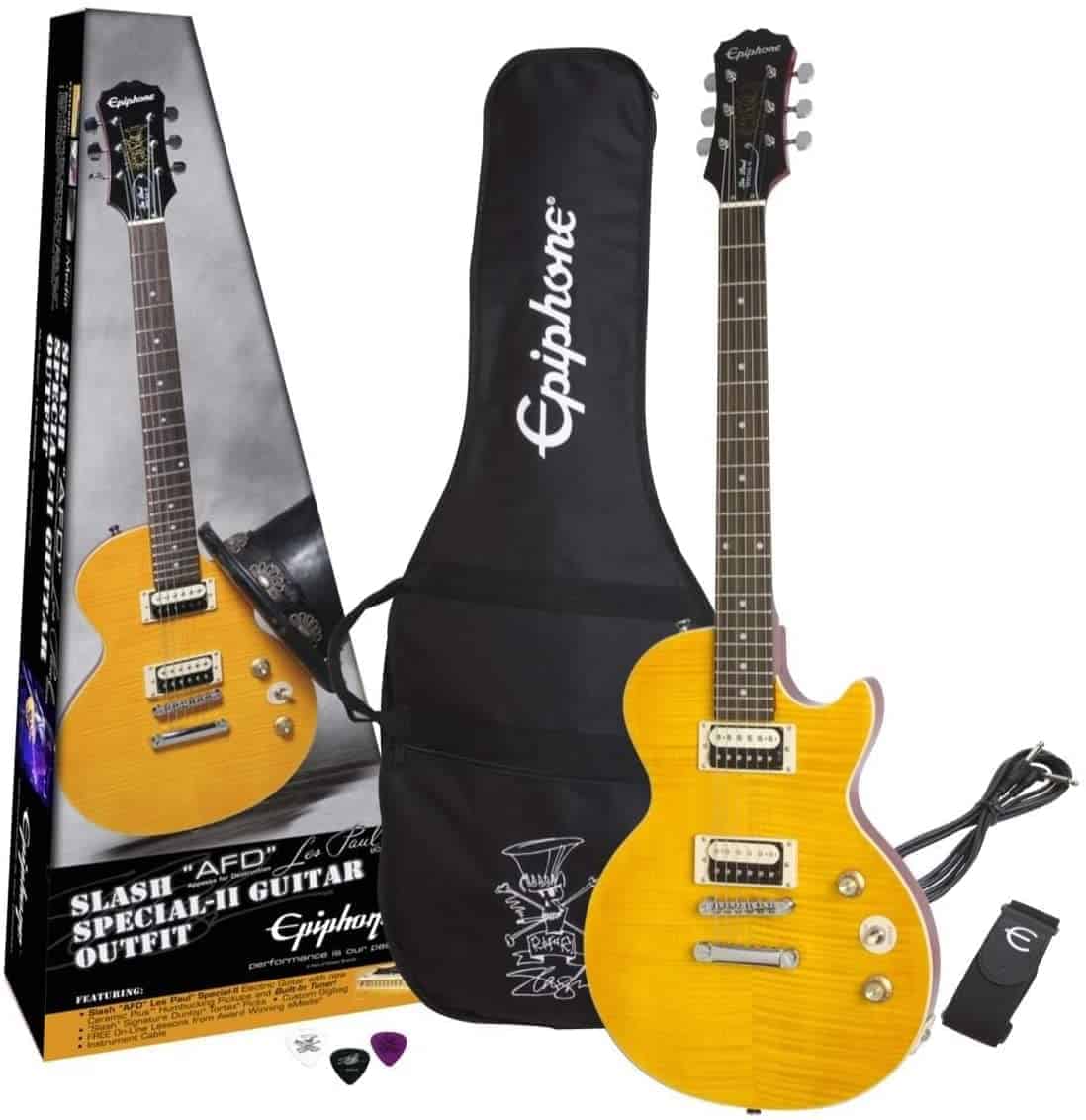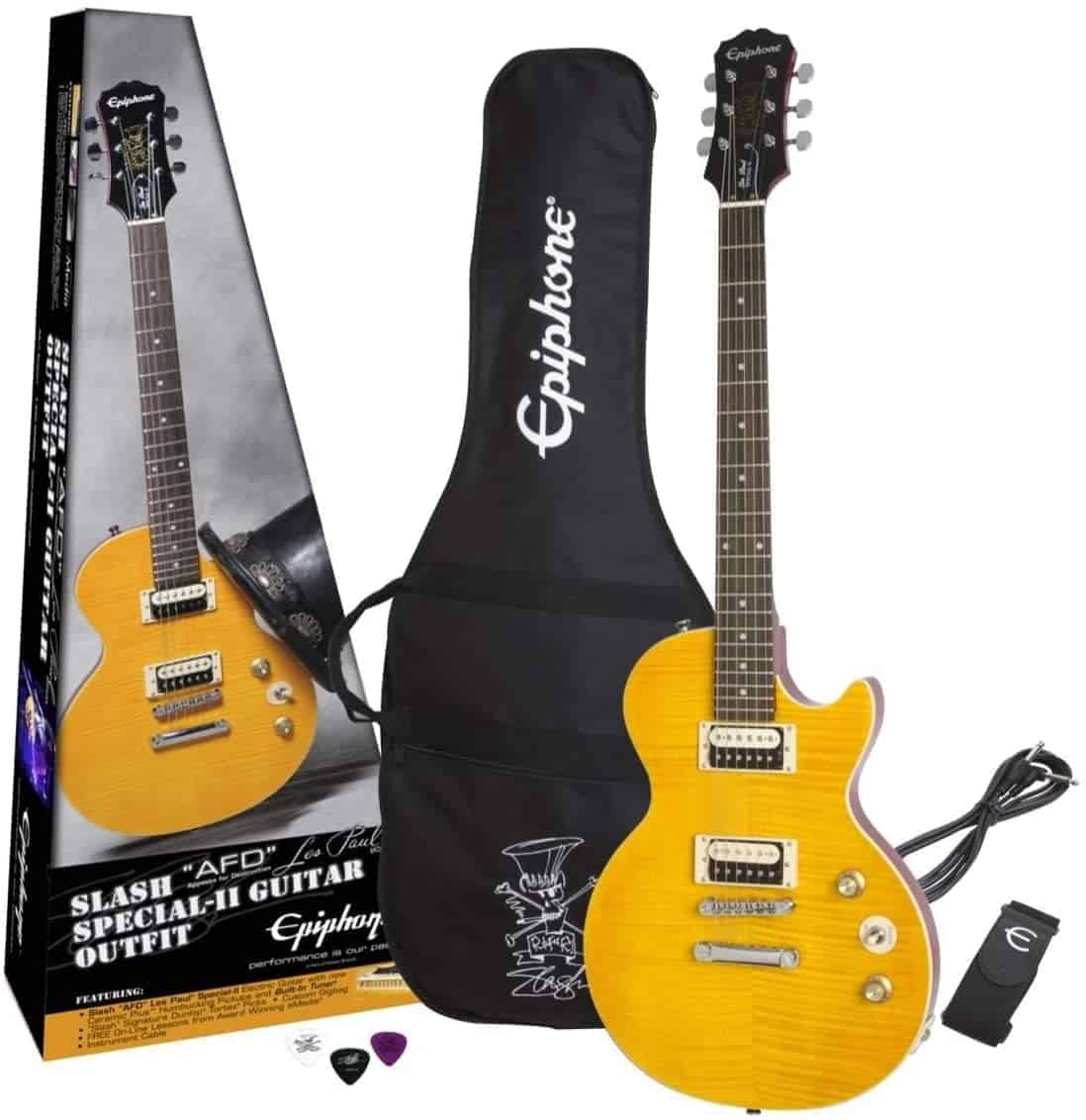 Okoume AAA flame maple body
Okoume neck
24.75″ scale
Rosewood fretboard
22 frets
2 Epiphone CeramicPlus pickups
Volume and tone pots
3-way pickup selector
Shadow E-Tuner on pickup bridge ring
14: 1 ratio tuners, Tune-O-Matic bridge and Stopbar tailpiece
Left-handed: No
Finish: Appetite Amber
This Slash-model is aimed at guitarists who know they want to start out in rock, and it definitely offers the look of everyone's favorite Guns N 'Roses guitarist.
To match the looks with an incredible sound, they added two Epiphone Ceramic Plus humbuckers.
Since they know it's aimed at beginner guitarists, there's also a Shadow E-Tuner built into the bridge's pickup ring, which you can activate with a simple push of the button on the ring.
Here's Dagan from PMTV showing it off:
While you can buy tuners for the headstock or already have access to one in many of your favorite multi-effects pedalboards (which you should also get as a beginner guitarist), it is incredibly useful for beginners to always have a tuner on hand.
The action (how high the strings are) is low enough for beginners and suits most players, and the pickups can get a nice high gain, enough for a good rock guitar tone, although the neck humbucker is a bit dark and muddy at times.
Excellent quality for the price
Simple control system: great for beginners
Built-in tuner
But a muddy sounding neck pickup
It is the best Les Paul on our list but not the best overall, but any doubts you might have will fade away when you see the low price tag on this instrument.
Check the latest prices here
Best cheap beginner guitar: Squier Bullet Mustang HH

Basswood body
Maple neck
24″ scale
Laurel fretboard
22 frets
2 high-gain humbuckers
Volume and tone pots
3-way pickup selector
Modern hardtail bridge with standard tuners
Left-handed: No
Imperial Blue and Black finishes
The original Fender Mustang was a cult classic, loved by alternative bands throughout the 90s. Guitarists like Kurt Cobain loved it for its short scale and looks.
This is yet another guitar from Squier that made it on our list, but the Bullet Mustang is aimed at a lower price segment than the Classic Vibe series.
Like most of Squier's entry-level guitars, it features a basswood body, known to have this great light feel to it.
Having a nice and light body and a short 24-inch scale length makes it a good choice for beginners and for kids.
The original Mustang didn't have 2 humbuckers but they wanted to add a little more versatility out of the box, with a sharp crystal tone in the bridge position and a warmer growl in the neck.
Here GuitarGeek shows what it sounds like:
It has a bolt-on maple neck and a solid six-saddle hardtail bridge which makes this guitar very sturdy for those wanting to do some heavier music, and the tuners are pretty decent in holding the correct pitch.
Short scale length is great for beginners
Lightweight body
Comfortable neck and fingerboard
You will want to upgrade the pickups at some point if you plan on keeping this guitar as you progress because they can be a bit disappointing.
Check the latest prices here
Best semi-hollow body guitar for beginners: Gretsch G2622 Streamliner

Body: Laminated Maple, Semi-Hollow
Neck: Nato
Scale: 24.75 "
Fingerboard: rosewood
Frets: 22
Pickups: 2x Broad'Tron humbuckers
Controls: Neck Volume, Bridge Volume, Tone, 3-Way Pickup Selector
Hardware: Adjusto-Matic bridge, 'V' stop tail tailpiece
Left-handed: Yes: G2622LH
Finish: Walnut stain, black
The Streamliner concept is no-nonsense: make an affordable Gretsch without losing its specific sound and feel.
And Gretsch did that with the Streamliner for its semi-hollow design. This gives you a little more volume just playing it without an am (it's no acoustic mind you) and offers a nicer, less aggressive tone than a solid body guitar when plugged into an amp.
The sound it produces is great for softer blues and country style music.
This type of guitar does have a somewhat thicker neck than the other electrics I've covered here, so it's not one of the best guitars for small hands or for kids.
The build of this G2622 gives a bit of a different sound and resonance than other models from Gretsch, which makes it more versatile but less of the authentic Gretsch sound, so I've added it to the list, not as the best cheap Gretsch but as a versatile semi-hollow for beginners.
The sound more leans towards the recordings you might here from a classic Gibson ES-335.
Here Dawson's Music shows him with a distorted and a clean sound:
The Broad'Tron humbuckers look the part and provide ample output for numerous styles.
Build-to-price ratio is very high
Hotter pickups broaden the sonic potential
Center Block increases usage at higher gain / volume
A bit light rickety tuners
If you want an affordable semi-hollow body, this is one of the best affordable electrics out there.
Check prices and availability here
Best Fender (Squier) alternative:  Yamaha Pacifica 112V en 112J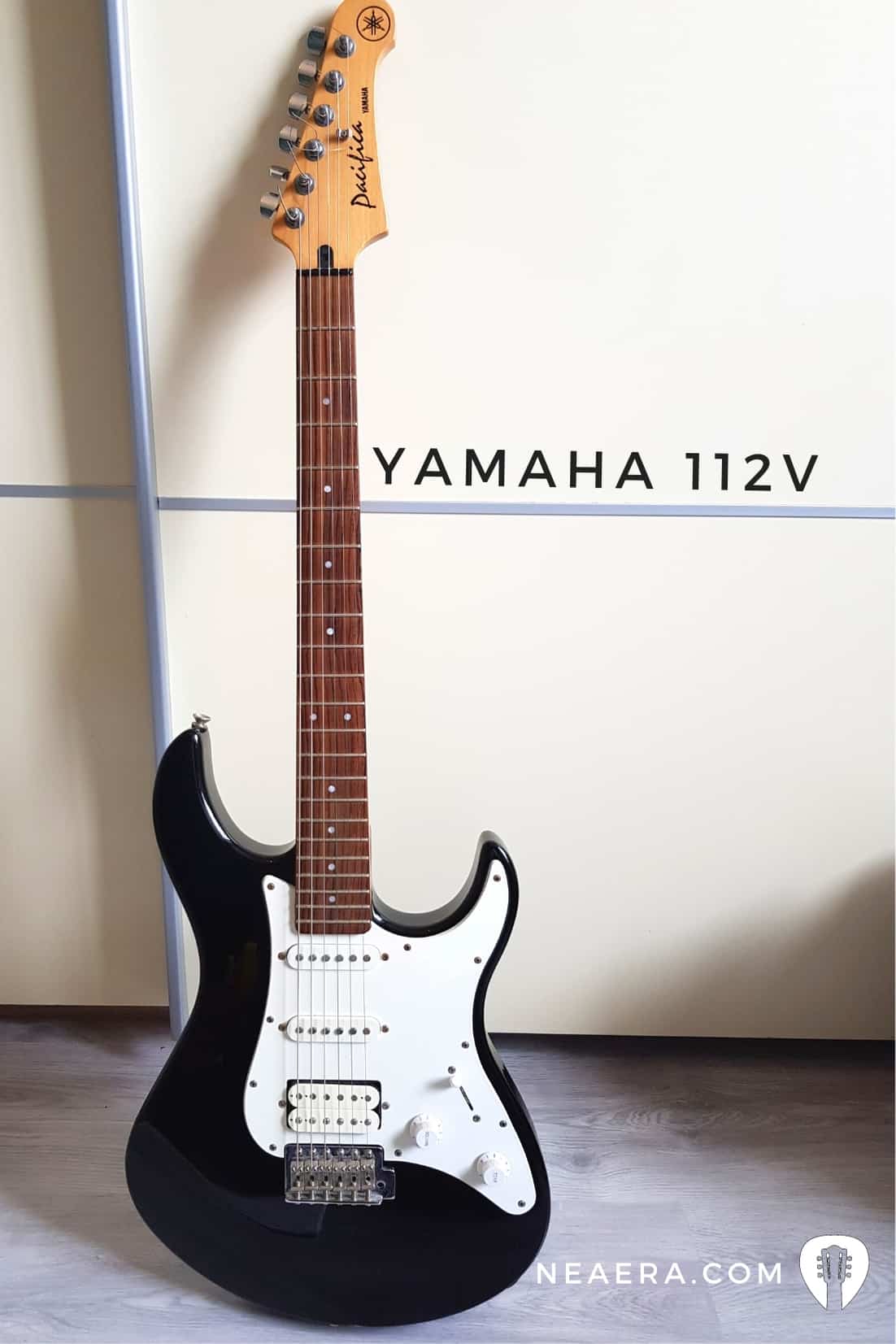 Alder body
Maple neck
25.5″ scale
Rosewood fretboard
22 frets
Alnico V humbucker in the bridge position, 2 Alnico V single-coils in middle and neck positions
Volume and tone pots (with push-pull coil split on the 112V)
5-position pickup selector switch
Vintage vibrato bridge with block saddle
Left-handed: Yes (Pacifica 112J only)
Natural Satin, Sunburst, Raspberry Red, Sonic Blue, Black, Metallic Silver finishes
Here you can see my review of this Pacifica:
If you're looking for good budget options for an electric guitar, you've probably come across the Yamaha Pacifica name a few times.
It ranks alongside the Fender Squier series of guitars as one of the most popular in the price range due to its quality construction and excellent playability.
The Yamaha Pacifica has long set a benchmark for quality and the 112V remains one of the best guitars for beginners.
Far from being a luxury guitar, the 112 just focuses on the bare necessities of life, which is what you want if you don't want to spend too much as a beginner.
Nevertheless, the construction is of excellent quality. Believe me, if you take good care of it this will be a guitar for life and one of my beginner guitars (the second one I ever had) was a pacifica, but a telecaster model.
The design makes it a more modern, brighter and lighter take on a hot-rod Strat. But when I say brighter, it doesn't mean overly shrill.
The bridge humbucker will pleasantly surprise most; it's beefy without being too mid-tone heavy, and has a coil split on the 112V, which essentially transforms its bridge humbucker into a single coil, for more versatility.
The single-coils have great twang and tone with plenty of percussion for funky style licks, and are easily moldable with a little extra gain from your amp to get a nice growly blues sound.
Neck and middle combined produce a nice modern Strat-esque mix and the added clarity will cut nicely through a multi-FX patch.
Ideal for beginners
Impressive build quality
Modern sounds
The vibrato could be a bit better and I wouldn't use it too much
But what's the difference between the Pacifica 112J and the 112V?
Originally developed in the 1990s, the Yamaha Pacifica series has become one of the best-selling entry-level electric guitars.
They sound great, the price is excellent (much under $ 200 although I wouldn't recommend those) and they look great.
Although the guitars are built in Asia, which is often considered a negative, the level of quality in the production is astonishing.
It's probably the main reason it's such a popular guitar, they are always good no matter which one you pick up. Provided you choose the right series.
Clearly, Yamaha has put a lot of thought into the design and manufacture of this guitar, leading me to believe that with proper care, this guitar will last a lifetime.
Yamaha Pacifica vs the Fender (or Squier) Strat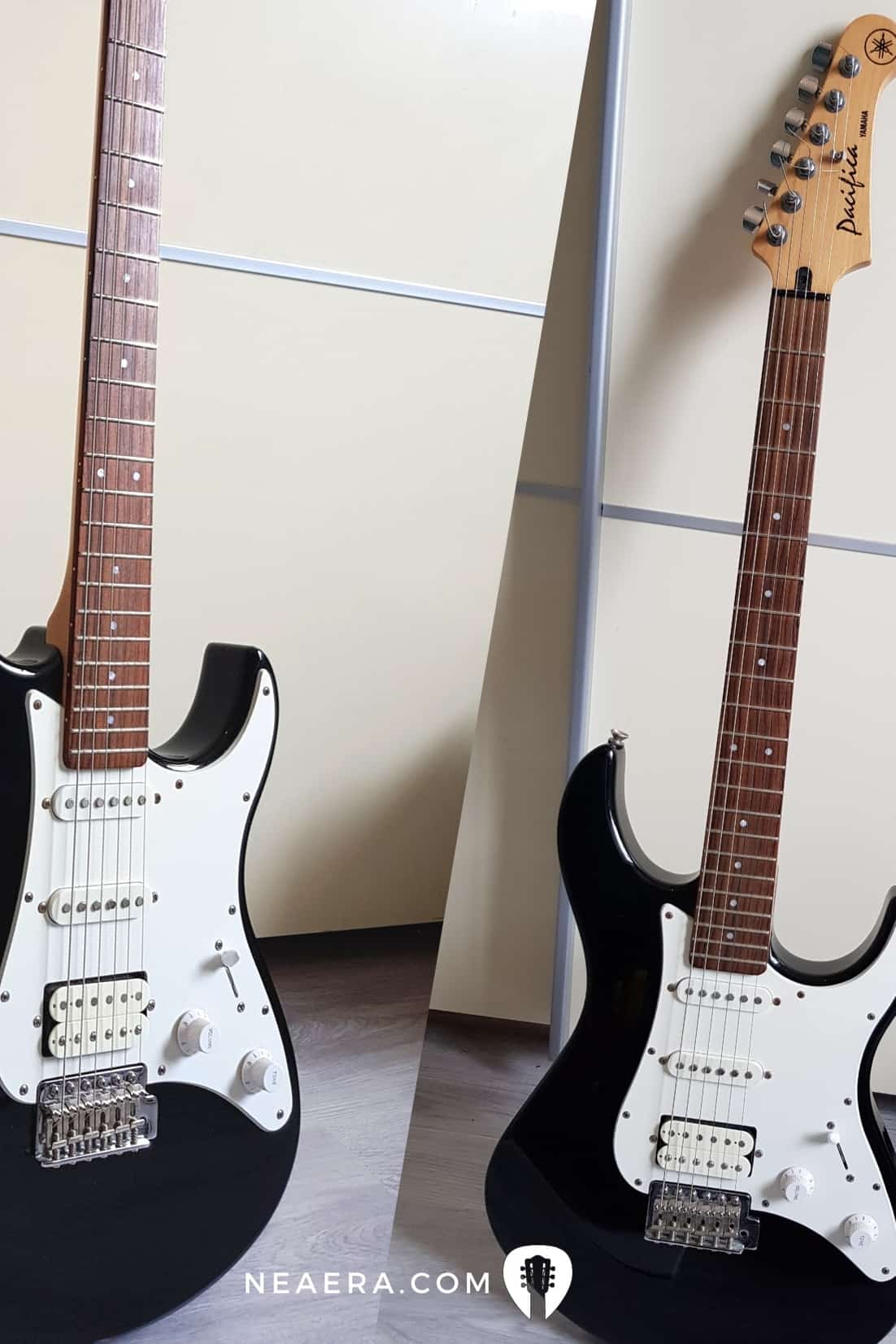 Most of the Pacificas you will see are modeled after the Stratocaster body, although there are quite a few differences worth noting.
First, although the body is similar, if you look closely, not only are the horns longer on the Pacifica, but the contours aren't as pronounced either.
Instead of connecting the guitar to the pickguard on the front as is usual on the Strat, the Pacifica has the plug on the side.
Finally, one of the biggest differences between the Stratocaster and the Pacifica is the pickups.
While Stratocasters are equipped with three single-coil pickups, the Pacifica works with two single-coils and one humbucking pickup (which can be configured to act as a single coil on the 112V).
It's hard to say which guitar – the Squier Strat or the Yamaha Pacifica – would be a better entry-level guitar for you.
Guitarists have noted that they have their own unique tones and since some models are the same price it really is up to the individual player to decide which style to prefer, but in particular the difference will be in whether you want the humbucker.
If I were to describe the Yamaha Pacifica in a few words, I would probably choose words like "versatile", "bright" and "stylish".
Due to the coil split for the humbucker at the bridge, which you can change by pushing or pulling one of the buttons, you have the choice between a brighter country sound or a deeper rock sound.
Both have a character that is both surprising and fun. Please note that this is possible with the 112V, and not with the 112J.
I must say that the only sad thing is that when you switch between a single coil, for example in the neck position, to the humbucker in the bridge, the volume also gets a bit louder.
You might be able to use this in your solos, but I find it a bit annoying to keep the same volume level.
The changes in tone while playing with the different pickup settings are often subtle, but the balance between midrange, bass and treble doesn't disappoint.
The Pacifica lends itself to more lead play thanks to a slightly different fret radius. It has a rounding on the top edge of the fingerboard and a satin finish. The neck is supple and comfortable and feels incredibly stable.
Of course, the sound of each model will vary within the Pacifica Series. But overall, you can trust it to be a well-constructed, great-sounding electric guitar.
The 112 is the next step up on the 012 and is generally a more popular electric guitar. Aside from the standard alder body and rosewood fingerboard, the 112 also comes with more color options.
The difference between the Pacifica 112J and the Pacifica 112V is the use of the Alnico-V pickups. They are a higher quality choice that you pay a little more for.
Aesthetically, there is also a slight difference in the size of the pickguard. As well as the use of plastic buttons (112J) over the classier metallic (112V).
While Yamaha isn't known for their line-up of electric guitars (the most popular Yamaha guitars I've reviewed here are almost all acoustic), the Pacifica is an excellent exception to that rule.
They are well made and have endured nearly three decades of research and use.
For those looking to buy their first guitar and not want to spend a lot of money, the Pacifica 112 is an excellent option that you won't be disappointed with (comes in black, dark blue, and dark red).
If you manage to get a little more out of your budget, upgrading to the 112V will be a better investment in the long run.
Check the latest prices here
Best beginner guitar for metal: Ibanez GRG170DX
The best electric guitar for aspiring metal-heads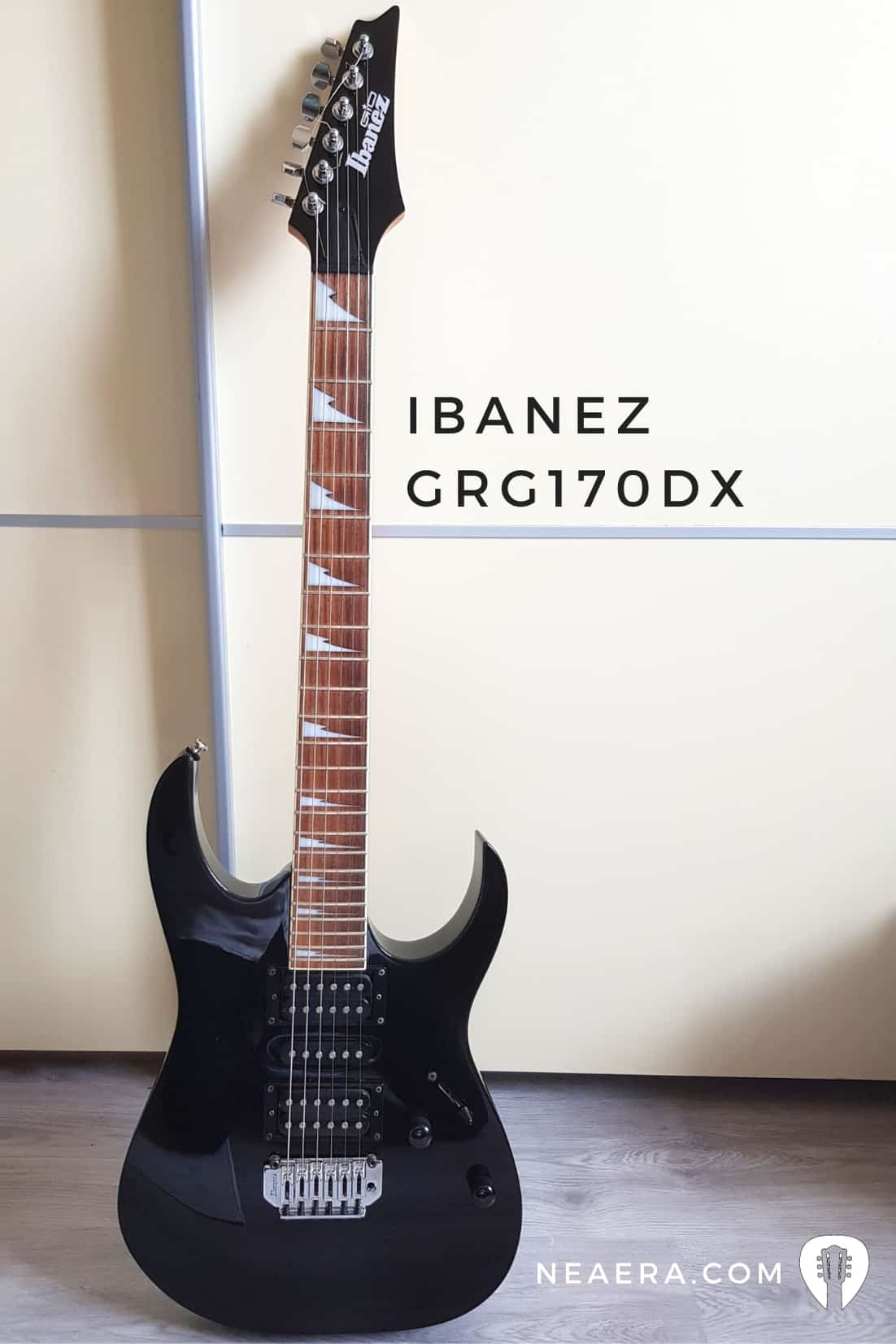 Neck Type: GRG Wizard
Body: Basswood
Frets: Medium frets
Fingerboard: Bound Rosewood
Inlay: Sharktooth inlay
Bridge: FAT 10 bridge
NeckPU: PSND1
MiddlePU: PSNDS mid
BridgePU: PSND2
It is a classic Ibanez metal guitar with a basswood body, medium frets on a rosewood fingerboard, and the iconic Sharktooth inlays that give it an instant metal look.
The sound is quite good considering the price with its PSND pickups. It's nothing special, but it's not bad. The neck humbucker has a fairly nice round sound but is a bit muddy when used on lower strings.
If like me, you like to switch from the bridge to the neck humbucker when you go to higher notes in riffs or in your solos, it gives a nice full sound.
The middle single-coil is a bit pointless because it doesn't sound that good to play with a lot of drive and if you want to get a kind of bluesy sound then this pickup sounds too metal-ish.
For a blues sound, it is better to use a different guitar, although in combination with the bridge it sounds very good for a clean setting.
The sustain on this guitar could be better as the notes drop dead in about 5 seconds, but overall the sound isn't bad in this price range.
This guitar is very easy to play compared to other guitars (some even more expensive) that I have played. The action is low and there is not much friction on the fingerboard.
The guitar also has 24 frets which come in handy from time to time, although the 24th fret is so small that it is very difficult to play and won't last for more than a second or two.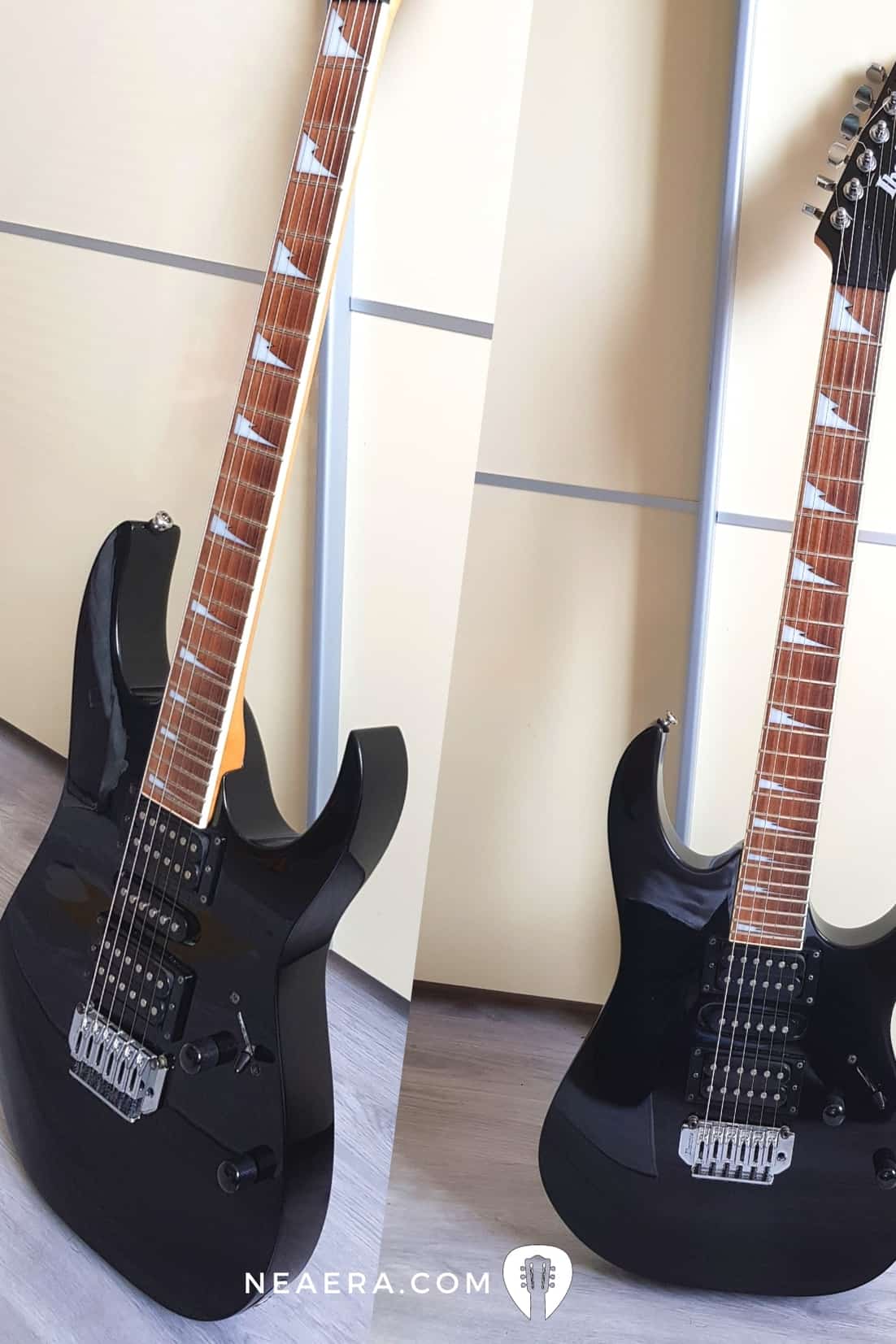 The tremolo on the guitar sounds fine, but don't expect any miracles from the tuning. If you want to take dive flights a la Steve Vai then your guitar will certainly come back up in tune, but for smaller whammy's it is doable.
The super-strat shape, Sharktooth inlays, and gloss black finish are very nice and the back of the neck is a light wood with cream binding.
This is quite a good guitar for its price for the entry-level metal fan and although the floating bridge takes a bit of getting used to with tuning it is great value for money.
Great for power chords
Thin neck
Easy access to top frets
Not the most versatile guitar tonally speaking
Jackson GRG170DX vs Jackson JS22
I know there are a few more choices when it comes to choosing a metal guitar if you're on a budget, and although there are a few even cheaper ones (which I DO NOT recommend you buy), the most obvious choices are this one and the Jackson JS22.
They're both in the same price range and I like the look of both guitars, plus they have VERY similar features.
The only real difference is that the Ibanez has a C-shaped neck with 400mm (15 3/4″) radius (or closer to a D-shaped neck) while Dinky's seem to come with an U shape (compound) at 12″–16″ in depth.
Both have the TERRIBLE fulcrum non-locking tremolo bridge which I recommend you don't use too much so that's not the differentiator, but the differences that matter the most are these two:
The Jackson Dinky has an archtop where the Ibanez has a flat top, so that's a matter of preference (most people that prefer archtops like the way the arm rests on the body)
The GRG170DX comes with three pickups and a five-way selector switch where the Jackson only has two humbuckers and a three-way pup selector
The added versatility is what drove my choice for the GRG170DX the most.
Should I buy the Ibanez GRG170DX if I'm not playing metal?
It is not the most versatile guitar ever, and unless you like metal, you won't see many of your favorite bands using Ibanez metal guitars, but this is a specialist guitar for a specific style of music and a very respectable one for the low price.
Check prices and availability here
Best beginner guitar for rock: Schecter Omen Extreme 6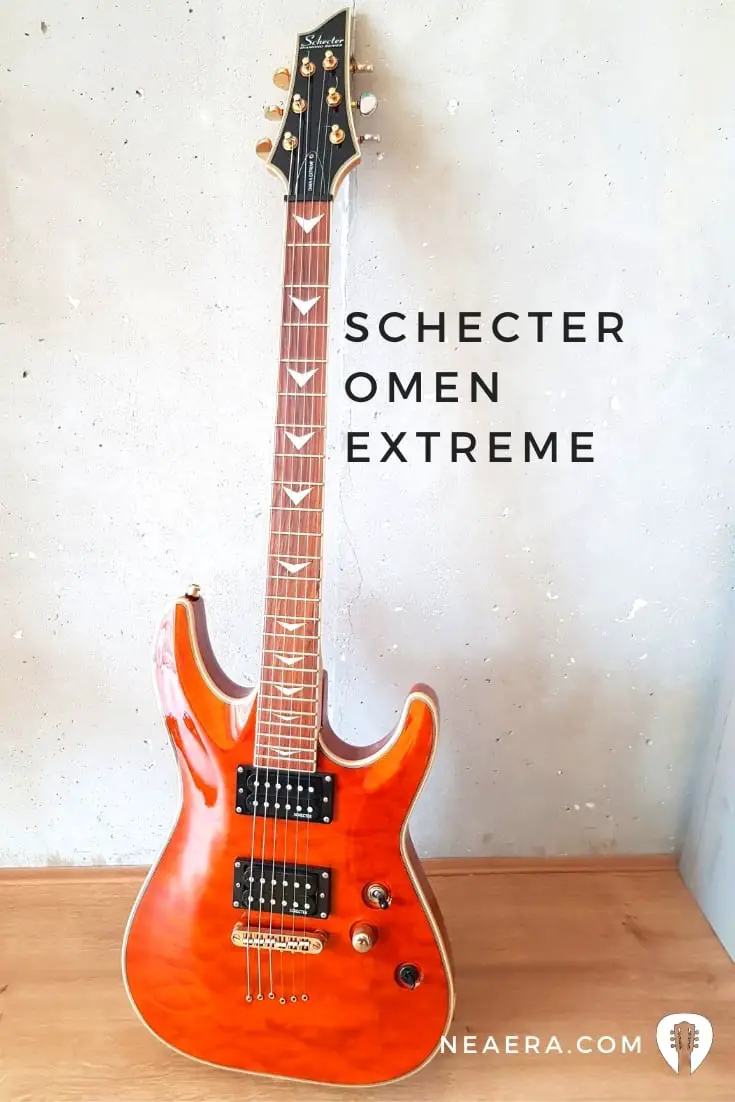 Schecter started the company as a custom shop for guitars and has produced many replacement parts for leading guitar brands such as Gibson and Fender.
But after gaining a lot of experience in the market, they started producing their own guitars, basses, and amps.
Over the past decade, their success has been huge in metal and rock guitar circles, and their guitars gave the metal genre a much-needed breath of fresh air.
The Schecter Omen Extreme-6 is an excellent example of their quality yet affordable guitars, it is packed with features that modern guitarists want and they have a great design in this price range.
It is probably not only the best beginner guitar for rock but also the most beautiful starter guitar you can buy on a small budget.
Since their beginnings as luthiers, Schecter has stuck to simple body shapes and designs.
The Schecter Omen Extreme-6 has a super simple super strat shape that is slightly more curved to provide some extra comfort.
This guitar uses mahogany as the tonewood and is covered by the attractive maple top, this tonewood gives this guitar a very powerful sound and long sustain that heavy rock guitarists will love.
The maple neck is quite solid and is shaped to provide some speed and accuracy for solos in addition to nice solid chords, and is tied together with abalone.
The fretboard is just beautifully done with what Schecter calls "Pearloid Vector inlays".
No one will argue when I say that the Schecter Omen Extreme-6 looks extremely elegant and suitable for any band, regardless of genre.
In addition, it offers excellent comfort thanks to its lightweight, well-balanced shape and offers great playability, which is one of the most important features of a guitar.
The company has topped this guitar off with a pair of Schecter Diamond Plus passive humbuckers, which may look low-profile at first, but wait until you hear what they can offer you.
They have a high-quality alnico design and offer a wide range of tones and sounds, they cover everything you could want from a guitar under $500.
Many guitarists call this Schecter guitars metal guitars and it is also in my list of best metal guitars, although I think it is more of a rock instrument.
Maybe the humbuckers have the tone of the old heavy metal, which required less distortion than what is nowadays metal, but I think with the single-coil position it has a nice raw blues tone, and with the humbucker position it has a nice rock growl.
There are two volume knobs for each of the pickups, a master tone knob with the push-pull capability to switch from humbucker to single-coil, and a three-way pickup selector switch.
Incidentally, the model I reviewed at home is a slightly older version with only one volume knob, no tone knob, and a separate coil split switch, but after popular request, Schecter has also added volume for the 2nd pickup and a tone knob.
The rest of the construction and materials used are the same and so is the tone.
All controls work quite well and provide great accuracy during gameplay.
The Schecter Omen Extreme-6 features their excellent Tune-o-Matic fixed bridge tuning machines.
These two elements give the Omen Extreme 6 an edge for players who like to do extreme bends and use the strings a little hard.
The Schecter Omen Extreme-6 is a great guitar for those who need heavy distortion without ruining the sound, perfect for hard rock bands.
I discovered with a few clicks through my effects bank that this guitar offers great versatility, and it can even sound pretty clean if you want it.
Despite being branded by most as a heavy metal guitar, the Schecter Omen Extreme-6 delivers plenty of playability and a wide range of tonal options, and for the price, the sustain is excellent.
Check the latest prices here
Best acoustic guitars for beginners reviewed
Making the decision to learn an instrument is a big step, but in learning the acoustic guitar, you may have chosen one of the most rewarding instruments for taking your first steps.
The best acoustic guitars for beginners on this list require little to nothing in the way of additional accessories or equipment, proving that a decent student acoustic guitar can be picked up for not much money.
Oh, and they sound great too.
In this guide, I propose some great acoustic guitars for beginners. I'll also highlight some of the differences between models and point you in the direction of some valuable guitars.
If deciding that you want to learn is the first step, then choosing your first acoustic guitar is definitely the fun part. Here are some of the best acoustic guitars for beginners to get you started.
Of course you can choose something under 100 euros with string action like steel wire, but chances are that you will find it a struggle to play and eventually decide that guitar is not for you.
And that is such a shame!
In the class above 100 euros you will soon find much more value for money, and of course there are also a number of top choices for the 500 euros that I will discuss.
Buying an acoustic guitar for beginners is actually easier than many other instruments. With keyboards, drum kits, electric guitars and DJ equipment there are many variables, but with acoustic guitars it is a lot easier.
In terms of sound, acoustic guitars are known for their projection and rich resonance.
An acoustic guitar of any caliber, from the cheapest to the most expensive, can reasonably be expected to produce a warm sound with plenty of volume. The differences are in what you want to do with it.
Factors such as body shape also play a role. The large "jumbo" acoustics produce a much wider sound with a pronounced bottom-end bass sound.
This acoustic style works well for band use, where the guitar's sound is less likely to be lost in the mix with the other instruments.
They are also much larger physically, making it difficult for young learners to play.
At the other end of the scale are travel guitars or "parlor" guitars, which have a much smaller body and are therefore better for portability and to take with you to your lesson or band practice.
In addition to size, you should also consider your own playing style. If you want to learn fingerstyle guitar then an acoustic parlor style might be the answer. The slightly shorter body length here means they can be played sitting down for extended periods of time, and they produce a more complex sound that doesn't reverberate as much.
In the center of the group is the dreadnought shape. These are the "Everyman" of the acoustic guitar world, offering a great balance of size, tone and volume.
You can also consider whether you just want to play with your guitar or maybe record with it. If so, look for an acoustic guitar with built-in electronics, as you can connect it to an amp or recorder in the same way as you would an electric guitar.
I have my first suggestion for that because of its versatility:
Best electro-acoustic guitar for beginners: Martin LX1E Little Martin

A great beginner acoustic for open microphone night.
Type: Modified 0-14 Fret
Top: Sitka spruce
Back and sides: Pressed laminate
Neck: Stratabond
Scale: 23 "
Fingerboard: FSC certified Richlite
Frets: 20
Tuners: Gotoh Nickel
Electronics: Fishman Sonitone
Left-handed: Yes
Finish: hand rubbed
The Ed Sheeran beloved Little Martin has a shorter scale length than many of the other acoustic guitars in this guide, making it one of the best acoustic guitars for small hands.
It feels a bit industrial, but from the first touch, the more conventional spruce voice will enchant you. It's seriously fun.
Here's Sweetwater with the Little Martin so you can see how small it actually is:
The material may be man-made, but the fingerboard and bridge look like dense ebony, while the dark-toned HPL back and sides create dark, rich mahogany, giving it a classy feel.
Solid construction and neat finish
Impressive amplified performance
Good value
Unfortunately not as full sound as some competitors
Like its acoustic voice, the Martin sounds very 'conventional' when plugged in and that's not a bad thing, especially for beginners. It's really easy to plug in, making the open stage-ready, at least when you're ready!
Check the latest price here
Best cheap acoustic guitar for beginners: Fender CD-60S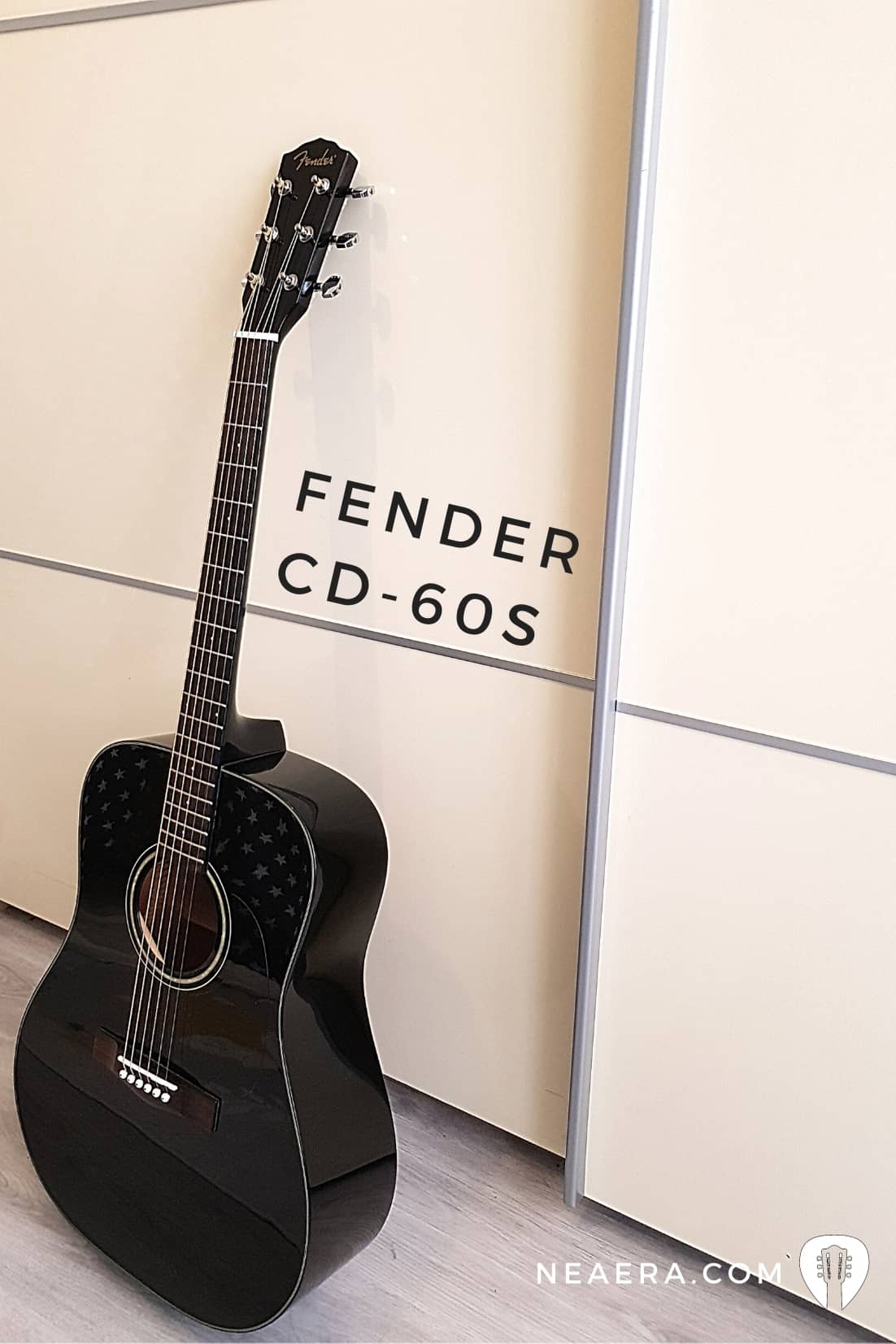 One of the best guitars for beginners, with a low, really low price tag for what you get.
Kind: Dreadnought
Top: solid mahogany
Back and sides: Laminated mahogany
Neck: mahogany
Scale: 25.3 "
Fingerboard: rosewood
Frets: 20
Tuners: Die-Cast Chrome
Electronics: n / a
Left-handed: yes
Finish: glossy
Here I take a look at the guitar and compare it with a cheaper model:
The entry-level Classic Design Series is a great reminder of how much guitar you can get for your money at the more affordable end of the market.
You get with the 60S a solid wood mahogany top, though the back and the sides of the guitar are laminated mahogany. The fretboard feels comfortable and this is probably due to the specially bound fretboard edges.
The CD-60S's action is also great out of the box. The mahogany mid-character can be heard clearly here and it brings some power with a clarity commonly associated with spruce tops.
The result is something that is genuinely inspiring to play with strumming but especially suitable for chord work.
Excellent price/quality ratio
Great intonation
Excellent for beginners
The looks can be a bit daunting and I find such a Dreadnought body way too big, but that's me
Why should new players settle for just good when they can be comfortable and inspired by this Fender?
Check prices here
Best acoustic beginner guitar without pickups: Taylor GS Mini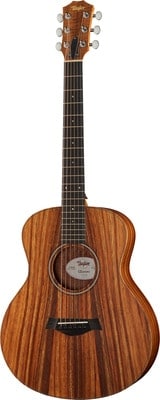 Serious quality at a very good price.
Layered sapele body with a sitka spruce top
Sapele neck
23.5″ (597mm) scale
Ebony fretboard
20 frets
Chrome tuners
Electronics: No
Left-handed: Yes
Satin finish
As one of the 'big two' in acoustic guitars, along with Martin, there is a level of quality and excellence that can reasonably be expected from Taylor.
After all, this is a brand that produces guitars that are just as expensive as a family car. But with the Taylor GS Mini, they've produced a guitar that packs all that high-end know-how and experience at a price that costs just under $ 500.
Here's Acoustic Life with their take on this little Taylor:
The GS Mini is small enough for anyone to be comfortable with, yet still produces the kind of tone that will make you weak in the knees.
Compact size
Excellent build quality
Very easy to play for beginners
Actually no drawbacks worth mentioning
The build quality and overall playability are excellent, making this the perfect guitar for everyone no matter where they are in their playing career.
Check prices and availability here
Best beginner guitar for kids: Yamaha JR1 en JR2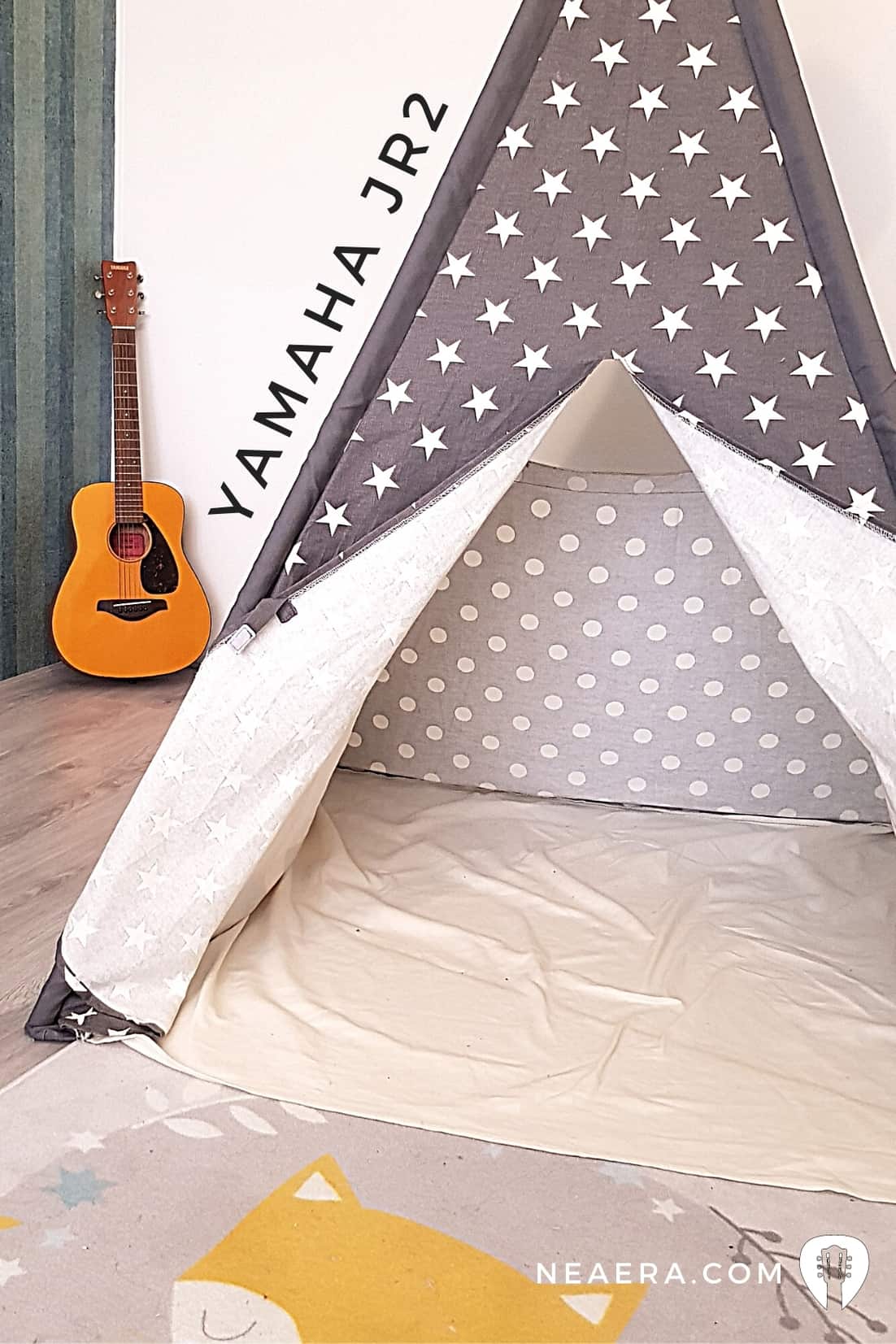 We all know that Yamaha makes some of the best guitars in the world. But did you know they also excel in junior guitars?
Well, they sure do! In that light, I decided to review one of their best junior size guitars, the Yamaha JR2 Acoustic Guitar.
The Yamaha JR2 Junior Acoustic Guitar is not a full-size guitar, as you might have guessed. This guitar is actually a 3/4 length of the full-size guitar.
In addition, the Yamaha JR2 is super handy for children and beginners as a 3/4 size guitar.
This guitar has some really good features that come in really handy when it comes to improving playability and overall performance.
Also, the material used to make this guitar are absolutely of the highest quality and slightly higher than the wood used in the JR1.
Many people actually take this guitar and give it as the first musical instrument that they buy for their children if they want to give just a little bit more than a real budget guitar.
And that little bit of extra money is going to help so much in learning, and enjoy playing and learning.
This guitar is made from the spruce top, mahogany sides and back, and has a rosewood bridge and fingerboard.
Therefore, the Nato neck will definitely help your child play this guitar with ease for hours.
The neck on this guitar is quite comfortable which really helps your hand hit the notes without a problem. However, the strings are a bit stiff, but they are certainly durable and will last a long time.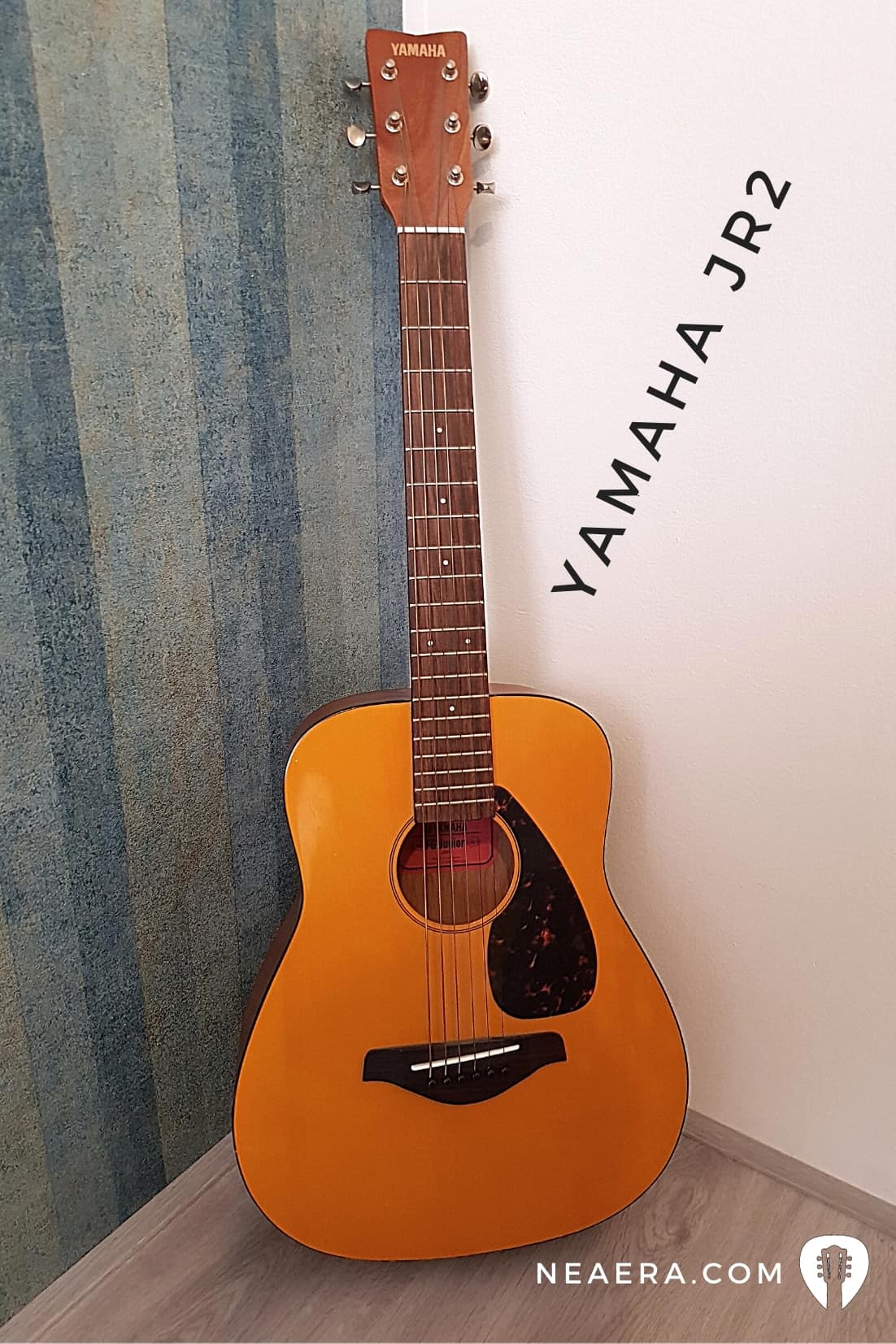 When it comes to playability, this guitar really stands out. Simply put, the Yamaha JR2 Junior Acoustic Guitar is quite simple and playable.
Basically, you can learn so many things on this guitar, and that is especially important for beginners or juniors.
Many people wonder if a junior guitar like this can deliver good sound quality.
Well, I can safely say that Yamaha JR2 is definitely one of the best junior size guitars when it comes to sound quality, and it is therefore also a favorite travel guitar of more experienced players, due to its small size.
This guitar can produce such a powerful sound while keeping the warm and classic tone in the air for a long time. Also, the amazing chrome hardware is here to ensure only the best performance.
The overall design is a bit old-fashioned, but that has its advantages. Namely, this guitar has been designed to give a classic and elegant look, while still being a great modern instrument.
The most distinctive thing about this junior guitar from others is the overall value for the price. So the Yamaha JR2 is definitely one of the most valuable choices that you can make if you buy such a guitar.
You can't really go wrong with this Yamaha for children.
Check the latest prices here
Affordable Fender alternative: Yamaha FG800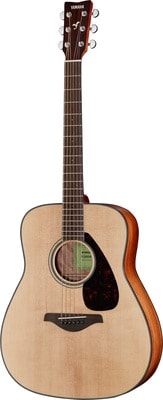 An affordable beginner acoustic guitar that is above its class.
Kind: Dreadnought
Top: solid spruce
Back and sides: Nato
Neck: Nato
Scale: 25.6 "
Fingerboard: rosewood
Frets: 20
Tuners: Die-Cast Chrome
Electronics: n / a
Left-handed: no
Finish: matte
This affordable model from guitar giant Yamaha is a quintessentially stylish, clean acoustic construction with a matte finish that gives a lived-in "used" guitar look.
There is little decoration, the dots on the fingerboard are small and lack contrast, but the white dots on the side are bright and ideal for beginners.
The three-piece neck, with a spacious, full C-profile, immediately puts you in your game. The tuners are fairly basic, but more than ready for the job, while the nut and compensated bridge are well cut with a decent string height.
Here Alamo Music Center compares the FG800 to the CD60-S:
Great dreadnought sound
Built-in look
You will not outgrow you quickly
Not the best choice for children
Dreadnoughts come in many different tonal tones, of course, but you should be able to expect a lot of spacious lows, a strong thump in the lower mids, clear highs: a big projecting sound.
Well, the FG800 ticks those boxes and more.
Check availability here
Best acoustic parlor guitar for beginners: Gretsch G9500 Jim Dandy

A fantastic parlor guitar with a lot of 1930s charm.
Type: Parlor
Top: Solid Sitka Spruce
Back and sides: Laminated mahogany
Neck: mahogany
Scale: 24.75 "
Fingerboard: rosewood
Frets: 19
Tuners: Vintage Style Open Back
Electronics: n / a
Left-handed: no
Finish: thin glossy polyester
The G9500 is a saloon guitar or parlor guitar, which means it has a much smaller body than, say, a dreadnought. Good news for children and smaller guitarists!
Here's GAK Guitars with their take on this Gretsch:
Sound wise this acoustic guitar is great; airy, clear and sparkling, without the harshness you would expect from a combination of spruce and laminate.
Make no mistake, this is a relatively trebly guitar (shrill and high, especially compared to Dreadnoughts) and especially the low E string is quite quiet, but that's not a bad thing.
Great sound
Great looks
Really nice to play
Needs more punch from the low E
It would be easy to be snobby about the back and sides of the laminate, but you don't have to at all.
Instead, try this guitar for yourself and you'll like it better than much more expensive rivals, even some with completely solid wood.
Check prices and availability here
Best cheap electro-acoustic beginner guitar: Epiphone Hummingbird Pro

Top: solid spruce
Neck: mahogany
Fingerboard: rosewood
Frets: 20
Electronics: Shadow ePerformer Preamp
Left-handed: No
Finish: Faded Cherry Sunburst
If you've heard of The Beatles, or Oasis, or Bob Dylan, or almost every classic rock act of the last 60 years, you've heard some famous Hummingbird acoustics in action.
The Epiphone Hummingbird Pro is both tonally and visually striking and would be an excellent choice for learning.
Here's Dawsons with their rating:
Beautiful design
Rich, deep tone
Works well for finger pickers
No significant drawbacks for this price
There's more to this guitar than the beautiful graphics and timeless vintage finish.
The sound it produces is versatile and balanced, making it ideal for strummers and fingerpickers alike, while the small details like split parallelogram inlays and oversized headstock combine to make a striking visual statement.
Check the latest prices here
Best jumbo acoustic guitar for beginners: Epiphone EJ-200 SCE
This jumbo-acoustic guitar delivers a great tone and volume to match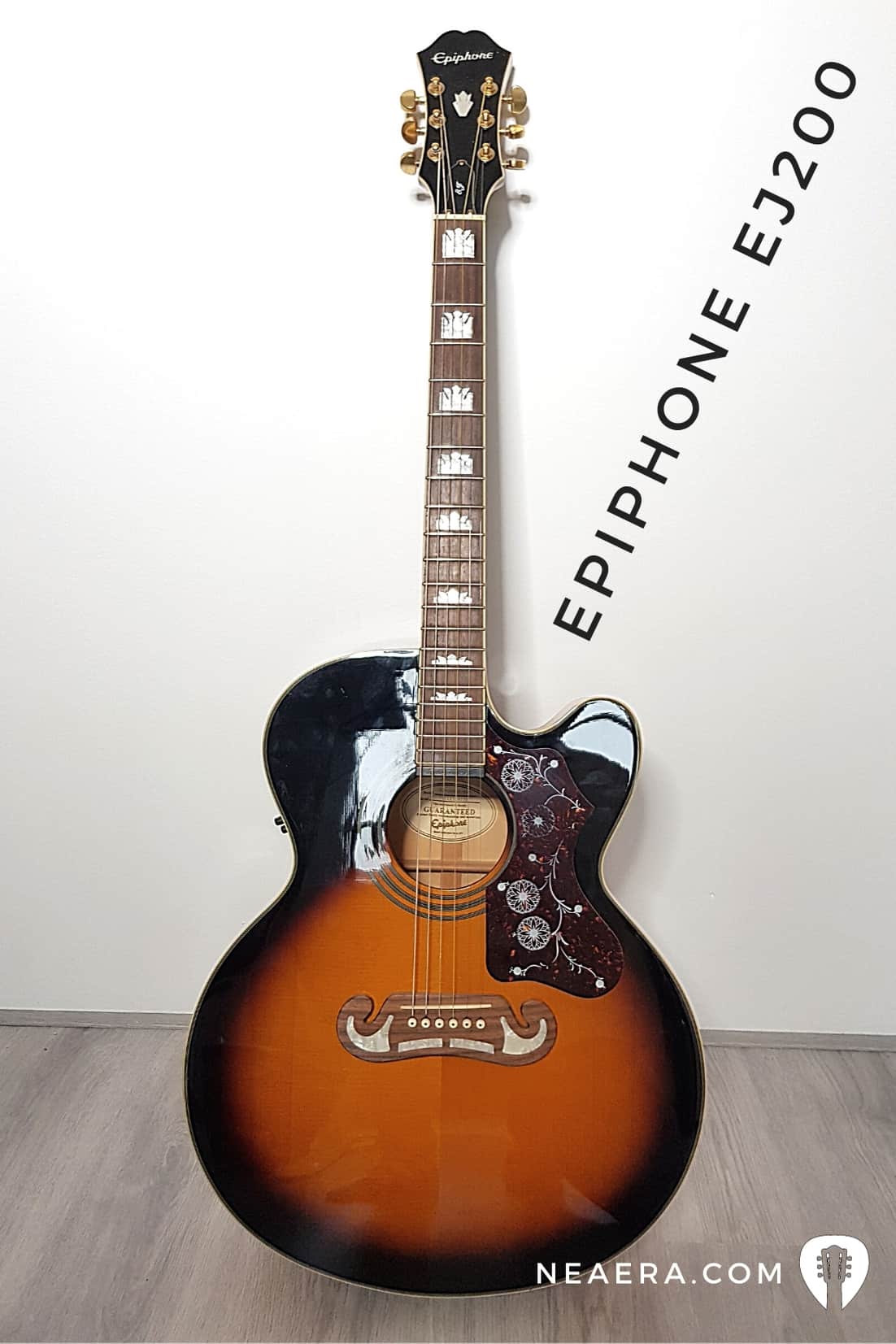 Top: solid spruce
Neck: Maple
Fingerboard: Pau Ferro
Frets: 21
Electronics: Fishman Sonitone
Left-handed: No.
Finish: natural, black
Sometimes when you play an electro-acoustic guitar you will find that the tone comes across as a bit thin, as if the electronics are taking away some of the natural sound and the way an acoustic guitar body makes the sound reverberate.
But that's not the case with the Epiphone EJ200SCE, which sounds big when plugged into a PA as well as on its own in a small practice room or stage.
Let's hear some sounds and talk about it a little more:
Where the Fender CD60S is a good affordable choice for chord work, with this Epiphone you can also do more with some solo and single notes.
It's really big so not for the smaller people among us, that's the tradeoff between such deep bass sounds and a large body.
Sounds incredible
Classic looks
This is certainly a large guitar so not for everyone
The pickups are from the Fishman Sonitone system and give the option of 2 outputs, simultaneously stereo where you can blend the two to your taste, or separately through the two outputs to mix each in the PA. A lot of versatility for such an affordable guitar.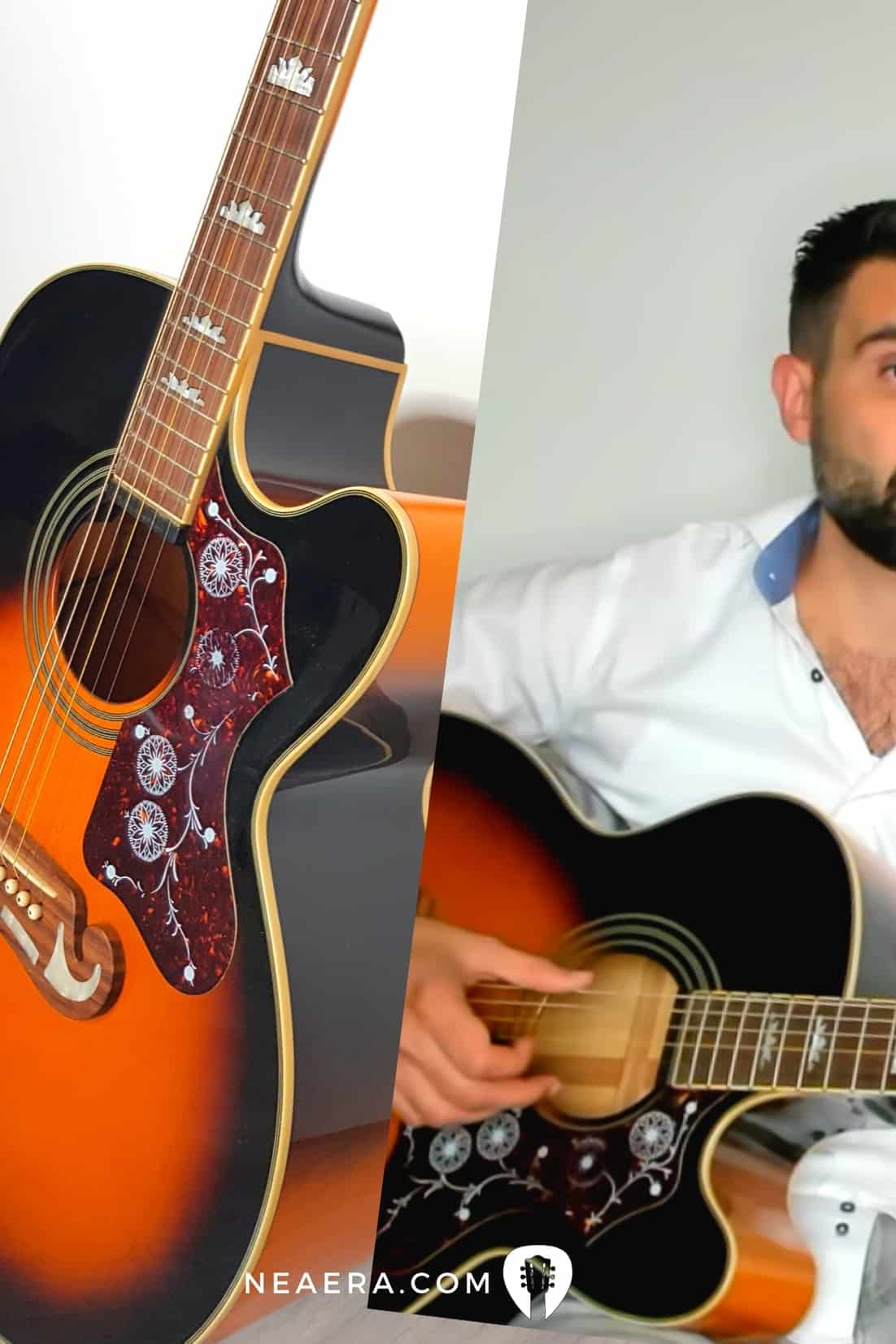 This design is another classic from Epiphone, which will appeal to anyone with a love of heritage music.
It's a great guitar – the 'J' stands for jumbo, after all, and as such perhaps too much for kids, but for adults looking to pick up the instrument, the EJ-200 SCE is an extremely rewarding choice.
Check the latest prices here
Conclusion
As you can see, it is difficult to pick one best guitar for beginners. Not only because of budget, but also because there are so many different playing styles.
I hope this guide has helped you find a guitar that suits the path you want to walk and you can buy one that you will enjoy for a long time to come.
Also read: when starting out, you probably want a good multi-effects unit to get the right sounds
I'm Joost Nusselder, the founder of Neaera and a content marketer, dad, and love trying out new equipment with guitar at the heart of my passion, and together with my team, I've been creating in-depth blog articles since 2020 to help loyal readers with recording and guitar tips.
Check me out on Youtube where I try out all of this gear: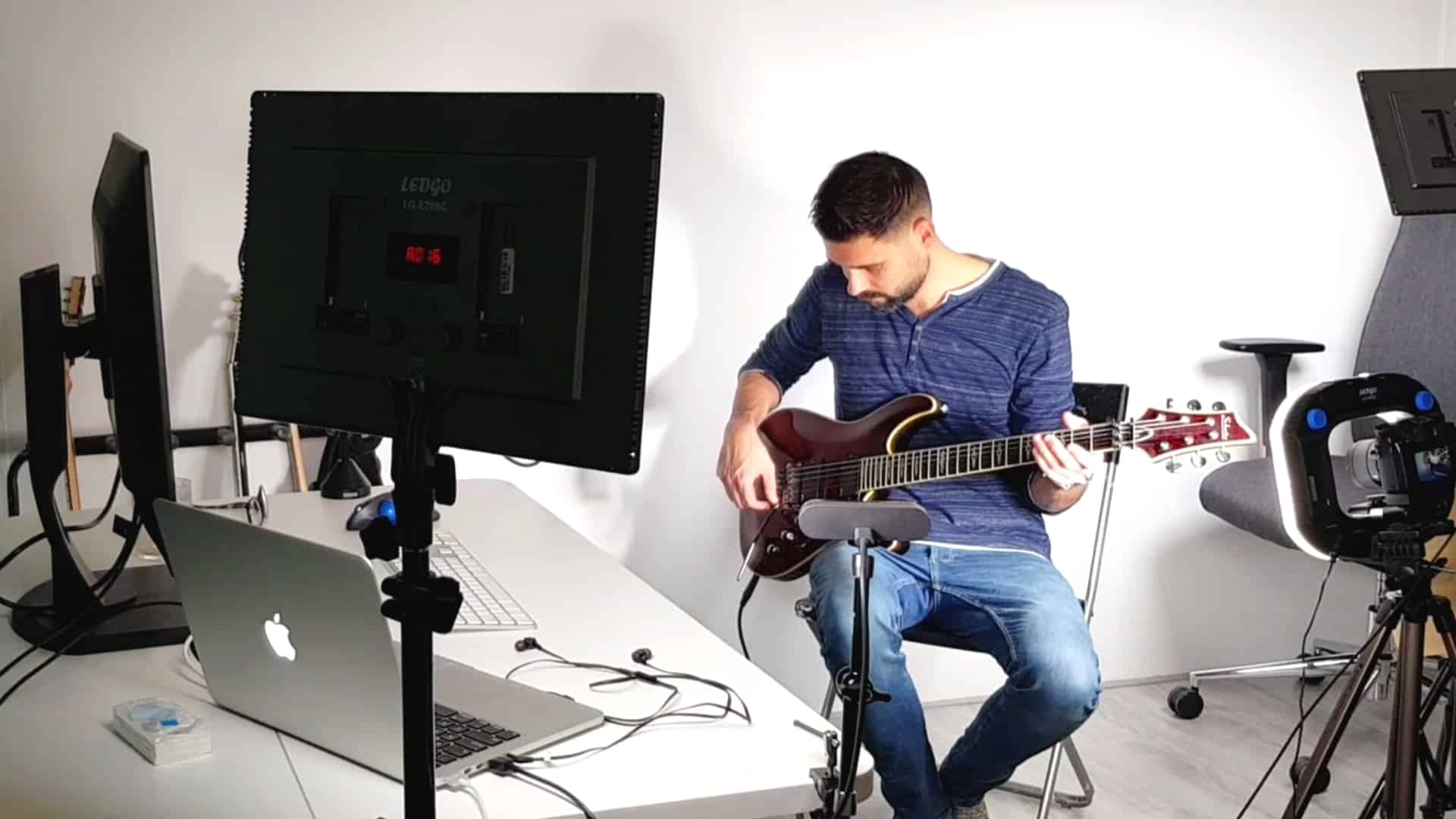 Subscribe