hi there I love creating free content full of tips for my readers, you. I don't accept paid sponsorships, my opinion is my own, but if you find my recommendations helpful and you end up buying something you like through one of my links, I could earn a commission at no extra cost to you.
Learn more
A budget friendly option that can last you a long time
I got this Ibanez GRG170DX a few days ago. One of the first things I noticed is the GRG neck, a patented Ibanez design.
It's really thin and suitable for metal styles or quick solos. The action is quite low right from the factory.
Really good for this type of budget guitar.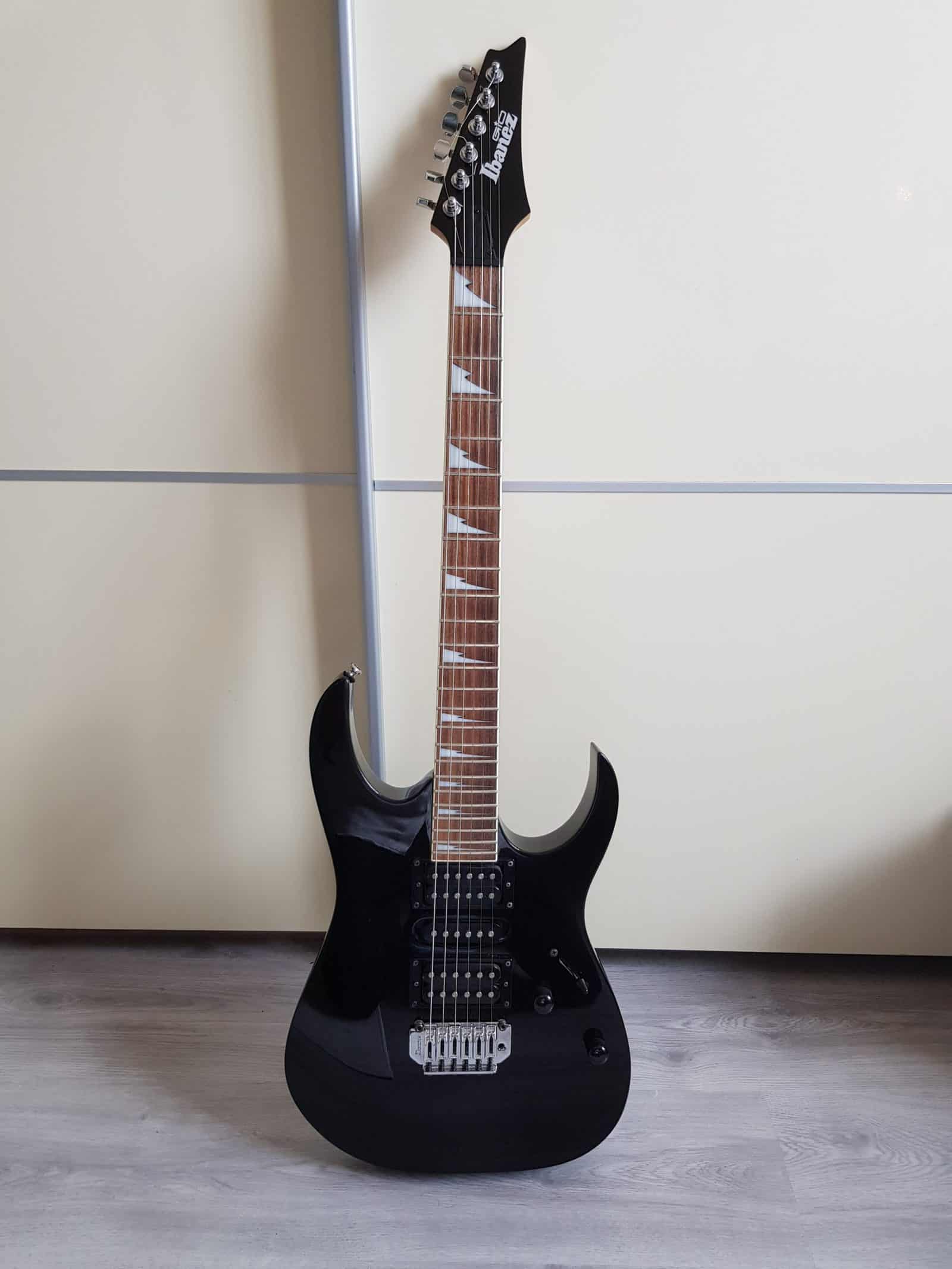 Best for
Great value for money

Sharkfin inlays look the part

HSH setup gives it a lot of versatility
Falls short
Pickups are muddy

Tremolo is pretty bad
Let's get the specifications out of the way, but feel free to click to any part of the review you find interesting.
Specifications
Neck type: GRG Maple neck
Body: Poplar
Fretboard: Purpleheart
Inlay: White Sharktooth inlay
Fret: 24 Jumbo frets
String space: 10.5mm
Bridge: T102 Floating tremolo
Neck pickup: Infinity R (H) Passive/Ceramic
Middle pickup: Infinity RS (S) Passive/Ceramic
Bridge pickup: Infinity R (H) Passive/Ceramic
Hardware color: Chrome
Playability
It has 24 jumbo frets all the way up the neck and they are easily accessible because of this cutaway. The fretboard is made of purpleheart, which actually glides pretty well.
It's a pretty good neck for such a budget guitar. If you're looking for a guitar with a wide neck and fast fretboard and you're on a budget, this is the guitar for you.
Especially the patented GRG neck from Ibanez is a dream to play for people with larger hands.
It's very similar to the Wizard II neck with just a few noticeable differences. But if you like that neck you'll be comfortable with this one too.
Ibanez GRG170DX whammy bar tremolo
I know a lot of you have questions about the whammy bar on this thing because it's not a Floyd Rose and it's not a fixed bridge. It's somewhere in between with a floating tremolo bar.
It's not the best whammy bar, to be honest. You have to invest quite a bit of time to get the tension right and it's really hard to keep the tension on it.
It's OK for a little bit of whammy but as soon as I used it more than a bit, it goes out of tune almost immediately.
That's the main negative point about this guitar.
I wouldn't recommend getting a guitar at this price with a tremolo system, period. Not just this guitar.
At this price level, you can't get a decent one, and the GRG170DX is no exception. So dive bombs are out of the question.
Finish
This Ibanez guitar has the metal look.
If you're not going to play metal, I think you should go with another type of guitar because this will stand out in any other scenario.
If you're playing blues or even grunge or softer rock, this type of guitar just doesn't look right because of the shark fin inlays it has.
With this look everyone will expect you to be playing metal. That can be an advantage or a disadvantage.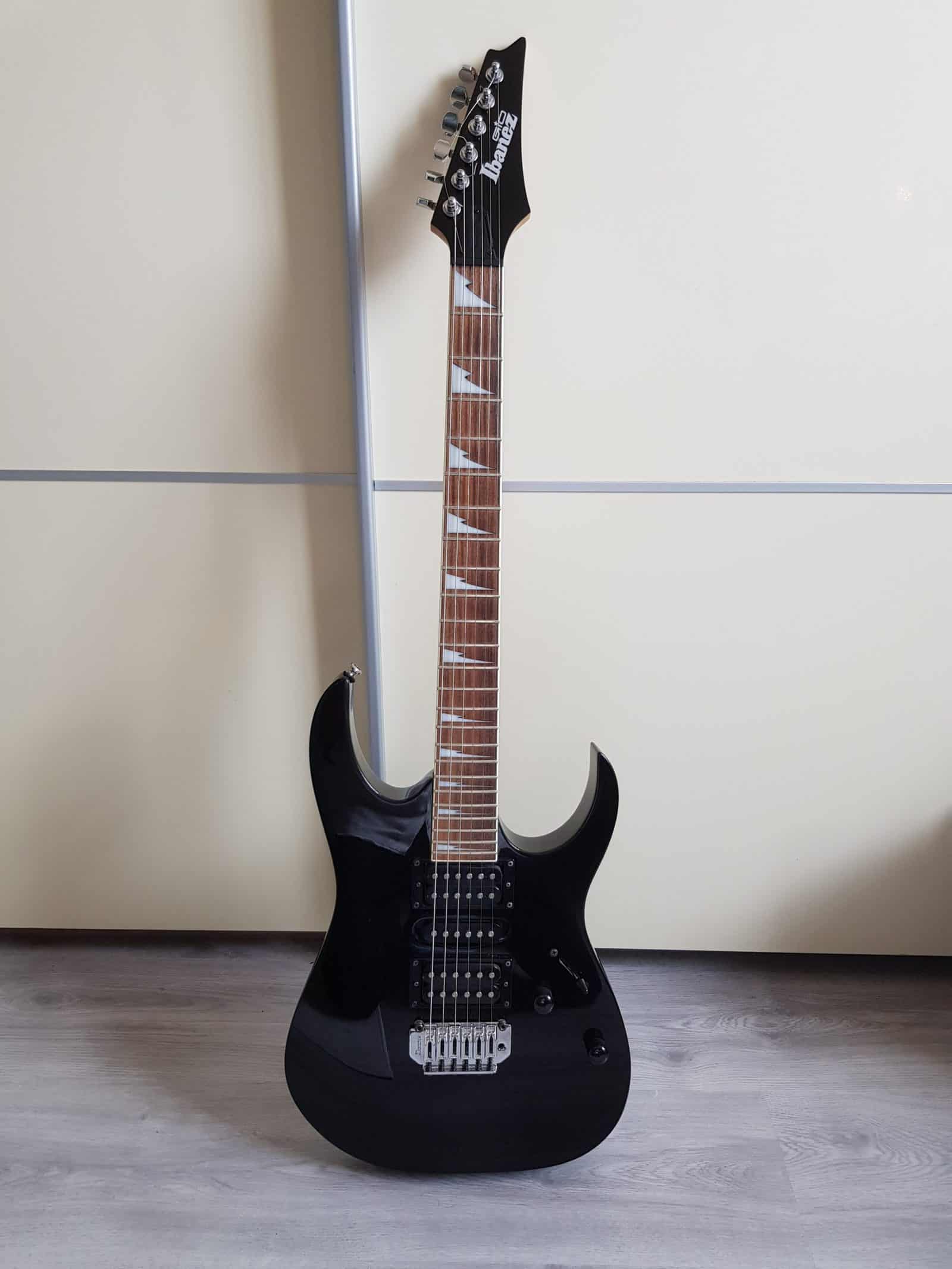 It has a GRG Maple Neck, which is very fast and thin and doesn't play any less fast than a pricier Ibanez would.
It has a poplar body, which gives it its cheaper price range, and the fretboard is made of bound purpleheart.
The Bridge is a T102 Tremolo Bridge, its pickups are Infinity pups. and this just is a great value-for-money electric guitar that could last you for many years to come.
As you know, Ibanez has been known for decades for their edgy, modern and super-strat-esque electric guitars.
For most people, the Ibanez brand equates to RG model electric guitars, which are very unique in the world of guitarists.
Of course they make many more types of guitars, but the RGs are the favorite of many shred-style finger-fingered guitarists.
The GRG170DX may not be the cheapest beginner guitar of all, but it offers a wide variety of sounds thanks to the humbucker – single coil – humbucker + 5-way switch RG wiring.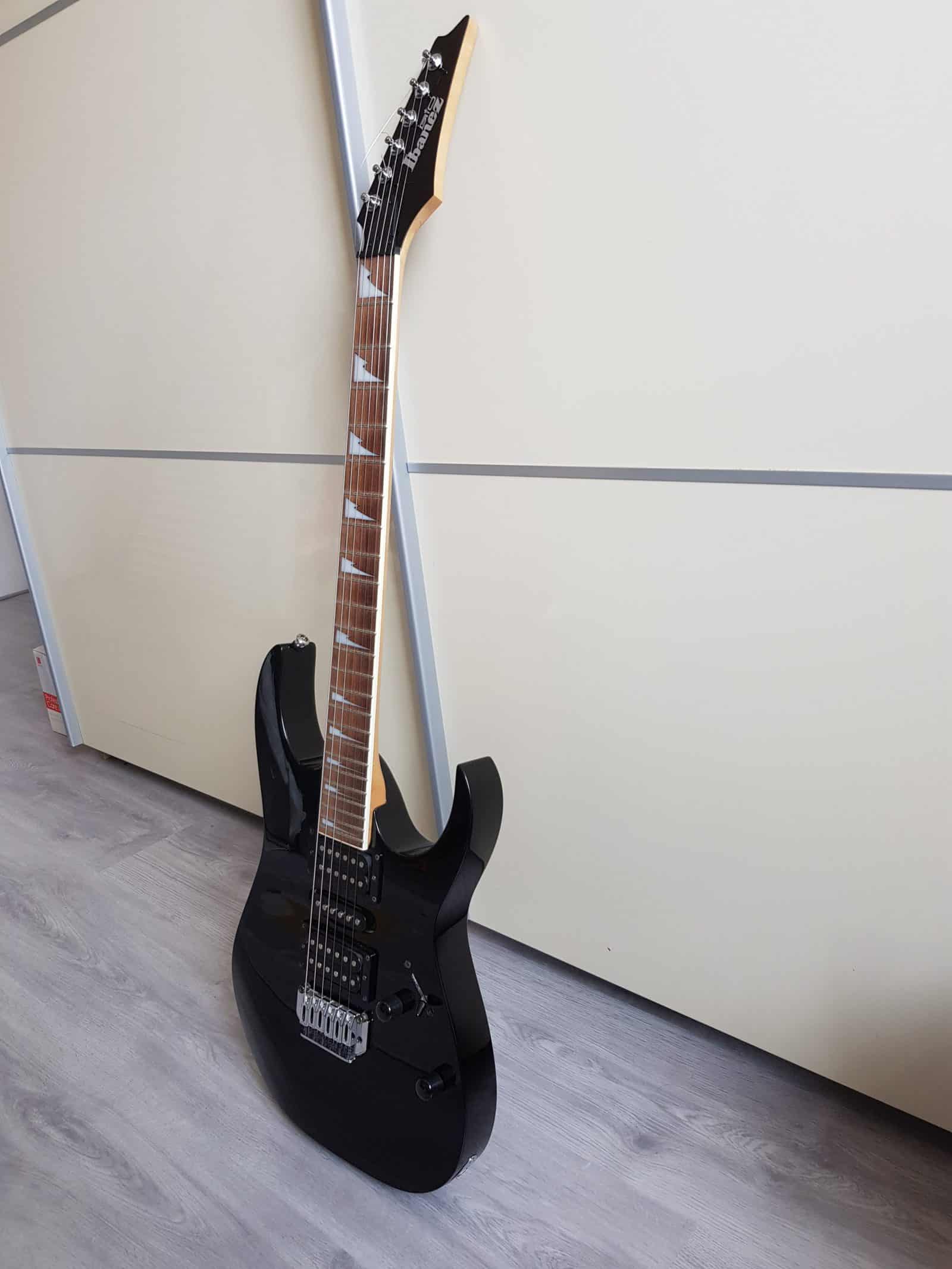 Ibanez's RG model was reportedly released in 1987 and it is one of the best-selling super-strat guitars in the world.
It is molded in a classic RG body shape, comes with HSH pickup combination. It also has a basswood body with a maple GRG style neck, bound rosewood fingerboard with bindings.
If you like hard rock, metal and shred music and want to start playing straight away, I would definitely recommend the Ibanez GRG170DX Electric Guitar.
I would only advise you not to use the standard tremolo as if it were a Floyd Rose bridge with locking tuners as dives will definitely detune the guitar.
The guitar has a lot of ratings and as one states it:
A top guitar for the beginner, but a pity that if you want to play drop D, the guitar gets very out of tune.
Tremolo bars on most entry-level mid-budget electric guitars are not that useful and will cause tuning issues in my opinion.
But you can always use a light tremelo during your songs, or you can of course take a dive at the end of your performance when the guitar is allowed to detune itself.
All in all a very flexible beginner guitar that is really suitablet is for metal, but only for metal.
Also read: we tested the best guitars for metal and this is what we found
Ibanez GRG170DX alternatives
Budget more versatile guitar: Yamaha 112V
The Ibanez GRG170DX and the Yamaha 112V are both in the same price range, So it's not a really weird question which one you should buy.
There are some differences between the two. The first thing you'll notice is the different fretboard and the different fret radius.
The Yahama's neck is better suited for boxed chords, while the Ibanez is better for soloing.
The yamaha also has a better clean sound than the Ibanez does and that's because you have the ability to split coil the humbucker at the bridge.
This gives it a lot more options, like a Fender-style twang. You can use it in a lot of different styles, so the Yamaha's definitely the more versatile.
You can switch between the bridge with coil split or out of phase between the bridge and the middle pickup and then just the middle pickup, which is a single coil.
It's good for funk and rock styles. Not really that great for metal but the humbucker does give it an edge in that department over other Strats.
Budget metal guitar: Jackson JS22
I know there are a few more choices when it comes to choosing a metal guitar if you're on a budget, and although there are a few even cheaper ones (which I DO NOT recommend you buy), the most obvious choices are this one and the Jackson JS22.
They're both in the same price range and I like the look of both guitars, plus they have VERY similar features.
The only real difference is that the Ibanez has a C-shaped neck with 400mm (15 3/4″) radius (or closer to a D-shaped neck) while Dinky's seem to come with an U shape (compound) at 12″–16″ in depth.
Both have the TERRIBLE fulcrum non-locking tremolo bridge which I recommend you don't use too much so that's not the differentiator, but the differences that matter the most are these two:
The Jackson Dinky has an archtop where the Ibanez has a flat top, so that's a matter of preference (most people that prefer archtops like the way the arm rests on the body)
The GRG170DX comes with three pickups and a five-way selector switch where the Jackson only has two humbuckers and a three-way pup selector
The added versatility is what drove my choice for the GRG170DX the most.
Should I buy the Ibanez GRG170DX if I'm not playing metal?
It is not the most versatile guitar ever, and unless you like metal, you won't see many of your favorite bands using Ibanez metal guitars, but this is a specialist guitar for a specific style of music and a very respectable one for the low price.
I'm Joost Nusselder, the founder of Neaera and a content marketer, dad, and love trying out new equipment with guitar at the heart of my passion, and together with my team, I've been creating in-depth blog articles since 2020 to help loyal readers with recording and guitar tips.
Check me out on Youtube where I try out all of this gear: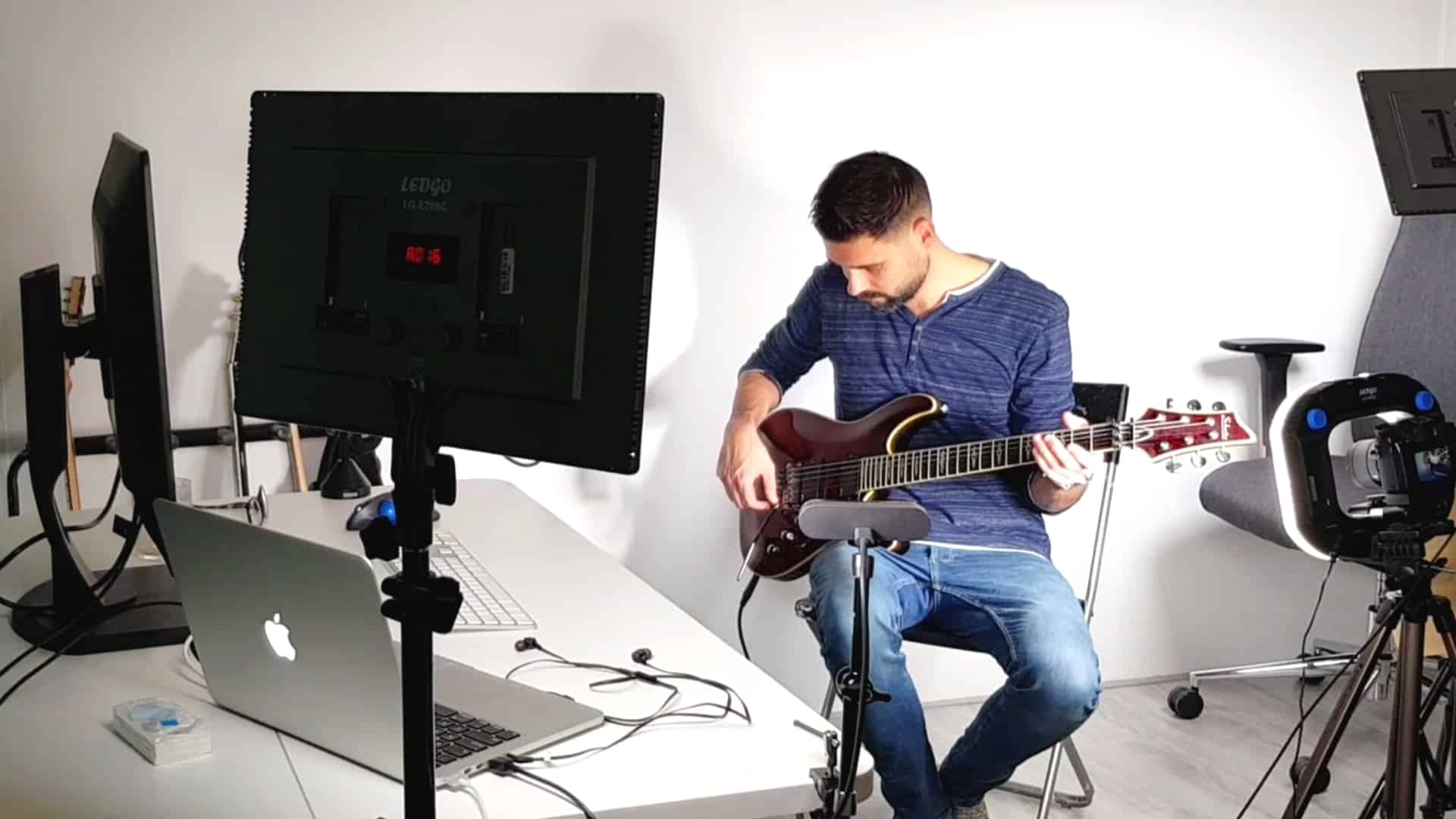 Subscribe