hi there I love creating free content full of tips for my readers, you. I don't accept paid sponsorships, my opinion is my own, but if you find my recommendations helpful and you end up buying something you like through one of my links, I could earn a commission at no extra cost to you.
Learn more
When it comes to budget guitars, one of the most common guitar brands that often pop up in our minds is Epiphone.
From Les Paul to acoustic guitars and anything in between, they have everything a beginner or experienced guitarist with a shallow pocket would wish for.
However, just like any budget guitar, the question mark that often stands next to the Epiphone brand name is about its quality.
And quite rightly. In most cases, cheap guitars don't deliver as good sound quality as their expensive counterparts.
Luckily, this isn't the case with Epiphone guitars.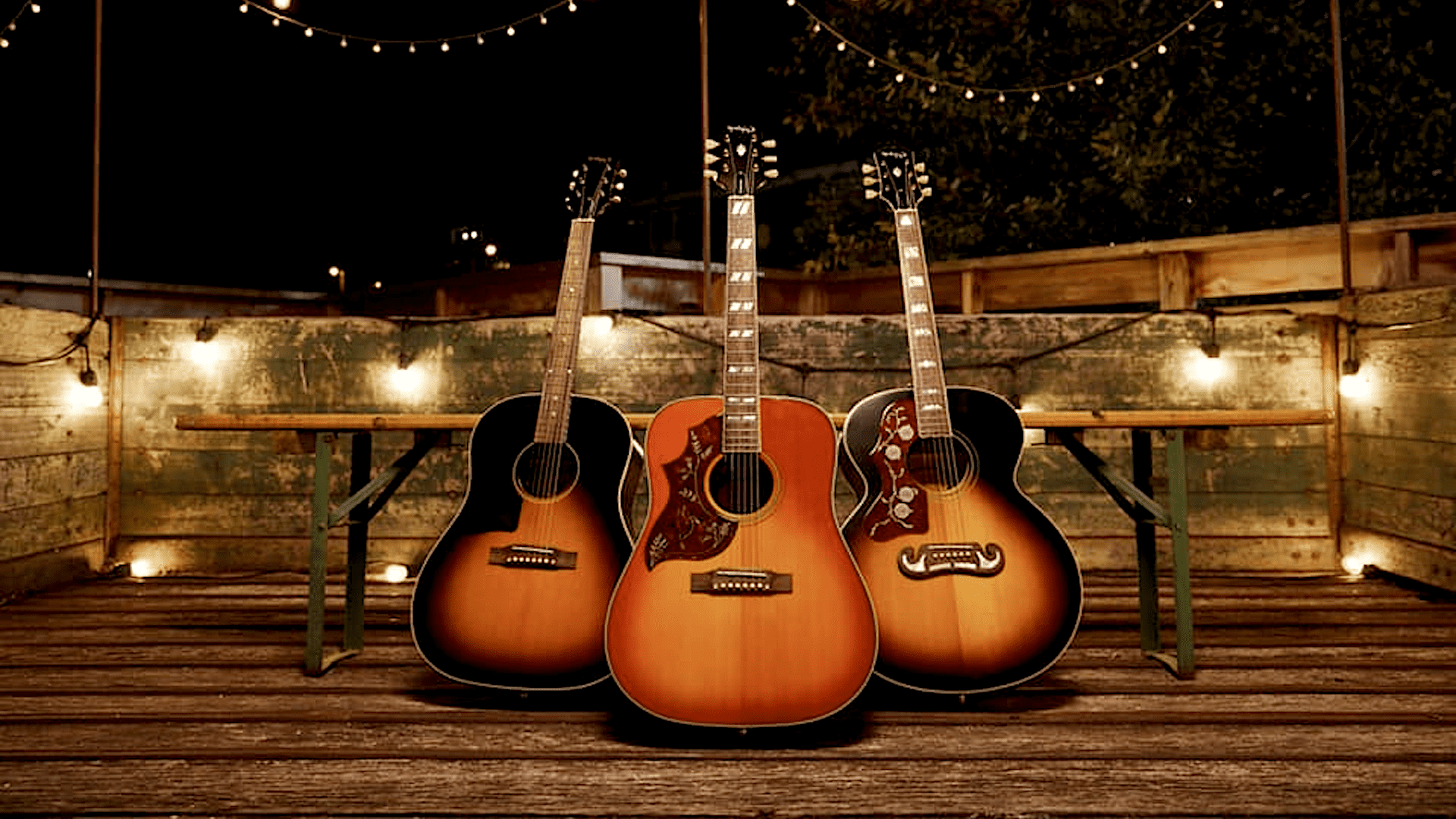 Most Epiphone guitars are of excellent quality if you make a buck-to-buck comparison. However, as you level up from the budget category, let's say, to Gibson, there's probably a difference in the sound, body, and overall quality of the instrument. However, not so big that an unprofessional ear would notice it. 
In this article, I'll dive a bit deep into discussing the Epiphone guitars and tell you whether they are good enough.
Plus, I'll also be making some good recommendations along the way so that you aren't mistaken in making your choice!
Are Epiphone guitars good at all?
Ah! The old question that everyone keeps asking: "are Epiphone guitars just an ultra-cheap knock-off of Gibson guitars, or are they really good?"
Well, I'd like to answer this question a bit diplomatically. Thus it might go like this:
Epiphone guitars are really good, but ultra-cheap knock-offs of Gibson guitars!
I know this sounds like a too-good-to-be-true sort of statement, but the brand has come really far in the past few years in terms of quality. So much so that they have now established a thing of their own.
But hey! Is it still fair to compare it with something from Gibson? Probably not. But to look at its price point, it probably provides more value than Gibson guitars will ever do.
That being said, if we bring down standards a bit lower and compare it with brands of the same budget league like Yamaha, Ibanez, Dean, Jackson, etc., Epiphone is really the king.
You might know this or not, but many famous artists have secretly or openly used Epiphone guitars throughout their music careers.
The most prominent names include Joe Pass, John Lennon, Keith Richards, and Tom Delonge.
There are also accounts of other prominent artists keeping Epiphone guitars in their collection for many unknown reasons.
Is Epiphone a good acoustic guitar brand?
To be quite blunt, Epiphone is not mainly known for making top-tier acoustic guitars as they have been focusing on electric guitars for most of their existence.
However, there are still some Epiphone acoustic guitars I will review later in this article. They are some of the best pieces you can check out to make your camping trips and beginner practices fun.
One of those acoustic guitars is actually a rip-off of the Gibson EJ 200 Jumbo guitar, with a bit of modification in the design to make it easier to play.
They named the model EJ200SE, later regarded as the "king of flattops" by guitar players due to its over-the-top design.
Although the sound was close to the original, what made it popular was its unique shape.
Overall, I wouldn't call Epiphone products in this category anything special compared to other acoustic guitars manufactured by brands like Fender, Yamaha, or Gibson.
However, If you are just a beginner exploring the deets of guitar playing, Epiphone acoustic guitars are pretty darn good.
Since they are primarily cheap replicas of Gibson with pretty great quality, you will surely get more than what you pay… at the least. It's more of a hit-and-miss situation.
Are Epiphone guitars good for beginners?
In the shortest words, yes! And that's not just an anecdotal judgment; there are pretty good reasons for that.
The first among those would be the quality, though; I would keep this point very particular to their electric guitar range.
Why? Well, because Epiphone brings a lot of experience when we talk about electric guitars; dudes have been in the business for ages now.
Moreover, they make pretty solid copies of some of the top brands.
Again, take their long-time sweetheart, Gibson, for example.
One of the most iconic electric guitars for beginners to ever grace music studios by the brand is the Gibson Les Paul.
And ironically, the best guitars ever produced by Epiphone come from its Les Paul range, just way cheaper economical than the original.
But for the price? You wouldn't find anything better as a beginner.
The Epiphone Les Paul costs even less than a quarter of the original and gives off a much better value than any Gibson guitar, even the Les Paul range itself.
All in all, if you are one of those beginner guitar players with good tastes but a low budget (or not), Epiphone guitars should be on your priority list.
You not only get a high-quality guitar but get to pay way less than you would pay for something premium brands.
From quality to guitar sound or anything in between, you will find Epiphone guitars absolutely overdoing themself for the price value.
What are the best Epiphone guitars?
If we jump from category to category, there are some really good pieces Epiphone has introduced over the ages.
Thus, it'd be better to break this question into parts and recommend some great guitars for each category with their features enlisted.
Best acoustic Epiphone guitars
Epiphone isn't a brand I would highly recommend if you are more into getting professional quality acoustic guitars.
However, if you are a beginner who just wants something cool to practice with, the following are some of the best Epiphone acoustic guitars you can get your hands on.
Epiphone Hummingbird PRO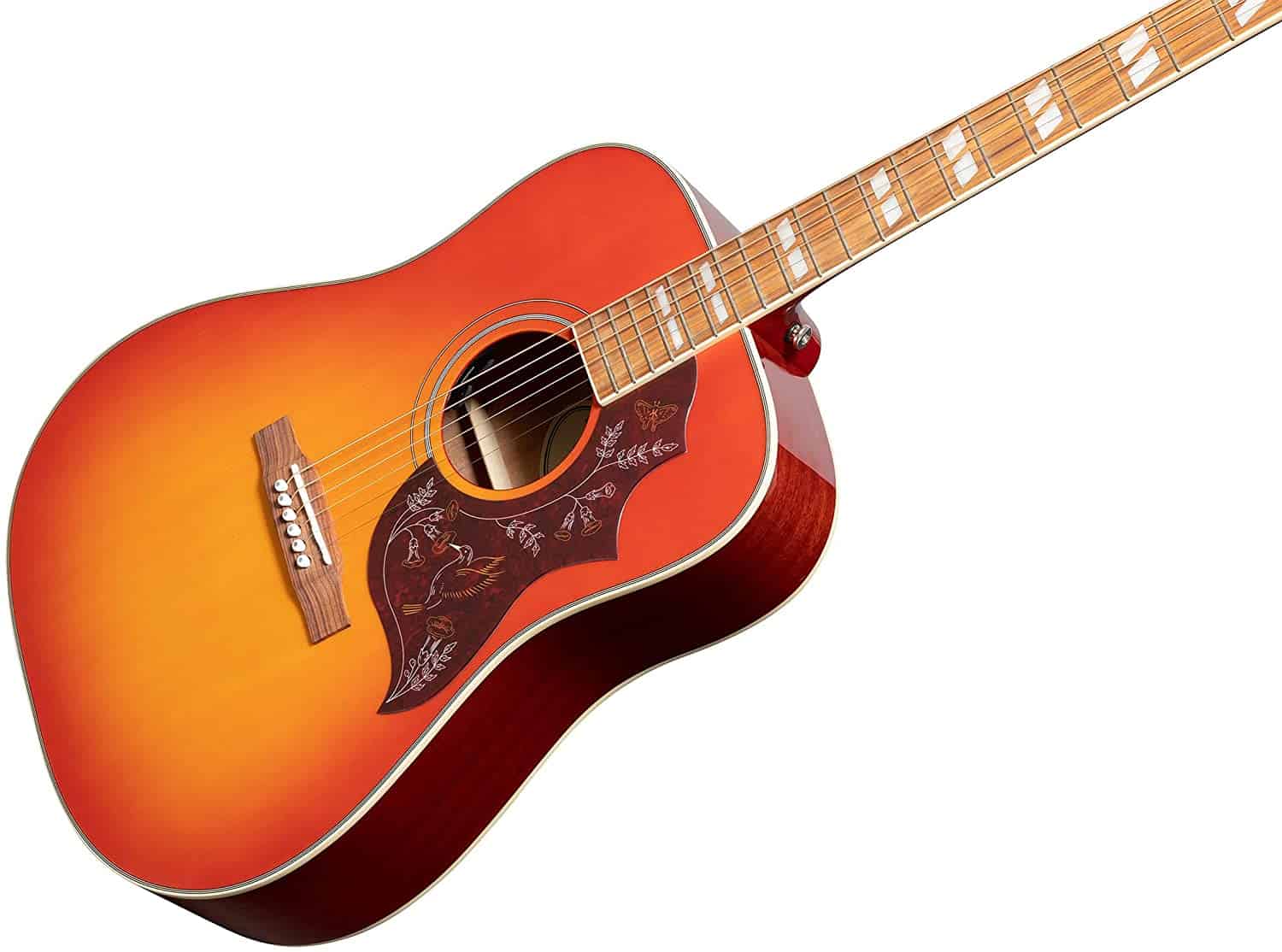 Epiphone Hummingbird PRO is the replica of Gibson's Hummingbird, perhaps one of the best acoustic guitars ever produced by any brand.
It's a dreadnaught-shaped guitar with just the same body size, signature hummingbird pick-guard, faded cherry color, however, with parallelograms on the fretboard to distinguish it from Gibson's original.
Although it already has some serious projection due to the classic shape, the fact that it's an electric-acoustic guitar makes it even more ideal for musicians who like some extra amplification.
The Hummingbird Pro by Epiphone produces a very warm sound. It comes with a 15:1 ratio sealed Grover tuners and a compensated bridge to ease the tuning process.
All in all, It's a great choice for beginners who want a bang for the buck that looks and performs better than any of its budget peers.
Epiphone EJ 200SCE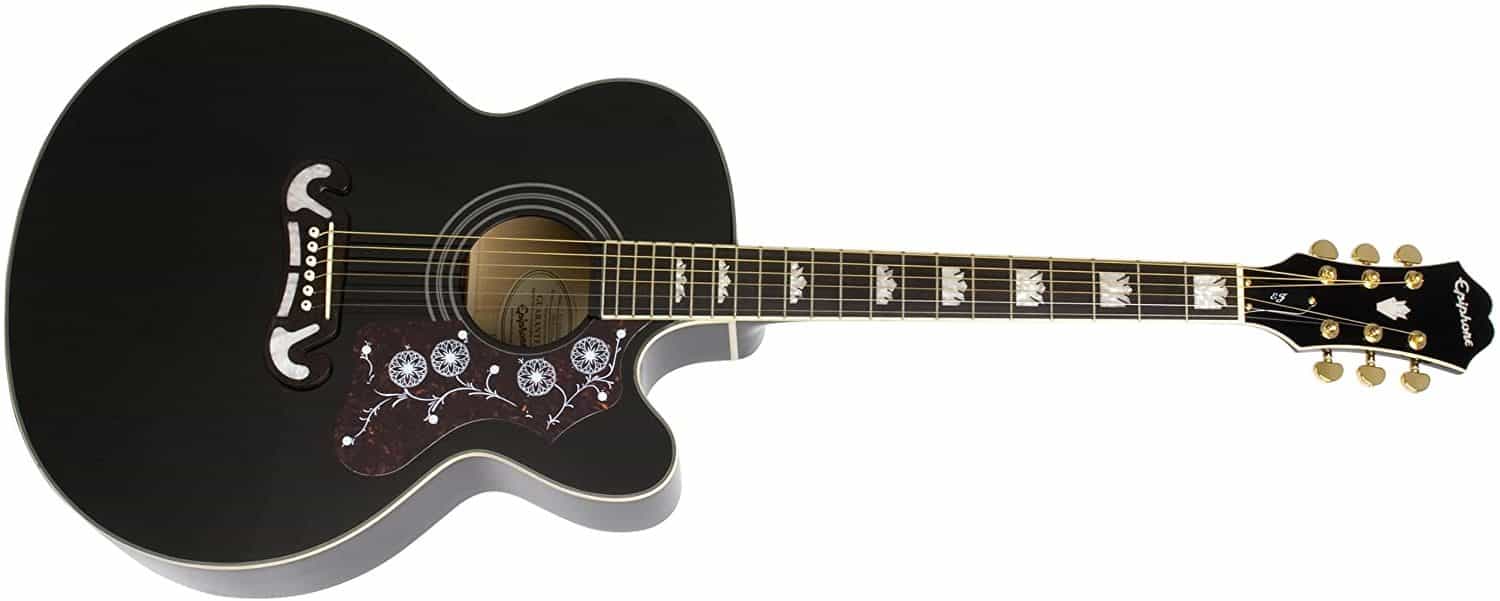 Well, the Epiphone EJ 200SCE is just another Epiphone guitar that is a direct rip-off of the Gibson EJ 200, a very fine guitar manufactured by Gibson for avid musicians.
See them side by side here in this extensive comparison review:
Design-wise, it has some bold features, including a flower-patterned pick-guard, a mustache-shaped bridge, and a crowned fretboard. In other words, it's the King James of acoustic guitars.
Anyways, style isn't the only thing that this Epiphone guitar gets from its Gibson counterpart; the quality is almost as good!
This Epiphone acoustic guitar features a maple wood body with a very complex and focused tone that stays conspicuous when played with other instruments.
Moreover, being an electric acoustic guitar, you can amplify the sound of this great instrument with the eSonic 2 pre-amp system.
Combine that with the nano-flex low-impedance pickup, and you've got a great-sounding guitar that's loud, clear, and consistent.
All in all, It's a top-of-the-line Epiphone acoustic guitar that works great for both beginners and experienced guitarists.
Check prices and availability here
Epiphone Songmaker DR-100
Epiphone DR-100 one of the few Epiphone guitars that is not inspired by Gibson guitars.
And boy, oh boy! It's the holy grail for beginners. The design of this acoustic guitar is based on both convenience and style.
If this guitar was a person, the first impression it would have on you would be more like "I mean business." It's a simple guitar that concentrates more on the music than gimmicks.
The shape is classic dreadnaught, with a solid spruce top that allows the guitar to make a really crisp and clear tone that only develops over time.
Moreover, you get all the volume and tone as with any high-quality acoustic guitar.
The only downside? It doesn't have any electronic settings like the Hummingbird Pro and EJ 200SCE.
But hey, who needs it on the basic level anyway? If basic stuff is all you seek, Epiphone DR-100 is for you.
Check out the latest prices here
Epiphone EAFTVSCH3 FT-100

I don't know what's up with the name, but the guitar in itself is an excellent option for those looking for a great guitar at a low price.
Epiphone FT-100, too, has the classic dreadnaught shape like the DR-100 to give you all the volume you want.
This Epiphone guitar features a mahogany back with a spruce top, which is ideal if you are looking for something with a more warm sound.
Additionally, with a 14:1 ratio, the tuning is as quick and accurate as any premium guitar from Gibson. The look, though, is not as contemporary as the features and gives off more vintage vibes at the address.
All in all, it's a nice instrument if you are looking for a decent guitar with great sound, without any extra amplification and stuff.
It's more like a cheap version of the DR-100, with a more old-school design.
Best Epiphone electric guitars
The electric guitar category is where Epiphone brings their A-game, with all the creations inspired by the Iconic Gibson Les Paul range, the master league of electric guitars.
Where we all aspire to own the original Gibson Les Paul in the future, the Les Paul range from Epiphone guitars is just what you need to quench your thirst for less until you can afford the original.
That being clear, here are some of the absolute best replacements you can buy for Gibson Les Pauls, all having the same creamy warm sound of the original range.
The only thing you would see deteriorating is the price.
Epiphone Les Paul Studio

Looking for a stripped-down version of the iconic Les Paul Standard at a low cost? Epiphone Les Paul Studio is exactly what you are looking for.
Unlike other Epiphone guitars that are complete rip-offs of Gibson guitars, the Les Paul studio only inherits its expensive counterpart's power-packed tone and sound.
The Epiphone LP studio features the Alnico Classic PRO pickup set, giving the overall guitar tone a warm, smooth, and sweet touch.
This also makes it slightly different from other models in the range, which mostly feature the standard Gibson pickups like a ProBucker.
Moreover, the coil-spilled option in the Les Paul studio cancels all the unwanted noise or hum, producing higher output, with a slightly thicker and heavier sound that is perfect for recording.
Another great thing about this model is the color variety it brings to the table without the extra flashiness like the Gibson Les Paul Standards.
All in all, it's just the less flashy version of the classic Les Paul, with the same great sound and quality, but at a price that is more than justified for the immaculate features.
It's a steal deal!
Also read: Best Wood for Electric Guitars | Full Guide Matching Wood & Tone
Epiphone Les Paul Junior

Initially introduced for beginners and students, the Les Paul Junior is another classic Epiphone guitar that has remained the go-for choice for almost every rock and punk player since the 1950s.
Guess what, the Epiphone Les Paul Junior has inherited everything that made the original one so popular among musicians of the time.
Everything is spot-on with the sturdy mahogany body, a graceful, chunky 50s profile neck, the same single and versatile P-90 pickup, and deluxe vintage tuners to give it a retro vibe.
It's an excellent choice if you want to spice up the experience as a practice to get the hang of an electric guitar.
However, for a bit experienced players who want a bit more out of their musical instruments, the single pickup on the junior can be a problem.
Thus, they would like to go for something over the top like the Les paul special.
Check prices and availability here
Epiphone Les Paul Special VE

Well, no one touches the iconic status of solid-body guitars manufactured by Gibson back in the 1950s. And to have one? You've got to be a really rich person!
But hey, to say that you can't experience "that feel" would be a total exaggeration, especially with the Epiphone Les Paul Special VE at hand.
Yes! Epiphone had to cut on a lot of stuff to bring down the price of this masterpiece to an affordable range, like using poplar wood and bolted body but turns out, it was all worth it!
Despite being a low-budget guitar, the brand ensured to add every basic feature of the 1952 original.
Thus, Epiphone Les Paul Special VE has the same top-of-the-range feel and sound, however, with a pleasantly vintage aesthetic that gives it a somehow unique identity.
As this model is specifically targeted toward beginner guitarists, it has a relatively thinner body. This makes it a lot easier to handle compared to models like Studio and Junior.
Moreover, you get all the goodies in the package, including the clear, power-packed tone of the original Gibson LP, and the open-coil Humbucker pickups for refined sound. That too, at a very low price.
For decades, the Les Paul special has remained one of the best-selling electric guitars due to its almost authentic Les Paul feel, with a great price utility to both beginner and professional guitarists.
Guess what? It doesn't always have to be expensive.
Check prices and availability here
Conclusion
Nothing beats Epiphone when it comes to making premium guitars on budget.
The quality is as good as most expensive models, and the price is less than even a quarter of higher-end guitars like Gibson and Fender.
Although most Epiphone guitars are just mentioned as the "cheap rip-offs" of Gibson's (which, by the way, most of them are), there's no denying that Epiphone has established itself as a well-respected brand in the budget market.
Be it beginner guitar players, experienced ones, or even a full-fledged Rockstar like Gary Clark Jr, everyone has picked up an Epiphone guitar at least once in their life.
Especially musicians tight on budget with a preference for better quality and sound.
That being said, in this article, we covered pretty much everything you needed to know about the Epiphone brand, from tidbits about its overall quality to some of its best models and anything in between.
Read next: Best Strings for Electric Guitar (Brands & String Gauge)
I'm Joost Nusselder, the founder of Neaera and a content marketer, dad, and love trying out new equipment with guitar at the heart of my passion, and together with my team, I've been creating in-depth blog articles since 2020 to help loyal readers with recording and guitar tips.
Check me out on Youtube where I try out all of this gear: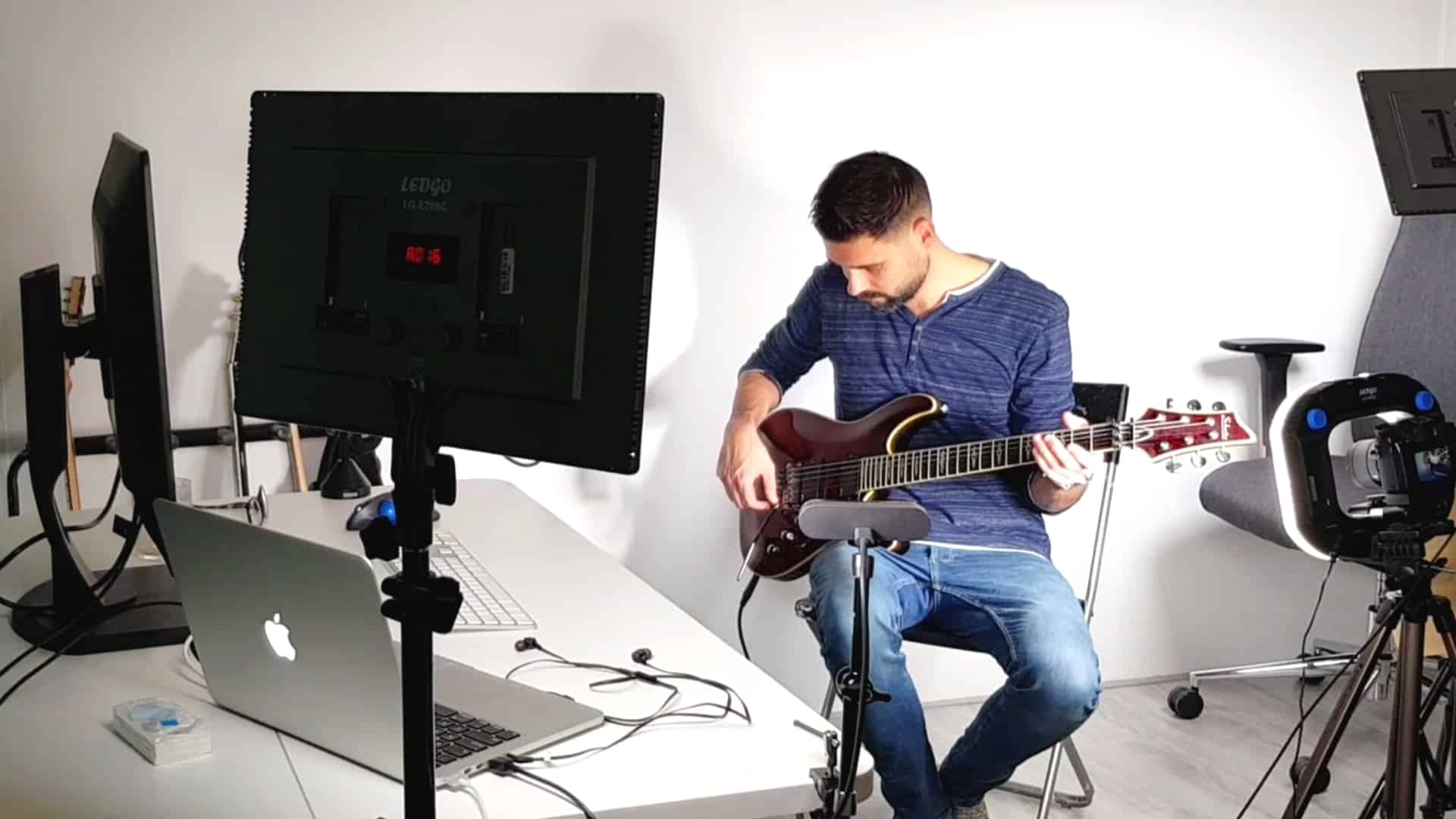 Subscribe