hi there I love creating free content full of tips for my readers, you. I don't accept paid sponsorships, my opinion is my own, but if you find my recommendations helpful and you end up buying something you like through one of my links, I could earn a commission at no extra cost to you.
Learn more
Choosing the right pair of strings for your guitar is one of the fastest ways to up your playing, and most people don't change them out often enough.
Having a fresh pair does wonders for playability and tone, but choosing the right pair matters a lot too.
That's why I wanted to go out and really put these to the test.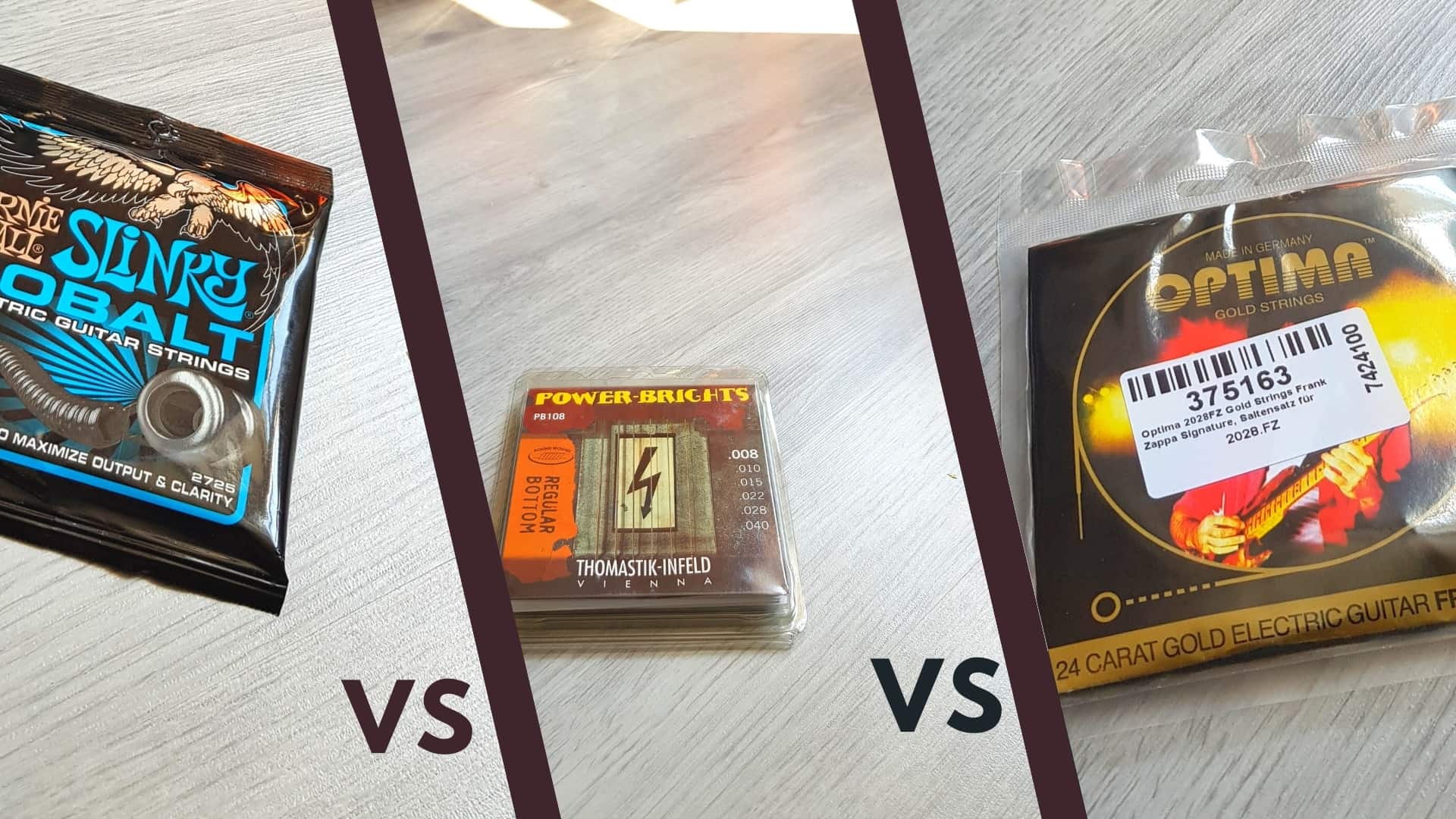 Keeping strings on your guitar for too long can make them sound dull and makes playing them a little harder even.
Even if you've never used the strings but they've been on your guitar for months, you'll actually have to replace them because humidity levels in your room or where you keep your guitar will effect the strings.
Luckily, electric guitar strings are relatively inexpensive compared to buying a new guitar pedal to up your tone, and they will have a great impact on your sound.
When testing all of the strings, one after the other, I fell in love with these Ernie Ball Slinkies Cobalt for their playability. If you do a lot of slides on the neck, as I do, they are definitely with it.
My advice, put on a pair of Cobalts to try them out, or just buy these regular Ernie Ball Slinkies if you're on a budget. I've tried the more expensive and the cheaper ones but the difference is really minimal.

* If you love guitar videos, subscribe on Youtube for more videos:
Subscribe

Gold plated, nanoweb, or other things. It might help to make them sound nice and play nice for longer, but just replacing a pack of Ernies Balls regularly also works wonders in my view.
But there are some differences, some definitely last longer and others sound a bit brighter, let's take a closer look.
For those in a hurry, let's take a look at the top picks before going through an in-depth description of each of them:
How do you choose the perfect strings for your playing style?
Many guitarists, including myself, will have a favorite go-to brand. It's probably the one we started out with or our teacher gave us, or a friend advised us on.
And choosing "the best" strings is quite subjective, because there are a lot of brands out there with different advantages to them, although there definitely are both budget and premium brands.
What can certainly make a big difference is choosing the right string gauge, so the thickness of the strings and most guitarists are probably using the wrong gauge for what they want to achieve.
Rick Beato has a nice discussion about this and at the end a sound comparison in different gauges that is fun to follow.
Listen to it until the end where they listen to the comparison in the studio, it really really makes a difference:
(more about gauges below)
On a personal preference level, I am drawn to the Slinky Cobalt strings for its unique composition and tone.
I found this produced a bright, warm, resonant tone, while the cobalt itself provided a unique playing experience, and as I choose a .008 set, there aren't too many options in premium strings.
Finding a set of strings is quite easy. You don't really have that many options. Strings for electric guitars usually consist of a piece of metal, usually steel, wrapped in a very thin wire.
From there you will see some variables such as different materials used for the winding wire, or maybe a layer of coating on the strings to extend their life.
But in the end, electric guitar strings are pretty straightforward.
String gauge
First, and perhaps most importantly, is the gauge or thickness of the string set. This measures how thick the strings are, and has an impact on tuning stability, tone, durability, and playability.
Guitarists with heavier styles of music probably will want to choose thicker gauges, as the accentuated low frequencies work well with lower tuned music.
Guitarists playing around with some advanced techniques such as sweep picking and legato may prefer slightly thinner gauges.
The gauge of a guitar string refers to the physical size of the string, expressed in inches. The most popular string gauge set for 6-string electric guitar is .010 – .046.
The .010-gauge string is the thinnest, referring to the first string or high E, and the .046 is the thickest or sixth string or low E.
The other strings are measured accordingly for the most even tension, feel, and tone. In standard tuning – E, B, G, D, A, E – on a normal scale length electric guitar (24.5 ,5 –25.5 ″), these gauges from .010 to .046 offer a balance between playability and tone.
The next most popular gauge is a .009 – .042 set, which offers slightly better playability due to the reduced tension.
In comparison, a lighter gauge string will not sound as full as a heavier string, which is sometimes preferable.
If you have a light attack, want super low action, or are looking for the ability to do extreme string bends, this is your gauge.
Update: I completely switched to .008 sets myself because of their more rounded tones and they are perfect for my low attack legato technique. Maybe not for everyone and certainly not for guitarists who like a heavier attack, so like to slash their strings harder.
However, the reduced tension has some drawbacks. Tuning and intonation are a bit less stable and something to keep a close eye on.
Fret buzz will also be more likely when you hit harder, especially since you'll be tempted to lower your action. Control with both hands is the key with lighter strings.
Going up a gauge to .011 – .048 does the exact opposite; the greater tension allows you to play harder and really dig into the strings but at the cost of making it much harder to bend the strings or play smooth legato licks.
There are "light top / heavy bottom" hybrid sets that combine string gauges and offer a compromise, allowing you to "attack" the low strings and "bend" the high strings.
Typically, a heavier string provides a slightly darker tone than a lighter measure for similar materials.
Due to the increased tension, heavier string gauges are also more favorable for drop tunings and alternative tunings.
Should I choose flatwound or roundwound strings?
Flatwound strings offer a completely different sound and feel. Compared to roundwounds, flat-wound strings have an extra layer of winding that has been polished, resulting in a very soft tone.
You'll mostly hear flatwound strings with old-school jazz guitar, but flatwounds also work well on fingerstyle guitars or on guitars used specifically for slide.
The smooth surface reduces annoying finger and sliding noises.
How often do you need to replace guitar strings?
Regular performers will want to change the strings for each show to make sure their guitar sounds the best they can, the same if you spend a lot of time in the studio. But, if you play alone at home, you will probably want to refresh them once a month or so.
The reason for changing so often is that strings have a short time when they are performing at their optimal level.
Things that can affect this include:
temperature and humidity changes,
sweat and other corrosive materials
and your own playing technique.
Best guitar strings reviewed
Best value for money: Ernie Ball Slinky strings for electric guitar
Probably the most famous brand of strings in the world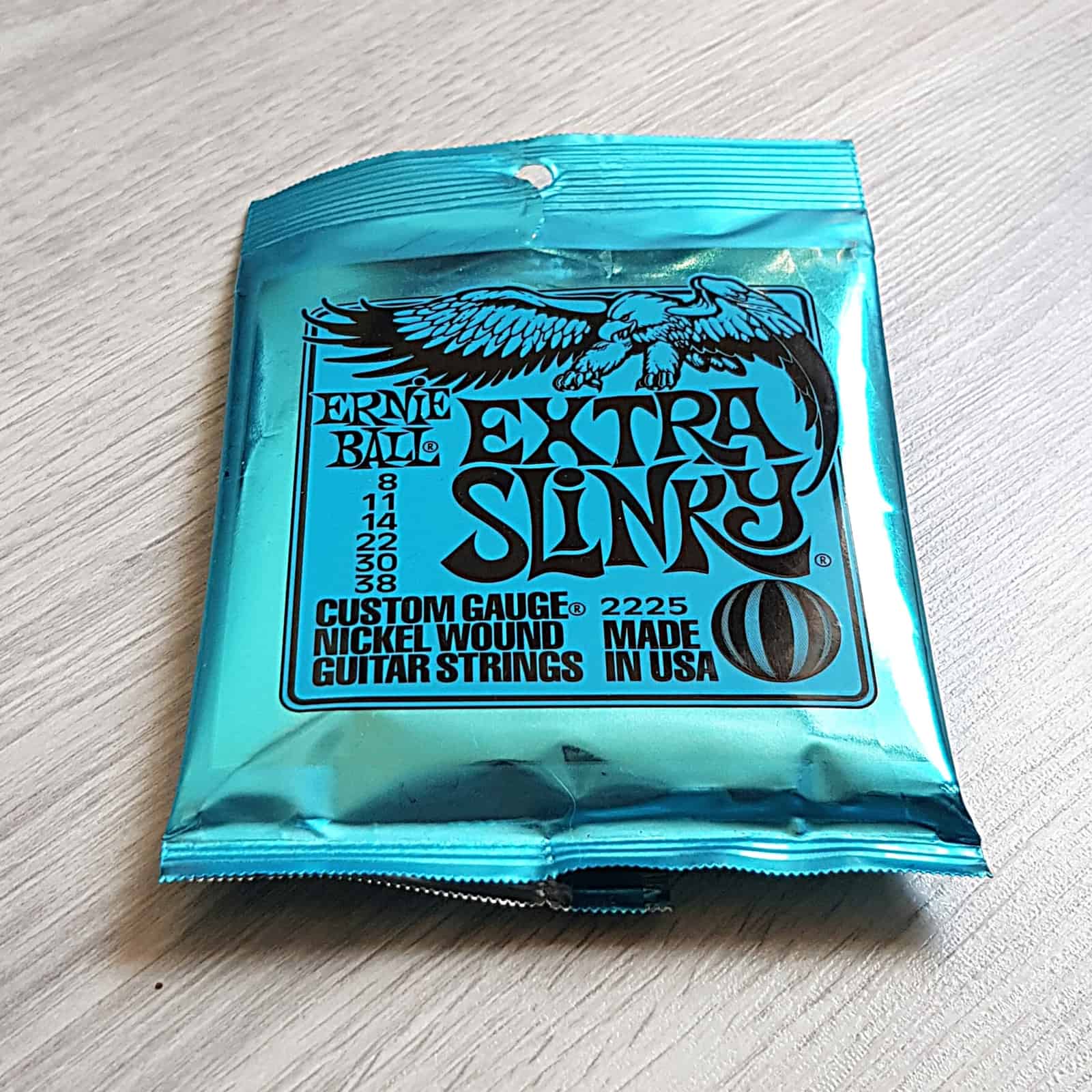 These are nickel-plated and you can get them in a lot of varieties, including Regular, Hybrid, Power, Skinny Top – Heavy Bottom as well as Super Slinky, which are the ones I've reviewed.
I like the way they play, the way they feel and I like the sound of them. I've played a few other brands like the D'Addario strings, and i'm not really a D'Addario fan, although they are great for durability and players who really dig into the strings.
I think you'll break a Ernie Ball Slinky much faster than you would a D'Addario string.
But the Ernie Balls are great for my playing. I've been playing with Ernie Ball strings since I can remember in the 90s, first at 0.09's, and then switched to 0.08.
I think a major reason I went back to Ernie Ball strings, and the Regular Slinky strings in particular, is that they are essentially  "the gold standard" (no pun intended because there actually are golden strings further down on this list).
These strings are made to be well rounded, with nice highs and ample lows, nothing too bright or too muddy, and maybe a little safe even for players who want to cover a lot of styles.
So whatever your playing style, there is always a set to suit you. I always use the 8-38 set myself because I like a lot of legato playing and fast passages. If you like to hit harder, you can always start at 0.10.
My hands slide nicely over the neck, a new set of strings always works wonders for your guitar anyway. The sound and output are also excellent, especially for such a budget set of strings.
Check the latest prices here
Overall Best Electric Guitar Strings: Ernie Ball Slinky Cobalt
You pay a little extra for amazing playability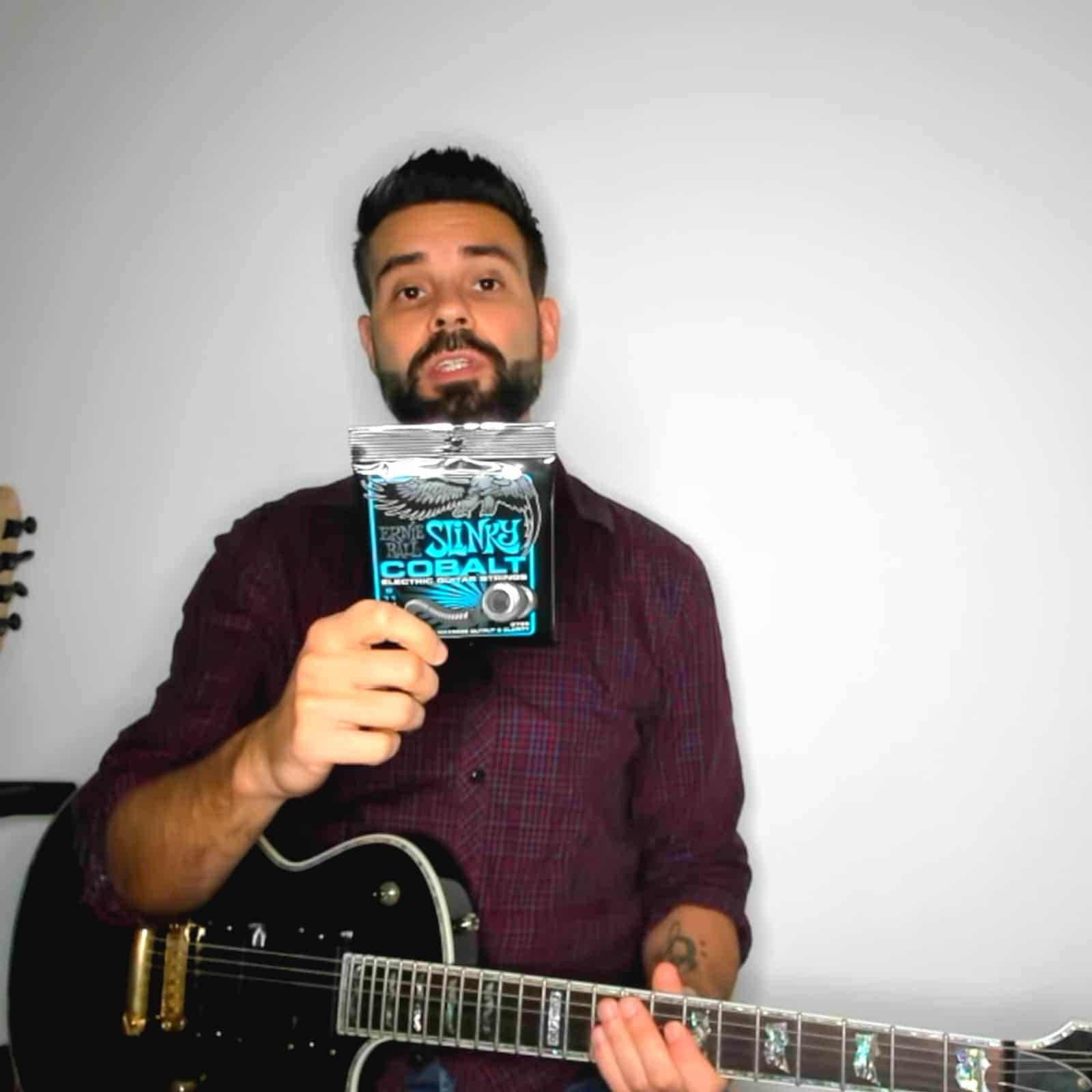 Ok, I do like Ernie Ball strings so I had to test their top-line range: Cobalt. They are made using other materials than you get with the regular Slinkies.
Cobalt, they discovered, interacts much better with the magnets in your pickups than any other alloy. This means you get an improved dynamic range and an increased low end.
Perfect for heavier styles of music and I use them a lot with active pickups to get the most gain out of them.
I actually like them. They are pretty smooth so they're good for gliding from one point of the string to another and I think that is the biggest plus for these strings. I found that the improvement in sound quality is only minimal.
You should really give them a try and see if your guitar playing improves as much as mine did.
Check the latest prices here
Best feel: Elixir Optiweb
The best coated electric guitar strings on the market
They are nickel plated steel wrapped wire and come in different gauges
In the fight against corrosion, some string brands choose to coat their products in an effort to extend the life of the strings.
Elixir is one such brand that uses its proprietary Optiweb treatment on the strings. The coating of strings is not without controversy; some players find that the treatment takes away some of the strings' natural resonance.
The Elixers are known for their bright sound and resonance, like uncoated strings, but will generally last longer and may even save money in the end despite their higher price.
Extremely wear resistant
Coating does not affect the sound
Clear and resonant
More pricey than most
I still advocate regular string replacement, but if you find yourself with a month-old set of Elixirs, you probably won't be disappointed with the sound.
Check prices and availability here
Best Mid-Range: GHS Boomers Electric Guitar Strings
The best electric guitar strings for quality and value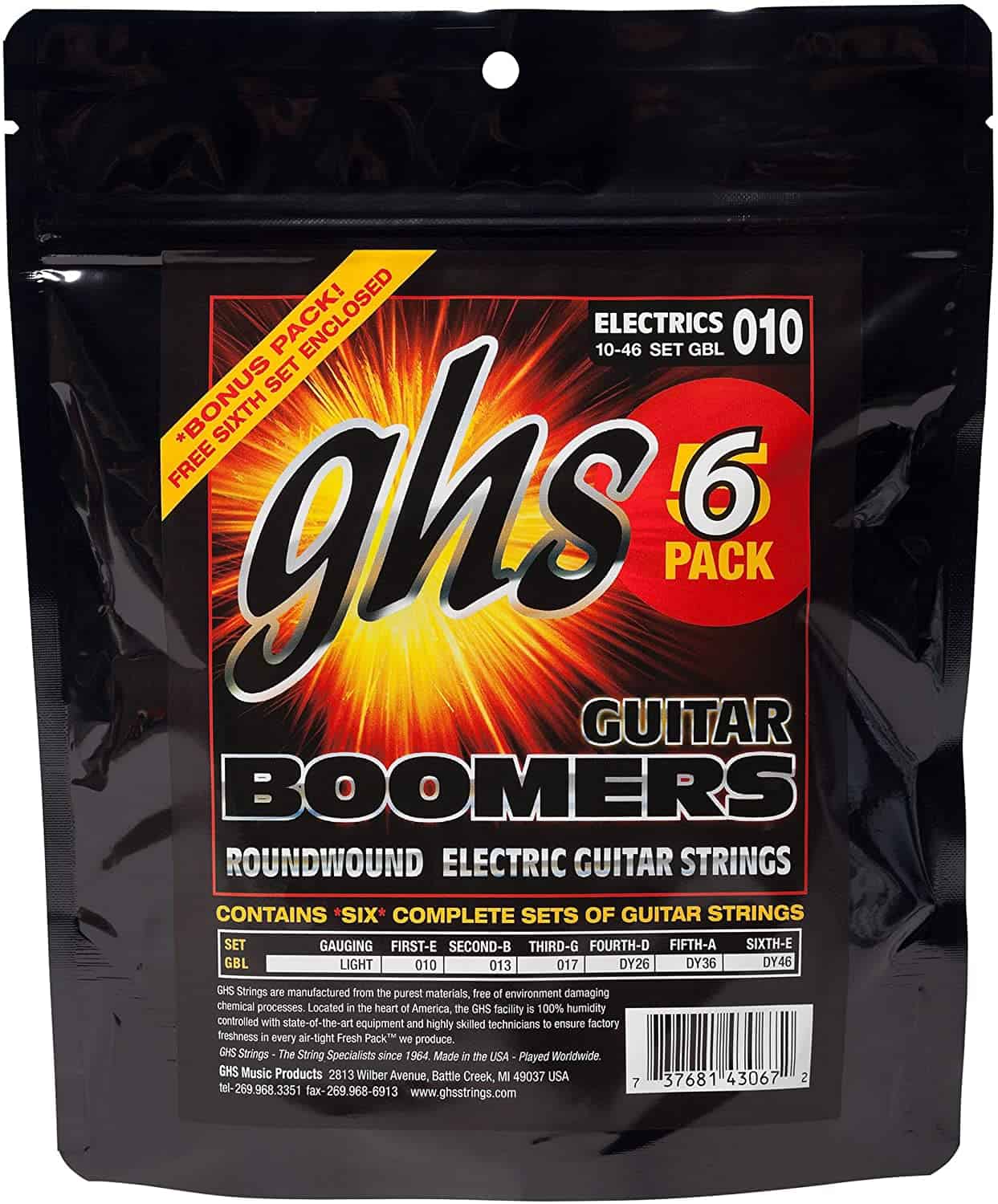 These are specially coated nickel-plated steel roundwounds
Next on the list is another well-known, much-loved set of strings. The GHS Boomers offer nickel-plated steel roundwounds with a steel core, providing a nice, bright tone.
While string brands used only pure nickel in the past, it turned out for whatever reason that this was no longer feasible. That's why they nickel-plated it.
Clear tone
Nickel plated
Priced reasonably
Unfortunately not a huge range
Luckily the Boomers deliver everything you want in a package that doesn't cost the world. Although the range is not the widest in terms of gauges available, there is good quality.
Great strings.
Check prices and availability here
Best Classic Les Paul Sound: Gibson Vintage Reissue Electric Guitar Strings
Electric guitar strings suitable for a vintage Les Paul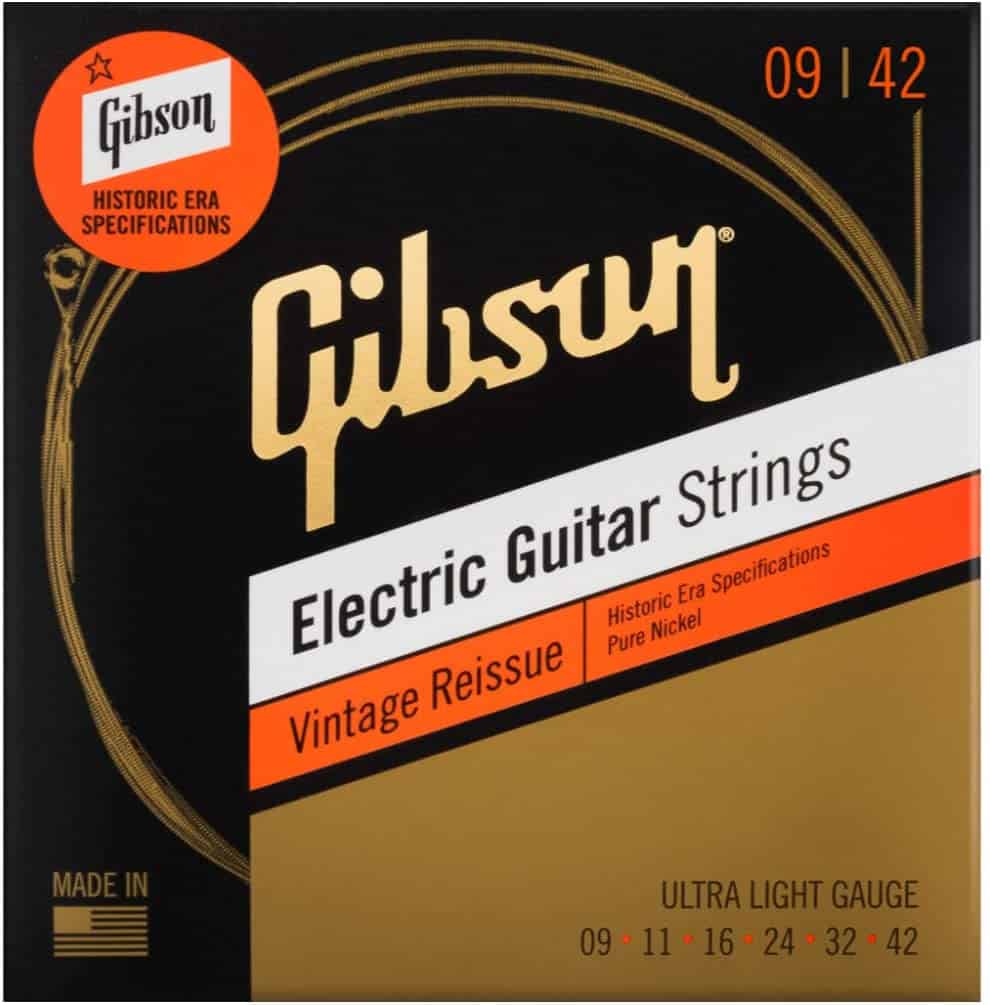 These are traditionally made from pure nickel which should deliver a warm tone with great clarity and headroom.
The pure nickel composition gives the tone a milder feel, and also makes them easier on string bends.
100 percent pure nickel
Warm, clear tone
Great for string bends
Gibson does offer other minor variants in this particular range, including the nickel-plated Brite wires and a set specifically for its Les Paul models (you may have heard of these guitars), but I chose the Vintage Reissue because they have a specific tone, and do this quite brilliantly.
Check availability here
Most innovative brand: Rotosound Ultramag
Innovative UK Electric Guitar Strings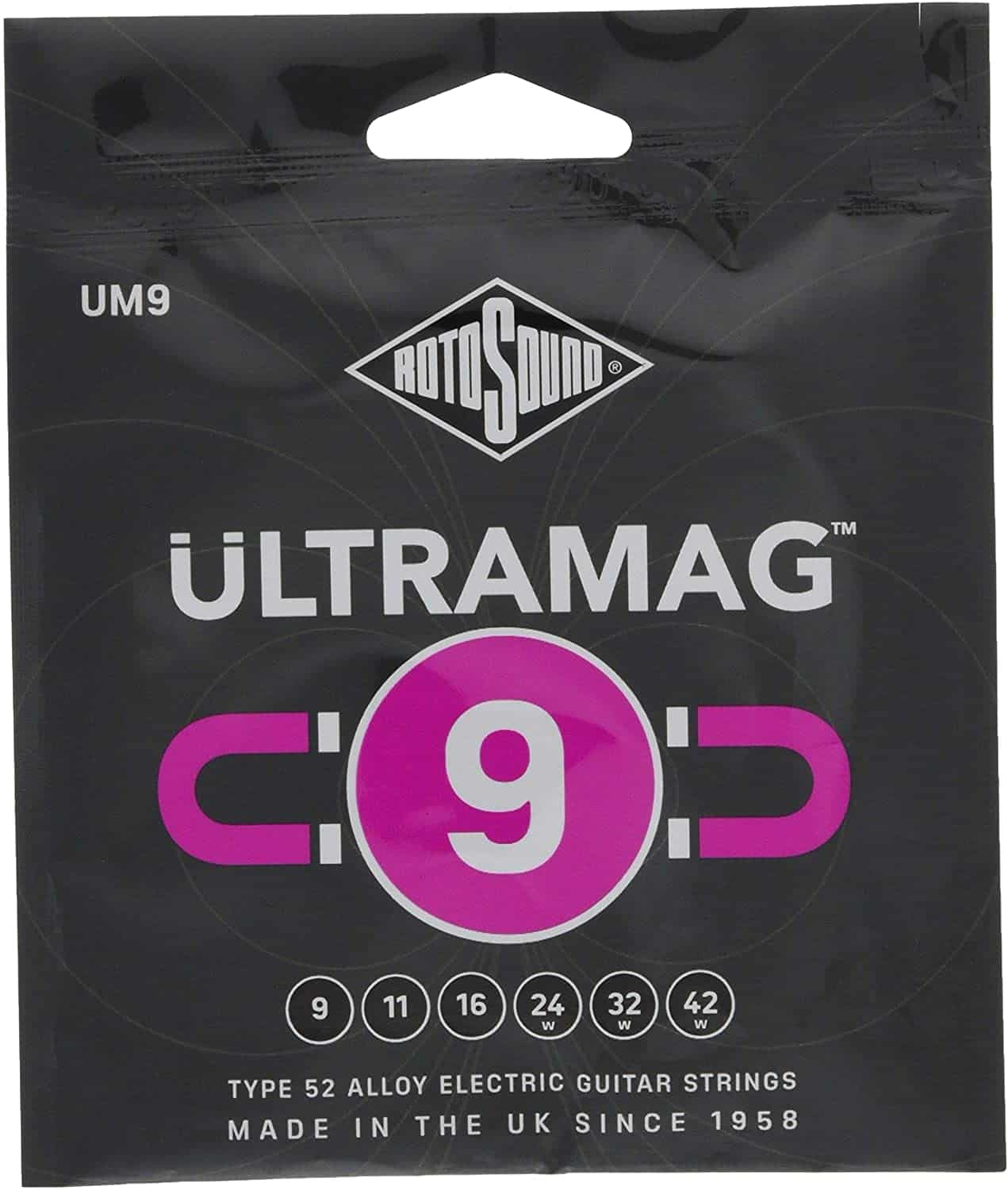 They are actually and alloy mix with 48% iron type 52 and 52% nickel
The British string manufacturer showcased its innovative streak with the launch of a new design with increased magnetic properties that provide extra strength, volume, and sustain.
Made in the UK
Innovative design
Great tuning stability
Corrosion-resistant
They make sure the strings have reduced friction so they keep in tune a little bit better, especially with non-locking tuners. To make them worth the extra investment, these strings also come with a corrosion-resistant coating so they last longer.
Check the latest prices here
Strongest Guitar Strings: D'Addario NYXL
These strings can take anything you throw at them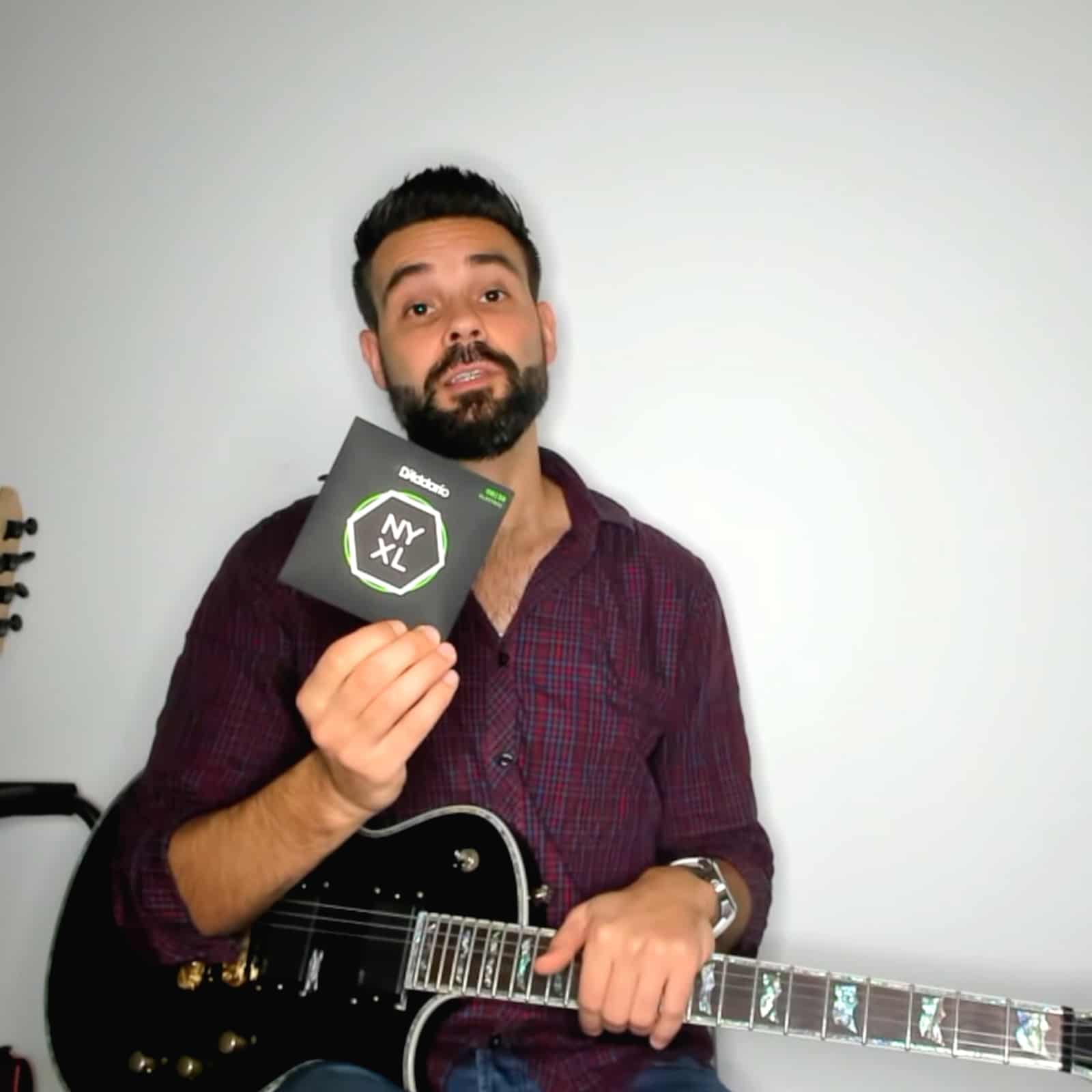 So these are nickel-plated, but the real innovation comes from the core.
They're made with a carbon steel core to make them strong enough to be able to withstand heavy chugging and extreme bends from your fingers or whammy bar.
D'Addario is arguably one of the biggest string brands, and these NYXL carbon core strings are their flagship.
The D'Addario NYXL's are designed with strength in mind.
So they come in a bag with all of them together and a color indicates which string it is. Well, you can actually tell by the thickness of the string of course.
I do like the packages from Ernie Ball, and Thomastik and Optima have this as well, where you get each string in a separate bag so you don't have this string clutter.
I really hate this, and I always prick myself with one of the ends of these strings because I want to go too fast, and then you have to look at the color scheme to see which is which.
Maybe a minor detail because ultimately it's about playability, but the Slinkies already have one up on these D'Addario's.
Of course, there's something to say about having too much packaging. It's not really good for the environment, but it just works so much faster.
The sound quality: you have to listen really carefully to be able to hear if it really matters, though I thought they were a little bit duller than most brands.
But what really differs is that these strings play a lot less smooth than the Cobalts do, I think that's the trade-off here.
Durability for heavy riffing instead of a slightly better sound and playability
D'Addario themselves say their big selling point for these strings is their tuning stability, which, because of the construction and the materials used, can retain the correct pitch way better than the normal steel strings.
Check the latest prices here
Best Strings For Metal: SIT Power Wound
The sound behind Lamb Of God and Rammstein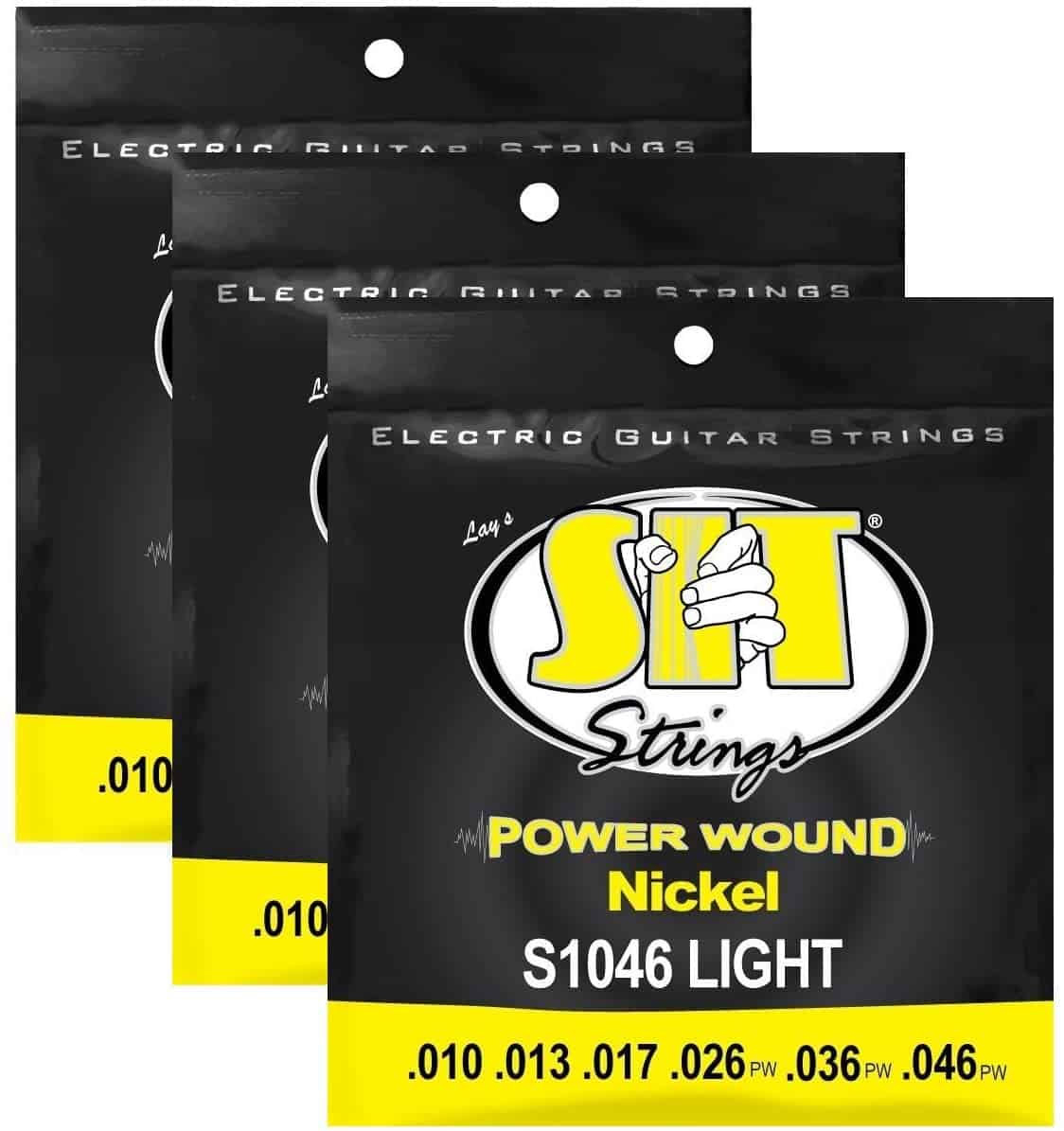 They are 8% nickel-plated steel cover foil over a hexagonal core
The all-American company SIT takes pride in the fact that the strings are Stay In Tune, and that's because of their carefully considered construction.
A combination of an 8% nickel-plated steel cover foil over a hexagonal core, all US sourced, delivers clear highs with a long life.
All-American
The choice of big names
Sustainable
Wide range of gauges available
Check the latest prices here
Best strings for downtuning or 7-string: Dunlop Heavy Core
Best Electric Guitar Strings for down-tuned riffs and other such heavy metal, best combined with these metal guitars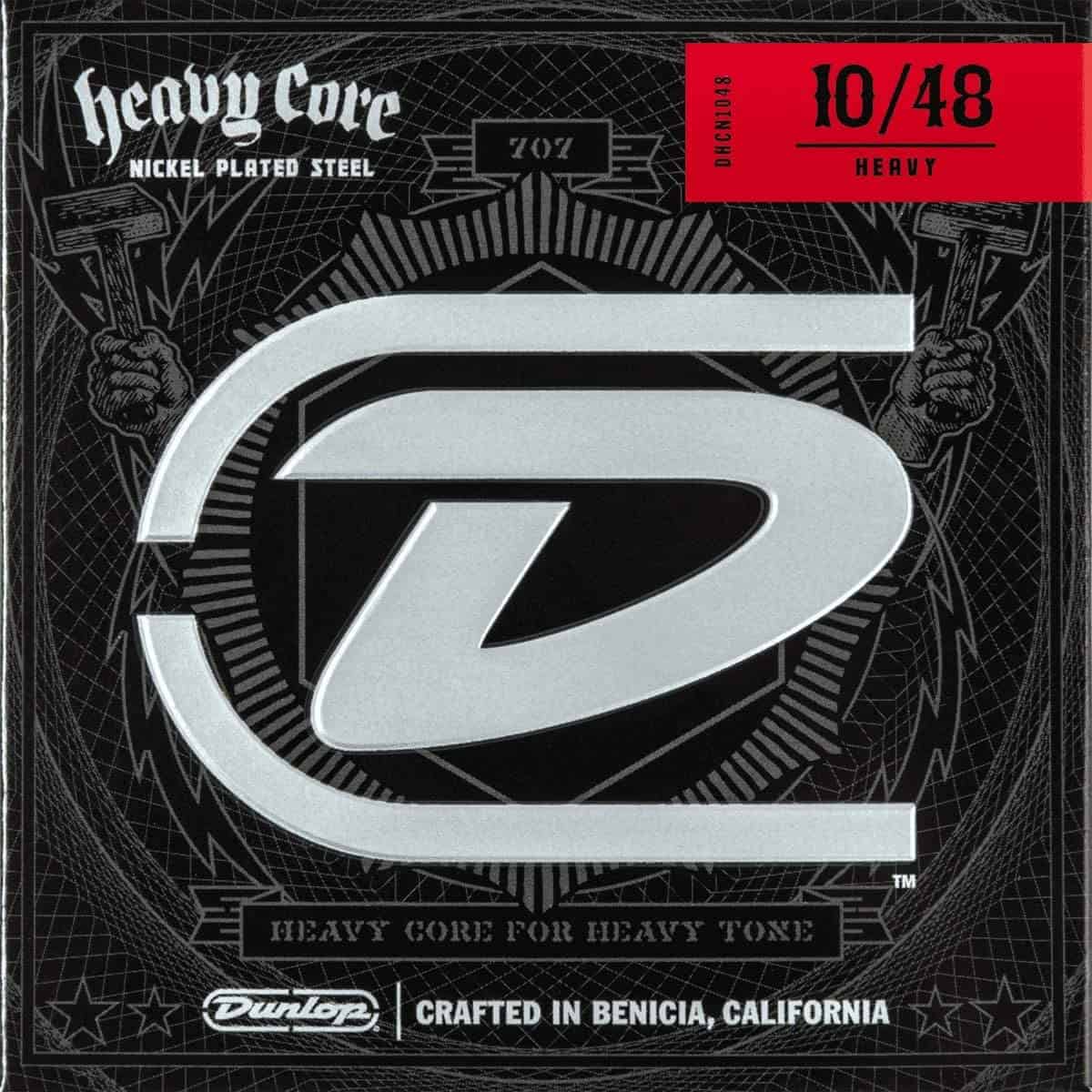 Another set designed with heavier styles in mind. The Dunlop Heavy Core strings are specially built with downtuning in mind.
Anyone who has played under Standard E knows that you can fall prey to the dreaded muddiness in your tone or slack strings.
These sets are packaged in a slightly different ratio, making them ideal for these playing styles.
Great for heavier styles
Downtune friendly
Strong
Not for lighter players
What you get is a defined low end, plenty of clarity in the midrange, and extra durability, so you can really riff while your palm mute.
Check the latest prices here
Best Strings for Blues: Fender Pure Nickel
Vintage warmth, ideal for blues, especially with one of these guitars we've reviewed here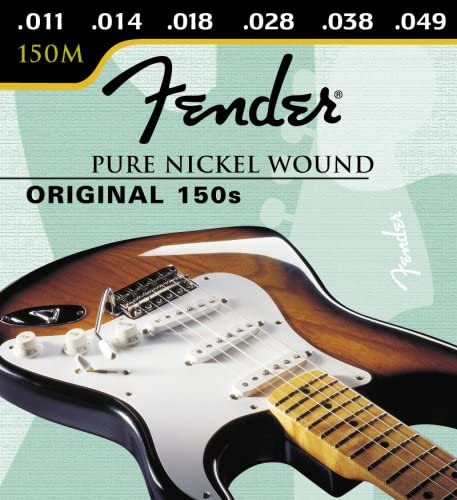 They have a nickel core wrapped with nickel wire.
If you own a Strat you'll want to check it out. The Fender Pure Nickel sets have a nickel core, wrapped with a nickel wire cover.
This delivers tons of vintage tone and also has the added benefit of reducing finger squeak as you move across the fingerboard.
For Strat owners
Vintage tone
Reduced squeaky fingers
Blues friendly
The strings feel silky smooth right out of the package, and the pure nickel core lets the guitar's inherent tone shine through.
Some of the best electric guitar strings when playing blues or low gain styles.
Check the latest prices here
Widest range: D'Addario EXL
The widest range of electric guitar strings, with something for everyone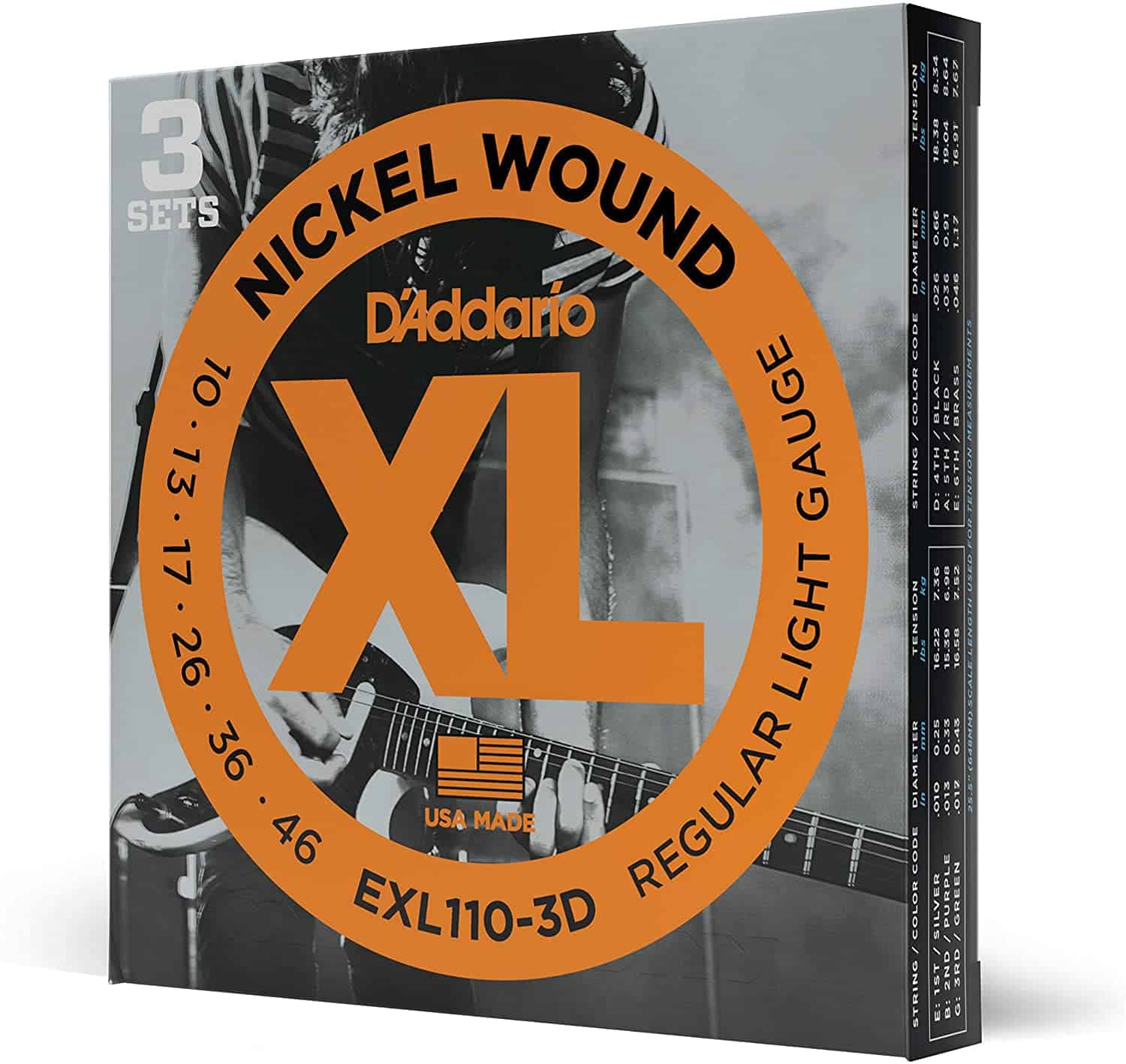 Pure nickel wound strings.
Next up is Ernie Ball's only real rival, especially in terms of offering. The D'Addario XL range includes six different construction methods, each with its own characteristics.
This includes the XL Prosteels, with increased output and clarity; XL Nickel Wound which are ideal 'everyday' strings; XL Coated Nickel, which have a slightly longer life; XL half rounds that are half flat to change their feel; XL Pure Nickel, which give that vintage flavor; and XL Chromes, which are flat wound to provide improved low-end smoothness.
Huge range of materials
Wide options of gauges
A bestseller
Each subset comes in a range of gauges and as D'Addario's best-selling selection, you should definitely consider them.
Check prices here
Premium string brand: Optima 24K gold plated electric guitar strings
The best guitar brand for fans of Brian May's charactaristic sound
These really are 24K gold round wound strings, which should make them naturally insensitive to corrosion and increase their durability.
I haven't really tested that since I changed the strings out so quickly for my test to see how they play and hear how they sound one after the next, but I just had to try these out for size.
They're the type of string that Brian May uses on his guitars.
They really have a gold-tone look to them, and each string comes in its own separate package, which I like when I'm putting on a new set of strings.
So it really does give a different look to your guitar altogether. I have this gold hardware on the guitar so maybe it looks better with gold hardware like this: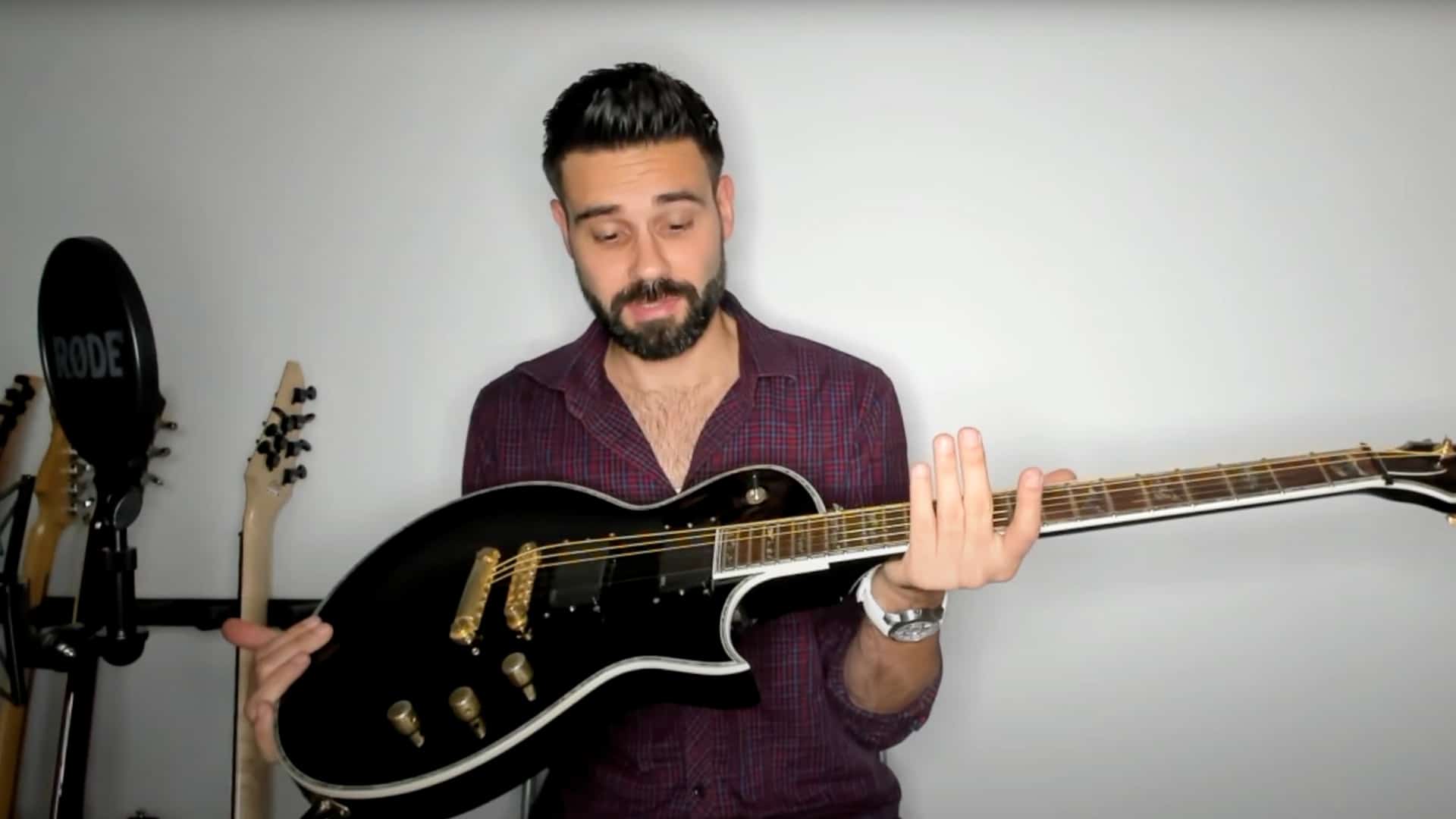 I still think it looks kinda strange, but it might take some getting used to.
I like the way they play. I think they sound a little bit more mid-toney, but they also glide a little bit better. Especially better than the D'Addario strings and a little bit less so than the Slinky Cobalt ones, which up till now are my favorites regarding playability.
They're also far more expensive than any of the other strings on the list, but should you settle for nickel and steel when you can get gold strings?
I personally think you should, but there is something to say for these strings.
Check the latest prices here
Best Clear Sound: Thomastik Power Brights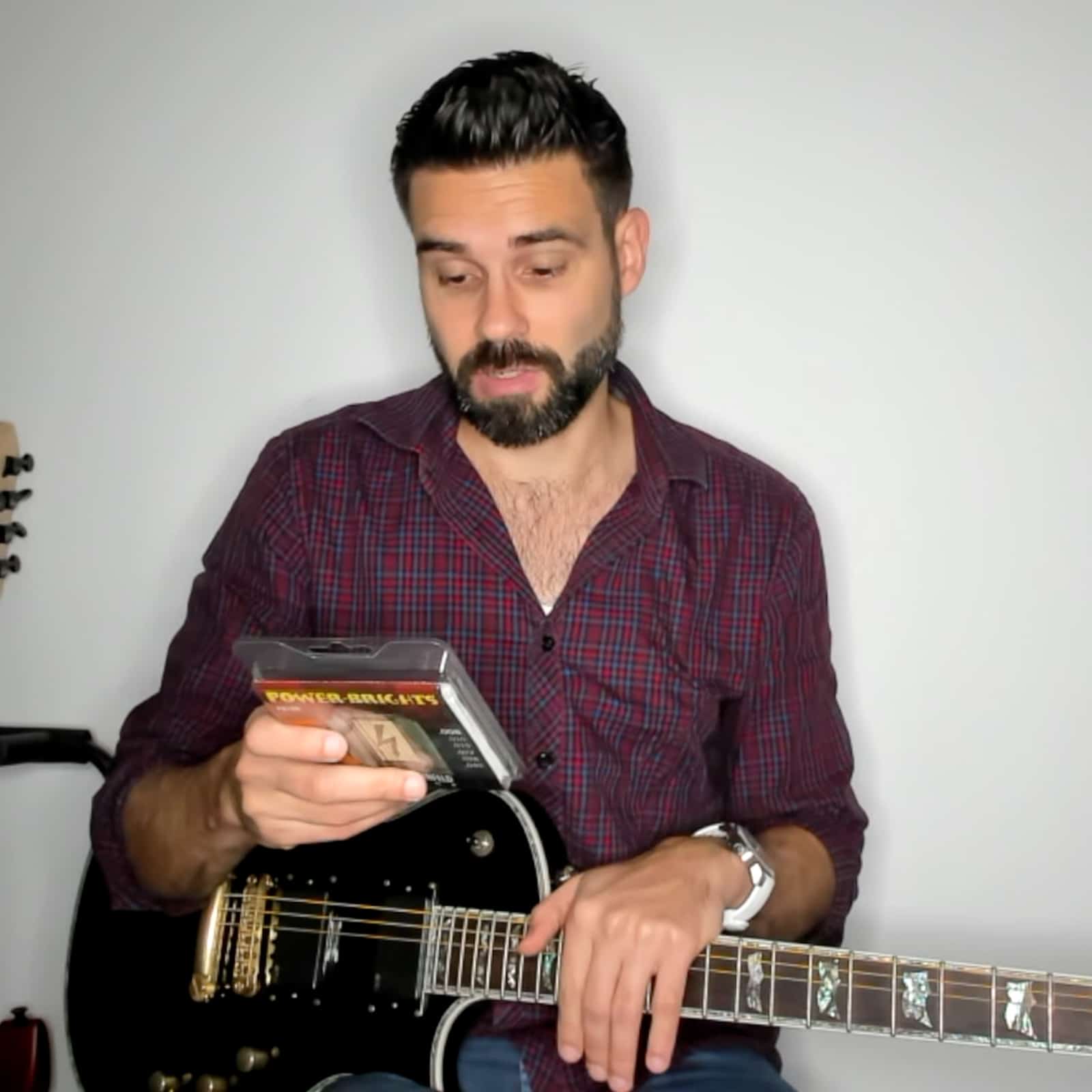 And we're down to the last one.
They certainly have the best packaging. I think they look the best because they're in this little box. But should you judge this pack of strings by it's cover?
They're the Thomastik Infeld Powerbrights, and these are one of the more expensive of the lot I've tested. But a lot of people said that these will make your guitar really sing, so I wanted to see what these would do to my tone.
So these strings also each have their separate packages which is a little bit easier to put them on, and a little less of a hassle.
Here, the high strings actually seem a bit gold-plated as well but the low strings don't. So you've got this divide between the high three strings and the lower three strings, which look like regular strings.
That's a different look all together as well. If you can see it, they have a little bit of a glow there: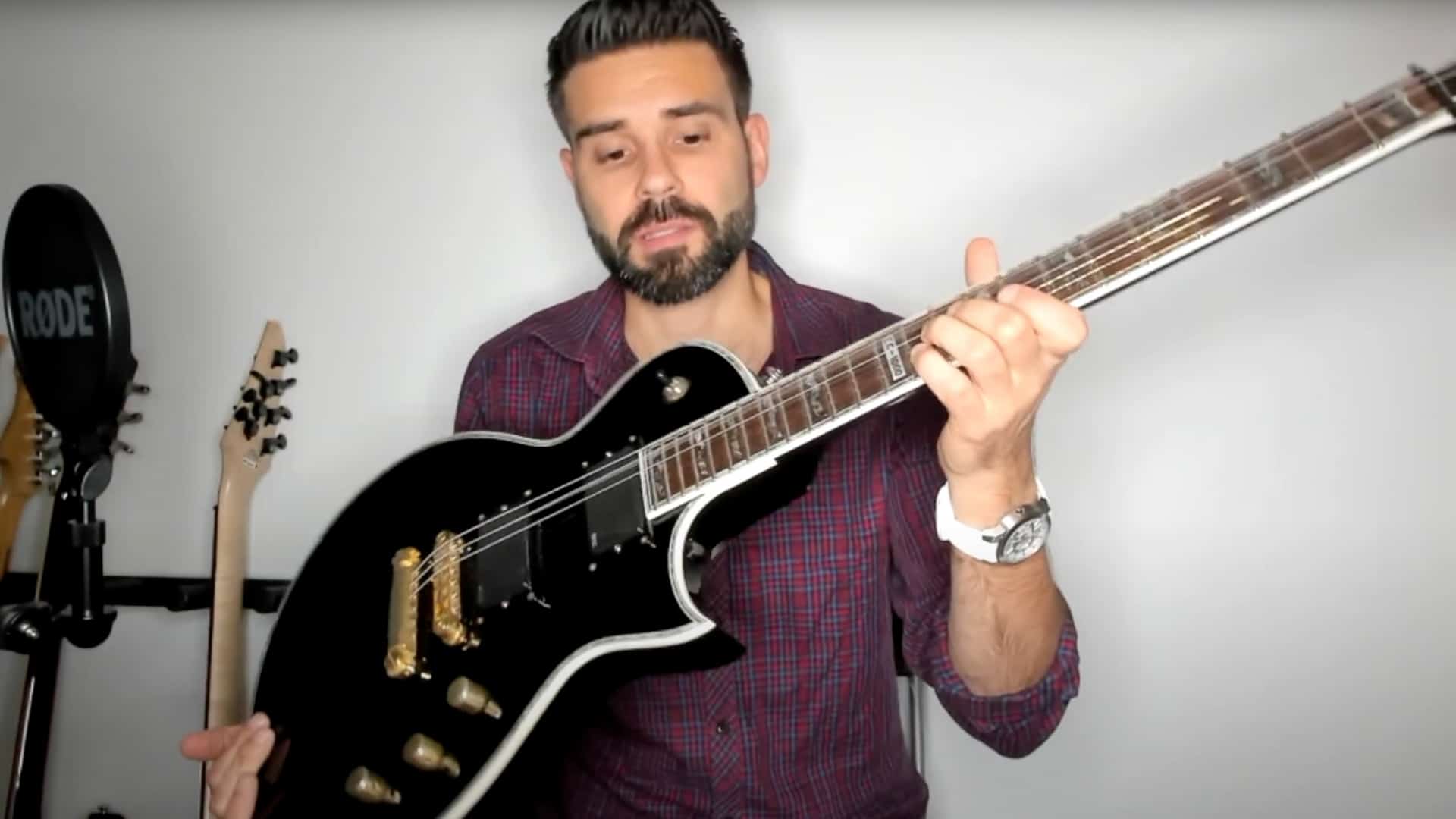 I like the playability of them. They're also very easy to play and they slide pretty well over the neck, second only to the Cobalt strings.
They should give a heavier distortion and more vibration to make them the perfect strings for rock music.
With a hexagonal core, they are supposed to enhance the percussiveness of your playing and provide more harmonic sounds.
I didn't really get that much of a "feel" from them, but they play well and sound a bit brighter.
I looked into the divide of the string color and the light strings at the top combined with heavy-gauge bottom strings give a bit more sustain and a thicker low midrange and bottom.
Check prices and availability here
Conclusion
So it's been fun and I've listened to all of the different types of strings one right after the other, and I hope you did as well in the video.
I don't know if you have your favorite brand in the sound department.
I really like the funkiness of the Powerbrights, they actually were really a bit brighter than the others, and I like the Optima strings for the really high tones way up on the neck.
I think they really made the guitar sound stand out and they're a bit more mid-tone heavy than the other strings.
But overall, I think when you look at the sound it doesn't really make that much of a difference from each type of string to the next.
I really didn't like the D'Addario strings. I know a lot of players do but it's just not my brand, but I don't riff that hard, I play very lightly actually so maybe that's the reason.
But my favorite playability wise were the Ernie Ball Cobalts which really helped my fingers slide over the guitar with much more ease, and a lot more ease than even the more expensive brands, although they are not really that cheap.
I personally think when you look at sound quality, I would just go with Ernie Ball regular Slinkies, which are sometimes one-third of the price of the Powerbrights or the Optima strings for example.
So that's my take on these strings.
Let me know which type of strings you play yourself and if you're going to try a different type after reading this article and how you like the playability of those.
Leave a comment on the video here on Youtube to join the discussion.
I know each person has their own type of string that they normally use and they like to use so it will be great to hear your take on this!
I'm Joost Nusselder, the founder of Neaera and a content marketer, dad, and love trying out new equipment with guitar at the heart of my passion, and together with my team, I've been creating in-depth blog articles since 2020 to help loyal readers with recording and guitar tips.
Check me out on Youtube where I try out all of this gear: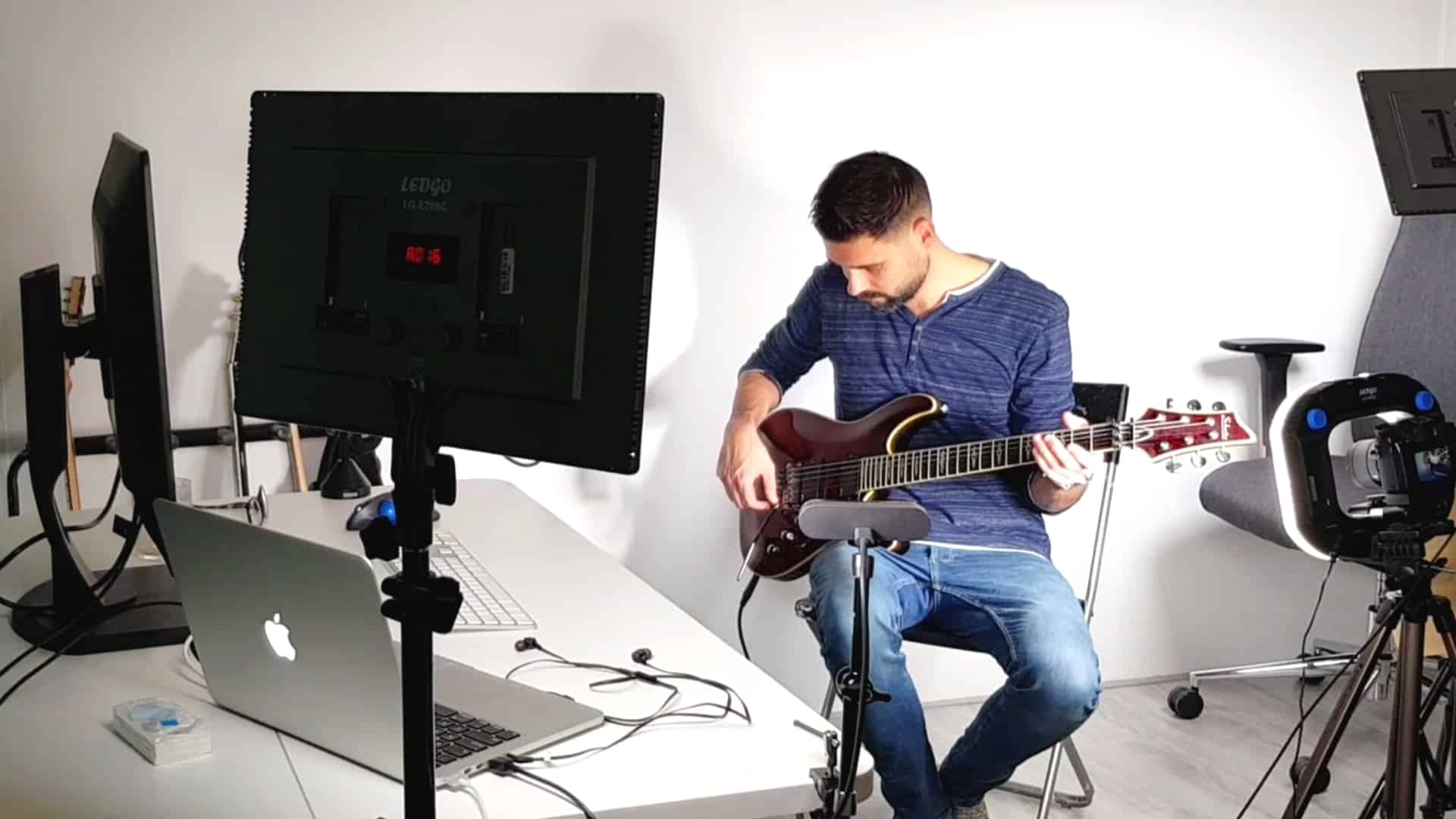 Subscribe