hi there I love creating free content full of tips for my readers, you. I don't accept paid sponsorships, my opinion is my own, but if you find my recommendations helpful and you end up buying something you like through one of my links, I could earn a commission at no extra cost to you.
Learn more
Blues can be played using a wide range of instruments, but the guitar is obviously the most amazing one, that's why you're here right?
Every good song needs a wailing solo with a few bends and some good old bluesy licks to make it a true blues song, at least, that's how I feel about it.
While any guitar can be used to playblues music, it's best to use one that has a crisp clear sound and a wide range of tones, including deep bassy undertones and vibrating upper ranges.
Now, let's have some fun and compare guitars together!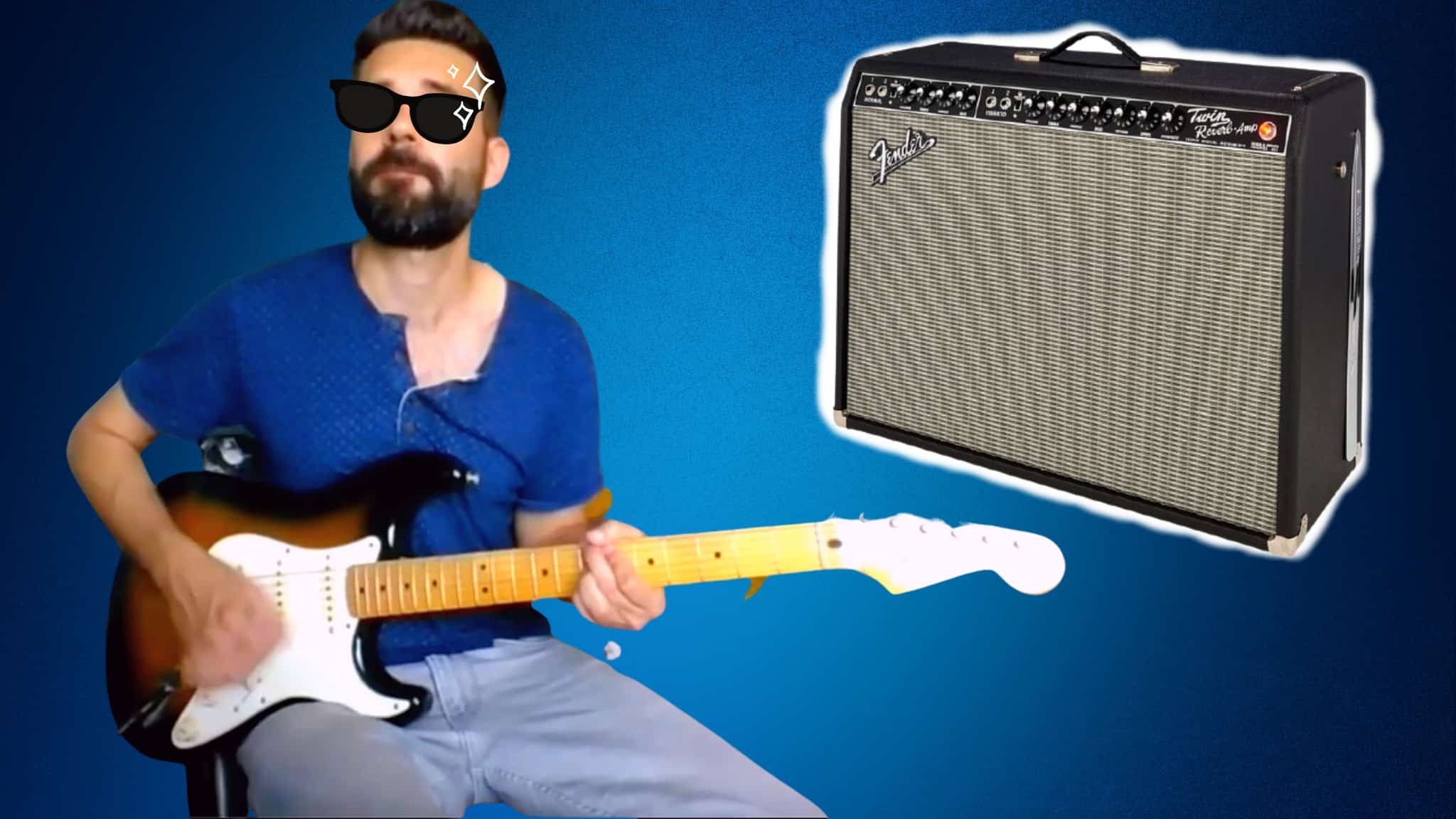 Let's look at how to get those and how to find an instrument that fits your style.
There are many guitars you could choose as a blues player, but most agree that the Fender Stratocaster is among the best. The Fender name means strong construction and with 3 single-coils and 5 different configurations, it's versatile enough to sound anywhere from bright and clear to warm and thick.
This was the guitar used by blues-rock greats like Jimi Hendrix and the blues legend Eric Clapton, so you know you're in good company.
But with so many guitars to choose from, and with guitar playing being such a personal experience, I know the Strat might not be for everyone.
Well, no worries. I'll provide a wide variety of options for a blues guitar player like yourself, so you can find one that's right for you.
What to look for in a blues guitar
Before getting into the best guitars out there, let's cover what you should be looking for in a blues guitar. Here are some things to consider.
Sound
Sound will make all the difference when it comes to finding a blues guitar that suits your needs.
If you're playing the blues, you'll want your high notes to have a clear, cut-through sound while your low notes should be deep and growly. Mid should be punchy as well.
Playability
There are several factors that affect playability. Most guitarists will want a neck that is relatively thin so their fingers can move easily and allow them to grip the neck to form chords and bend strings.
A cutaway neck is another feature to look out for. This will be helpful in helping the player access the higher frets of the guitar.
Lightweight
A thin, lightweight body is another thing to look out for. A lightweight body will be more comfortable on stage and it will be easier to carry.
However, a lighter guitar may also produce a thinner sound, which can be problematic if you are trying to get those deep bluestones.
For solid protection for your guitar on the road, check out my review on the best guitar cases and gigbags.
Pickups and tone knobs
Guitars feature a variety of pickups that produce different sounds. The pickup you play out of will be controlled by a tone knob that sits on the guitar.
In general, you'll want to find a guitar with high-quality pickups and a variety of knob settings that help you achieve different tones.
Note, if you're not happy with your pickups, they can be changed out at a later date, but it's best (and often cheaper) to get it right from the start.
Tremolo bar
Also called a whammy bar, a tremolo bar will give you pitch-changing sound that can make for a cool effect when you're soloing.
When you push on the tremolo, it loosens the tension on the strings to flatten the pitch while pulling on it tightens the strings and raises the pitch.
Some guitarists like tremolos, while others stay away from them because they can knock your guitar out of tune (here's how to tune it back up fast!).
Many of today's tremolo bars are removable so guitarists can have the best of both worlds.
Number of frets
Most guitars have 21 or 22 frets but. Some have as many as 24.
More frets will provide more versatility but a longer neck isn't comfortable for all players.
Short-scale option
Short-scale guitars typically have 21 or 22 frets but they are in a more compact configuration and are a good option for beginners and players with smaller fingers and arm lengths.
Solid construction
It goes without saying that you want a guitar that's well made. In general, well known brands will make good guitars and the more you pay the better the construction tends to be. However, there are some exceptions.
Here are some things you will want to look for in the build of a guitar:
The guitar should be made of a quality wood, the rarer the better.
The hardware should not feel flimsy and should function easily.
Metal parts should be tight and should not rattle.
Electronics should be manufactured by a respectable brand and provide a great sound.
Tuning pegs should turn easily but not too easily.
Metal and frets on the fretboard should feel smooth when you run your fingers over them
Aesthetics
Your guitar will be a big part of your onstage image. Therefore, you'll want to purchase one that's suited to your image.
Blues guitarists tend to have a toned-down earthy image so a simple model may work best. However, you can go crazy when it comes to colors, body shapes, and so on.
Check out the stunning aquamarine PRS in my list for example!
Other features
You will also want to consider whether the guitar comes with any extras.
It's not uncommon for a guitar to come with a case although not all of them do. In addition, some guitars may come with strings, picks, lesson resources, straps, tuners and more.
One of the most important accessories for your guitar won't be included (except with Fender Stratocaster on my list): the guitar stand. Find the best ones reviewed here
Best blues guitars reviewed
Now that we've gotten that out of the way, let's take a look at some guitars that are rated as the best.
Overall best blues guitar: Fender Player Stratocaster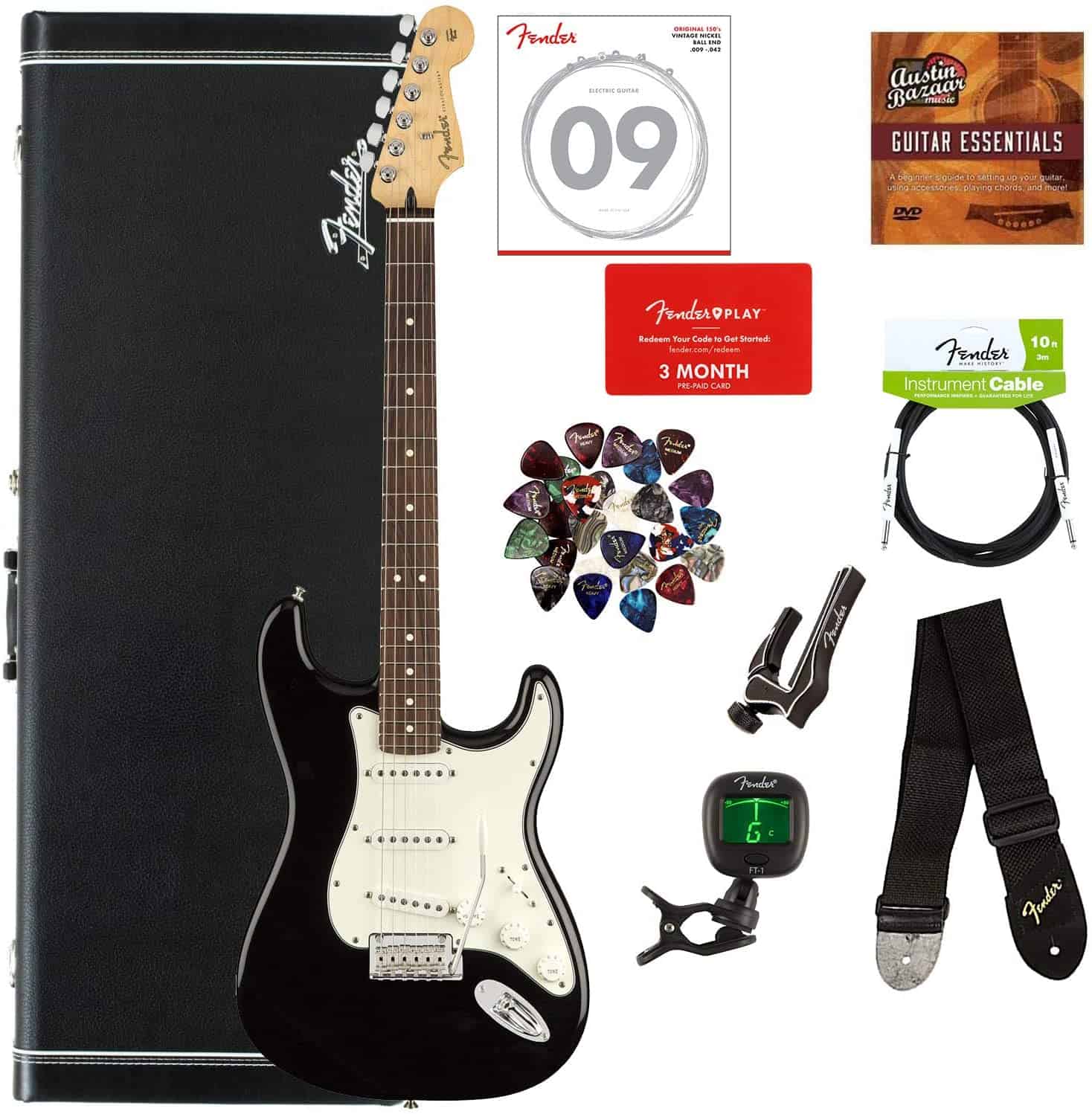 You really can't beat the Stratocaster when it comes to getting a blues-rock sound as Fender makes some of the most iconic electric guitars.
Fender guitars are known for their bell-like upper end, their punchy mids, and their rough and ready lows. It is recommended for blues guitarists but it is versatile enough for any style of guitar music.
This particular Stratocaster has a Pau Ferro fretboard that sets it apart. This is a South American tonewood that has a smooth feel and a tone that is similar to rosewood.
The Strat is made in Mexico which brings the price point down, but in many other respects, it compares well to American Fenders.
It might not have the finishing touches of say, a Fender American Special Stratocaster, but it certainly hasn't got the steep price tag either.
The biggest difference may be a lack of rolled edges on the fretboard which provides a sharper feel when playing. However, there are techniques you can use to roll the fretboard after purchasing it:
The guitar is equipped with a 2 point tremolo design bar that gives it extra wah power.
It has the signature three single-coil pickups which overall are pretty good:
the bridge pickup is a bit thin for my taste but I like to play more blues-rock
the middle pickup, and especially the out of phase with the neck pickup is the one I like the most, for a bit of a funky twangy sound
with the neck pickup sounding extraordinarily well for those growly blues solos
and it has a modern 'C-shaped' neck that provides terrific contours. Its 22 frets mean you never run out of neck.
It also features volume and tone control knobs, a five-way pickup switch, a synthetic bone nut, a dual-wing string tree, and a four-bolt stamped neck that ensures high quality.
It has a great 3 color sunburst look and the set includes a hard case, a cable, tuner, a strap, strings, picks, a capo, Fender Play online lessons and an instructional DVD.
As mentioned earlier, Jimi Hendrix was a blues rock guitarist who favored the Fender Stratocaster.
He owed most of his sound to the custom heavy strings he played but he also used specific amps and effects to get the tones he liked.
Pedals included a VOX wah, a Dallas Arbiter Fuzz Face and a Uni-Vibe Expression.
Check the latest prices here
Best blues guitar for beginners: Squier Classic Vibe 50's Stratocaster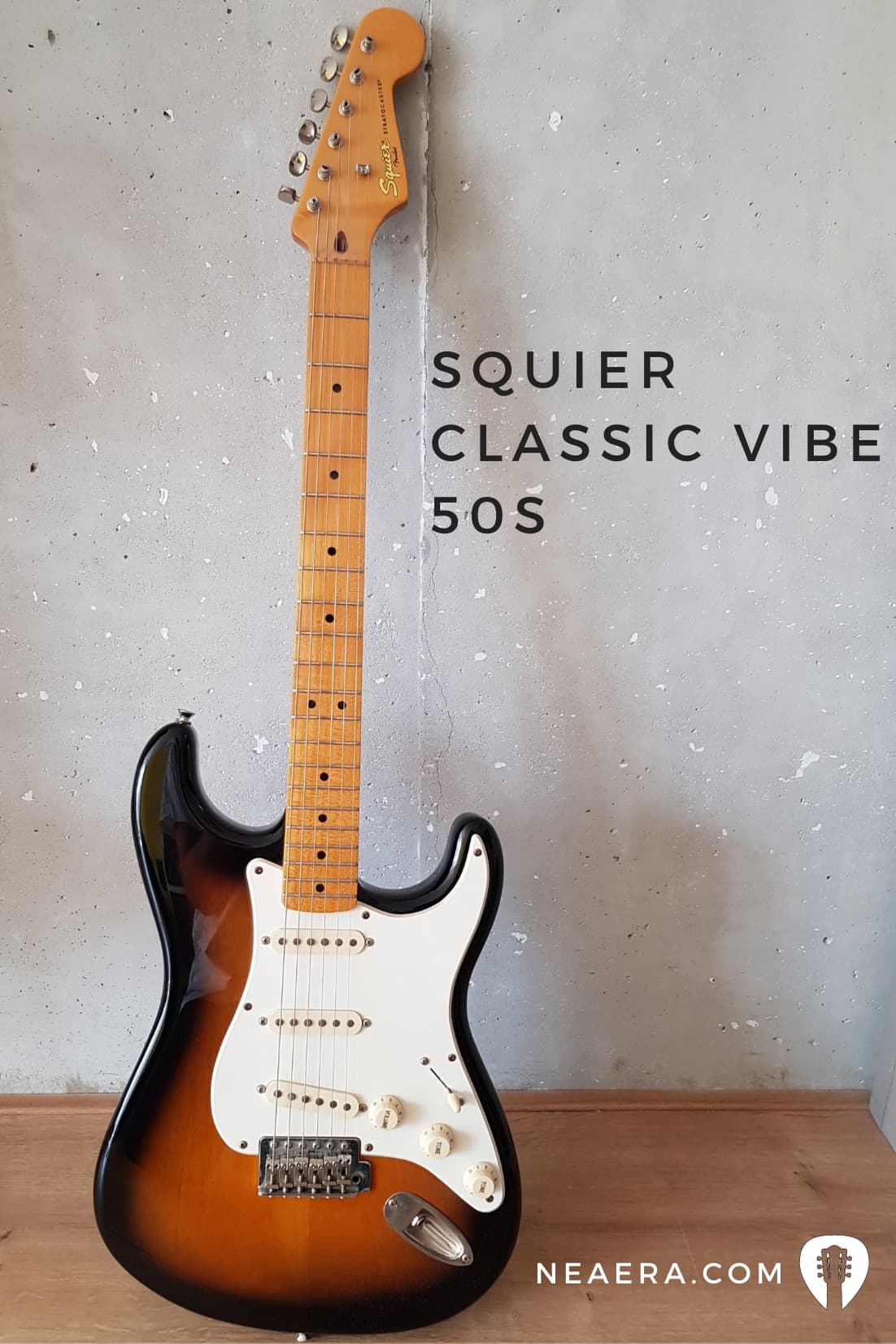 This guitar is based on the Fender Stratocaster but it's a less expensive version.
The reduced price tag makes it ideal for guitarists who are starting out and aren't sure if they are ready to take guitar playing to the next level. Its 50's inspired design makes it perfect for those with a retro style.
The guitar is 100% designed by Fender. It features 3 alnico single-coil pickups that provide an authentic Fender sound that's suited to the blues while still being a very versatile guitar.
It has a vintage tint gloss neck finish and nickel-plated hardware. The C shape provides easy access to the notes high up on the fretboard.
The tremolo bridge provides great wah sustain. The vintage-style tuning pegs feature solid construction and an old-school look that takes you back. The body is made of poplar and pine and the neck is maple.
Although this Fender Squier is great for beginners, there are more advanced models that are suitable for some of the greats. Jack White, for instance, has been linked to the Fender Squier name.
White likes that fuzzy vintage sound so it should come as no surprise that he favors Fender Twin Reverb amps.
He accentuates his tone with pedals like the Electro Harmonix Big Muff, the Digital Whammy WH-4, the Electro Harmonix Poly Octave Generator and the MXR Micro Amp which he uses for a sound boost.
Check prices and availability here
Best guitar for blues-rock: Gibson Les Paul Slash Standard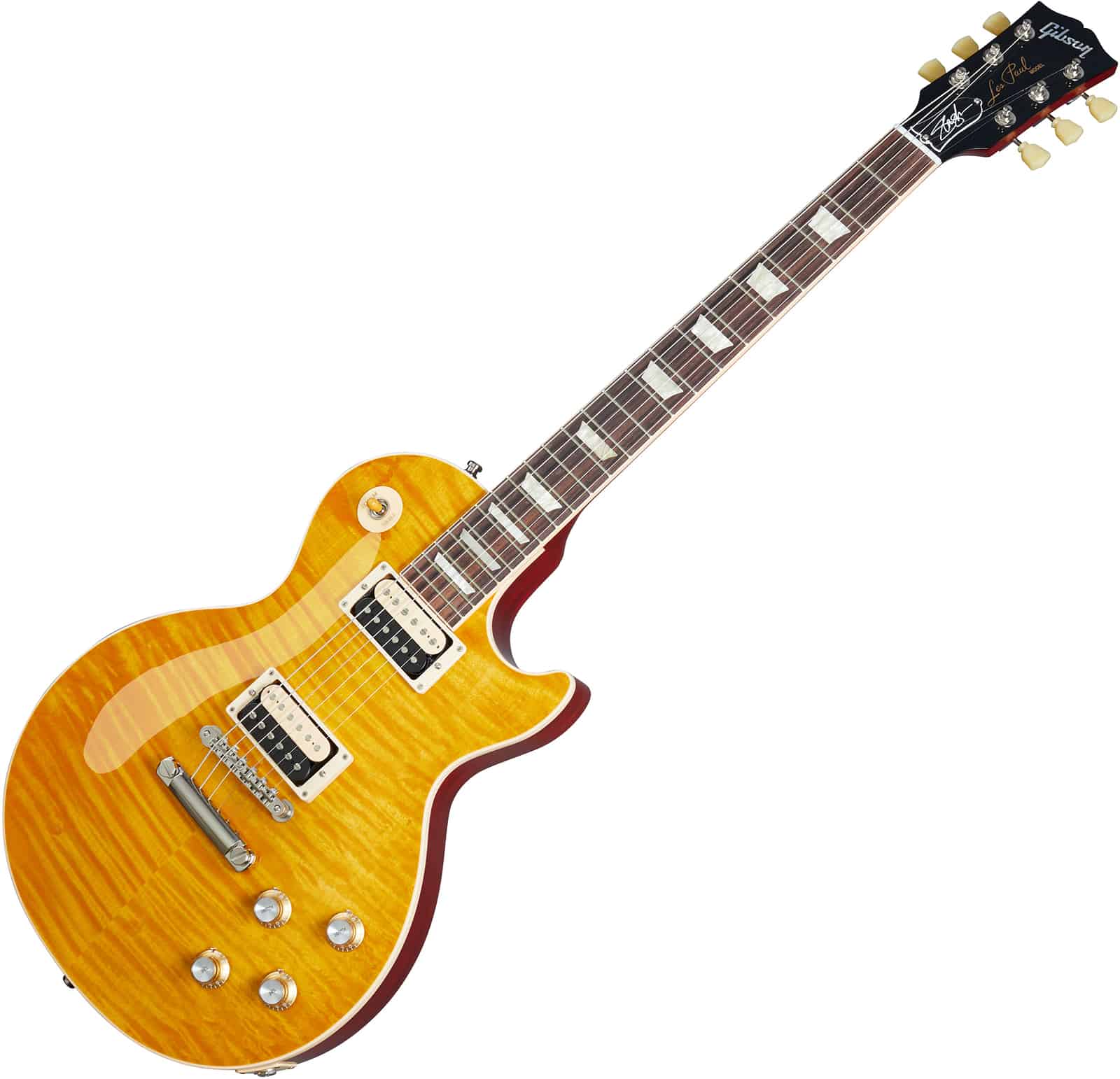 The blues set the foundation for rock bands who liked to integrate that simple bluesy sound into a heavier genre of music.
Slash, the guitarist of Guns N' Roses is known for bringing that warm bluesy sound into everything he plays.
See him introduce it here himself:
If you are looking to integrate a Slash-like tone into your playing, the Les Paul Slash Standard may be the guitar of your dreams.
However, its expensive price means it is best suited to more advanced players who are extremely careful with their instruments!
The Slash Standard features a solid mahogany body and neck with an AAA flamed maple Appetite Amber top that provides a vibrant sunburst appearance.
The fretboard is made of rosewood and it has 22 frets. The thick neck means you will really have to wrap your hands around it to get those great Slash tones.
The tune-o-matic bridge is pretty stable, even when really digging into the strings with some power chords or that signature style soloing.
It's also great for those Gary Moore-Esque screaming solos if you're into that sort of playing.
I do think this official Gibson has a lot more to offer than an Epiphone Les Paul Standard, although those are pretty great ones too.
But if you're going for a cheaper Gibson guitar and are looking into Epiphone as an alternative, I urge you to look at the Epiphone ES-339 semi-hollow guitars instead.
It comes with 2 Slash Bucker Zebra humbuckers. Added accessories include a case, an accessory kit and a Slash pick set.
If you have a Slash guitar, you will want to do what you can to get that Slash signature sound. This can be achieved by playing through Marshall heads and cabinets.
Slash has used a variety of Marshall heads including the 1959T Super Tremolo, the Silver Jubilee 25/55 100W and the JCM 2555 Slash Signature head.
When it comes to cabinets, he favors the Marshall 1960 AX, the Marshall 1960BX and BV 100s 4×12 cabinets.
The guitarist enhances his sound by using a variety of pedals that may include a CryBaby, a Boss DD-5, a Boss GE7 and a Dunlop TalkBox.
Check prices and availability here
Best twang: Rickenbacker 330 MBL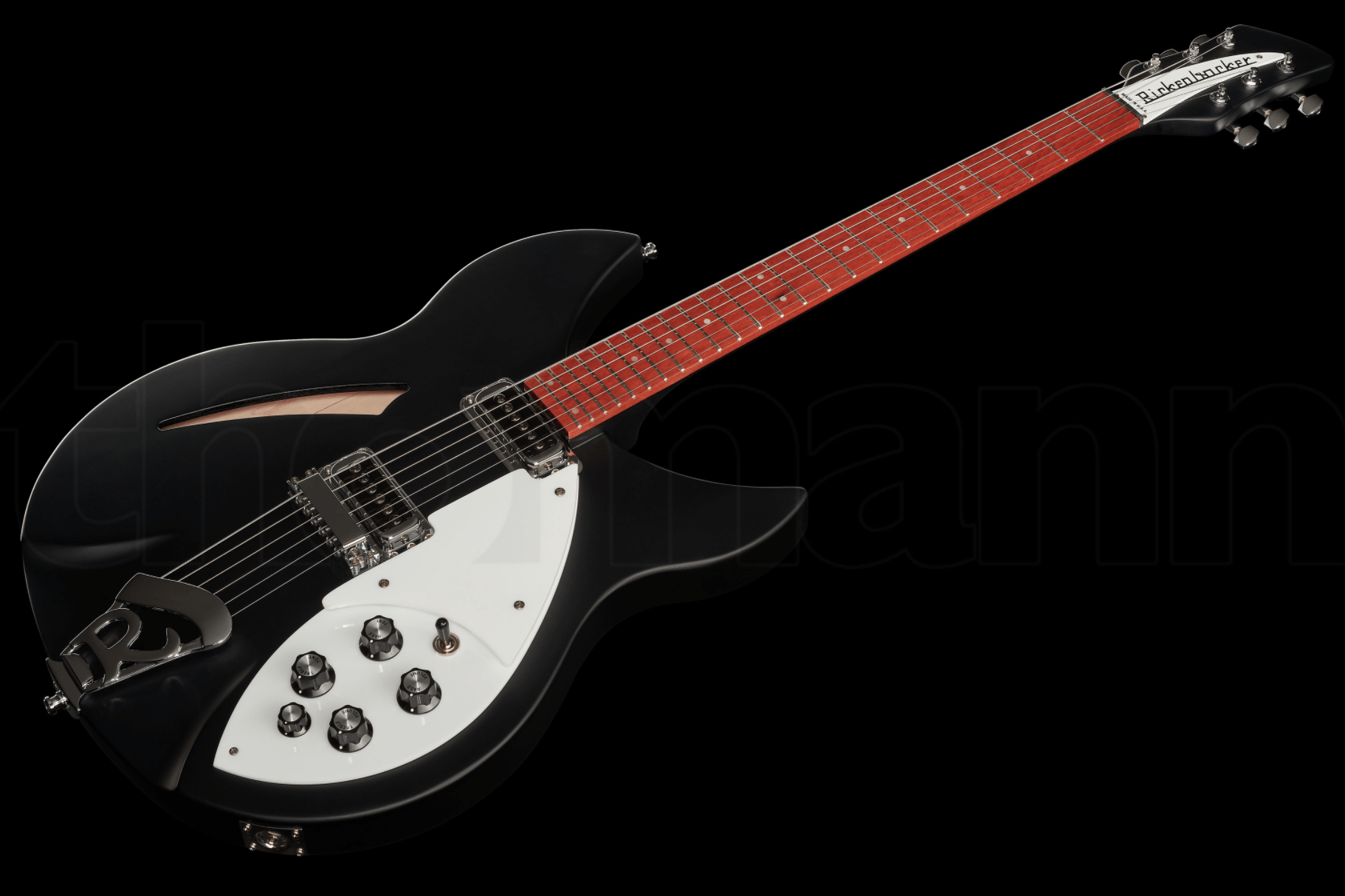 Blues is often a bit twangy. Depending on the style of music you play, you may be going for more of a bluesy country sound that has a lot of twang.
If you want to achieve this tone, you can play the guitar John Fogerty does when he performs in his country and blues-influenced rock band, Creedence Clearwater Revival.
You can see here how much this guitar meant to him!
The guitar is rather expensive though and recommended for experts only.
The guitar has a maple body and neck. The fretboard has 21 frets and a Caribbean rosewood fretboard with dot inlays. It has deluxe vintage repro machine heads and 3 vintage single-coil toaster top pickups.
The guitar weighs just over 8 lbs. making it a relatively lightweight model. The color is a glossy Jetglo black. The case is included.
Fogerty uses unique methods to get his signature guitar tone. He runs a Diezel VH4 of a Diezel Herbert into a customized Ampeg 2 x 15 cab.
Effects pedals include a Keeley Compressor 2-Knob Effect Pedal, and Electro-Harmonix EH-4600 Small Clone and a Zeta Systems Tremolo Vibrato.
Check out the latest price here
Best guitar for blues and jazz: Ibanez LGB30 George Benson Hollowbody

When you play jazz, you want to have a bassy, meaty, warm tone. Many guitarists prefer to use hollow bodies or even a semi-hollow body as these are good for distorted sounds.
These are some of the reasons why the Ibanez George Benson Hollowbody makes a great pick.
The guitar has Super 58 Custom pickups which provide a smooth tone and a biting edge when you need it. The ebony fretboard is smooth that's easy to move the fingers along and offers a great response.
The bone nut makes for rich highs and lows and it features both a wooden and adjustable metal bridge that makes it easy to control the action.
The Ibanez has an attractive flame maple body and an old-school shape that makes it perfect for jazz cats. The custom tailpiece is a great finishing touch.
The guitar was named for George Benson, an American jazz guitarist. To get the same warm jazzy tone he has, try playing through Fender amps like the Twin Reverb or Hot Rod Deluxe.
See the man himself here introduce this fantastic guitar:
He has also been known to use a Gibson EH-150 amp.
Check prices and availability here
Best guitar for delta blues: Gretsch G9201 Honey Dipper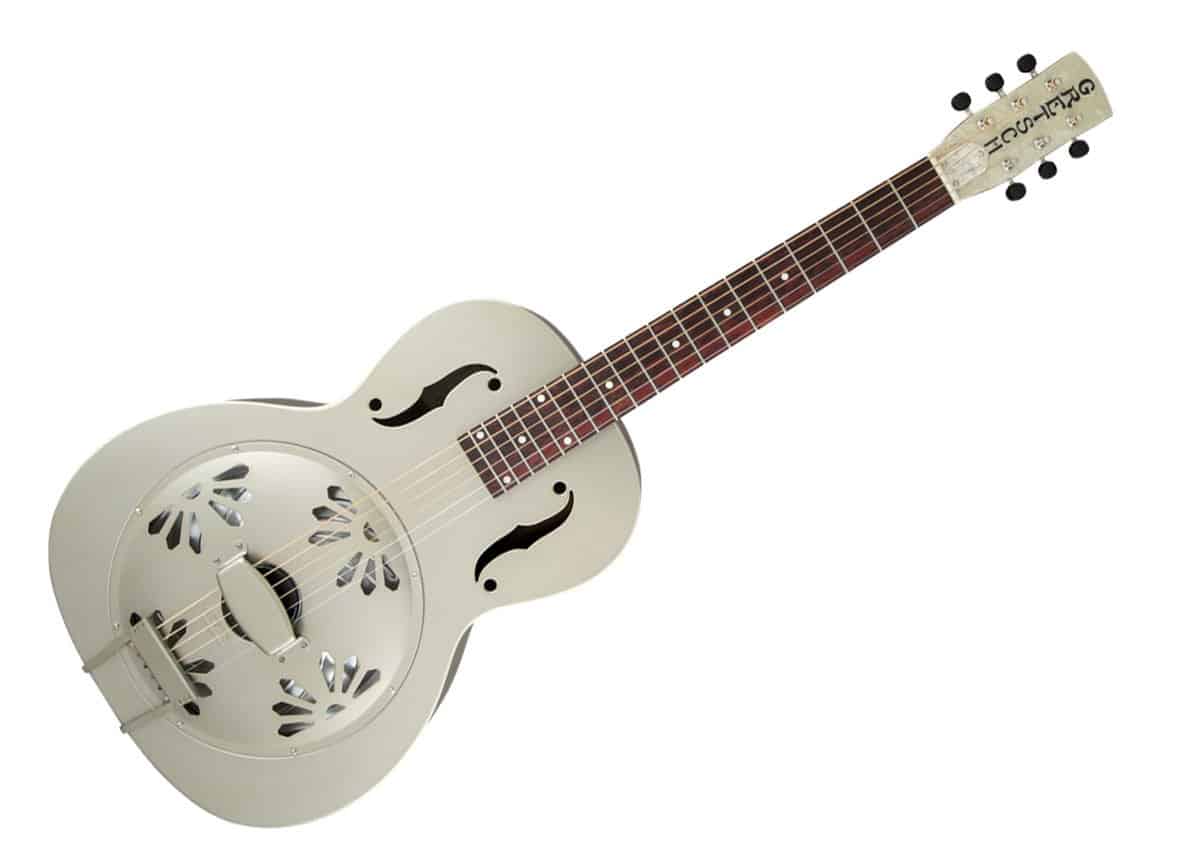 Delta blues is one of the oldest forms of blues music. It is characterized by its heavy use of slide guitar and it is a mix between blues and country.
Gretsch is a guitar brand synonymous with slide guitar. It provides bassy lows and clear highs as well as an adequate amount of sustain.
The Gretsch G9201 Honey Dipper is a great resonator guitar model for this type of sound.
See it demoed here:
As you can see, it has a beautiful standout metallic brass body and a mahogany neck.
Its round neck is more conducive to slide as it supports the guitar horizontally as opposed to a cutaway neck that's optimized for soloing. It features 19 frets.
The guitar has no pickups and does not plug in. It can be played acoustically or it can be propped on a player's lap and miked if it's being played in a live setting.
Find the Best Microphones for Acoustic Guitar Live Performance reviewed here.
It has an ampli-sonic cone that helps project the sound and a biscuit bridge with vintage-style machine heads.
Ry Cooder is among the most famous guitarists in this playing style. His setup is unusual and you may not be able to find some of the equipment he used today.
He likes to play the Dumble Borderline Special. Combine that with effects pedals like the Valco for overdrive and the Telsco to get a nice, clean slide sound.
Check out the latest prices on Thomann
Best Gretsch guitar for blues: Gretsch Players Edition G6136T Falcon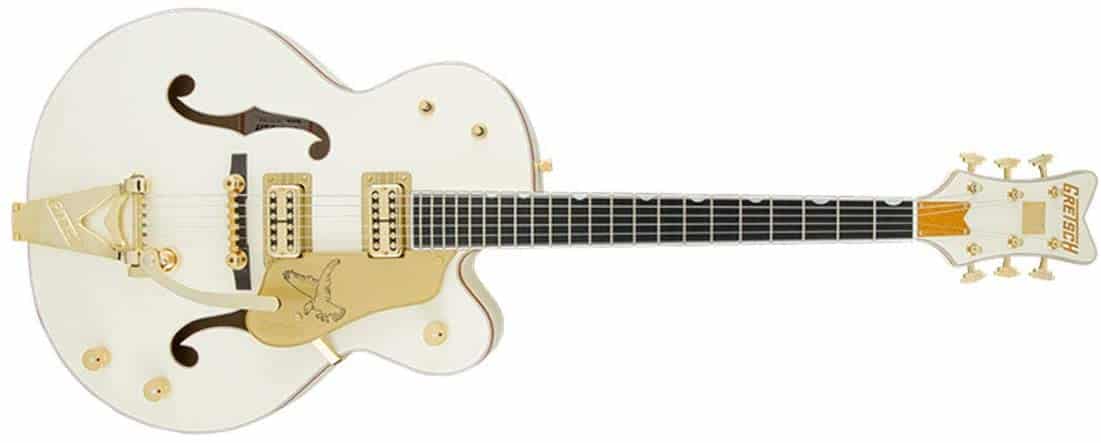 While the Gretsch listed above is great for delta blues, its resonator style does not make it ideal for traditional blues settings.
If you are playing guitar with your blues band, the Falcon Hollowbody may be more your style. It is one of the most sought-after guitars by blues musicians and it has the price tag to prove it.
It is a maple hollowbody with a U-shaped neck that's great for digging in for those solos. It has a complex sound that's ideal for more advanced players.
It has a 22 fret maple fretboard and two High Sensitive Filter Tron humbucking pickups that produce exceptional highs and lows.
The separate bridge and neck tone knobs allow you to produce a variety of tones.
The guitar is also quite a looker. It has a glossy, black laminated body with F-holes and gold jeweled control knobs. This is complemented by a gold flexy pickguard engraved with the Gretsch logo.
It has quite a large body shape though so I didn't think it was the best guitar for playing sitting down. It is quite light so you should have no problem playing it standing up for extended periods of time.
Neil Young is a guitarist known for using a Gretsch Falcon, see it in action in his capable hands here:
To get his jangly sound, play the guitar through a Fender Custom Deluxe amp. A Magnatone or a Mesa Boogie head may also do the trick.
When it comes to pedals, Young favors the Mu-Tron Octave Divider, the MXR Analog Delay, and the Boss BF-1 Flanger.
Check the latest prices here
Best PRS for blues: PRS McCarty 594 Hollowbody

PRS guitars have quickly elevated from their status as being a boutique brand to becoming a frontrunner among the major players.
The brand is known for producing great-looking guitars that are ideal for metal players, but the McCarty 594 is suitable for blues due to its hollowbody structure and its nice warm tones.
The guitar has both a maple neck and body. The pickups are 85/15 humbuckers and the Pattern Vintage neck is great for digging in and soloing. Its three tone knobs make it easy to find the sound you are looking for.
Because of the slightly hotter pickups than most on this list, it's a great instrument to play contemporary electric blues with a little distortion, Chicago blues maybe even to drive the amp to distortion without using a pedal.
As with most PRS's, the appearance of this guitar is truly remarkable. It has a maple flame top and back, an aquamarine paint job and F holes giving it the perfect blend of modern and vintage.
The fretboard has mother of pearl bird-shaped inlays.
Zach Myers from Shinedown is known for playing a Paul Reed Smith McCarty. See how he plays "Cut the Cord" here:
You can get his tone by playing through amps like a Diezel Herbert 180W tube guitar head, a Fender Bassman amp head or a Diamond Spitfire II head paired with a Diamond 4×12 cabinet.
Myers' pedal set includes Voodoo Lab GCX Guitar Audio Switcher, A Whirlwind Multi-Selector, a Boss DC-2 Dimension C and a DigiTech X-Series Hyper Phase.
Check the latest prices here
Best electric guitar for fingerstyle blues: Fender AM Acoustosonic Strat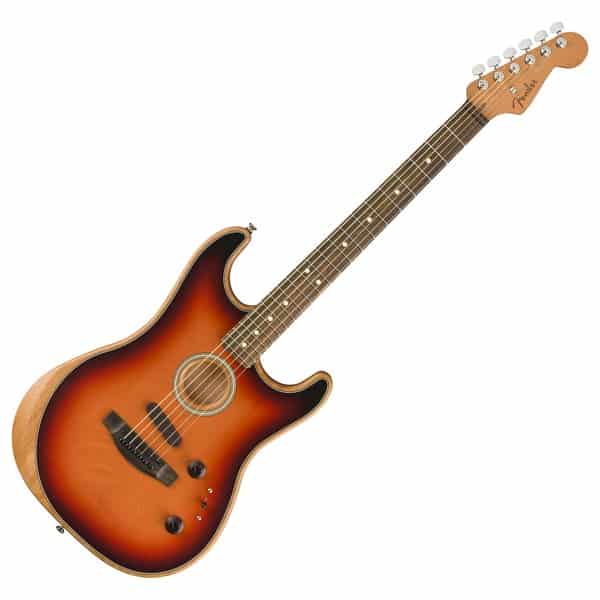 Fingerstyle blues is played using the fingers instead of a pick to pluck the strings. It provides nice clear tones and allows you to play bass and melody parts simultaneously, much like a piano.
Fingerstyle sounds best on an acoustic since it makes for a great clear tone, but if you play in a band, you will need to amplify that sound.
The Fender Am Acoustonic Strat is an ideal solution if you're looking for the benefits of electric guitars with the sound depth of an acoustic.
Watch this beautiful Molly Tuttle demo to get an idea of what this guitar can do:
The Strat has a mahogany body and neck and a solid spruce top. It has an ebony fretboard with 22 frets and white fretboard inlays. The neck profile is a modern Deep C that lets you dig into those frets when you need to.
It features a three-pickup system with Piezo system under the saddle, an internal body sensor that's one of the best for these types of acoustic electric guitars, and internal N4 pickups.
The five-way toggle switch allows you to get customized tones.
It has a black and wood finish and chrome hardware and comes with its own gig bag.
There are several fingerstyle guitar players who play electric acoustic guitars. Chet Atkins is one of the most famous.
Atkins plays through a variety of amps including the 1954 Standel 25L 15 Combo, the Gretsch Nashville amplifier, and the Gretsch 6163 Chet Atkins Piggyback Tremolo & Reverb.
Check prices and availability here
Best budget guitar for blues: Yamaha Pacifica Series 112V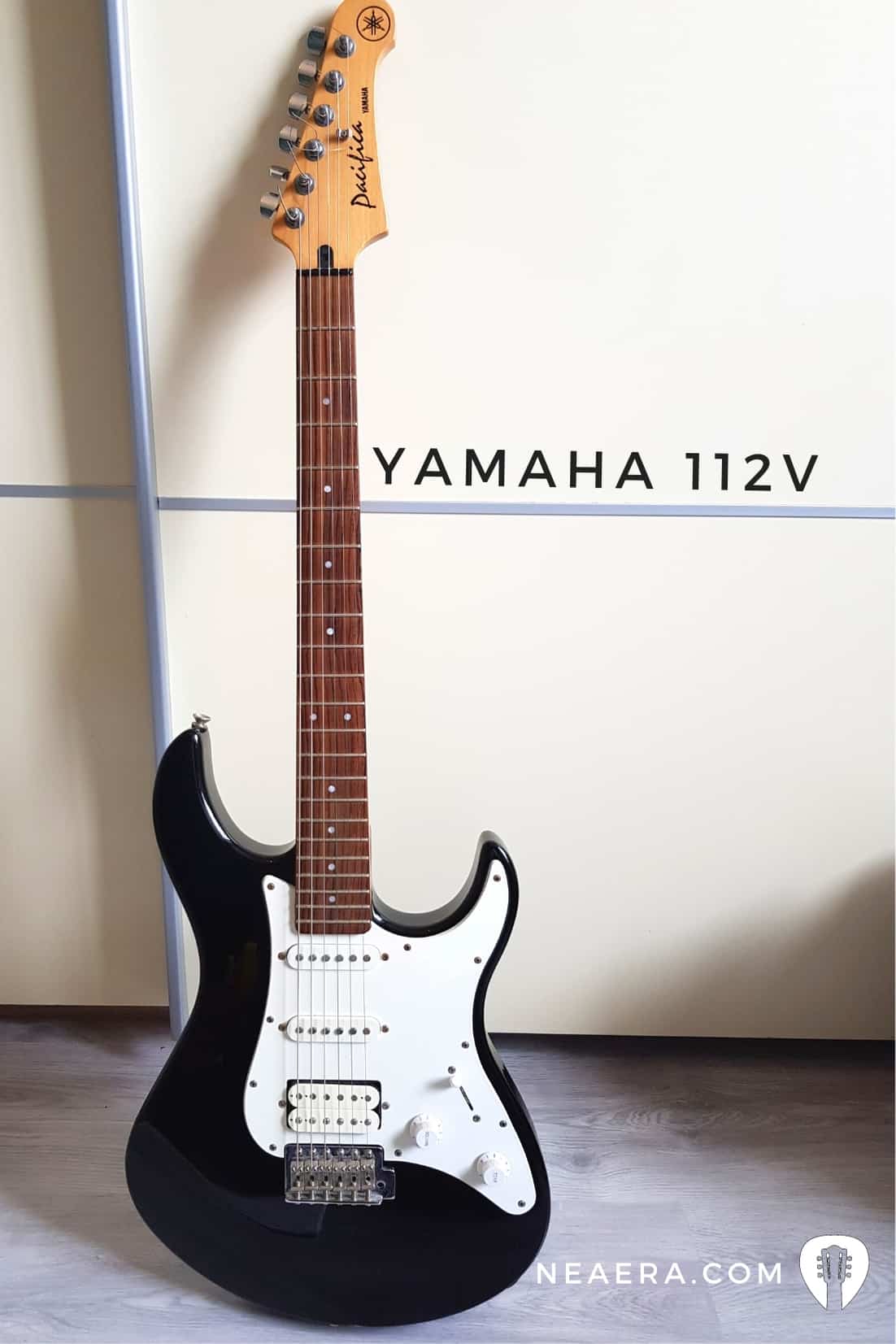 Yamaha is known for manufacturing affordable guitars that are great for beginners. If you are starting out on your path as a blues musician, the Yamaha Pac112 is a great choice.
The guitar has an alder body, a maple bolt-on neck and a rosewood fingerboard. The vintage tremolo is ideal for getting that great wah sound.
It has 24 frets and a cutaway neck that lets you dig into those higher solo positions.
It has two single coil pickups and one humbucker as well as a tone knob that helps you get the sound you are looking for. The lake blue color is an attractive choice. Other fun colors are available.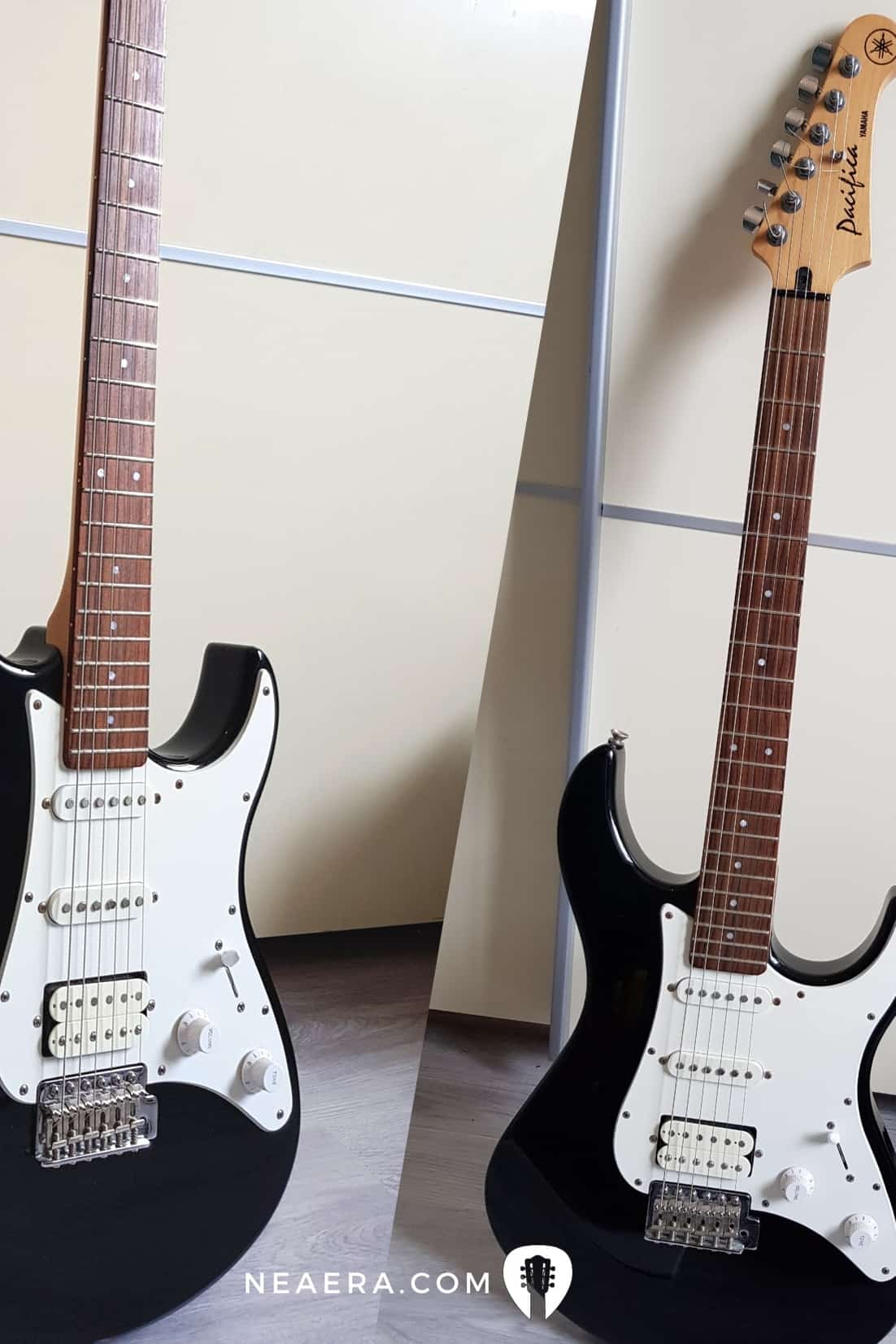 While the Yamaha PAC112 is great for beginners, the company also makes more advanced models that have been played by many famous musicians.
Mick Jones from Foreigner, for example, is a killer guitarist that plays a Yamaha.
I reviewed the Pacifia 112J & V here:
To get his sound, try playing through amps like the Vintage Ampeg V4 head, the Mesa Boogie Mark I Combo amp, the Mesa Boogie Mark II, or the Mesa Boogie Lone Star 2×12 combo amp.
I actually like the sound for a Texas blues style where you can maybe actually make use of the humbucker and make some modern blues sounds.
Pair them with guitar pedals like the MXR M101 Phase 90, the MXR M107 Phase 100, the Man King of Tone Overdrive effects pedal or the Analog Man Standard Chorus pedal.
Check the latest prices here
Best lightweight guitar for blues: Epiphone ES-339 Semi Hollowbody
When you play guitar for a long time, it can start weighing on your neck and shoulders. A lightweight guitar can be a blessing if your band is doing several long sets over the course of one night.
The Epiphone ES-339 is a great lightweight option.
The guitar weighs just 8.5 lbs. This is due to its semi-hollow interior and its smaller dimensions.
Although the guitar is lighter weight, it still produces heavy bass tones and crisp clear high notes. It features Epiphone Probucker Humbucker pickups.
The push-pull coil tapping lets you select single-coil or humbucker tones for each pickup.
It has a mahogany neck, a maple body, rosewood back, and nickel-plated hardware. The slim taper D neck lets you dig in when you solo.
It's a pretty affordable option if you want something BB King would have played or want to go for that older type of blues.
It features an attractive vintage shape that is complemented by a sunburst paint job and F-holes.
Tom Delonge is best known as the former guitarist for Blink 182. He plays an Epiphone 333 which is similar to a 339.
To get his sound, play your Epiphone through amps like the Marshall JCM900 4100 100W head paired with a Jackson 4×12 stereo half stack or opt for the Vox AC30 combo amp.
Pedals like the MXR EVH-117 Flanger, the Fulltone Full Drive 2 Mosfet, The Voodoo Lab GCX Guitar Audio Switcher and the Big Bite pedal will drive it home.
Check the latest prices here
Best blues guitar for small fingers: Fender Squier Short Scale Stratocaster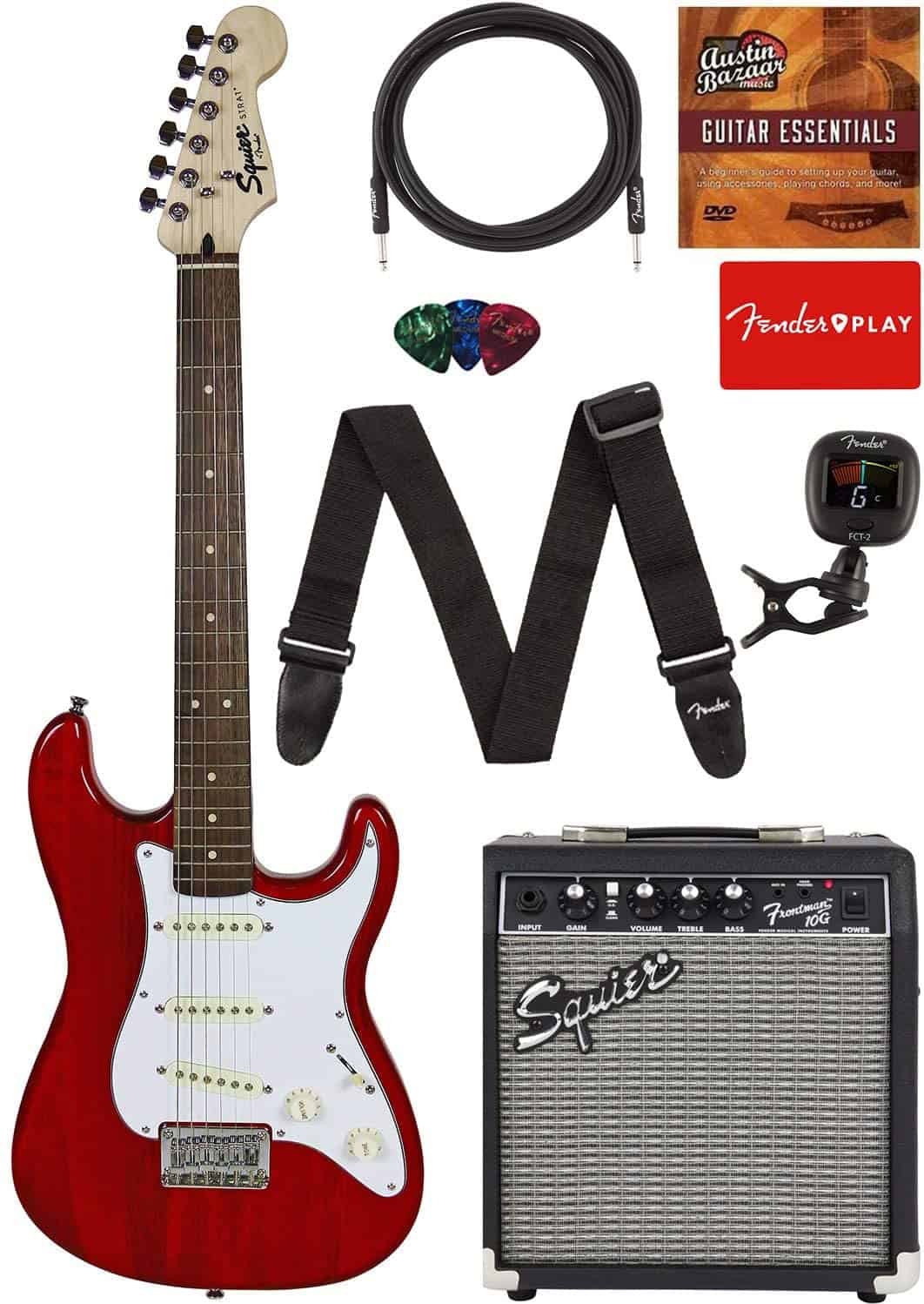 Playing guitar is all about getting that nice big stretch. Players with long fingers have an advantage. If you have smaller fingers, you may want to go for a short-scale guitar.
Short-scale guitars have shorter necks so frets are closer together. This makes it easier to hit the notes you need to hit and helps you produce a clear, clean, and precise sound.
There are several short-scale guitars out there, but the Fender Squier is a popular choice, especially for beginners.
Its small size, light weight, and affordable price make it perfect for children who are looking to learn and develop their stretch.
The Fender Squier reviewed here has a 24" neck making it 1.5" smaller than standard size guitars and a 36" overall length that is 3.5" inches shorter than standard guitars.
Its C shaped maple neck makes it easy to access notes high up on the fretboard. It has a 20 fret fingerboard and three single-coil pickups with a tone knob that lets you select between them.
It has a hardtail 6 saddle bridge but I have to say. If you're into really digging into the strings like Steve Ray Vaughn, this guitar just doesn't have the tuning stability of the Fender Player or even the Squier Classic Vibe.
I did think the single-coil pickups were pretty decent for the price of this guitar and that makes it one of the best blues guitars when you're on a tight budget.
The guitar is part of a set that has everything you need to get started playing guitar. This includes a Squier practice amp, a strap, picks, a tuner, a cable and an instructional DVD.
Although there aren't many professional guitar players that play a short scale, there are a few that play a Squier.
This includes Troy Van Leeuwen from Queens of the Stone Age who plays a Squier Vintage Modified Jazzmaster.
Troy perfects his blues sound by playing through a Fractal Axe Fx-II guitar effects processor and a Fender Bassman amp head projected through a Marshall 1960A 4×12" cabinet.
For a combo, he chooses the Vox AC30HW2. His pedals include a DigiTech Wh-4 Whammy, a Way Huge Electronics Aqua-Puss MkII Analog Delay, a Fuzzrocious Demon, and a Way Huge WHE-707 Supa Puss.
Check the latest prices here
FAQ's blues guitars
Now that you know a bit about the best blues guitars out there, here are some FAQ's that will help you make a more educated decision when choosing the one that's best for you.
Is Ibanez a good guitar for blues?
Over the years, Ibanez has earned a reputation for being somewhat of a metal guitar brand.
Endorsed by shredders like Steve Vai, these guitars have a sharp crunchy tone that is perfect for metal. They also have flashy designs and stand-out paint jobs that give them more of a cutting edge.
More recently, Ibanez has expanded and now offers guitars specifically made for blues players.
If you are considering an Ibanez, try looking for guitars that are designed for the blues, like the George Benson Hollowbody in my list.
If you opt for another model, you may not end up getting the sound you are after.
What are some easy blues songs to learn on guitar?
If you are starting out on blues guitar, you're in luck because many blues songs are easy to play.
Sure, there have been several blues guitarists who are amazing and hard to imitate, but blues songs generally have a simple structure along with pared-down riffs that are not that difficult for new guitarists to mimic.
Blues music is also generally slow to moderate tempo so you don't have to worry about high speed playing which is challenging for beginners.
If you are looking for some blues songs to start out with, here are a few recommendations:
Boom Boom Boom by John Lee Hooker
Mannish Boy by Muddy Waters
The Thrill is Gone by B.B. King
Ain't no Sunshine by Bill Withers
Lucille by B.B. King.
What are the best amps for playing blues?
There are a variety of amps out there and you can use different pedals and adjust them to different settings to get a nice bluesy tone.
However, some are more suited to blues than others.
In general, you want to use an amp that has tubes rather than valves. Smaller amps are also preferable because you can push them into overdrive without turning them up too loud.
With that in mind, here are some amps that are considered the best on the market when it comes to getting a bluesy tone.
Marshall MG15CF MG Series 15 Watt Guitar Combo Amp
Fender Blues Reissue 40 Watt Combo Guitar Amp
Fender Hotrod Deluxe III 40 Watt Combo Guitar Amp
Orange Crush 20 Watt Guitar Combo Amp
Fender Blues Junior III 15 Watt Guitar Combo Amp
What are the best blues guitars pedals?
Blues songs tend to be stripped down so most players won't want to use too many pedals.
However, having a select few will give you more control over your tone. Here are a few that are recommended.
Drive pedal: Drive pedals will give your guitar a great overdriven sound. Here are some drive pedals that are recommended:
Ibanez Tubescreamer
Boss BD-2 Blues Driver
Electro-Harmonix Nano Big Muff Pi
Boss SD-1 Super Overdrive
Electro-Harmonix Soul Food
Reverb pedals: Reverb pedals provide that vintage, echoey sound that many blues players prefer. Good reverb pedals include:
Electro-Harmonix Oceans 11 Reverb
Boss RV-500
MXR M300 Reverb
Eventide Space
Walrus Audio Fathom
Wah: A wah pedal bends notes and provides an extreme tremolo sound, without the risk of knocking your guitar out of tune.
The Dunlop Crybaby is really the only name you need in wah pedals, but if you prefer another option, there are plenty of others out there.
Who is the best blues guitarist?
Okay, this one is a loaded question. After all, everyone will have different opinions concerning who is the best and what qualifies someone as being the best.
The question can become even more controversial when you consider who is a 'real blues player' vs. who is a rock blues player, a jazz blues player… and the list goes on.
However, if you are starting out playing blues guitar and you are looking for a few players to emulate, here are some that are worth checking out.
Robert Johnson
Eric Clapton
Stevie Ray Vaughn
Chuck Berry
Jimi Hendrix
Muddy Waters
Buddy Guy
Joe Bonamassa
What are the best guitar strings for the blues?
It's somewhat of a rumor that heavy gauge strings are favored by blues guitarists due to their ability to give the music a richer, warmer tone.
This is true to an extent. However, thicker strings are also more difficult to bend and manipulate which is why many guitarists choose light to medium gauge strings.
In addition, guitarists should consider factors like the construction of the string and the string's material and durability when making a choice.
With that in mind, here are some strings that are recommended for blues players:
Ernie Ball Custom Gauge Nickel Wound Guitar Strings
D'Addario EPN115 Pure Nickel Electric Guitar Strings
Elixir Plated Steel Electric Guitar Strings
Donner DES-20M Electric Guitar Strings
Bottom line
If you are looking to buy a blues guitar, the Fender Stratocaster is highly recommended.
Its warm low tones and clear high tones make it an ideal choice for guitarists. It has been played by many of the blues greats so it sets the standard when it comes to this style of music.
But with so many to choose from, it may come down to a matter of preference when it comes to the guitar that's right for you.
Which one in this article will be best suited to your style and comfort level?
Read next: How do you use Hybrid picking in metal, rock & blues? Video with riffs
I'm Joost Nusselder, the founder of Neaera and a content marketer, dad, and love trying out new equipment with guitar at the heart of my passion, and together with my team, I've been creating in-depth blog articles since 2020 to help loyal readers with recording and guitar tips.
Check me out on Youtube where I try out all of this gear: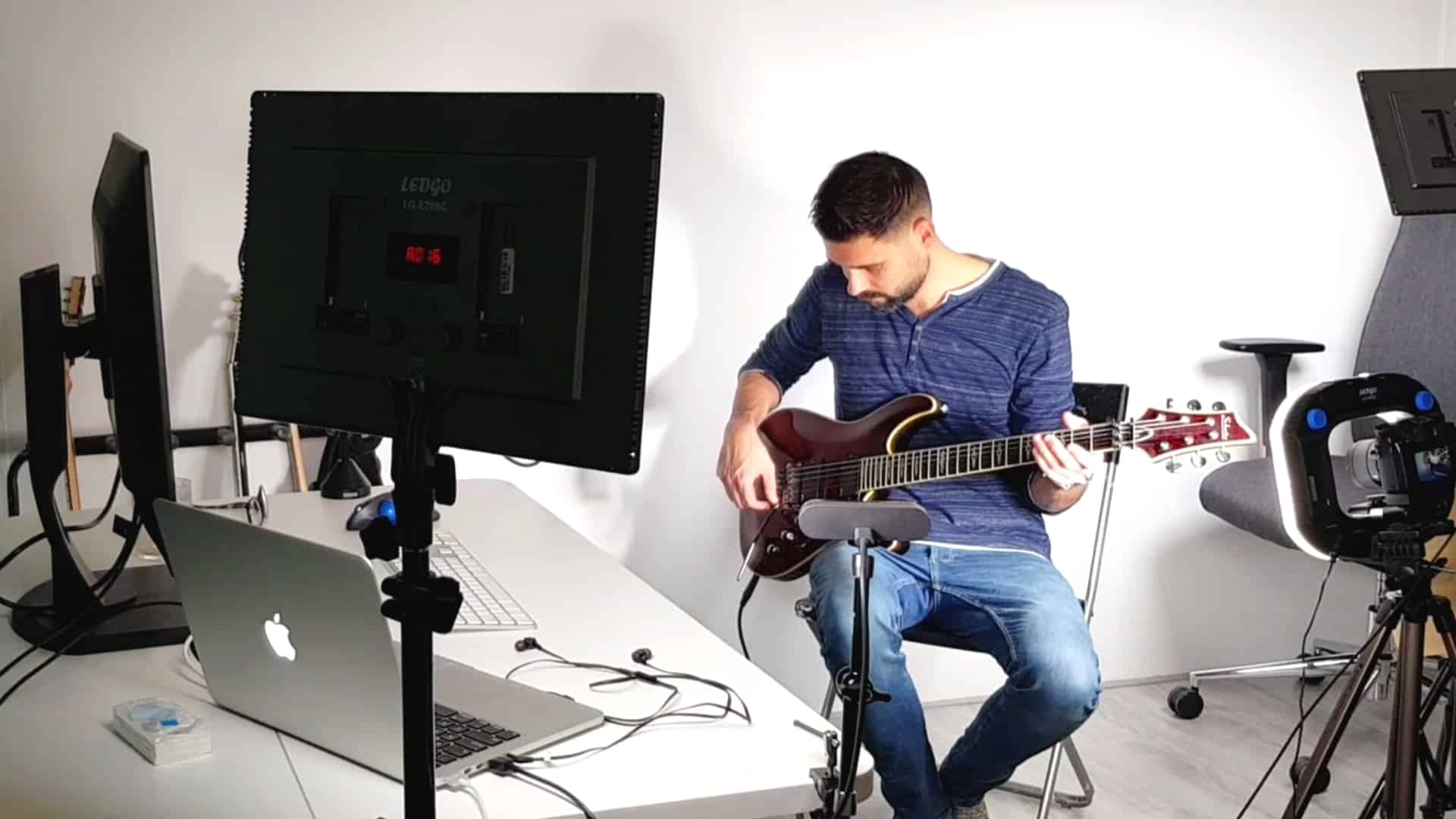 Subscribe