hi there I love creating free content full of tips for my readers, you. I don't accept paid sponsorships, my opinion is my own, but if you find my recommendations helpful and you end up buying something you like through one of my links, I could earn a commission at no extra cost to you.
Learn more
All the musicians love the sound of the acoustic guitar. Its deep beautiful and dynamic sound adds aroma to the music. The acoustic guitar suits to every kind of music of all genres from pop to soul music.
This justifies the reason for its popularity in the music industry today.  There are many options in the market of microphones to be used with an acoustic guitar.
Selecting one among them might be a little bit challenging.to achieve the best recording with your acoustic guitar one must invest in the best microphones for acoustic guitar for live performance.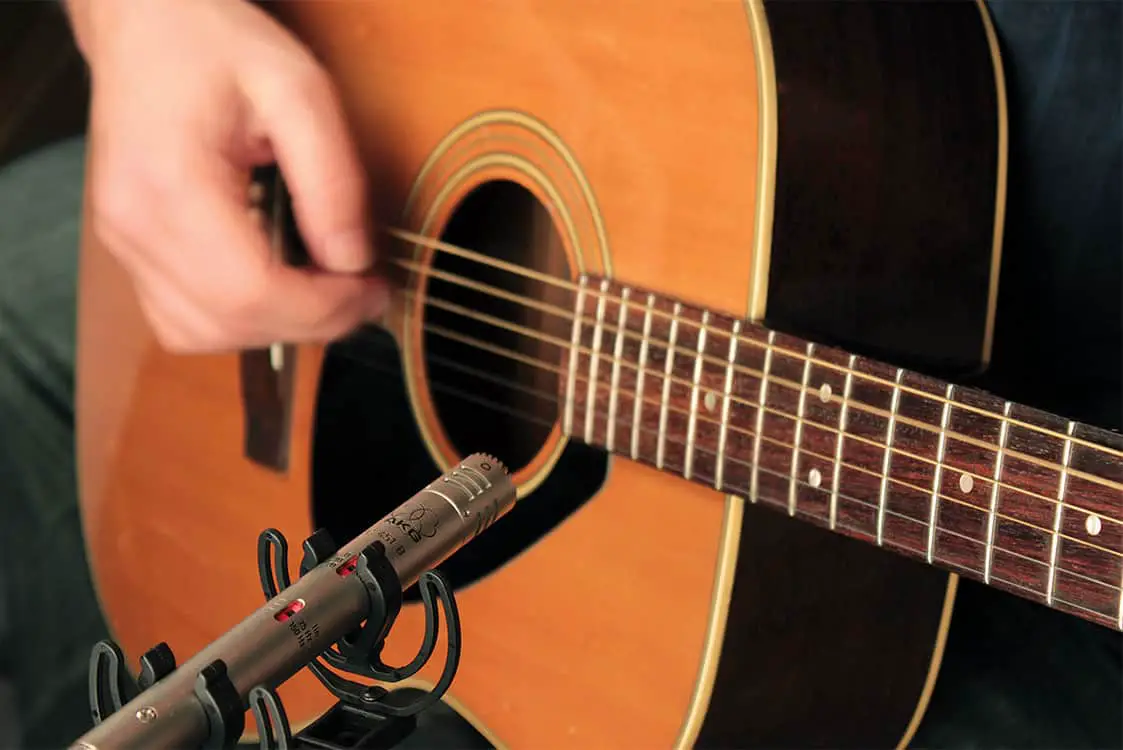 This article outlines the best microphones in the market for acoustic guitar. One thing to note that if you work on noisy environment, then one of these microphones could be your top preference.
When I first started out, I had to make some tough decisions regarding gear and a budget mic for my acoustic was one of those choices.
Luckily, this Audio Technica AT2021 delivers a great sound for its low price, and if you're like me you will probably do a lot of research before spending your hard-earned cash.
Before I upgraded to the Royer Labs, this mic has helped out at a lot of gigs.
Let's take a look at the top choices for capturing your acoustic guitar live, after that, I'll talk a little more in-depth about the pros and cons of each:
Also, you can find top condenser microphones here.
Reviews of Best Microphones for Your Acoustic Guitar Performance
Best cheap budget mic: Audio Technica AT2021

For those running on budget and still want to get the best out of the microphone they purchase then there are still options for you in the market one of them being the audio technica at2021.
It works perfectly well in giving you high frequency of the acoustic guitar and still do not push you to the wall in terms of money. Despite its low price, its quality is still intact.
The at2021 is one of the best rated in terms of its durability and reliability. This is justified by its metal chassis which makes it the best for its price.
Here's Landon testing it out against some more expensive mics:
The manufacturer of this model also went for the durability of the product as he made it with a plated gold coating which makes it resistant to corrosion.
This is one of the things that should lead you to buy this product.
This is one of the best microphones for your acoustic live performance. It comes with excellent features that will see to this.
The microphone has a wider frequency response ranging from 30 to 20, 000 kHz with a maximum SPL of 145 db.
This gives you clear sound recording and the capability to be used with any application.
Pros
Highly balanced recording
Highly affordable
Wider frequency response
Cons
Not accompanied with shock mount
thumbs-down No attenuation pad included
Best lightweight mic: AKG Perception 170

Your studio preferably requires one of the best small diaphragm condensers and having two of them is an added advantage to achieve the best out of your live performance using your acoustic guitar.
This type of microphone is among the best for your acoustic guitar live performance that comes in pairs to complement each other in order to give you the best experience.
For those people who prefer a product that is light enough to be carried around easily then this microphone is what to go for.
This microphone has a weight of 4.6 pounds which makes it light enough compared to other microphones in the market.
Its frequency response ranges between 20 Hz to 20 kHz which will help to deliver perfect acoustic guitar sound for your live recording.
Here's 5Boxmusic showing you the versatility in their video:
To add on to the features of the AKG perception 170 it's SPL of 155 dB that gives the microphone the capability to handle a high level of sound.
It's accompanied by 20 dB attenuation that gives you the luxury to adjust it to any application.
Pros
Highly affordable
Accompanied by perfect shock mounts
High maximum SPL
Natural sounding for your acoustic guitar
Lightweight
Cons
Not accompanied with a cable
Check the latest prices and availability here
Best for room sound: Rode NT1 Condenser Microphone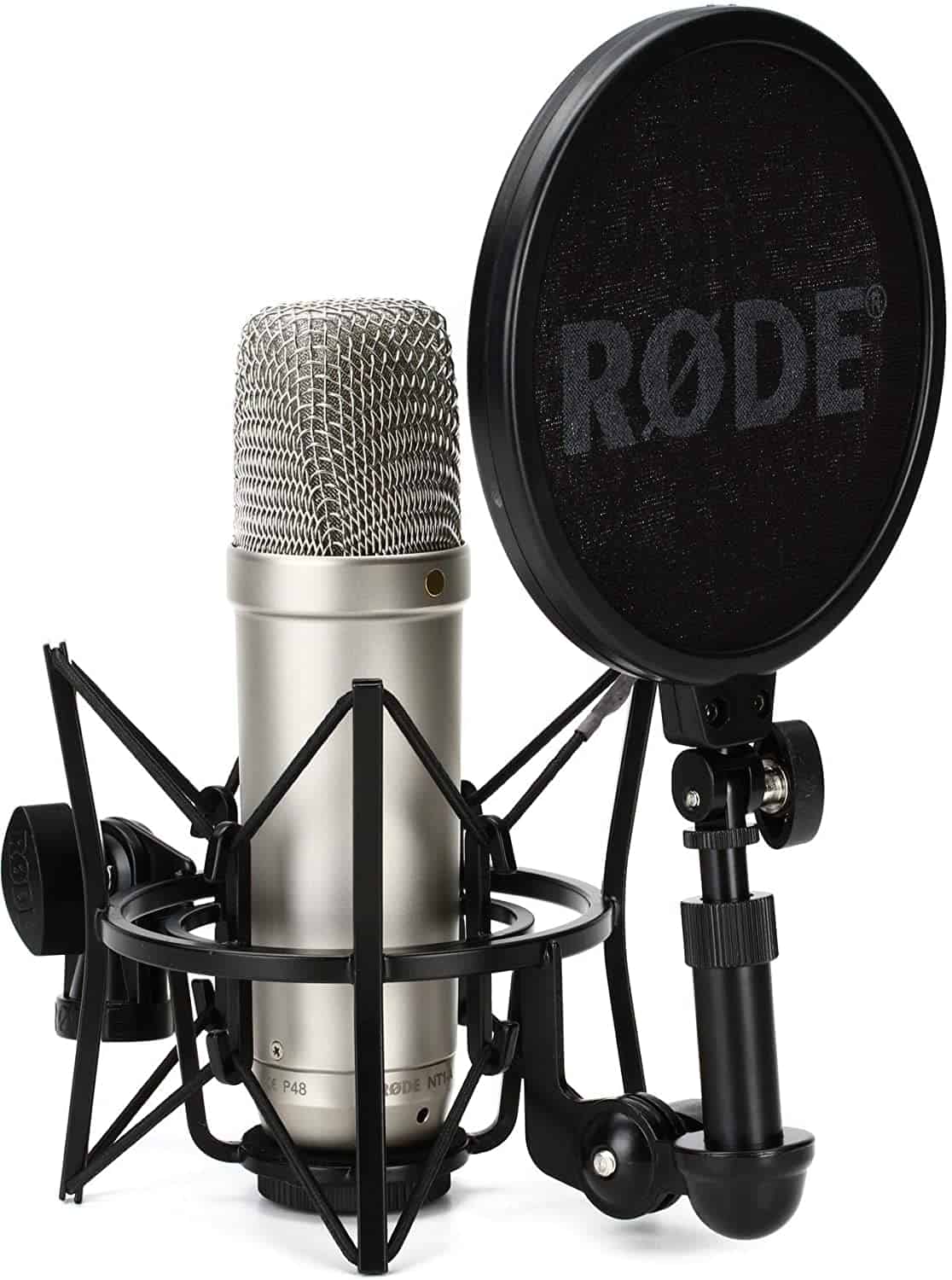 Rode Company is among the best in producing the best microphones to consumers globally.
The Rode nt1 microphone is one of the best produced by rode that is professionally designed to serve the needs of musicians in the world.
The diaphragm condenser of this microphone is one inch and it has a frequency response of 20 Hz to 20 kHz that help to deliver a lower range to support the acoustic guitar while you are recording.
We all purchase products to act as an investment not just to use them. For those who prefer to invest their money in a good product then this is what to go for.
Its warranty is an attractive feature that promotes the product to an investment.
It has a warranty that covers it up to ten years, so why go for a product that you will keep on worrying about its wear and tear when this is available?
If you want to achieve the best sound from your microphone then this is what you should consider purchasing.
Here's Warren Huart recording with it:
It gives you a clear and solid sound. It has 4 dB-a low noise level that helps condense the background noise in the region.
Durability is another feature that everyone looks at before having to buy a product.
The manufacturer of this product put into consideration this feature and made the body of this product from aluminum and then it is nickel protected to keep resistant from corrosion.
The product also comes accompanied with a dust cover that helps protect the microphone from dust that would interfere with its performance.
Pros
Condenses the background noise to give you clear sound
Ten years of warranty that covers all the hardware malfunctions
Exhibits low noise
thumbs-up Resistant to water and corrosion
thumbs-up High SPL capability
Cons
Expensive to purchase the product
It's heavy to be carried around
Best ribbon mic: Royer R-121
We live in a world where technology changes from day to day. This is one of the best technology in the market today.
It has a ribbon that is positioned near the front side of the microphone.
This structure of the model provides more space for the microphone to move along the magnetic field while on high SPL recording.
Positioning of many of the microphones in the market is a challenge because of their heavy weight but this model of the condenser microphone is exceptional.
One of the most light weight microphones in the market with a weight of 2.5 pounds. This makes it efficient for one to position it.
Here Vintage King lets you hear the pristine sound you can get with it:
Who does not like the luxury of having a microphone that is able to give you the natural and quality sound from your acoustic guitar?
This model of the microphone is one of the best in producing natural sound. Its high-frequency detail of 30 kHz to 15 kHz helps to give you a fine-tuned sound.
Pros
Lightweight
Excellent SPL capabilities
Low residual noise
Low distortion over a wide range of impedances
Cons
Best dynamic frequency response: Shure SM81

One of the features that will first attract you into purchasing the Shure sm81 microphone is its monolithic structure design.
This helps to simplify your working process with it. Its body is made of stainless steel which makes it last longer.
With this microphone one can be sure that they won't experience any breakages whatsoever not unless your sole purpose is to see it break.
The microphone is also effective in the sense that it can operate over a range of temperatures which curbs it from being corroded easily when exposed to low temperatures or humidity.
Vigo has a nice comparison setup so you can hear it:
Having the luxury to adjust the microphone to your own specifications is an added advantage that one can't afford to skip to check at when they want to purchase a microphone.
This model of the condenser microphone has this capability in that one can customize the sound characteristics of the microphone.
It also comes with a built up switch that helps you change the frequency response. This excellent when you want to record with a low frequency.
With its built in frequency of 6db and 18 dB octave roll off you can be able to achieve the best out of your recording.
Its flat frequency response is another feature that will lead you into buying the Shure sm81 type of condenser microphone.
This flat frequency give you an accurate reproduction of the sound sources and give you an opportunity to record and hear the sounds from your acoustic guitar when performing live.
It enables you to get clear natural sound
Pros
Its steel body construction gives it its durability
Low noise distortion
Excellent sound quality
thumbs-up Adjustable variations of low frequency
Cons
Can capture any sound in their area range.
Conclusion
It is more and more challenging to determine the best microphone for your acoustic guitar in the flooded market.
To achieve the best with your acoustic guitar one needs to put much considerations in their choice of the microphone.
Having the best microphone for acoustic guitar live performance will give you the energy and the morale to capture the best tone of your acoustic for all the audience enjoyment.
Cost may be your leading guide to purchasing your microphone but it's important to note that it is not the only thing to consider as there are other factors to consider like its reliability and quality of the sound.
For a professional music experience, you need one of the best microphones.
Follow your heart and may music be your guide.
Also take a look at these best acoustic guitar amps if you want to go that route
I'm Joost Nusselder, the founder of Neaera and a content marketer, dad, and love trying out new equipment with guitar at the heart of my passion, and together with my team, I've been creating in-depth blog articles since 2020 to help loyal readers with recording and guitar tips.
Check me out on Youtube where I try out all of this gear: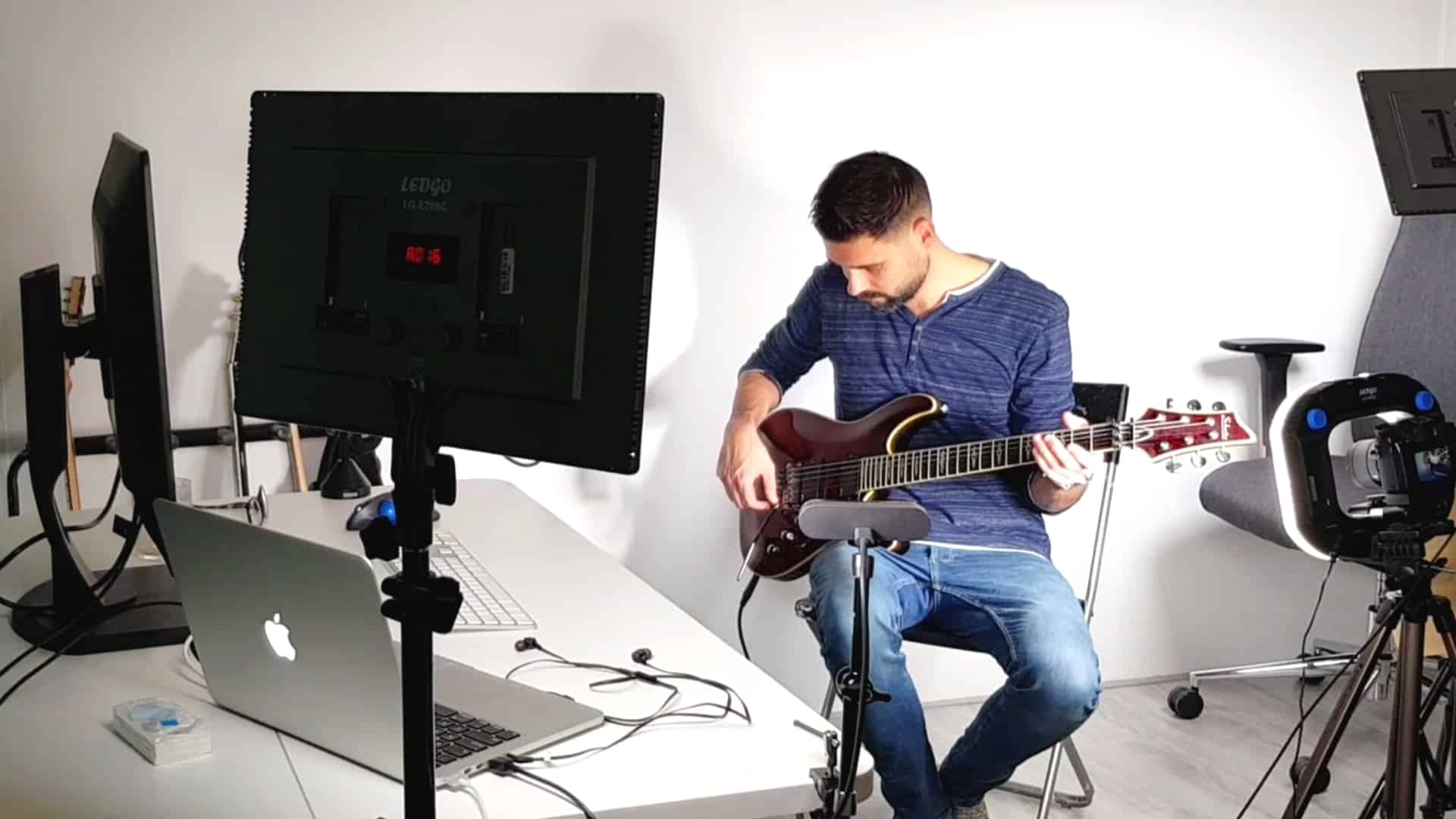 Subscribe