hi there I love creating free content full of tips for my readers, you. I don't accept paid sponsorships, my opinion is my own, but if you find my recommendations helpful and you end up buying something you like through one of my links, I could earn a commission at no extra cost to you.
Learn more
It is amazing how you can easily get the optimum sound from your music nowadays without investing too much money in the hardware devices.
With less than $200, you can easily purchase one of the best microphone condensers in the market that will help you get the desired recordings.
You do not have to worry anymore about acquiring a supreme condenser microphone when you do not have much cash in store.
What you need to consider is choosing the right type of microphone for you and your music. Especially if you are a drummer you should check out these mics.
What is a condenser microphone and what are its uses?
A condenser microphone is a type of microphone that uses an electronic circuit to convert sound into an electrical signal.
This allows them to record sound with higher fidelity than other microphones, which are typically dynamic and rely on the movement of a magnetic coil within a magnetic field to generate electricity.
Condenser microphones are often used in recording studios while dynamic microphones are often used on stage.
One potential use of a condenser microphone is in live music recordings. This type of microphone has the ability to capture subtle nuances of an instrument's sound that are often lost when using other types of microphones.
This also makes them less suitable for live performances where there's bound to be background noise they'll pick up on.
Additionally, condenser microphones may also be used for recording vocals or spoken words.
When used for this purpose, they can provide a clear and intimate recording that captures the nuances of the human voice.
There are a few things to keep in mind when using a condenser microphone. First, because they are sensitive to sound pressure levels, it is important to position them correctly in relation to the sound source.
Additionally, they require a power source, which can either be provided by batteries or an external phantom power supply.
Finally, it is important to use a pop filter when recording with a condenser microphone to reduce the amount of plosives (hard consonants) in the recording.
How does a condenser microphone work?
A condenser microphone works by converting sound waves into an electrical signal.
This is accomplished through a phenomenon known as the capacitance effect, which occurs when two conductive surfaces are placed in close proximity to each other.
As sound waves vibrate the diaphragm of the microphone, they cause it to move closer or farther away from the backplate.
This changing distance between the two surfaces alters the capacitance, which in turn converts the sound wave into an electrical signal.
How to choose the right condenser microphone
When choosing a condenser microphone, there are a few factors to consider. First, think about the intended use of the microphone.
If you need it for live performances, make sure to get a model that can handle high sound pressure levels.
For recording studio use, you'll want to pay attention to the frequency response of the microphone to make sure it can capture the subtle nuances of the sound you're trying to record.
Another important factor to consider is the size of the diaphragm. Smaller diaphragms are better at capturing high-frequency sounds, while larger diaphragms are better at capturing low-frequency sounds.
If you're not sure what size to get, it's a good idea to consult with an audio professional who can help you find the right condenser microphone for your needs.
Overall, choosing the right condenser microphone requires careful consideration of a number of factors, including sound pressure levels, frequency response, and diaphragm size.
To save you from the hassle of deciding the best condenser microphone you need for your studio, we have come up with a list of the leading under $200 brands in the market.
To get you through most amateur recording sessions, you probably won't need a professional mic which can get pretty expensive.
Although the Cad Audio on our list is a great mic for the very low price point, I would consider spending a little more and get this Blue Yeti USB condenser microphone.
The sound quality of the Blue mics are just amazing for their price range, and just like the cheaper Blue Snowball desk mic is the goto mic for a lot of bloggers in its price range, the Yeti is just an amazing condenser mic.
Take a look at the list below carefully before you choose one that will suit your needs, after that, I'll get a little more into the details of each:
Alternative read: ​Best noice cancelling microphones reviewed
Reviews of Best Condenser Microphones Under $200
Best cheap budget USB Condenser Microphone: Cad Audio u37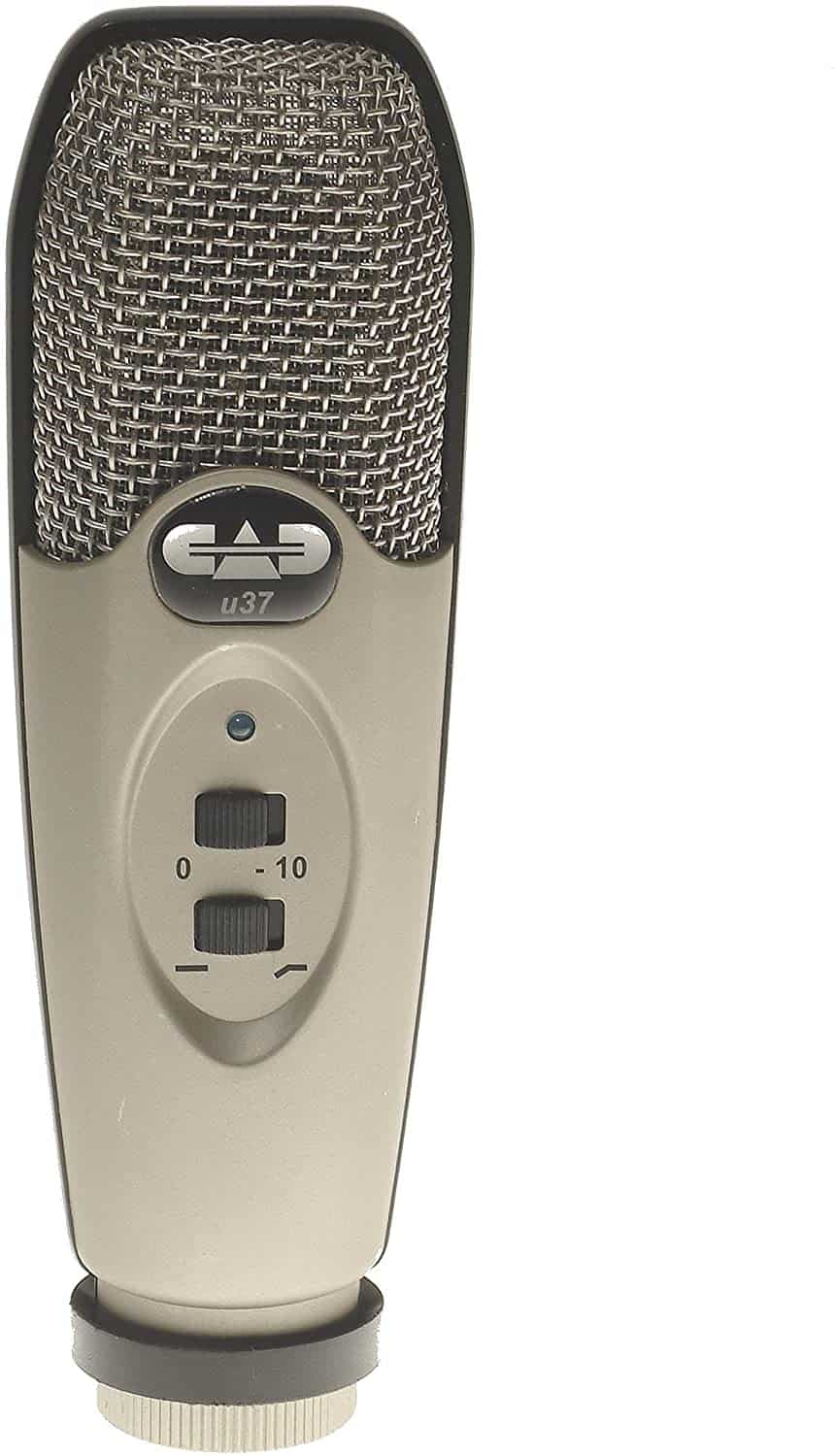 It is one of the best condenser microphones in the market. Its maker was quite generous with the size of the gadget and you ain't gonna pay more for its size!
You will spend less on purchasing it and still get the best sound recording experience to keep your fans flowing to your studio.
With the use of a USB, it is easy to plug your microphone to your computer and you are ready to go.
To make it easier for you, you got a 10-foot USB cable for connecting the mic.
Sound quality is a feature that the manufacturer of Cad U37 USB put more effort into.
Check out this audio test:
The microphone has a cardioid pattern that helps to minimize the noise in the background and differentiates the sound source.
Also installed is the switch that protects it from overload to curb distortion that would arise from very loud sounds.
For those people venturing into solo music and they want to record themselves, focus your eyes on this one.
It comes with an extra feature that almost zeroes the noise in the room. This feature is suitable when recording under low frequencies.
With the LED light installed on the monitor display of the microphone, it is simple to adjust your recording and personalize it because the level of the record is visible to the user.
Pros
Cheaper to purchase
Desktop stand keeps it steady
Long USB cable makes it flexible
Produces quality sound
Simple to plug and use
Cons
Bass-reduction affects the quality of the record when employed
Check the latest prices here
Best value for money: Blue Yeti USB condenser microphone

Blue Yeti USB microphone is one of the best microphones in the market that we cannot miss to mention in this article.
It does not have an affordable price but also it comes with excellent features that will make you settle for it without second thoughts.
The USB interface installed makes it a plug and play microphone. You can easily connect the microphone to your computer.
It is also compatible with mac, which is a plus.
The essence of a condenser microphone is to make you achieve the best sound from your music or the instruments you are using.
The designer of this microphone considered this and came up with the blue yeti USB microphone that is excellent in the production of the best sound.
Here's Andy testing the Yeti:
This microphone is able to produce pristine quality recordings thanks to its tri capsule system.
With the just simple adjustment to the controls, one will be able to achieve exceptional sound from the microphone.
An amazing microphone with an advanced technology that is able to help you record in real-time.
It comes with easy to use controls making it possible to take charge of everything you are recording at the time.
This gives you a much-personalized recording that you will surely love.
The headphone jack that accompanies the microphone is a savior because it gives you the luxury to listen to your recordings in real-time.
With its four patterns of recording, you are sure to get the best. This will help you select the best pattern you need to include in your recordings whether cardioid, omnidirectional, bidirectional, or stereo.
To add on the key features that make this microphone outstanding is its warrant time of two years.
Pros
highly affordable
Gives you quality studio sound
Lightweight
Highly durable
Easy and simple to use
Cons
Check prices and availability here
Best XLR condenser mic: Mxl 770 cardioid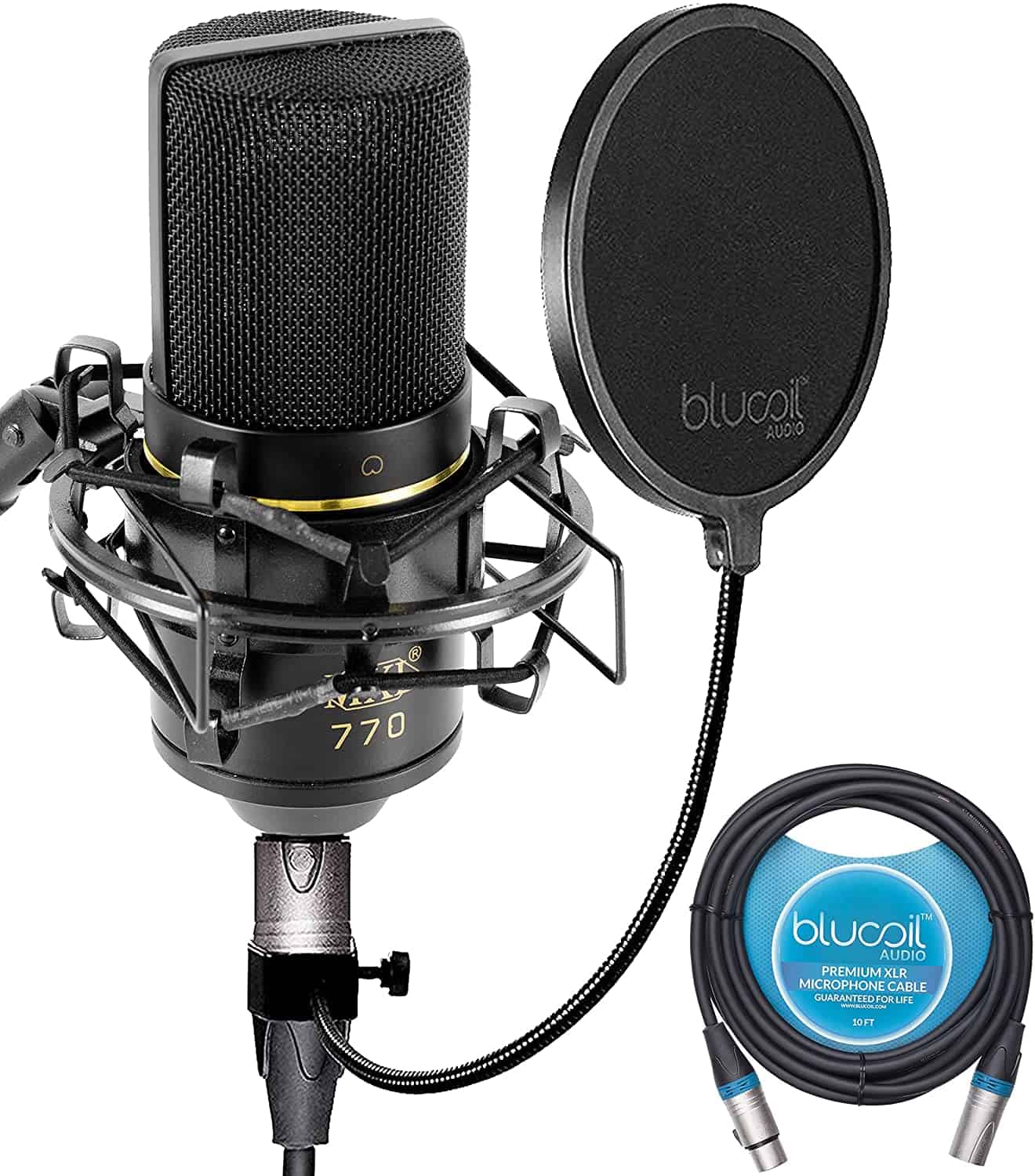 With its very affordable price, this mxl 770 cardioid condenser microphone gives what the other expensive microphones offer in the most affordable way.
If you are looking for a multipurpose microphone, your search should stop here. You should instead be concerned with the order link.
Its attractive features make it suitable for those who are shopping for a condenser mic for the first time.
It comes in two color variants of gold and black from which to choose.
The desirable features do not stop at the coloring; it comes with the bass switch that helps you control the amount of the background noise.
A good mic is an investment and MxL 770 is one such mic that will guarantee you value for your money.
Podcastage has a great video on this model:
It will last longer than most of the mics currently available in the market thanks to the emphasis put by its maker.
The microphone is always accompanied with a shock mount that keeps the microphone in place. It also has a hard case that keeps the microphone strong.
You will also have a role to play if you want to keep it longer, the basics of tools care!
With the above measures put a damaged mic is the last of your worries even if it falls from the sky, nah drop the exaggeration, just kidding.
Pros
Excellent microphone for the money
Able to accommodate a vast range of frequencies
Quality sound produced
Durable
Cons
The shock mount is of poor quality
Picks up too much room sound
Check the latest prices here
Overall best USB condenser microphone: Rode Nt-USB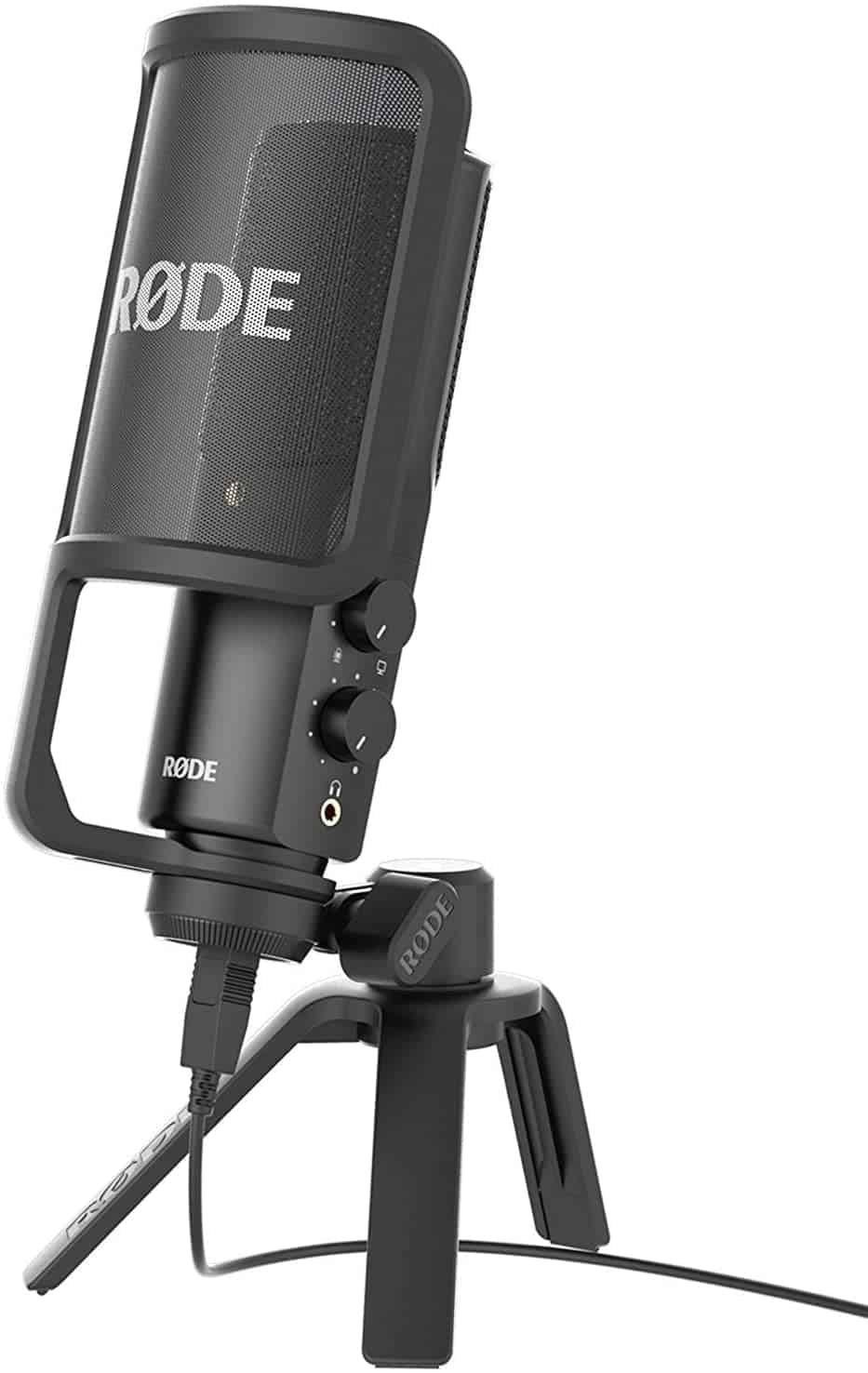 With its sleek design, the microphone is much appealing to the eye. It is one of the cheapest microphones in the market yet competes in features with those pricey microphones.
This microphone is highly versatile. The USB compatibility makes it easy to use. If you are a fun of plug and play, pick this one.
For those people who go for durability then this is the microphone you should consider purchasing. The microphone is made of metal, which makes it sturdy.
The grille of the microphone is also covered with a pop filter. This keeps the microphone to withstand harsh conditions.
Here's Podcastage again checking out the Rode:
It is accompanied by a stand, which is the tripod, and the USB cable is long enough to keep the microphone flexible.
The upper midrange bump helps the microphone to pick the sounds much easily while the cardioid picks up the pattern that is sufficient for ensuring this happens.
It is compatibility with windows and the mac is an added advantage
Pros
Its sleek design makes it appealing
Gives you clear and clean sound
Highly durable
its background noise cancellation is excellent
Lifelong warranty guaranteed
Cons
Flat sounding
Not able to plug in most soundboards
Check the availability here
Best condenser instrument microphone: Shure sm137-lc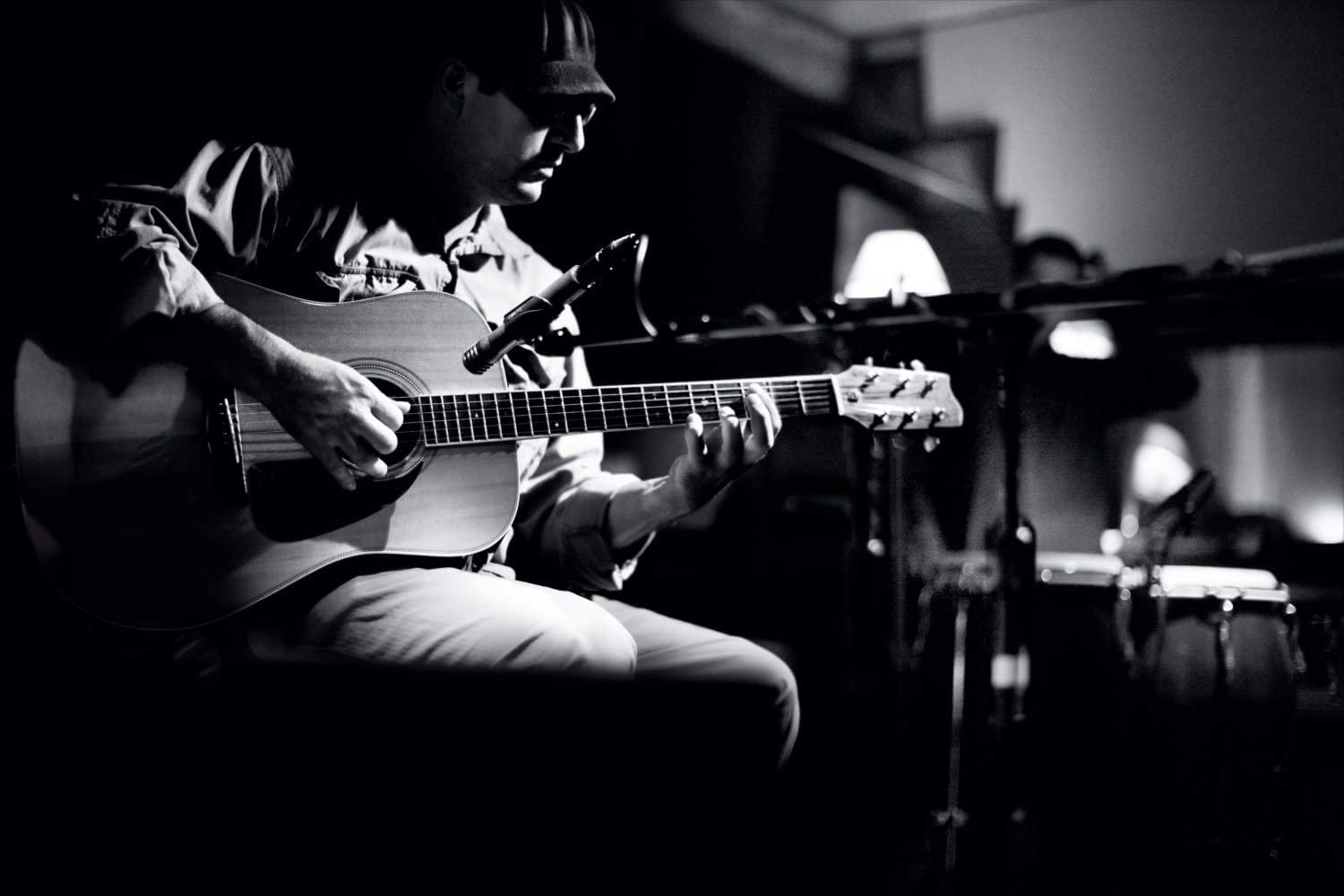 One of the best condenser microphone that is affordable to purchase and still comes in handy with the excellent features you will need in your microphone.
Its construction is one thing that you should note when it comes to this microphone.
The mic is constructed in a way that will be used anywhere at any time without breakage and defaults.
This is sufficient for those people who prefer long-lasting hardware for their music experience.
Here Calle has a great comparison of the Shure with some other mics:
The musicians go for the condenser microphone in order to get clean and clear sound from their music recording.
The microphone's high versatility is able to cope up with pressure levels of high sounds and can be used with drums, which are of high volume.
Pros
Cheaper to purchase
Very versatile
Balanced quality audio produced
Cons
For full sound, it needs o held close to the mouth
Check the latest prices here
Also read: the best mics for live acoustic guitar
Conclusion
Understanding your needs is key in purchasing the best condenser microphone under $200 in the market.
Knowing how to bring out your music in an artistic way will make the search for the condenser microphone more fun and simple.
This review will guide you to select one from among the best microphone condensers that will be accommodated by your pocket.
The success of your music is paramount and the sooner you put that into consideration the sooner you start going up musically.
I'm Joost Nusselder, the founder of Neaera and a content marketer, dad, and love trying out new equipment with guitar at the heart of my passion, and together with my team, I've been creating in-depth blog articles since 2020 to help loyal readers with recording and guitar tips.
Check me out on Youtube where I try out all of this gear: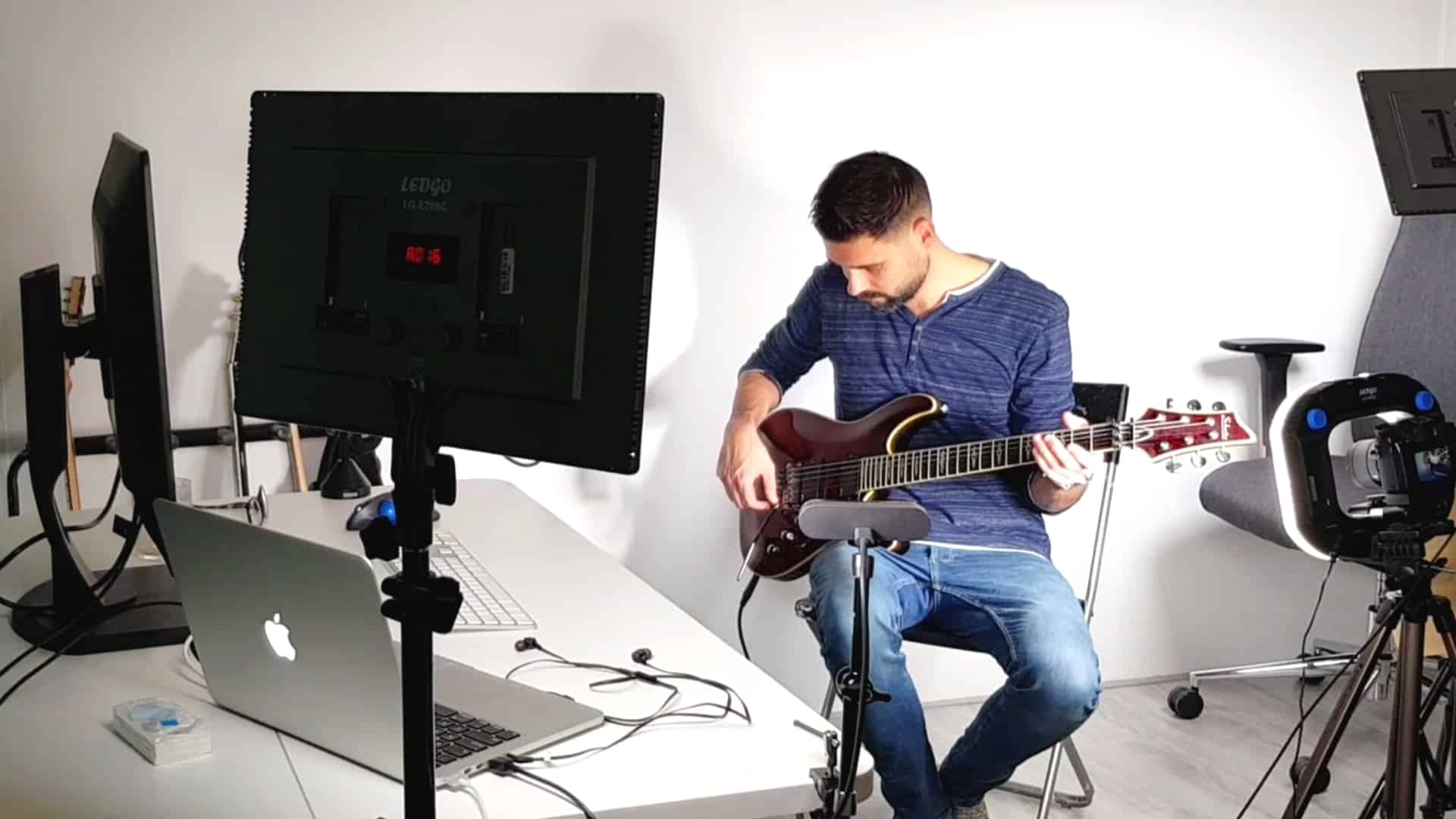 Subscribe