hi there I love creating free content full of tips for my readers, you. I don't accept paid sponsorships, my opinion is my own, but if you find my recommendations helpful and you end up buying something you like through one of my links, I could earn a commission at no extra cost to you.
Learn more
Without the best kick drum mics, getting quality sound output is nearly impossible.
Whether you intend to use it for studio recording or live stage performance, this kick drum comparison will help you make informed purchase decision.
And to save you good amount of time, we'll bring you the top rated brands and models that have been proven to produce impressive sound quality for drummers like you.
So you don't have to click from one page to another in search of the best kick drum microphones.
This also implies that a highlight of the price range will make it possible for you to skip to the ones within your budget.
Perhaps, what good will be for you to spend time reading through kick drum mic reviews that are not affordable for you at this time.
Just think about it. I bet you don't want to do that.
Interestingly, if you have been looking for where to buy a microphone for kick drum recording or live performance, you've got it here.
If you don't want to spend the money on a professional kick drum mic, the best value for money you can get with this Electro-Voice PL33.
You don't pay for the top brand name of some of the other kick drums, but you get a very good constructed and high dynamic mic which will get you through most of the recording or live mic'ing you'll need to do in your career.
Let's take a look at the top models, after that I'll get into them in a little more detail:
By the way you can find best budget(under 200) condenser mics here
Kick Drum Microphone Buying Guide
When it comes to producing or delivering high quality sound output, there many variables usually involved.
Because of the fact above, getting the right mix right of the bat is very important.
So before the recording or performance processes, it is not just about the drum and mic. Understanding the things that matter most will help make the best-informed purchase decision.
And that is what this drum mic buyer guide is all about.
Besides the opinion of sound engineers and drummers alike, we all know that getting the right tools for any job maximizes optimum performance levels.
Nobody wants to waste their energy in the struggle with poor performing tools.
Before you make that commitment to buy kick drum microphone online or offline, here are some of the most important factors to consider.
Note, this is placed in no particular order.
Frequency Response
This is quantitative measure of sound output in response to a stimulating force acting on a device. In simple terms, the question is how well is the system or device responding to sound production inputs?
Whether in concert, vocals, worship or recording contexts, sound input frequencies can go high and low.
However, capturing high sounds isn't a problem for many mic systems. It is the low end frequency response that matters most.
And that's why you should go for a microphone that can capture as low as 20Hz frequency.
This will help you and your team to produce coherent and enjoyable quality sound output.
In a music band, for instance, it will also make it possible to capture fully; the low-end sounds from other instruments.
See the preceding paragraphs for the best kick drum mic reviews with a low-frequency response rate.
Sound Pressure Level
In varying performance contexts, many kick drums are prone to be played loudly at some points.
But it doesn't cause distortion of the entire sound output. This is where the sound pressure level (SPL) dynamics come into play.
So in order for a quality reproduction of the sound coming out from your drum, you need to go for a microphone with high SPL ratings.
Here is one of the key factors that differentiate one kick drum microphone from the other. Practically, these ratings are never the same.
In addition to the reviews above, you can ask comparative questions before purchase.
In addition to that, be sure to test everything immediately after purchase.
Durability
Durability points specifically to how the outer component and entire microphone was built. Note here that you don't have to put elegant design above the most important features that have to do with the actual out quality of output you'll get. Most of the strongest mics that last really long are built with metal or steel case material. So don't go for anything less. You follow the links above to find many of them available on Amazon.
Take note of the stand or how the mic will be placed within or outside your drum. However, some of the modern kick drum microphones don't have separate stand. You may ask the seller or manufacturer how to place your kick drum microphone assuming the information is not readily available.
For people that engage very often in DJ or outdoor gigs, you may consider buying a kick drum microphone that has carrying case.
Consider Dynamic Microphones
Especially for people that have music or stage use cases in mind, it is better to go for dynamic microphones. When you read any full dynamic vs condenser microphone comparison, you'll understand that condensers are highly sensitive and prone to distortions. And if you use that in loud performance contexts, the quality won't be at with what is obtainable from dynamic models.
Moreover, condenser microphones are known to have fragile coils which require phantom power. Because of frequent settings and resetting in love performance environments, you need a rugged microphone that can withstand the tough terrain.
Dynamic kick drum microphones have also proven to handle high sound pressure levels (SPL) of up 170 dB. Beside kick drums, this type of microphone can as well for guitar amplifier cabinets, vocals, toms and other music instruments.
This is one of the reasons why it's best for live stage performances and other music use cases.
Best Kick Drum Mic Reviewed
Before you click that buy now button, be informed that the selection of these kick drum mic reviews is based on positive experiences of past users I found through research, not just buyers.
Probably, the buyers may differ sometime from the actual users.
Moreover, some product sales statistics and user ratings I found also depicted the ones reviewed to be the bestsellers among all the kick drum microphones you can find in the market.
 If in case you have used any one of the brands mentioned here and confirmed it to be satisfactory, you are likely to experience same or higher level of satisfaction; even from another model.
Best value for money: Electro-Voice PL33 Kick Drum Mic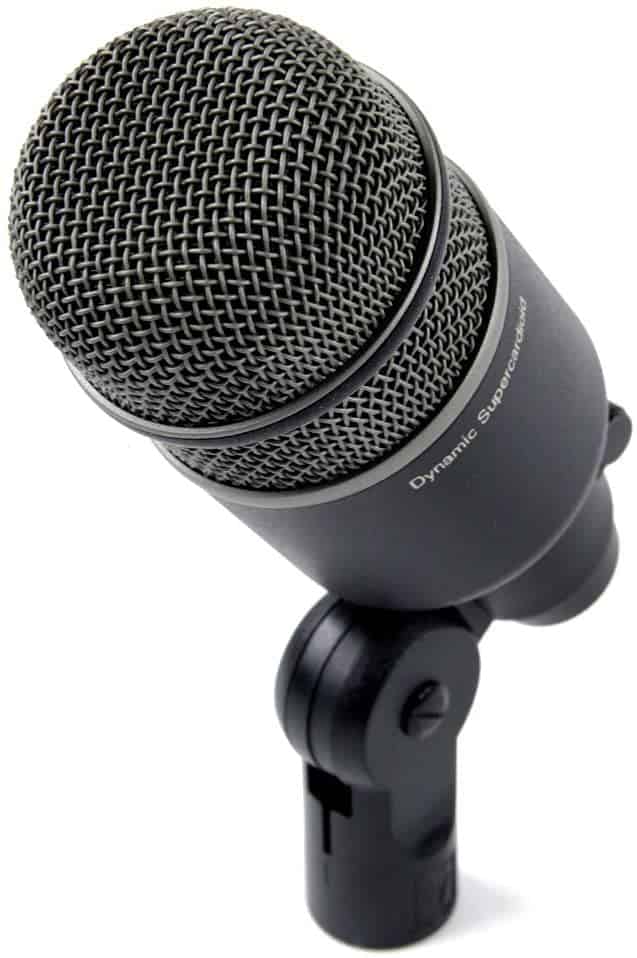 Looking for where to buy Electro-Voice PL33, now you have it.
Among other interesting features, the robust build ensures that it stay tightly in place while in high performance mode.
This kick drum microphone works with supercardioid pick up pattern.
And from what I have seen, this helps to reduce outside noise from the bass drum as well as distracting feedback.
With this feature, you are sure of picking on the pure sounds from the instrument you are using.
The audio frequency on this microphone stands at 20 Hz – 10,000 Hz.
Electro-Voice PL33 is made of die cast zinc material.
Please note that this is a wired kick drum microphone, not wireless. The weight of this mic is about 364g.
Thinking about the best kick drum mic price comparison, Samson C01 Hypercardioid condenser microphone seems a bit cheaper.
You can find that one selling on Amazon below $100 while PL33 is slightly below $250.
Based on my research findings, around 82% of past buyers and users found the Electro-Voice PL33 to work well both for studio recording and live performance.
Depending on where you choose to buy, it comes with soft zippered gig bag if you buy from Amazon.
What I Like
Stays safely in place while in use
Impressive response to bass instruments
Sounds great outside your kick drum
Captures low end sound down to 20 Hz
What I Don't Like
Needs EQ
Comparatively heavy
Check prices and availability here
Best professional dynamic kick drum mic: Audix D6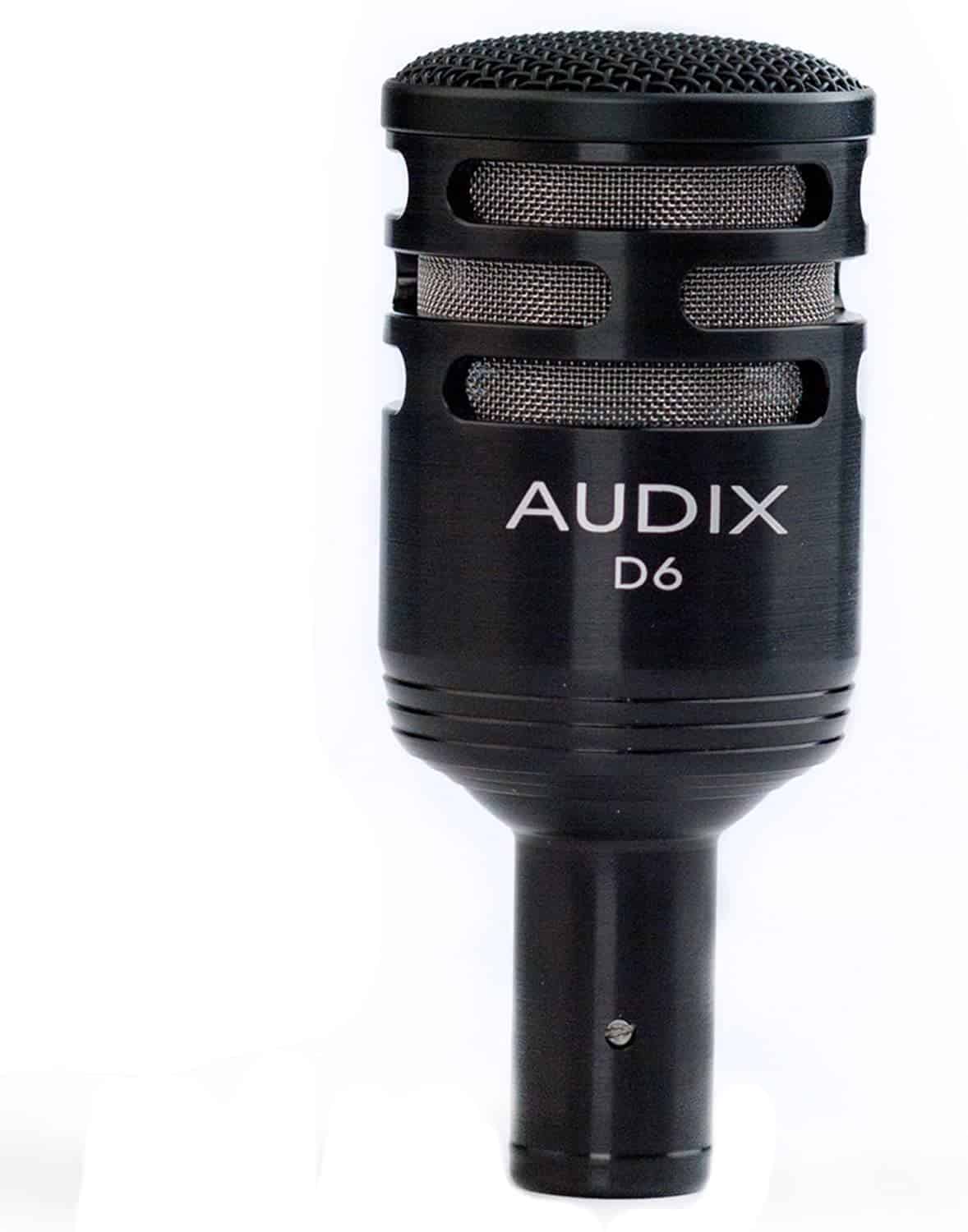 Here is another great and affordable microphone that has been proven to deliver what is required by most drummers.
While it seems less popular than the regular household brand names you know, you are sure of getting the high output quality you want while coming at an affordable price.
Talking about Audix D6 features, the one that stands out most is the ear satisfying clarity.
Practically, both the sound producer and listeners often enjoy the output to the fullest.
According to the manufacturer and other user tests, this microphone is suitable for kick drums, floor toms and bass cabs.
One thing that is worthy of note is the need to have proper sticks before recording.
If you make use of bad stick, the sound output may fall below the quality you wanted.
So take this into account before you make the commitment to buy Audix D6 kick drum microphone or any other model for that matter.
With the low mass diaphragm, you can be sure of impressive transient response rate. Moreover this mic is known to have high SPLs without distortions.
The frequency response stands at 30 Hz – 15k Hz while the impedance is about 280 ohms.
When you compare Audix D6 vs Sennheiser E602, the later proved to be of lighter weight at 7.7 ounces.
And if you care about where this one is made, this D6 was designed and manufactured in USA.
Just in case you got XLR cable question in your mind, my answer is yes it comes with it.
What I Like
Powerful low end
Good for low frequency instruments
Impressive value for the price
Easy and stress free placement
Best floor tom microphone
Perfect for church, concert and studio
What I Don't Like
Comparatively more expensive
Mild loss of mids
Check prices and availability here
Best swivel mount: Shure PGA52 Kick Drum Mic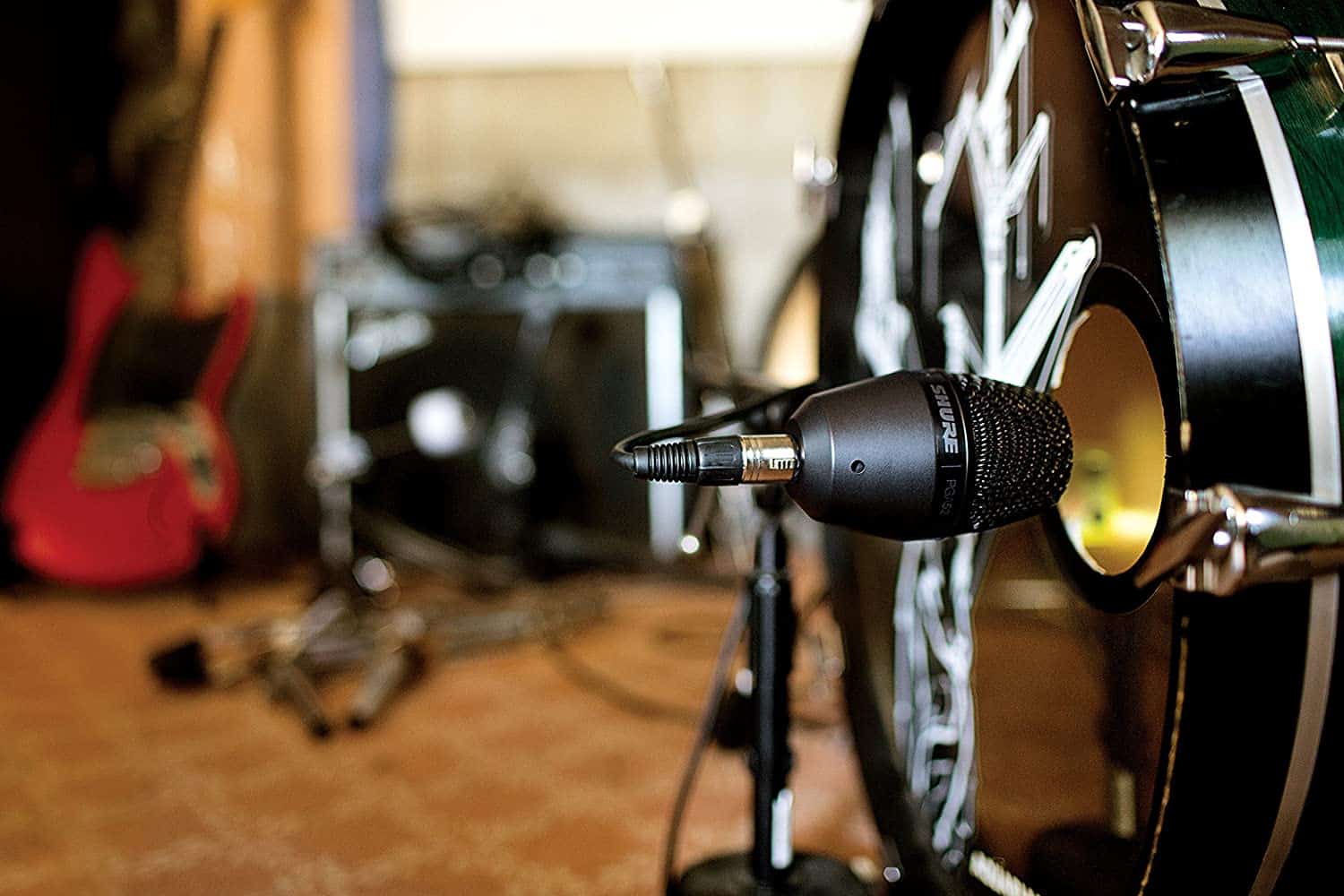 For people that have been in the music recording or live stage performance concerts for a while, you are very much likely to be familiar with this brand Shure.
Probably, you might have used one of their products before.
Whatever the case, this popular music equipment brand has great and affordable models under the category of the best kick drum mics in 2019.
Interestingly, Shure PGA52-LC is just one of them. Different from this one, you can still many other instrument microphones from them.
Even though this kick drum microphone price sells affordably below $150, you can be sure of capturing the same low frequencies while in use.
The mic itself is very easy to set up and It makes of cardioids pick up pattern.
And with that feature, you don't have to worry about disgusting sound interference or noise pick up.
Assuming you intend to buy Shure PGA52-LC from Amazon, you'll have the option to add or leave the 15'' XLR cable.
And this makes the price to be slightly different. Here I am talking about $15 – $40 dollar difference. The frequency response on this one is about 50 – 12,000Hz.
The swivel joint feature makes for quick and easy positioning. It has a black metallic finish with the weight standing at 454g.
Check prices and availability here
Best punchy sound: AKG D112 Kick Drum Microphone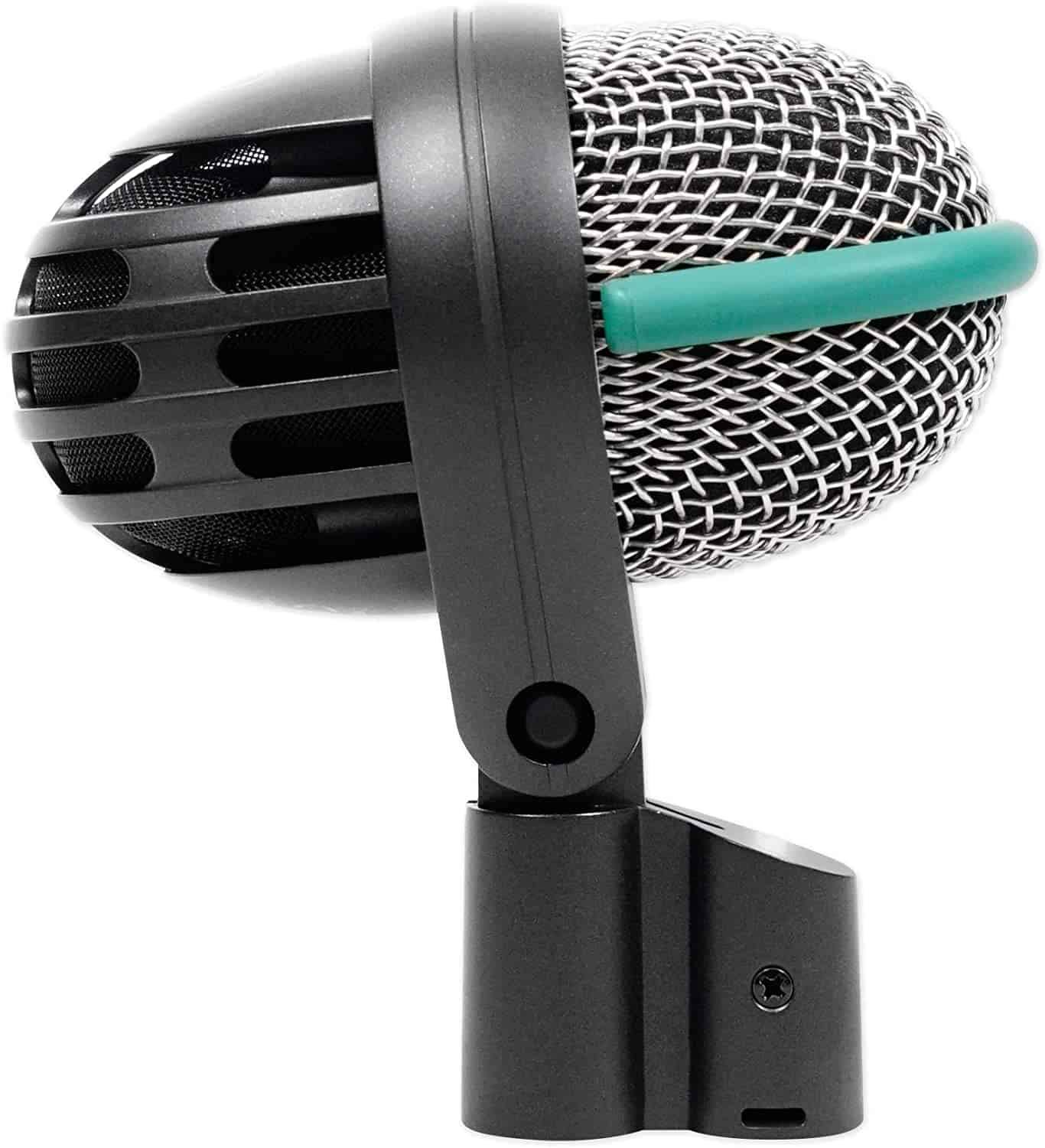 For people that are precisely interested in large diaphragm kick drum microphone under $200 in 2019, AKG D112 is one of the best options worth considering.
Based on my research findings, many past users love this one so much because of the capability to handle more than 160dB in sound pressure level (SPL).
And it works really well without any noticeable distortions.
On this microphone, you'll find low resonance frequency which allows it to capture sound frequencies blow 100Hz.
Moreover, the integrated hum-compensation coil contributes to the capacity for producing high quality sound.
And if you have to perform with large drums, AKG D112 delivers even high quality sound outputs.
All you have to care of is the proper placement of the mic. Just try mounting on the opposite side of the striking surface.
Without letting them get hit, this will give you even better bass sound.
To get the best quality sound output, try different mic positions. And then observe the differences while playing.
However, the mic has been proven to perform well both inside and outside the drum.
Even though many people consider the price to be expensive, it still performs far better than cheaper models that sell under $100.
Without doubt, I have found past users that confirmed some cheaper models to fall short in terms of life span.
In terms of use cases, this microphone can as well be used on bass guitar amps. With the solid construction, this mic's weight is just about 1.3 pounds.
The dimension on this one is 9.1 x 3.9 x 7.9 inches.
What I Like
Long life span
Rich kick drum sounds
Integrated hum-compensation coil
Very large diaphragm
What I Don't Like
Doesn't come with a stand
Check the latest prices here
Best cheap budget kickdrum mic: MXL A55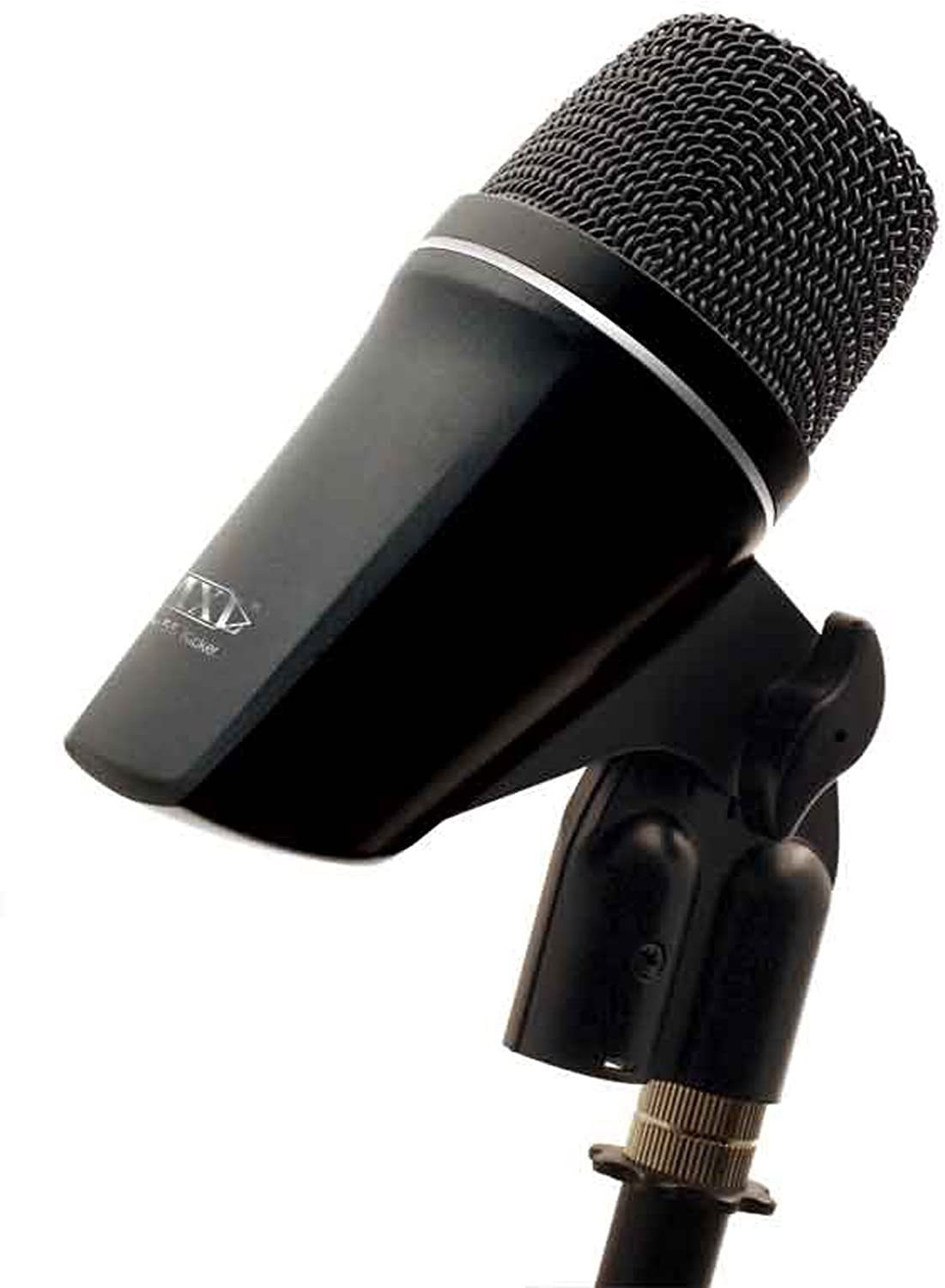 One outstanding fact about MXL microphones is that they are usually cheap while at the same time delivering high quality performance output.
So if you are that price conscious shopper, here is one of the best kick drum microphones under $100.
In terms best kick drum mic comparison, MXL A55 Kicker vs Pyle Pro, MXL is practically more affordable at a price that is below $90.
Among other impressive features, it has a sturdy but light weight design. And that makes it easy to place and position as you like; without any stress at all.
This also gives you opportunity to test different positions in order to discover the best option that will give you the highest quality output.
Here's MXL themselves micing a Pearl kickdrum:
From the experiences of past users I found through research, this microphone's proves really outstanding when it comes to bass instruments.
So if that is what you have in mind, MXL A55 Kicker is for you.
Also worthy of note is the compatibility for floor toms, bass cabinets and tubas.
Even low experienced sound engineers, tuning this mic system to get the exact quality output you want doesn't require heavy technical stress.
Examples of the settings where this microphone have been found to perform well include classic rock and blues.
Whether you are playing with acoustic or electronic drums, this is the mic to go for. Please note that this is a dynamic not condenser microphone.
So don't forget that when you are ready to buy MXL A55 Kicker. From my findings, around 86% of past buyers found this product to deliver exactly what they wanted.
And in some cases, it performed beyond expectation.
What I Like
Durable and sturdy metal construction
Easy to set up in 10 minutes or less
Fast and impressive response times
Good for varying styles of music
What I Don't Like
Best kick drum mic under $200: Shure Beta 52A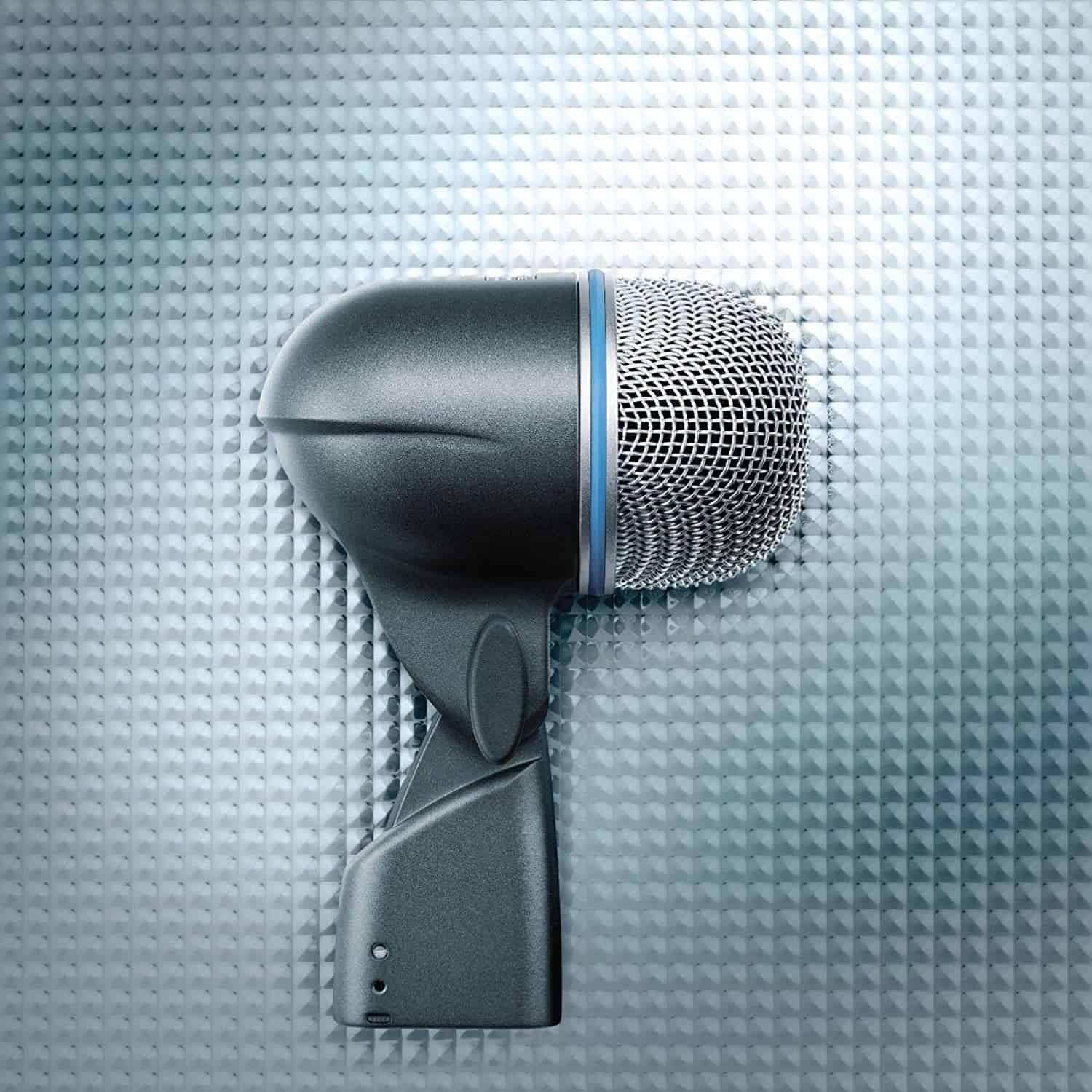 Here is another interesting option that is worth considering. The Shure Beta 52A has a rounded diaphragm which fits perfectly well for any kick drum you can think of.
Unlike other models like Sennheiser E602, this one makes use of super cardioid pick pattern.
This provides the capacity for capturing high quality sounds while isolating unwanted noise at the same time.
Even at loud volume levels, the 174dB SPL delivers good performance both for studio and live recording contexts.
For easy setup, you'll have a built-in dynamic locking stand adapter and XLR connector.
Based on factory tests and past user experiences, this microphone is known to have low sensitivity to varying load impedance.
In case if what you have is a regular stand, this one works really well with it. The case material is made of silver blue enamel painted die cast metal.
And it has matte finished steel grille. In terms of weight, this is just about 21.6 ounces which some people consider to be a bit heavier.
This microphone also comes with a black carrying case. Another interesting fact that places Shure Beta 52A in the of the best kick drum mics is the long lasting life span.
From research findings, some current and past users found this product to last up to 8 years.
Got an upright bass in mind? Shure got you covered on this one. The perfect EQ control system makes it possible for you to enjoy the sound even as you are engrossed in your recording.
Practically, this one cannot be compared to overhead mic at all.
What I Like
Perfect for varying drum sizes
Pneumatic shock mount system
Rugged and durable design
Good for bass guitar cabinets
What I Don't Like
Looks bulkier than others
A bit more expensive
Check the latest prices here
Best Boundary Layer Condenser Microphone: Sennheiser E901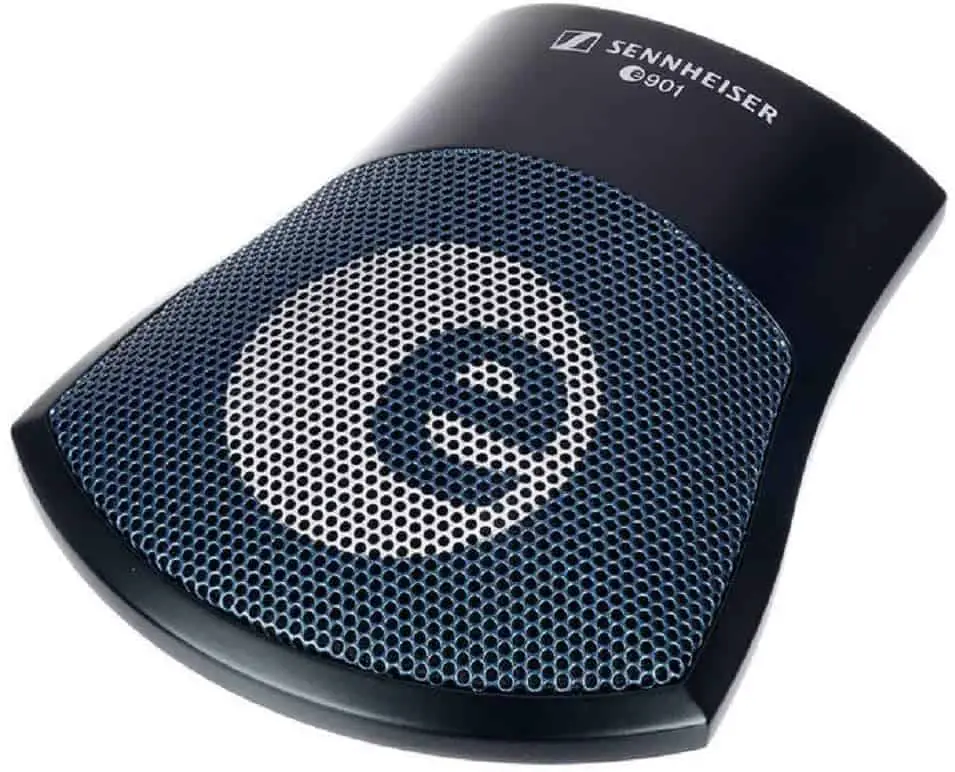 In my opinion, any reviews of the best kick drum mics without mentioning this brand, Sennheiser will be incomplete.
Here is a popular and old brand name that has been in the music equipment market for a long time.
And because of this many people in the music field acknowledge the quality of products they make.
Interestingly, Sennheiser E901 is just one of them. Outstanding among all the impressive features is the elegant shaped design.
This product belongs to the Evolution 900 Series from the manufacturer.
Based on past test results, the said kick drum mic works really in contexts like live sound, stages, podium, altars, percussion, and even conference tables.
Unlike what is obtainable from other competing models in the same category, this one doesn't require any stand at all.
Just take a pillow, lay it properly in front of your drum and you are good to go.
However, if for any reason to make use of a stand, check out other models from the same brand like E902 and E904.
And for this one you don't have the need for adaptor cable as well. You can make use of standard XLR-3 connector.
The pickup pattern is half cardioid according to the manufacturer.
If you have had Shure Beta 52A for a while, Sennheiser E901 will serve as a perfect upgrade in terms of user experience and output.
And it is one of the few kick drum microphones that offer 10 years warranty. The frequency response is 20 – 20,000Hz.
Probably because of the elegant design and low end response, the price stands above $200.
So if you are looking for the best budget drum microphones under $200, this isn't the option for you. Inside the box you'll get a pouch and user manual.
What I Like
Outstanding intuitive design
Quick record condenser mic
10 year warranty
What I Don't Like
Check availability here
Best low profile kick drum mic: Shure Beta 91A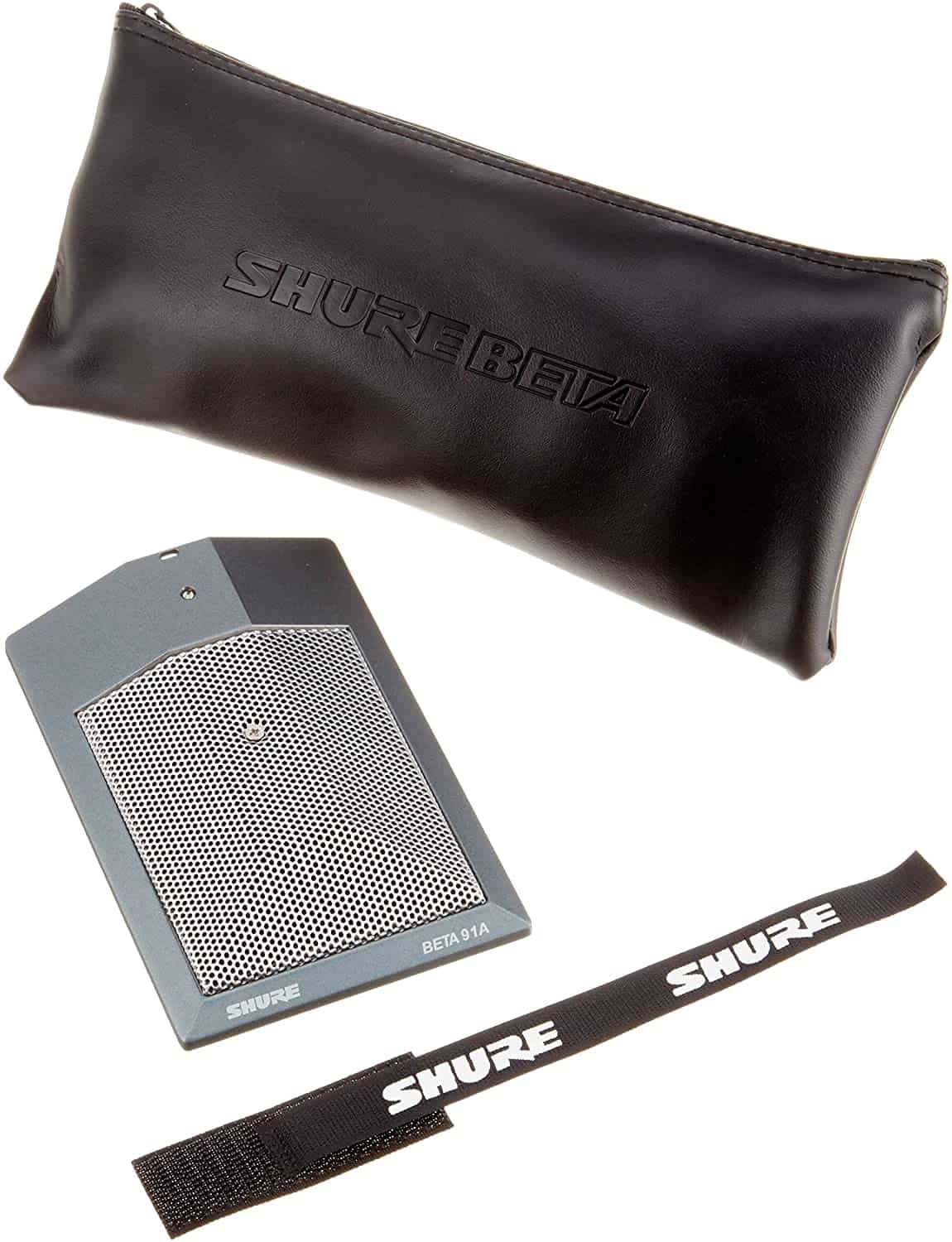 If you are intending to buy half cardioid condenser kick drum microphone for that those use cases you have in mind, check out Shure Beta 91A.
This is another high end mic that delivers expected quality output whenever and wherever you want it.
Just like the Sennheiser E901 reviewed above, it has an attractive and polished design.
When in use, prompt rejection of off axis sound is supported by the half cardioid polar pattern.
Expectedly, the flat metallic construction doesn't require any stand before you can make use of it.
In some sense, this is a combinatorial improvement on the previous models like Beta 91 and SM91 models. However, this one is expensive too.
Depending on your choice, probably subject to some positioning tests, you can place it within or outside your drum.
And that depends on the size of your drum as well. So please take that into account. The dimension is 10.2 x 3.5 x 5 inches.
Note that Beta 91A works with preamplifier. Fortunately, this will help you to minimize stage clutter.
Other low frequency instruments like piano also work well with this kick drum microphone.
And to get the best sound quality, don't use it alone. What I mean is that a single piece may not work the way you want.
One of the things that make this possible is the frequency cut off that goes as low as 20Hz. Just so you know, don't try to use plastic beaters on this microphone.
Even in high SPL environments this microphone works perfectly well.
Check the latest prices here
Best lightweight kickdrum mic: Sennheiser E602 II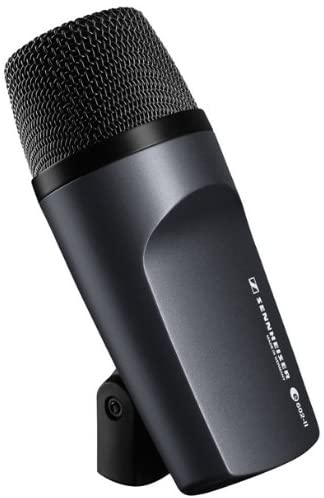 When it comes to all things music and audio equipment, this is one of the popular brand names that have in the market for a while.
From Sennheiser, you can even find really old instruments that work far better than competing modern options.
Like the counterpart reviewed earlier, this particular model also comes with 10 year warranty.
And that to me is a depiction of the confidence that the manufacturer has on this product.
For many people that are looking for the best kick drum mics, it's either Shure or Sennheiser.
To enhance bass response, E602 II was built with large diaphragm capsule. However, the 155 dB SPL seems lower at 155 when compared with AKG D112 Audix D6 and some others.
As a wired dynamic microphone, you can be sure of getting crisp and clean sound when playing.
To get the best position that will give you what you want, it was built to work with adjustable stand.
That mean you can position as you like until you get the best recording or performance. Specifically, it makes use of an integrated mount stand.
According to Sennheiser, this product is compatible with evolution drum set.
Even though the price is comparatively expensive, just around $170, the frequency response seems lower at 20 – 16,000Hz.
Beside kick drums, you can use this mic for vocals, speech, home recording, stage sound and house of worship.
 But the end, it is still one of the best kick drum mics under $200 in 2019.
What I Like
Attractively slim design
10 year warranty
Integrated mount stand
Light weight coil construction
What I Don't Like
Check the latest prices here
Kick Drum Buying Questions And Answers
What are the best kick drum microphones?
Here we've got a collection of the best affordable kick drums. Overall, the Sennheiser E602 II, Shure Beta 91A Microphone, and Audix D6 Kick Drum Mic are the most popular models that last longer while delivering quality sound output.
Do I need a kick drum microphone stand?
It really depends on the brand, model, and design of the one you choose to buy. Some modern mics don't need a separate mount or stand at all. Check the reviews above to see some of them. However, some have their stand built together with the device.
How many mics does it take record drums?
Again, this one depends on your settings and the type of drums you are playing with. Possibly, you'll need up to eight drum microphones. In that case, you could go for Pyle Pro wired dynamic drum kit, Shure PGADRUMKIT5 or Shure DMK57-52. For all of these, you'll get a specification as to how many drums you can mic comfortably with that.
What is the best mic for bass amp?
Whether you are intending to buy for combined instruments or bass amp alone, these ones have been confirmed to deliver quality output according to past users: Sennheiser E602 II, Heil PR40, Electro-Voice RE20, Shure SM7B and many others. Most of these can be found selling at affordable prices on Amazon.
NOTE – this is not meant to be an exhaustive pre-purchase questions and answers. But as stated earlier, all these are aimed making your purchase decisions easier. On the actual product pages, you can find other relevant questions and are answers too. And some are directly from manufacturers and past buyers that have used all of these products.
Conclusion
Obviously, there are many competing models in the market. But like I noted earlier this kick drum mic buyer guide is meant to save you time by bring the best models from different brands in one place. Assuming you are not loyal to a specific brand, you've good options to choose from – Shure, Sennheiser, AKG, Audix etc. Moreover, all the ones reviewed here are probably within your current budget.
And in terms of price, you can find the range between $80 and $250. Now with these kick drum microphone reviews above, you'll also be able to identify the features that matter most to you.
Don't forget to test everything immediately after purchase whether you follow the above links to buy from Amazon or not so that you can return and replace if required.
I'm Joost Nusselder, the founder of Neaera and a content marketer, dad, and love trying out new equipment with guitar at the heart of my passion, and together with my team, I've been creating in-depth blog articles since 2020 to help loyal readers with recording and guitar tips.
Check me out on Youtube where I try out all of this gear: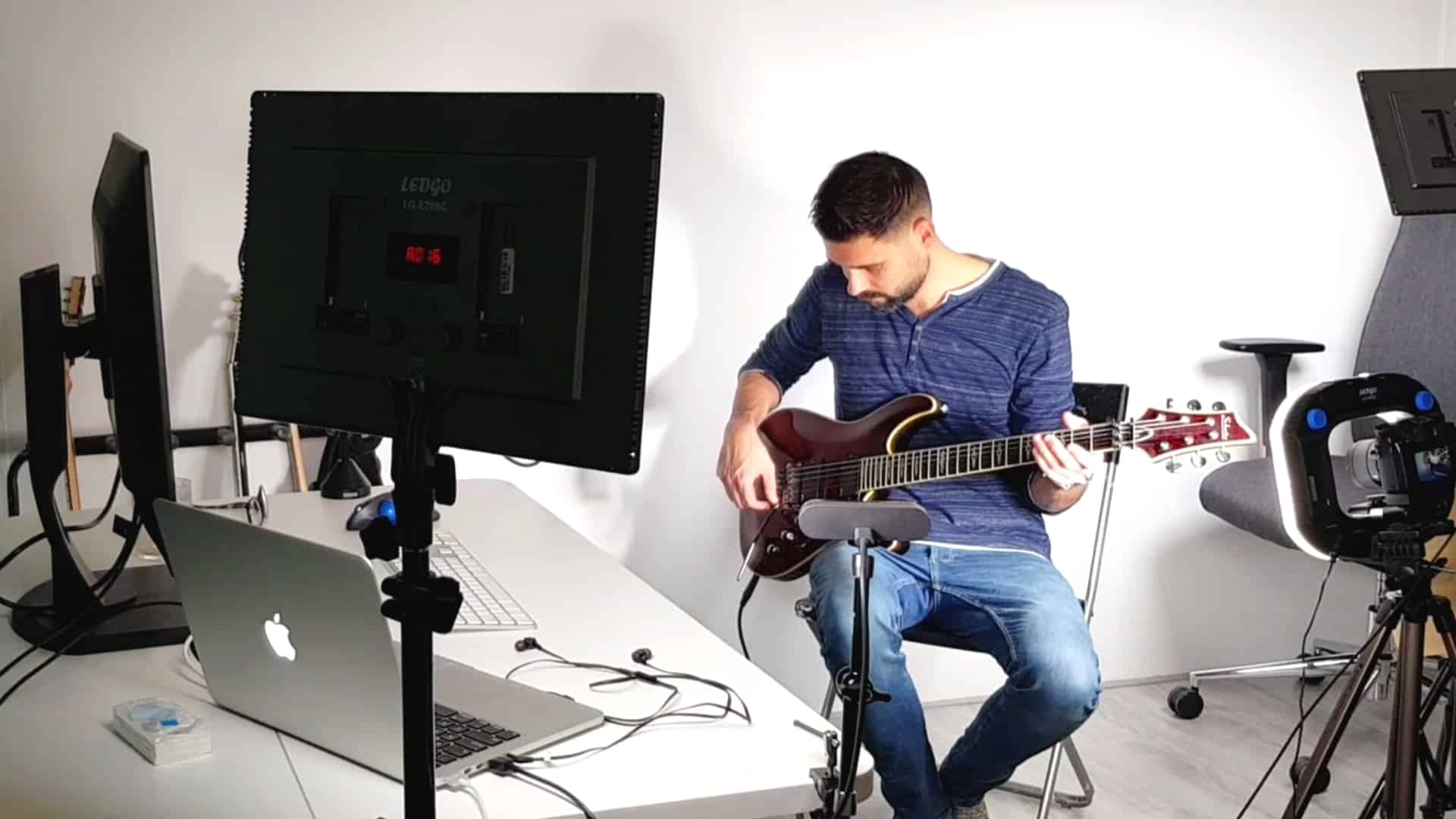 Subscribe