hi there I love creating free content full of tips for my readers, you. I don't accept paid sponsorships, my opinion is my own, but if you find my recommendations helpful and you end up buying something you like through one of my links, I could earn a commission at no extra cost to you.
Learn more
If you've ever tried gigging in a loud venue or busking on the high street, you know that an amplifier goes a long way towards helping your listeners hear your acoustic guitar's tonal nuances.
As a player, the last thing you want your audience to hear is a muffled sound. That's why a good amp is essential, especially if you play outside your home.
My best overall amp recommendation is the AER COMPACT 60.
If you want crystal clear sound that accurately reproduces your instrument's tones, this amp is the most versatile since you can use it for all performance purposes.
While it's pricey, its quality is pretty much unrivaled, and you get much more out of it than the budget amps.
I prefer this one over the others because it's a professional amp with premium sound and a sleek, timeless design and so does awesome guitarist Tommy Emmanuel who uses this on tour.
It's one of the best quality acoustic amps on the market, and it's ideal for all kinds of use, including gigs, large shows, and recording.
I share my top picks for the best acoustic guitar amps and discuss which one is best for different types of uses.
The full reviews of the top 9 amps are down below.
What should you look for in an acoustic guitar amp?
It really depends on your specific needs. There are many amps that are best for playing large shows, gigging, busking, studio recording, at-home practice, portable amps, and even ultramodern Bluetooth connected devices.
But, the amp should do a few things.
First, you want an amp that makes your acoustic guitar or your acoustic, which is mic'd up through a condenser mic sound a lot louder and clearer.
The goal is to get an accurate sound that sounds exactly like your instrument.
Second, if you also have vocals, you need an amp that can handle the vocal sounds and has a second channel for your mic's XLR input.
Next, look at the size of the speakers. An acoustic doesn't need speakers as large as an electric amp.
Instead, acoustic amps are voiced for a broader frequency range and often come with small tweeter speakers, known for their high-end articulation.
Full-range speaker set-ups help articulate the nuances of your guitar's tone, and they work well when you play backing tracks.
How powerful should my acoustic amp be?
The power of the amp depends on what you use it for.
Are you simply using the amp at home to practice and play? Then, you likely don't need more than a 20-watt amp because you're playing in a smaller, contained space.
My recommendation for playing at home is the 30-watt Orange Crush Acoustic 30 because it's a bit more powerful than the 20-watt, so you can still get enough volume to record, even if there are other noises in your home.
But, if you are playing in medium-sized venues, you need powerful amps that are going to allow everyone in the audience to hear you. For pubs and small gigs, you need a 50-watt amp.
My recommendation for playing gigs in bars, pubs, and for medium-sized crowds is the Boss Acoustic Singer Live LT because this 60-watt amp gives enough power and a premium sound your audience will surely notice.
If you go even bigger, like a concert hall, you need a 100-watt amp. That's because if you're up on a stage with a large audience, you need your acoustic guitar's tone to get heard.
If there are other instruments too, you need a powerful amp that people can hear.
My recommendation for large venues is definitely the Fender Acoustic 100 because you get a powerful, polished, and natural amplified tone even in busy and noisy environments.
Keep in mind, the bigger the stage, the more powerful your amp should be.
Also read: Complete Guitar Preamp Pedals Guide: Tips & 5 Best Preamps.
Best acoustic guitar amps reviewed
Now that you've seen a quick round-up of the best amps, and know what to look for in a good acoustic guitar amp, it's time to explore them in more detail.
Best acoustic guitar amp overall: AER COMPACT 60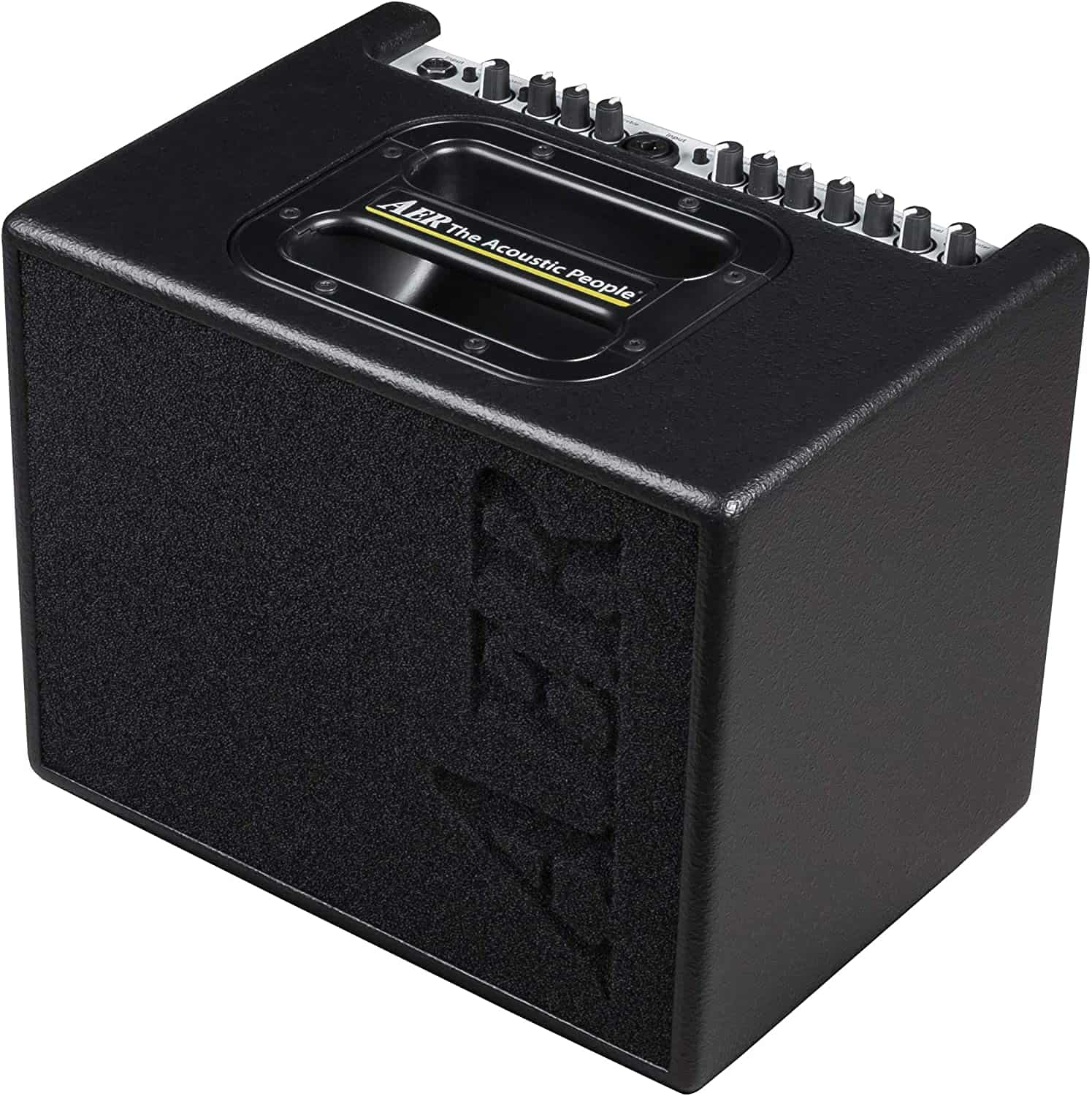 If you like to gig, record in the studio, and perform for a crowd, there's no doubt that German brand AER's Compact 60 is a top choice.
Used by pros like Tommy Emmanuel, this amp is our overall best pick because of its quality and sound. Many professional players use this amp because it's great at amplifying the acoustic guitar's tones.
The sound is untampered and crystal clear. It offers the best transparency, so when you play your instrument's tone sounds as close as you can get to an amp-free tone.
This amp comes with many tone-shaping options for the instrument channel.
It also has a mic input, which is a feature every quality amp needs.
This is a two-channel amp with all the mod-cons you need. In terms of material, this amp is made of a birch-ply, and while it's boxy, it's still light enough to take with you anywhere.
There are four presets for the effects so that players have user-friendly features. But, what really makes this amp one of the best is the 60-watt power and amazing sound.
The power drives a dual 8-inch cone speaker, which diffuses the sound so you can be heard, even in large venues.
Tommy Emmanuel uses a Maton acoustic guitar with an AP5-Pro Pickup System and the AER Compact 60 amp.
Check the latest prices here
Best amp for large shows: Fender Acoustic 100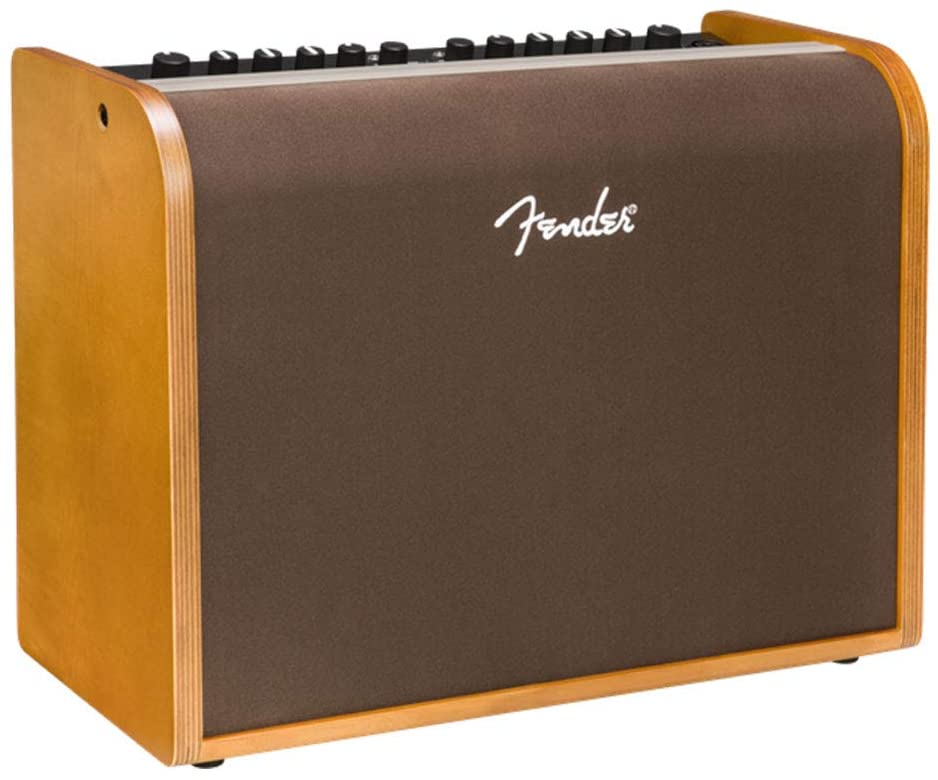 When you're looking for a Fender because you love the quality but want a more updated 21st-century design, the Fender Acoustic 100 is a great choice.
It's a versatile amp with many features, effects, controls, and jacks, which you need to play gigs.
While the Fishman Loudbox below has 180W, the Fender 100 is more affordable and it's just as good because it has the most realistic tone.
Therefore, it helps you pull off a polished performance for your audience.
This amp has a sleek Scandi inspired design, in a classic brown color and wooden accents.
It's a bit large, so you may need to get help carrying it around, but this powerful amp is what you need to make sure everyone can hear your instrument's tone.
It's one of the best amps out there for large shows as well as small gigs because it is very powerful. It has 100 Watts of power and 8" full-range speakers to ensure the best sound quality.
The amp also features Bluetooth connectivity so that you can stream any backing tracks from your phone or other devices via the 8" flat frequency speaker.
There are four effects: reverb, echo, delay, and chorus. Like most other professional amps, this one also has a USB output for direct recording and XLR DI output.
Check prices and availability here
Best amp for the studio: Fishman PRO-LBT-700 Loudbox
If you're looking for a clear, powerful, and loud sound, the Fishman Loudbox is a great choice.
Why? Well, when it comes to recording in the studio, you need an amp that's going to convey your acoustic guitar's tone accurately.
The Fishman amp is known for its balanced and true tone, which sounds excellent in recordings.
While it's more expensive than the Loudbox mini we'll look at in a bit, which has similar features, the tone and sound of this one are superior.
When you record music in a studio, you want crystal clear audio for your listeners and that's when a professional amp like this one is necessary.
This amp is one of the most powerful ones on our list at 180W, but it's also a great value buy when you compare the features and price. It's definitely a professional amp and you can use it to record albums, EPs, and videos.
This amp is one of the most powerful ones on our list, but it's also a great value buy. It comes with 24V phantom power as well as a dedicated effects loop per channel.
The amp has two woofers and a tweeter, which focuses on those highs and lows, so your listeners hear the tonal nuances and sound better.
It comes with 24V phantom power as well as a dedicated effects loop per channel.
In terms of design, what sets this amp apart is the kickstand. It allows you to tilt the amp and use it as a floor monitor.
Therefore, this is truly a top-notch professional amp, and it's no wonder, so many musicians use it.
Best acoustic guitar amp for gigging & busking: Boss Acoustic Singer Live LT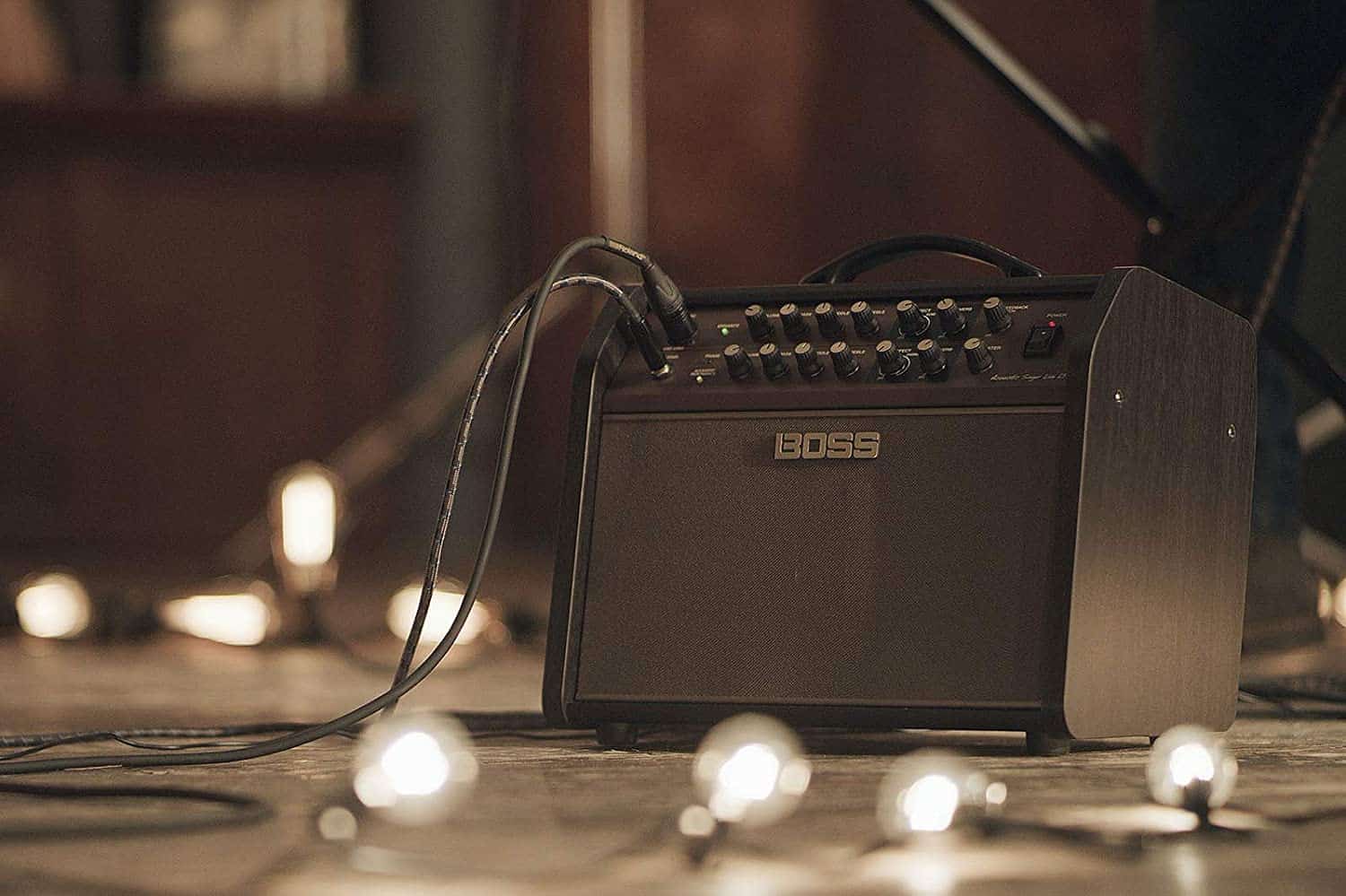 The Singer Live LT model is a lighter, more compact, and portable amp, making it ideal for carrying around.
It's one of the best value amps for players who love to gig and busk in small venues or on the streets of bustling cities.
When you play acoustic and sing, too, you need an amp that will let your instrument's tone shine alongside your vocals.
This amp is truly stage-ready because it helps you get the best sound combo from your guitar and voice.
It has acoustic resonance, which gives your stage guitar its natural tone back, so there's minimal distortion.
One of the challenges while gigging is the extra noise and distortion which can make your playing sound messy, but this amp helps you stay true to tone.
The Singer Live LT model is a lighter, more compact, and portable amp, making it ideal for carrying around, especially since it has a handle.
It's known for the great tones as well as some exciting busker-friendly features.
Many street performers like this amp because it has great features for singer-songwriters, such as vocal enhancement, so your audience can clearly hear your voice.
Additionally, you get the classic echo, delay, and reverb features. And when you feel like you need to change your guitar's tone, you can choose from the trio of acoustic responses with just the touch of a button.
The guitar channel also comes with anti-feedback control, delay, chorus, and reverb. Then, if you need to record, this amp has a line out and handy USB connectivity.
If you want to add external audio to your performance, then you're in luck because the amp has an aux-in.
Check prices and availability here
Best acoustic guitar amp with Bluetooth connectivity: Fishman Loudbox Mini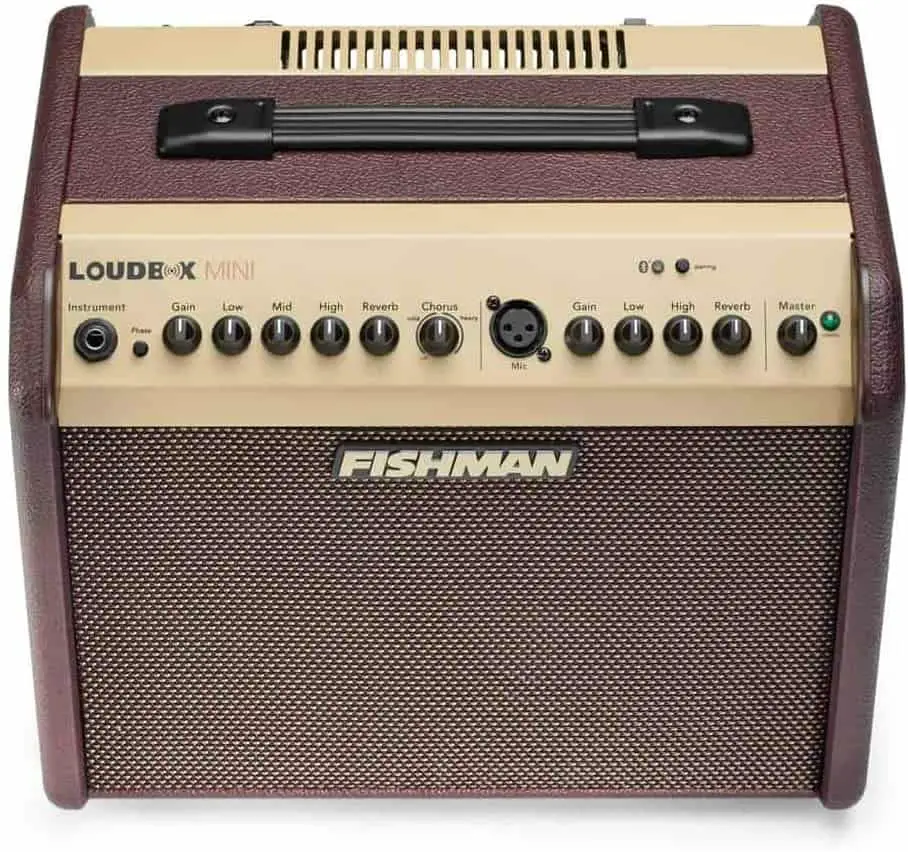 The Fishman Loudbox Mini is a two-channel amp that's light enough to transport anywhere you might need to perform.
Since it has Bluetooth connectivity, you don't need extra cables and it's easy to carry around.
If you're playing in busy, noisy venues like bars or pubs, you need an amp that cuts through the noise and packs in power.
Like other Fishman amps, this one also features the preamp and tone control designs.
It's the ideal amp for solo players because it's easy to use, compact, and comes with a very useful feature: Bluetooth connectivity.
This makes the Loudbox easy to connect and use whenever you need to. You can play the backing tracks straight from your smartphone, tablet, or laptop.
Therefore, it's the most convenient amp to take for busking, gigging, and small shows.
It is much cheaper than the classic Loudbox, and it has many of the same features, so if you don't record in the studio too much, this is a better purchase.
It's one of the most versatile small amps out there because it has a ⅛" jack input, as well as an XLR DI output that connects to a portable PA system.
Therefore, you can use this amp for shows and larger gigs too, if you think the acoustics are good enough at the venue.
The Fishman mini acoustic amp has 60-watt clean power balanced with a 6.5-inch speaker. It's the perfect size for everyday practice, performance, gigs, busking, and even recording.
But you'll appreciate the clear tone, which doesn't alter the tone of your instrument.
Check prices and availability here
Best cheap budget acoustic guitar amp: Yamaha THR5A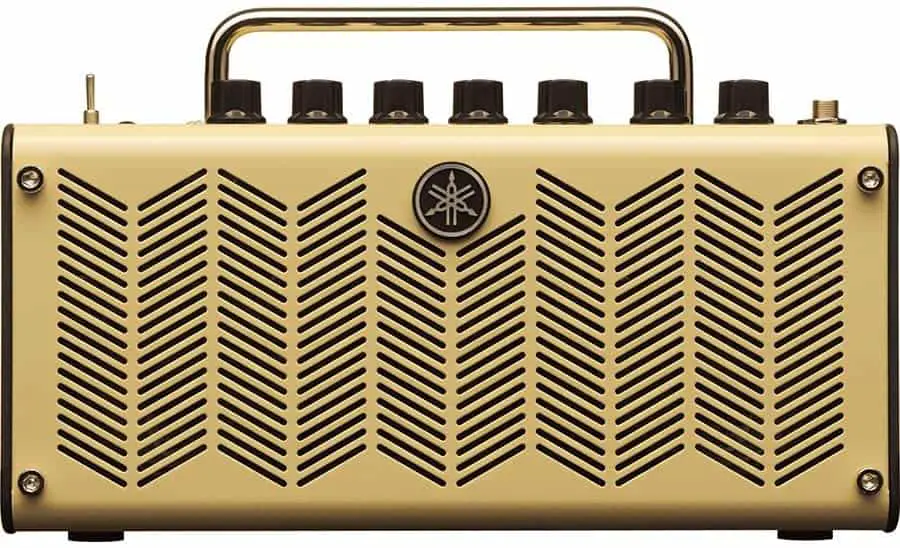 If you don't perform at venues, record at professional studios, or gig on a regular basis, you probably don't need to invest in an expensive acoustic amp.
For those who practice, play, and record at home, the Yamaha THR5A is the best value budget amp.
It has a unique gold grill design; it's super light and compact so that you can travel with it.
If you're not ready to invest in an expensive amp just yet, this one can do quite a good job and it won't let you down.
The amp comes with the classic models of classic tube and condenser mics. This means that it simulates the tube condenser and dynamic mic and fills up any room with a deep sound.
Not only is it powerful, considering it's a 10-watt amp, you also get many effects and a bundle of the software you need to record with this amp.
While it only costs approximately $200, it's a very well-made, durable amp with exceptional sound quality. It has a beautiful metallic golden design, which makes it look more high-end than it is.
It only weighs 2kg, so it's perfect to use, move, and store at home since it's compact and lightweight.
And, in case you need to use it for a gig, you can definitely do so because the tone and sound won't disappoint.
Best acoustic guitar amp for home use: Orange Crush Acoustic 30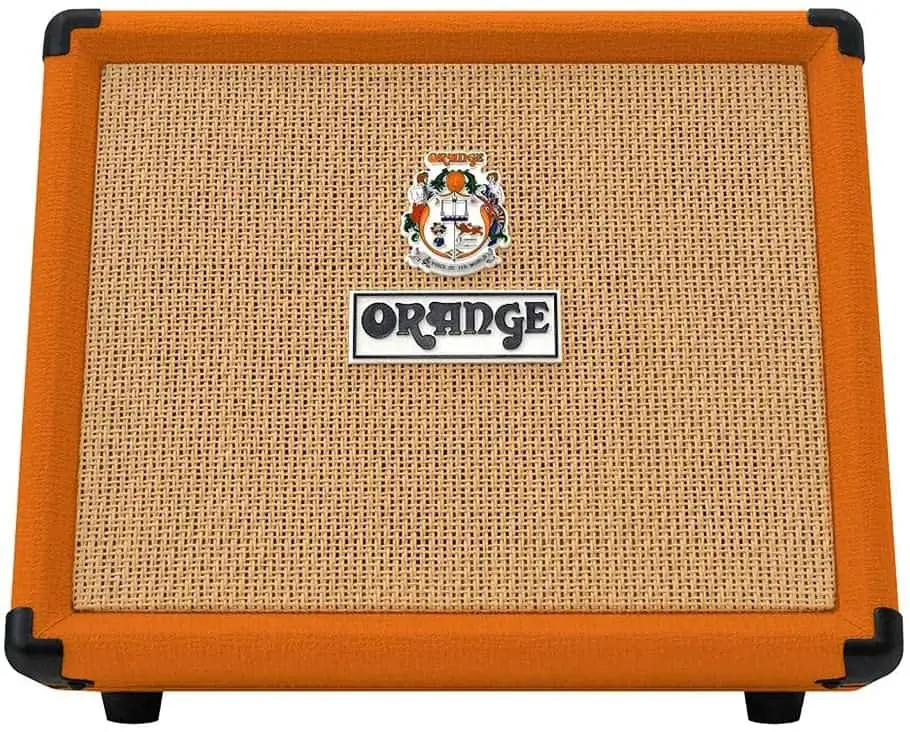 For home use, you want an amp that gives you great sound and looks good in your house.
The Orange Crush Acoustic 30 is one of the most aesthetically unique amps on the list.
If you're familiar with Orange Crush design, you'll recognize the bright orange Tolex this brand is known for. The elegant design and intuitive design makes this amp ideal for use at home or small gigs.
It packs a powerful, clean tone, so it's perfect to practice and learn to play better.
This amp has two channels, with separate inputs for guitar and mic.
This amp is best for home use in terms of sound because it's not loud enough for large gigs but perfect for home practice, recording, and performance.
The amp comes it a few great effects, so you're not missing out on the basics you need.
What I like about the Orange Crush is how easy it is to use. There are only a few buttons, so it's straightforward even for beginner players.
Plus, if you want to take it with you around the house, it's no problem because it is a battery-powered amp.
But unlike the cheaper Blackstar battery-powered amp on my list, which is better for hobby playing, this one has superior sound and many more features, so it's ideal for the player looking to get serious about playing guitar.
Best acoustic guitar amp with mic input: Marshall AS50D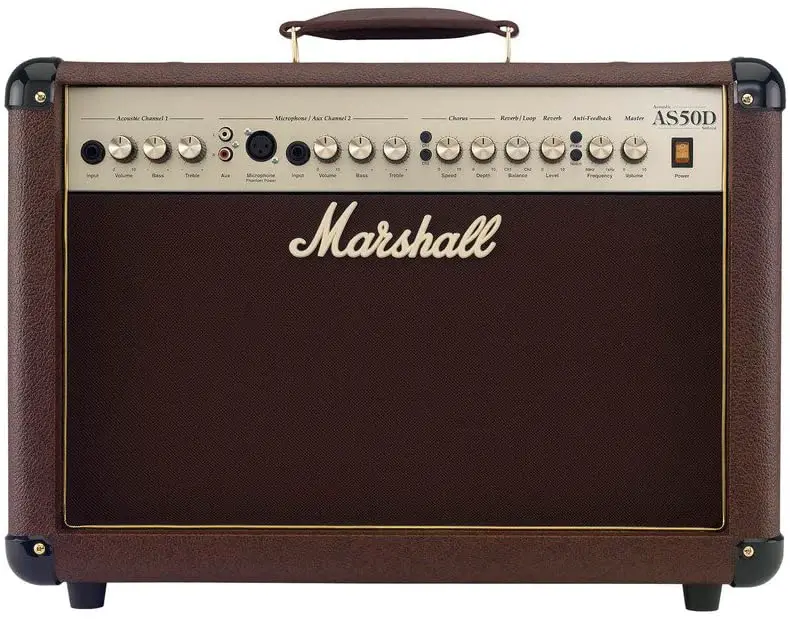 Sure, there are many amps with a mic input, but the Marshall AS50D definitely stands out as one of the best.
It truly delivers power and a true tone. Not only is Marshall known for outstanding quality, but it also has an easy-to-use interface that's easy to master.
Therefore, you can use it for small gigs, busking, recording, and practicing.
If a mic input is the main amp feature you're looking for, this one is a good choice because it has a mid-range and affordable price.
The AER Compact has all the features you'd need, including a mic input, but it will set you back over $1,000. The Marshall has this handy feature, yet it costs a fraction of the price.
The two-channel amp serves as both a guitar amp and a PA system, so it's ideal for singing and playing.
It has an XLR mic input with phantom power, which means that you can use dynamic mics AND condenser mics as well.
This is a large 16kg amp that's perfect for large gigs and studio recording. It comes loaded with features and effects to make performing easier.
It's loud enough for all kinds of gigs, it has exceptional feedback control, and handy switches setup for chorus, reverb, and effects.
The amp performs very well when it comes to tone, and when you put the guitar and vocals through it, the sound is top-notch.
Check prices and availability here
Best battery-powered acoustic guitar amp: Blackstar Fly 3 Mini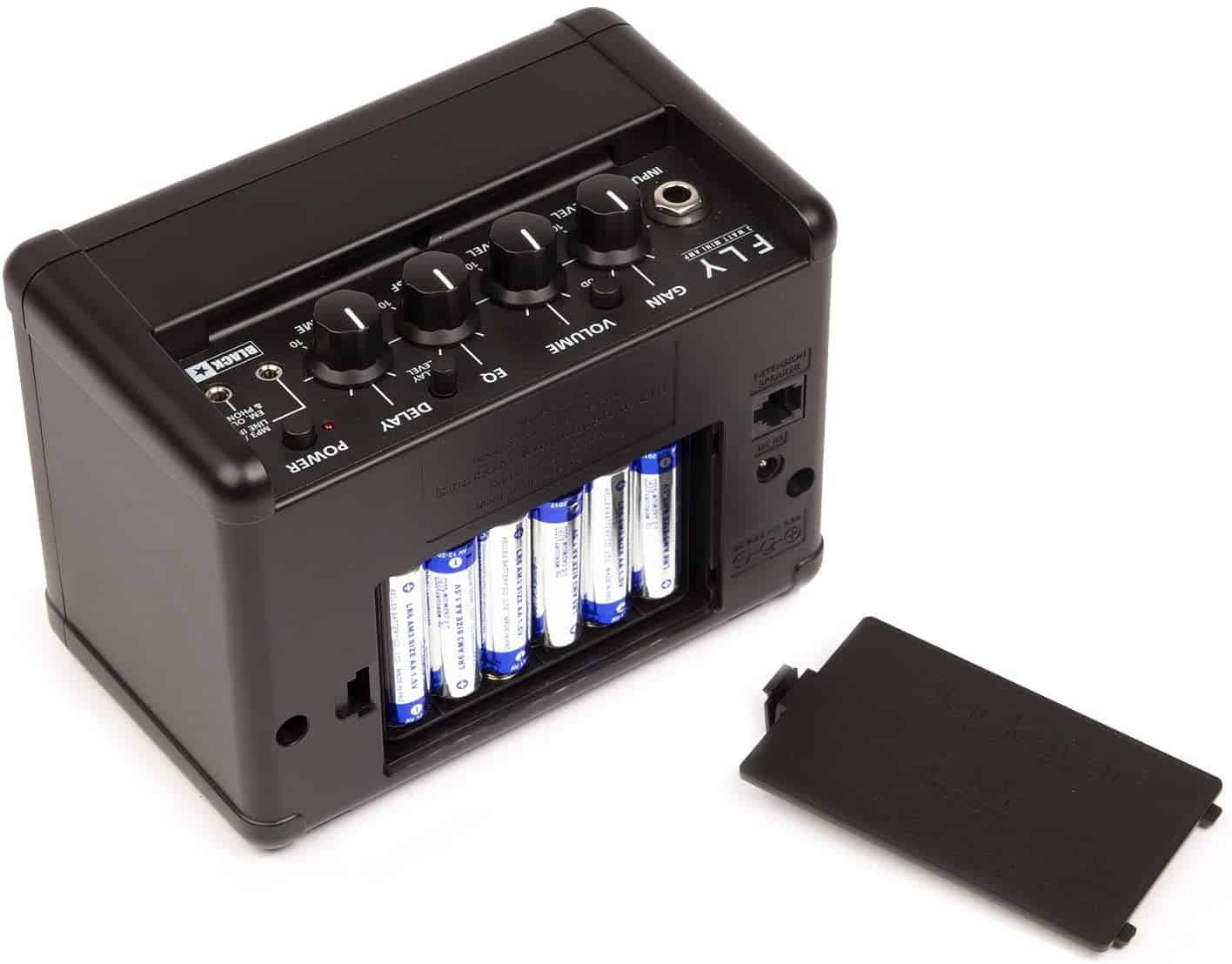 Considered to be one of the best micro-practice amps, this Blackstar Fly battery-powered mini amp is great for gigs, playing at home, and quick recording.
It's such a small-sized amp (2lbs), so it's very portable and convenient to handle.
It costs about $60-70, so it's a cheap option if you don't need a professional amp and just use it for a couple of hours a day.
Don't let the small size fool you because it gives up to 50 hours on battery life, so you can play more and worry less about charging it.
It is a 3-Watt power amp, so don't expect to be heard in a large venue, but for day-to-day performances and practices, it does an excellent job.
The amp also offers onboard effects, so it's versatile enough to suit different player needs.
One of the most interesting features of the Blackstar Fly 3 is the emulated tape delay, which lets you simulate reverb.
The reason this amp is such a great option is the ISF (Infinite Shape Feature) control.
This lets you select various amplifier tonalities to find the one that best suits the type of music you are playing.
Check prices and availability here
Also check out my review of the Best Microphones for Acoustic Guitar Live Performance.
FAQ acoustic guitar amps
What is an acoustic guitar amp, and what does it do?
An acoustic guitar makes its own noise, and it is a beautiful sound. But, unless you're playing at home, chances are the sound isn't loud enough.
If you want to record, play gigs, and perform with other musicians, you need a sound amplifier.
Most electric guitar players look for amps that give good compression and distortion, but the acoustic amp goals are quite different.
An acoustic guitar amplifier is designed to reproduce your acoustic guitar's natural sound as accurately as possible.
Therefore, when you're looking to buy an acoustic amp, you need to look out for a clean and accurate tone—the more tonally neutral, the better the amp.
Not all players want to use an amp when playing acoustic instruments, but if the instruments have a built-in mic or pickup, it's worth testing out the sound with an amp.
Most modern amps let you plug in your acoustic-electric guitar and mic acoustic guitars without electronic pickups.
They also have dual inputs so that you can plug in the instrument together with a vocal mic.
Are acoustic amps good?
Yes, acoustic amps are good and sometimes necessary. If you are looking for the purest acoustic guitar sound, then don't use an electric amp.
However, when you perform with other musicians, vocalists, in large venues, or you busk on the high-street, you need to amplify the sound.
What is the difference between an acoustic amp and a regular amp?
The regular amp is designed for electric guitars and the acoustic amp for acoustics.
The electric amp's role is to amplify the guitar's signal and provide more gain, volume, and effects while simultaneously coloring the instrument's tone.
An acoustic amp, on the other hand, amplifies a clean and undistorted sound.
What are some good amp + acoustic guitar combos?
When you select an acoustic amp, you can usually combine it with any acoustic guitar, as that's the amp's point, after all.
The goal is to find an amp that makes your guitar sound louder and supplements the tone.
There are some excellent amp + guitar combos worth noting down.
For example, the Fender Acoustic 100 amp is a great companion for the Fender acoustics, like the Fender Paramount PM-2.
The AER Compact 60 is an amp that complements many acoustic guitars, but it sounds amazing with a Gibson SJ-200 or an Ibanez Acoustic.
If you like premium guitars like the Martin D-28 played by legends like Johnny Cash, you can use a Boss Acoustic Singer Live LT to perform in front of a crowd and show off your instrument's tone.
At the end of the day, though, it all comes down to playing style and preferences.
How does an acoustic amplifier work?
Basically, the sound waves from an amp enter through the acoustic instrument's soundhole. Then it resonates within the guitar's body cavity.
This creates an audio feedback loop, which becomes a loud sound through the amp.
Players note that the sound is a bit "nasal" sounding, compared to playing without an amp.
Final acoustic guitar amps takeaway
The final takeaway about acoustic amps is that you need to choose an amp that fits your specific needs as a player.
The more you play gigs, shows, and busk, it becomes necessary to invest in a more powerful amp that's going to allow your audience to hear the tones of your instrument clearly.
Whereas if you plan on practicing at home or recording on the go and in the studio, you might prefer portable or battery-powered amps with cool features like Bluetooth connectivity.
It comes down to how you want to use your guitar and what kinds of features you deem necessary.
Still looking for a guitar and considering a secondhand one? Here are 5 Tips You Need When Buying A Used Guitar.
I'm Joost Nusselder, the founder of Neaera and a content marketer, dad, and love trying out new equipment with guitar at the heart of my passion, and together with my team, I've been creating in-depth blog articles since 2020 to help loyal readers with recording and guitar tips.
Check me out on Youtube where I try out all of this gear: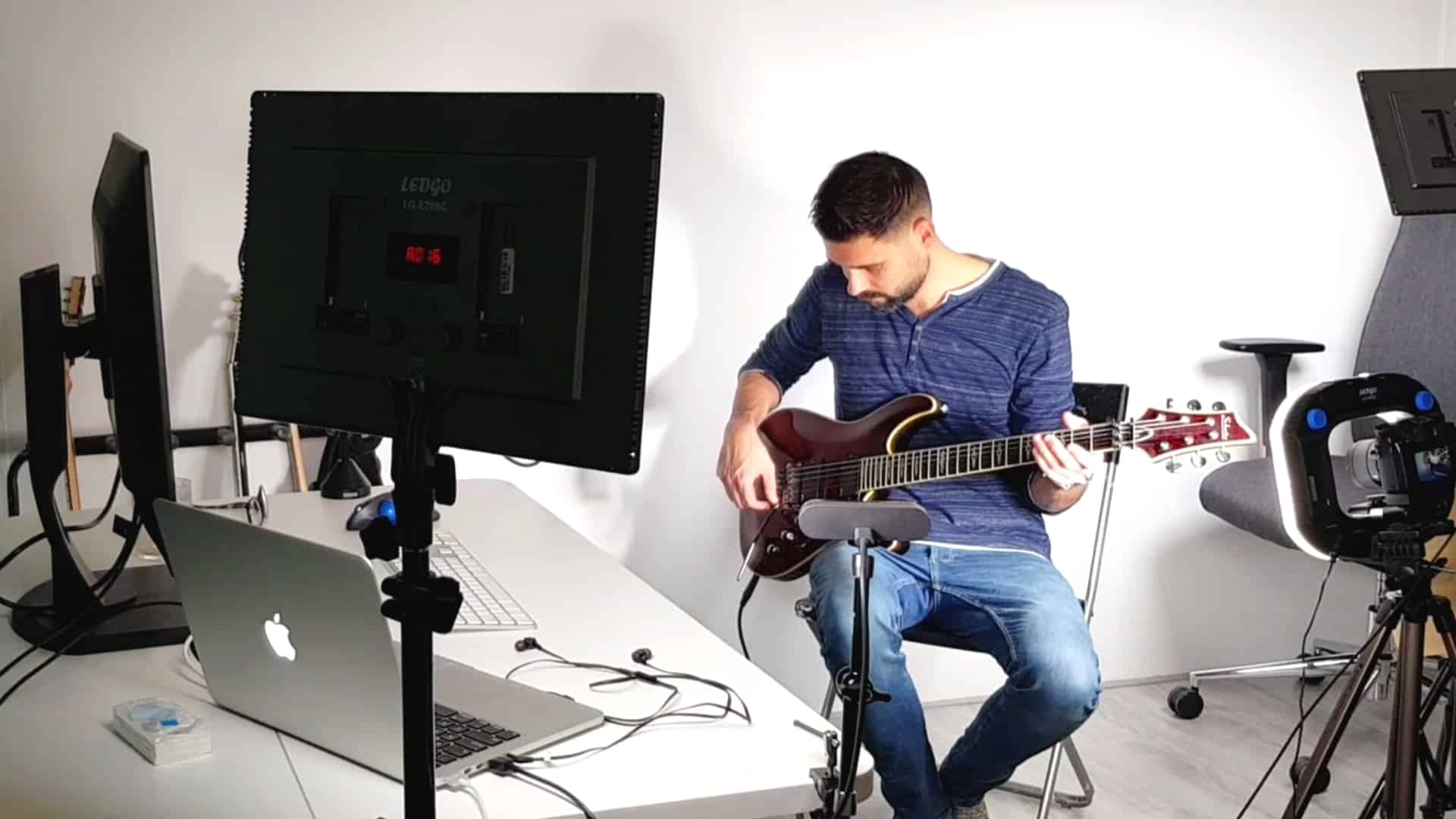 Subscribe