I love creating free content full of tips for my readers, you. I don't accept paid sponsorships, my opinion is my own, but if you find my recommendations helpful and you end up buying something you like through one of my links, I could earn a commission at no extra cost to you.
Learn more
Let's look at everything you need to know about preamp effect pedals, also known as preamp pedals.
In addition to general information about this type of effect pedal, I will also discuss several specific models in detail to help you decide which one is best for you.
So, how do you choose a good preamp and why would you want to get one?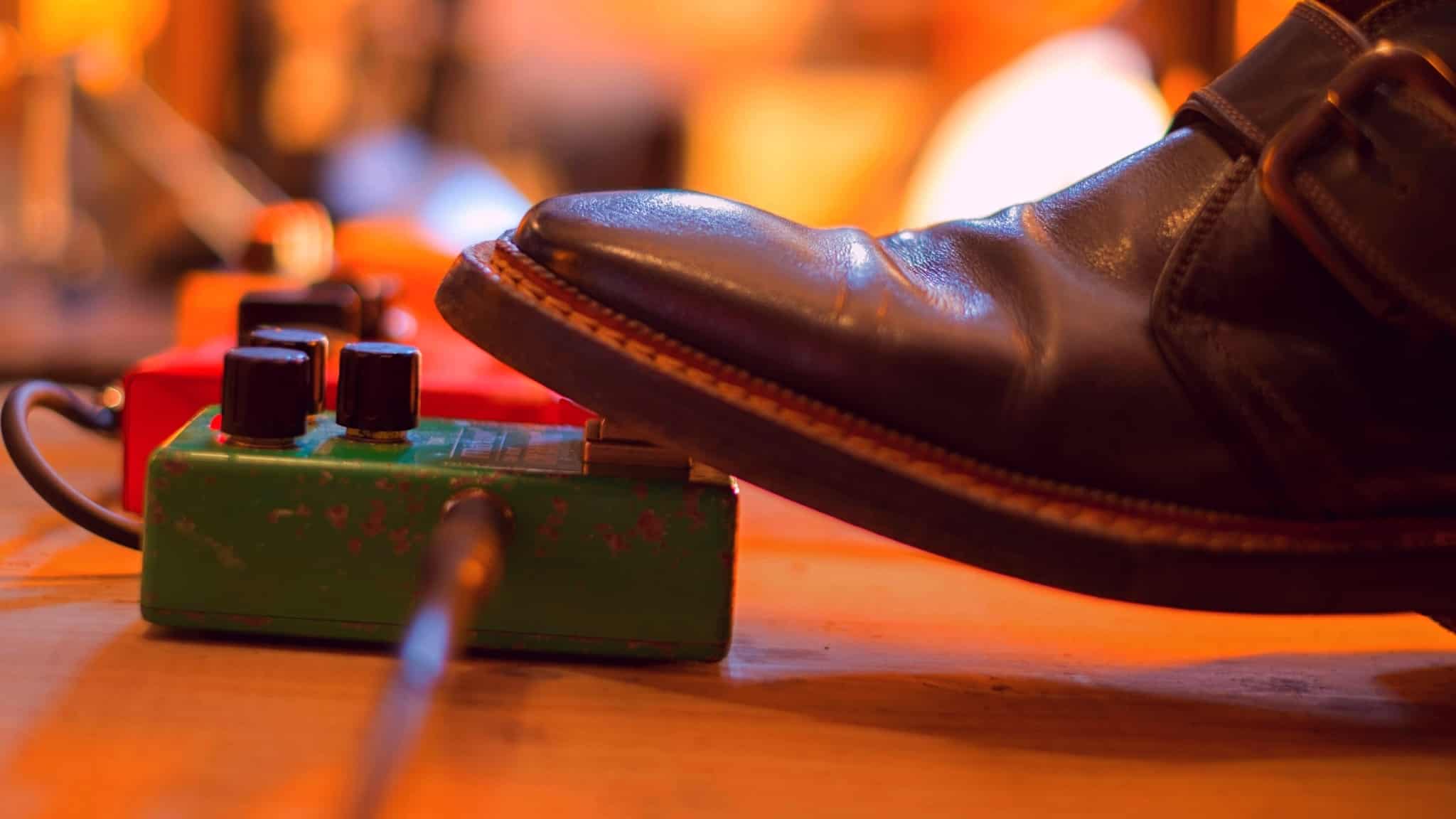 My favorite is this Donner Black Devil mini. It's very small so it fits comfortably on your pedalboard so you can probably add it, plus has a beautiful reverb that may well meet your needs for space in your tone on its own.
Perhaps it saves you buying separate reverb because it really sounds pretty good.
Of course, there are different situations where you choose a different model, such as on a budget or if you play bass or acoustic guitar.
Let's take a quick look at all the options and then I'll go into the ins and out of preamps a little more and an extensive review of each of these models:
What is a Guitar Preamp Pedal?
You can use preamp pedals to get a clean volume boost (non-distorted as opposed to gain or drive pedals) and combining that with EQ capabilities. They are placed in a signal chain after a guitar and before the amplifier.
When you use a preamp pedal, you can easily make volume and EQ changes on the fly to your original guitar sound, thus achieving a different tone from your amp.
Preamp pedals include a volume boost section, an EQ section, and in some cases additional functions unique to each pedal.
The volume gain section is often a single knob that controls how much the instrument's signal is amplified, and the EQ section is often made up of three knobs that can cut or boost the low, mid, and high frequencies, respectively.
Why have these pedals in particular made it to the list?
I've chosen these pedals as the best you can buy because they come from iconic, reliable companies, have simple user interfaces, and provide a specialized take on the preamp concept by adding unique extra features.
They represent the diversity of possibilities and applications that this underrated pedal type offers.
Reliable manufacturer
Effects pedal manufacturing can be a relatively easy market. There are small boutiques employing just a few people, all the way to large corporations.
Both are capable of making great pedals, but there are pros and cons to each model.
While the companies that made the pedals in this article operate at different levels, all have been around for years and have a good reputation for making quality products.
Intuitive User Interface
If you've bought a multi-effects processor before, you'll know what I'm talking about here.
A great perk that single effects pedals have over multi-effects, is that they are very easy to use with just a few buttons you need to operate.
If you know and understand what each of them does, it should be very easy to get the desired result.
If you're new to the effect type and not sure how a pedal works, it's easy and fun to turn the knobs a bit and hear how they change your sound.
Ultimately, however, achieving a sound you like is great!
Bonus material
Each pedal here offers a unique set of bonus functions, like added reverb options, or features like an electronic tuner, or an XLR out for more flexibility on stage or at home.
This gives each of these preamp pedals the ability to play at least one more role in your rig, other than being a preamp.
Best Guitar Preamp Pedals Reviewed
In this section, I'll take a closer look at five specific preamp pedals.
You will get an idea of ​​the benefits of these pedals, plus I'll get into the differences in use and design of them.
Overall Best Guitar Preamp: Donner Black Devil Mini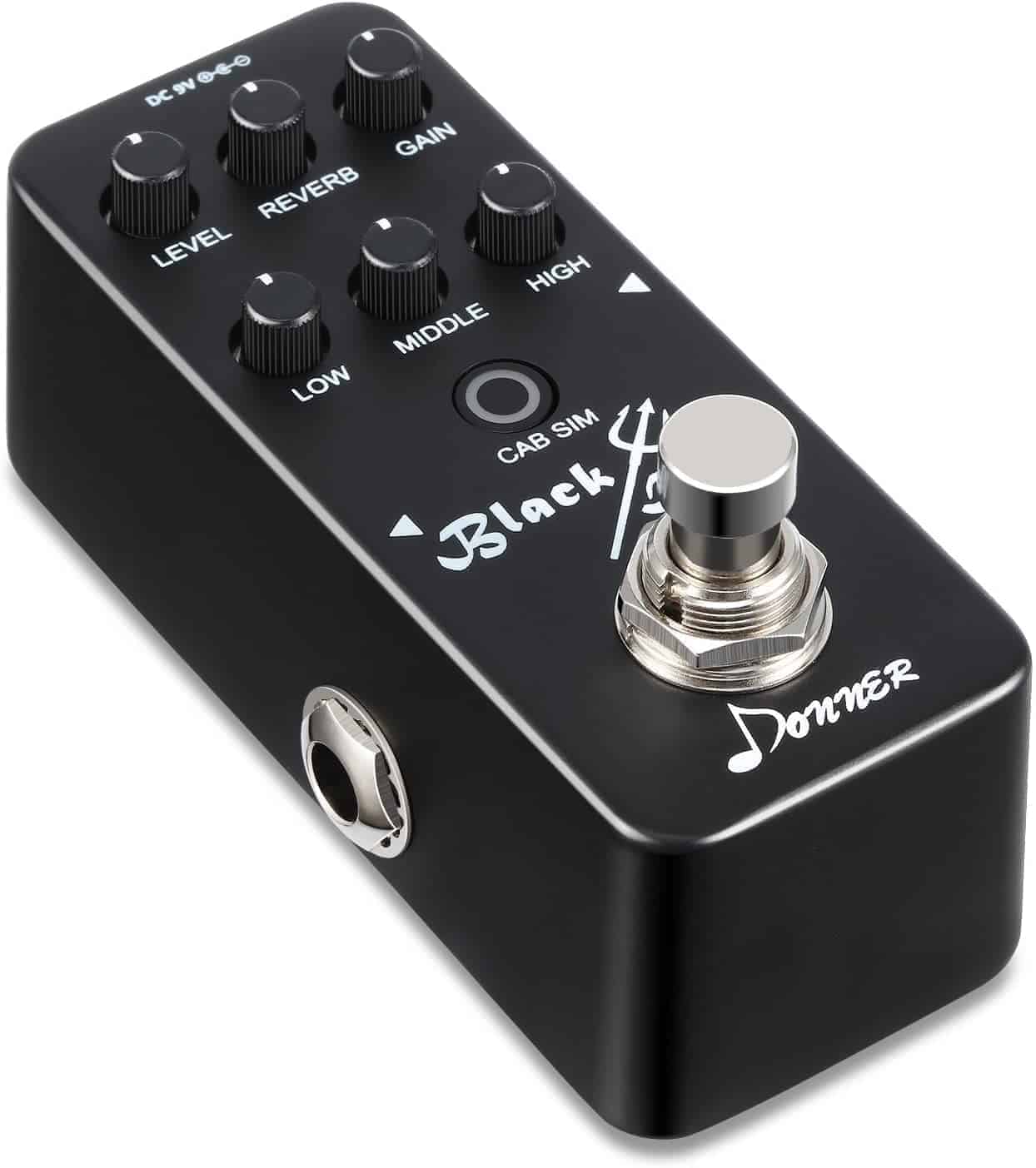 People are enthusiastic about this because they love how Donner is able to make small but sturdy pedals that will last a long time.
As an added bonus, you get the option to switch between two different presets by pressing the footswitch once, or holding your foot on it longer.
This pedal is designed to mimic a two-channel guitar amp for situations where you need to connect your guitar directly to a venue's PA system.
You can get some pristine clean sounds and even get a little distortion in there when you use the gain control more than the level knob.
Here's intheblues with a video demo of the Donner:
Electric guitarists who don't have the flexibility or resources to bring a guitar amp to a gig will make the most use of this.
This pedal is designed to emulate both clean and overdriven tube amps, so if you're looking to add those sounds in an amp-less context, you'll want to consider this one.
It's two-channel amp sim design sets this baby apart from most preamp pedals. It delivers on its promises for an affordable price.
As is the case with many pedals, it can sometimes be unclear as to the specific purposes of a guitar pedal, and in the case of the Black Devil, you might even mistake this as a small multi-unit or drive pedal.
Check the latest prices here
Runner up guitar preamp: JHS Clover preamp boost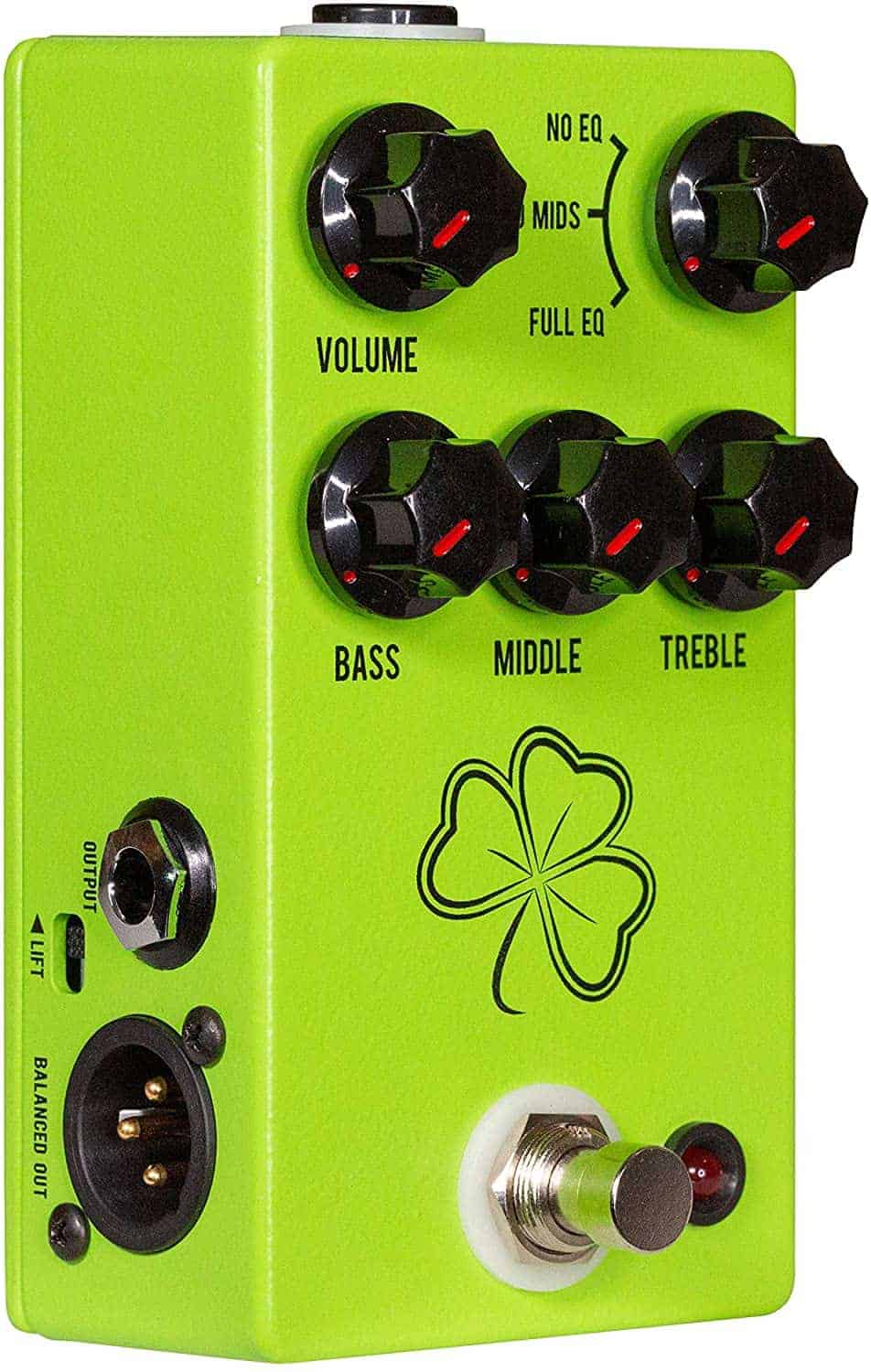 This pedal has been a fan favorite and has gotten some great reviews. Customers appreciate that it comes with a handy set of extra features, and many never turn it off as it becomes part of their basic sound.
You can also just use it for boosting your signal while adding a little bit of EQ.
JHS modeled this pedal after the classic Boss FA-1. The improvements come in the form of a range of additional features that greatly multiply the potential uses of this pedal.
There were some improvements to the EQ section where you can now set 3 configurations, plus you get an XLR out with added ground lift and a switch for extra low-cut of your sound.
Here JHS pedals explain why you want to use a preamp and give some of their classic examples:
If you want to experience the vintage Boss pedal in a more modern pedal with additional features, you'll probably like this one.
And if you're just an acoustic or electric guitarist on the lookout for a great preamp pedal that features an XLR output for DI use, you'll also find what they are looking for here.
The JHS Clover is a no-nonsense pedal full of extra features that make it an extremely playable preamp.
If it is in your budget, it is worth checking out.
Check prices and availability here
Best value for money: Voodoo Lab Giggity Analog Mastering Preamp Pedal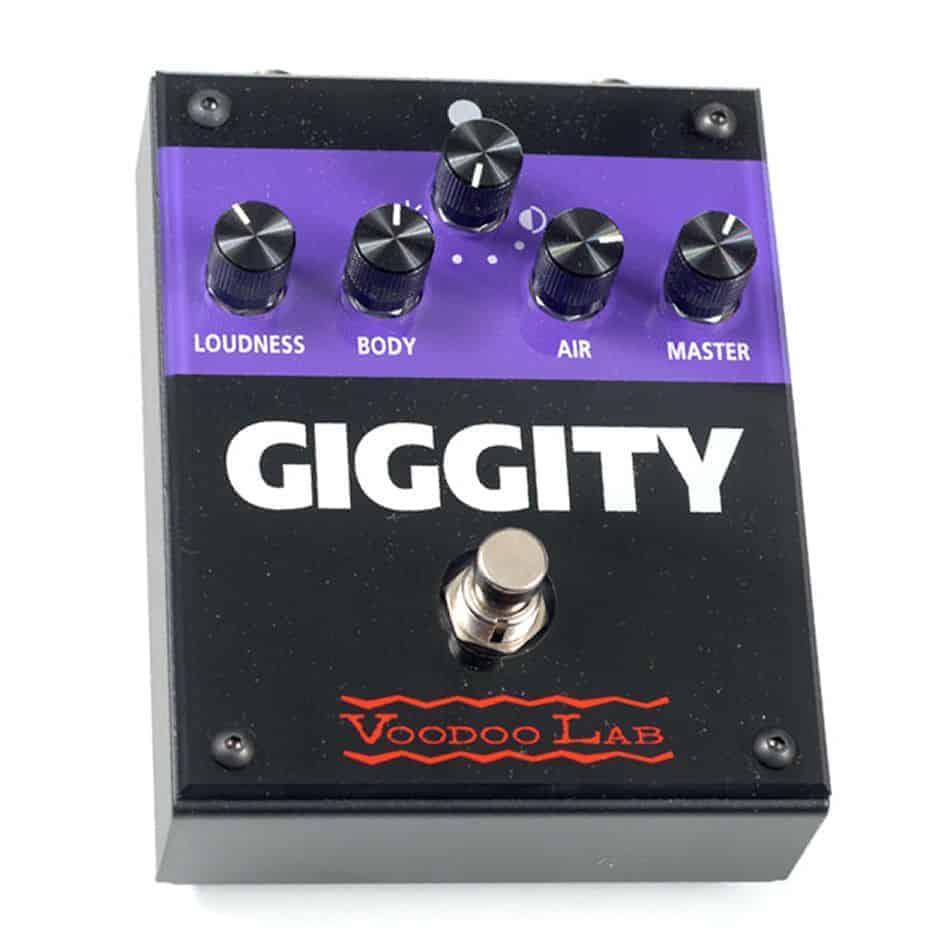 It has some great reviews from guitarists using it as a boost pedal, or even drive their sound into distortion whilst adding a bit of EQ.
For some it might be subtle, but this pedal is there to shape your tone and for some the most important pedal in their setup.
The Giggity stands out for its unique design and features. These functions start with Loudness, which allows you to set the input gain in the pedal.
Then the signal passes through Body and Air buttons, which allow you to reduce or increase your high and low frequencies.
The patented Sun-Moon switch is a 4-way selector that lets you choose between 4 pre-configured voicings.
Here is Chicago Music Exchange explaining the potential of a preamp pedal like this one, for example to give a single coil more humbucker sound or vice versa:
If you're someone who prefers to have extra control over low mids and high high / presence frequencies, coupled with a clean or overdrive (thanks to the Loudness knob) boost, you'll probably like this preamp pedal over the others in this collection.
With 4 voicings to choose from, you have even more control over every single frequency of your sound, making up for the limited 2-band EQ.
You might have some experience with guitar pedals or even preamps before, but each pedal has a potential learning curve.
This is especially true when looking at the Giggity, which might have an even steeper one because of the vague naming of their settings.
However, if you understand how this pedal works and differs from other preamps, you will find that the features it offers best suit your needs.
Check the most current prices here
Best Bass Preamp Pedal: Jim Dunlop MXR M81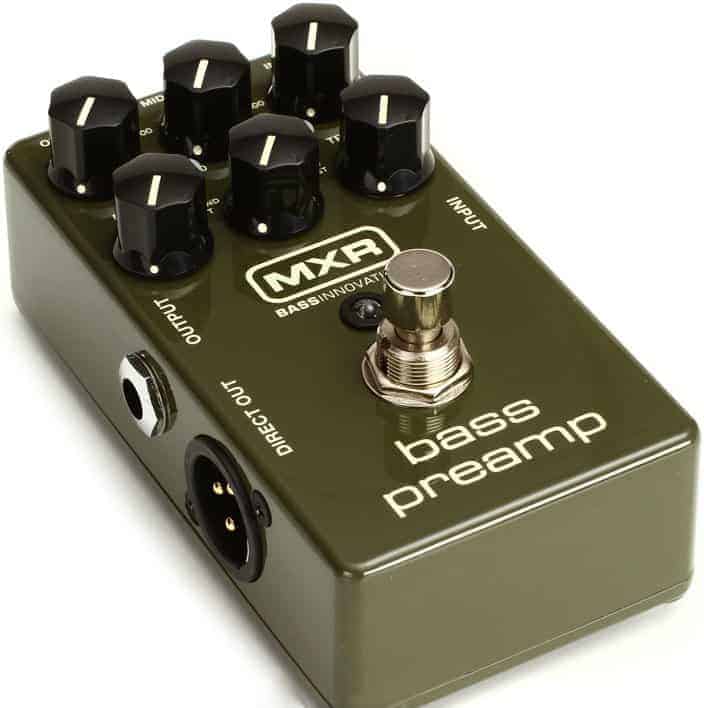 Almost everyone who purchased this one for their bass rig is very satisfied with it, mostly for its subtle tone shaping and its remarkable sturdiness and reliability.
This pedal is unique in its construction and is specifically aimed at boosting and sculpting bass frequencies.
You can use it on your guitars, but note that you might not get real benefit from adjusting the low frequencies this pedal can cut or boost while playing those higher frequencies found on electric guitars.
You might get some additional benefits while playing 7 or 8 strings or even baritones though.
Here is Dawson's Music looping through the various settings and tone options:
If you're using active bass pickups you might get the most out of the pedal. That way you can easily use it in front of your amp, or even directly in a PA, or both at the same time.
You can even get a little bit of drive or distortion out of the pedal on your amp when pushing the gain knob to max.
This is a flexible and distinctive preamp pedal, specifically aimed at bassists who require more ways to shape their tone or  need a DI preamp with added gain features.
It can also be used effectively on baritone guitars and bass synthesizers.
Check the latest prices here
Best Acoustic Preamp Pedal: Fishman Aura Spectrum DI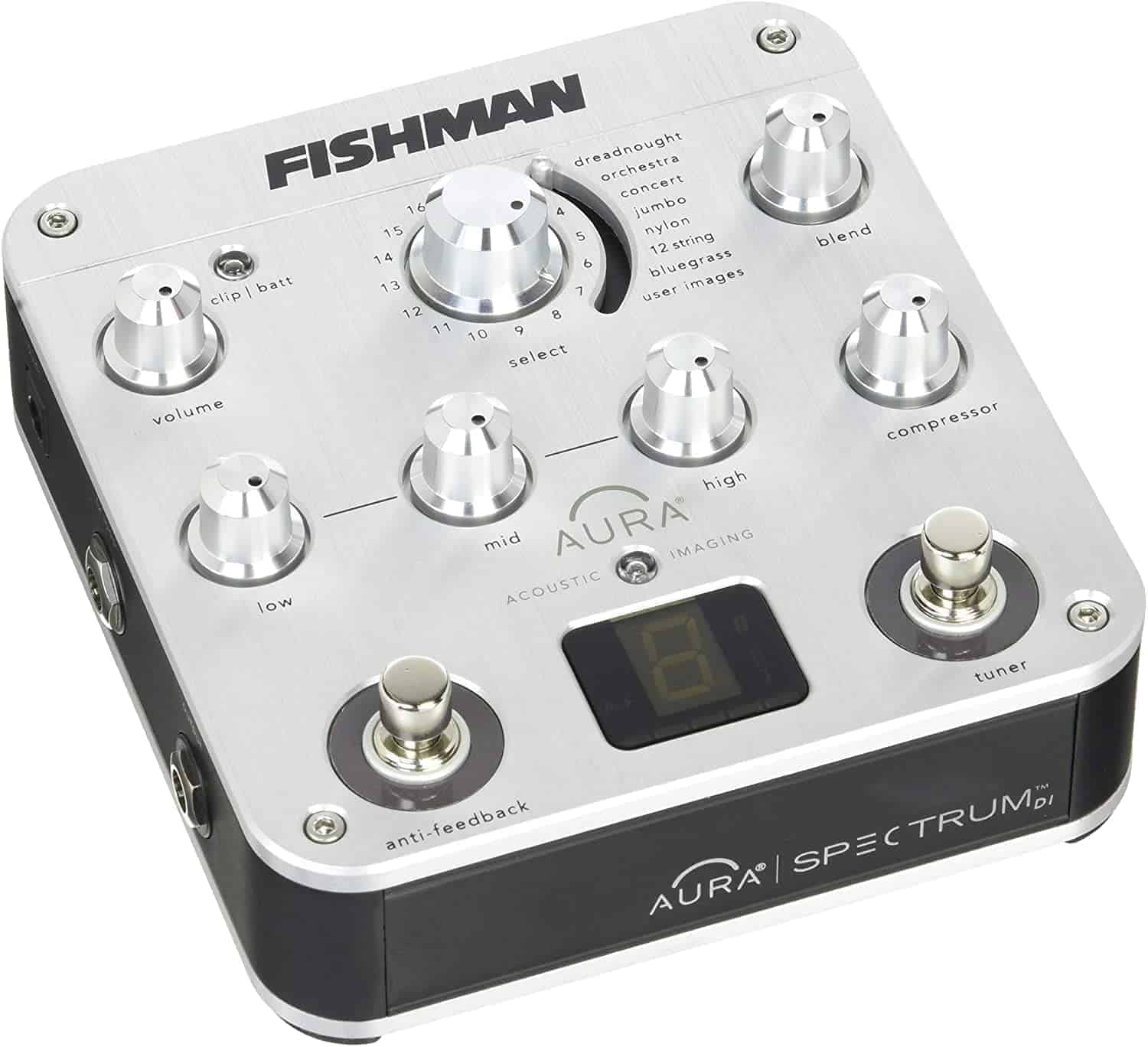 People said to be very satisfied with this pedal when they bought it, but you might need to take some time looking through all of the available sounds to find the ones that you'll like for your setup.
Although it has a lot of extra features, most customers would have liked some reverb as well, as that is currently not part of the effects.
As well as being the only preamp pedal from this list aimed at acoustic guitarists, this pedal easily has the most functions too.
Like the Donner, the preamp aspect of this pedal is really just one aspect of it. It was designed to get an acoustic guitar to sound as if it were recorded in a studio environment.
Here's one of my favorite (albeit eccentric) guitarists Greg Koch giving a demo:
If you're playing live a lot and you want consistent sound from your studio-recordings to your live performances, you'll like this pedal.
You'll buy it for the EQ/ DI capabilities, but the extra bonus features make it so much more than just a preamp pedal.
You get a robust tuner, effects loop, and you can even compress the sound, plus you can connect it directly to your computer.
Even though If you don't understand exactly how this pedal works, the user interface remains simple and it should be relatively easy to enter a sound you love.
However, if you do understand it, you may be able to get more out of the expanded feature set.
Check prices and availability here
What Does a Preamp Pedal Do?
Preamp pedals all change the sound of an instrument in two ways.
One way is that they increase the volume at a user-defined level.
Or you can apply a little EQ to your dry sound.
Volume
When you increase the volume of your guitar you can accomplish a number of different things, depending on your overall setup.
Perhaps you just want to boost your signal for your solo to cut through and press a switch to get a boost when you need it.
But, a lot of guitarists don't use the preamp's capabilities to alter how your amp responds to your guitar.
Some guitar amps can be overdriven or distorted when the signal they receive reaches a certain volume.
If you want your amp to do this, but your instrument signal isn't sufficient, a good preamp can boost your volume and go to the amp to achieve the desired result.
EQ
The EQ you get with a preamp pedal will allow you to get some extra control over the sound qualities of your instrument.
You can achieve this by using the knobs to boost or, if you need, reduce the sound frequencies for (most often) 3 bands:
low / bass
mid
and high or treble
Changing the balance of these frequency ranges will change the basis with which your instrument enters the amp, which in turn will produce a different tonal result.
Again, you can use the preamp for a solo, for example, to not only add more volume, but also to adjust your EQ so that it comes out more from the band.
These controls can also be used to troubleshoot a problem.
For example, if your sound has more high frequencies than you would like, using a preamp's high knob to lower the volume of the frequencies in that range should help you get a sound that makes you happier.
Pros and Cons of Preamp Pedals
In this section I'll outline some common pros and cons of preamp pedals.
Advantages of Guitar Preamps
Following are some of the benefits of this kind of preamp pedal:
Precise control over your sound
If you want more control over the basic amplified sound of your instrument, a preamp pedal provides you with at least two simple and effective methods of manipulating that sound.
Portable format
Effects pedals are generally small in terms of music equipment, but can drastically change the sound of anything connected to them.
Easy to use
They are usually operated with a set of buttons, possibly with a few buttons or switches. This makes them intuitive to use and easy to experiment with.
Disadvantages of Guitar Preamps
The drawbacks of preamp pedals are actually completely subjective.
While there are no universal downsides to using a preamp pedal, some may find they prefer their sound without a specific pedal.
Some guitarists also prefer a multi-effect pedal such as one of these to achieve everything they want in sound.
Frequently asked questions about preamps
Finally, there are some frequently asked questions about preamp pedals, which will be covered specifically in this section.
Where should the preamp be placed in the pedal chain?
This largely comes down to individual taste and preference. A starting point would be to have the preamp first in the chain, right after the instrument.
However, it is easy to experiment with placing pedals in any order possible and can teach you a lot about the specific sound you get with that.
You may find that you prefer the standard order, but you can also discover a unique sound this way that you can take advantage of and create your own style.
Does a preamplifier improve sound quality?
A preamp pedal can make changes to a sound that improves it for your ears, but it wouldn't be accurate to say that the sound quality itself improves.
Do I need a preamp for guitar?
A preamp pedal is not required for any instrument, but it performs a series of tasks that may be useful to you.
What is the difference between a preamplifier and an amplifier?
The amplifier is the last stop for your guitar signal before it is sent to your speaker. Preamplifiers (in your rack or as a pedal) sit in front of your amp and adjust or boost the signal before it reaches your amp.
Can you use a preamp without an amplifier?
In a way, yes. There are situations where you are not personally responsible for amplifying your instrument, but you can bring your preamp pedal and use it in your chain where an audio engineer is responsible for amplification through a speaker system and / or headphones.
Most of them are used without an amplifier on acoustic guitars.
What does a preamplifier do for a microphone?
A preamp pedal will perform the same functions regardless of the audio signal sent to it. Namely, it increases the volume and changes the relative volumes of certain frequency bands.
Do you need an amplifier if you have a preamplifier?
Yes, a preamp alone does not send your sound to a speaker, so it can be heard at a louder than acoustic volume. This does not literally have to be an instrument amplifier, but it is common with electric guitars, and with acoustic guitars this can also be the PA.
Conclusion
If you're looking to buy a preamp pedal, look at what you need it to do while checking out the reviews in the previous sections.
Knowing the problem you want to solve will make it much easier to select the tool that is best equipped to help you solve the problem.
Also read: these are the best multi-effects pedals out right now
          Joost Nusselder, the founder of Neaera is a content marketer, dad and loves trying out new equipment with guitar at the heart of his passion, and together with his team, He's been creating in-depth blog articles since 2020 to help loyal readers with recording and guitar tips.
Check me out on Youtube where I try out all of this gear: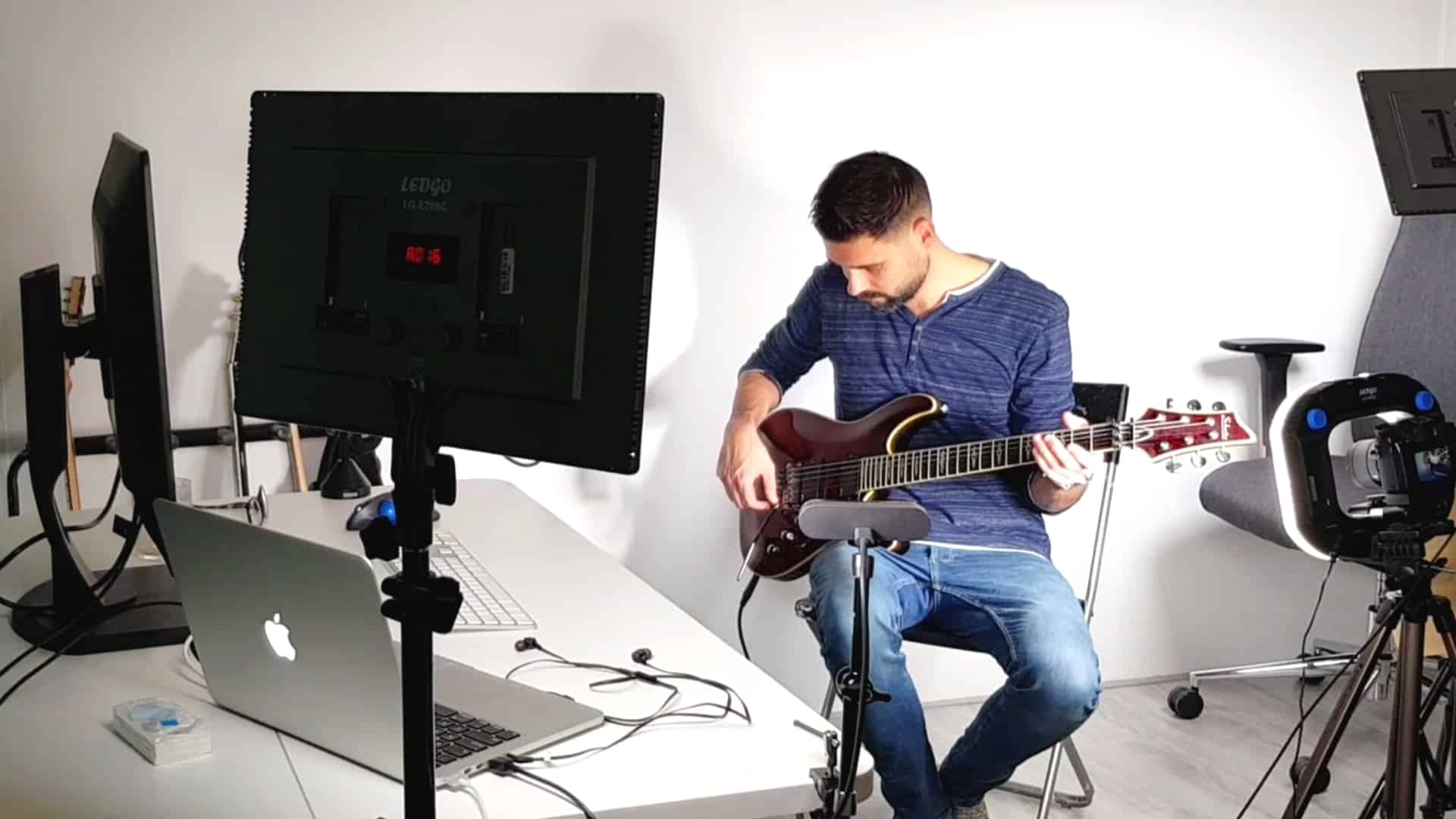 Subscribe