hi there I love creating free content full of tips for my readers, you. I don't accept paid sponsorships, my opinion is my own, but if you find my recommendations helpful and you end up buying something you like through one of my links, I could earn a commission at no extra cost to you.
Learn more
Your beloved guitar deserves the best care.
You know how easy it is to damage a guitar if you drop it, scratch it, or hit it while transporting it.
Oh man! There's nothing worse than getting to your gig, only to realize the guitar wasn't protected properly and now there are signs of damage. We need to do something about that!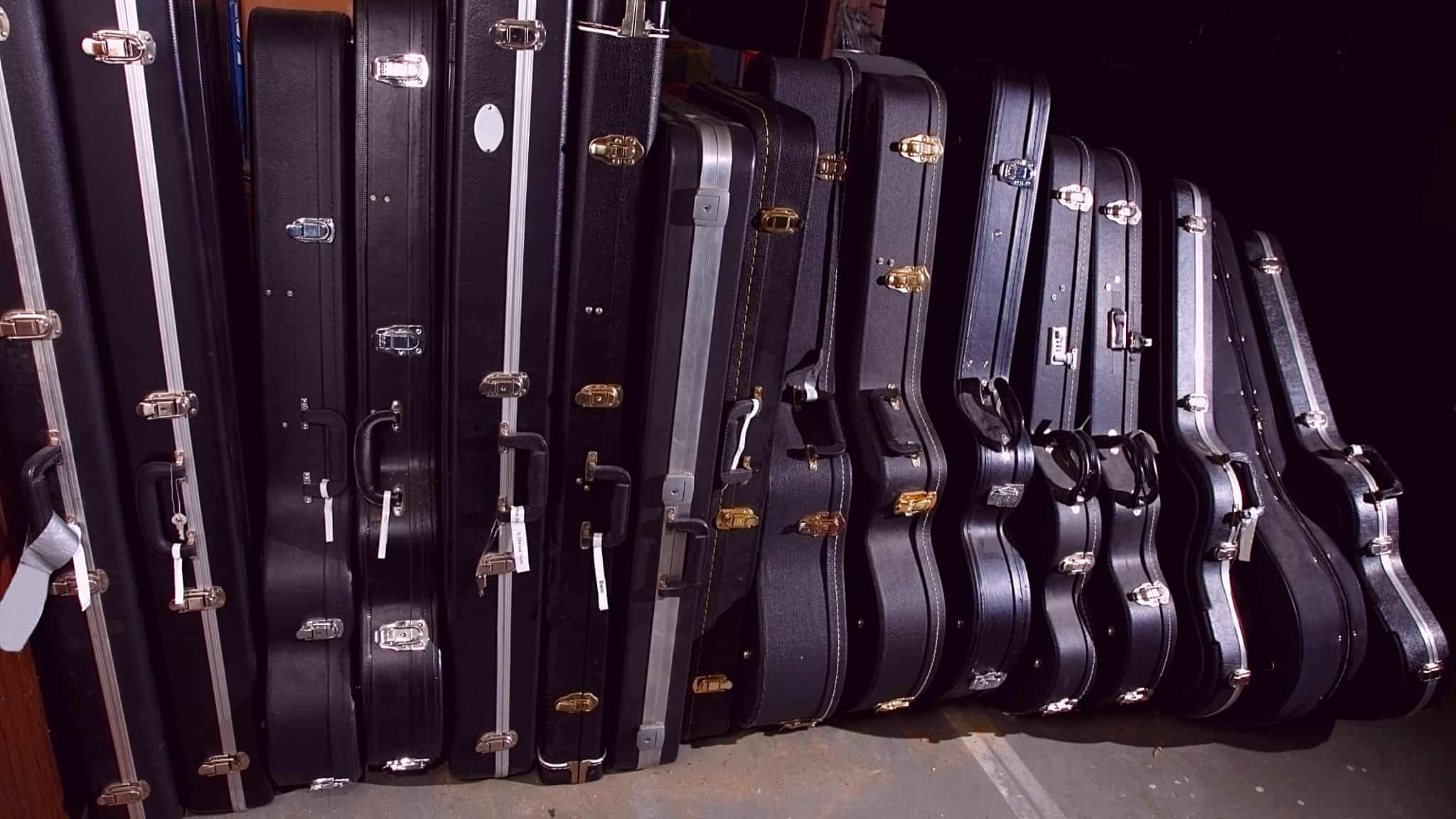 That's why having good a guitar case or gigbag is essential if you want to keep instruments safe.
After all, if you invest in a guitar, you should invest in high-quality protective gear too!
Have you ever had those cheap nylon gigbags only to realize the zipper is broken again?
Well, in this article, I'm recommending the types of hard cases and gigbags that aren't going to break easily.
The best guitar case is this ChromaCast CC for its value for money. Not as cheap as a Gator Gigbag, but you'll appreciate the tough exterior shell for extra protection, while still being light, portable, and more affordable than professional touring cases which are probably more than you'll need.
I'll also share my full review of other hard cases and gigbags below, so you're sure to find something that fits your guitar and travel needs.
Guitar case vs gigbag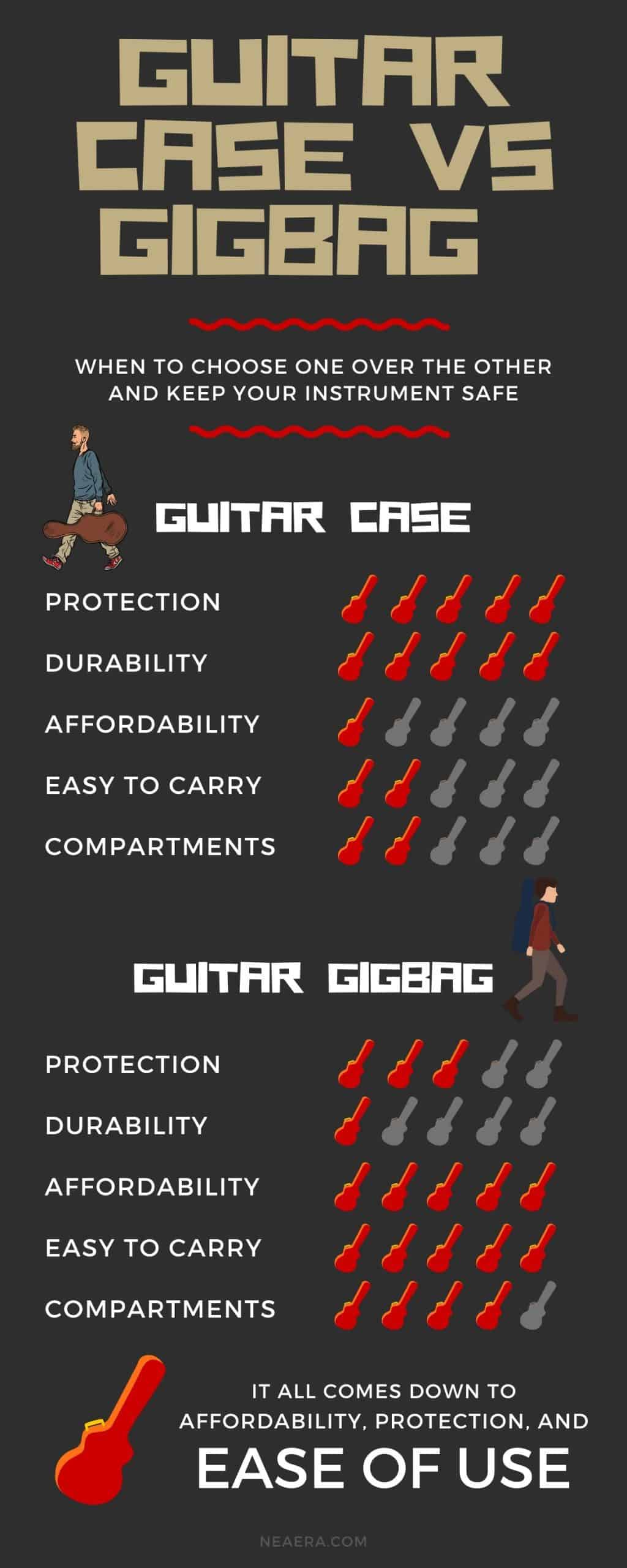 Most guitar cases are known as a hard-case because they're made of heavy-duty tough material that's really hard to crack.
The cases also have soft foam inserts and a plush lining inside to protect the guitar from drops and humidity, and extreme temperatures.
A hard case is most useful when traveling and touring with your guitar on tour buses, planes, during long trips.
The case has latches that keep the instrument secure and prevent the case from opening unexpectedly. You can carry the hard cases with the handles without hurting your back.
On the other hand, a gigbag is a soft case made of a nylon-like material and foam. It's much lighter than a hard case and protects the guitar from scratches.
Most musicians use gigbags to transport instruments to and fro gigs, practice, and the studio.
Gigbags open and close with a long zipper. To prevent the zipper from opening accidentally, carry the gigbag on your back or in your hand facing your body.
The difference between the two is that hard cases offer more protection because they have molded interiors that keep the guitar in place, so it doesn't move around.
Also, the hard case is harder to damage. The gigbag is lighter and roomier, so you can carry your guitar and other accessories you need because it usually has pockets.
Also check out my review of the Best Microphones for Acoustic Guitar Live Performance
What to look for in a guitar case?
Before you make a purchase, consider some of the most important features of guitar cases.
Weight
When buying a hard case, it should be heavy because this indicates that it's made of a tough and durable material that doesn't crack or break easily.
Now by heavy I mean it weighs between 7-14 pounds. This is not heavy to carry for the average person.
Material
Modern materials like ABS plastic are very durable and tough. But, some still like the look and feel of natural materials, and in that case, look for cases that are made of wood.
Laminate is also a cheaper alternative that still offers good protection. Aluminum is another excellent option, and it's sure to be tougher than plastic hard cases.
Avoid anything that feels too light, as chances are it won't withstand touring and lots of travel.
Seal
If you can find a case with a rubber seal, it's even better because it protects your guitar from getting wet in case of rain or snow.
But more than that, a seal will prevent damage caused by humidity and frequent temperature changes.
Any insulation is welcome because guitars are sensitive to water and oscillating temperature and may warp or crack.
Additional features
With hard cases, you can expect more expensive models to have wheels and heavy-duty locks and latches, making transport more comfortable and safer.
Compatibility
Finally, make sure the case is compatible with your guitar and fits the shape of your instrument.
What to look for in a gigbag?
With gigbags you want to look for slightly different features that with a guitar case.
Strong zipper
When it comes to gigbags, the biggest issue people notice is a faulty or poor-quality zipper. So, look for strong zippers.
Material
Next, think about the material. It should be flexible so you can take the guitar out easily.
Most gigbags are made of impermeable nylon materials, which are pretty resistant to wear and tear.
Next, make sure the gigbag has plenty of soft foam padding so in case you bump the guitar, it's still protected.
Padding is lightweight and doesn't really add significant weight to the bag.
Good fit
As well, the guitar should fit well, and it shouldn't move around in the bag too much, or you risk damaging it.
Functionality
Finally, look for pockets so you can carry things like cables and other accessories you might need to perform.
For both cases and gigbags, consider the handles and carrying style. Some have side handles, top handles, and even backpack straps.
It depends on how you plan on carrying your instrument and what feels comfortable to you.
Best guitar cases / gigbags reviewed
Now let's look at my favorite guitar cases and gigbags.
Best value for money case: ChromaCast CC-EHC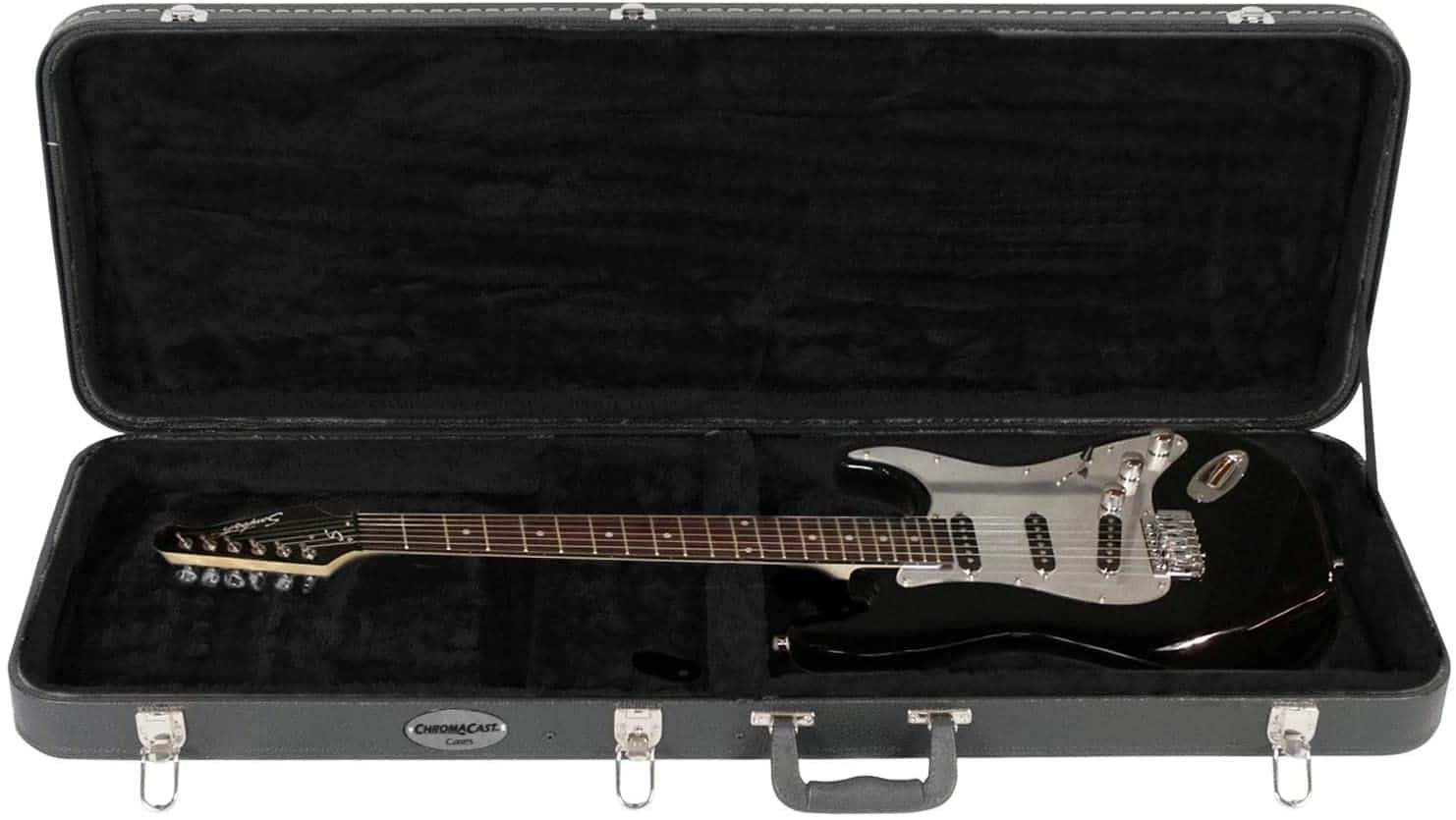 If you want to protect your electric guitar but want to stick to a low budget, then you can surely find what you need in this hard case.
It's also stylish with chrome handles that give it a premium look even though it's under $70!
When you're on the road, you need something sturdy like this wooden case, but it should also be light enough so it doesn't give you back pain.
This case offers a combination of durability, protection, and it comes at a low price, so it's the best value for your money.
It's a hard case for electric guitars with plush lining and sturdy locks that protect your guitar.
I want to mention that in terms of protection, the case is top-notch. That's because it has extra neck and bridge padding and bumpers on the bottom and sides.
So, even if you travel on a bumpy road, the guitar stays safe.
Unlike other cheaper guitar cases, this one has a handy interior pocket for extra storage so you can pack everything you need compactly.
Now you can keep your picks, tuners, and batteries in one place and eliminate extra bags.
Best for stratocaster and telecaster: Gator Deluxe ABS Molded with Internal LED Lighting
If you're looking for a special hard case with LED lighting to carry your Fender guitars, then this mid-priced hard case is a great option.
It's the type of case you can be grateful for in dark environments and poorly lit venues because it has built-in LED lights that allow you to see your storage compartment.
This makes it easy to pick out your picks, capos, and strings because you can adjust the lights to turn on manually or automatically.
The Gator case has the perfect molds for Strats and Tele guitars, but you can also find it for other guitar types and models.
The exterior is made of ABS plastic which is a durable and sturdy material, so your guitar is well protected on the road. But, additional aluminum valances further reinforce the strength, making this a heavy-duty case.
If you're worried about transport, rest assured this hard case has a sturdy and easy-grip handle.
On the inside, the case is lined with a plush material that protects against scratches. As well, there's a long neck cradle that protects your guitar against bumps during transport.
I recommend this particular Gator case because it's affordable and still offers premium features like LED lighting, so it's ideal for carrying special guitars like Fenders.
Still on the fence about Fender? Read my Fender Super Champ X2 Review: Everything you need to know
Most sturdy & best waterproof gigbag: Reunion Blues CV Case BK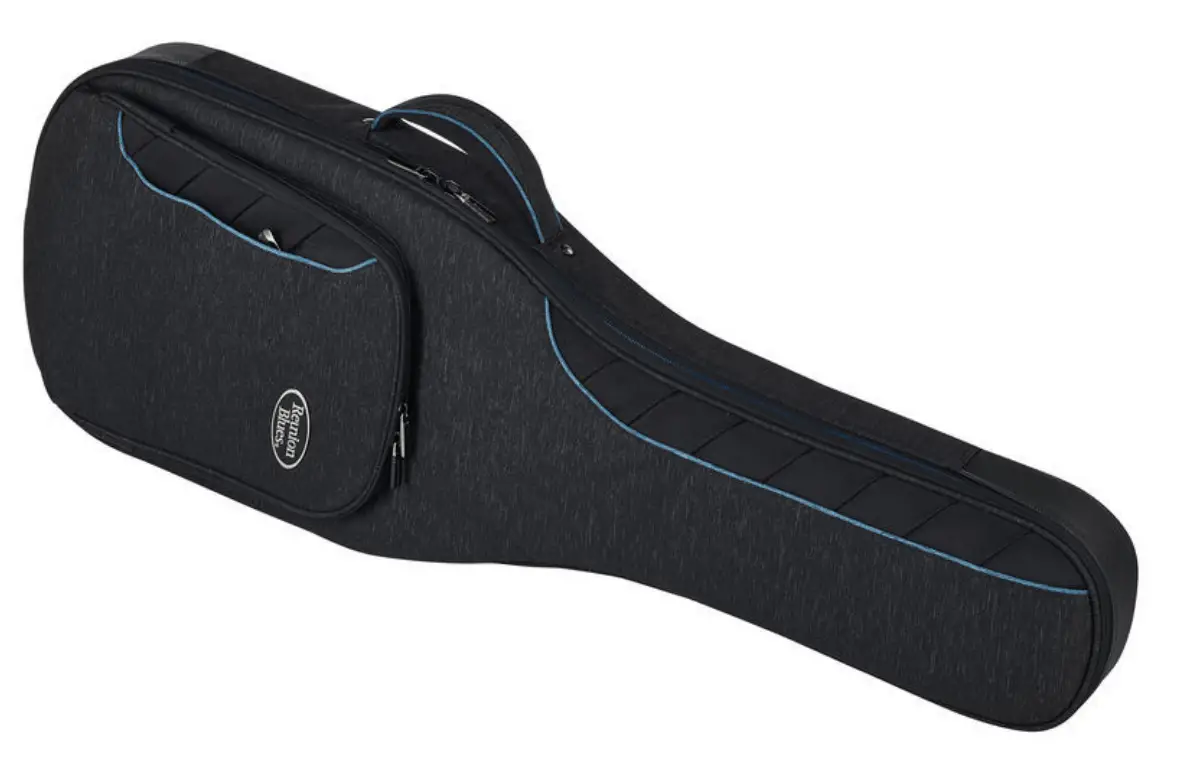 Are you planning to travel outdoors with your instrument? Then, protection is surely at the top of your mind.
Reunion is known for its high-performance and high-quality gigbags. These are made of waterproof material to protect your instrument from rain, snow, and unpredictable weather.
You can find five variants of this case, so it's sure to fit your instrument. I've linked the electric and acoustic bag for your convenience.
This gigbag has two interesting protective features that really make it stand out from the rest.
First, each bag has a flexoskeleton protection system which is like an extra layer of protective material. Second, it has EVA shock absorbers to protect your guitar against shocks in the case of a fall or bump.
It's a sturdy gigbag you can count on because it's made of materials that hold up well to the daily wear and tear of travel and touring.
It also has a neck brace suspension system that keeps the guitar in place and prevents it from moving around. And if you want to take accessories with you, then you can fit them in one of the many pockets.
One thing to note is that this bag is a bit heavier than other gigbags.
Still, it has innovative foam handles and a knurled abrasion grid that allows you to distribute your instrument's weight evenly, so it's comfortable to carry.
Check both electric and acoustic versions here
Best cheap gigbag: Gator GBE Cases

If you don't travel with your guitar too often, you probably just want a cheap gigbag that offers some protection, is lightweight, and will help you take the guitar from point A to point B.
So, when you're not looking for premium features and want basic protection, this affordable Gator bag is a great bargain.
It costs less than 30 dollars and comes in various sizes to fit small acoustics, electrics, and everything in between.
The bag is made of nylon material and has 10 mm padding, and while that's thin, it's enough to offer protection if you handle your guitar carefully.
Luckily, it still has a reinforced interior where the bridge and headstock are. Thus, this is a great bag for storing your guitar at home or short trips.
So, if you're only going to be jumping in and out with your guitar, this basic bag is enough.
Don't expect too much protection if you drop your instrument, but this gigbag is still better made than many other budget cases.
Check prices and availability here
Looking for a good guitar stand as well? Read my review of the best guitar stands: ultimate buying guide for guitar storage solutions
Most durable guitar case & best professional touring case: SKB Injection Molded
If you plan on hitting the road or the skies to tour, you need a super durable guitar case that is TSA compliant and protects your instrument against the damage caused by bumps and falls.
It also has wheels so you can pull it around quickly.
This SKB hard case is one of the toughest out there and it's definitely a monster of a case but it gives the best protection so your instrument stays scratch and damage-free.
This is especially handy if you own expensive guitars and caring for them is a top priority. So, I highly recommend this case for touring musicians with professional instruments.
The SKB is quite expensive but it's worth it in the long run if you travel a lot. It's also really big, but it offers peace of mind knowing it's extremely hard to crack its exterior shell.
Another great feature is that the case is completely waterproof so it can brave the elements in all seasons.
Your instrument is going to fit into the case perfectly because each case is injection molded for extreme precision. Thus, there's no need to worry about it wobbling in there.
Finally, I've got to say this case is really cool in terms of design as it's made of a copolymer resin and looks like a tank-proof case not to be messed with.
Best case for acoustic guitar: Gator Cases Deluxe ABS Molded Dreadnought Style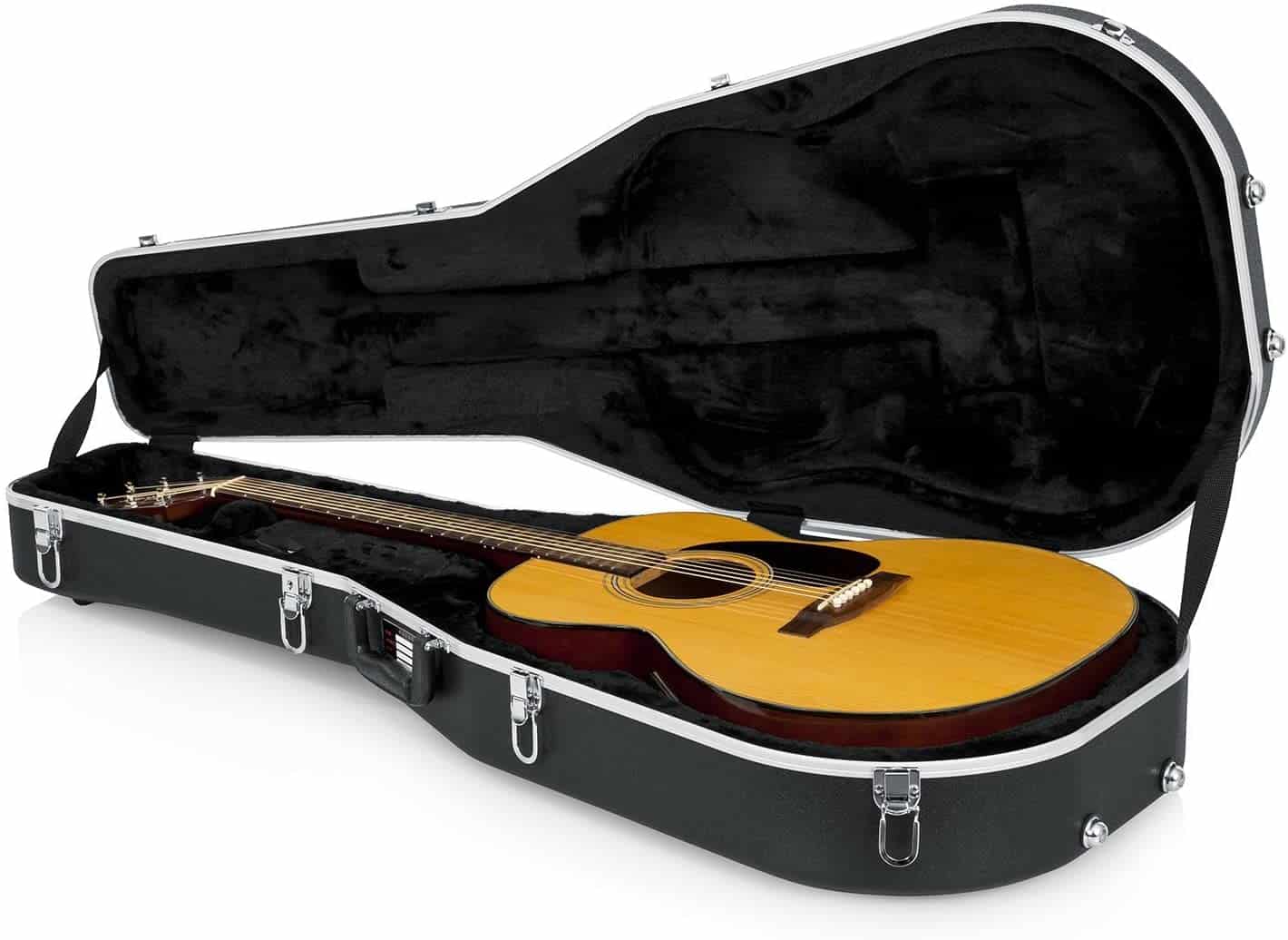 For your acoustic guitar, a hard case is the best option if you plan on touring, gigging, and moving it around.
If you have a dreadnought style guitar, then this case is perfect, but you can also find various styles to fit a mini or a jumbo acoustic.
It's quite affordable and for the price, it offers lots of protection, including a reinforced handle and break-proof exterior.
This gator case is made of strong and durable ABS plastic and it's quite a good alternative to wood.
In terms of protection, this type of case offers good protection because the exterior is rough and tough so it protects against impact.
This case is known for being really resistant against wear and tear.
Oh, and it also looks pretty good and has chrome-plated latches and a spacious accessory compartment.
Therefore, you can carry cables, capos and other things you need to play.
The interior lining is made of soft plush material and it helps your guitar fit well and stay snug during transport.
One con of this case though is that this plush lining is quite thin and if you plan on flying or bussing, it's best to add additional material like a microfiber cloth for extra protection.
Check prices and availability here
Best dual guitar gigbag: Gator 4G Series Dual

When it's time for a dual guitar gig, you want to transport your acoustic and electric guitar in one go with one bag. What's the point of carrying them separately if you can comfortably take them both?
That's where this Gator Dual Gigbag comes in handy.
It fits 1 acoustic and 1 electric guitar so you can take them both on stage. This type of gigbag is extremely portable due to its lightweight design, and it's also pretty good at protecting your guitars.
It has 20mm of padding which offers protection against bumps and damage. Also, there is extra reinforcement for the headstock and bridge which prevents travel-related wear and tear.
What really makes this bag unique is that it has a durable zipper and pick-zipper pull where you can store a spare pick.
It's also waterproof and holds up well against the elements so you don't need to worry about your guitars getting wet.
When you carry two guitars, there's always a risk of them shuffling around in the bag, but this one is well designed and well stitched.
Therefore, it has scratch-protective plates inside to prevent any rips in the inner lining and also keep the two instruments separate from each other.
As long as you're not putting your guitars in the cargo hold of a plane, this gigbag offers enough protection for your travel needs.
FAQ's about guitar cases & gigbags
Here are the answers to some common questions people have about guitar cases and gigbags.
Is it better to keep a guitar in a case?
Of course, it's best to keep your guitar in a case because that's the only way to protect it from damage.
A good quality hard-shell case is the best option for travel and storage because it can withstand impact that a nylon gigbag usually can't.
Most hard cases are better insulated and well molded so your guitar stays safe and doesn't move around in the case.
Do guitar cases fit all guitars?
There is no "one size fits all" case or gigbag but most manufacturers make these cases and bags to fit all guitar types, models, and sizes.
A general observation is that most guitars fit into some of the "standard" cases.
An acoustic gig bag will usually fit several guitar models, so finding the one you need is pretty straightforward.
If you have an expensive or vintage guitar, you might need to invest in a special guitar case and it might cost more but there is tons of variety out there.
Who makes the best guitar cases?
There are so many manufacturers making good cases but well-established brands like Reunion Fender, Gator, SKB, and Epiphone are still making some of the most durable and great value cases and gigbags.
How much should I spend on a guitar case?
In my opinion, it's up to you how much you're willing to invest and it also depends on the value of the guitar.
Expensive guitars deserve the best protection, so it's best to spend more on high-quality cases that actually offer protection against the weather and travel-related damage.
As a basic rule, you should spend between 6-15% of the guitar's value on a hardshell case or gigbag.
What should I keep in my guitar case?
Your guitar is the most important thing to keep in your guitar bag of course.
But, depending on how spacious your case is, there are some additional things to keep in there such as: a guitar strap, strings, picks, tuner, whammy bar, batteries, set list etc.
Bottom line
Protecting your guitars is very important, whether you just store them or travel around with them regularly.
Either way, you need a well-padded case or gigbag that can prevent scratches, cracks, warping, and damage.
Next time you're looking to buy a hard case or gigbag, check out one of my recommendations and you'll surely find one to fit your budget and needs.
Looking for a specific guitar for metal? Read Best Guitar for Metal: 11 reviewed from 6, 7 & even 8 strings
I'm Joost Nusselder, the founder of Neaera and a content marketer, dad, and love trying out new equipment with guitar at the heart of my passion, and together with my team, I've been creating in-depth blog articles since 2020 to help loyal readers with recording and guitar tips.
Check me out on Youtube where I try out all of this gear: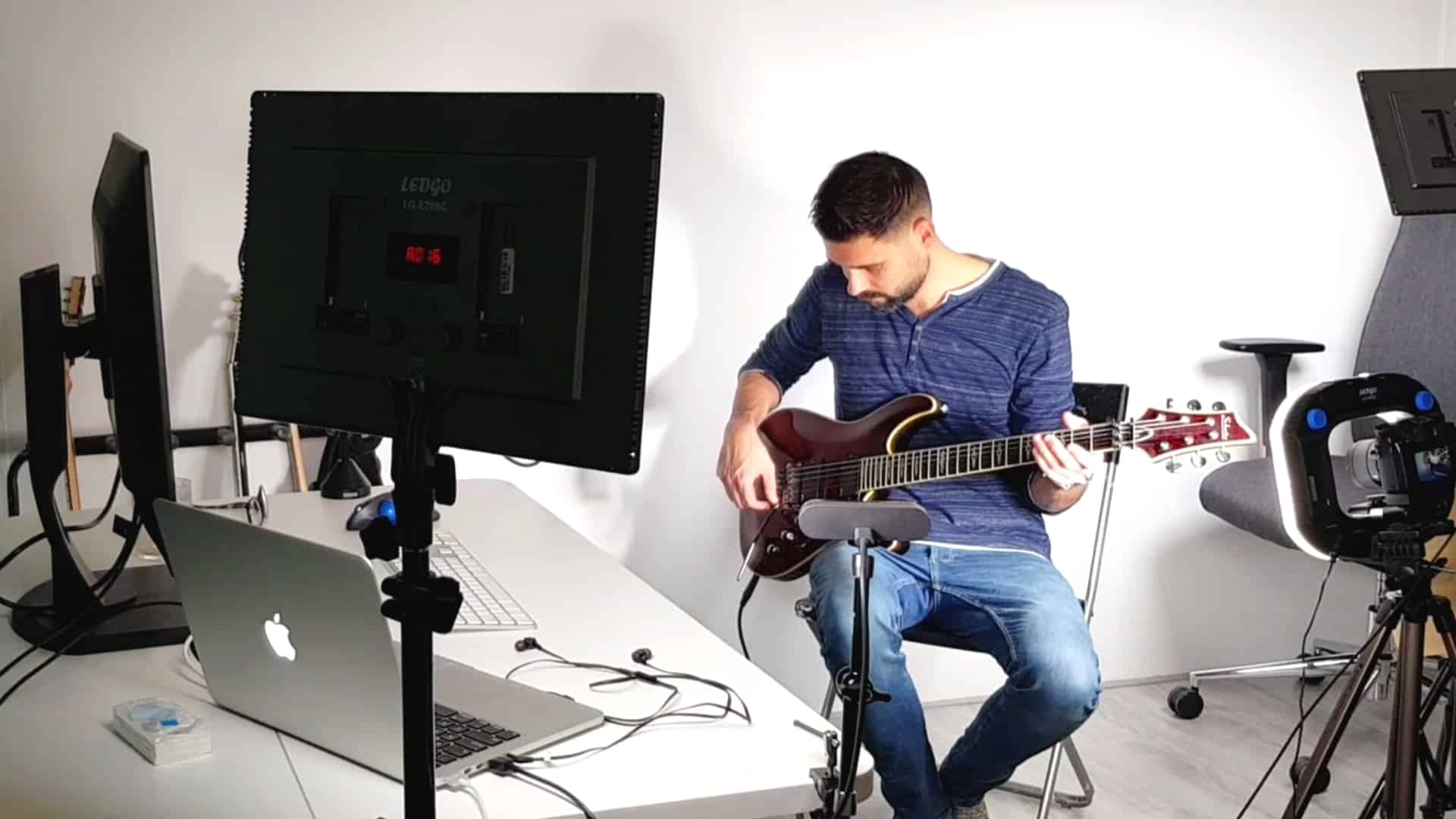 Subscribe