hi there I love creating free content full of tips for my readers, you. I don't accept paid sponsorships, my opinion is my own, but if you find my recommendations helpful and you end up buying something you like through one of my links, I could earn a commission at no extra cost to you.
Learn more
The Fender Super Champ X2 is a true two-in-one. It's a combo amp, a tube amp, but also a digital amplifier, combining the classic and trusted physical amp hardware with a modern digital software capability.
An innovation of its predecessor, the Super Champ XD, this 23-pound amplifier is light enough to be handled with just one hand.
But don't let its look deceive you.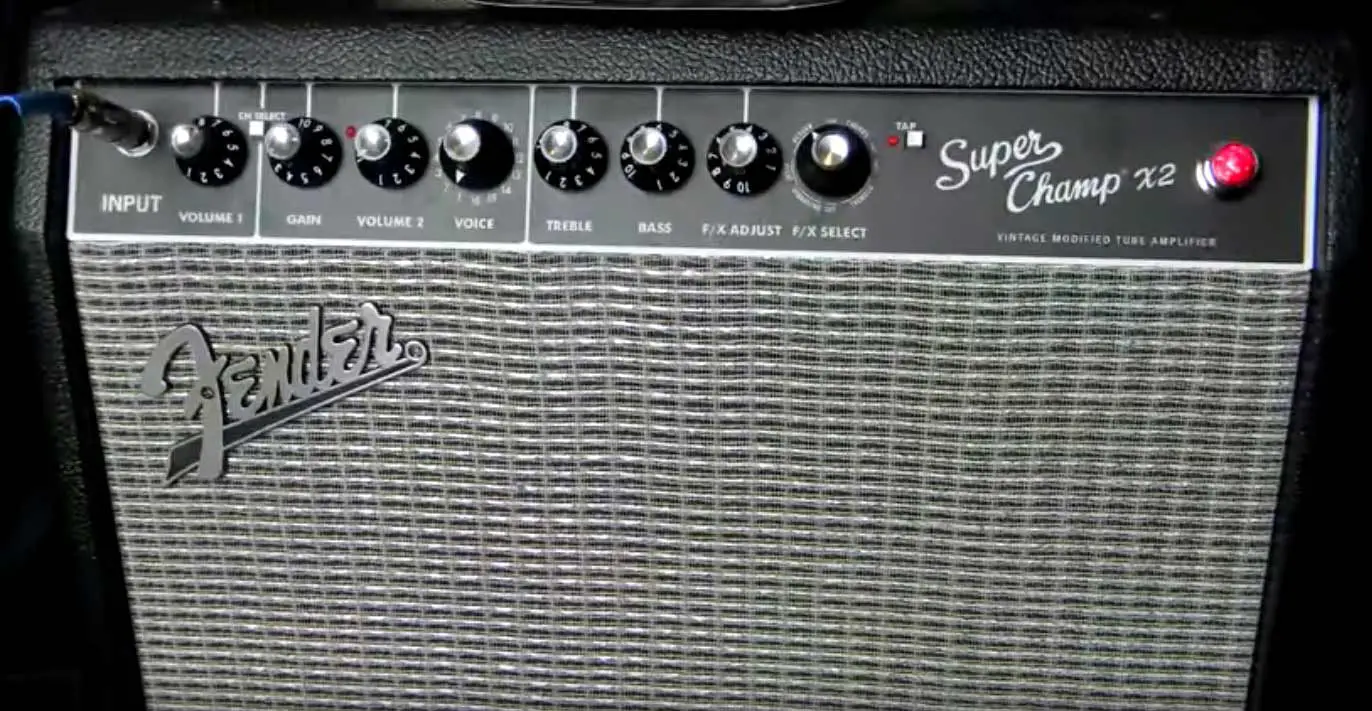 This little hardware packs a powerful punch and incredible versatility whether you want to play it inside your bedroom or take it outside and showcase your talents.
It features 16 different amp choices with the voicing knob as well as 15 unique effects using a level control.
Connecting this little hardware to a computer gives you access to more tonal variety by using its Fender Fuse Software (free download), which also gives you access to join the Fender community content for free and meet other enthusiasts who share the same passion as you.
Looking for a good amp to meet all your guitar needs? Lets rock right into it here in our Fender Super Champ X2 review.
Quality: 8/10
Features: 9/10
Ease of Use: 9/10
Functionality: 9/10
EDITORS OVERALL RATING: 8.75/10 stars
Product/Manufacturer of Fender Super Champ X2
The Fender brand founded by Leo Fender dates as far back as 1946. Now known as FMIC is a revered music industry name that has touched the world of music worldwide and turning it into a cultural icon.
It has been helping beginners and enthusiast as well as acclaimed artist and performers in every genre of music.
FMIC is a brand that prides itself for maintaining Fender status through best business practices and love for music.
The X2 an innovation of its predecessor, The Fender Super Champ XD will give your rehearsals and recordings come to life with its almost unlimited tones by unleashing its digital software capabilities.
The X2 is a light and compact design that's made for anyone who is on the go. It is rocking a 15 watts dual-channel tube amp sound as well as a 10″ Fender Designed speaker, engineered by Fender for optimal sonic performance.
It has a wide selection of tonal capability but also allows you to connect it to a PC to amplify its capabilities even further.
Here's Shane from intheblues looking at the Fender beauty:
Things We Liked
Lightweight
Tonal Variety
Simple Interface
USB output feature for endless digital capability
Classic Design
Switch foot option
Access to a community of people with a shared interest
Things We Didn't Like
The products 10" Speaker is not capable enough for a large crown.
It cannot play along with a drummer; you will need to replace it with a better speaker.
Key Features
15 watts from two 6 v 6 tubes
10" Fender Designed speaker
Control over 16 different tone
level control over different effects
USB output for easy digital connectivity and digital recording
Two channels of switching format
Optional footswitch (not included)
Key Features/Benefits Explained of Fender Super Champ X2
Stand-Alone Capability
The X2 features a 10-inch Fender designed speaker, That is made of a cabinet that is fairly thin and light, which is comfortable to carry with one hand.
It feels solid rocking a time-honored fender look with some modern twist.
Moving on to the front, one single input that can feed two independent channels that can share common treble, and a bass EQ control with a DSP effect section.
The 1st channel is just for volume control, but the second channel boasts a volume as well as gain knobs, with a rotary switch to select 16 different amp voice, allowing you to alter the compression, coloration and overdrive characteristics.
A true feature of versatility by the Fender Super Champ X2. At the back sports a line out, single speaker output and a footswitch input.
However, the footswitch is not included. We highly encouraging getting a foot switch for added control.
The X2 is rated at 15 watts which, employs a pair of 6-v-6 power-amp valve, giving you enough power to drive any of your hard rocking music playing needs.
Software Capability
This little rig is made with digital capabilities via USB Port. This nifty little feature adds a whole variety of different options.
When it comes to playing with the modulation effects, you have choices like phaser, pitch shifter, step filler, ring modulator, and flanger effects.
Just plug it into any computer (either Windows or Mac) and download the free Fender Fuse Software.
This Software gives you access to mid-range tones control and is also loaded with great Fender tones, all stacked in neat and simple interface design.
Another great feature of the X2's digital capability is that it allows you to save your desired amp, cab and effects chain (the whole set) for use later on, as well as allowing your saved amps and effects to be freely combined.
Connecting with FUSE Software also gives you access to the Fender Community, allowing you to share your own saves or download others and get to know other people in the community with similar passion as yours.
One thing to note is that make sure you download the right Fender Fuse X2 version. Otherwise, anything else and the software will not recognize your amp.
Also read: that's a lot of power in these 10 best 15 watt tube amps
Recording Capability
The amp performs well with highly convincing clean sound. But for serious, professional-quality recordings, the amp falls a little short compared to other bigger amps.
But its size and lightweight design are exactly what makes this hardware shine.
In the advance amp setting of Fender FUSE lets you adjust the volume of the USB gain control, allowing you to turn the amp itself down for silent recording.
All if this is handled via ASIO program for Windows and Core Audio program for Mac drivers.
One of the many concerns that musicians have with digital technology is that you have to push a lot of different controls.
Don't worry; this little rig won't turn you into a DJ anytime soon. The X2 provides an easy-to-understand interface. It's designed to accommodate beginners in mind.
You also get a speaker out, a line out, and a foot switch connector, and speaker of the foot switch connector.
We highly recommend that you get a foot switch with this amp if you want to push it to its potential. It will make your playing game a whole lot simpler.
The 10" Fender designed speaker is great for recording and other small venues.
However when you want is to play for a much larger crowd or keep up with a drummer, we highly recommend you to replace the speaker with something that's more powerful.
But even without an upgrade, The X2 still performs clean and great for most of your needs.
Do we recommend it?
Like any other amp, you will have to tweak the controls to your desired settings.
Luckily each setting gives you the option to add or reduce gain which provides you with even more tonal variety.
The X2 shines when the USB plug is connected to a computer. To access this rigs full potential, just download the Fender Fuse Software and make sure you download the right version.
The sheer amount of variety you can do with this little hardware combined with the option to save your tweaks and even combine those tweaks as you go, all in a very simple friendly user interface.
Another highlight of this product and something we recommend is the Fender Fuse Community, its 100% free, giving you access to download other users saved tweaks.
This means that it also allows you to share your personal saved tweaks to other users within the community and be a part of a community of people who share a similar interest as you.
Overall the Fender Super Champ X2 is a quality build, good effects, great tube sound, good amp models, all in a lightweight design.
With all of that in mind. We definitely recommend this amazing little hardware for most of your crazy music playing needs. Has our Fender Super Champ X2 review helped you decide?
Check prices and availability here
I'm Joost Nusselder, the founder of Neaera and a content marketer, dad, and love trying out new equipment with guitar at the heart of my passion, and together with my team, I've been creating in-depth blog articles since 2020 to help loyal readers with recording and guitar tips.
Check me out on Youtube where I try out all of this gear: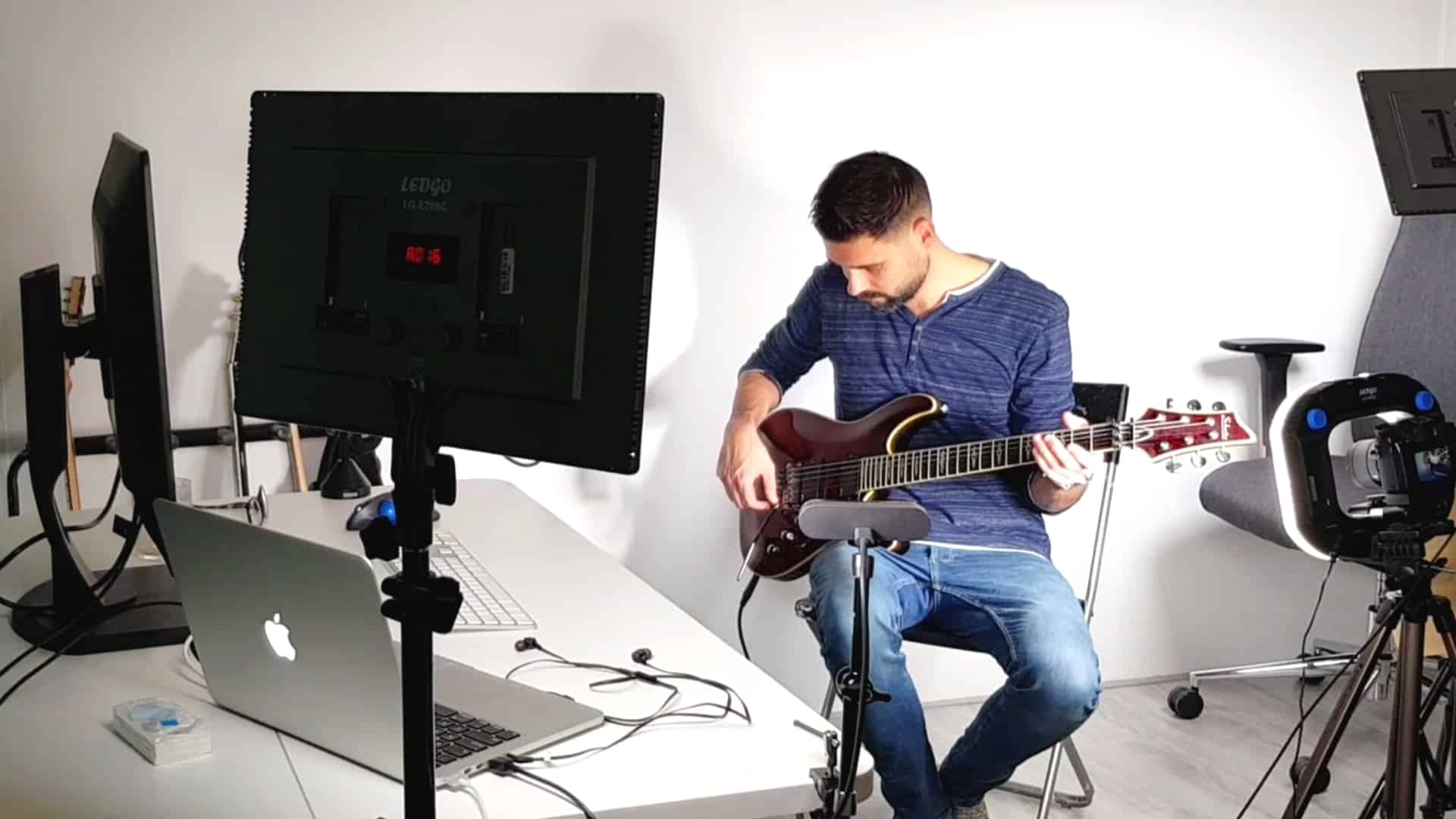 Subscribe