hi there I love creating free content full of tips for my readers, you. I don't accept paid sponsorships, my opinion is my own, but if you find my recommendations helpful and you end up buying something you like through one of my links, I could earn a commission at no extra cost to you.
Learn more
When looking back at the evolution of electric guitars, the most popular instrument HAS to be the Fender Telecaster, also known as the 'Tele.' 
Interestingly though, the Telecaster is still a best-selling guitar!
The Telecaster (Tele) is a solid-body electric guitar model manufactured by Fender. The Telecaster is known for its simple yet iconic design, featuring a solid body of either ash or alder, a bolt-on maple neck, and two single-coil pickups. The Tele is defined by its twangy sound and clarity. 
This article explains the features of the Telecaster, the history of one of Fender's most popular instruments, and also goes over why this guitar is iconic.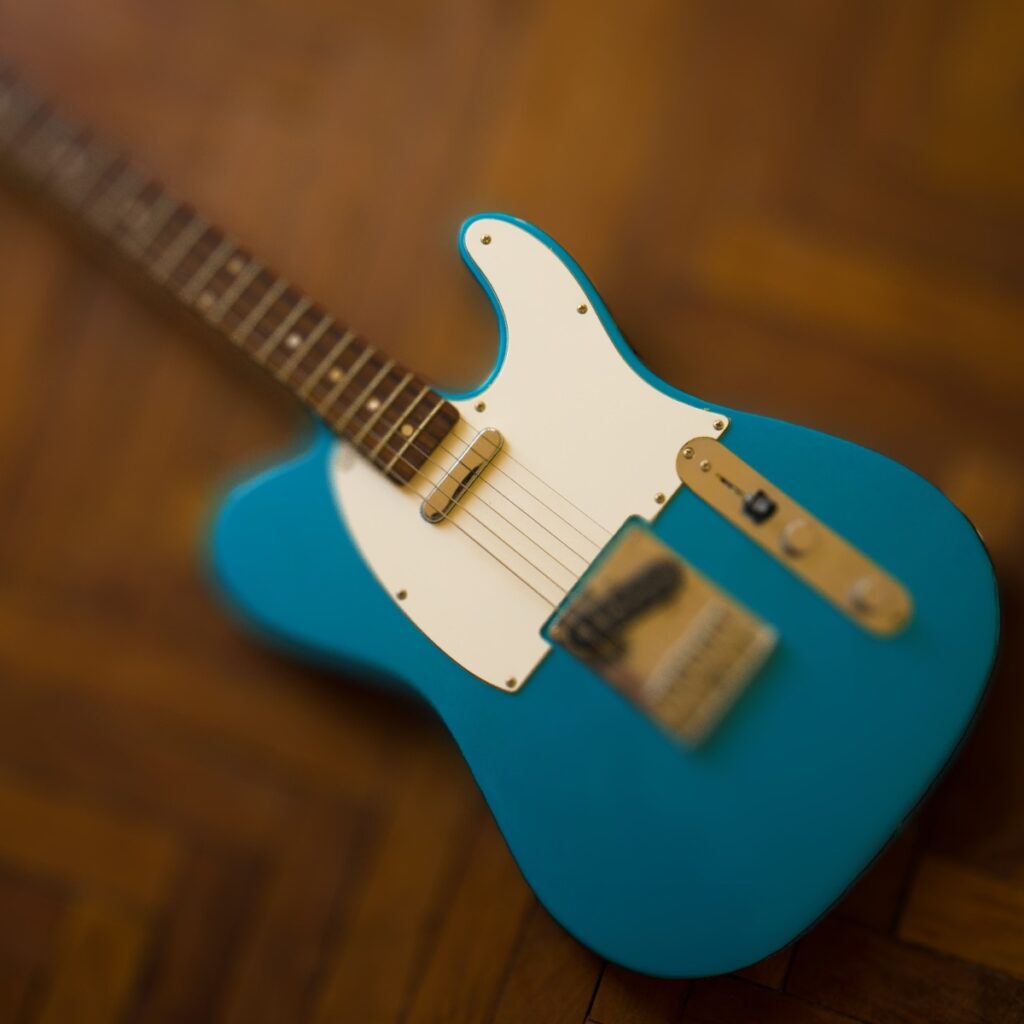 What is the Fender Telecaster?
The Telecaster is the early Fender solid-body electric guitar.
It was first introduced in 1950 as the "Fender Broadcaster," but was later renamed the Telecaster in 1951 because of a trademark issue. 
The Telecaster, alongside the Esquire (a similar sister model), is the world's first mass-produced solid-body guitar successfully sold worldwide.
It quickly became trendy and set the stage for solid body guitars because of its twangy, clear, bright tone. 
Since it was the first successful solid-body electric guitar ever produced, it had massive sales and remains one of the most popular guitars today.
Two single-coil pickups, a bolt-on maple neck, and a sturdy body constructed of either ash or alder are all hallmarks of the Telecaster's straightforward yet iconic design. 
It is widely regarded as one of the most influential and widely used electric guitar models in history, with a sound that is prized for its clarity, twang, and versatility across a wide range of musical genres, including rock, country, blues, and jazz. 
Over the years, Fender has released numerous variations of the Telecaster, including signature models designed for famous guitarists such as James Burton, Jim Root, and Brad Paisley.
Features of the Telecaster guitar: unique design
Since the Telecaster was one of the original solid-body electric guitars, it paved the way for this guitar's body shape.
The standard Fender Telecaster is a solid-body electric guitar with a single-cutaway body that is flat and asymmetrical. 
Ash or alder are frequently used for the body. The fingerboard may be made of maple or another wood, such as rosewood, and has at least twenty-one frets. 
The neck is typically made of maple, fastened to the body with screws (though it is typically referred to as a "bolt-on neck"), and has a distinctive small headstock with six tuning pegs mounted inline along one side. 
Electronics are front-routed into the Telecaster's body; the controls are mounted in a metal plate on the bottom of the guitar, and other pickups are mounted in a plastic pickguard.
The bridge pickup is mounted on a metal plate to the guitar's bridge. 
The Telecaster guitar typically features two single-coil pickups, three adjustable knobs (for volume, tone, and pickup selection), a six-saddle bridge, and a maple neck with a rosewood or maple fretboard.
The original design had three separately adjustable dual-string saddles whose height and intonation could've been altered independently. 
Fixed bridges are usually always used. Several more recent models have six saddles. The scale length of the Telecaster is 25.5 inches (647.7 mm). 
Over the years, there have been a few models with features that deviate from the classic style, as well as small adjustments to the design.
The design's fundamental characteristics, however, have not changed.
The Telecaster's versatile design also makes it popular with guitarists of all styles and genres. It can be used for rhythm or lead in almost any musical style.
It has a classic look, but it's surprisingly versatile for various styles.
The Telecaster is known for its reliable construction and durability, making it a great choice for professionals and beginners.
Its simple controls make it easy to learn and play, and it's a great choice for those just starting out.
What does the Telecaster sound like?
The Telecaster guitar has a unique tone thanks to its single-coil pickups, which provide a bright and twangy sound. 
It's often associated with genres like country, blues, jazz, rockabilly, and pop, but it can also deliver a wide range of tones depending on the pickup configuration and other settings.
The classic Telecaster sound is bright and twangy, with a biting edge. It has an iconic "cluck" that many guitarists love. 
With the two single-coil pickups and the combination of the controls, you can achieve a wide range of tones, from clean and mellow to heavily distorted and overdriven.
You can even split the pickups for some humbucker-like tones.
Overall, the Fender Telecaster is a versatile and reliable guitar that can cover many different genres. Its classic design and sound make it an iconic instrument for any guitar collection.
History of the Telecaster
In the late 1940s, Leo Fender, an engineer, saw the potential of the electric guitar and set out to create an instrument that was affordable, comfortable to play, and also had excellent tone.
Since the late 1920s, musicians have been "wiring up" their instruments to increase volume and projection, and electric semi-acoustics (such as the Gibson ES-150) have long been readily accessible. 
Tone was never a guitarist's top consideration when switching to an electric instrument.
Still, in 1943, when Fender and his colleague Clayton Orr "Doc" Kauffman constructed a rudimentary wooden guitar as a pickup test rig, nearby country musicians began requesting to borrow it for performances. 
Before the Telecaster, electric Spanish guitars were crafted like acoustic guitars, making them vulnerable to wear and tear.
The Telecaster was designed with a solid slab body, a replaceable bolt-on neck, and two-way adjustable bridge saddles, making it much more durable and reliable.
Leo Fender wanted to make an electric guitar accessible to everyone, so he mass-produced the Telecaster, making it much more affordable than its predecessors.
The Telecaster was actually based on Fender's Esquire guitar, which was introduced in 1950.
This limited-edition prototype was later renamed the Broadcaster, but due to trademark issues with Gretsch Broadkaster drums, it was eventually renamed the Telecaster.
The Esquire made a comeback in 1951 as a single-pickup version of the Telecaster.
The Telecaster was designed with a magnetic pickup and a pinewood body, allowing it to be amplified from the stage without the feedback and note bleed issues that plagued earlier designs. 
Additionally, each string had its own magnetic pole piece for increased note separation. Players could also adjust the balance of bass and treble for a customized sound.
The 1951 Telecaster revolutionized the electric guitar and made it accessible to more people than ever before.
Its design and features are still appreciated and used by guitarists today.
The Telecaster sound was popularized by twang-obsessed country superstars like Luther Perkins and Buck Owens, who also influenced rock musicians like Keith Richards, Jimmy Page, and George Harrison, who would go on to transform music in the 1960s and beyond.
As previously mentioned, the Fender Telecaster was originally called the Fender Broadcaster, but due to some trademark issues with other guitar companies, the name was changed.
This probably helped the brand since customers seemed to prefer the new Tele.
Also learn about the history and features of another iconic Fender guitar: the Stratocaster
Revolutionary production techniques
Fender revolutionized the way guitars were produced with the Telecaster. 
Instead of hand-carving bodies, Fender used solid pieces of wood (known as blanks) and routed cavities for the electronics using a router. 
This allowed for faster production and easier access to repair or replace the electronics. 
Fender also didn't use a traditional set neck; instead, he routed a pocket into the body and bolted the neck into it. 
This allowed the neck to be quickly removed, adjusted, or replaced. The original Telecaster neck was shaped using a single piece of maple without a separate fingerboard.
The later years
Fast forward to the 1980s, and the Telecaster was given a modern makeover.
Fender concentrated on quality rather than quantity, introducing a small number of vintage reissue guitars and redesigning modern instruments. 
This included the American Standard Telecaster, which featured 22 frets, a more robust-sounding bridge pickup, and a six-saddle bridge.
The Fender Custom Shop also began in 1987, and one of its first orders was for a custom left-handed Telecaster Thinline.
This marked the beginning of the Telecaster's transformation from a utilitarian workhorse to a work of art.
In the 1990s, the Telecaster was wielded by grunge guitarists and Britpop guitarists alike. In the 2000s, it was everywhere, from modern country to modern metal to modern alt-indie. 
To celebrate its 50th anniversary, Fender released a limited edition run of 50 Leo Fender Broadcaster models in 2000.
Since then, Fender has offered a wealth of modern Telecaster models designed to suit the playing, personality, and pockets of any guitarist. 
From authentically traditional to distinctively modified, from pristine to battered, and from high-end to budget-conscious, the Telecaster continues to be a must-have instrument for guitarists of all types and styles worldwide.
Why is it called a Telecaster (Tele)?
The Telecaster is an iconic guitar that has been around for nearly seventy years, and it's still going strong! But why is it called a Tele? 
Well, it all started with the original production model of the guitar, the Esquire.
This model had the same body shape, bridge, and bolt-on maple neck as the Telecaster, but it only had a bridge pickup. 
Leo Fender realized this and designed an improved version of the Esquire, named the Fender Broadcaster.
However, Fred Gretsch from the Gretsch Company asked Leo to change the name, because his company was already producing a drum set called Broadkaster. 
To avoid any trademark issues, Leo decided to sand off the Broadcaster from the logo and start selling the already produced guitars. This was the birth of the No-caster.
But the name Telecaster didn't come from Leo Fender.
It was actually a man who worked for Fender named Don Randall who suggested it, coining the word by merging "television" with "broadcaster." 
So there you have it – the Telecaster got its name from a clever combination of two words!
Which musicians play the Telecaster?
The Telecaster is a guitar used by musicians of all genres, from Brad Paisley to Jim Root, Joe Strummer to Greg Koch, Muddy Waters to Billy Gibbons, and Andy Williams (ETID) to Jonny Greenwood. 
But let's take a look at the top guitarists of all time (in no particular order) who've played or still play a Telecaster guitar:
Keith Richards
Keith Urban
Buck Owens
Eric Clapton
Brad Paisley
Bruce Springsteen
Prince
Danny Gatton
James Burton
Greg Koch
Jim Root
Joe Strummer
Jimmy Page
Steve Cropper
Andy Summers
Billy Gibbons
Andy Williams
Muddy Waters
Jonny Greenwood
Albert Collins
George Harrison
Luther Perkins
Chris Shifflet of the Foo Fighters
The Telecaster is a guitar that can fit any style of music, and its versatility is what has made it so popular.
What makes the Telecaster special?
The Telecaster is a guitar that is designed with utility in mind.
Leo Fender, the creator of the Telecaster, believed that form should follow function and that the guitar should be designed to be as useful as possible. 
This means that the Telecaster is designed to be easy to use and maintain, with features such as an easily accessible neck pickup and a compound-radius fingerboard that makes it easier to play.
The Telecaster is also designed with aesthetics in mind. 
The classic "U" neck shape and the nickel-covered single-coil neck pickup give the Telecaster a classic look, while the high-output Wide Range humbucker gives it a modern edge.
No matter what style of music you play, the Telecaster is sure to look great on stage.
The Telecaster is known for its unique sound. Its single-coil pickups give it a bright, twangy sound, while its humbucker pickups give it a thicker, more aggressive tone.
It also has a lot of sustain, making it perfect for lead guitar parts. 
No matter what style of music you play, the Telecaster is sure to sound great.
Comparing Fender's Telecaster and Stratocaster: what's the difference?
The Telecaster and Stratocaster are Fender's most popular electric guitars. But this is an age-old debate: Telecaster vs Stratocaster. 
It's like choosing between your two favorite children – impossible! But let's break it down and see what makes these two electric guitar legends so different. 
First off, the Telecaster has a more traditional look with its single-cutaway design. It's also got a brighter sound and a more twangy tone. 
On the other hand, the Stratocaster has a double-cutaway design and a more modern look. It's also got a warmer sound and a more mellow tone. 
Let's compare them both and explore the main differences.
Neck
Both guitars have a bolt-on neck. They also have 22 frets, a 25.5″ scale, a nut width of 1.25″, and a fretboard radius of 9.5″.
The headstock of the Stratocaster is notably larger than the Teles.
The argument over whether the larger Strat headstock provides the guitar more sustain and tone has been going on for years, but it comes down to personal preference. 
Body
The Fender Tele and Strat have an Alder body, a tonewood that provides guitars with a great bite and snappy sound.
Alder is a lightweight, closed-pore wood with a resonant, balanced tone that produces outstanding sustain and quick attack. Other tonewoods, such as ash and mahogany, have also been utilized.
Both of the body silhouettes are easily recognized. The Tele has no body curves and only one cutaway.
The Strat includes a further cutaway on the upper horn for easier access to the higher notes, in addition to its elegant curves that make it invariably easy to play.
Hardware and electronics
Electronically, the Stratocaster and Telecaster are fairly comparable. Both have a master volume control.
However, the Strat includes separate tone knobs for the center and bridge pickups, while the Tele only has one.
But the changeover is a different matter.
The Telecaster has always had a three-way switch, but Fender gave it a conventional five-way selector after players discovered that they could gain more tonal variety by jamming the Strat's original three-way switch between the first and second positions and second and third positions.
The bridge pickup is often bigger and longer than its Strat counterpart on the Telecaster, which typically has two single-coil pickups.
It is fixed on the metal bridge plate of the Tele, which might give it a stronger tone.
Many Strats these days are sold with humbucking pickups because players are looking for that deeper, louder sound.
Playability
When it comes to playability, the Telecaster is known for its smooth and comfortable neck. It's also got a shorter scale length, which makes it easier to play. 
The Stratocaster, on the other hand, has a longer scale length and a slightly wider neck. 
This makes it a bit more challenging to play, but it's also great for those who want to really dig in and get a more expressive sound. 
Sound
Finally, let's compare the sound of the Tele vs Strat. 
The Stratocaster has a brighter sound, thanks to its two single-coil pickups. The Telecaster, on the other hand, has a twangy and biting sound due to its single-coil design.
The Stratocaster also offers more versatility than the Telecaster, thanks to its range of pickup configurations, five-way switch, and tremolo bridge.
But Telecaster can still provide a wide range of tones, depending on the pickup setup and the controls.
It's possible to split the pickups on the Telecaster for some humbucking-like tones.
So, which one should you choose? Well, it really depends on what kind of sound and feel you're looking for. 
If you're a beginner, the Telecaster might be the better choice. But if you're an experienced player, the Stratocaster might be the way to go.
In the end, it's all about personal preference.
Why has the Telecaster stood the test of time?
Many types of guitars fall off the radar after a decade or so, but the Telecaster has been a constant seller since the 1950s, and that says a lot!
But it probably comes down to design. 
The Telecaster's simple, straightforward design has been a major factor in its longevity.
It features a single cutaway body, two single-coil pickups that produce the Tele's signature bright and twangy tone, and a headstock with six single-side tuners. 
The original design also featured three innovative barrel-shaped bridge saddles that allowed guitarists to adjust the string height for better playability.
The Telecaster's legacy
The Telecaster's popularity has inspired countless other solid-body electric guitar models from other manufacturers. 
Despite the competition, the Telecaster has remained in constant production since its inception and remains a favorite of guitarists everywhere. 
With the many Telecaster models available today, it can be difficult to know which one is best for you (check out the best Fender guitars we've reviewed here).
But with its versatility, playability, and signature tone, the Telecaster is sure to be a great choice for any musician.
FAQs
What is the Telecaster good for?
The Telecaster is the perfect guitar for anyone looking for a versatile instrument that can handle a variety of genres. 
Whether you're a country picker, a reggae rocker, a blues belter, a jazz master, a punk pioneer, a metalhead, an indie rocker, or an R&B singer, the Telecaster has you covered. 
With its two single-coil pickups, the Telecaster can provide a bright, twangy sound that's perfect for cutting through a mix. 
Plus, its classic design has been around for decades, so you know you're getting a tried-and-true instrument that won't let you down.
So if you're looking for a guitar that can do it all, the Telecaster is the perfect choice.
What are the best features of Telecaster guitar?
The Fender Telecaster is the original electric guitar, and it's still a classic today! 
It's got a sleek single-cutaway body, two single-coil pickups, and a strings-through-body bridge that keeps it in tune. 
Plus, it's got a sound that's versatile enough for any genre, from country twang to rock 'n' roll roar. 
And with its iconic shape, it's sure to turn heads wherever you go.
So if you're looking for an electric guitar that's as timeless as it is stylish, the Telecaster is the one for you!
Is a Telecaster better than a Stratocaster for rock?
It's hard to say that one is definitively better than the other when it comes to rock music. 
Countless rock guitarists have used both the Telecaster and Stratocaster to create some of the most iconic riffs and solos of all time. 
It really comes down to personal preference and the type of sound you're looking for. 
The Stratocaster is often associated with blues and rock, and its bright, twangy tone is perfect for creating classic rock riffs.
It's also known for its versatility and can be used to create a wide range of sounds. 
On the other hand, the Telecaster is known for its bright, twangy sound, which is great for country music but can also be used to create some great rock tones. 
Ultimately, it's up to you to decide which one is better for rock. Both guitars have been used to create some of the most iconic rock songs of all time, so it really comes down to what sound you're looking for. 
If you're looking for a bright, twangy sound, then the Telecaster might be the better choice. If you're looking for a more versatile sound, then the Stratocaster might be the better choice.
Is a Telecaster better than A Les Paul?
When it comes to electric guitars, it really comes down to personal preference. 
The Telecaster and Les Paul are two of the most iconic guitars in the world, and both have their own unique sound and feel. 
The Telecaster is brighter and better suited for genres like country and blues, while the Les Paul is fuller and better for rock and metal. 
The Telecaster has two single-coil pickups, and the Les Paul has two humbuckers, so you can get a different sound out of each.
The Les Paul is also heavier than the Tele. 
If you're looking for a classic look, both guitars have a single cutaway design and a flat body shape.
The Tele has flatter edges, and the Les Paul is more curved. Ultimately, it's up to you to decide which one you prefer.
Why does a Telecaster sound so good?
The Fender Telecaster is renowned for its unique sound, which has made it a favorite among guitarists for decades. 
The secret to its signature twang lies in its two single-coil pickups, which are wider and longer than those found on a Stratocaster. 
This gives it a more powerful tone, and when combined with its metal bridge plate, it produces a sound that is unmistakably Telecaster.
Plus, with the option of humbucking pickups, you can get even more of that classic Telecaster sound. 
So if you're looking for a guitar with a sound that stands out from the crowd, the Telecaster is definitely the way to go.
Is the Telecaster good for beginners?
Telecasters are a great choice for beginners!
They have fewer controls than a Stratocaster, a fixed bridge for tuning stability, and simpler adjustments, making them a no-fuss electric guitar. 
Plus, they have a bright and twangy sound that's iconic and fun to play. 
Additionally, they're lightweight and comfortable to hold, with a single cutaway design that makes it easy to reach the higher frets. 
So if you're looking for an easy-to-play electric guitar, a Telecaster is definitely worth considering!
Did Eric Clapton ever play a Telecaster?
Did Eric Clapton ever play a Telecaster? You bet he did!
The legendary guitarist was known for his love of the Fender Telecaster, and even had a special edition model made for him. 
The limited-edition Blind Faith Telecaster combined a 1962 Fender Telecaster Custom body with a neck from his favorite Stratocaster, "Brownie." 
This allowed him to enjoy the bluesy tones of a Tele while still having the same comfort as a Strat.
Clapton used this unique guitar in many of his performances and recordings, and it's still a favorite among guitarists today.
Did Jimi Hendrix use a Telecaster?
It turns out that Jimi Hendrix used a Telecaster on two iconic tracks, even though his go-to guitar was the Fender Stratocaster.
Noel Redding, Hendrix's bass player, got the Telecaster from a friend for the session. 
For the overdubs for the "Purple Haze" session, Jimi played a Telecaster.
So, if you're looking to emulate the guitar god himself, you'll need to get your hands on a Telecaster!
What is the best Telecaster ever made?
The best Telecaster ever made is a hotly contested debate, but one thing is for sure – Fender's iconic electric guitar has been around for decades.
It has been used by some of the most influential guitarists of all time.
From Buddy Holly to Jimmy Page, the Telecaster has been the go-to instrument for rock, country, and blues. 
With its distinctive twang and bright tone, it's no wonder why the Telecaster is so beloved. 
In the budget category, the Squier Affinity Series Telecaster is one of the best Telecasters out there.
But if you look back in history, there are 5 very famous Telecaster models, all of the custom or signature guitars:
Micawber for Keith Richards
The Dragon for Jimmy Page
The Mutt for Bruce Springsteen
The Rosewood prototype for George Harrison
The Secret weapon for Andy Summers
Conclusion
The Telecaster's a guitar that's been around for over 70 years and is STILL as popular as ever, and now you know that's because of its simple controls and reliable construction.
Go check out its twangy and biting tone, unlike any other electric guitar, and you will surely be amazed.
Take your guitar on the road safely, with the best guitar cases and gigbags reviewed for solid protection here
I'm Joost Nusselder, the founder of Neaera and a content marketer, dad, and love trying out new equipment with guitar at the heart of my passion, and together with my team, I've been creating in-depth blog articles since 2020 to help loyal readers with recording and guitar tips.
Check me out on Youtube where I try out all of this gear: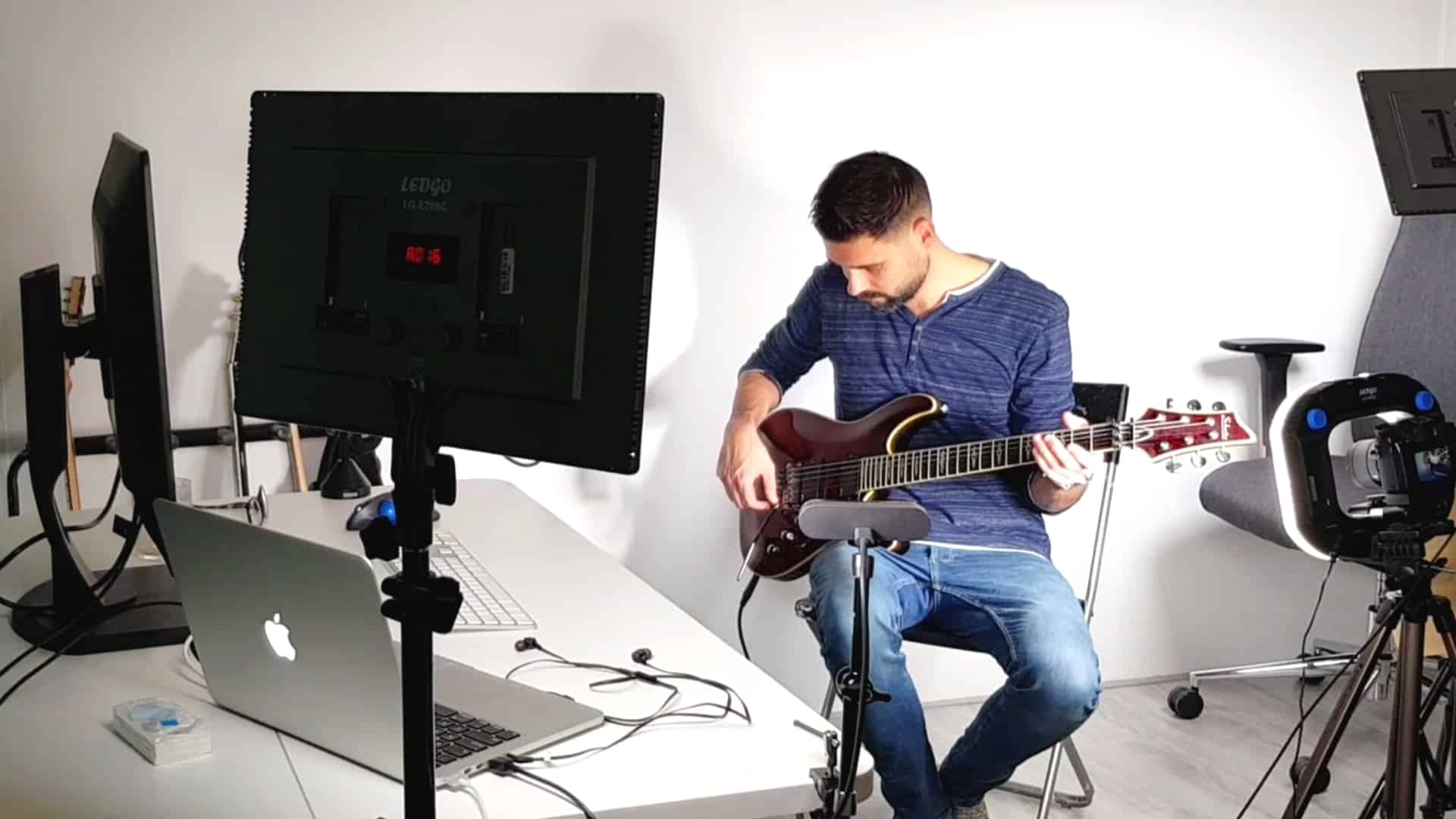 Subscribe