hi there I love creating free content full of tips for my readers, you. I don't accept paid sponsorships, my opinion is my own, but if you find my recommendations helpful and you end up buying something you like through one of my links, I could earn a commission at no extra cost to you.
Learn more
If you know anything about electric guitars, you already know about Fender Guitars and their iconic Strat.
The Stratocaster is arguably the most popular electric guitar in the world and has been used by some of the biggest names in music.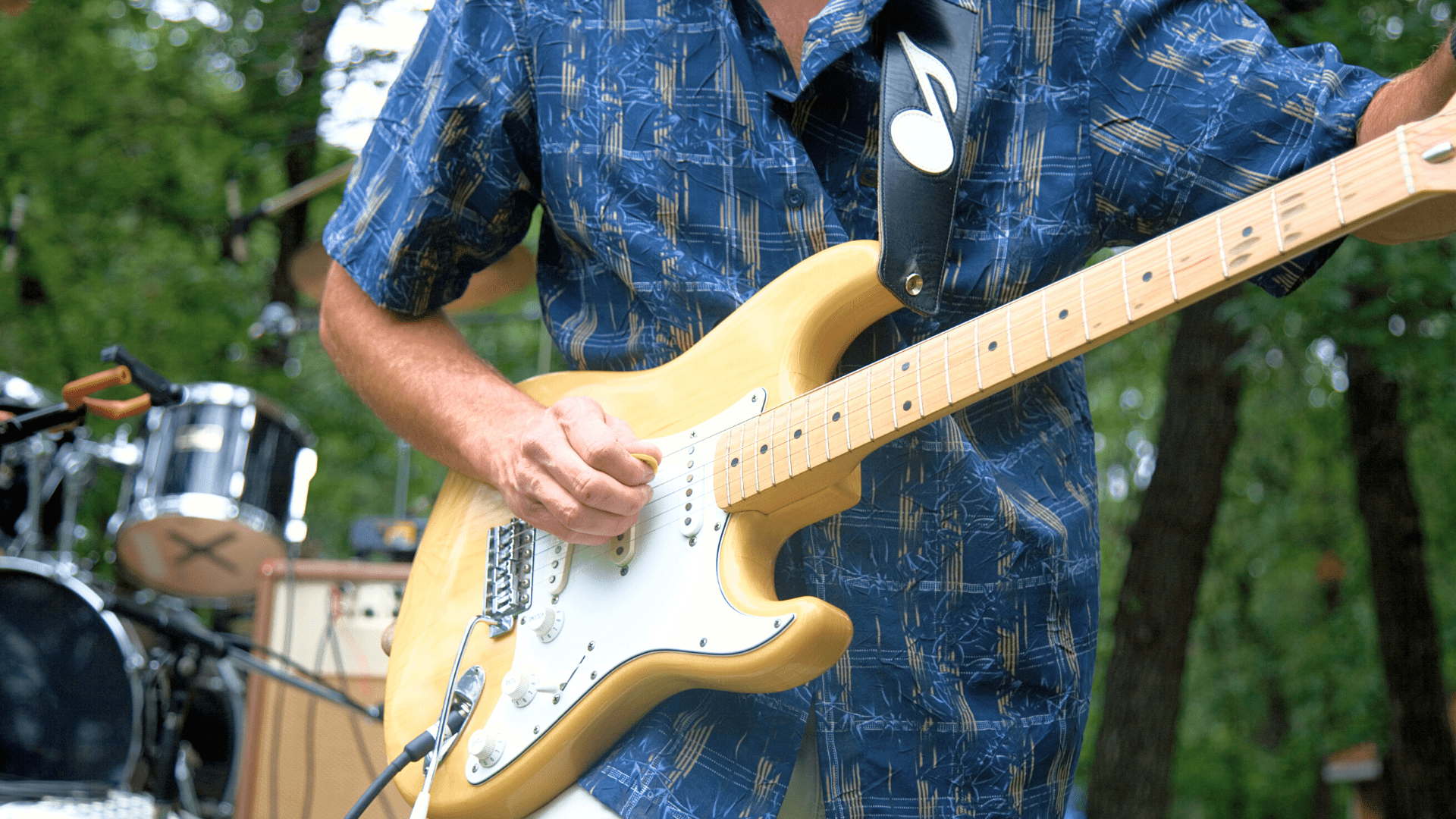 The Stratocaster is an electric guitar model designed by Fender. It's sleek, light, and durable with the player in mind so that it's easy and comfortable to play, with feature choices like a bolt-on neck that make it cheap to produce. The three-pickup configuration contributes to its unique sound.
But what makes it so special? Let's take a look at its history, features, and why it's so popular among musicians!
What is the Stratocaster guitar?
The original Stratocaster is a solid body electric guitar model manufactured by Fender Musical Instruments Corporation.
It has been manufactured and sold since 1954 and is still one of the most popular electric guitars in the world today. It was first designed in 1952 by Leo Fender, Bill Carson, George Fullerton, and Freddie Tavares.
The original Stratocaster featured a contoured body, three single-coil pickups, and a tremolo bridge/tailpiece.
The Strat has been through several design changes since then, but the basic layout has remained the same over the years.
This guitar has also been used in a wide range of genres, from country to metal. Its versatility makes it a favorite among both beginner and experienced musicians alike.
It's a double-cutaway guitar with a long top horn shape which makes the instrument balanced. This guitar is known for its master volume and master tone control as well as the two-point tremolo system.
The names "Stratocaster" and "Strat" are Fender trademarks that ensure copies do not take on the same name.
Other manufacturers' ripoffs of the Stratocaster are known as S-Type or ST-type guitars. They copy this guitar's shape because it's so comfortable for the player's hand.
However, most players agree that Fender Strats are the best, and other Strat-style guitars just aren't quite the same.
What does the name Stratocaster mean?
The name 'Stratocaster' itself came from Fender sales chief Don Randall because he wanted players to feel like they were "put into the stratosphere."
Before, the Stratocaster electric guitars tended to mimic the shape, proportion, and style of an acoustic guitar. Its shape was re-designed in response to modern players' demands.
Solid-body guitars lack physical restrictions like acoustic and semi-hollow guitars do. Because the solid-body electric guitar does not have a chamber, it is flexible.
Thus the name "strat" is supposed to suggest that this guitar can "reach for the stars."
Think of it as a playing experience that is "out of this world."
What is a Stratocaster made of?
A Stratocaster is made of alder or ash wood. These days though Strats are made of Alder.
Alder is a tonewood that gives guitars a very good bite and snappy sound. It also has a warm, balanced sound.
The body is then contoured and bolt-on a maple neck with a maple or rosewood fingerboard is added. Each Strat has 22 frets.
It has an elongated horn shape top which was revolutionary in its day.
The headstock has six tuning machines that are staggered so that they're more evenly balanced. This design was Leo Fender's innovation to prevent the guitar from going out of tune.
There are three single-coil pickups on a Stratocaster – one in the neck, middle, and bridge position. These are controlled by a five-way selector switch which allows the player to choose different combinations of pickups.
The Stratocaster also has a tremolo arm or "whammy bar" that allows the player to create vibrato effects by bending the strings.
What are the dimensions of a Stratocaster?
Body: 35.5 x 46 x 4.5 inches
Neck: 7.5 x 1.9 x 66 inches
Scale length: 25.5 inches
How much does a Stratocaster weigh?
A Stratocaster weighs between 7 and 8.5 pounds (3.2 and 3.7 kg).
This can vary though depending on the model or wood it's made from.
How much does a Stratocaster cost?
The price of a Stratocaster depends on the model, year, and condition. A new American-made Stratocaster can cost anywhere from $1,500 to $3,000.
Of course, vintage models and those made by famous guitarists can cost much more. For example, a 1957 Stratocaster once owned by Stevie Ray Vaughan auctioned for $250,000 in 2004.
What are the different types of Stratocasters?
There are several different types of Stratocasters, each with its own set of features and characteristics.
The most common types are:
American Standard
American Deluxe
American Vintage
Custom Shop models
There are also artist signature models, reissues, and limited edition Strats.
What's so special about a Stratocaster guitar?
There are several things that make the Stratocaster so special and popular among musicians.
Let's look at the most important features of a Stratocaster guitar.
First, its unique design and shape make it one of the most recognizable guitars in the world.
Second, the Stratocaster is known for its versatility – it can be used for a wide range of genres, from country to metal.
Third, Stratocasters have a distinctive "voice" which comes down to their design.
The Fender Stratocaster has three pickups, whereas other electric guitars back in the day only had two. This gave the Stratocaster a distinctive sound.
The pickups are wire-coiled magnets and they're placed in between the strings and the metal bridge plate. The magnets transmit the instrument's string vibrations to the amplifier which then creates the sound that we hear.
The Stratocaster is also known for its two-point tremolo system or "whammy bar".
This is a metal rod that's attached to the bridge and allows the player to create a vibrato effect by quickly moving the arm up and down. Thus players can easily vary their pitch while playing.
The Stratocaster's three-pickup design also allowed for some interesting switching options.
For example, the player could select the neck pickup for a mellower sound, or all three pickups together for a more "bluesy" tone.
Fourth, Stratocasters have a five-way selector switch that allows the player to choose which pickup they want to use.
Fifth, strats have a six-in-line headstock which makes changing strings a breeze.
Finally, the Stratocaster has been used by some of the biggest names in music, including Jimi Hendrix, Eric Clapton, and Stevie Ray Vaughan.
Developments and changes
The Stratocaster has undergone several changes and developments since its inception in 1954 in the Fender factory.
One of the most significant changes was the introduction of the "synchronized tremolo" in 1957.
This was a big improvement over the earlier "floating tremolo" design as it allowed the player to keep the guitar in tune even when using the tremolo arm.
Other changes included the introduction of rosewood fingerboards in 1966 and large headstocks in the 1970s.
In recent years, Fender has introduced a number of different Stratocaster models, each with its own set of features.
For example, the American Vintage series Strats are reissues of classic Stratocaster models from the 1950s and 1960s.
The American Standard Stratocaster is the company's flagship model and is used by a number of famous musicians, including John Mayer and Jeff Beck.
The Fender Custom Shop also produces a range of high-end Stratocaster guitars, which are hand-crafted by the company's best luthiers.
So, that's a brief overview of the Stratocaster guitar. It's a truly iconic instrument that has been used by some of the greatest musicians in history.
History of the Stratocaster
Stratocasters are top-tier electric guitars. Their 1954 invention not only marked the evolution of guitars but also marked a pivotal moment in 20th-century instrument design.
The electric guitar cut down the ties with the acoustic guitar into a completely different entity. Like other great inventions, the motivation to build the Stratocaster had practical aspects.
The Stratocaster was preceded by Telecasters (originally call Broadcasters) between 1948 and 1949.
Several innovations in the Stratocaster come out of attempting to improve the Telecasters' capabilities.
Thus the Stratocaster was first introduced in 1954 as a replacement for the Telecaster, and was designed by Leo Fender, George Fullerton, and Freddie Tavares.
The Stratocaster's distinctive body shape – with its double cutaways and contoured edges – set it apart from other electric guitars at the time.
In the late 1930s, Leo Fender had begun experimenting with electric guitars and amplifiers, and by 1950 he had designed the Telecaster – one of the world's first solid-body electric guitars.
The Telecaster was a success, but Leo felt that it could be improved upon. So in 1952, he designed a new model with a contoured body, three pickups, and a tremolo arm.
The new guitar was called the Stratocaster, and it quickly became one of the most popular electric guitars in the world.
The Fender Strat model underwent all kinds of changes until it was "perfected".
In 1956, the uncomfortable U-shaped neck was switched to a softer shape. Also, the ash was switched to an alder body. A year later, the classic V-neck shape was born and the Fender Stratocaster was then identifiable by its neck and darker alder finish.
Later on, the brand switched to CBS, also called Fender's "CBS era" and cheaper wood and more plastic were used in the manufacturing process. The middle and bridge pickups were then reverse-wound to cancel out hum.
It wasn't until 1987 when the classic design was brought back and Leo Fender's daughter, Emily, took control of the company. The Fender Stratocaster was revamped and the alder body, maple neck, and rosewood fingerboard were brought back.
The Stratocaster quickly became popular among musicians when it was first released in the 1950s. Some of the most famous Stratocaster players include Jimi Hendrix, Eric Clapton, Stevie Ray Vaughan, and George Harrison.
For even more background on this beautiful instrument, check out this well put together docu:
Fender brand Stratocaster
The Stratocaster guitar was born at Fender. This guitar manufacturer has been around since 1946 and is responsible for some of the most iconic guitars in history.
In fact, they've been so successful that their Stratocaster model is one of the best-selling guitars of all time.
Fender's Stratocaster features a double-cutaway design, which gives players easy access to the higher frets.
It also has contoured edges for extra comfort and three single-coil pickups that produce a bright, cutting tone.
Sure, there are other brands with similar instruments to the Fender Stratocasters, so let's take a look at those too.
Other brands making Strat-style or S-type guitars
As I mentioned before, the Stratocaster's design has been copied by many other guitar companies over the years.
Some of these brands include Gibson, Ibanez, ESP, and PRS. While these guitars may not be true "Stratocasters," they definitely share a lot of similarities with the original.
Here are the most popular Stratocaster-style guitars:
Xotic California Classic XSC-2
Squier Affinity
Tokai Springy Sound ST80
Tokai Stratocaster Silver Star Metallic Blue
Macmull S-Classic
Friedman Vintage-S
PRS Silver Sky
Tom Anderson Drop Top Classic
Vigier Expert Classic Rock
Ron Kirn Custom Strats
Suhr Custom Classic S Swamp Ash and Maple Stratocaster
The reason why many brands make similar guitars is that the Strat's body shape is the best in terms of acoustics and ergonomics.
These competing brands often make the guitar's body out of different materials, such as basswood or mahogany, in order to save on costs.
The end result is a guitar that may not sound exactly like a Stratocaster but still has the same general feel and playability.
FAQs
What is the best Stratocaster model?
There is no definitive answer to this question as it depends on what you're looking for in a guitar.
If you want an original Stratocaster, then you should look for a vintage model from the 1950s or 1960s.
But players are very impressed by the American Professional Stratocaster as it's a modern take on the classic design.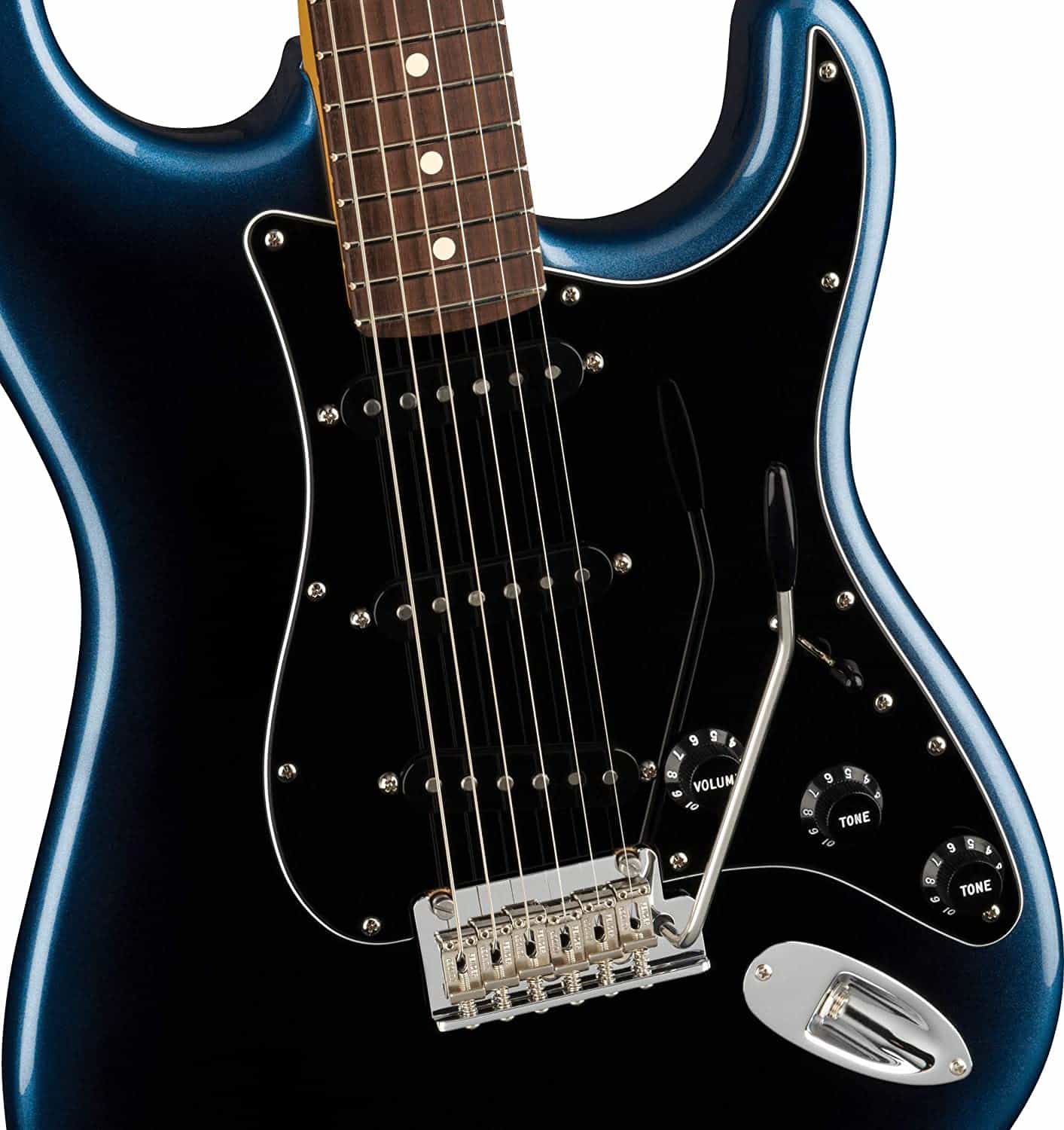 Another popular model is the American Ultra Stratocaster because it has a cool "Modern D" neck profile and upgraded pickups.
It's up to you to decide which model is best for you depending on your playing style and what type of music you play.
What is the difference between a Telecaster and a Stratocaster?
Both these Fender guitars have a similar ash or alder body and a similar body shape.
However, the Stratocaster has a few key design differences from the Telecaster which were considered innovative features back in the 50s. These include its contoured body, three pickups, and tremolo arm.
Also, both have what is known as "master volume control" and "tone control."
With these, you can control the guitar's overall sound. The Telecaster sound is a bit brighter and twangier than the Stratocaster.
The main difference is that a Telecaster has two single-coil pickups, while a Stratocaster has three. This gives the Strat a wider range of tones to work with.
Therefore, the difference between a Fender Strat and Telecaster is in the tone, sound, and body.
Also, the Stratocaster has a few key design differences from the Telecaster. These include its contoured body, three pickups, and tremolo arm.
And another important difference is that the Telecaster has one tone control. The strat, on the other hand, has separate dedicated tone knobs for the bridge pickup and the middle pickup.
Is a Stratocaster good for a beginner?
The Stratocaster might possibly be the perfect guitar for a beginner. The guitar is easy to learn on and very versatile.
You can play any genre of music with a Stratocaster. If you're looking for your first guitar, the Stratocaster should be at the top of your list.
What I like about the Strat is that you can buy your own bridge pickups to customize your playing experience and tone.
The Player Series
The Player Stratocaster® provides players with the best possible versatility and a timeless look.
The Player Series Stratocaster is the most flexible beginner instrument because it combines the classic design with a modern appearance.
The renowned gear expert John Dryer from the Fender team recommends the Player series because it is easy to play and has a comfortable feel.
Takeaway
The Fender Stratocaster is one of the most popular electric guitars in the world for a reason. It has a rich history, is versatile, and just plain fun to play.
If you're looking for an electric guitar, the Stratocaster should be at the top of your list.
What makes it special from other Fender guitars and other brands is that the Stratocaster has three pickups instead of two, a contoured body, and a tremolo arm.
These design innovations give the Stratocaster a wider range of tones to work with.
The guitar is easy to learn on and very versatile. You can play any genre of music with a Stratocaster.
I've reviewed Fender's Super Champ X2 here if you are interested
I'm Joost Nusselder, the founder of Neaera and a content marketer, dad, and love trying out new equipment with guitar at the heart of my passion, and together with my team, I've been creating in-depth blog articles since 2020 to help loyal readers with recording and guitar tips.
Check me out on Youtube where I try out all of this gear: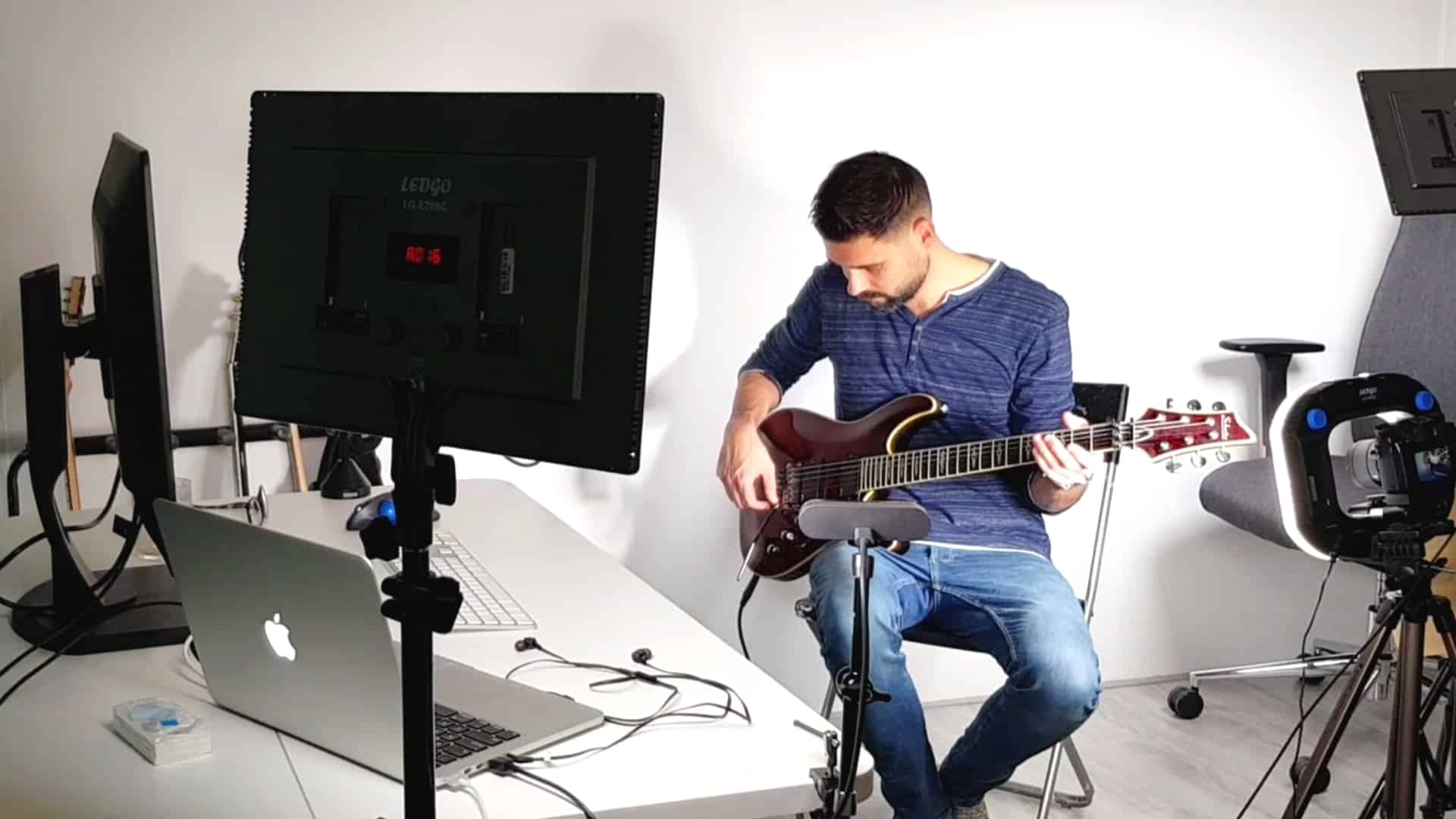 Subscribe