hi there I love creating free content full of tips for my readers, you. I don't accept paid sponsorships, my opinion is my own, but if you find my recommendations helpful and you end up buying something you like through one of my links, I could earn a commission at no extra cost to you.
Learn more
Squier by Fender is a sub-brand of the legendary guitar manufacturer, and their Affinity Series instruments are some of the best-selling beginner Stratocaster guitars on the market.
So what makes them so popular?
For starters, Squier by Fender offers amazing value for money. Their guitars are very affordable, yet they still offer a high level of quality.
The Affinity Series Strats are also very easy to play, thanks to their comfortable necks and low action. With a similar 3-pickup configuration to the original Fender Strats, this guitar delivers similar bluesy tones and that classic twangy Stratocaster sound.
In this review, I will break down all the features and discuss the pros and cons of the Squier by Fender Affinity Series Stratocaster.
By the end, you should have a good idea of whether this guitar is right for your playing style.
What is the Squier Affinity Series Stratocaster?
The Affinity Series Strat is Squier's mid-level electric guitar.
It's an improved version of their entry-level model (the Bullet Series), and it's designed to be a more affordable option for beginner guitarists.
It is my favorite budget Stratocaster for beginners by far.

The Affinity Series Stratocaster is available in a wide range of colors and finishes, including sunburst, black, and white.
It comes with a classic 3 single-coil pickup configuration to give players that classic bluesy and twangy Stratocaster sound.
Since Squier is a sub-brand of Fender, the Affinity Series Stratocaster is also made with the same attention to detail and quality craftsmanship that Fender is, although the quality of the parts and components is lower.
Regardless, these guitars are very playable and sound good, so those looking for a budget-friendly version of Fender Strats are generally very pleased with this guitar.
Buying guide
Stratocaster guitars are unique because of their features. This includes the 3 single coils that give the guitar its signature sound.
The body shape is also different from most other guitars, and this can make it a little harder to play if you're not used to it.
There are differences between different brands. Of course, Fender is the original Stratocaster guitar company, but there are many other great brands out there.
Squier by Fender is a very popular choice for budget-friendly Strats, and the sound is very similar to the Fender models.
When you're buying a Stratocaster guitar, there are a few things you need to keep in mind.
Pickup configurations
The original Fender Stratocaster had three single-coil pickups, and this is still the most popular configuration.
If you want a guitar that's closer to the original sound, then you should look for a model with three single-coil pickups.
The pickups are upgradeable, and there's a model with humbuckers, too, which is best for heavier musical styles like metal.
Tremolo
The Stratocaster has a tremolo bridge, which allows you to create vibrato effects by rapidly moving the bridge up and down.
Some Fender Strats have the Floyd Rose tremolo, but the cheaper Squiers usually have a 2-point tremolo bridge.
Tonewood & build
The pricier a guitar is, the better the materials will be.
The body of a Stratocaster guitar is usually made from either alder or basswood, but the cheaper Squiers have a poplar tonewood body.
This by no means makes them inferior; it just means they won't have the same sustain or tone as a more expensive guitar.
Fretboard
The fretboard is usually made from maple, and this is where you'll see a lot of similarities between Strats from different brands – many use maple.
There's also a model with an Indian Laurel fretboard, and it sounds just as good.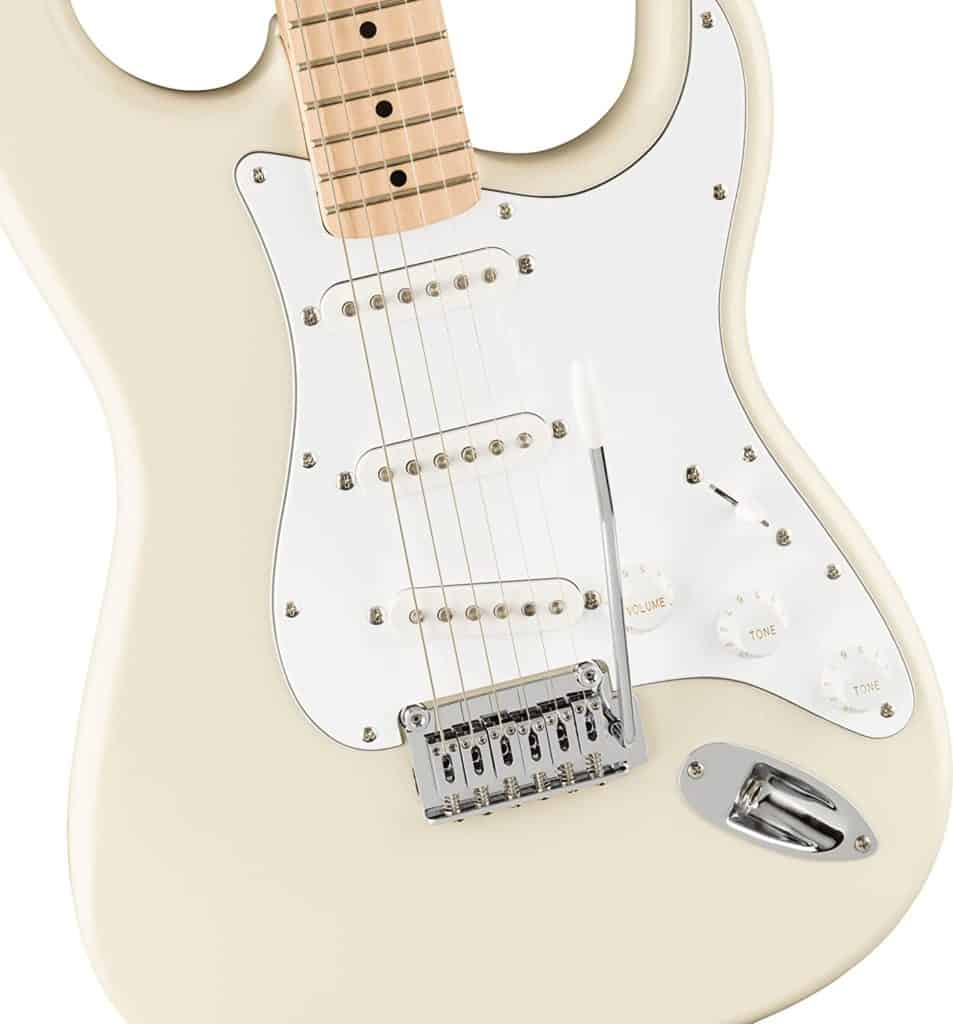 Specs
type: solidbody
body wood: poplar/alder
neck: maple
fretboard: maple or Indian laurel
pickups: single-coil pickups
neck profile: c-shape
vintage-style tremolo
Why the Squier by Fender Affinity Series is best for beginners and those on a budget
If you're on the search for the best budget Stratocaster that's also the best for beginners, you can't go wrong with the Squier Affinity Series.
This guitar is a top pick for those on a budget – it has a similar sound to a real Fender Strat, yet it costs less than $300.
Since the Affinity is made by Fender, it's more like Fender than the other Stratocaster copies being sold. Even the design of the headstock is very similar to Fender's.
When you're learning to play guitar, it's best to play a guitar that actually sounds good.
Beginners will love the Affinity Series Stratocaster because it's so easy to play. The action is low, and the neck is comfortable, making it easy to practice and learn on.
Unlike pricier Fenders, this guitar doesn't have any frills or extras; it's a simple, straightforward Strat that does exactly what it's supposed to do.
So, if you're learning to play, you won't be distracted by any unnecessary bells and whistles, and you can focus on what's important – playing the guitar.
It's an excellent gig guitar, too; it's built to last and can take a beating.
So, if you're looking for a cheap Strat that doesn't sacrifice quality, don't skip out on this one.
Overall, the Affinity Series is one of the most popular ranges in Squier's catalog, and it's easy to see why.
With their excellent value for money, easy playability, and wide range of finishes, they're the perfect choice for beginners or those on a tight budget.
Let's take a closer look at what the Affinity Series has to offer.
Sound
What's most important? You probably agree that a Strat needs to sound great.
The Affinity Series Strats sound great for the price. They have that classic Stratocaster sound, thanks to their three single-coil pickups.
The twangy, bright tone is perfect for a wide range of styles, from country to pop and rock.
Therefore this sonic variety has helped the Affinity become one of the most popular guitars from Squier.
If you're looking for a guitar that can do it all, the Affinity Series is a great choice.
Here's what players on the Strat-Talk.com forum have to say:
"The affinity was incredibly twangy had so much dynamics, was thick sounding while still having this nice airy feel to it. The sound jumped out at me as soon as I struck my first note thinking (man this sounds way nicer than any of the fenders I played."
Pickups & hardware
If you buy a budget-friendly guitar, it's important to look closely at the pickups because these will determine the sound.
The Affinity Series uses three single-coil pickups, which are the classic Stratocaster pickups.
They have that classic twang you're after and give you those much-wanted bluesy tones that Strats are famous for.
These are some of the most versatile pickups around, and they're perfect for a wide range of styles.
As a beginner, you can play with the original pickups. Then as you progress, you can always upgrade them down the line.
Build quality
The build quality is very good for the price. The Affinity Series models are made of poplar wood, and some are available in the classic alder, just like original Fenders.
Alder is a bit better than poplar, but these poplar guitars still have that rich tonal variety.
Overall, poplar is a cheaper tonewood, but it's still a good quality wood that sounds great.
The guitars also have a maple neck and fretboard, which is a step up from the cheaper models in Squier's range.
Squier by Fender also uses very good quality hardware on the Affinity Series.
The vintage-style tremolo is excellent, and the tuners are very solid, although not up to the same standards as a real Fender.
One thing to note about the hardware is that it does feel cheaper than Fender's. The main disadvantage of this guitar is the flimsy quality of some of the hardware.
The tuners are okay and solid, but the tremolo feels a bit cheap, and some players say they received a guitar with knobs that feel like they could fall off at any moment.
The good news is that you can always upgrade the hardware later on if you want to.
Action and playability
The Affinity Series models have very good action. The necks are comfortable and easy to play, and the low action makes it easy to perform fast runs and complex solos.
A Strat's action is always a personal preference, but the Affinity Series' low action is perfect for those who want to play fast or shred.
One thing to note is that the factory setup isn't always perfect. You might need to adjust the action or intonation when you first get the guitar.
Neck
The guitar has a maple neck that feels soft and smooth. It's not rough, and therefore, it makes the guitar comfortable to hold and play for extended periods.
The maple neck also gives the guitar a bright, snappy tone.
With a 9.5-inch radius, the guitar is very easy to play. The radius means that the strings are closer to the frets, making it easier to bend them.
The c-shape profile is very comfortable, and it's perfect for beginners. It's not too thin or thick, so it's easy to grip.
Fretboard
The Affinity is a 21-fret Strat, which is the most common size.
Some models have an Indian laurel fretboard (like this one), while some have maple (like this one).
The maple fretboard gives the guitar a bright, snappy tone. Indian Laurel is a bit warmer sounding.
The dot inlays are easy to see, and they're placed at the 3rd, 5th, 7th, 9th, 12th, 15th, 17th, 19th, and 21st frets.
The scale length is 25.5 inches, which is the standard Stratocaster scale length.
The fretboard is very easy to play, and the action is very low. You can easily bend the strings without any problems.
Finish
The Affinity Series is available in a wide range of finishes, from classic sunburst to more contemporary options like Candy.
But it has that shiny, glossy finish that looks great.
What others say
The reviews are overwhelmingly positive for this Affinity Stratocaster electric guitar.
TheGuitarJunky says the instrument is durable and offers excellent playability:
"The neck is sturdy and very stable, which accommodates quick play. The bolt-on neck is designed for easy repair and replacement."
This guitar is not made in the USA like some Fenders, but people are saying it's better made than some of those USA guitars!
Amazon buyers appreciate that this guitar is playable from the start as soon as you take it out of the box. It's easy to set up, and that's why many people choose it as their "starter guitar."
One player even remarked that this guitar is similar to the Hendrix Woodstock! Here's what the review is saying:
"Incredible build by Squire! Been waiting for this model for a long time. It is VERY close to Jimi's axe at Woodstock! Plays, and sounds incredible! Gloss neck would be the main diff, but I can live with the satin! Neck, and frets are stellar! Pick ups are loud, n proud! WOW!"
The main complaint is about the tremolo bar. The tremolo bar is in the way and too high and too loose, apparently.
It probably depends on your personal playing style.
Who is the Squier Affinity not meant for?
If you play heavier styles of music like metal, you might want to get a guitar with humbuckers.
You might choose the Squier Contemporary electric guitar, which has a Floyd Rose tremolo or a hardtail bridge for more stability.
The Affinity is better suited for styles like rock, blues, and pop.
Also, if you're looking for a guitar with vintage-style appointments, the Affinity isn't for you.
The Vintage Modified Squier Strat is a better choice for those who want a guitar with that classic Strat look.
The Affinity is a great choice for beginners and intermediate players, but pros might want something more dynamic like the Contemporary or Vintage Modified.
Affinity vs Bullet
The cheapest Squier Strat is the Bullet Series, but I don't recommend that model because it's flimsy, and you can feel how cheap the components are compared to the Affinity.
This Affinity model is only slightly pricier, but the parts are far superior and even the sound is noticeably better.
When it comes to build, the Affinity Series is consistent, whereas there are many quality issues with the Bullets.
The inconsistency of the Squier Bullet Strat makes it a poor choice compared to the well-made Affinity.
Then I have to mention the sound – the Affinities sound great even when compared to more expensive guitars.
The Bullets sound cheap and thin in comparison.
Squier Affinity vs Classic Vibe
It all comes down to components and different specs with these two Stratocasters.
In contrast to the Squier Affinity series guitars, which feature medium jumbo frets, ceramic pickups, a synthetic bone nut, and satin necks, the Squier Classic Vibe series guitars have narrow-tall frets, better quality alnico pickups, a bone nut, and glossy necks.
The main difference between the Affinity and Classic Vibe series is that the Classic Vibes are designed to replicate the look, feel, and sound of vintage guitars from the 1950s and 1960s.
The Affinity series, on the other hand, is a modern take on the Stratocaster.
Both series are great for beginners, but if you're looking for a guitar with more of a vintage vibe, the Classic Vibe is the way to go.
FAQs
Which is better Squier or Affinity?
Affinity is a Squier guitar – so Squier is the brand, and Affinity is a Stratocaster model under that brand.
Many guitarists consider the Affinity to be better than a Squier Bullet, which is Squier's cheapest model.
Is Squier Affinity Strat good for beginners?
Yes, the Affinity Strat is a great guitar for beginners. It's easy to set up and play, and it sounds great.
It is a cheaper guitar and good for learning because it won't break the bank if you accidentally damage it.
Is Squier Affinity Series made in China?
Yes and no. Some are made in China, and some are made at their factory in Indonesia.
The ones made in China are generally of great quality.
The ones made in Indonesia can be hit or miss.
You can usually tell by the serial number where it was made.
If it's made in China, the serial number will start with "CXS." If it's made in Indonesia, the serial number will start with "ICS."
In general, the ones made in China are of better quality.
Are Squier guitars made in Indonesia any good?
Yes, even if the guitar is made in Indonesia, it's still a good guitar.
But sometimes, the build can be hit or miss because of flimsy construction or poor quality control. Knobs and switches might also be loose.
The Indonesian-made Affinity Strats are of good quality overall, but there can be some inconsistencies from time to time.
The best way to know for sure is to check reviews before you buy.
Do Squier Affinity Strat guitars hold their value?
Squier guitars are made by Fender, so they hold their value fairly well. They're not as expensive as Fenders, but they're still good quality instruments.
The Affinity Series is a great value for the price, and they hold their value fairly well, although you can't expect to make a profit reselling it.
How can you tell the difference between Squier Affinity and standard?
It comes down to the headstock. The Affinity Stratocaster has 70's style vintage headstock, and the standard Stratocaster has a modern headstock.
You can tell by the appearance and the sound. The Affinity Series has a more vintage sound, while the standard Stratocaster has a more modern sound.
Takeaway
The Affinity Series is the perfect choice for beginners or those on a tight budget.
With their excellent build quality, great sound, and easy playability, they're a great choice for any Stratocaster fan.
If you like the 3 single coil pickup configuration and the classic Strat body style, you won't be disappointed.
You can rock out, play the blues, or play any style of music you like with an Affinity Strat.
My final verdict is that the Affinity Series is one of the best-value electric guitars. You can't go wrong with one of these guitars.
Rather have the real deal? This is the ultimate top 9 best Fender guitars
I'm Joost Nusselder, the founder of Neaera and a content marketer, dad, and love trying out new equipment with guitar at the heart of my passion, and together with my team, I've been creating in-depth blog articles since 2020 to help loyal readers with recording and guitar tips.
Check me out on Youtube where I try out all of this gear: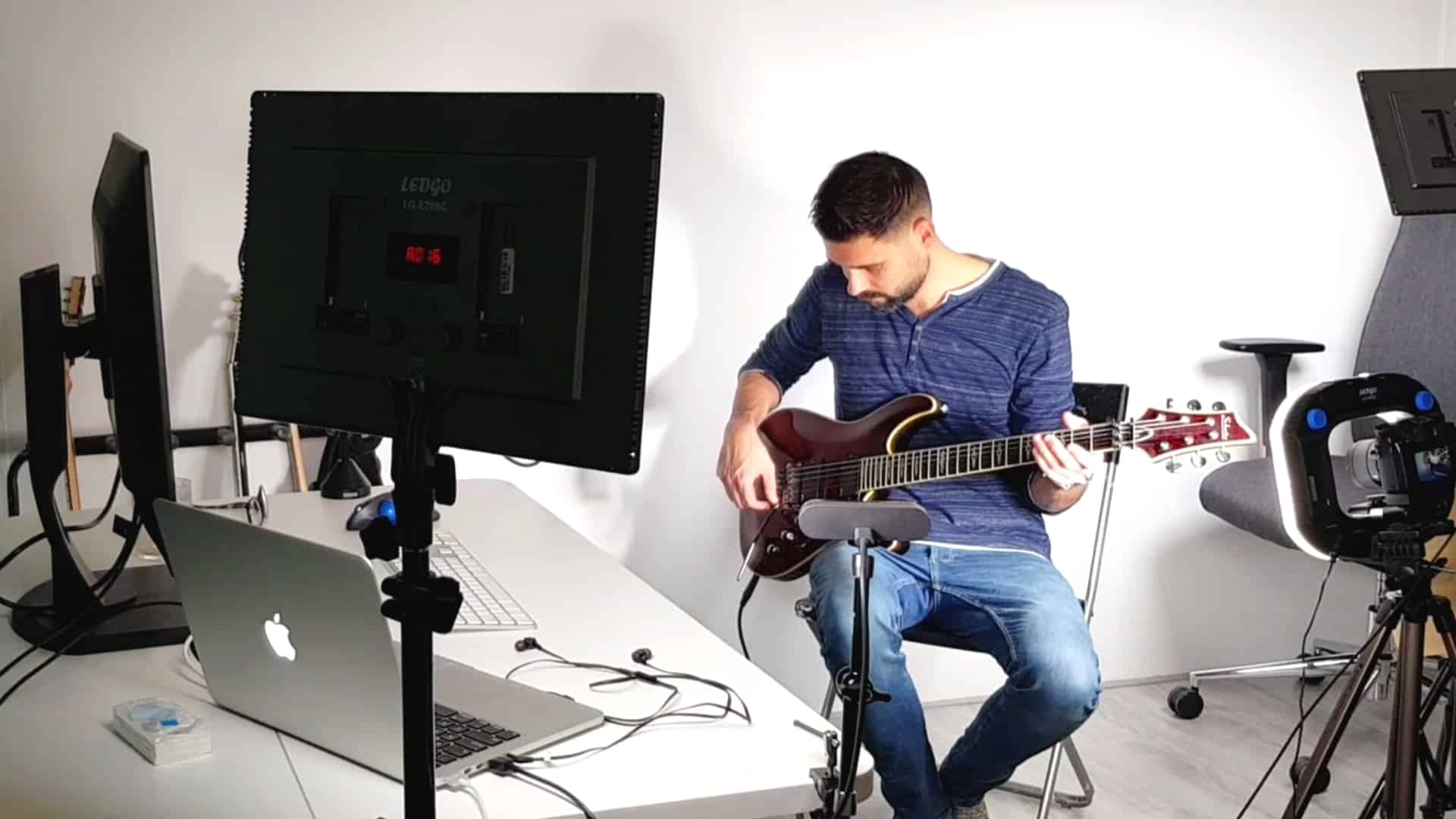 Subscribe