hi there I love creating free content full of tips for my readers, you. I don't accept paid sponsorships, my opinion is my own, but if you find my recommendations helpful and you end up buying something you like through one of my links, I could earn a commission at no extra cost to you.
Learn more
There are sooooo many different guitars, bodies, venues, and reasons why you would want a guitar stand.
And where one would want the best of the best for gigging with an expensive guitar. You might just want a simple but sturdy one for your bedroom.
So, I'm discussing single stands, hangers, multi-guitar stands, and even cases and stands for unique guitars like the Flying V. If this doesn't help you make the right choice, I don't know what will.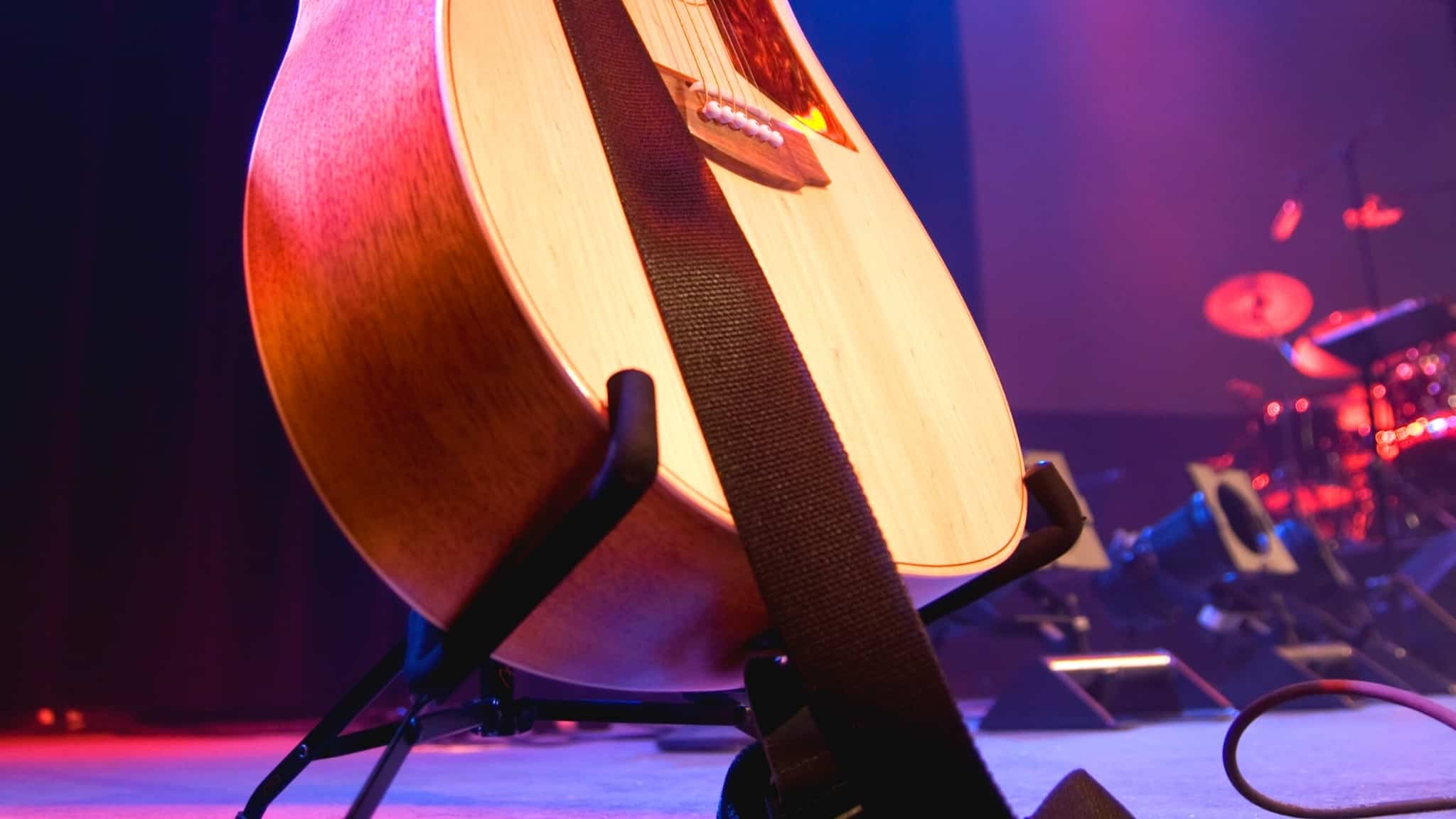 Whether you've got acoustics, electrics, or both, there are many great affordable stands to get you what you need.
My top pick is this CAHAYA Universal Wooden Guitar Stand because it's a great fit for all types of guitars and it is also a beautiful decorative piece.
So whether you're displaying your guitars at home or using the stands in the studio and on the stage, this affordable stand works for most guitar brands and models.
But, I know wood's not for everyone and there are some more options that are really well suited for what you might need.
I'll share full reviews below of all the best guitar stands on the market, including multi-guitar stands, the best wall-stand, and even nitro-friendly stands.
Different types of guitar stands to choose from
When it comes to storing your guitar, there are plenty of guitar stands and hangers.
As a guitar owner, you want to showcase your instruments but keep them safe as well. So, how do you proceed with storage?
I'm here to help you make some informed decisions because I'm sharing my reviews of the best guitar stands.
Guitar stands come in different shapes and sizes. It's good to know what options you have, to make the right choice for you and your guitar.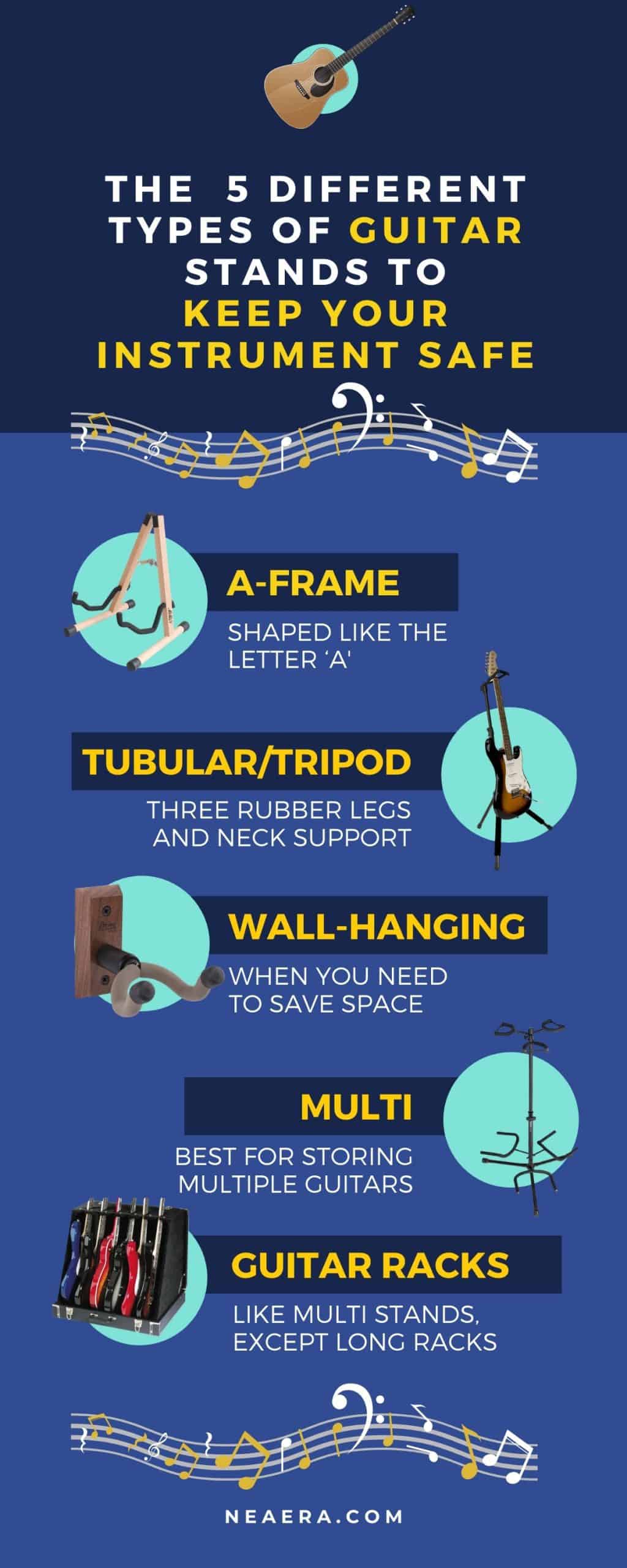 A-Frame stands
This type of stand is shaped like the letter 'A,' hence the name. It has an A-shaped body and two legs.
These stands are used to hold one guitar. It's considered one of the sturdiest and safest guitar stands on the market because it has rubber tubing, which prevents slipping and sliding.
Most models also have a neck support, which offers extra security, even if there's lots of movement.
Tubular/tripod stands
With a tripod-like shape, the tubular stand has three rubber legs and neck support. This type of stand is the most common and also relatively cheap. Therefore, it's an excellent option for beginners and fits these beginners guitars perfectly.
The one disadvantage is that these stands require some assembly and are harder to carry around.
Although the tubular stand is generally bulkier and takes up more space, it has great stability, and you can put heavy guitars on it, no problem.
Wall-hanging stands
When you need to save space, a wall-hanging stand is a great storage solution.
These types of stands are mounted on the wall with screws, and they have arms that hold the headstock and neck of the guitar. This type of stand is commonly used for display purposes when players want to showcase their instruments.
The one disadvantage is that you need to check how much weight these stands can sustain so your guitars don't fall down.
Multi-guitar stands
This is the best type of guitar stand for holding and storing multiple guitars. If you have lots of guitars, these stands allow you to store and display them safely.
A multi-guitar frame is usually very sturdy and made of steel so it can withstand the weight of the instruments. In terms of design, these look like tubular stands, and they have rubber components that prevent slipping.
But finally, this type of rack is a real space saver that allows you to keep all your guitars in one place.
Guitar racks
They're like multi-guitar stands, except they are long racks.
Most of these guitar racks have space for five to ten guitars, so they're perfect for guitar collectors or players with many types of guitars.
If you have a band and always move between the studio and stage, a rack is a good storage solution.
The best part is that the racks are portable and don't take up much space, so they help you save space, and since they contain padding, they keep the guitars safe.
Still figuring out how to play? Learn How To Play An Acoustic Guitar
What to look for in a guitar stand
So what makes a guitar stand a good guitar stand? There are a few things to keep an eye on.
Compatibility
The first thing to consider when buying a guitar stand is compatibility between the size of the guitar and the stand.
The stand's cradle determines at what angle your guitar rests on the stand. For example, the stands made for acoustics must have a broader length to accommodate the wider body.
Electrics and basses may be smaller, and if you place an electric guitar on an acoustic stand without adjusting it, it may become unstable.
Luckily, most stands are universal, which means you can adjust the height and cradle.
Shape
As I previously mentioned, there are different types of guitar stands, and they all have a unique shape. Both tripods and A-frame stands are great for your guitar.
However, the one you choose depends on your guitar and your personal needs.
There are advantages and disadvantages to both:
A-Frame advantages:
An a-frame sits low on the ground, and it doesn't have a neck cradle.
It's suitable for most acoustic, electric, and bass guitars.
Portable and easy to move around.
Foldable and compact.
It fits in a large bag so that you can take it on tour or to the studio.
A-Frame disadvantages:
Less stable than tripod stands, so there is a small chance your guitar can fall over.
It lacks a neck cradle, so if you accidentally bump the stand, it can tip over.
Tripod stand advantages:
Much more stable and sturdy, so there is almost no risk of it falling over.
It has a neck cradle that makes your guitar stay in place.
More stable for use during concerts and gigs. It has three legs and rubber pads, so it doesn't slide around.
You can often maneuver a tripod stand with one hand.
Tripod stand disadvantages:
Not as portable and harder to move around.
Can't fold it as much and make it small enough to put it in a bag.
Best guitar stands reviewed
Now it's time to get on to the full reviews of each stand.
Top pick & best plywood guitar stand: CAHAYA Universal Wooden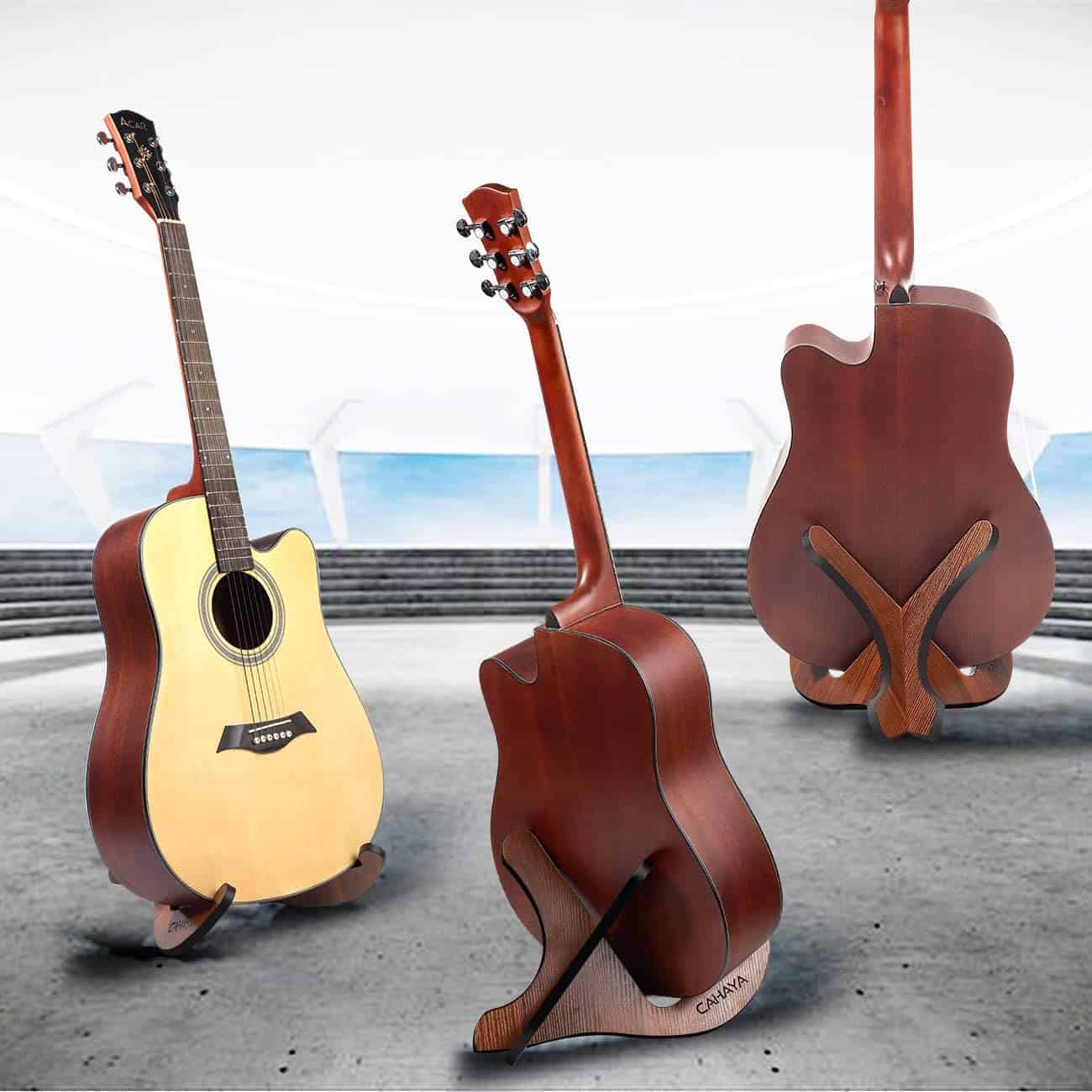 If you want a guitar stand with a unique, innovative design, then a lightweight plywood stand like the CAHAYA is a great choice.
It's very affordable, yet it has two Y shaped arms, which look as if they're cradling your guitar.
Not only is this stand a nice decorative piece for your home, it holds many guitar types, but it's especially great for storing Fenders.
You can really see that this stand has outstanding design features just by looking at it. It has leather edges that protect the instrument and make the stand look more expensive than it is.
Plywood is like other wooden stands, but it's lighter, so it's more portable and ideal for touring and gigging.
The stand is equipped with anti-slip padding to prevent your guitar from slipping, falling, and scratching.
Since it has an X-frame design, this stand takes no more than a few seconds to assemble and disassemble.
Best wooden guitar stand: MIMIDI Foldable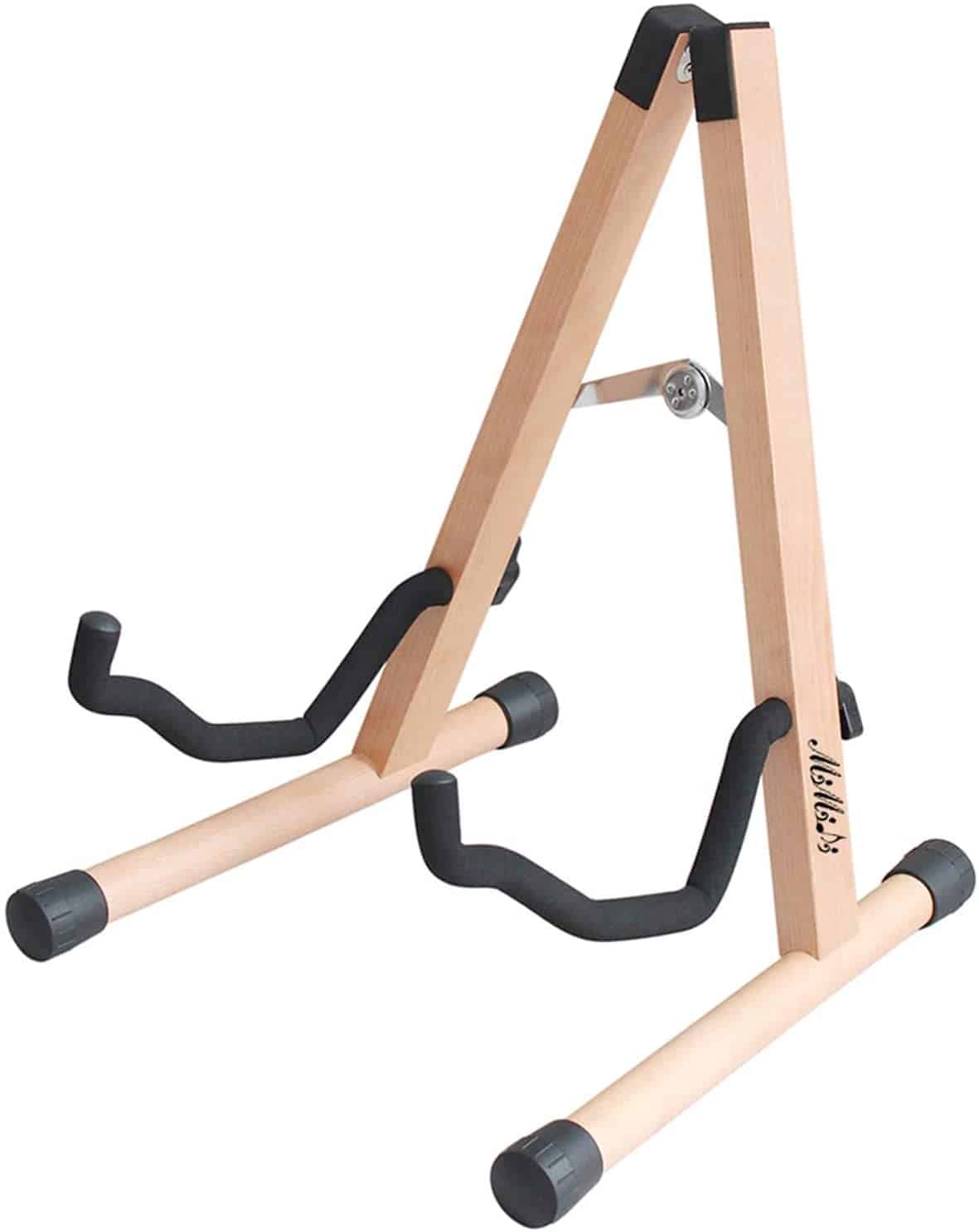 Wooden guitar stands are affordable and sturdy, so they're great for storing your acoustic, electric, or bass guitar.
This one is made out of 100% oak wood, which has smooth grains and edges, so it doesn't scratch your instrument.
You can adjust the width to hold all kinds of guitars and even hold small children's instruments and banjos.
Since it's foldable, this lightweight stand is portable and easy to fold and unfold. There's really no set-up required, so it's always ready to use.
All of the points where the stand and guitar touch are equipped with special padding to prevent damage.
And finally, what I really like about this stand is that it folds to half its size and since it's compact, it's great for taking with you on the go.
Best stand for acoustic guitars: HERCULES GS414B PLUS

This is one of the top-rated acoustic guitar stands out there because it offers extra protection for your instrument.
Thanks to the auto-grip technology, this stand grabs your guitar by the neck, securing it in place. So, you can feel confident your instrument is safe at home, in the studio, and on the stage.
You can maneuver the instrument and the stand with one hand, which makes it very easy to use when performing.
The stand comes with an extra accessory that allows you to fit acoustics with smaller necks into the clip. In terms of design, it has a tripod shape, and it's very durable.
Of course, it also has rubber pads that protect your guitar against scratches. It's even safe for nitrocellulose finishes.
But, what makes this stand so great is the instant push button that lets you adjust the height instantly.
Check prices and availability
Best guitar wall hanger: String Swing Wall Mount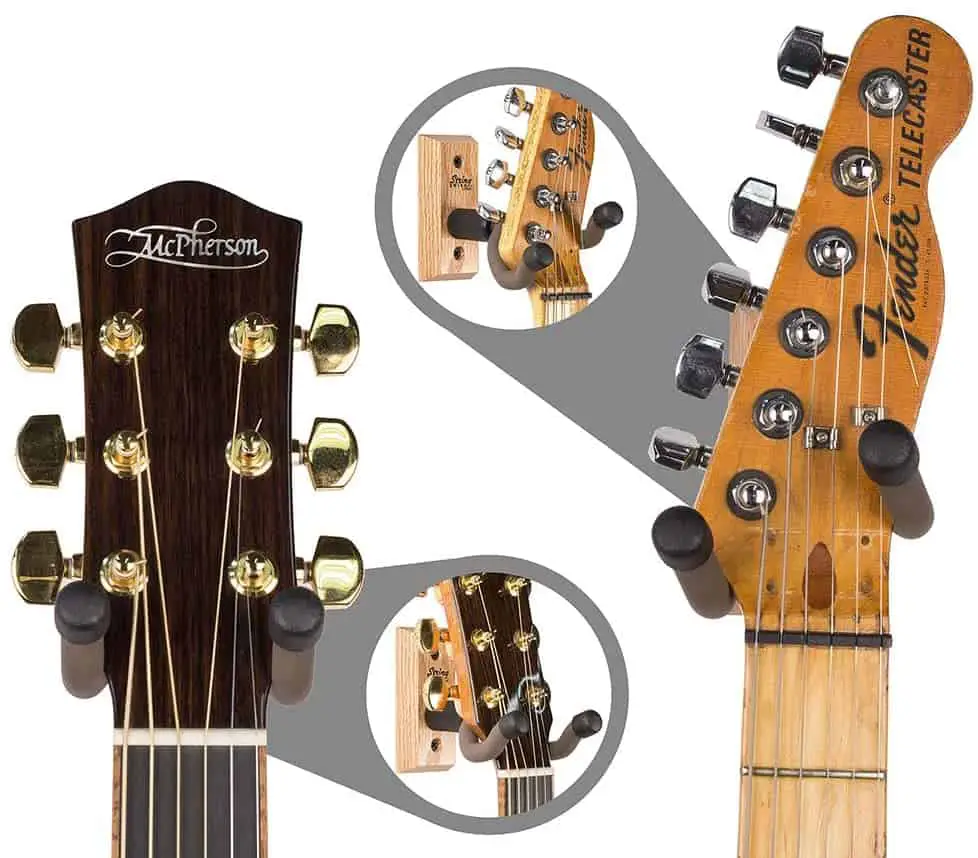 A wall-mounted stand is the best way to save space yet keep your guitar safe. It's the best choice for small spaces.
This one is made from durable hardwood and has rubber-padded arms. It's one of the best and most affordable wooden wall-mounts and comes with a lifetime structural warranty.
Therefore, you can hang up your guitar and keep it off the floor and out of the way.
I like this stand because the yoke (2 inches) pivots to accommodate almost all headstocks, which means your guitar is most likely going to fit and stay in place.
The deep cradle design assures that you don't place the guitar in an improper position. It's suitable for acoustics, electrics, and basses, but I would recommend it for expensive guitars.
Best stool with guitar stand: Gator Frameworks Seat with Fold Out Guitar Holder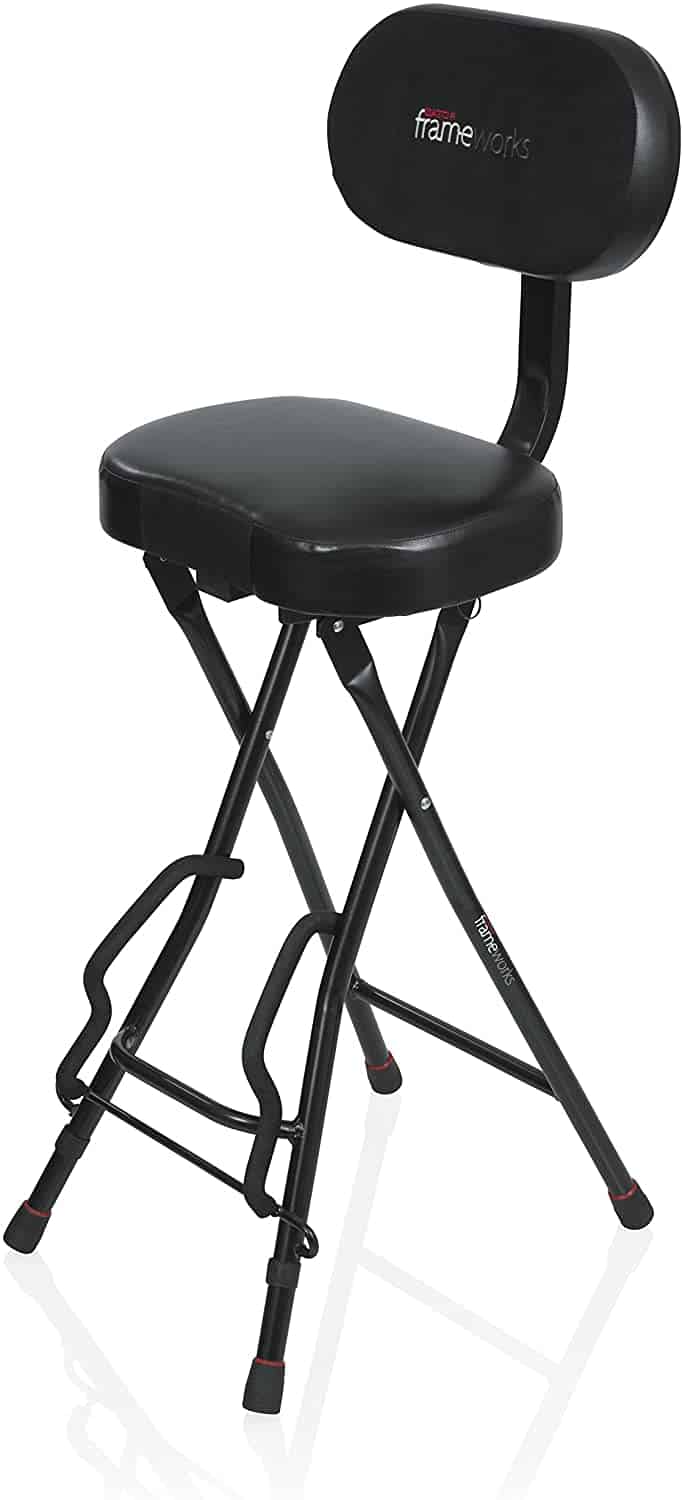 When you want a guitar stool and stand combo, there are plenty out there, but this one is less than $70, and it's very comfortable.
The built-in guitar stand can hold acoustic, electric, or bass guitars.
The chair is foldable and collapsible so that you can take it with you from home to the studio and the stage. But, it's also compact and easy to store even if you have limited space.
The stand is made of sturdy metal. As you play, the guitar stand on the front legs fold up and allow you to play comfortably and tap your toes.
A built-in safety pin keeps the chair sturdy, so you don't have to worry about falling over.
As with most other guitar stands, this chair also has rubber padding on the bottom to ensure the chair stays put and doesn't wobble or move around.
Check the availability here
Best guitar stand for flying V: Ultimate Support GS-100 Genesis Series

If you have a V-shaped guitar, I'm sure you've come across many stands that just aren't the best for storing your uniquely shaped instrument.
But the Genesis 100 is a sturdy guitar stand that accommodates this type of guitar shape.
It's one of the safest stands because It comes with a security yoke that keeps the guitar safe from falling. As well, there is a leg-locking system that prevents the stand from toppling or sliding.
Another advantage of this particular stand is that it doesn't scratch the instrument's finish, and the height is adjustable.
Since the stand is extremely stable, you can maneuver the instrument easily – all it takes to put it on the stand is to place the guitar neck into the cradle and clip the yoke strap.
If you want to take the stand with you, it folds to 21 inches, so it's very portable.
Find the latest prices here
Best guitar stand case: Stagg GDC-6 Universal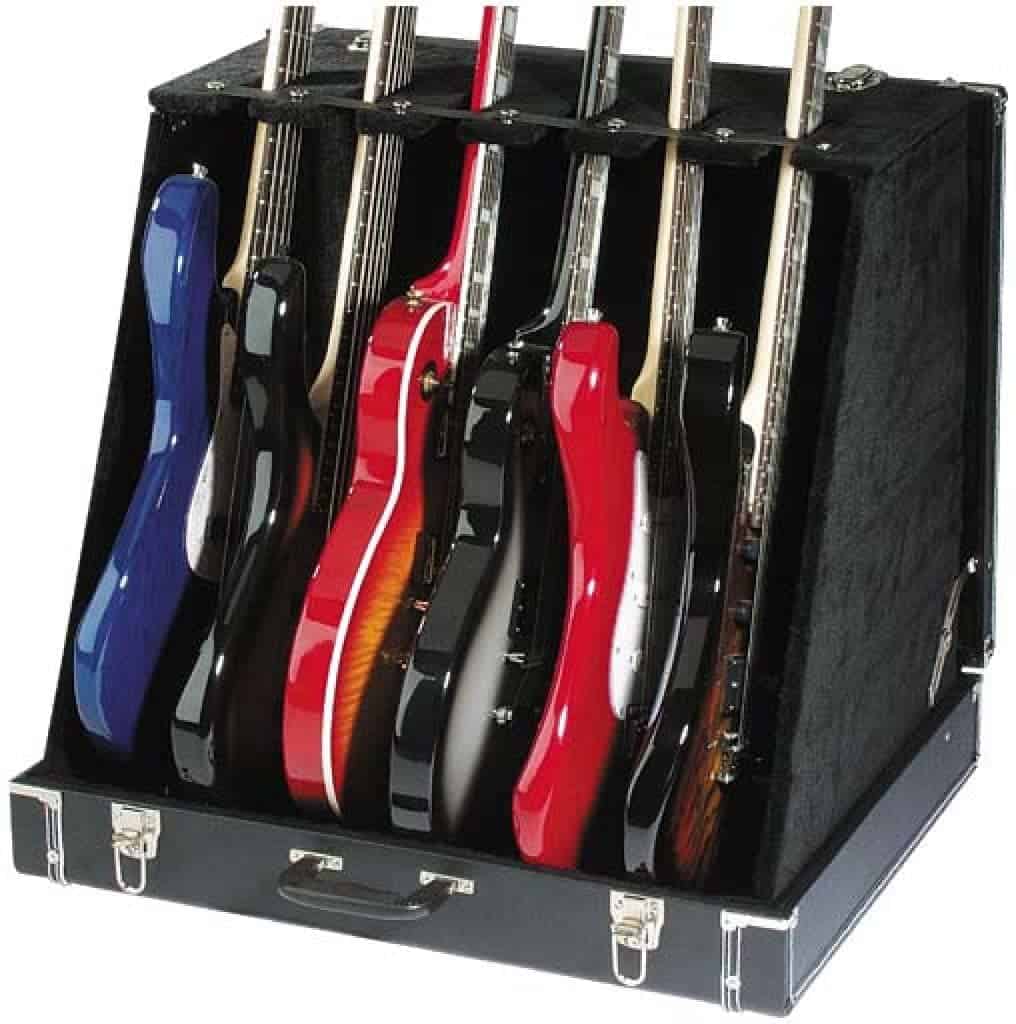 A top choice for professional musicians, a guitar stand case is a great way to store and display up to three acoustic or six electric guitars.
Since you can take more instruments with you, this case is excellent for travel. This type of stand is designed to be tough enough to take on tour with you.
It has a tough hardshell case and plush lining; thus, it's a great option for bands and touring musicians.
The one disadvantage of this case is that it lacks extra padding, so you still have to be careful not to throw your instruments around, but it's a good budget buy for the price.
The stand is generally a stable frame for your instruments because it has a wide bottom, so it doesn't tip over.
Check the latest prices here
Best cheap guitar stand: Amazon Basics Folding A-Frame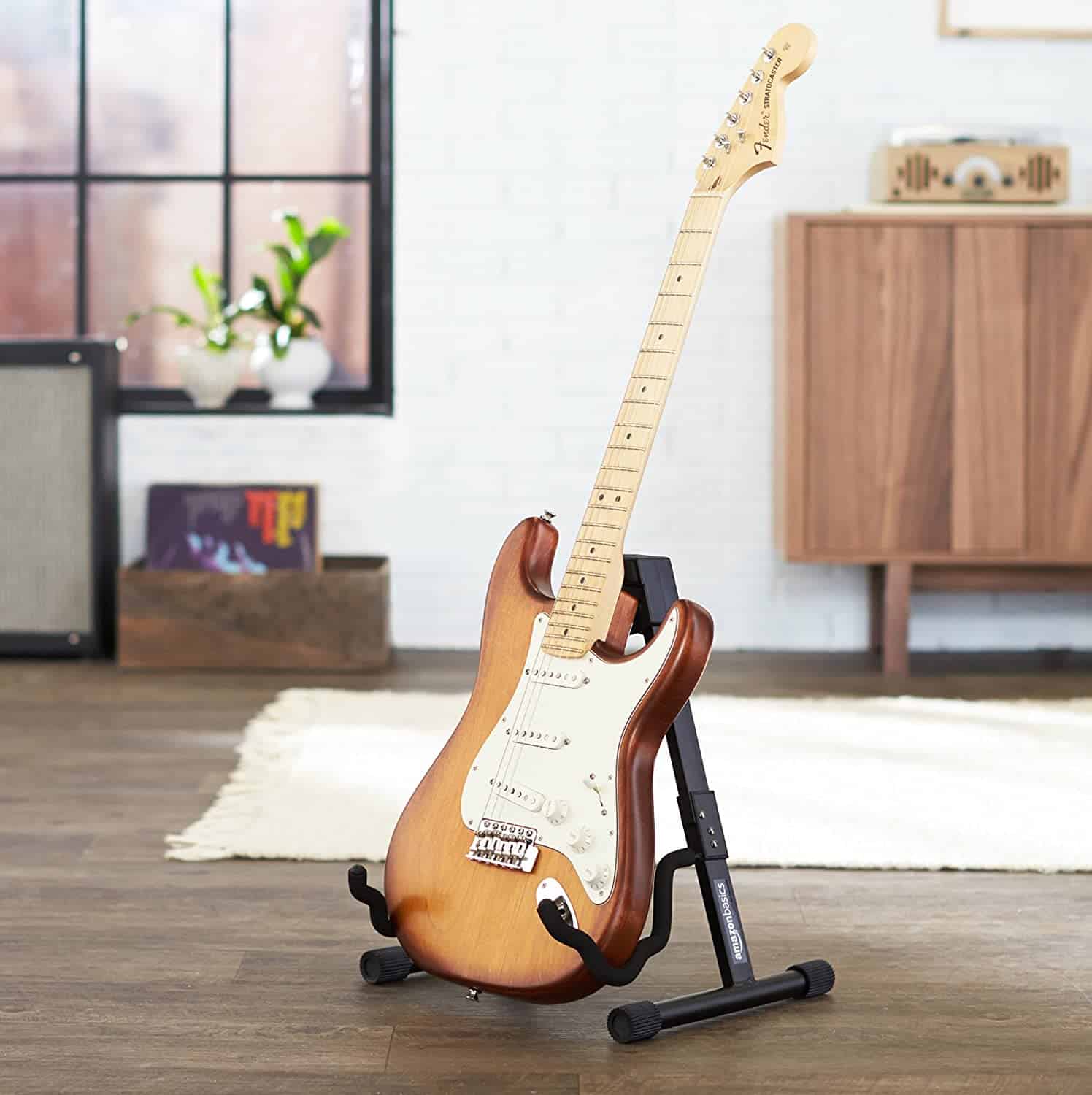 If you're looking for a no-assembly cheap foldable guitar stand to take with you on the go or use at home, this Amazon product is a great value buy.
I recommend it as an easy storage stand for guitars you use most often.
It's more of a utility stand than a display one, but it does the job, the guitar stays in place, and the stand folds flat when needed.
This is one of those universal guitar stands with three adjustable width settings to fit almost all acoustic and electric guitars.
It has padding on the arms, which prevents scratching and damage to your instrument. It offers plenty of support, and it's ideal for taking with you to gigs, practice, and studios.
Since it has non-slip rubber feet, it doesn't budge, even if you touch it accidentally.
Although it's lightweight, it still stands sturdy. Therefore, it's a durable and stable stand for your guitar, and at such a low price, it's a great value.
Find it here on Amazon
Best 2 guitar stand: Gator Frameworks Adjustable Double GFW-GTR-2000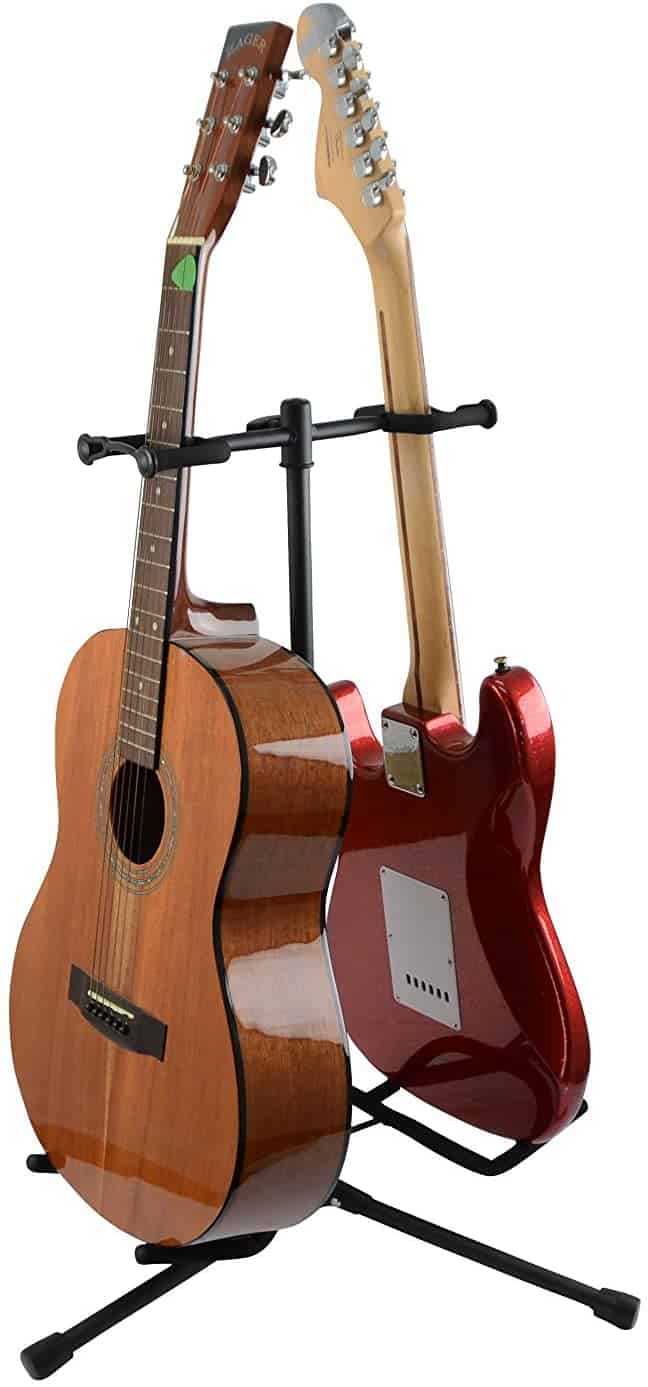 As a musician, you know that sometimes you use two guitars while performing, so you need a lightweight yet stable double stand.
The Frameworks double guitar stand is ideal for holding two electric, bass, or acoustic guitars because you can adjust the stand height for each instrument.
Thus, if you have to play in different tuning, you can easily switch between guitars without a hassle.
In terms of stability and durability, this stand is very stable because it has rubber feet to prevent slipping. It also has neck loop restrains, which offers extra protection against falling.
The one thing to watch out for, though, is that this stand doesn't fold down small and remains quite bulky.
It's made of heavy-duty steel, so it's a good long-term investment guitar stand. But, since it's best for stage performance and recording, you want a bigger and sturdier stand.
Best 3-way guitar stand: Gator Frameworks Adjustable Triple GFW-GTR-3000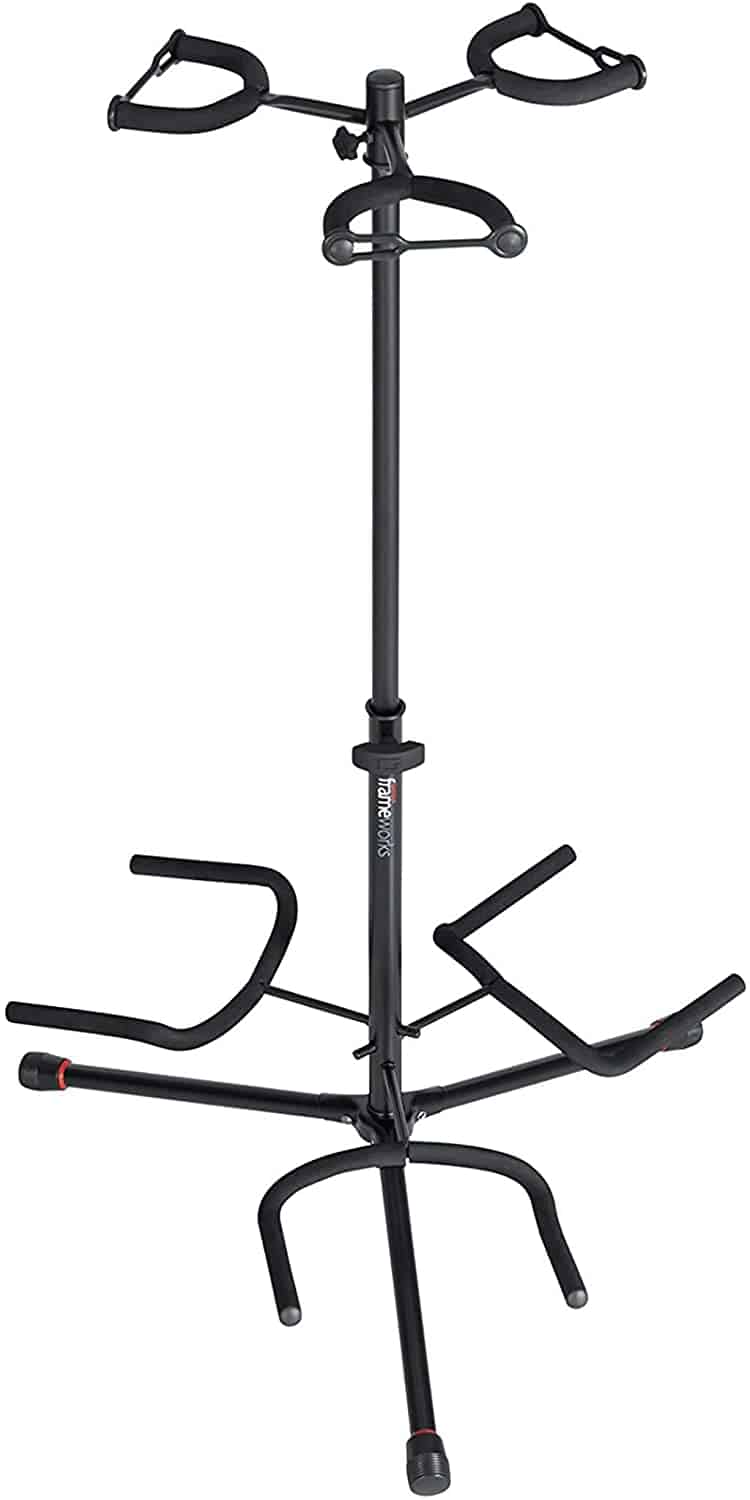 Instead of getting three different stands, you can simply buy a 3-way one that holds electrics and acoustics.
This stand is a definite space saver because you can put all three instruments on one compact stand. It's very affordable and has protective rubber padding that prevents any scratches or damage.
Since it's made of steel, it's a heavy-duty and durable stand that's not going to topple over. Plus, it's also foldable and travel-friendly.
The neck restraints are sturdy, and they keep the guitar in place without the risk of slips and falls.
Considering this is a three-guitar stand, it's small enough to fit in tight spaces such as small studios and tiny rooms.
It is also handy when you're recording and want to switch between guitars during the recording process.
I want to point out that the guitar in the back is harder to pick up than the other two, but it's not a big issue.
Best 4 guitar stand: K & M Four Guitar Guardian 3+1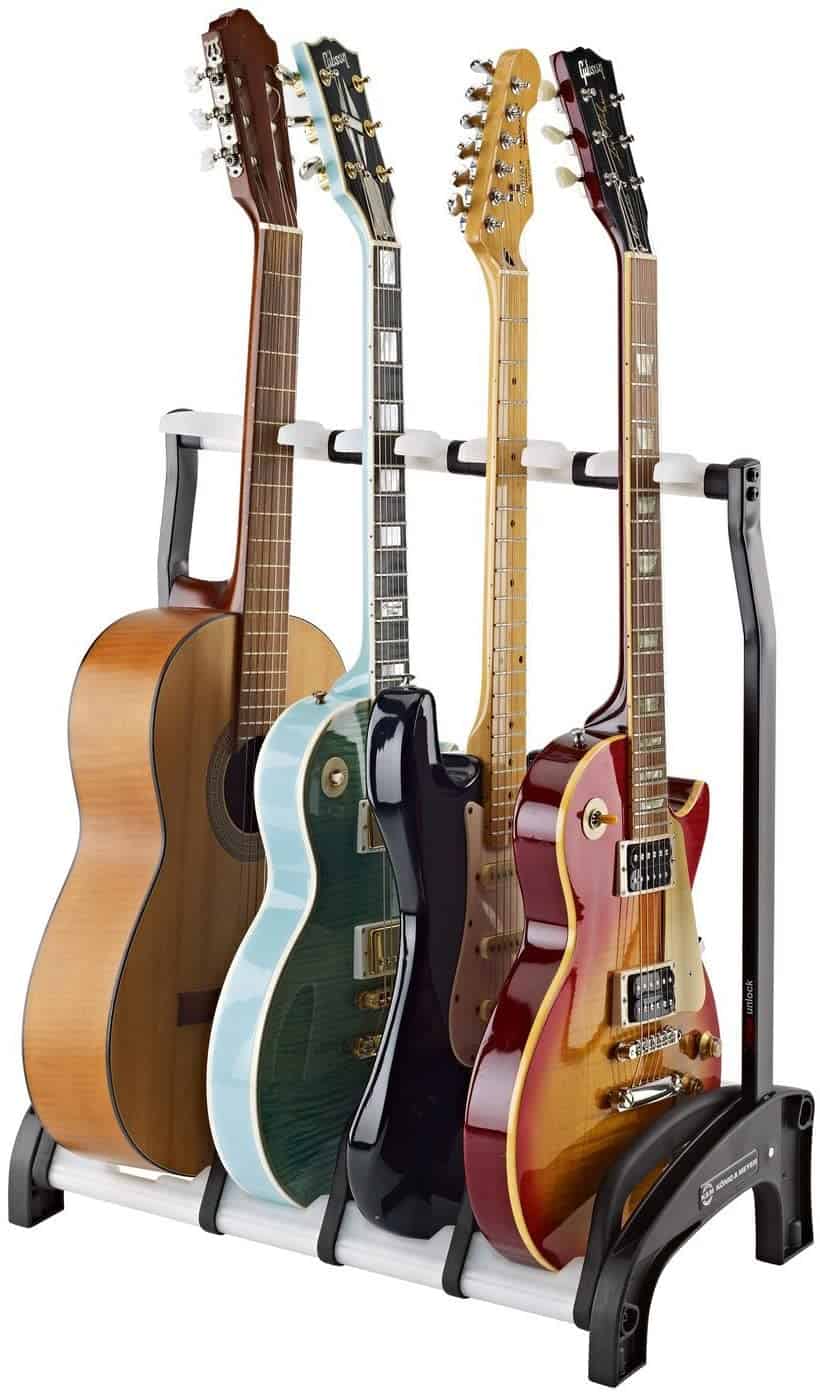 When you've got 4 guitars to store, you can't go wrong with the K&M stand made of heavy-duty non-marring plastic.
It doesn't get scratched easily and offers great stability for your guitars, which reduces the risk of falling and toppling over.
While this stand is designed for electric guitars, you can also store one acoustic too.
But what really makes this product stand out is the fact that the plastic components hold the neck without touching the strings. This means fewer scratches in the long run.
If you buy a special kit, you can add wheels to this stand for extra portability. You can even pull it along and easily transport it on stage and between venues.
The stand also has some extra protective bars that prevent damage from any bumps and knocks during transport.
Although it's pricier than some other multi-guitar stands, the sturdy and durable plastic really makes it a good buy.
Also read: Best Wood for Electric Guitars | Full Guide Matching Wood & Tone
Best budget guitar stand for 5 guitars: Fender 5 Multi-Stand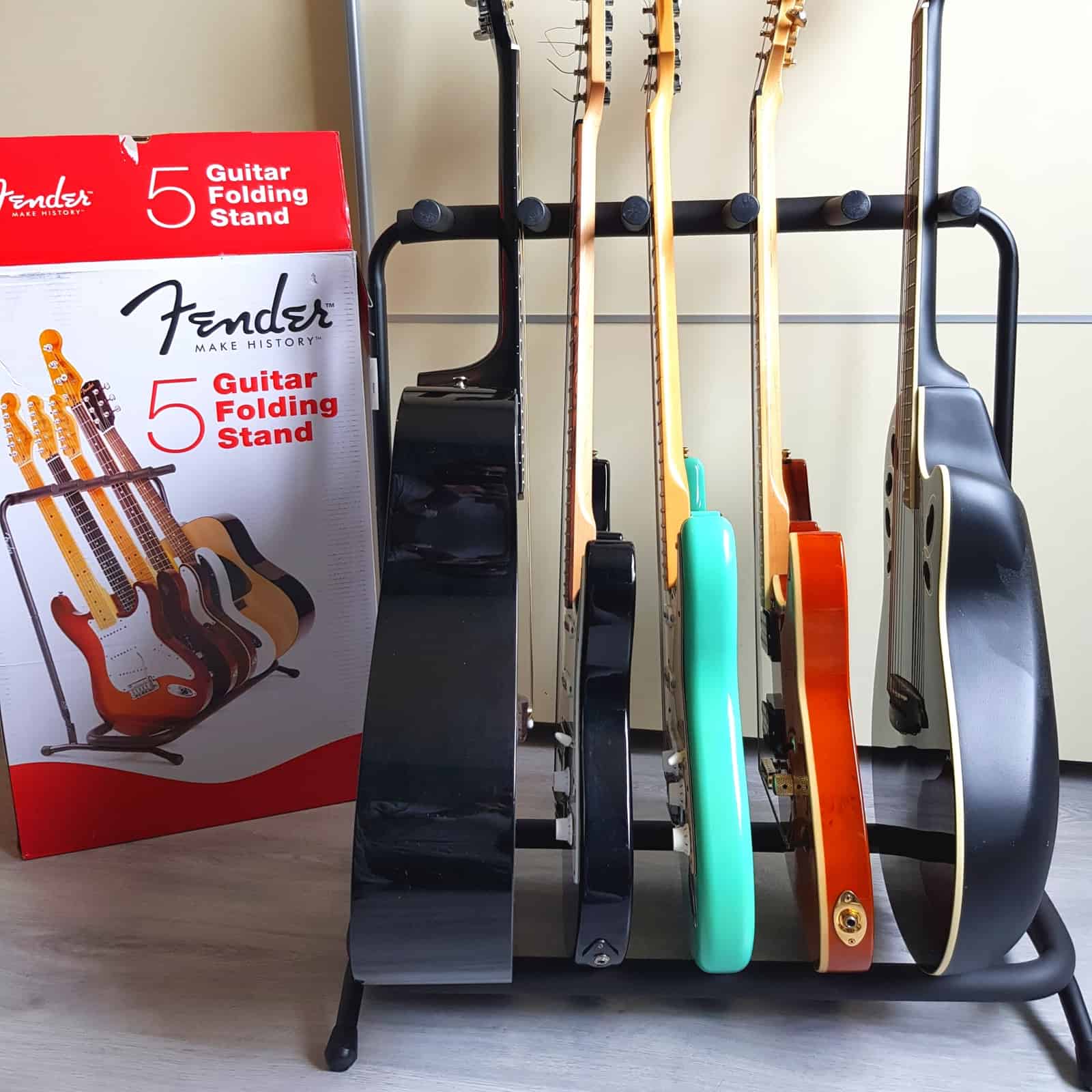 If you own a lot of guitars, then you know that you need adequate storage solutions. You need a guitar stand that doesn't damage or scratch the instruments but is also portable and foldable.
This Fender stand stores up to 5 electric, bass, and acoustic guitars horizontally. It's super lightweight and weighs only 7 pounds, which makes it easy to transport and move around.
Even though it has a low price, considering it's a Fender, this rack is made with sturdy materials such as steel tubes.
It won't topple over, which makes it a great choice for storing more expensive instruments. What I like about it is that the stand has soft foam padding, which prevents scratches.
Thus, you can take your guitars with you to the studio or on the stage without having to carry five different stands for each one.
Best guitar stand for nitrocellulose finish: Fender Deluxe Hanging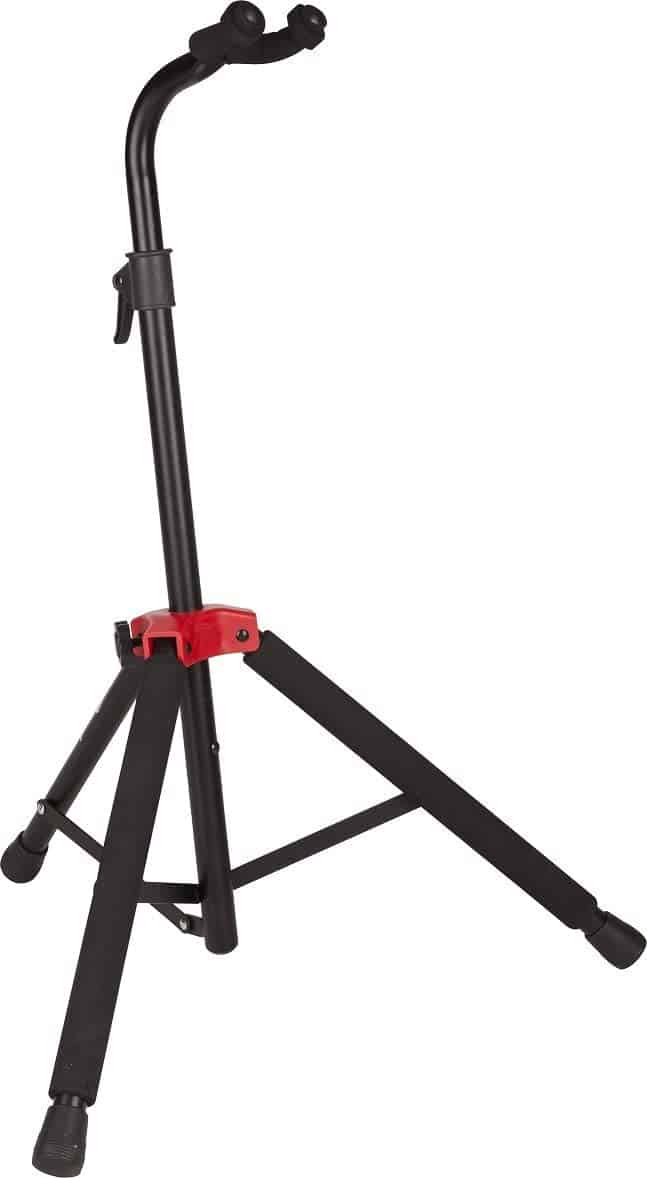 When it comes to caring for your Nitro finish guitar, you need a stand that offers maximum protection.
The Fender Deluxe is specifically designed for guitars with a sensitive finish like nitro. As you know, you don't want your guitar to touch plastic and this stand has padded yokes to prevent scratching.
But what I really like about this stand is the simple tripod design, which keeps the guitar at the perfect angle and keeps it secure.
Fender still makes a lot of nitrocellulose guitars, so it's no wonder their nitro-safe stands are some of the best quality ones on the market.
Even the foam padding is scratch-resistant, so both the stand and the guitar remain impeccable even after many years of use.
You can even take the stand with you on the road because it is foldable and compact, so there's no heavy-lifting required.
Check availability and price here
Guitar stands for guitars with a nitrocellulose finish
Most Gibson guitars (but others also) have a nitrocellulose finish. It is a highly sensitive finish that reacts to plastic and rubber found on most stands.
You have to be very careful about placing your guitar on a stand if it has this type of finish or you risk damaging it. When nitrocellulose reacts to certain surfaces, it destroys the finish.
Let's say you already have a guitar stand, and you got a new nitro guitar; what can you do?
Well, you can drape a clean cloth over the contact points or areas where the stand and guitar touch.
This is a cost-effective method, but it's risky since the cloth may move or fall. Therefore, when you buy a guitar stand, check to see if it's nitrocellulose compatible.
Related: Best Strings for Electric Guitar: Brands & String Gauge
Guitar stand FAQs
In case you still have questions about guitar stands, I am answering some of the most common questions right here.
Do guitar stands require assembly?
Most models do require some assembly but compared to other accessories, this is very easy. It should take no more than a few minutes to assemble the stand and get it ready to use.
The majority of stands only require unfolding or combining some tubes. However, if you buy wall-hanging stands, those require some work as you need to secure them to the wall with screws.
Can I use a guitar stand for a banjo or ukulele?
Sure, many of the stands on our list are versatile, so you can use them to store ukeleles and banjos too.
However, not all stands are good for banjos because of their size. Smaller instruments might not fit properly and fall or slip out of the guitar stand.
Are guitar stands bad or harmful for your guitar?
Most guitar stands are not bad for your guitar.
In fact, they're there to help keep your guitar safe from scratches and falls. They are the most secure way to store your instrument at home and on the road.
But, some stands are not compatible with certain guitars.
Depending on the material of your guitar, it may be susceptible to contact point damage. Nitro finish guitars are known to get damaged if you put them on regular guitar stands, so watch out for that.
They can only be put on wooden stands because steel and other materials cause damage and ruin the finish.
Bottom line
When you purchase a guitar stand, you always have to consider the instrument's style and its finish.
Keep in mind that acoustic guitars require more space, so even on a multi-guitar stand, you can always store more electrics than acoustics.
If your guitar has a nitro finish, then look for a compatible stand that won't scratch the instrument's unique finish.
Always consider practicality, price, and portability so that you can use the stand at home, in the studio, and on stage.
Either way, there are plenty of practical, portable, and aesthetically appealing stands out there, and it's up to you to choose the one that keeps your instrument safe.
Looking to take the stage with your acoustic guitar? Find the Best Microphones for Acoustic Guitar Live Performance reviewed here.
I'm Joost Nusselder, the founder of Neaera and a content marketer, dad, and love trying out new equipment with guitar at the heart of my passion, and together with my team, I've been creating in-depth blog articles since 2020 to help loyal readers with recording and guitar tips.
Check me out on Youtube where I try out all of this gear: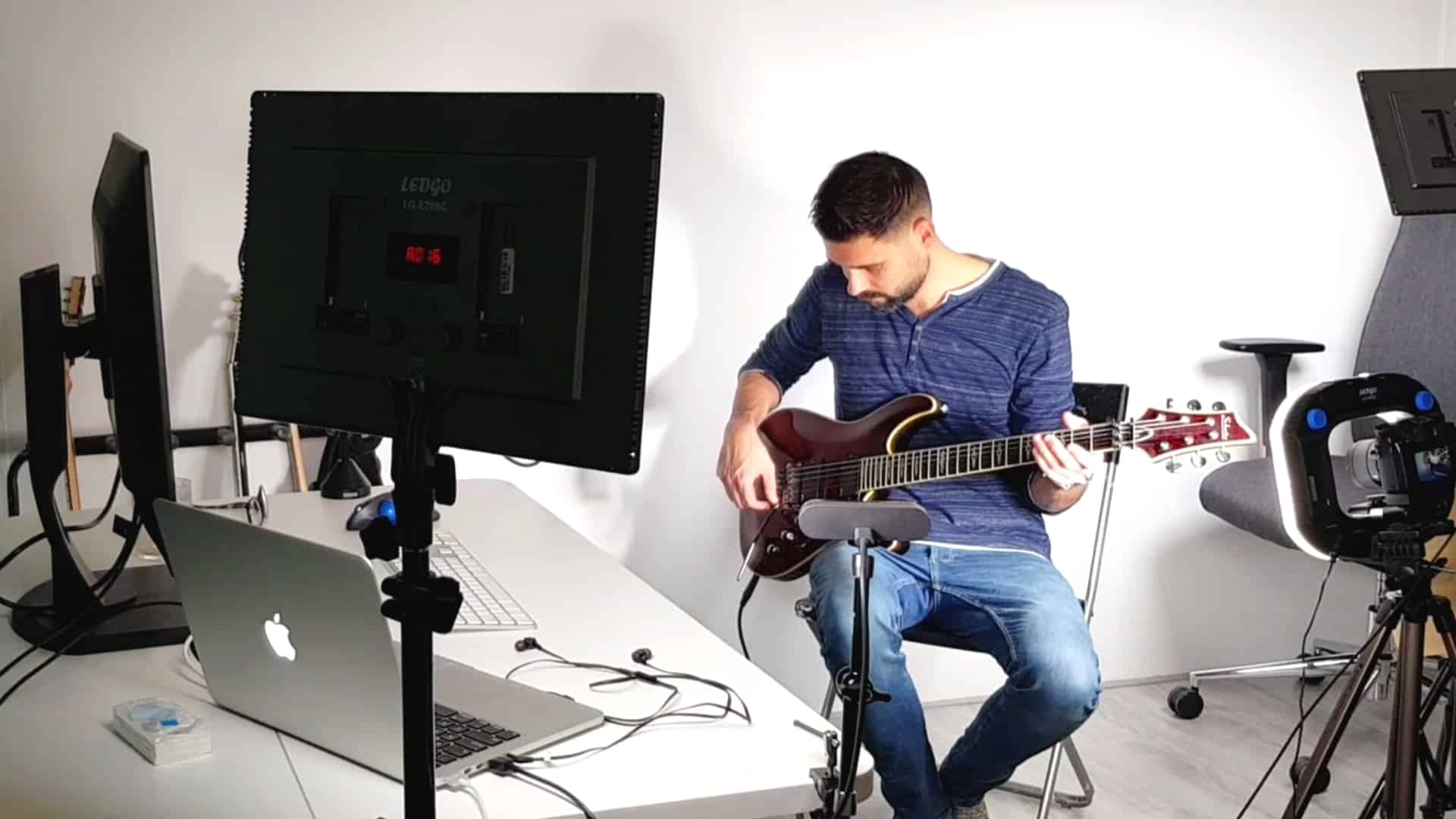 Subscribe