hi there I love creating free content full of tips for my readers, you. I don't accept paid sponsorships, my opinion is my own, but if you find my recommendations helpful and you end up buying something you like through one of my links, I could earn a commission at no extra cost to you.
Learn more
A good pedal can be a crucial part of any guitarist's tool kit. That applies to the beginning guitarist as well as the seasoned, more professional one.
Hundreds of pedals are available for purchase so how can you possibly know which you should purchase?
They all seem to offer interesting sound effects that help you alter the sound in new and unique ways.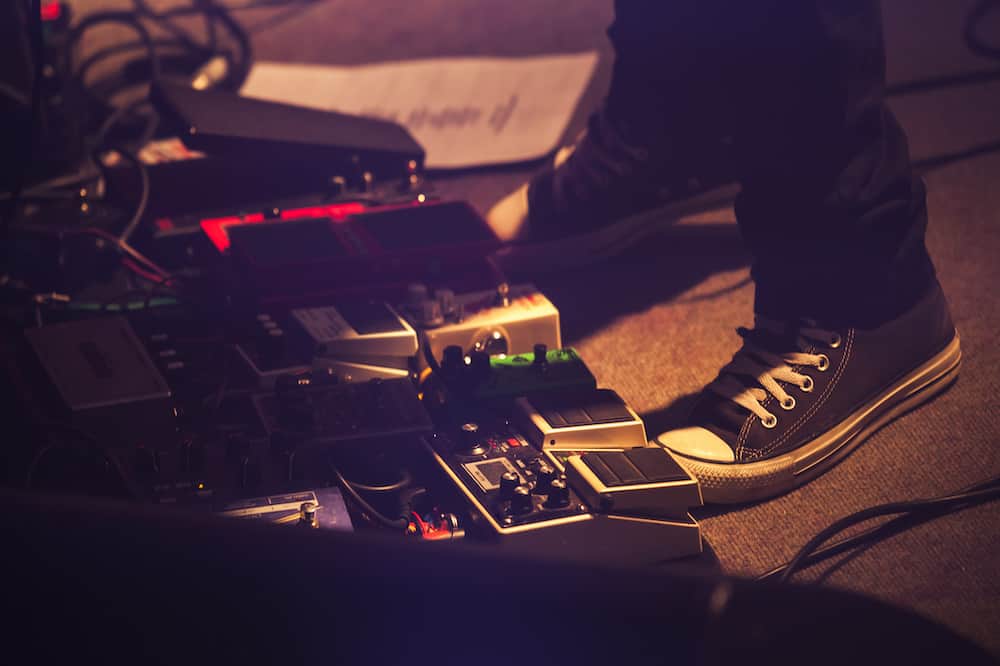 This guide to the best multi-effects pedals will help you navigate your way around amp modeling pedals and multi-FX.
If you have a good multi-effects pedal in your arsenal, you can access a stack of different effects in a single pedal.
This makes them very appealing to guitarists looking to save space and maybe consolidate a collection that has grown a little out of control, or it's just one of the easiest ways to get started in the world of effects.
Even those with the best collection of guitar effects may want to add something new to their collection, and if so, versatile multi-effects are definitely worth considering.
Even the best multi-effects pedals were once seen as a lesser option than individual stompboxes and to fit in you had to have a series of strung effects mounted on a wooden shelf (I did too, made myself!) specially designed board to go with it.
That has changed a lot.
Due to leaps and bounds in multi-effects technology, these units have become increasingly popular, meaning we now have a greater choice to play with.
So whether you're starting from scratch with your effects, or you're a seasoned pedal master, now's the time to see how the best multi-effects pedal can benefit your rig.
However I wanted to try it, it was difficult to single out a particular model as the best multi-effects pedal in the world.
In terms of pure sound quality, feature set, and reliability, it's hard to look beyond the Boss GT-1000.
You would also expect the flagship multi-effects pedal from the biggest name in effects (Boss) to really stand out, and the GT-1000 certainly does.
But for the money, my favorite is this Vox Stomplab II G, which really impresses.
The effects all sounded like they came from a much more expensive unit, and the ability to load your own effects gives it a sense of true personalization possibilities.
Enough to keep the hair on your neck standing up, and worth the investment alone.
Let's take a look at all the options, then I'll dig into each of these choices:
Best Multi Effects Pedals: Buying Advice
If there's one thing you have in choosing the best multi-effects pedal for you, it's a wide selection.
There are small size pedals that contain a handful of essential effects, and there are huge 'studio-in-a-box' units.
As with anything, your allocated budget in particular will determine which end of the spectrum you'll end up at, but there are some important things to keep in mind.
You have to consider the types of effects that you will actually use. Be realistic.
We've all seen examples of someone starting up a multi-effects unit, blowing through the presets like a kid in a candy store, before settling for a little handful of tried-and-true effects.
Would that person have been better served looking for a smaller, more capable unit to handle the securities they ended up using?
The alternative theory is that you may occasionally stumble across something you've never used before and it can stimulate your creativity for a new sound.
This happens to me regularly and it is a nice added benefit of having so many effects at your fingertips. For a beginner, the range of less than 200 euros is enough to get you excited.
How expensive is a multi-effect pedal?
If you want to put as many effects as possible in a single box, you'll find plenty of options to choose from at all ends of the price scale.
From budget options like the smaller zoom pedals to entry-level versions of the pro models of the big names in effects like Boss and Line 6.
As you increase the range you start to see additional features and functionality such as loopers, hardened chassis modeland and additional connectivity.
It is now not uncommon for multi-effects to be linked to apps on your smart device, where you can access in-depth editing of parameters and settings.
Nowadays it is also common for multi-effects to be used as an audio interface. These USB devices connect to laptops for music production, allowing you to record songs to a digital audio workstation (DAW) such as Ableton Live or Pro Tools.
However, our advice is always simple. Realistically determine what you want, need or use. Be clear about your budget. Don't get distracted by extra bells and whistles.
Best multi-effect pedals reviewed
Best multi-effect for under $100: Vox StompLab II G
Vox's ultra-affordable multi-fx for guitar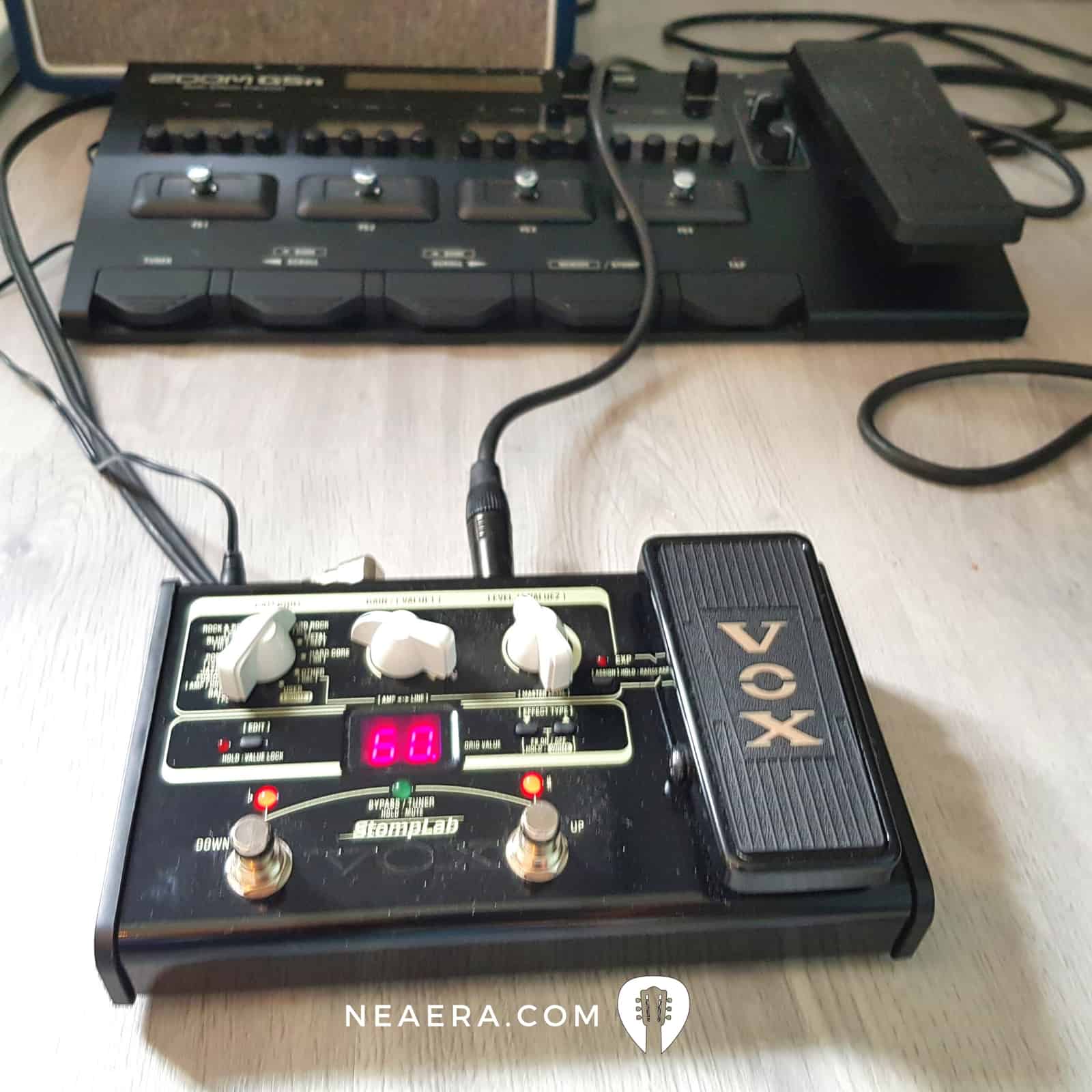 The IIG is certainly robust enough for stage use and small enough not to take up too much stage space. It's actually a really cute little device, and therefore perhaps not the first choice of many guitarists.
But you get a lot in a small package that makes it super easy to carry, and for a really low price.
The StompLab is two things in one:
an amplifier processor
and a multi-effects unit for practice with headphones at home, which can deliver its effects at home as well as on stage.
Nice price
Wide range of sounds covered
Space-saving mini pedal
Finding out what the different abbreviations and settings mean could have been more intuitive
Floor standing guitar multi-effects processors have traditionally been quite large units, designed to meet all your sonic needs between guitar and amplification.
Trends are changing, however, and no doubt aided by the ever-smaller amount of space you actually need for powerful digital processing, recent multi-effects pedals have been spotted with ever-smaller footprints.
They now also fulfill a wider range of roles, such as a pedal-friendly all-rounder that can usefully complement your existing pedals.
Here I play a few different styles of music on the Vox:
The new Vox StompLab range of multi-effects units is the newest of the breed with the smaller footprint and could sit comfortably between a host of conventional single foot pedals.
The IIG, like all pedals in the range, has a built-in tuner and comes with 120 built-in memory slots, 100 of which are presets, giving 20 possibilities to edit and archive your own sounds.
The pedal can be used between guitar and amp, but the single output can also drive stereo headphones for quiet practice so as not to bother the neighbors.
You can even practice wherever you want as the power comes from four AA batteries if you want, although in most cases I can imagine using a nine volt adapter, both for convenience and cost keep low.
The factory settings and user memories can be accessed via a rotary switch that selects banks.
Two footswitches scroll up and down through the presets in each bank and load them instantly.
That rotary switch takes some getting used to if you are already used to other multi-effects.
The factory preset banks are categorized by music style, so in the guitar pedal you get Ballad, Jazz / Fusion, Pop, Blues, Rock 'N' Roll, Rock, Hard Rock, Metal, Hard Core and "Other".
Structurally, each preset is made up of a series of seven modules: pedal, amplifier / drive, cabinet, noise suppression, modulation, delay and reverb.
While there is one universal noise canceling effect, each of the other modules has a variety of effects that can be loaded into it.
The pedal module offers compression, various wah effects, octaver, acoustic simulation, U-Vibe, and tone and ring modulation options.
The amp part of the Vox gives you access to a lot of the popular amps and drive types, like fuzz, distortion, and overdrive pedals.
There are 44 different amp emulations and 18 drives, plus a selection of 12 cabinets.
Modulation, delay and reverb options are the same across the StompLab range, with nine modulation types, including two chorus options, flanger, phaser, tremolo, rotary speaker, pitch shift plus automatic and manual Filtrons.
In addition, there are eight delay options, plus room, spring and hall reverbs, while four output options also let you match what the StompLab is connected to: headphones or another line input, plus different amp types – nominally an AC30, Fender combo or a full Marshall stack.
Switching between the different presets is very easy with the footswitches or the buttons on the front panel, all of which cycle through as well.
Instant tweaking is possible thanks to two rotary knobs: one to adjust the amount of gain and the other to turn it off
feed volume.
Vox Stomplab 2G vs Zoom G5N
You might think a multi-effects processor comparison of the Vox and Zoom is a bit unfair because they couldn't look more different. The size difference is INSANE, it's like comparing a mouse to an elephant.
But it's actually not that weird to do because these two are your top choices if you're a beginner.
The Vox Stomplab is obviously the cheapest and if you don't mind that this pedal doesn't give you a lot of options to work with, the dial with genre selection is very easy to use to get to playing your guitar really quick. Plus, you get a pedal you can take with you in your guitar bag without the need for any additional bags or cases
The Zoom G5N is a more advanced floor unit with a lot of options to dial in your tone through patches and knobs and I think it's the best choice for beginners. Still plenty easy to use and it's not that expensive. I think you might outgrow the Stomplab's tone selection system after a while and would want some better options to manipulate the patches when you progress in your playing.
But the Stomplab's price really can't be beaten.
Easy to use
Vox says the StompLab series is designed to be easy to use even by novice players, which is why each program is named as a musical style, making it easier to find a sound without worrying about specific effect names.
This is especially useful for beginners and people who want to quickly switch between different styles because they want to practice a bit.
While the presets can be found in these banks could be representative of the chosen genre, in many cases they are usable in other genres as well, so it's just a matter of trying them out, see what you like and maybe what Favorites (maybe with a few adjustments) in the user slots.
On stage I find it a bit more difficult, then you don't want to have to constantly have to turn knobs, so you will really have to work with your presets.
While there are some things I wasn't able to use because they are just too overdone, the presets are actually very fun to play around with and very easy to choose your playing style from.
For the price, however, you should not expect the quality and playability of, for example, Line 6, but that is not bad for guitarists with a budget.
I really like the versatility offered by the IIG's pedal.
Although small, the pedal is also surprisingly easy to get used to, whether used as a wah or to increase the speed of a modulation effect.
It's all pretty straightforward, the only minor downside is that the screen only supports two characters, so you'll have to rely on abbreviations (all listed in the owner's manual) to see which amp or effect you're conjuring up.
I found that really annoying in the beginning because I normally don't really grab a booklet.
It would have been nice to have a little more tweakability (for example, you only get delay time and mix for the delay effects, with different feedback levels stored with each of the eight delay types), but it's all perfectly workable and it would be childish are to complain about it at these prices.
It is really more of a pedal for beginners or people who want a good tone without having to spend hours trying to find out precise settings themselves.
I don't want to say just for beginners, because you can also use it on stage with really good sounds.
The device can be bypassed or muted using both footswitches at the same time.
Just touching them will bypass all effects, while holding them for a second will mute the output from the StompLab.
Both methods also activate the handy built-in auto-chromatic tuner.
This is one of the drawbacks of such a small compact unit. If you don't press them exactly right at the same time, you can accidentally select a different effect and live this can be quite disappointing.
Other pedals often have a separate button to mute if you keep it pressed for a while so that things can go wrong.
The other downside is in live situations where selecting the right effects during a song can become really tricky as clicking the pedal instantly selects the next effect.
That requires some planning in advance so that you are sure that a click goes up to the correct effect. So the footswitches select the next effect in the list (or the previous one).
So yes, the StompLab series is great for just plugging in and having access to a huge range of sounds for practice through your headphones and on stage in itself, and it's very portable.
Just take it with you in your gig bag and put it in the car or take it with you on the bike, no extra carrying bags needed for this unit.
Finally, the most remarkable thing about this pedal is its value for money. You get a lot for your money here, especially if you mainly use it at home.
Check the latest prices here
Also read: these are the 3 best multi-effects units under $100
Best Multi Effect for Professional Guitarists: Line 6 Helix
The best multi effects pedal for professional guitarists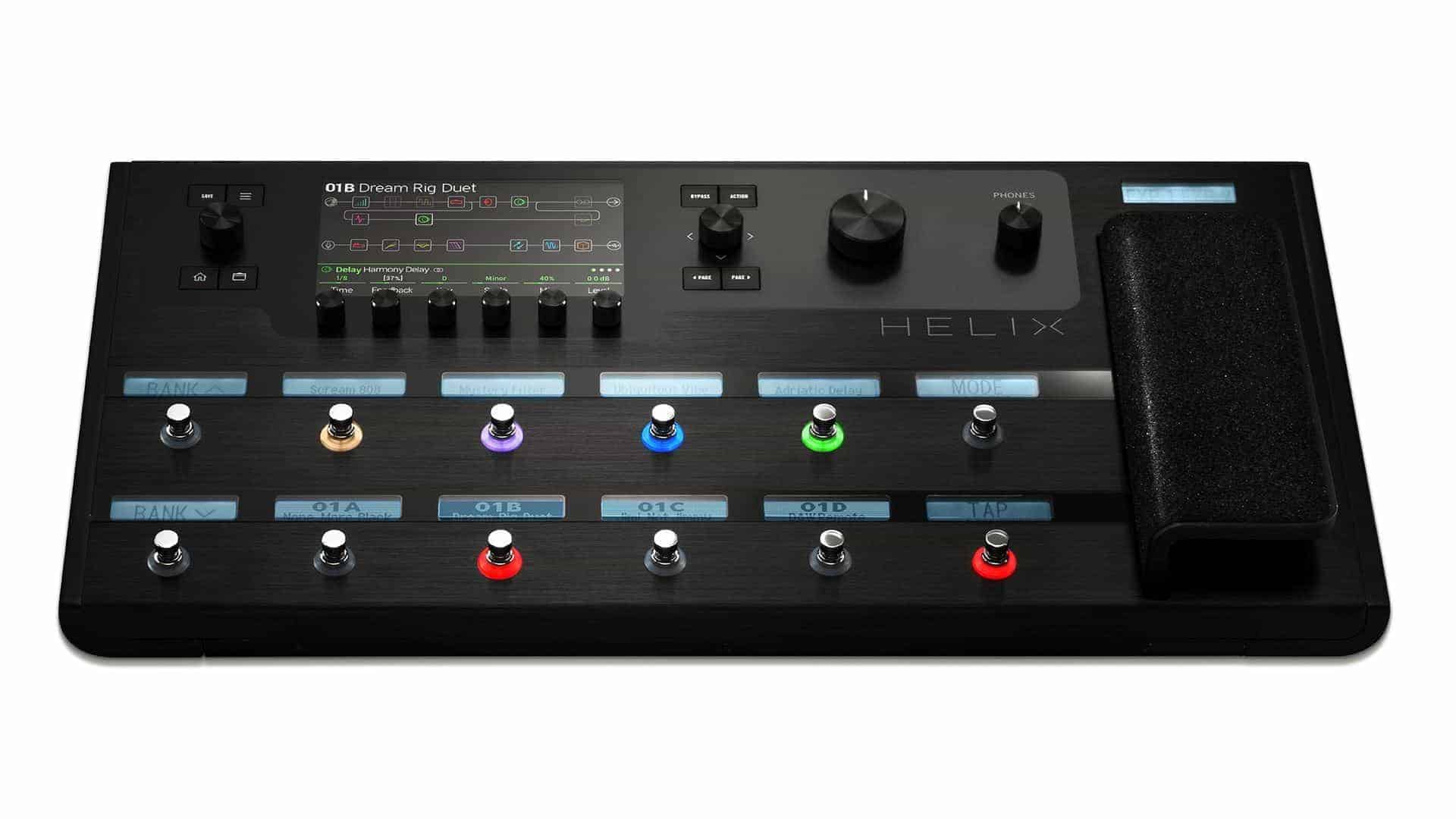 Amplifier modeling and multi-effect pedal
70 effects
41 Guitar and 7 Bass amp models
Guitar input, Aux in, XLR microphone in, main outputs plus XLR outputs, headphone output, and more
Mains power (IEC cable)
The dual-DSP-powered Helix combines amp and effects models in a large, robust floor pedal. There are a whopping 1,024 preset locations onboard the Helix, organized in eight setlists with 32 banks with four presets each.
Each preset can have up to four stereo signal paths, each consisting of eight blocks filled with amps and effects.
With the current number of 41 modeled amps, seven bass amps, 30 booths, 16 microphones, 80 effects and the ability to load speaker impulse responses, there is great potential for sound creation.
Line 6 has implemented a simple editing system, complete with a joystick, and touch sensitive footswitches with a shortcut to parameter adjustment.
You can even use these with your feet to select a parameter before adjusting it with the pedal!
There are great sounds here, especially if you go beyond the factory settings and shape things to your liking.
Unsurprisingly, he gets 5 stars on Bax and one of the clients said:
Finally a good sound with bass guitar and the possibilities for guitar seem endless. It is a huge inspiration. My separate guitar pedals can now be put in the cabinet.
Extensive connectivity
Top sound from amp models / effects
Innovative visual display features
Connectivity overkill for some (non-professionals)
The advantage of the Helix lies in its extensive input / output and signal routing, which can facilitate just about any guitar-related studio or stage job you can think of.
Here Pete Thorn shows you what you can get out of it:
However, if you don't need all that connectivity and want to save a little money, there's also the Line 6 Helix LT that's further down this list.
It may cost more than your guitar, but it knows how to get the most out of it.
Check the latest prices here
Most Versatile Multi Effect: Boss GT-1000 Guitar Effects Processor
The pedal giant goes high-end with this guitar multi-effects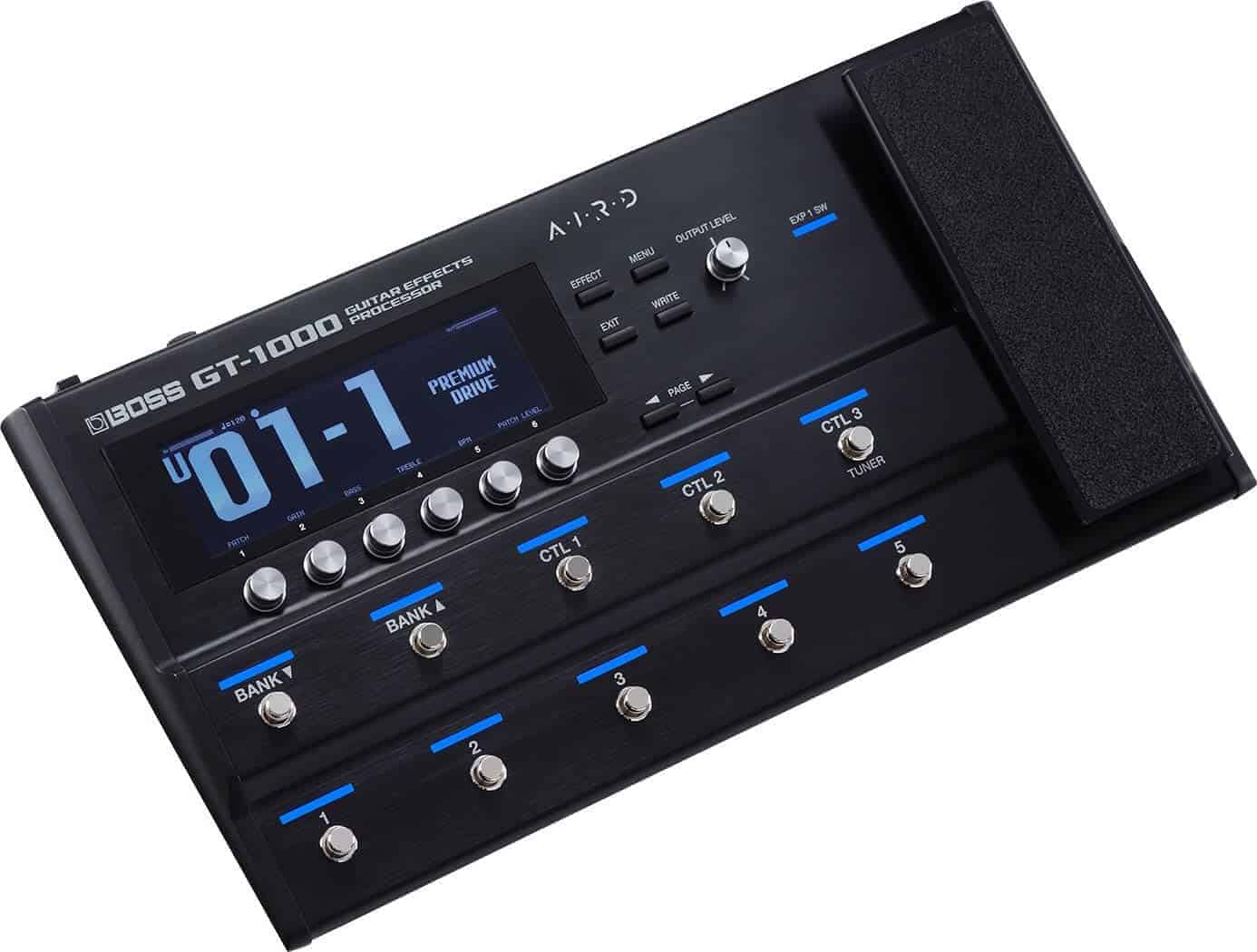 Amplifier modeling and multi-effect pedal
116 effects
Input jack, main output, and even MIDI in and out connectors
AC adapter
After the success of the DD-500, RV-500 and MD-500 units, Boss's GT-1000 floorboard combines all three. Sleek and modern, it's a formidably rugged beast.
On the back is the usual array of inputs and outputs, including USB recording output and an input for an additional expression pedal plus jacks to insert two mono pedals, or a stereo external pedal and a convenient send for switching between amplifier channels.
In terms of editing, it is not the most intuitive. For example, if you switch patches in a bank, you don't just switch off a 'Tube Screamer', but switch to another chain that does not have a gain block, standard in rack-like processing, but difficult for beginners.
Here Dawson's Music looks at the GT-1000:
Sound wise, you'll see the GT-1000's 32-bit, 96 kHz sampling rise above its class, and on the effects side, there's a wealth of modulations, delays, reverbs, and drives.
Impressive amp models
Huge range of effects
Rock-solid build quality
It's just not very beginner-friendly
If you're using a larger, more traditional pedalboard, the so-called "Bossfecta" of the MD, RV and DD-500 series units would offer more flexibility, but for most players the GT-1000 is a very practical solution.
Check the latest prices here
Best price-quality ratio: Mooer GE200
The best multi-effects pedal for price and performance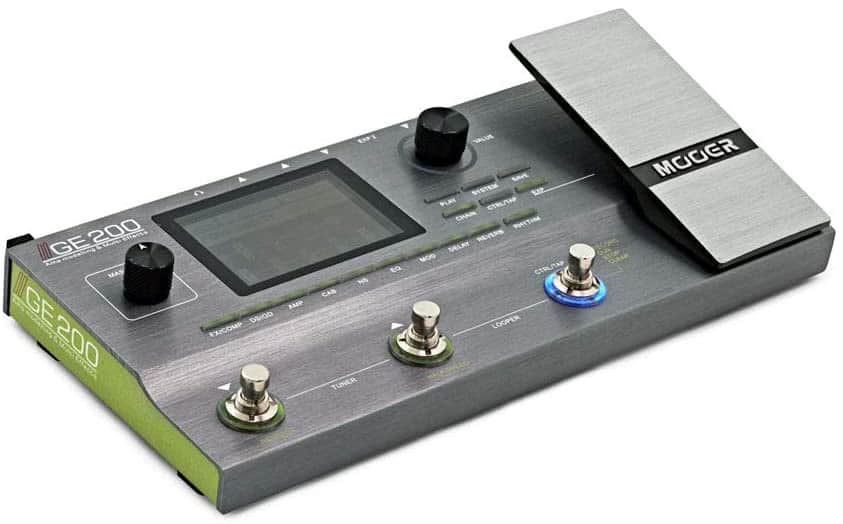 All-in-one amp & cab modeler, effects processor, drum machine, and looper
70 Amp Models: 55 amp models and 26 speaker IR models
Input terminal, stereo output terminal, control terminal, USB, headphones
9V DC power
The Chinese brand Mooer has slowly but surely built a reputation by hitting the right place between price and performance.
What started as a brand offering low-cost versions of existing large pedals has grown into a real contender in the low to mid-range segment.
The Mooer GE200 is a great example, offering a selection of effects, models and tools that wouldn't look out of place (or sound) on a unit much higher up the effects food chain.
Customers use it for all kinds of purposes as you can read in the customer reviews, such as from classic:
I actually use this as a guitar preamp (like these pedals here) at the beginning of the pedalboard. You don't hear the noise gate, and the EQ is very handy.
Even metal:
I am a bit picky about my metal tone and the GE200 delivers
Here, for example, metal god Ola Englund shows what the pedal can do (especially metal because that's what he does):
Easy to use
Great sounds
Support for third-party IRs
The 70 included effects all sound great, and we especially liked the ability to load your own impulse responses to fine-tune your speaker outputs. Very capable and well worth your attention.
Check prices and availability here
Best multi-effect with touchscreen: HeadRush Pedalboard
Top models of amplifiers, lots of effects and a great touchscreen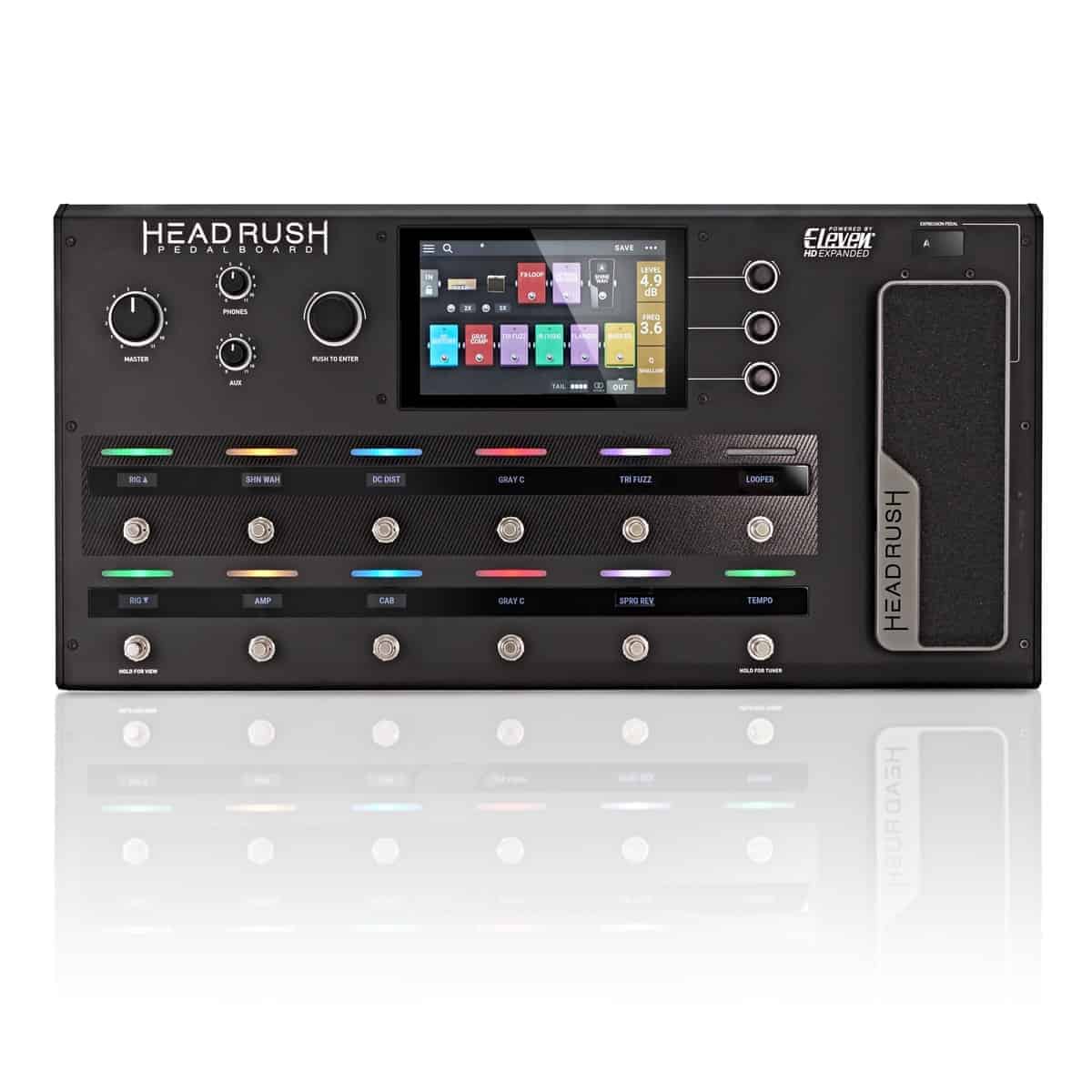 Amplifier model and multi-effect pedal
33 amplifier models
42 effects
Guitar input, mini-jack stereo aux input, main outputs, and XLR main outputs, as well as MIDI in and out plus a USB connector
Mains power (IEC cable)
If you want the best multi-effects pedal packed with features, the HeadRush Pedalboard is the one.
The quad-core processor-powered DSP platform provides a faster and more guitarist-friendly user interface, reverberation / delay and looping between presets switching, the ability to load custom / external impulse responses, and a looper with 20 minutes of recording time.
Here's Rob Chapman with the Headrush Pedalboard:
However, the most notable feature of the device is its seven-inch touchscreen, which is used to edit patches and create new ones.
Excellent amp modeling
Touchscreen functionality
Functions as an audio interface
Unfortunately some limited models / routing options
In terms of shape, the pedalboard most closely resembles Line 6's Helix in that it has a pedal with 12 footswitches with LED "naming" showing the function of each switch and a color-coded LED for each.
There are only 3 reviews left here on Bax, but one customer clearly compares it to the Helix Stomp and is extremely positive about it:
It seems easier to get a good "tone" out of the headrush, and also think the amp simulations sound better "out of the box".
Several modes are available to recall sounds, which can be easily changed by a few footswitches.
In Stomp mode, the two footswitches scroll left and select Rigs, while the central eight footswitches invoke stompboxes within a selected Rig.
Then the left switches scroll through the Rig banks in Rig mode, while the eight are then used to select a rig.
In terms of sound, there is no 'fizz' here, even on higher gain patches, and the closer you get to a clean amp sound, the more convincing it is.
If amps are more important than effects, the HeadRush is worth a look. And if you're looking for something with a smaller footprint, there's the HeadRush Gigboard too.
Check the latest prices here
Best Stomp Multi Effect: Line 6 HX Stomp
The power of the full Helix in a pedal-friendly form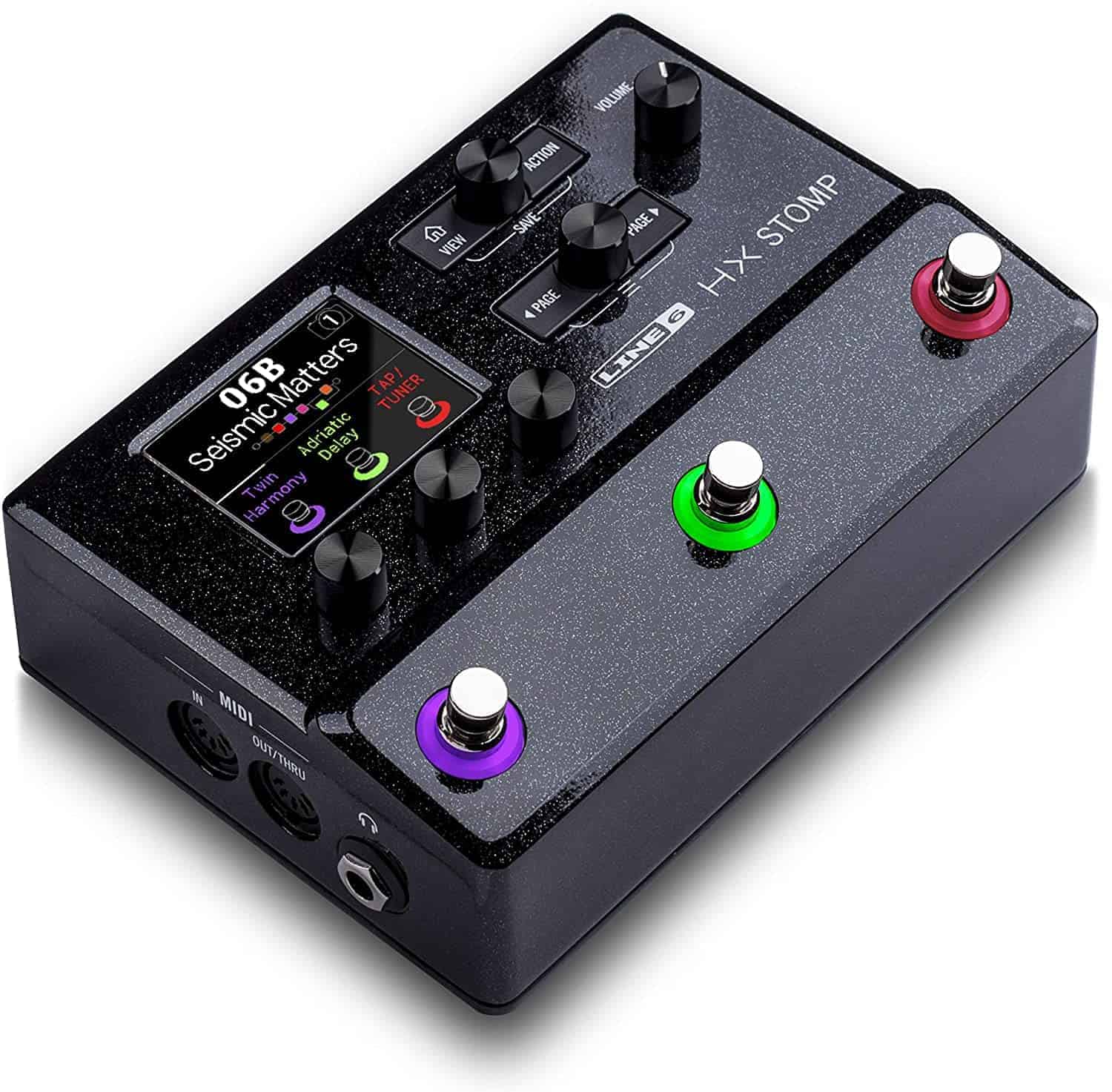 Amplifier model and multi-effect pedal
300 effects
41 Guitar and 7 Bass amp models
2x input, 2x output, 2x send / return, USB, MIDI in, MIDI out / through, headphones, TRS expression in
9V power supply, 3,000mA
How could it be any different from Line 6 than a 4.8, and it is a popular device as this is an average of over 170 reviews.
For example, a customer indicates:
For a long time I looked at the HX Stomp as a solution to my wishes. I have it on my pedalboard at the end of my chain, using only my own compression and drives. The HX Stomp mainly produces delay, reverb and the ams / cabs / IRs.
The HX Stomp includes 300 effects, including the Helix, M Series and legacy Line 6 patches, as well as the full-fledged Helix's amp, cabin, and microphone options.
It even supports impulse response loading, so if you've modeled your own amps or bought commercial IRs, they can be loaded too.
Not only the sounds of those units, but also stuffing a full-color screen into a unit the size of the HX Stomp is certainly impressive.
With MIDI in and out, those wishing to integrate the HX Stomp into a rig controlled by a rig has clearly been taken into account.
n pedal switch.
In that context it is easy to see the attraction.
Here's guitar shop Sweetwater with a demo from Line 6 itself:
Helix Effects in Pedal-Friendly Size
Integrates with MIDI systems
Not as easy to set up as large Helix models
Although limited in front of controls, the HX Stomp is highly customizable and offers a wide palette of professional effects to explore.
For the guitarist who wants specific modulations, delays, or a cab-sim with a click of the foot, 'just in case', the HX Stomp is a smart, compact solution, and the capacitive footswitches make mapping and editing a relatively flawless procedure.
It is unlikely that you will have to reach for the manual much. And if you don't need the amp models and fancy a few more footswitches, there are the HX effects too.
Check prices and availability here
Best studio quality: Eventide H9 Max
Great studio-grade effects from this harmonizer legend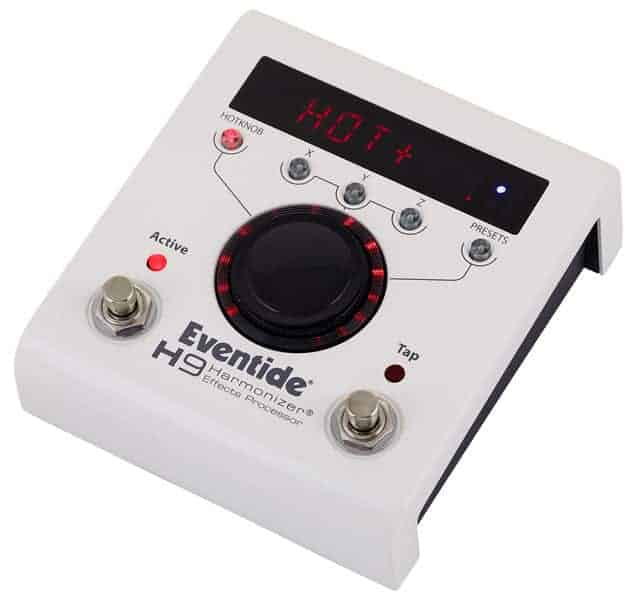 Multi-effect pedal with app control
9 included effects (extra available)
2x input, 2x output, expression, USB, MIDI in, MIDI out / thru
9V power supply, 500mA
The H9 is a pedal that can output all Eventide stompbox effects. All effect algorithms (including the corresponding presets) are for sale, but several are already built-in.
You get Chorus and Tremolo / Pan from the ModFactor, H910 / H949 and Crystals from the PitchFactor, Tape Echo and Vintage Delay from the TimeFactor and Shimmer and Hall from Space, and the algorithms are regularly updated.
Here Alan Chaput from Eventide shows you what you can do with it:
The complex effect algorithms contain many editable parameters.
The H9 has both wireless (Bluetooth) and wired (USB) connections for the free H9 Control editor and library software (iOS app, Mac, Windows) for editing, creating and managing presets, changing system settings and purchasing new algorithms.
Securities are in a class of their own
Flexible way to get Eventide sounds
App-based editing works well
Unfortunately only works with certain effects at the same time
This pedal is designed to take full advantage of this and it works great, especially on an Apple iPad where a few finger movements adjust the pedal for instant results.
There are other 'chameleon' pedals with one effect at a time, but the H9 pushes the boundaries of the genre.
It is not always immediately available, but often available in a few weeks.
Check availability here
Best multi effect for beginners: Zoom G5n
The best multi-effects pedal from the FX veteran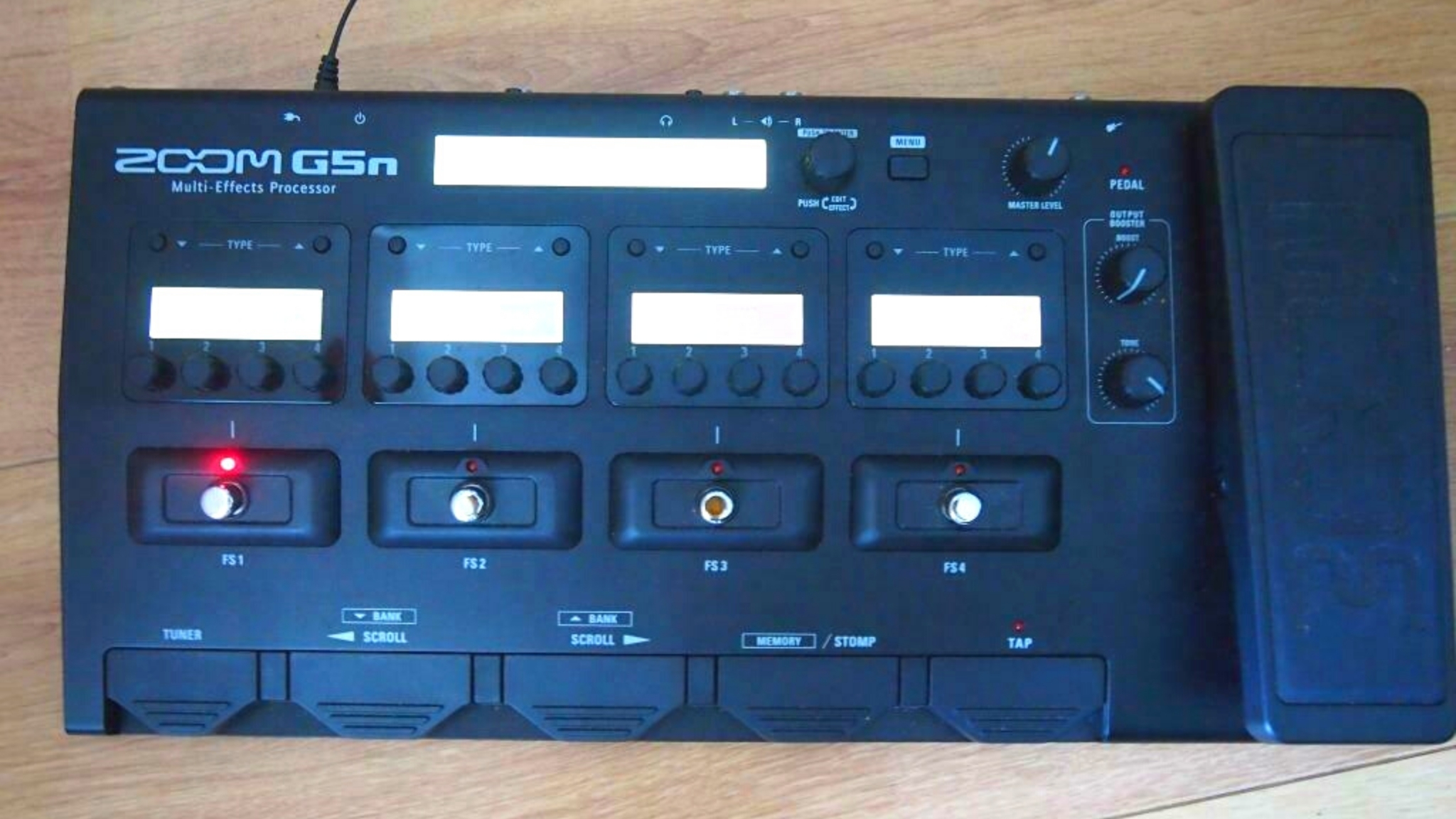 Amplifier model and multi-effects
68 effects
10 amplifier models
Input jack, stereo output jack, 3.5 mm aux in, control jack, USB
9V DC power
Does it do what it should?
It might be weird to consider because multi-effects should do it all! But let's take a look at the parts first.
First, it is made of metal. Not tin or anything, heavier than that. If you manage to break it, you are really doing something wrong and you need to seriously re-evaluate your guitar pedal use.
There are a lot of connections on the back panel:
Jack plugs for an input and a stereo output;
a mini jack plug for connecting headphones;
a mini jack plug input for connecting an MP3 player, phone or tablet for jamming;
the mains connection;
the USB connection;
and a check in.
"Check in"? What is that? In case you don't have enough buttons or switches on the G5n, you can connect the Zoom FP01 footswitch or the FP02 expression pedal to the control knob.
For example, the FP02 makes sense, if you think you need both a wah pedal and a volume pedal.
As mentioned, this Zoom G5N is built to be sturdy, to last, but not necessarily to be abused, but it probably shouldn't be.
Here I look at this unit from different angles:
In addition to chassis material, the G5n "guitar lab" comes with five small pedals on the front, a footswitch for each of its counters, six additional knobs for each of those banks, and a few other buttons on the top panel, and the expression pedal for your foot.
All this functionality is good, but it also makes the pedal a bit bulky, which may not be what everyone is looking for in a beginner multi-effect.
With the small Vox Stomplab next to it, it really looks like an animal.
The second thing to consider is that it supports the functionality actually improves the pedal: less scrolling, less holding down a button for a few seconds to change the guitar effect function
So what these two points essentially boil down to is whether you prefer to use less floor space or get more functionality out of your pedal.
Each of the counters comes with its own LCD screen, as well as another one on the top of the unit, which shows you what your overall effect chain looks like, making it nearly impossible not to know what you're doing.
That's why it is such a beginner-friendly device.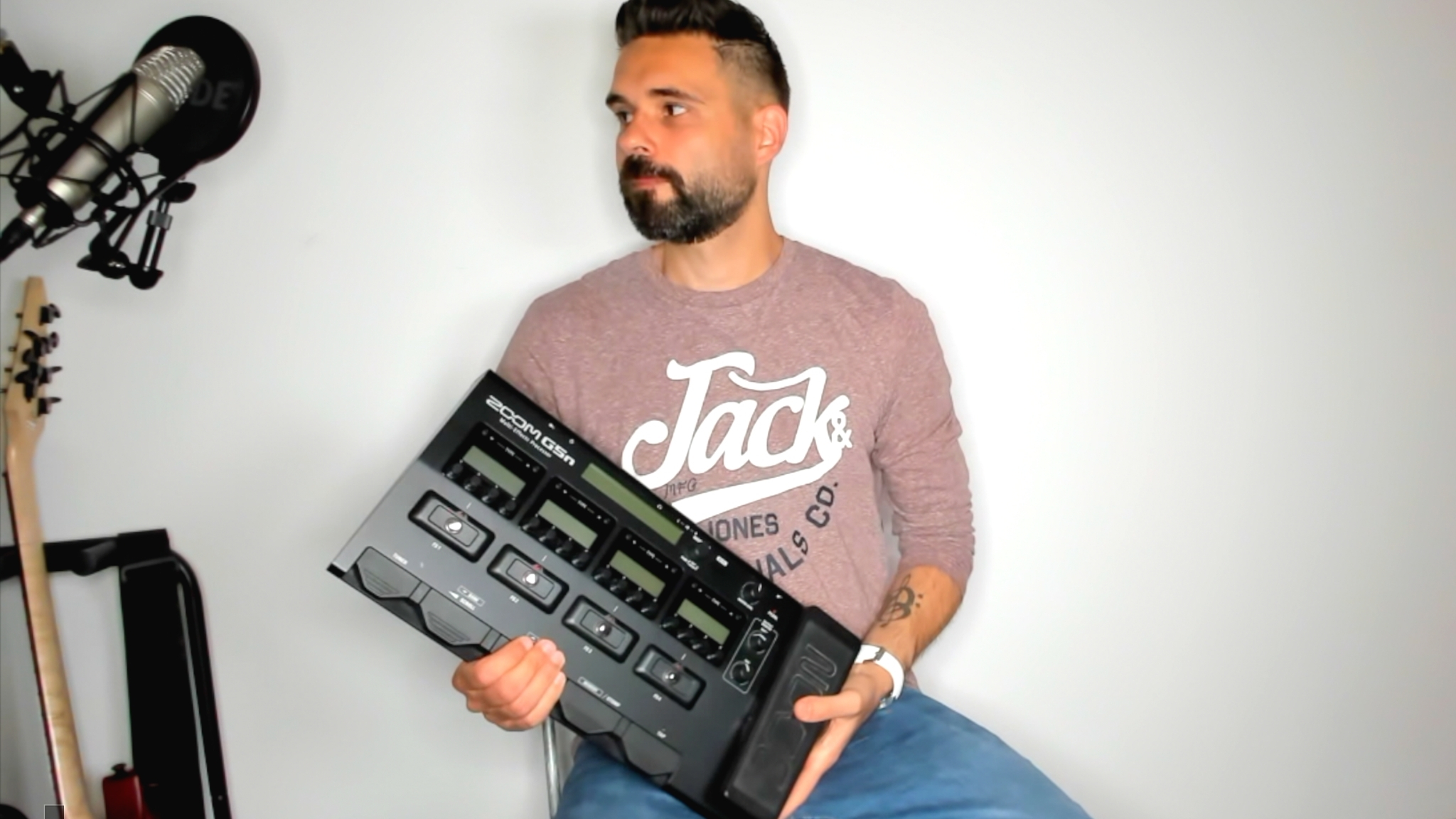 They've combined some inspirations from classic effects pedals with some of their own work, but it's likely that if you had time to analyze the audio characteristics you could figure out which individual stompbox was the inspiration.
Let's take a look at what they included, in the different categories into which they categorized the securities.
7 dynamic effects including compressors, a mute button, and a noise gate, one of which is inspired by the MXY Dyna Comp
12 filter effects, including a few different types of auto-wah, as well as a selection of EQs
15 drive effects, including your overdrive, distortion, and fuzz sounds
19 modulation effects, including a few tremolos, flange, phase, and chorus sounds
9 delay effects, including a tape echo simulator, and an interesting sounding one that alternates the delay between left and right
10 reverb effects, including a tribute to the reverb on a 1965 Fender Twin Reverb amp
Those are the main effects, not to mention the wahs, the amps, the cabs. There is simply too much to mention.
The Zoom G5N Amp list is:
XTASYBL (Bogner Ecstasy Blue Channel)
HW100 (Hiwatt Custom 100)
RET ORG (Mesa Boogie Dual Rectifier Orange Channel)
ORG120 (Orange Graphic 120)
DZ DRY (Diezel Herbert Channel 2)
MATCH30 (Matchless DC-30)
BG MK3 (Mesa Boogie Mark III)
BG MK1 (Mesa Boogie Mark I)
UK30A (Early Class A British Combo)
FD MASTER (Fender Tonemaster B Channel)
FD DLXR (Fender '65 Deluxe Reverb)
FD B-MAN (Fender '59 Bassman)
FD TWNR (Fender '65 Twin Reverb)
MS45os (Marshall JTM 45 Offset)
MS1959 (Marshall 1959 SUPER LEAD 100)
MS 800 (Marshall JCM800 2203)
It's always great to emphasize the computer connectivity of a multi-effects pedal, because that makes setting up your effects a lot easier.
By connecting your G5n to your PC or Mac, you can use it as an audio interface, allowing you to record your guitar directly to the digital audio workstation (DAW) of your choice.
This is where the amp and cabinet models are most important. And the cab models all also have a setting to choose between recorded with a microphone or direct.
This setting works wonders for the direct tone. Without a mic, it sounds best through an amplifier, but do you want to record directly with the G5N or connect it to the P.A. without an amplifier, you turn on the mic option and it sounds better like a guitar amplifier that is collected with a microphone.
Packed with 68 digital effects, 10 amp and cab emulators, and a stereo looper with up to 80 seconds of runtime, the Zoom G5n is a worthy option for beginners or anyone looking to expand their options.
Wide range of effects
Great value for the money
Ideal for beginners
Midi connectivity would have been great
The USB audio interface is a welcome addition, although I would have liked the ability to sync the device with MIDI. For this price, however, that is only a minor downside.
Check the most current prices and availability here
Best Mid-Range: Boss MS-3 Multi Effects Switcher
Guitar multi-effects and switches combined

Multi-effect pedal and switch unit
112 effects
Input, 3 send and returns, 2 outputs, and 2 expression pedal control options, plus USB and MIDI outputs
9V power supply, 280mA
Boss's MS-3 is an ingenious pedalboard solution that gives you programmable loops for three of your own pedals and a host of onboard effects – 112 to be precise.
It's not just an effects pedal but it lets you switch between the different channels on your amp, change the settings on external effects, and even lets you integrate it through MIDI if you have those in your rack.
As one customer notes in their review:
I switched to a tube amp and wanted to use it with a multi effect by means of 4 cable method. First used a DigiTech RP1000, but it only has 2 effect loops, no midi and you can only assign one effect / switching event per button
Then there is the built-in tuner, noise cancellation and extensive EQ. It's as if Boss took everything that players could want from a pedalboard controller and packed it into one compact unit.
There are 200 patch memories for storing your expertly tweaked sounds, each with four effects or pedals that can be turned on or off at will, or four presets that can be instantly recalled.
The MS-3 is packed with pristine modulations, all the essential delay and reverb types, as well as a ton of Boss specials like the dynamic Tera Echo and the sequenced tremolo Slicer.
Here is reverb.com with an extensive description and demo:
Then there are some additional but useful effects, like an acoustic guitar simulator, and even a sitar simulation which you'll probably never use.
The drive tones don't conform to standalone pedals, but for most players, we'd bet these three switchable loop slots will be used for analog drives, with the ES-3 handling modulation, delay, and reverb.
Excellent pedalboard integration
Almost unlimited sonic possibilities
Screen is a bit small
A really exciting development of the pedalboard.
Check prices and availability here
Also read: how to create the perfect pedalboard
Best Small Stompbox Multi-Effect: Zoom MS-50G MultiStomp
Need a huge range of effects from a small pedal? Then check out this multi-stomp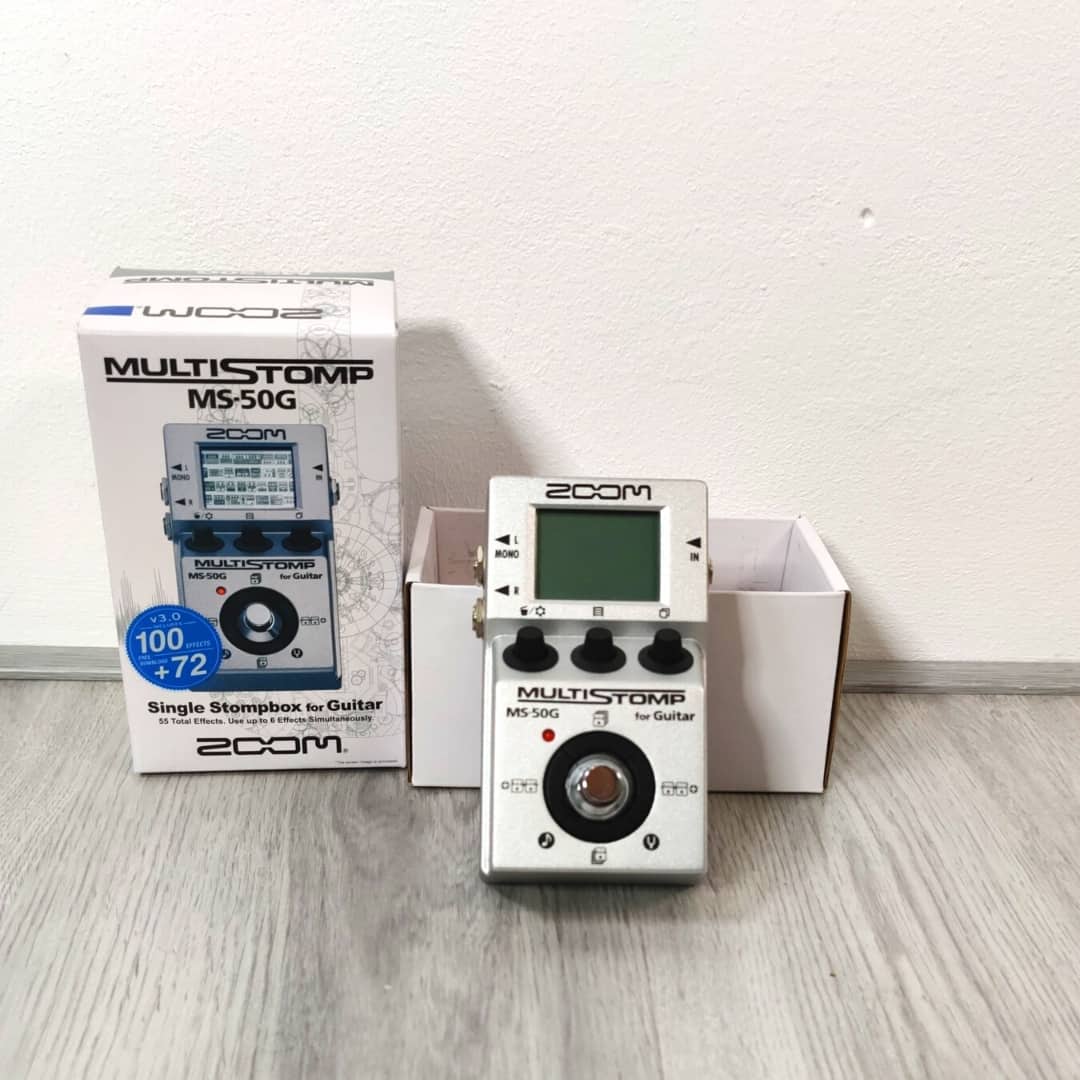 Compact multi-effect pedal with loads of amp models
22 Amplifier Models
Over 100 effects
2x input, 2x output, and USB connections
9V power supply, 200mA
Following a series of recent updates, the MS-50G now features over 100 effects and 22 amp models, six of which can be used simultaneously in any order.
Add a chromatic tuner to the equation and you're looking at an all-purpose pedal.
There are some great amps in there with enough for most fans: like 3 Fender amps ('65 Twin Reverb, '65 Deluxe Reverb, Tweed Bassman), and the Vox AC30 and Marshall Plexi.
You also get a Two-Rock Emerald 50, while a Diezel Herbert and Engl Invader cover the high-gain side of your essentials.
Here is Harry Maes from bax-shop testing it:
But you also get a lot of effects like:
modulation
a few filters
pitch shift
distortion
delay
and of course reverb
Most are not that special, but you might be surprised by the quality of the overdrive and distortion models, which are modeled on well-known devices like the Big Muff and TS-808.
Each patch can be made up of a series of six effect blocks, each with a modeled amp or effect, if DSP permits.
Compact size
Surprisingly intuitive interface
Good modulations, delays and reverb
Power supply is not included
It all adds up to the most practical, cost-effective way to expand your pedalboard by adding a single pedal.
Check the latest prices here
Frequently asked questions about multi-effects pedals
Are multi-effects pedals any good?
Load more effects and combinations at the touch of a button. For example: many different delays instead of just 'digital delay' or 'tape delay' to experiment with.
It's much easier to experiment with sounds that you might not normally buy, so it's perfect for finding your own.
What people worry about is that they "model" effects, so try to copy them, which does not always sound exactly like the original and you may hear that it is a digital effect.
Can you combine analog and digital effect pedals?
You can easily mix and match digital and analog pedals. The signal can be fine from analog to digital, or vice versa.
Some digital pedals draw so much power that they have their own special power supplies that you need to use, so you may need to expand the power supply for your pedalboard.
Conclusion
There is a multi-effect for every guitarist, and as you can see, some use it to create a full arsenal and replace their separate pedals, while others find it an addition to their favorite pedals.
Whether you are a beginner or a professional, there is one for every budget and playing requirements.
Also read: these are the 14 best guitars for beginners you should consider
I'm Joost Nusselder, the founder of Neaera and a content marketer, dad, and love trying out new equipment with guitar at the heart of my passion, and together with my team, I've been creating in-depth blog articles since 2020 to help loyal readers with recording and guitar tips.
Check me out on Youtube where I try out all of this gear: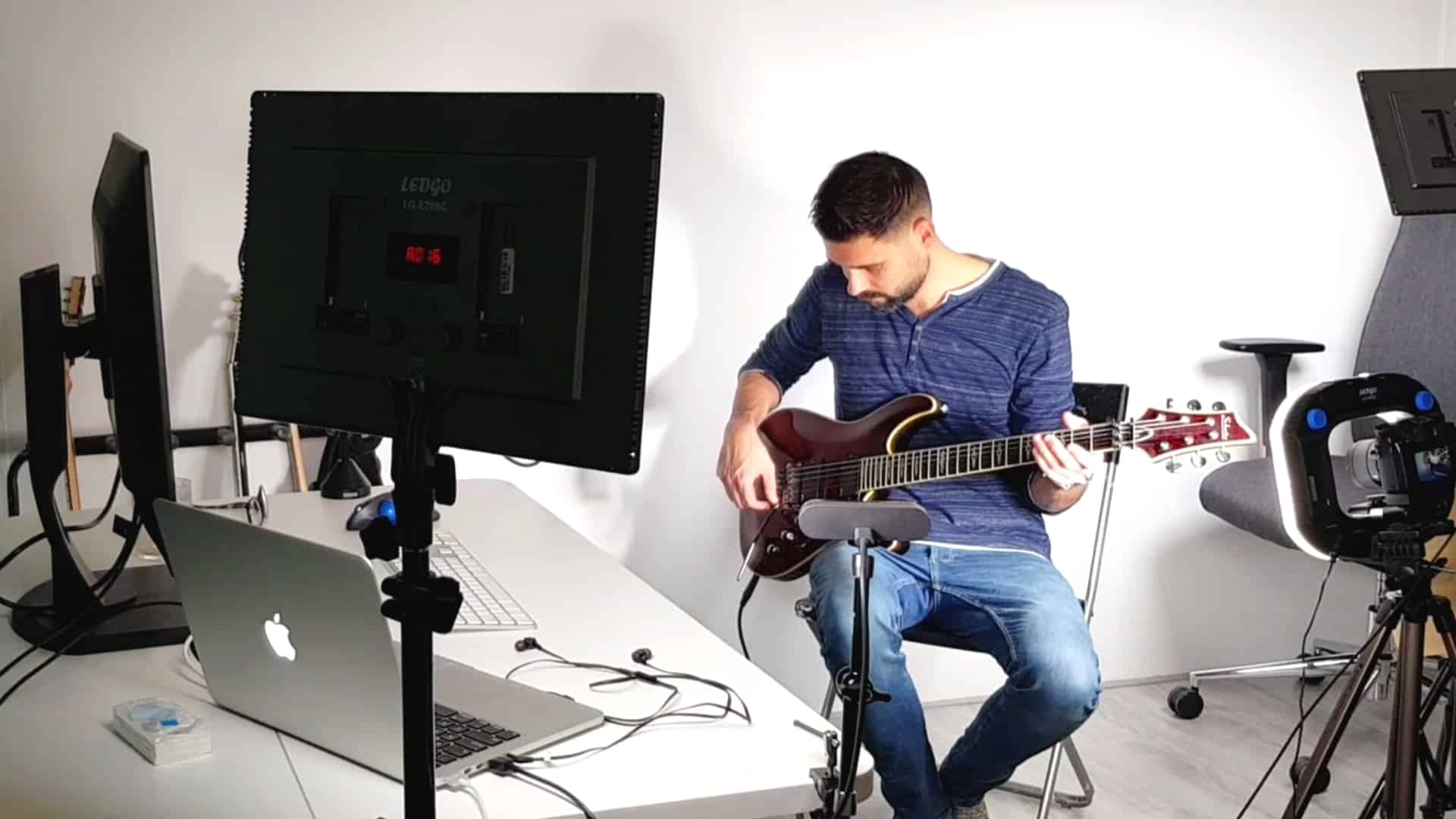 Subscribe