hi there I love creating free content full of tips for my readers, you. I don't accept paid sponsorships, my opinion is my own, but if you find my recommendations helpful and you end up buying something you like through one of my links, I could earn a commission at no extra cost to you.
Learn more
Depending on the type of music you play, your music skill level, and your style, chances are you might need a different music effect from the others.
Most of these pedals offer more effects than you will typically use, but it is worth trying each effect to come up with the best sound.
The multi-effects paddle offers multiple effects in one single package compared to the individual paddle.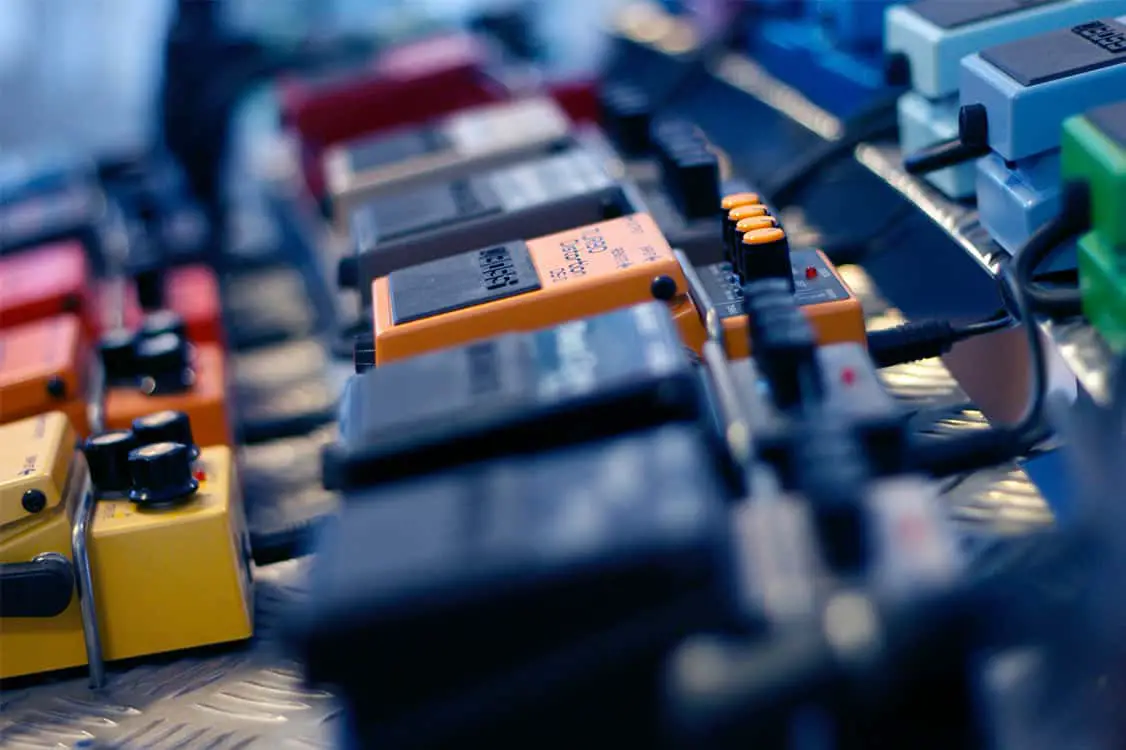 There are many multi-effects pedals in the market today and selecting for the best one can be hectic.
I love the sound of this Vox Stomplab 2G and the easy patches they've created under different styles of music for you to select from.
I've had a lot of fun with it playing everything from blues and funk to metal and it's just so easy to take with you anywhere because of its very (cute) small size.
Below we have researched the best multi-effects pedals under $100 so let's take a quick look at the top choices and then get into each one a little more in-depth:
Also check out these 12 best multi effects units in all price ranges
Reviews of Best Multi-Effects Pedal Under $100
Overall best Multi-Effects Pedal: Vox Stomplab2G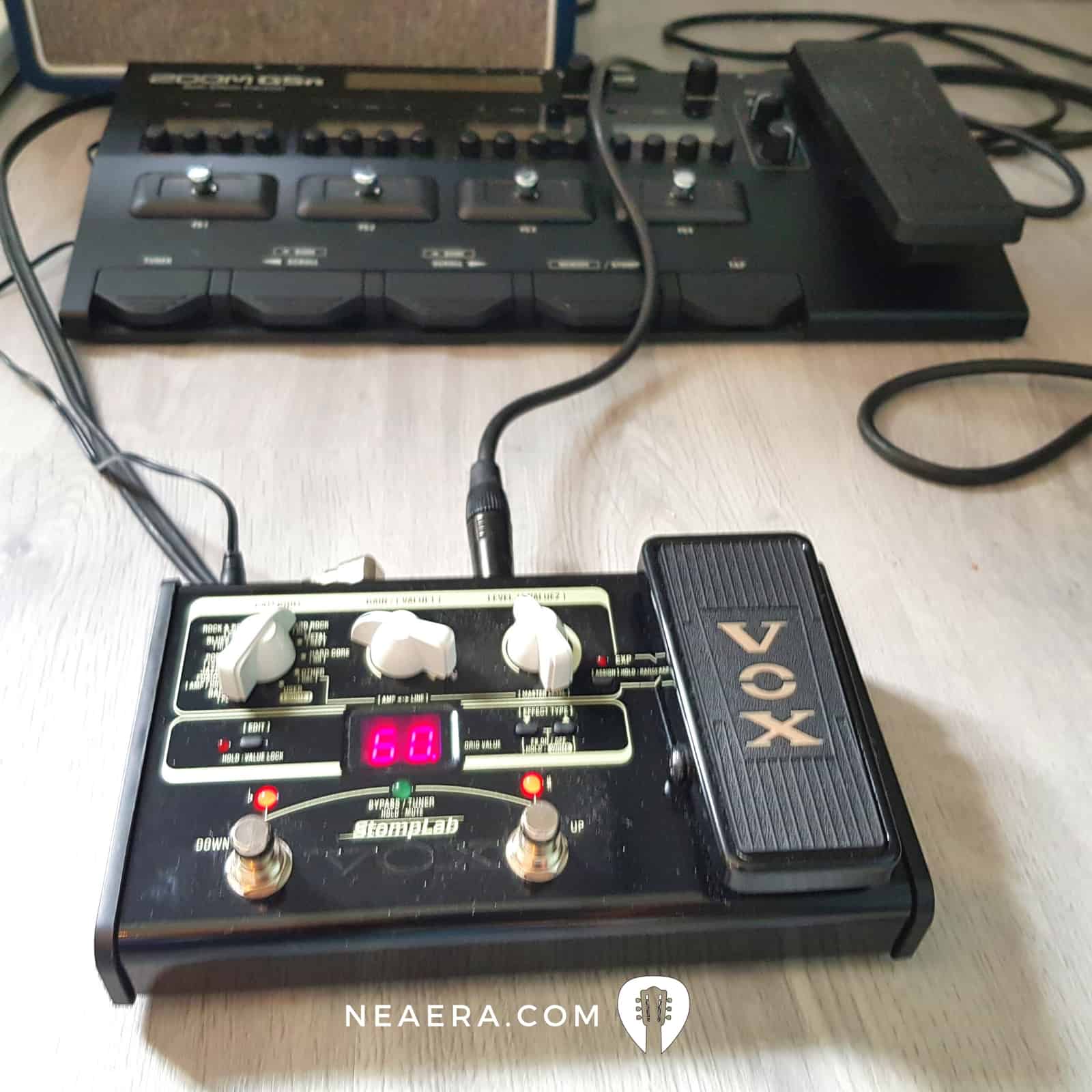 The Vox Stamplab2G is considered one of the best multi-effect pedals because of its appealing price, as well as its attractive and efficient features.
With this product you can work simultaneously with up to 8 effects. The double level knob lets you to dial up the effects to the user slots which are 20 in number.
This model of the multi-effects pedal comes with four pedals that are excellent for guitar and are used for volume control for the assigned parameter.
Here you can see me trying it out in a lot of different playing styles:
The Vox Stomplab IIG 2G Guitar Multi-Effects guitar pedal is really four pedals in one.
Features
With this product, you get an expression pedal so that you can control the volume at whatever parameter you're assigned.
There is also an onboard tuner and it has 120 memory slots, including 100 different presets. So, you get to use the remaining 20 for your distinct sounds.
You can use this between a guitar and an amp. One output does also drive a set of headphones (like these top choices for guitar!) for any time that you need to play in silence.
This pedal is also battery-operated meaning that you can travel just about anywhere with it pretty easily.
There is an AC adapter you can opt to use if you want to limit the expense of using batteries.
You can use the rotary switch to access memories and the factory presets. It will also select banks, of which you have ten banks for ten user-presets.
One bank has all of the twenty user-presets. Those factory preset banks are separated by genre so you'll get metal (combine with these guitars!), rock, hard rock, hardcore, blues, rock-n-roll, pop, jazz, fusion, blues, and others.
The options for delay, modulation, and reverb are the same for the whole range with this pedal. There are a total of nine options for modulation.
That number includes auto filtrons, rotary speaker, pitch shift, phaser, flanger, and tremolo.
There are also eight options for delay, along with spring and hall reverbs. The four options for output mean you can match whatever is connected to the effects pedal.
For example, you can use headphones or another line input
.It is very easy to switch between the multitude of presets so this pedal is super user-friendly.
You just need to use the footswitches or pair the front panel buttons.
They have an onboard tuner that has 120 onboard memory slots which include 100 presets slots and the other 20 remain for one's own sounds.
For those planning to use the pedal for extensive hours, this is the best option for them, as this model works on four multiple A batteries or an AC adapter.
This helps to cut down the costs that could have been used on the batteries.
Also included is a rotary switch that controls the user memories and the factory presets. This makes switching from one effect to the other easier.
Pros
Simple to edit to own unique sounds
Tuner and expression pedal included
103 effects in total
Able to work with up to 8 effects simultaneously
Excellent sound quality
Cons
Looper not included
Power supply not included
No USB editor
Best looper for under $100: NUX MG-100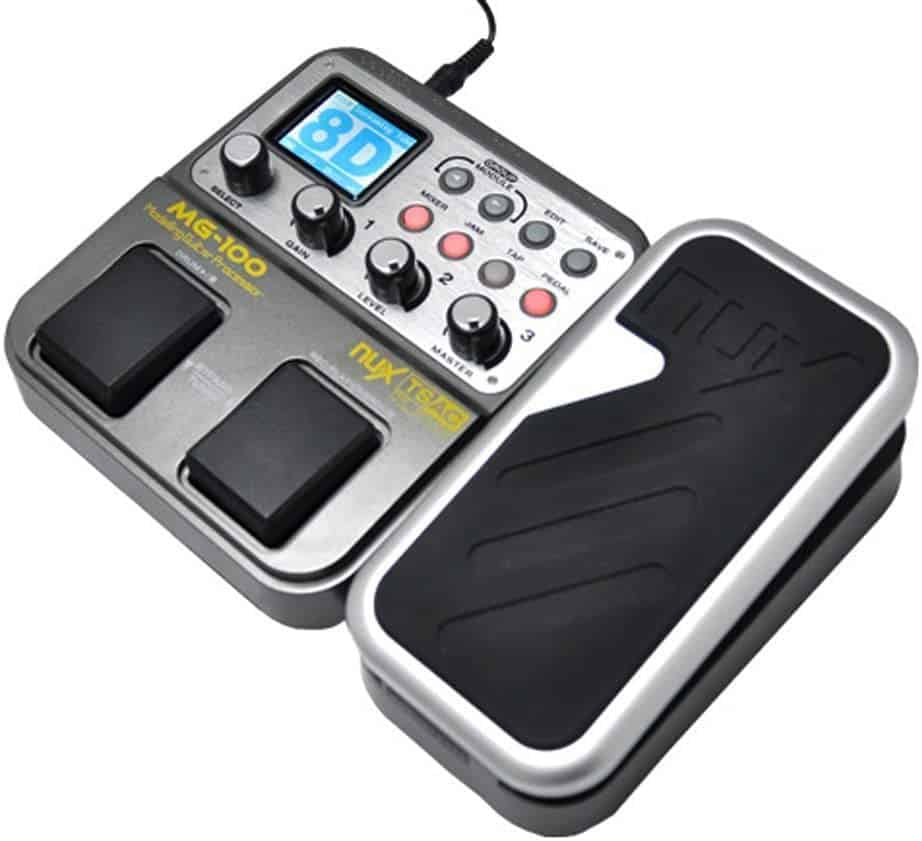 Nux Company creates many accessories for guitars that are on the market today. One of the best products available from this company is the NUX MG-100 multi-effects pedal.
This pedal is highly affordable, while still giving you the best features that the other higher priced products give you.
The NUX MG-100 is one of the best multi-effects pedals on the market that comes with a compact design.
The materials used in the construction of this pedal are strong solid materials that are tough enough to handle your guitar during a stage performance.
This pedal offers lots of creative options for you to explore.
It's very user-friendly, which makes it a great option for the guitarist who is just starting out.
Features
You can use up to eight of the total 58 effects available with the NUX MG-100 Professional Multi-Effects Pedal Processor.
You will get a nice LED, a 40-second looper, a tap tempo, a drum machine, a chromatic tuner, and an assignable expression pedal with this model.
It runs on six AA batteries which will get you a total of eight hours of playing time. You also get a power adapter which is included with the pedal.
Along with the 58 total effects, you also get 36 factory presets and 36 to make your own.
The 58 effects include 11 cabinet models and 12-amp ones, all separated into eight modules that you can use at the same time. However, you cannot stack the modules themselves.
This pedal has jacks for a one-fourth inch input and output. You also get an auxiliary port for either a CD/MP3 player or headphones.
The overall construction is quite sturdy with the processor being held inside solid steel that uses knobs made of plastic.
The pedal is just the right level of stiffness, though we recognize that can be a bit subjective.
You will experience a lot of the effects and functionality you might not get from a unit this small and light.
Although this is a great pedal for a beginning guitarist, it does not have the studio-quality effect you might get from some other pedals.
You will likely experience some distorted and grainy qualities to some of the tones. It would take a trained ear to notice the fuzzy quality but nonetheless, it is there.
Here's MrSanSystem taking a look at it:
The NUX MG-100 comes with a full package of modulation drives and effects that are of high quality and gives one the luxury of exploring different styles of sound patterns.
The different loop functions and styles and will benefit the musician greatly.
Pros
Affordable
Solid material construction for durability
Small and lightweight
Highly versatile
Simple editing effect
Long playing time on battery power
Beginner-friendly
Cons
Best expression pedal: Zoom G1X Guitar Multi-Effect Pedal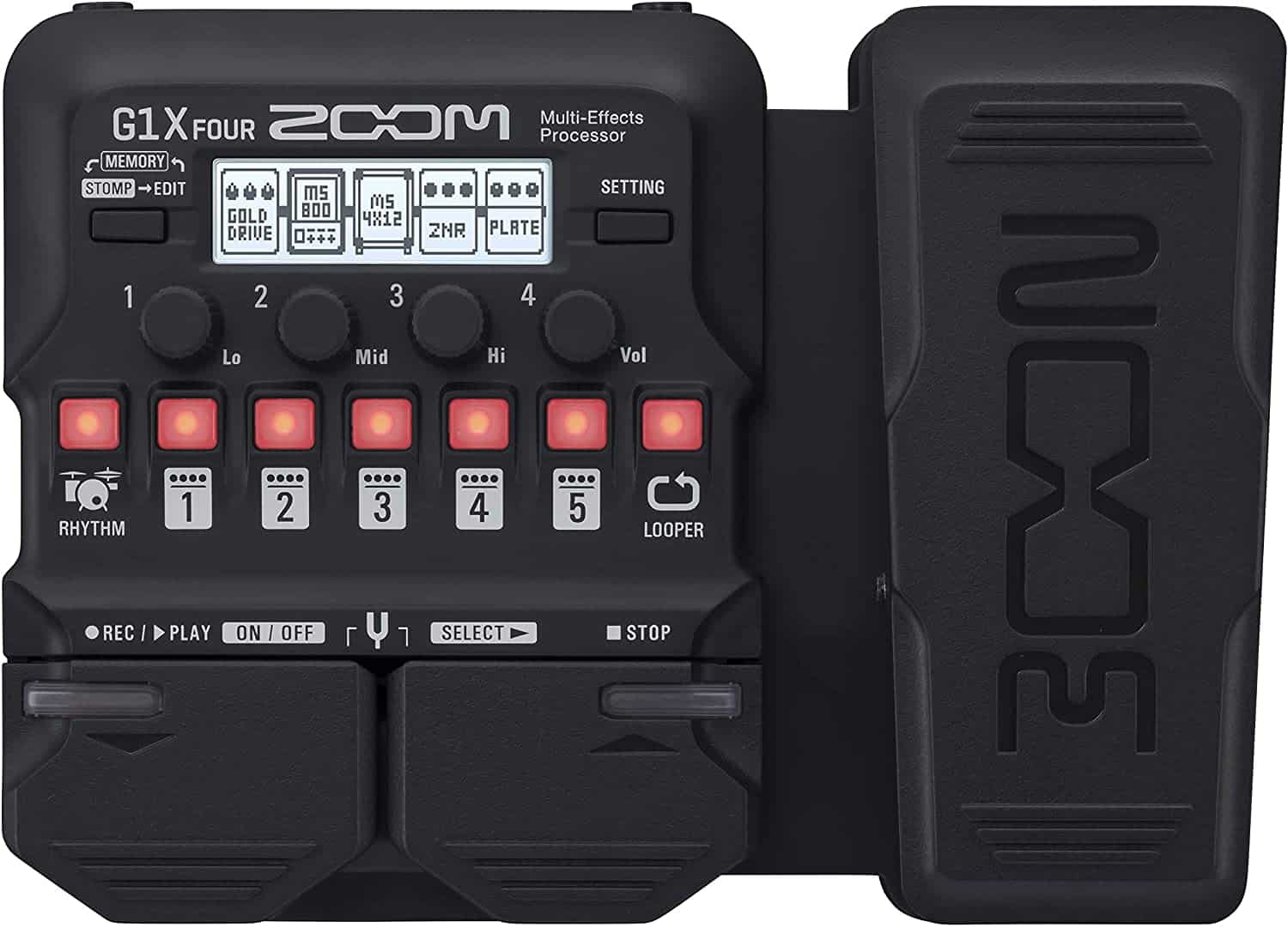 The Zoom G1Xon is among the best multi-effect pedals on the market because of its affordability and excellent design.
It is a simple and lightweight design.  For those who want to venture into these products for the first time and they don't want to invest a lot of money, then this is a great pedal to start with.
It is also suitable for those people who are running out of space.
Want to give your music an extra touch? Why not try the Zoom G1Xon? With its 100 effects, including delay, compression, modulation, and realistic amp models.
It also features an add-on expression pedal which helps with filtering, add wah, and adjust the volume to meet your needs.
This single pedal gives you a range of sounding effects.
Being a multi-effect pedal gives you the comfort of using five of the onboard effects which are chained together simultaneously.
It also has a built-in chromatic tuner that detects if one is playing the note flat, sharp, or in tune.
You can easily access this chromatic tuner. This gives you a clear and uninterrupted sound.
This pedal features a looper that gives you the opportunity to layer up to a maximum of thirty seconds of the performance with the effects that you choose.
It can be used with the rhythm function to allow you to play with your chosen pattern.
Pros
100 great studio effects.
30 seconds of phrase looper
Simultaneous use of 5 chained effects
Five pedal control effects
Impressive quality sound
Cons
The battery life is low
No USB connection
Easiest to use: Digi Tech RP55 Guitar Multi-effects Processor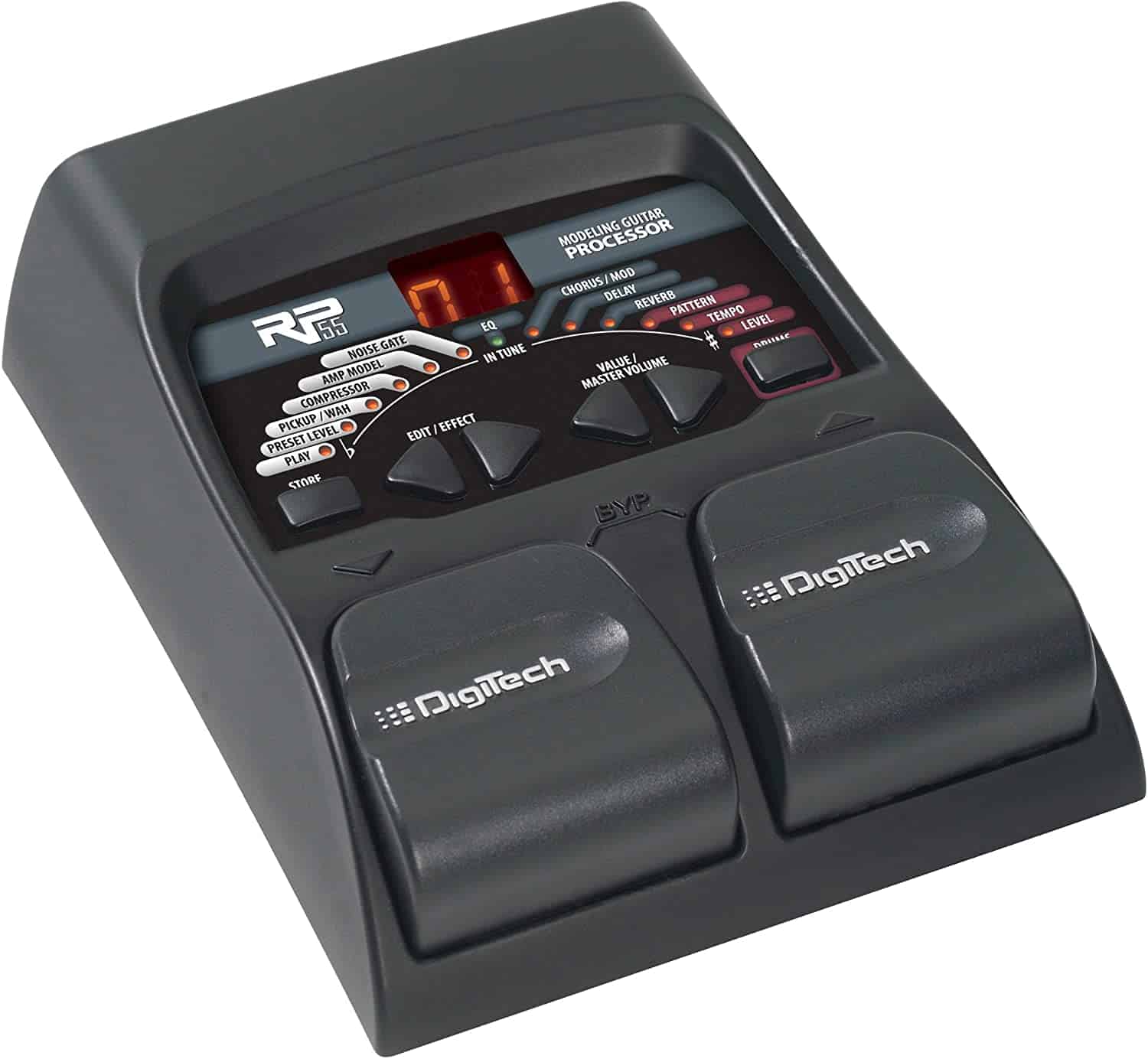 Looking at its size you may equally dismiss it at first sight but this should not mislead you.
This Digi Tech RP55 comes with excellent features that will solve your music needs.
For those who are venturing into the industry for the first time or those who are running on a budget, this multi effect pedal is suitable to them.
It is very much affordable and still gives you the opportunity to explore new effects.
Digi Tech RP55 comes packed with thirty different drum patterns, 20 effects, 5 cabinet simulations, and 11 amps.
This gives you an excellent job of exposure to different sound effects and gives you the capability to select among them in order to settle on the best effect for your liking.
Here's Vincent with his honest take:
It has a dial-up option that gives you the opportunity to preset the effects easily.
To add on the list of the excellent features of the Digi Tech RP55 are the compression and the noise gate that are additional features of this product that gives you the fun you need when operating it.
It also has the Audio DNA chip that helps produce the best effects. Its 13 led chromatic tuner that is easy to use is something else to go for in this product.
Pros
11 different amps to select from
Excellent price
Produces clean sounds
Small and lightweight
Cons
No expression pad
No USB connection
Not sure if you want a multi effects unit yet? This is how you setup your own pedalboard
Best multi-effects stomp box: Behringer Digital Multi-fx FX600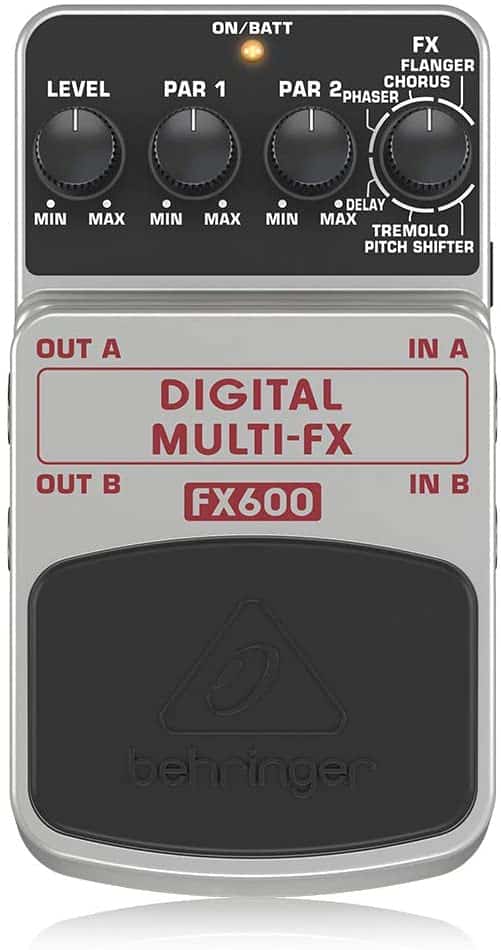 Behringer Digital Multi-fx FX 600 is one of the best multi-effects pedals on the market today. This is because of the many unique features it possesses.
In addition to its affordability, Berringer Digital Multi-fx FX 600 gives you a good value of your money.
It consumes low power of 9 vaults making it even more economical. It can either use batteries or DC power.
In addition to its affordability and low power consumption, Behringer digital stands out among the rest because of its stereo effects that are of a very high resolution of 40khz.
This makes it sound so clear and natural. The sound comes out with very easy operation thanks to its two dials parameters used for fine-tuning of its effects.
Here's Ryan Lutton looking at this model:
It also has LED lights that indicate if the FX600 is activated or not.
The Berringer Digital Multi-fx FX 600 is light for easy portability and also comes with a three-year warranty.
This is good news to users in case of any complications after purchase, they can get free servicing or even a refund of their money.
Pros
Easily affordable
Low power consumption rate
High resolution stereo effects
Easy portability
Cons
Difficult battery access
Weak on/off switch
Check prices and availability here
Best heavy-duty casing: Donner Multi Guitar Effect Pedal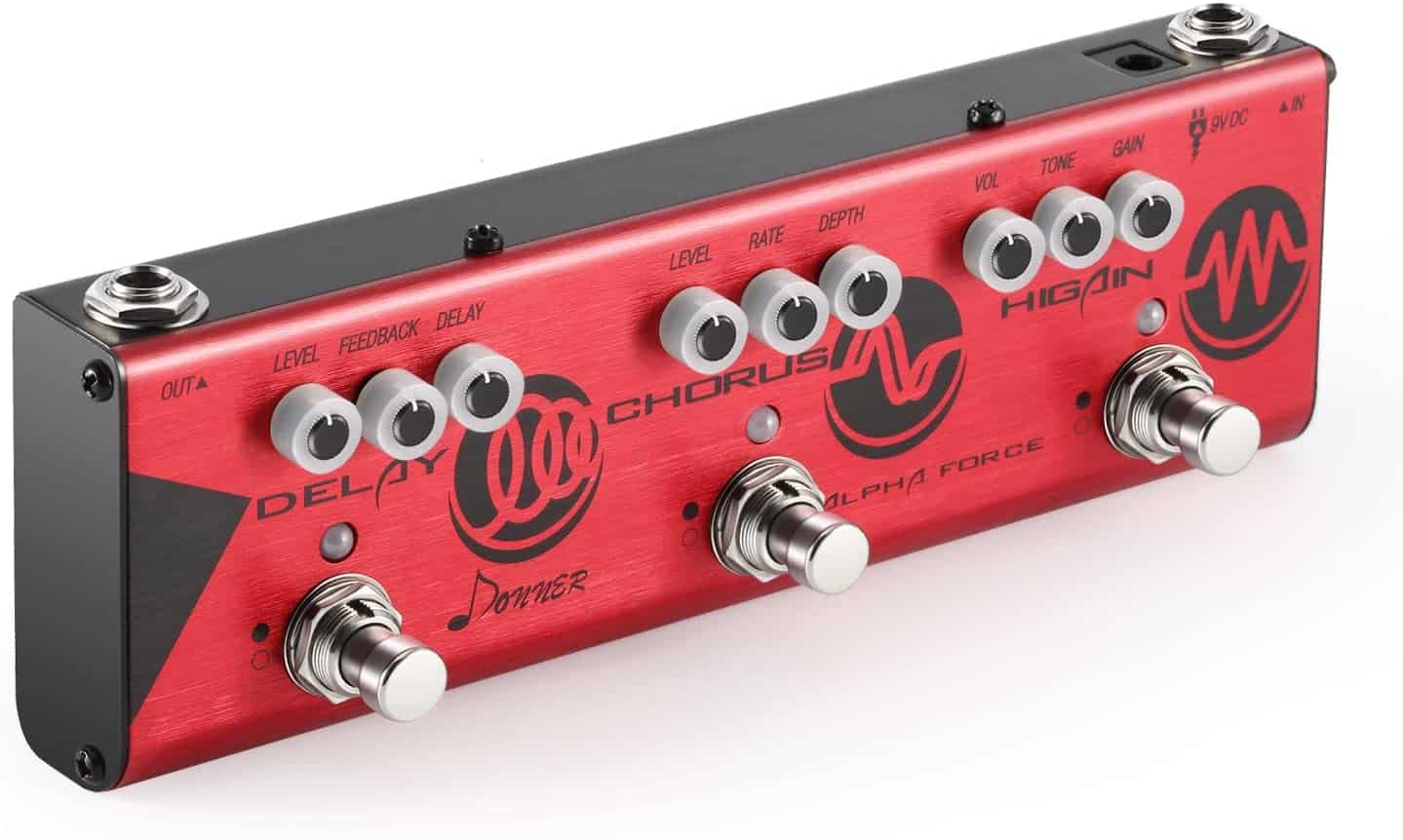 You get to experience a three-in-one type of effect with the Donner Multi Guitar Effect Pedal, which is just one of the reasons it is easily included on our list.
Features
This pedal is of a very easily portable size, has straightforward usability and great tone. There is also an LED indicator which lets you know it's working state.
You will experience three different types of effects all wrapped up into one with this pedal.
You get the analog distortion, an analog-voiced delay, and a chorus.
The delay model will give you an analog-voiced delay with echo feedback and a delay time max of 1000ms.
The chorus model will give you a very warm sound while the higain model offers very heavy distortion, ideal if you are looking for something for rock or metal.
Each of the effect modes has three function knobs so you can choose the model you would like to use for your particular tone.
There is also a True bypass switch which allows the signal from your instrument to pass through the bypass line, which is non-electronic.
Despite its small size, it is very durable and built well but will also fit really nicely on your board.
Adjustments are very easy to make, and the switches are all snug and work well.
The only real drawback we found with this pedal is that there is just the one input and output, so it isn't good for effect loop.
When you purchase this pedal, you also receive the pedal adapter.
Pros
Wide variety of sounds
Snug switches
Very portable
Cons
Only one input and output
Conclusion
The pedals listed above are the top multi-effects pedals under $100. This information is intended to help customers evaluate their options and make the right choice for their specific needs.
We have researched them and evaluated them according to their features, including their pros and cons.
Before buying any multi-effect pedal on the market today, you need to evaluate not only the price, but the other features, durability, and number of effects.
Choose the best multi-effects pedal and take music to the next level!
Also read: these are the best electric guitars for beginners for different playing styles
I'm Joost Nusselder, the founder of Neaera and a content marketer, dad, and love trying out new equipment with guitar at the heart of my passion, and together with my team, I've been creating in-depth blog articles since 2020 to help loyal readers with recording and guitar tips.
Check me out on Youtube where I try out all of this gear: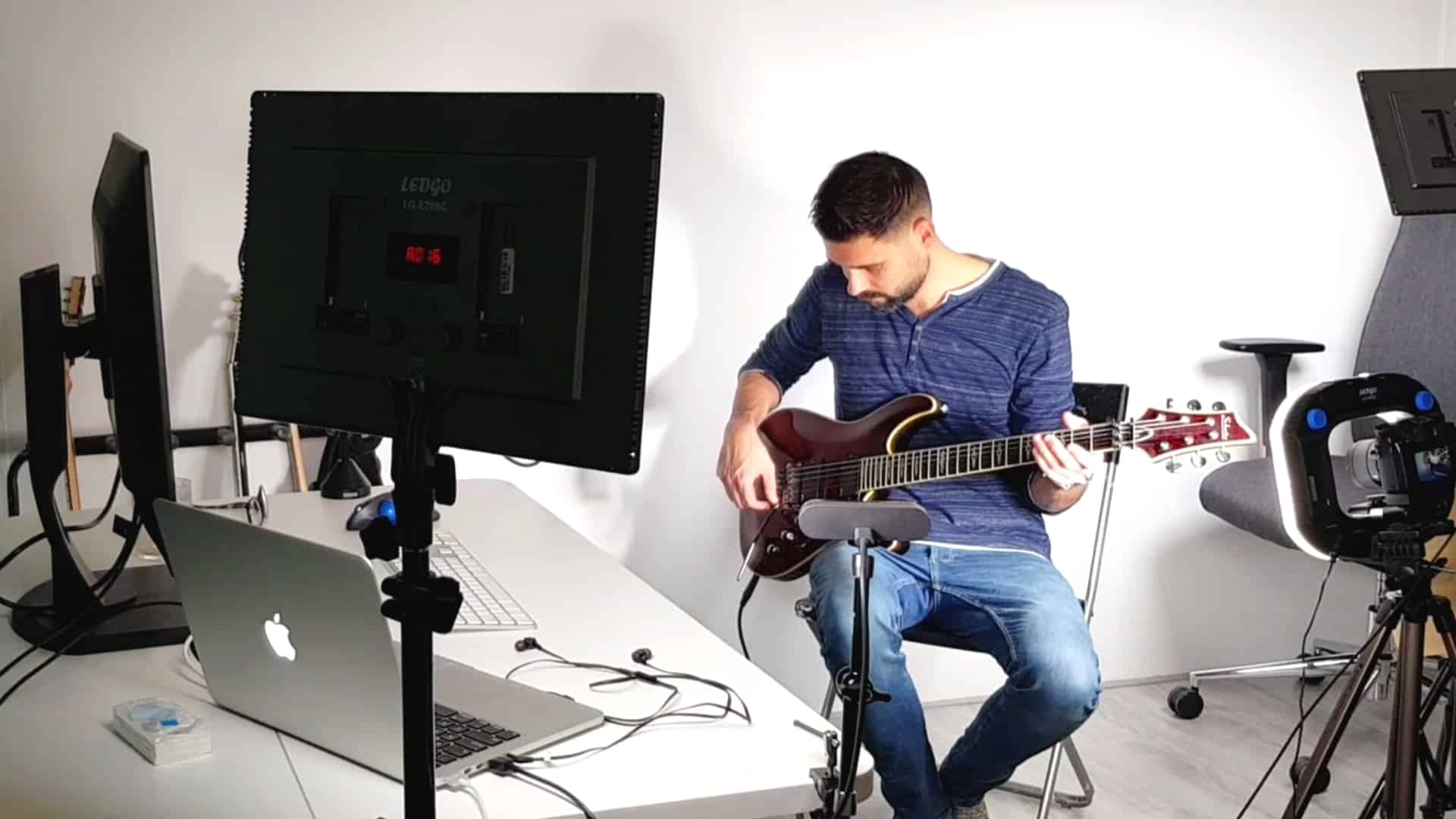 Subscribe