I love creating free content full of tips for my readers, you. I don't accept paid sponsorships, my opinion is my own, but if you find my recommendations helpful and you end up buying something you like through one of my links, I could earn a commission at no extra cost to you.
Learn more
There's a lot of variety when it comes to headphones for your guitar.
Some are designed to cancel out the outside noise, they work with your AMP, and then there are those ultra-precise sounding headphones that help you hear every single note and catch your mistakes when practicing.
A well-rounded pair renders precise tones and high-quality sound while being comfortable on the ears.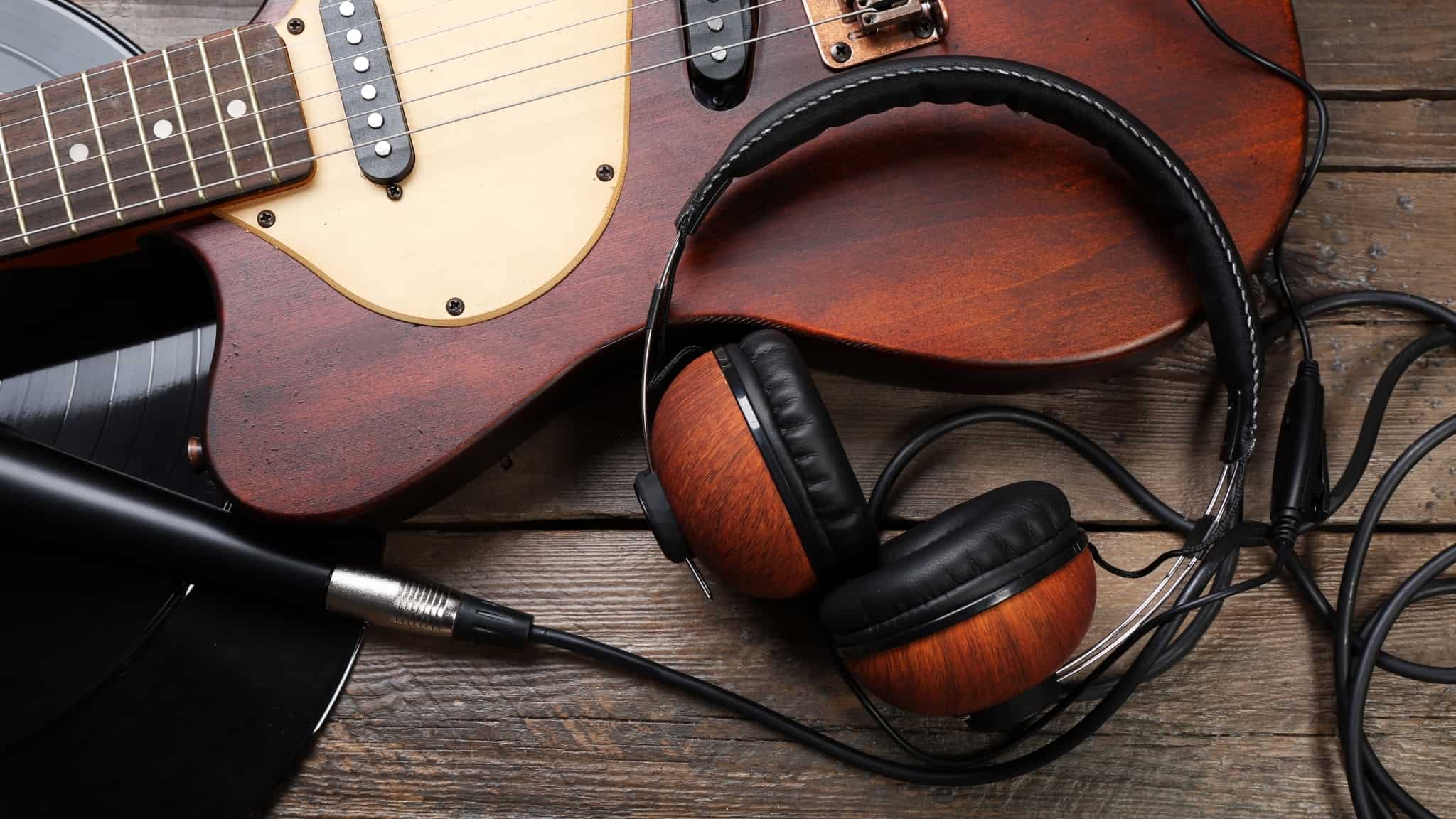 Whether you're into studio practice, at-home practice, gigs, mixing, or recording, I've got you covered with some of the best headphones for guitar with cheap, mid-price, and premium options.
The best overall pair of headphones is this AKG Pro Audio K553 because when you need to play quietly to avoid annoying your neighbors, this one is great at noise isolation, and it's well priced. This pair of closed-back headphones has a lightweight, cushiony design you can wear all day long without any discomfort.
I'm going to review the best headphones for the guitar suitable for all budgets.
Check the table to see my top picks, then read on for full reviews down below.
What to look for in guitar headphones
With all these options, it's hard to tell what's best. Maybe you're attracted to a certain design, or perhaps the price is the biggest selling point.
Either way, there are several factors you should consider before buying guitar headphones.
After all, these headphones are versatile, so you may end up using them for other things like gaming and listening to your favorite guitar tracks.
Functionality
What really matters is the kind of sound that you're looking for from your headphones. What frequencies are important, are you a high-end fan? Do you need clear bass?
For everyday use, balanced headphones are great because there is no specific focus on one particular frequency range. Thus, what you hear is the real sound of your guitar as it comes from the amp.
This is ideal if you want to hear the instrument's true sound and tone. The sound will sound good with the headphones on AND off.
Are you planning on giving the headphones more use besides playing guitar? What I like about the headphones on our list is their versatility, you can use them to practice, perform, mix, record, or just listen to your favorite songs.
It comes down to your needs and your budget.
Design and detachable cable
The more expensive headphones will deliver amazing sound, ergonomic design, and a detachable cable.
On the other hand, budget ones will do a fine job, but they might be less comfortable to wear and come with a cable that doesn't detach so that they can get damaged more easily.
The truth is, you might be pretty rough with your headphones, and there's nothing worse than false contact, which requires a cable replacement. This can be costly, and sometimes you just have to buy new headphones.
If you get a detachable cable, you can take it off and store them separately when you're not using the headphones. Many models come with 2 or 3 cables.
Next, look for comfortable padding because if you're wearing the headphones frequently and for a long time, they can hurt your ears. Therefore, comfy earpads are a must-have.
Usually, the over-the-ear design is comfiest and doesn't leave painful abrasions due to minimal friction between the synthetic material and your skin.
Also, check to make sure the headband is adjustable so it fits on your head perfectly.
The final point to consider with the design is foldability. Usually, ear cups that swivel inwards are easier to fold flat and store. So, when you take the headphones off, they fold compactly.
Also, if you travel with your headphones, non-foldable ones can be hard to store and may get damaged.
Hitting the road with your guitar? Find the best guitar cases and gigbags reviewed here
Open ear vs. closed ear vs. semi-closed back
You've probably heard about the open ear and closed ear terminology when searching for headphones. These three terms refer to the level of isolation the headphones provide.
Open ear headphones let you hear and listen to the sounds around you. They are best for performing in a band or noisy venues because you can still hear what's going on around you.
Closed ear headphones cancel out exterior noises. Therefore, when you play, you can hear your guitar only.
You should use these types of headphones when you are practicing by yourself or recording in a studio, and you don't want any exterior noise.
Semi-closed back headphones are the middle ground. They are best when you want close listening, but you don't mind a bit of outside noise coming through.
Noise-canceling
I'm sure you're familiar with the noise-canceling feature of most headphones. As you practice, you have to hear the guitar's tonal nuances and what your picking sounds like.
Closed-back headphones are designed to minimize sound leakage from the headphone to your surroundings. The disadvantage of these is that the audio quality is not the best.
Open-back headphones offer the most accurate sound so you can hear your guitar just as it sounds when you play it, but they lack excellent noise-canceling features. Therefore, open-back headphones allow the people around you to hear you play, which is fine for band gigs.
So, before you choose one, think about the environment you're going to be using the headphones most often.
For example, if you live in a noisy house or apartment complex with all kinds of random noises from outside or the neighbors, you want to use closed ear headphones to drown out those noises.
But, if you are practicing in a quiet room or studio, the open ear ones are fine.
Open ear headphones are not as difficult to wear as closed ear for a long time because they don't cause ear fatigue.
Frequency range
This term simply refers to how many frequencies the headphones can reproduce. The higher the number, the better.
The main thing to keep in mind is that the wider the frequency, the more subtle nuances you can hear.
Cheap headphones usually have a low-frequency range and aren't that great when it comes to hearing subtleties during playback. Therefore, I recommend getting good headphones for your amp by checking the technical specifications.
About 15 kHz is enough for most guitar amps. If you're after low tones, look for 5 Hz to a bright 30 kHz.
Impedance
The term impedance refers to the amount of power that the headphones require in order to deliver certain audio levels. Higher impedance means more accurate sound.
If you see headphones with low impedance (25 ohms or less), then they require only a little bit of power to give pretty good audio levels. These kinds of headphones are used with low amplification equipment such as smartphones or laptops.
High impedance headphones (25 ohms or more) require much more power to give those higher audio levels required from powerful equipment like a guitar amp.
But, if you're going to use your headphones with your guitar, for the most part, go for 32 ohms or higher as it's going to give an accurate sound fit for pros.
You've probably heard of headphone amps, which are used for monitoring and mixing and when using multiple headphones. Headphone amps work best with high impedance headphones, and that's when they deliver the best sound.
Generally, guitarists look for higher impedance headphones because these can sustain powerful amplification without any risk of damaging or blowing them out.
Best headphones for guitar reviewed
Now, with all that in mind, let's have a closer look at the headphones for guitar in my top list.
What makes these headphones so good?
Best overall open-back headphones: Sennheiser HD 600
A bit pricier than your average pair of open-back headphones, this is definitely a premium quality pair.
But the reason why this is the best overall pair of headphones is its extended frequency range between 10 Hz to 41 kHz. This covers the whole guitar spectrum, so you get full sound whether you play guitar or use them to listen to music.
Now, keep in mind that an open back design means that the headphones aren't supposed to contain the sound as well as closed-back ones, but this keeps in enough sound, so you don't annoy your neighbors!
In terms of design and build, these headphones are about as dynamic and low distortion as you can find.
The build is impeccable as they're made with a neodymium magnet system so that any harmonic or intermodulation is at an absolute minimum. So, if you're looking for amazing performance, this pair delivers.
As well, it's got aluminum coils for a rapid response which means even purists will love the perfect tones.
Sennheiser is a premium German brand, so they don't skimp out premium details.
These headphones have a gold plated ¼" jack plug. As well, they come with an OFC copper detachable cable that also has a damping element.
Therefore, the sound is really top-notch compared to cheaper headphones.
Check the latest prices here
Best overall closed-back headphones: AKG Pro Audio K553 MKII
If you're not familiar with AKG headphones, you're missing out. The K553 is an upgraded version of their popular K44 series. It delivers amazing noise isolation and has really good low impedance drivers.
When you want a pair of headphones with great noise-canceling capabilities, this pair delivers. It is my top pick for overall best-closed back headphones because it has a great lightweight design, with comfortable earcups, and it prevents sound leakage.
The headphones are made of a stylish faux-leather material with metallic details, so they look more expensive than they are.
See them reviewed here by Paul, who also recommends them:
When you put these on, they're going to feel like premium headphones rather than a mid-priced pair. That's all due to the extra soft plushy earpads, which cover the whole ear and ensure the noise doesn't leak out.
And even if you wear these for hours on end, you still won't feel like your ears are sore because the headphones are light and comfy.
One potential disadvantage is that the headphones don't have a detachable cable. However, the superior acoustic quality makes up for this lacking feature.
All in all, you get amazing balanced tones, a beautiful design, and a great build that's going to last for years. Oh, and if you need to store them, you can fold these headphones, so they're travel-friendly too.
Check the latest prices here
Best cheap budget headphones: Status Audio CB-1 Studio Monitor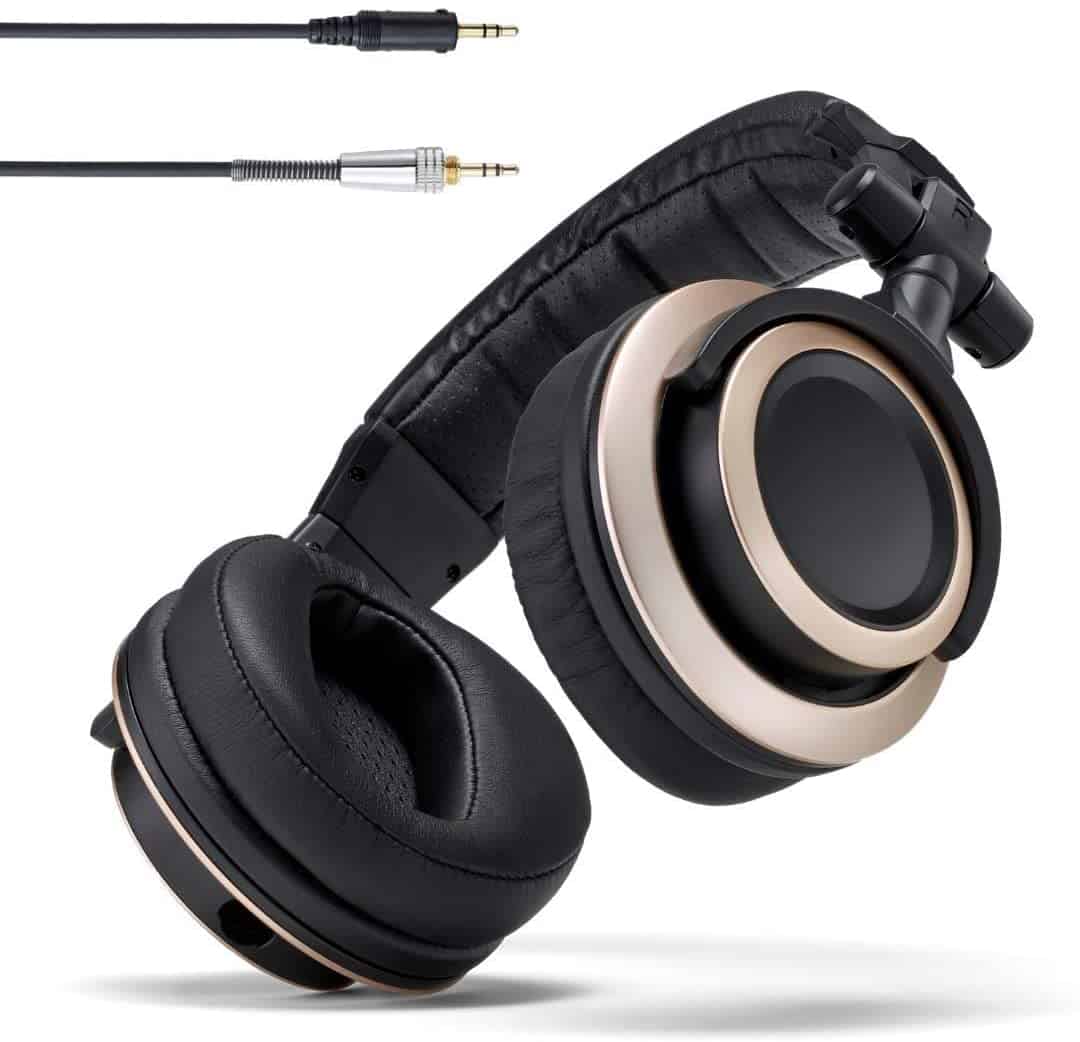 When all you want is to just play guitar without others hearing you, the best option is this affordable pair of headphones from Status Audio.
It has a comfy over-ear design with soft earpads and that chunky design you'd expect from studio monitors. These budget-friendly headphones are much better than any other cheap pair you can buy because the sound actually rivals that of $200 pairs.
Though they might not look as fancy, they perform well, and they don't give you an earache.
For the price, really a great choice, have a look here to get a feel for them:
There are two detachable cables, and you can choose straight or coiled designs, depending on your preferences.
If you need to make the cables longer, you can use a third-party extender, so these headphones are actually versatile enough for all types of use!
You can expect some sound leakage, but overall, they are quite good at isolating noise.
Sound-wise, you can expect some warm mids and a bit of flat neutral sound since they're not quite as balanced as other pairs. But if you're just casually playing guitar, you can hear your playing quite well.
The neutrality is good if you want to play various musical genres because the sound is balanced enough but not precise enough to give you fatigue if you use them for an extended period.
Check prices and availability here
Best for under $100 & best semi-open: AKG K240 Studio with Knox Gear
This is the best value for money and the best pair of headphones for under one hundred dollars. It delivers both in terms of quality and performance, and you can definitely compare it with $200+ headphones.
Although these are semi-open, they give a good soundstage effect because they don't isolate all the sound in the earcups.
Check this unboxing video to see what you can expect buying these:
The one little bit of criticism I have is that the K240 has a limited frequency range between 15 H to 25 kHz, so the lows are quite underwhelming. Instead, you have an emphasis on mids and highs.
If you're curious about comfort, well, these headphones are pretty comfortable to wear, even for long periods. They have an adjustable headband and spacious earcups that don't cause painful friction.
A bonus is that the headphones come with a 3 m detachable cable, so it's easy to travel with them and store them away, although the earcups don't fold down.
All in all, I recommend them for use at home and, the studio and even on stage.
Check the latest prices here
Also read: Best Microphones for Acoustic Guitar Live Performance
Most comfortable & best for acoustic guitar: Audio-Technica ATHM50XBT Wireless Bluetooth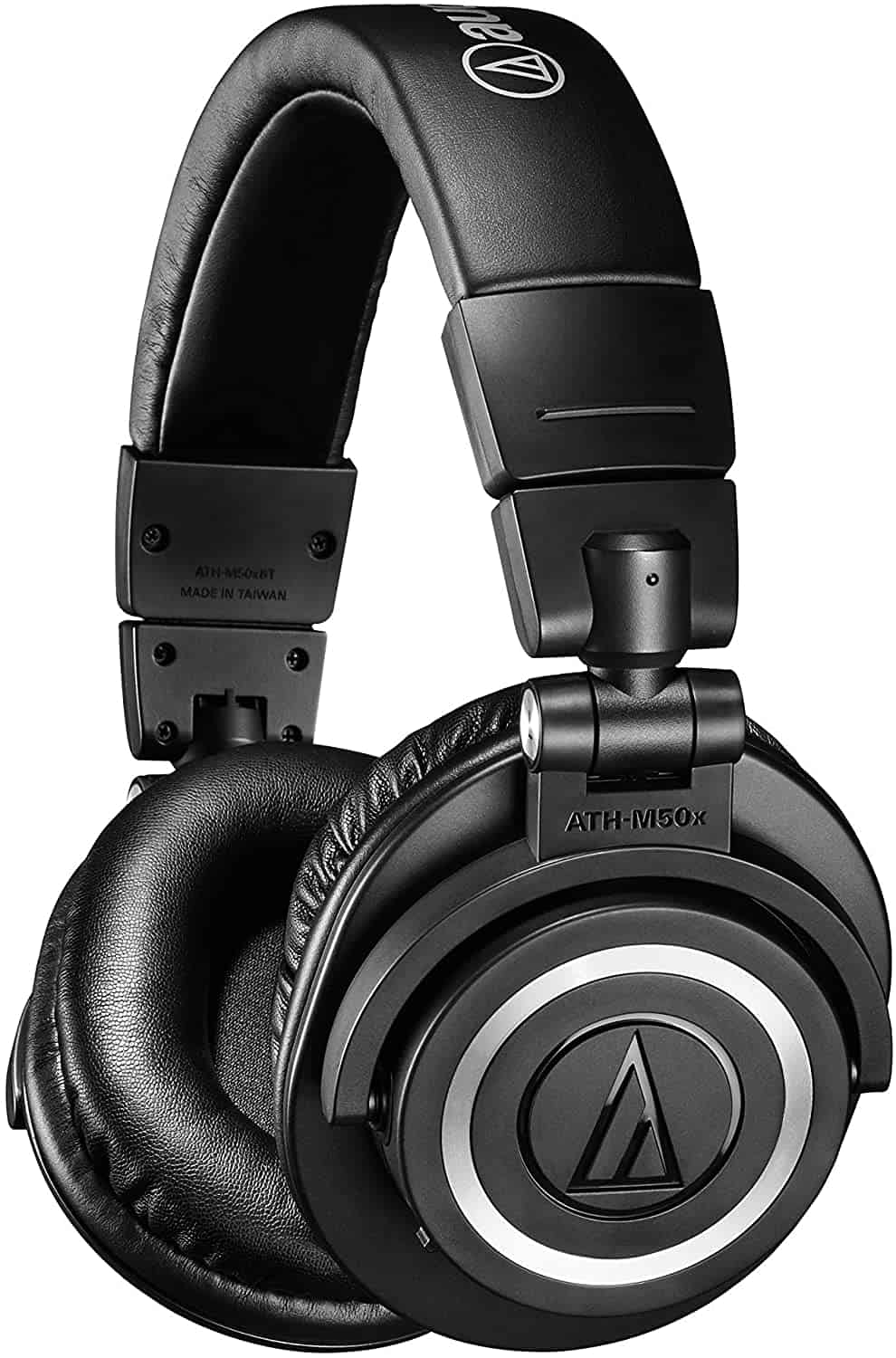 If you're looking for an affordable mid-priced pair of headphones with modern features like three detachable cables and a comfortable fit, this Audio-Technica pair is a great buy.
These headphones are extremely comfortable to wear for hours on end. They're designed with 90 degree swiveling earcups, one-ear monitoring, and a soft cushiony earpad.
Thus, you can just keep them on one ear when mixing or wear them while playing your guitar all day long without feeling like they weigh your head down.
Their battery life is also great, so no worries about running low in the middle of a session:
As far as sound, this model strikes a great balance between mid-range, treble, and bass without major distortion. It's the type of headphone which delivers the 'real' sound of your guitar.
Thus, it doesn't falsely enhance any of the guitar's frequencies and keeps the sound of the bass as it is.
The headphones also have a really good frequency range between 15 Hz-28 kHz and an impedance of 38 ohms.
Be careful if you're using studio quality equipment like expensive mics because the low input may not work properly with your high-end devices.
But, if you're just using the headphones with the guitar amp, it's fine, and you'll be pleased with the sound and performance.
Check the latest prices here
Best for professional players & best rechargeable: Vox VH-Q1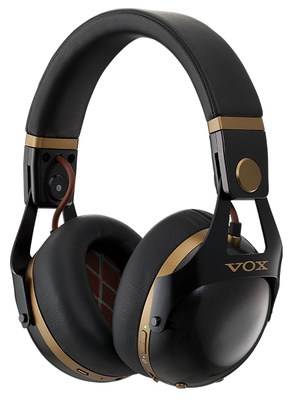 These days, you expect headphones to be smart. Modern devices must have modern smart features, especially if you're paying over $300 for a pair of headphones.
This elegant pair is the best option for professionals who need the convenience of rechargeable headphones but also need excellent sonic performance.
The Bluetooth feature and 36-hour run time on one charge make these super handy to take on the road with you or use while recording.
But of course, the best feature is how great these are at noise-canceling.
If you're using the headphones for guitar practice and vocal training, you'll appreciate the built-in internal and external mics.
These render a pristine tone because they pick up and isolate the instrument's frequencies, amp, or voice. In addition, you can jam with backing tracks or blend your playing.
If you want to use a voice assistant like Siri or Google Assistant, then you can. Thus, in my opinion, this is an excellent pair of high-tech premium headphones.
Whether you play guitar, listen to music, or want to hear yourself play in a crystal clear tone, this pair has you covered.
Check the latest prices here
Best headphones for bass guitar: Sony MDRV6 Studio Monitor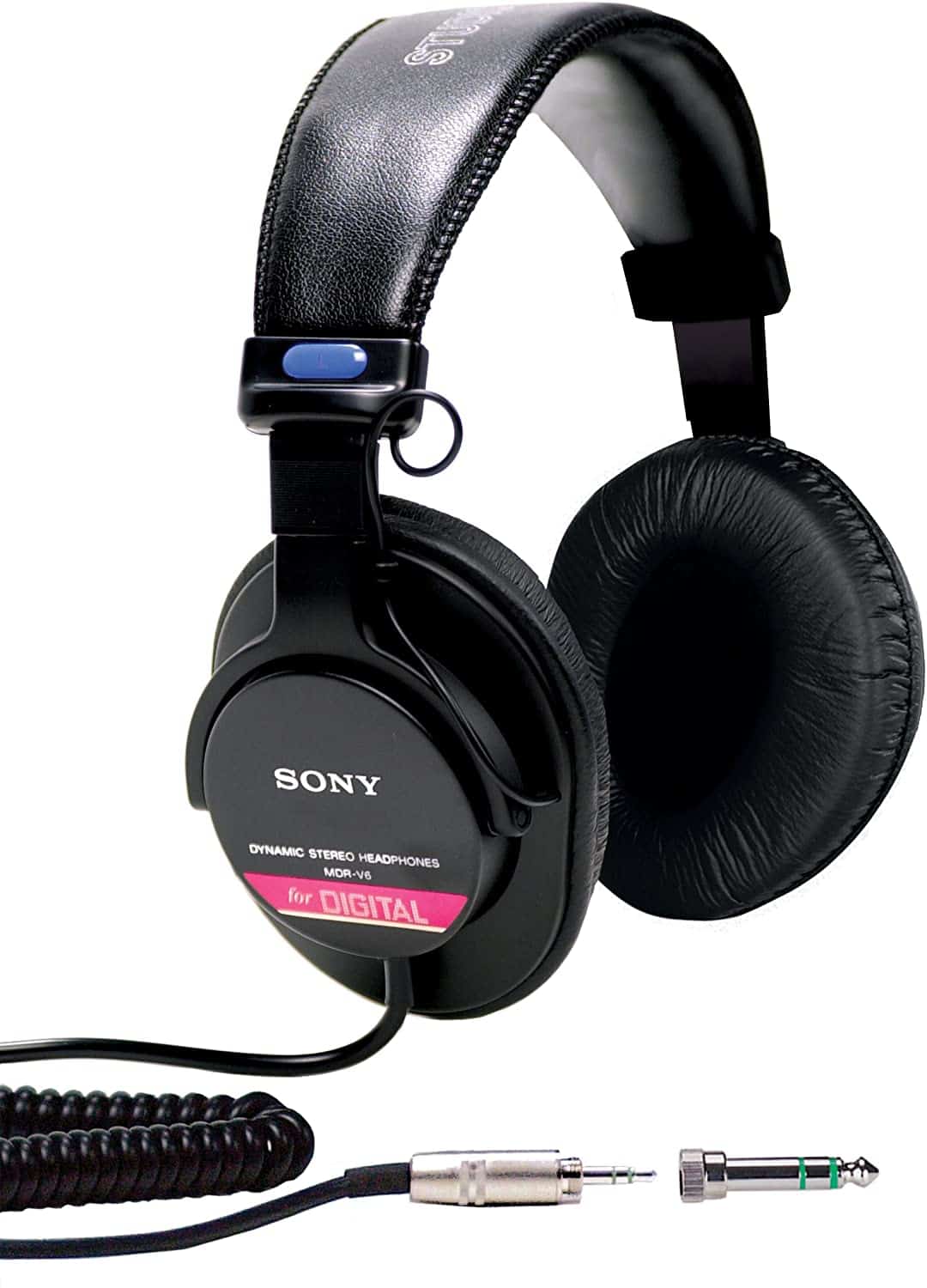 This is by far one of the best pairs of headphones for bass guitarists because it has a 5 Hz to 30 kHz frequency response, so it covers the deep, powerful, and pronounced bass range.
One thing to note is that the highs are slightly awkward, but the treble and mid ranges are excellent. Bass guitars tend to downscale the mid and high signals anyway so that you can hear much clearer bass ones.
Therefore, you don't have to worry about those annoying hiss noises.
These Sony headphones also have a great circumaural (around the ear) design which means that they fit around the head and seals themselves to prevent any sound leakage as well as external noise.
See how they look here in this raving review:
These are easy to store and travel with, too, since the earcups are foldable. Although the cord is undetachable, it is designed to act as a noise gate to prevent those redundant noises bass is known for.
What makes these headphones stand out is the CCAW voice coil. This aluminum voice coil with a copper coating helps deliver crisp high and those deep bass frequencies.
The design facilitates the movement of the sound transducers in the headphones. And like some similar headphones, this pair has neodymium magnets that deliver a detailed sound.
Check prices and availability here
Bottom line
For those looking for good headphones for practice, AKG and Studio Audio are great options because they are affordable, comfy to wear, and have pretty good sonic qualities.
If you're ready to dish out a larger sum, I recommend the Sennheiser or Vox headphones known for exceptional quality, sound, and durability.
If you plan on recording and touring, good headphones are a must-have, so don't be afraid to invest in pristine sound and tone because you won't regret it!
Read next: Best guitar stands: ultimate buying guide for guitar storage solutions
          Joost Nusselder, the founder of Neaera is a content marketer, dad and loves trying out new equipment with guitar at the heart of his passion, and together with his team, He's been creating in-depth blog articles since 2020 to help loyal readers with recording and guitar tips.
Check me out on Youtube where I try out all of this gear: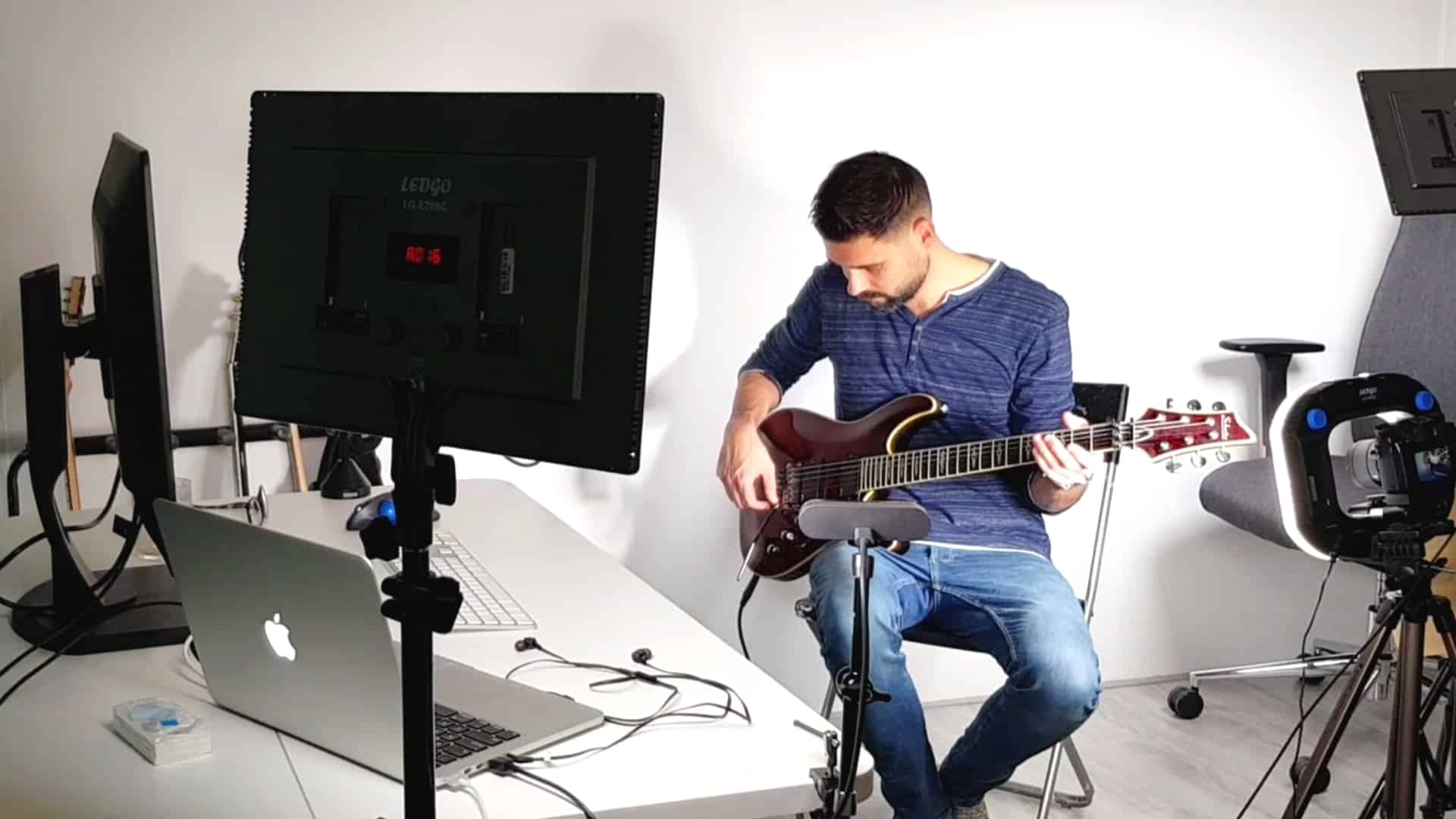 Subscribe