hi there I love creating free content full of tips for my readers, you. I don't accept paid sponsorships, my opinion is my own, but if you find my recommendations helpful and you end up buying something you like through one of my links, I could earn a commission at no extra cost to you.
Learn more
If you're interested in getting a good value Strat-style guitar for gigs and busking, you can opt for an Ibanez.
It offers more than other entry-level guitars and it's well-built so you can take it on the road.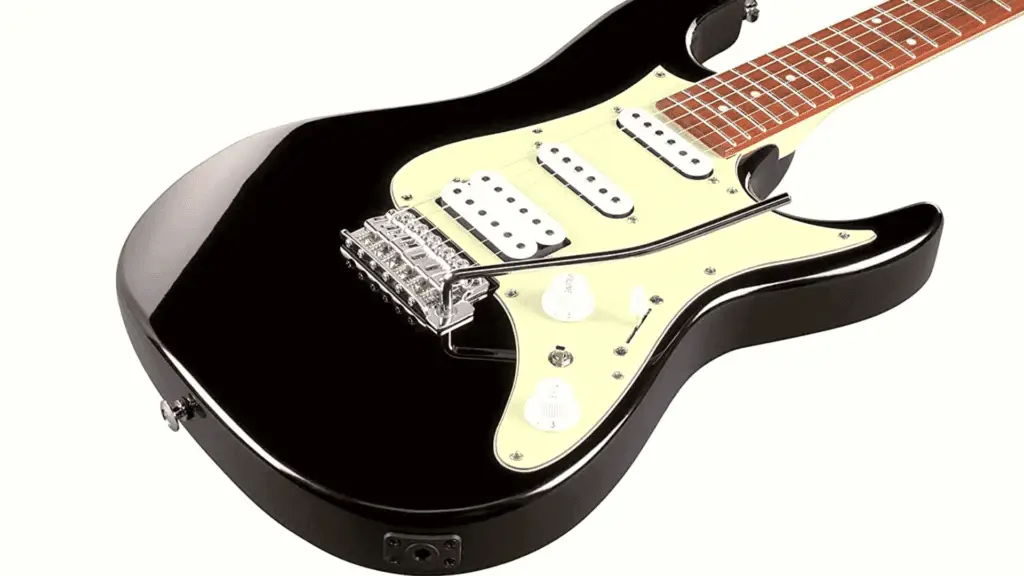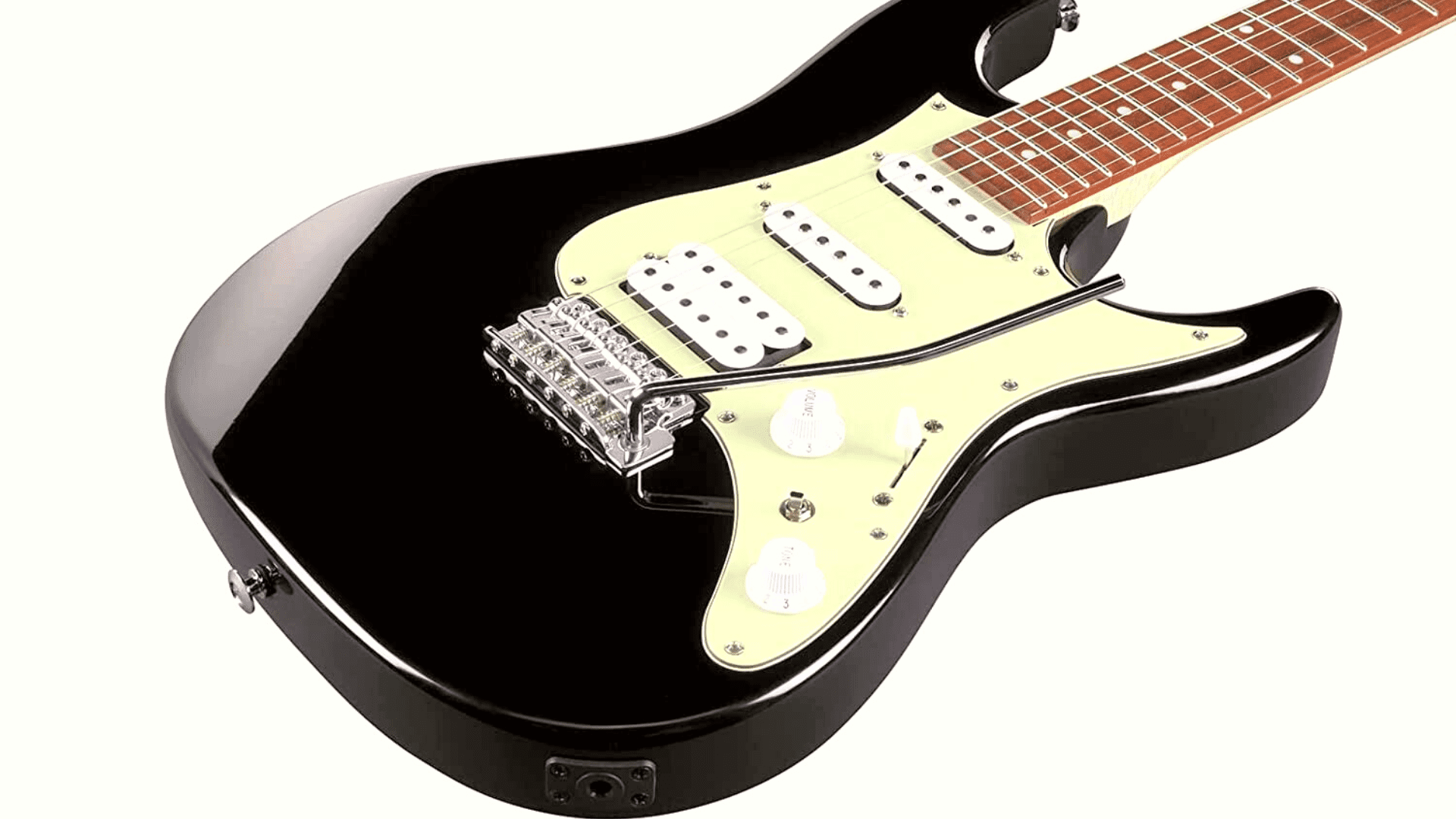 The Ibanez AZES40 has a distinctly smooth and light playing feel, making it great for blues, rock, metal or pop. The tone is organic and perfect for those who want a classic Stratocaster sound. Since it's so versatile, it can be used to play many genres, and that's why it's a great gig guitar.
The Ibanez AZES40 Standard Black is a top choice for gigging guitarists who want a classic Stratocaster look and feel at a fraction of the cost.
It was only introduced in 2021 so it's one of the newest Strat-style instruments.
In this review, I'm discussing all the features of this Strat while comparing it to other similar electric guitars.
What is Ibanez AZES40?
When it comes to Ibanez, Steve Vai definitely comes to mind first. His Vai series is the best-selling artist guitar of all time.
Now the Ibanez AZES40 is not a Vai guitar but it's a great entry-level gig guitar and a good way to try the brand.
The Ibanez AZES40 is an electric guitar from the Ibanez AZ series, crafted in Indonesia with a Strat-style body shape with a classic look and feel.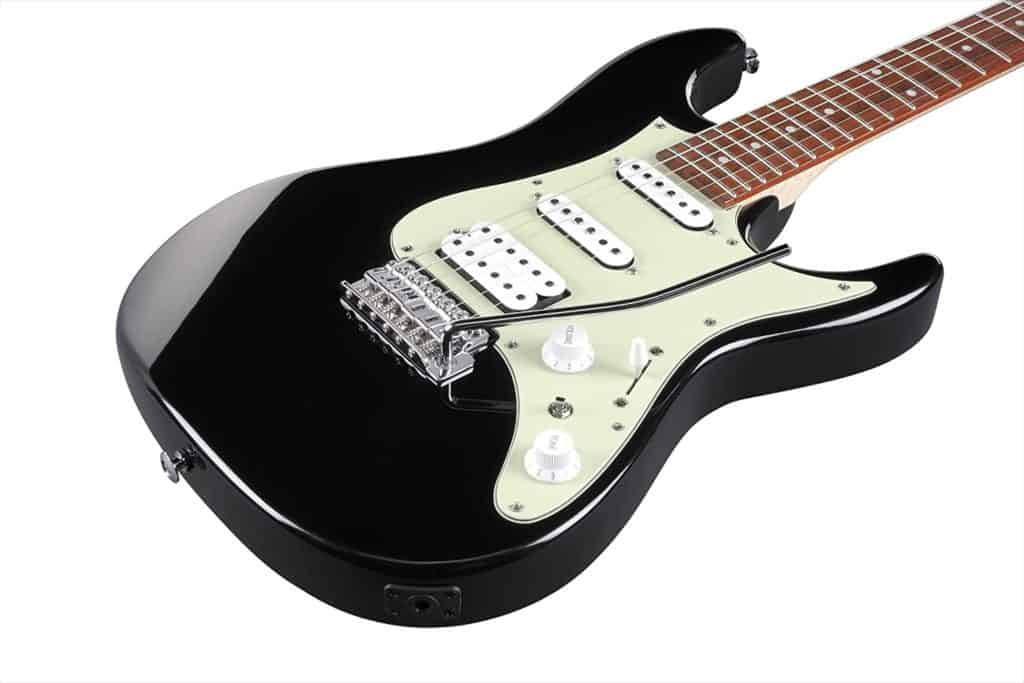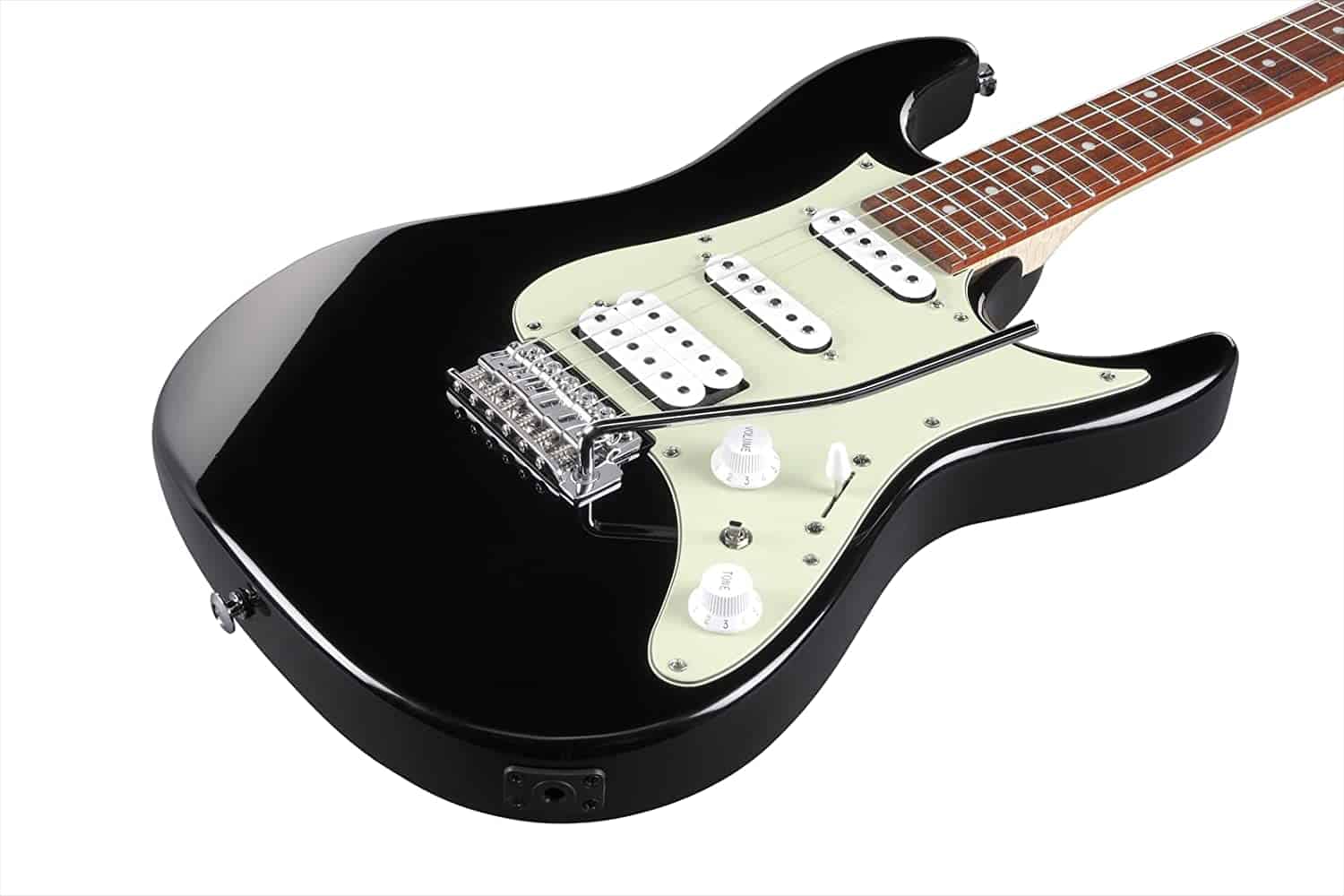 All the guitars in this series are sold bodies and they're made for Hoshino Gakki. They're still sold as Ibanez brand though and this ensures they're pretty good quality.
The Strat-style guitar in this series, which is marketed an entry-level guitar, is still highly refined and well-made. It is probably the best competition for the Squier Classic Vibe!
It features a solid poplar body, maple neck, and Jatoba fretboard and this means it has a good tone, much like the original Fender.
It's definitely an upgrade to Fender's budget Affinity series because it has better pickups, higher-end hardware and the finishes are superior.
The neck is slim and fast, making it great for those who want to play fast riffs or shredding.
It also has a comfortable fretboard radius and smooth frets which makes it great for playing chords or solos.
If you're gigging, you need sound quality and performance that won't let you down and this guitar has it all.
Overall, the Ibanez AZES40 is an excellent gig-ready electric guitar that offers a great balance of tone and playability.
It's a versatile guitar that can handle just about any style of music, making it perfect for the stage or the studio.
Whether you're a beginner or a seasoned pro, this guitar has something to offer anyone who loves the sound of a classic Stratocaster.
Buying guide
When it comes to Stratocaster copies, there are certain defining features to look for.
The original Stratocaster is manufactured by Fender and this brand's iconic look and sound are the benchmarks to aspire to.
For the Ibanez AZES40, here are some of the key features to consider to decide if this guitar is suitable for your needs.
Best gig stratocaster guitar
Ibanez
AZES40 Standard Black
The Ibanez AZES40 Standard has a fast, thin neck and two humbucker pickups, and is a great choice for metal and hard rock as well as an excellent gig guitar.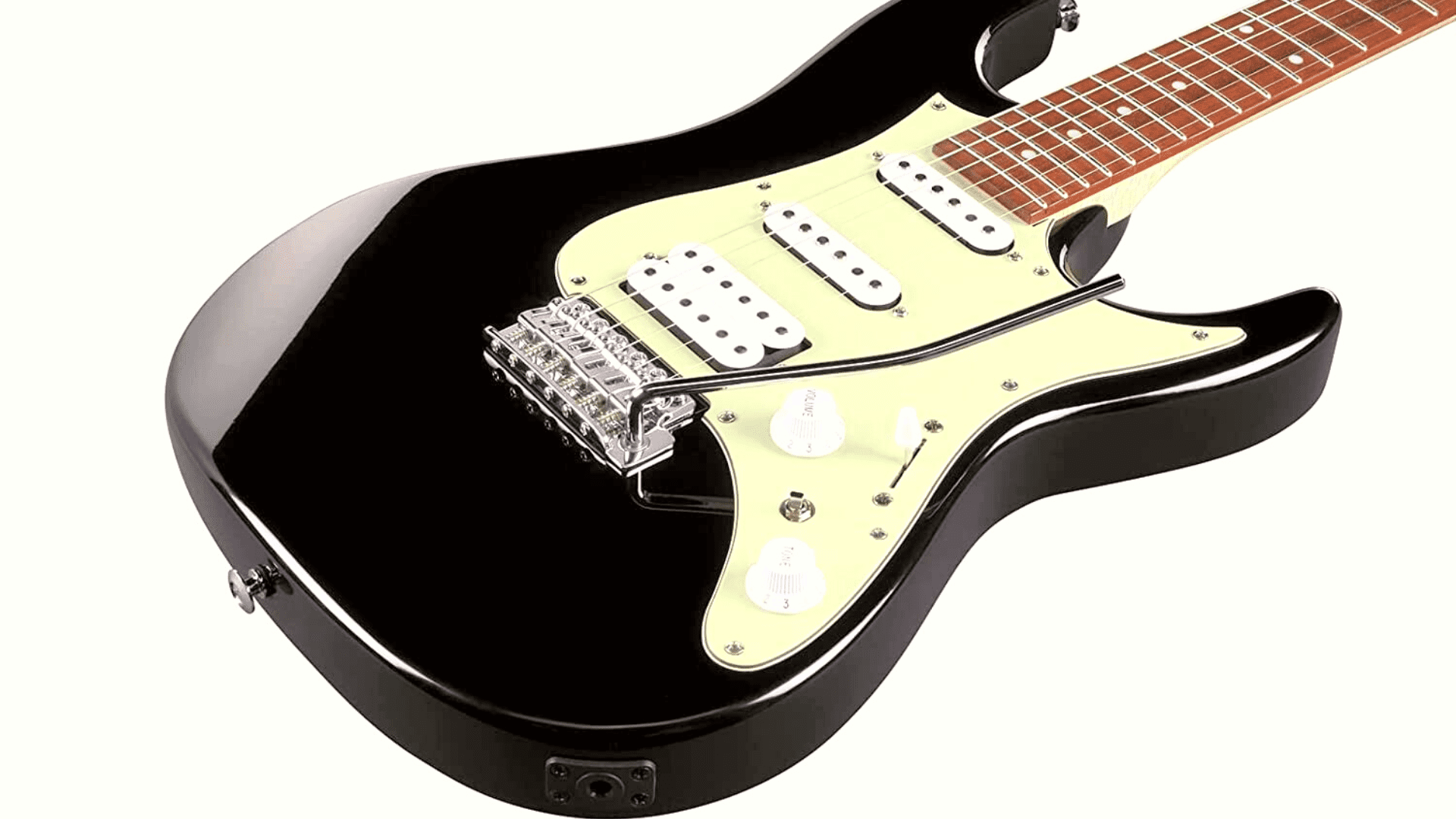 Tonewood & sound
Fender's Stratocaster's usually have an alder body. This offers a bright and snappy tone with a good amount of sustain.
Ash in also popular but it is more expensive and delivers a warmer tone.
But other good tonewoods include poplar – it's a softer wood but still offers great sound. Since Ibanez wants to keep the AZES40 cheap, it uses poplar.
So, the Ibanez AZES40 has a poplar body and this helps keep the cost down while still offering good sound quality.
Pickups
The original Fender Strat has three single-coil pickups and these are renowned for their bright, twangy sound.
Most copy guitars have humbuckers or a combination. You can expect a bit of a different sound from a guitar like the Ibanez.
The Ibanez AZES40 has an HSS pickup configuration which means it has two humbuckers and one single-coil pickup.
The bridge pickup is a humbucker pickup, offering a wide range of sounds from thick and crunchy to clean and articulate.
The neck pickup is a single-coils, providing even more tonal options.
Bridge
The Fender Stratocaster has a tremolo bridge, which gives it its signature sound. The Ibanez AZES40 also has a tremolo bridge for that classic Strat sound.
The advantage of a tremolo bridge is that it lets you easily adjust the string tension and thus the sound of the guitar.
It also allows you to perform wild dive bombs and other effects that require a floating bridge.
Neck
Most Strats have a C-shaped neck, which is comfortable and fast. The C-shaped neck is considered quite modern compared to the vintage U-shaped neck.
Almost all Strats have a maple neck and Ibanez has stuck with the same. The maple neck is best for rock and metal, offering excellent sustain and brightness.
Fretboard
Most Stratocasters have a rosewood fretboard, but the Ibanez AZES40 has a Jatoba fretboard.
This makes a bit of a difference when it comes to sound.
The reason professional players prefer rosewood is that it offers a warmer, more complex sound. But Jatoba is still a great option and it's hard-wearing too.
When buying a guitar, look at the fretboard edges and make sure they're smooth and free from sharp edges.
Hardware & tuners
Stratocasters by Fender and Squier come with excellent hardware and you can expect the same with the Ibanez AZES40.
The tuning machines are stable when it comes to keeping your guitar in tune and the bridge is solid, allowing you to get some great effects.
Look for hardware that is reliable and well-built. Make sure the tuning machines are smooth and easy to use.
The dyna-MIX9 system is something that Ibanez offers.
It provides you with more control over your sound and gives you access to nine different pickup combinations.
On classic Fenders, this kind of thing is not available.
Playability
A gig guitar must be easy to play – after all, playability is a major factor in the enjoyment of playing an instrument.
The reason why Stratocasters are so popular is that they're comfortable to play.
The Ibanez AZES40 is no different – its neck shape, fretboard radius and frets are all designed for easy playing.
The action of the strings should be low enough that you can easily move between chords but not so low that notes will buzz.
Why the Ibanez AZES40 is the best Stratocaster-style gig guitar
Ibanez established itself as a premier guitar manufacturer with its impressive lineup of guitars.
At the top of their list is the AZES40, which offers a great Stratocaster-style tone and feel in an affordable package.
This Strat clone is suitable for use as a backup instrument or as a straightforward busking and gig guitar.
It's a fantastic option for people looking for a budget-friendly guitar that can yet withstand abuse.
The Ibanez AZES40 boasts a distinctive "floating" tremolo system. As a result, you can play with vibrato without having the guitar's tuning be affected.
So, it's the ideal option if you want a guitar that can withstand any challenge.
Specifications
type: solidbody
body wood: poplar
neck: maple
fretboard: Jatoba
frets: 22
pickups: 2 single coil & 1 humbucker (HSS) and also comes in SSS version
neck profile: C-shape
floating tremolo bridge (vibrato)
controls: Dyna-MIX 9 switch system
hardware: Ibanez machineheads w/ split shaft, T106 bridge
finish: purist blue, black, mint green
left-handed: no
Here's what makes this Ibanez stand out among Stratocaster-type guitars:
Playability
The Ibanez AZES40 has been designed with playability in mind.
It is easy to fret even on the highest frets and the neck is comfortable too. The bridge provides plenty of sustain and also makes string bends easy.
Is it as playable as a Fender Strat? We'd say the Ibanez is just a touch behind, but it's still an excellent option for gigging.
If you're into recording in the studio, it might be worth investing in something like the Fender Player Electric HSS Guitar Floyd Rose or Fender American Ultra.
However, a gig guitar often needs to travel, and the Ibanez AZES40 is well-built, and the hardware is quite good, making it an ideal option for those wanting a versatile guitar.
Keep your guitar safe on the road with a proper gig bag or case (best options reviewed)
Fretboard
The fretboard is made of Jatoba which is kind of an uncommon tonewood these days. Jatoba is a Brazilian wood and it sounds very similar to rosewood.
In terms of sound and feel, Jatoba is less bright and has a lighter, almost pale look.
This guitar has a mildly curved 250mm/9.84 inch "board," so it fits comfortably in the hands for a variety of playing styles.
The comfort round string saddles provide a comfortable surface for the picking hand, and a somewhat shorter scale of 25 inches makes stretches simpler for beginners.
So while this instrument is great for beginners, it's not a "basic" guitar like the Yamaha Pacifica 112V which has the bare necessities (although it sounds great!).
The downside to this guitar is that the fretboard edges aren't perfectly rolled, so you may want to smooth them out a bit before playing.
You can tell the difference between the smooth and sharp feel when playing.
Hardware & tuners
The Ibanez AZES40 also has locking tuners and a recessed tremolo bridge system that allows you to experiment with different sounds.
Compared to the AZES40, it comes with a vibrato for more expressive sounds and more sustain.
The AZES40 also has two control knobs – one for tone and the other for volume – allowing you to adjust your sound on the fly.
But the standout feature of this guitar is the dyna-MIX9 system because it offers you nine different pickup combinations.
This provides you with more control over your sound and allows you to get more creative with your music.
That's what you need from a gigging guitar, right?
With the flip of a switch, you may go from crisp single coil tones to heavier, crunchier rhythms.
The Ibanez AZ Essentials guitars have a really unique control setup.
Both the conventional triple single coil configuration and the HSS have the Dyna-Switch feature.
With the 5 way blade switch combined with the Dyna, each guitar can produce up to 10 different sounds.
Inexperienced players can find this a little puzzling. However, an experienced player may be able to make good use of this function.
You get a different sound/pickup blend in each position.
All the hardware is chrome so it won't rust and the finishing is great, meaning you can gig with it for years to come.
The guitar has split shafts and die-cast housings.
The split shaft makes it simple to replace the strings, and the die-cast housing protects from dusts and ease of tuning.
Pickups
Ibanez AZES40 has two single-coil pickups and a humbucking pickup – the neck pickup is a single coil, while the bridge pickup is an Ibanez humbucker.
The two pickups produce a wide range of tones, from the classic Strat-style sound to a bit more modern vibe.
The pickups are noisy and hot, which is ideal if you want to do some real shredding.
The bridge humbucker is appropriately midrange-voiced when the overdrive is turned on, but the neck single-coil sounds a little muddy.
Fortunately, the dyna-MIX9 system offers a total of nine tones for us to experiment with.
The pickups are not as high quality as Fender's pickups, but they are decent and more than enough for gigging.
Neck
The Ibanez AZES40 has a slim C neck so it's perfect for playing chords or shredding leads.
Also, the slim neck profile makes it easy to play fast, while the 22 medium frets give you plenty of room to explore different fret positions.
All Ibanez AZ Essentials guitars use the renowned Ibanez "All Access" neck joint connecting the neck to the body.
The all-access neck joint on Ibanez guitars guarantees comfort and playability even at the top frets.
You can now reach the higher frets without bumping against a square heel joint thanks to this.
This might be useful for beginner players who are having trouble mastering octave and higher scales.
The strings are anchored at the headstock by an adjustable string-through body design, giving it a tight and consistent sound.
Body & tonewood
The AZES40 features a poplar body and a maple neck.
A poplar body gives you that classic rock-style sound while still being lightweight.
It has less brightness than alder but the maple neck gives it that classic crisp high end.
This guitar feels lighter and smaller than your typical Fender Strat so it's easy to get around on stage.
The slim profile will also make it easier for beginners to hold and play.
Modern shredders and rockers alike will appreciate the combination of a solid poplar body and a maple neck for excellent tone.
The two humbucker pickups offer great sustain and clarity, while the single-coil neck pickup allows you to switch back and forth between bright and clean sounds.
The Ibanez AZES40 also has a vintage-style tremolo bridge and locking tuners for excellent tuning stability.
Quality
Compared to cheap guitars designed for beginners, the Ibanez is definitely a major step up.
In order to eliminate quality issues, the Ibanez AZ Essentials was created using better materials.
The idea behind this guitar is to keep it fairly conventional and simple.
Although this is essentially a Stratocaster, it does have it's own "Ibanez" touch with the Dyna-Mix switch and the unique Jatoba fingerboard.
Compared to a Fender Strat, it is a little simpler to learn playing on because of its features. The Fenders are harder to learn with due to the complicated electronics.
Best gig stratocaster guitar
Ibanez
AZES40 Standard Black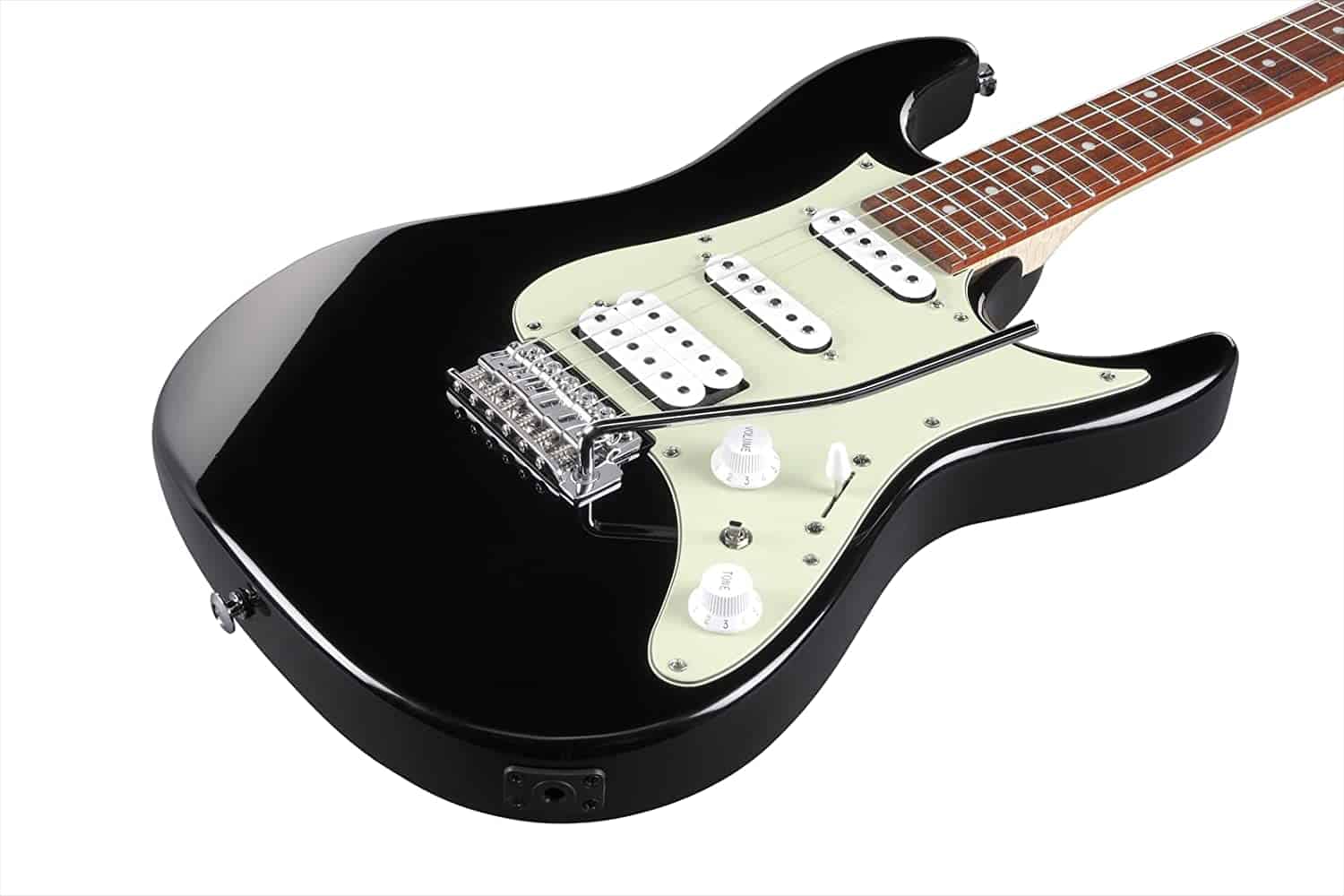 Best for
dyna-MIX 9 switch system

great for shredding
Falls short
made of cheaper materials
What others say
If you're on the road regularly gigging at different venues, the Ibanez AZES40 is an ideal guitar. It's reliable, stays in tune, and is easy to pick up and play.
It also looks great so you can't really complain that it's not almost like a Fender!
Amazon customers are impressed at the value this guitar offers – it's very playable and looks beautiful.
According to the guys at Guitar.com, "the AZES40 is laughably inexpensive for an instrument that, in terms of playability and build quality, rivals guitars five times its price."
Therefore, it's an excellent guitar for most playing styles and it will get better with age.
The sound quality is also quite good, with a wide range of tones to choose from.
The reviewers at electrikjam have one concern though concerning the complexity of the Dyna-Switch:
"I feel like the Dyna-Switch might confuse the hell out of some new players because it is actually kind of complicated. I have to mentally visualize and actually think about what I was doing for each position. But for the intermediate players, the Ibanez AZ Essentials can easily expand their sonic palate. This might really change how they play, and may influence the style they decide to play later on."
I'm not as concerned about this because I'm recommending this guitar for those of you who are gigging, not complete beginners.
For you, the switch can really open up your sound and help you get the most out of your playing.
Who is the Ibanez AZES40 not for?
If you're a professional or just simply don't care about budget, then this guitar isn't for you. You could get better sound and playability out of more expensive models.
However, if you're an intermediate player who's just starting to gig or a regular gigger and needs something reliable and affordable, then this guitar is for you.
You'll get great sound and playability out of it.
The Ibanez AZES40 is also not the best guitar for some musical styles like country or classic blues where twangy single-coil pickups are preferred.
This guitar is light and smaller than some Fenders and may be a bit uncomfortable for larger players.
It all comes down to what you need and what kind of music you play. If it fits the bill, then go for it.
Also read: How long does it actually take to learn to play guitar? (+ practice tips)
Alternatives
Ibanez AZES40 vs Squier Classic Vibe
Compared to a Squier Classic Vibe, the AZES 40 is a better value, according to some players.
It has better electronics, frets, and, occasionally, tuners and jack assemblies.
The AZES40 also boasts an innovative Dyna-MIX 9 switch system that allows you to select from a variety of tones.
This is a great feature for experienced players who want to get creative with their sound.
However, many players are loyal to Squier because it's a Fender sub-brand and for a cheap guitar, it sounds amazing.
Best overall beginner guitar
Squier
Classic Vibe '50s Stratocaster
I like the look of the vintage tuners and the tinted slim neck while the sound range of the Fender designed single coil pickups is really great.

When it comes to sound and playability, the Fender Squier Classic Vibe 50s Stratocaster comes out on top.
If you're a beginner, you can learn much easier with the Squier Classic Vibe.
The Ibanez AZES40 is still preferable, though, for a variety of reasons.
The Ibanez AZES40 would undoubtedly feel more comfortable to play if you have tiny hands.
Ibanez AZES40 vs Yamaha Pacifica
Many players usually compare these two guitars because they're in a similar price range and are both Stratocaster-style guitars.
The Yamaha Pacifica (reviewed here) is designed to be a more affordable version of the Stratocaster, while the Ibanez AZES40 takes a few steps further and adds an extra pickup, active electronics, and a locking tremolo system.
When it comes down to sound quality and playability, many players consider the Ibanez AZES40 to be the better choice, especially for gigging.
The Yamaha Pacifica is a true "beginner guitar" whereas the Ibanez AZES40 is used by intermediate and advanced players as well.
Overall, the Ibanez AZES40 is an excellent value and highly recommended for those looking for a modern-style Stratocaster with active electronics.
With its great features and solid build quality, it's sure to make any guitarist happy.
For the price, it definitely offers more than what you'd expect from a budget instrument.
The Yamaha Pacifica delivers the basics and if you want to learn guitar it can probably serve you better since it's easier to play.
Best Fender (Squier) alternative
Yamaha
Pacifica 112V Fat Strat
For those looking to buy their first guitar and not want to spend a lot of money, the Pacifica 112 is an excellent option that you won't be disappointed with.

Are you a leftie? Have a look at the best Stratocaster for lefthanded players, the Yamaha Pacifica PAC112JL BL
FAQs
Is Ibanez AZ a Superstrat?
Basically, it's a high-functioning, less shred-focused Superstrat with top-tier hardware and features to draw modern players.
As usual, Ibanez has taken the best of what is already available and created a version that is distinct, excellent, and jam-packed with features.
Is Ibanez AZES40 good for beginners?
Yes, the Ibanez AZES40 is a great guitar for beginners. It's playable and affordable.
However, it's not my first choice for a beginner guitar.
If you're just starting out, I'd recommend something like the Squier Classic Vibe or Yamaha Pacifica instead.
These guitars are easier to play, and they sound great.
But if you have a bit more experience and need something reliable and affordable, the Ibanez is top notch and offers good tonal variety.
Is Ibanez better than Fender?
That really depends on what you're looking for and the style of music you want to play.
Fender is the original Stratocaster manufacturer, and they make some of the best guitars on the market.
Ibanez, on the other hand, is a company that focuses on creating original designs and modern features. They make some excellent quality instruments as well.
It's up to you to decide which one is better depending on what you need from a guitar and how you play.
Where is Ibanez AZES40 made?
The Ibanez AZES40 is made in Indonesia. It was first introduced quite recently (2021) so it's a relatively new model.
Conclusion
The Ibanez AZES40 is a great Strat-style guitar.
It has an excellent fit and finish, plus it's easy to play with its Standard Blacktop Series body style.
The instrument is also durable, allowing you to gig with it without fear of damage.
It's a great choice for those who are looking for an affordable and reliable instrument with modern features.
Plus, it also has the classic Stratocaster tones that we all know and love.
Overall, the Ibanez AZES40 is an excellent value and highly recommended by reviewers and players alike!
Looking for more options? I've reviewed the best Stratocasters ever made here in a full line up
I'm Joost Nusselder, the founder of Neaera and a content marketer, dad, and love trying out new equipment with guitar at the heart of my passion, and together with my team, I've been creating in-depth blog articles since 2020 to help loyal readers with recording and guitar tips.
Check me out on Youtube where I try out all of this gear: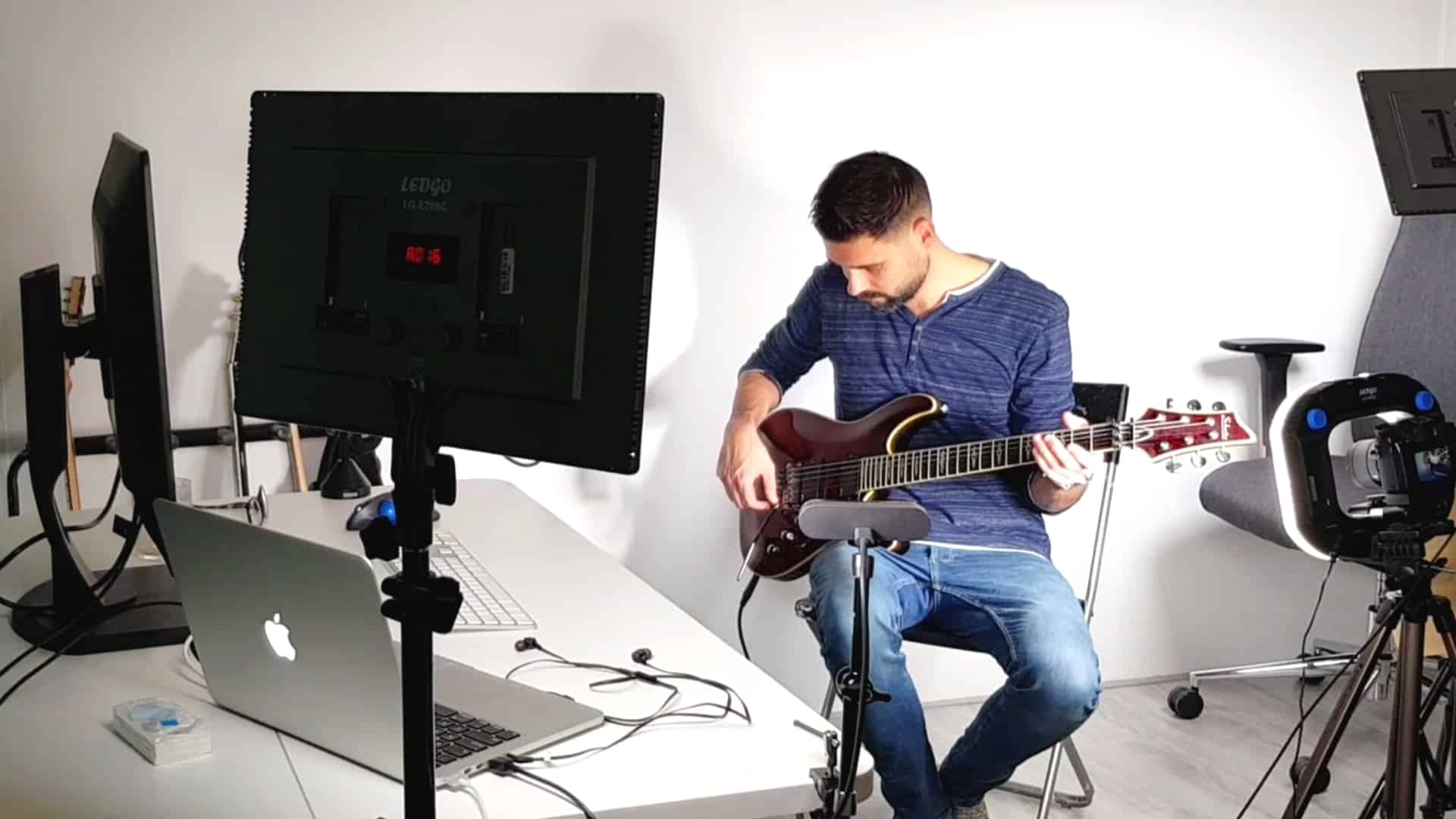 Subscribe