hi there I love creating free content full of tips for my readers, you. I don't accept paid sponsorships, my opinion is my own, but if you find my recommendations helpful and you end up buying something you like through one of my links, I could earn a commission at no extra cost to you.
Learn more
You've probably heard about "Fender's budget guitar brand" before, and now you're curious what Squier is all about!
Squier by Fender is one of the most popular guitar brands out there, and for a good reason.
They offer great quality at an affordable price, and their instruments are played by some of the biggest names in the music industry.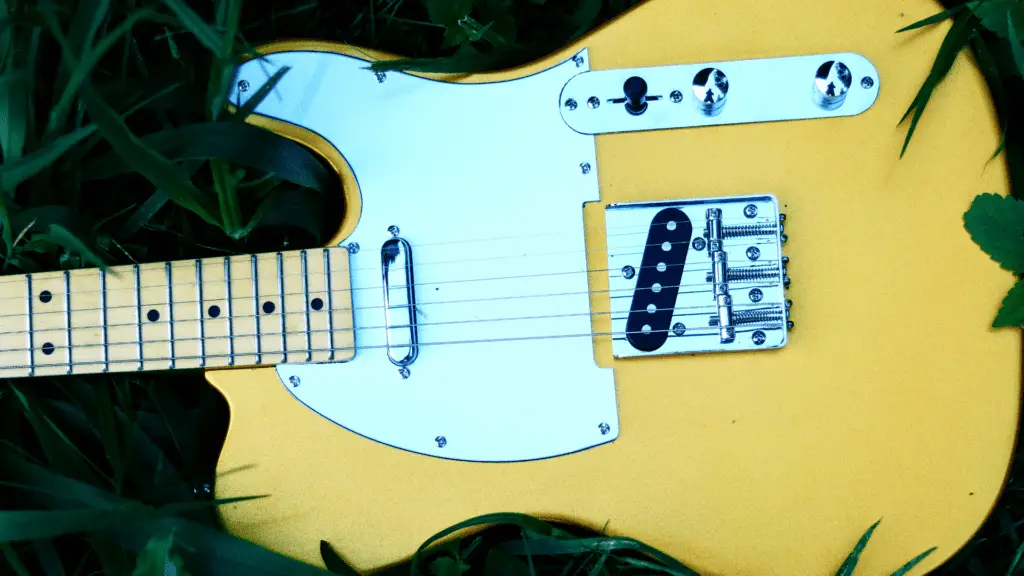 If you're looking for a new guitar, Squier is a great option to consider. The brand is owned by Fender, but the guitars are budget versions of the famous brand's best-selling instruments.
Squier guitars are perfect for beginner and intermediate players. They're also great for those on a tight budget who still want good sound quality.
I'm going to share all the information you need to know about the Squier brand and how it stands out in today's guitar market.
What is Squier guitars?
If you're an electric guitar player, you probably either play Squier instruments or you've at least heard about them before.
People always ask, "Is Squier made by Fender?"
Yes, the Squier we know today is a subsidiary of Fender Musical Instruments Corporation, and it was established in 1965.
The brand produces budget-friendly versions of Fender's most popular instruments.
For example, Squier has a cheaper version of the classic Fender strat as well as the Telecaster.
The company has a wide range of products, from acoustic and electric guitars to basses, amps, and even pedals.
Squier guitars are perfect for beginner and intermediate players as they offer great quality without breaking the bank.
The Squier logo is similar to the Fender logo, but it's written in a different font. Squier is written in bold with a Fender written in a smaller font underneath.
The company's tagline is "Affordable Quality," and that's exactly what Squier instruments are.
History of Squier guitars
The original Squier was one of the first American guitar manufacturers to exist. It was established back in 1890 by Victor Carroll Squier of Michigan.
The brand was known as "V. C. Squier Company." It operated under this name until its acquisition by Fender in 1965.
Before I go on, I have to mention Fender.
The company has its roots in Fullerton, California – where Leo Fender, George Fullerton, and Dale Hyatt founded the Fender Radio Service in 1938.
The three men repaired radios, amplifiers, and PA systems, and they eventually started building their own amplifiers.
In 1946, Leo Fender released his first electric guitar – the Fender Broadcaster (learn more about the Fender brand history here).
The instrument was later renamed the Telecaster, and it quickly became one of the most popular guitars in the world.
Later in the 1950s, Leo Fender released the Stratocaster – another iconic guitar that is still hugely popular today.
Fender bought the Squier brand in 1965 and then started producing lower-priced versions of their popular guitars.
However, by 1975 the brand wasn't doing too well. It was known as a guitar string maker until Fender decided to start making guitars in the 80s.
The first Squier guitars were released in 1982, and they were designed in Japan.
The Japanese-made electric guitars were very different from the American-made Fenders, and though they were only manufactured there for a few years, they're considered the best by the guitar world.
These guitars are known as the "JV" models or Japanese vintage, and some collectors are still seeking them out.
During the 80s, Squier faced many issues over its lack of quality control in its factories.
But they found a way out with the rebirth of the vintage reissues like the Squier classic vibe series that copied Teles and Strats.
Basically, Squier guitars are high-quality dupes for Fender guitars. But many of the brand's instruments are so good that people even prefer to use them over some of the Fender models.
These days, Squier guitars are made in various countries, including China, Indonesia, Mexico, Japan, and the USA.
It depends on the various Squier models, but generally, the higher-end instruments are made in America, while the lower-priced models come from China.
Do famous musicians play Squiers?
Squier Strats are known to be good musical instruments, so blues players like John Mayall are fans. He's been playing a Squier Strat for over 30 years.
Billy Corgan, the frontman of Smashing Pumpkins, is also known to play Squier guitars. He has a signature Squier model, which is based on the Jagmaster guitar.
Lzzy Hale from Halestorm also plays a Squier Strat. She has a signature model which is called the "Lzzy Hale Signature Stratocaster HSS."
While a Squier is not the most valuable guitar out there, many musicians like these electrics because they sound good and they're highly playable.
What makes Squier guitars stand out?
Squier guitars offer great quality at an affordable price.
The brand's instruments are perfect for beginner and intermediate players as they're much more affordable than Fender guitars but still offer excellent quality.
A Squier guitar is made of cheaper tonewood, has cheaper pickups, and the hardware is not as good as on a Fender guitar.
But, the build quality is still excellent, and the guitars sound great.
One of the things that makes Squier guitars so popular is that they're perfect for modding. Many guitarists love to modify their instruments, and Squier guitars are perfect for that.
Since the brand's instruments are so affordable, you can buy one and then upgrade it with better pickups or hardware without spending a lot of money.
Musicians often say that Squier guitars are some of the best for beginners and intermediate players because they sound very good, even if a bit tinny compared to Fender instruments.
What are Squier guitars worth?
Well, Squier guitars aren't very expensive, so they're not as valuable as Fender guitars.
But, if you take care of your instrument and don't modify it, a Squier guitar can hold its value quite well.
Of course, the value of a Squier guitar will never be as high as the guitars from the main Fender brand.
So, don't expect to get a super valuable guitar from this brand, but some of the best Squier guitars can cost over $500. These are still affordable guitars, though, compared to brands like Gibson.
Squier guitar series & models
Fender Guitars has very popular models, and Squier makes budget versions of them.
For example, you can buy inexpensive versions of the following guitars:
Stratocaster (i.e the Squier Bullet Strat, Affinity Series Strat, Classic vibe, etc)
Telecaster
Jaguar
Jazzmaster
Jazz Bass
Precision Bass
But Squier has 6 main series of guitars; let's take a look at each:
Bullet Series
The Bullet Series from Squier is intended for players who are just starting out and those on a tighter budget who yet want a competent, worthwhile instrument.
They are frequently offered for sale for between $150 and $200, and they come with a selection of guitars that span a range of styles while still being adaptable.
Consider the Telecaster, the Mustang, or the Bullet Stratocaster, all of which include three single coils and a tremolo mechanism.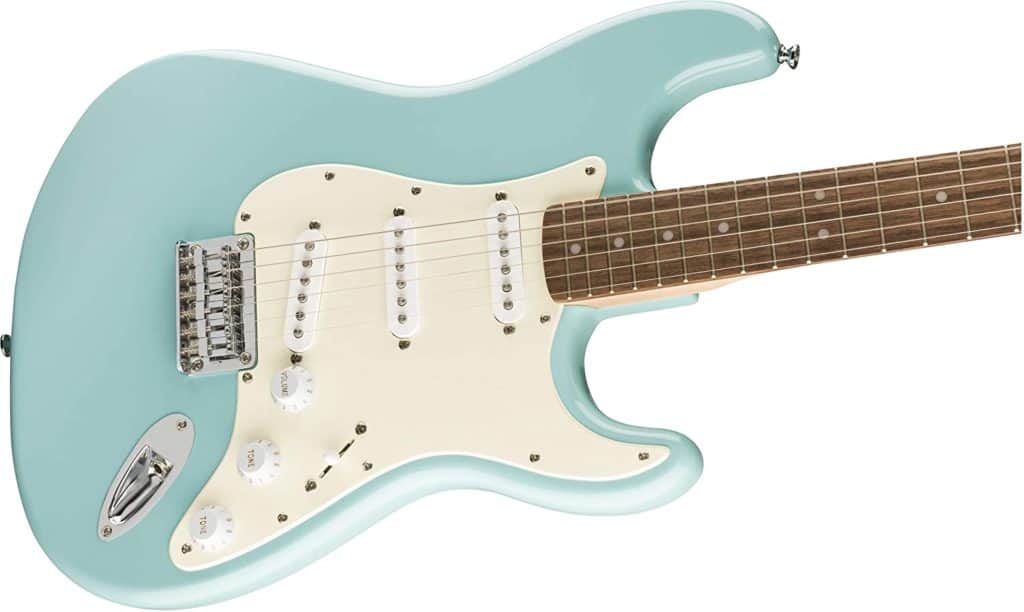 The Squier Bullet Strat is one the bestsellers because it is a great guitar to learn on and is very versatile.
The Squier Bullet Mustang HH is a great choice for those who want to experiment with heavier styles of music.
But really, any of these guitars is a great choice for someone learning the electric guitar or wishing to expand their tonal range by adding cheaper guitars to their collection.
Affinity Series
One of the most well-known Squier models is the Affinity Series of guitars. They continue to be affordable, but they outperform the instruments in the Bullet Series.
Better woods were utilized in the manufacturing of the body, neck, and fretboard of these guitars, and they also have higher-quality electronics.
You can also buy guitar bundles that are ideal for anyone who wants to start playing but has nothing yet; they typically retail for costs between $230 and $300.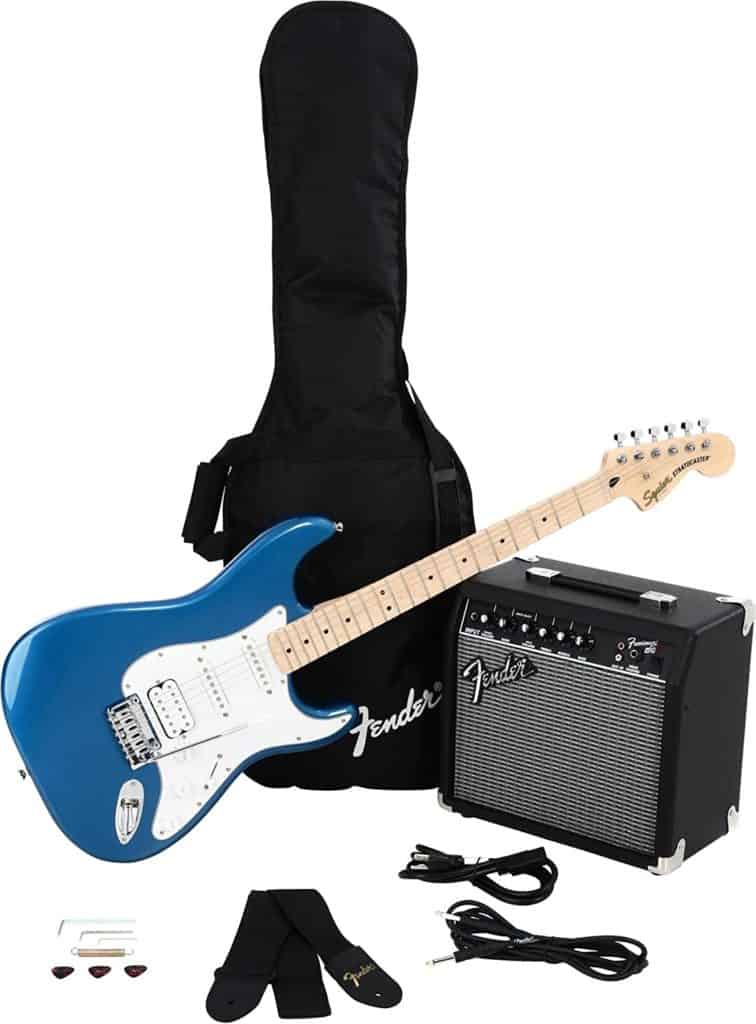 In many cases, you get the guitar, a gig bag, a practice amp, cable, strap, and even picks.
Also read: Best guitar cases and gigbags reviewed for solid protection
Classic Vibe Series
If you ask players about their favorite Squiers, you'll probably get an answer that includes the classic vibe series top guitars like the Squier Classic Vibe Starcaster, Strat, or Tele.
The classic vibe 50s Stratocaster is one of the most popular, and it's a guitar that sounds great and looks even better.
These guitars were influenced by the classic designs that Fender produced in the 1950s, 1960s, and 1970s.
They include vintage-oriented specifications that are aimed toward players who prefer older, more traditional instruments with that classic sound.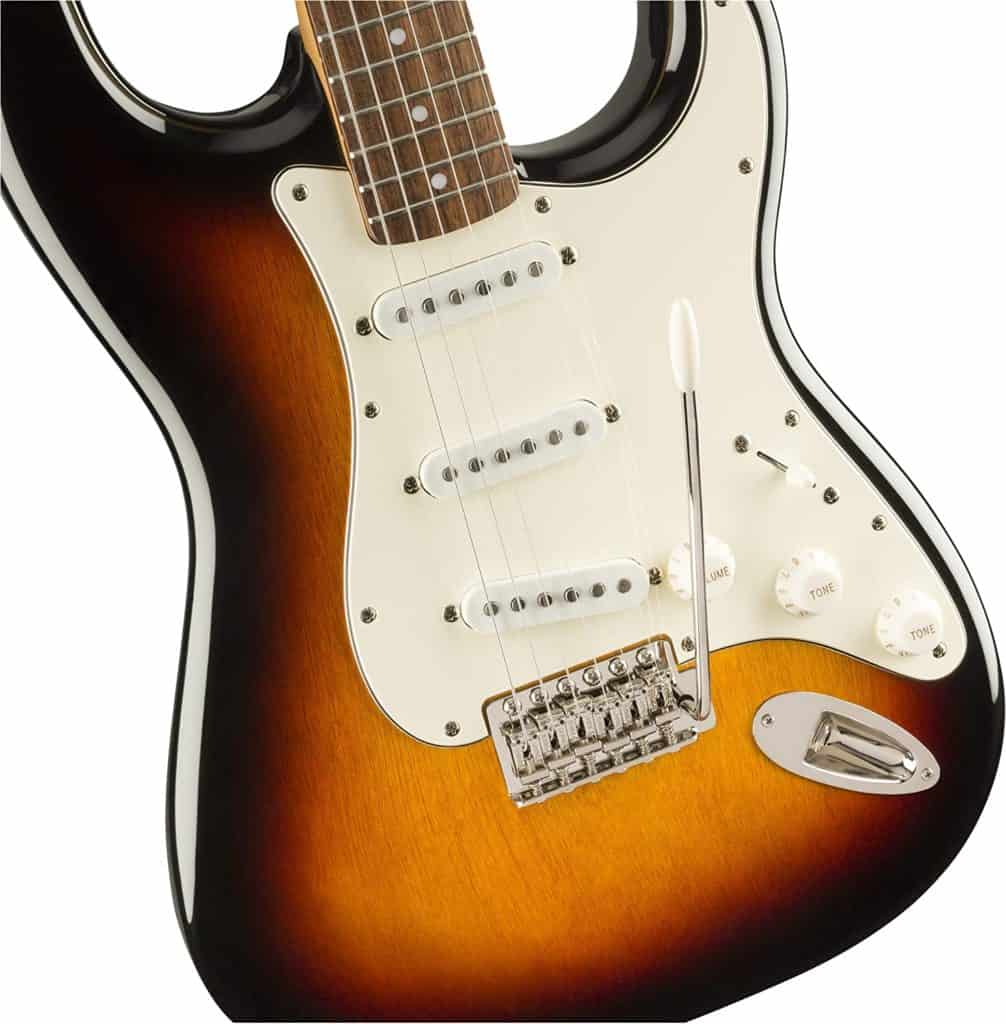 The hues that are available also have a vintage feel to them, and this gives these electric guitars that "classic vibe."
They are most likely the best instruments in terms of value for money.
Several of them, once you upgrade their pickups and a few other parts, will hold up quite well against Mexican-made Fender versions.
The Thinline is one of the most popular in this series.
Contemporary Series
Players that are more interested in contemporary sounds are the inspiration behind the Contemporary Series.
A more modern collection of guitars from Squier incorporates components better suited to other types of music into forms that have been popular for decades.
With a high-gain amp, the humbuckers on the majority of these guitars shine and stand out, which is something you definitely wouldn't do with a Classic Vibe Stratocaster.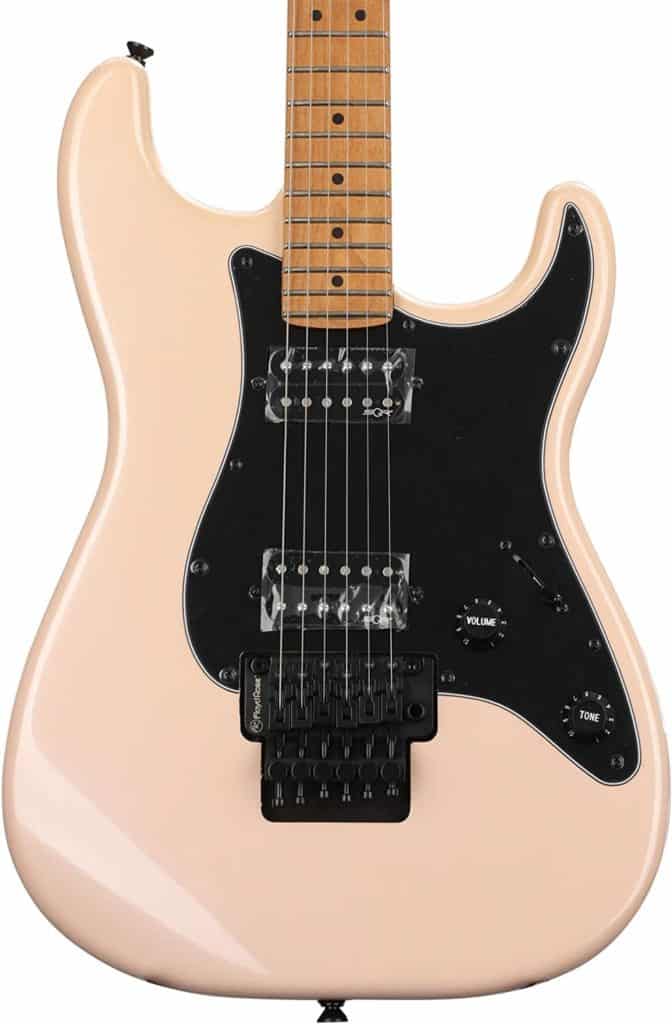 Other contemporary features include neck designs that are created for comfort and quick playability.
In addition to the standard Squier guitar shapes (stratocaster, telecaster), this range also includes jazzmaster and starcaster models that are less prevalent.
Paranormal Series
The most unusual patterns and combos within the company can be found in Squier's Paranormal Series – and that's not just referring to the colors.
Guitars such as the Squier Paranormal Offset P90 Telecaster, the Squier Paranormal Baritone Cabronita, or the Squier ParanormalHH Stratocaster are all included in this range.
The Paranormal Series has a unique guitar waiting for you if you're seeking for one that sticks out.
FSR Series
"Fender Special Run" is referred to as FSR.
Every guitar in this price range has a special function that isn't usually included in the more mainstream versions.
Typically, this includes a unique finish, various pickup arrangements, and other elements,
There aren't many guitars exactly like yours if you decide to buy one since, as the name suggests, each one is created in small batches of a few hundred or thousand guitars.
Squier's FSR Guitars are beautiful instruments that are perfect for anyone who wants something unique without spending a fortune.
Which is the best Squier guitar?
The answer depends on your specific needs, playing style, and musical genre.
If you play rock or metal, the Contemporary or Paranormal Series are definitely worth checking out.
The Classic Vibe and Vintage Modified Series are perfect for players who want that classic Fender sound.
The Standard Series is ideal for beginners, and the FSR Guitars are perfect for anyone who wants a unique guitar that's not available in stores.
No matter which Squier guitar you choose, you're sure to get an instrument that sounds very good.
Drawbacks of Squier guitars
Just like every other brand, Squier has some drawbacks too.
When it comes to quality control, some things could be improved.
For example, the finishes are a bit cheap, some of the hardware might need to fixing up, the pickups are cheaper versions of well-known models, etc.
Squiers are still equipped with alnico single-coil pickups and humbucking pickups, but they are not as high quality as what you'll find on a Fender guitar.
However, these are usually easy to fix with a few upgrades here and there. If you want an entry-level guitar, though, you won't mind.
Tuning stability is a problem sometimes because of the cheaper hardware that's used. You might need to tune your guitar more often than you would with a Fender Strat or Les Paul, for example.
Also, Squier uses cheaper tonewoods to build their instruments. So while you may get a maple neck, the body can be made of pine or poplar instead of alder or ash.
This doesn't make the guitar sound bad, but it does mean that it won't have as much sustain as a guitar made with more expensive materials.
As well you might get a maple fretboard or an Indian laurel fretboard instead of rosewood.
Finally, Squier is a budget guitar brand. This means that their instruments are never going to be as good as a Fender or Gibson.
Final thoughts
Squier is a great guitar brand for beginners or anyone on a tight budget.
The instruments are usually well-constructed, although there are some quality control issues.
The sound is very good for the price, and the playability is excellent. With a few upgrades, a Squier guitar can easily compete with instruments that cost three or four times as much.
The brand offers tons of dupes for Fender's most popular instruments, so you can get a taste of some of the best guitars at a low price.
Next, find out if Epiphone guitars are good quality (hint: you might be pleasently surprised!)
I'm Joost Nusselder, the founder of Neaera and a content marketer, dad, and love trying out new equipment with guitar at the heart of my passion, and together with my team, I've been creating in-depth blog articles since 2020 to help loyal readers with recording and guitar tips.
Check me out on Youtube where I try out all of this gear: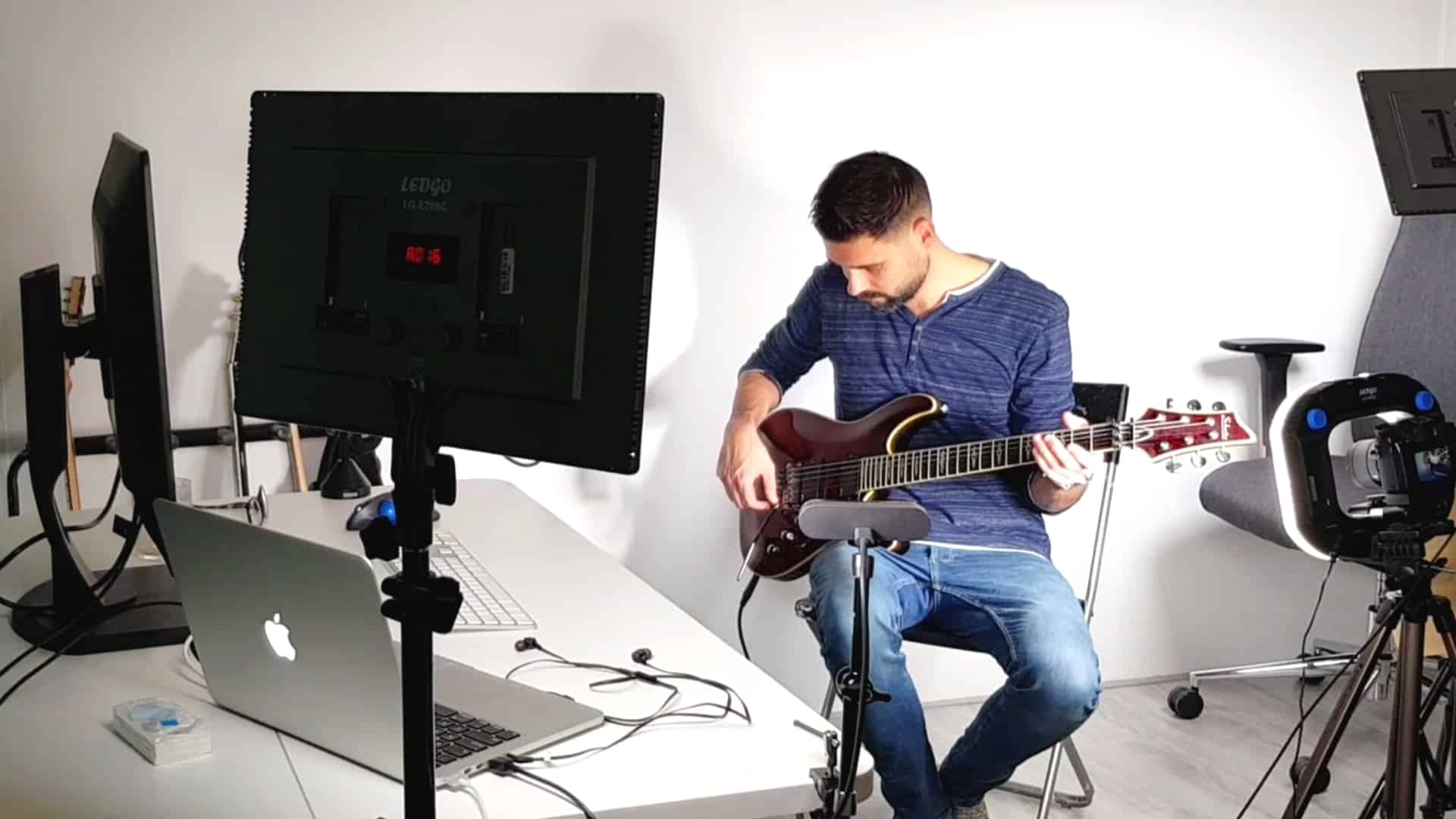 Subscribe