hi there I love creating free content full of tips for my readers, you. I don't accept paid sponsorships, my opinion is my own, but if you find my recommendations helpful and you end up buying something you like through one of my links, I could earn a commission at no extra cost to you.
Learn more
Looking for an affordable Stratocaster that can handle some serious shredding?
You might've already seen Eric Burton of psychedelic soul band Black Pumas play his Fender Player Stratocaster with a Floyd Rose tremolo system – and if you have, then you know it can take a beating.
But you might wonder how this model stands out from the others from this brand.
With its HSS configuration and Floyd Rose tremolo, this guitar can handle any style of music you throw at it.
The Stratocaster is a timeless design that has been used by some of the greatest musicians in history, and the Player series is a great way to get that classic Fender sound without breaking the bank.
I'm going to give my thoughts on this model and share the best and worst features, so you know what to expect.
What is the Fender Player Series Stratocaster?
The Fender Player Series Stratocaster is a budget-friendly version of the classic Fender Stratocaster. It's perfect for any level of player, from beginner to pro.
The Fender Player Stratocaster replaces the previous Mexican Standard Strat.
As you might already know, Fender has different series of guitars, all with different features and price points.
The Player Series is the second-highest series from Fender, only behind the American Professional Series.
The Fender Player Stratocaster is a versatile and affordable guitar that is perfect for any level of player. It's a great choice for those who need a dependable electric guitar that doesn't cost much to purchase and maintain but delivers excellent tone for all musical styles.

The Player Stratocaster is made in Mexico, and it's one of the most affordable Stratocasters that the brand makes.
So while the Player is a budget-friendly guitar, it's still made with quality materials and attention to detail.
The Player Series was launched in 2018, and it includes several different guitars that are quite popular among players.
Overall best stratocaster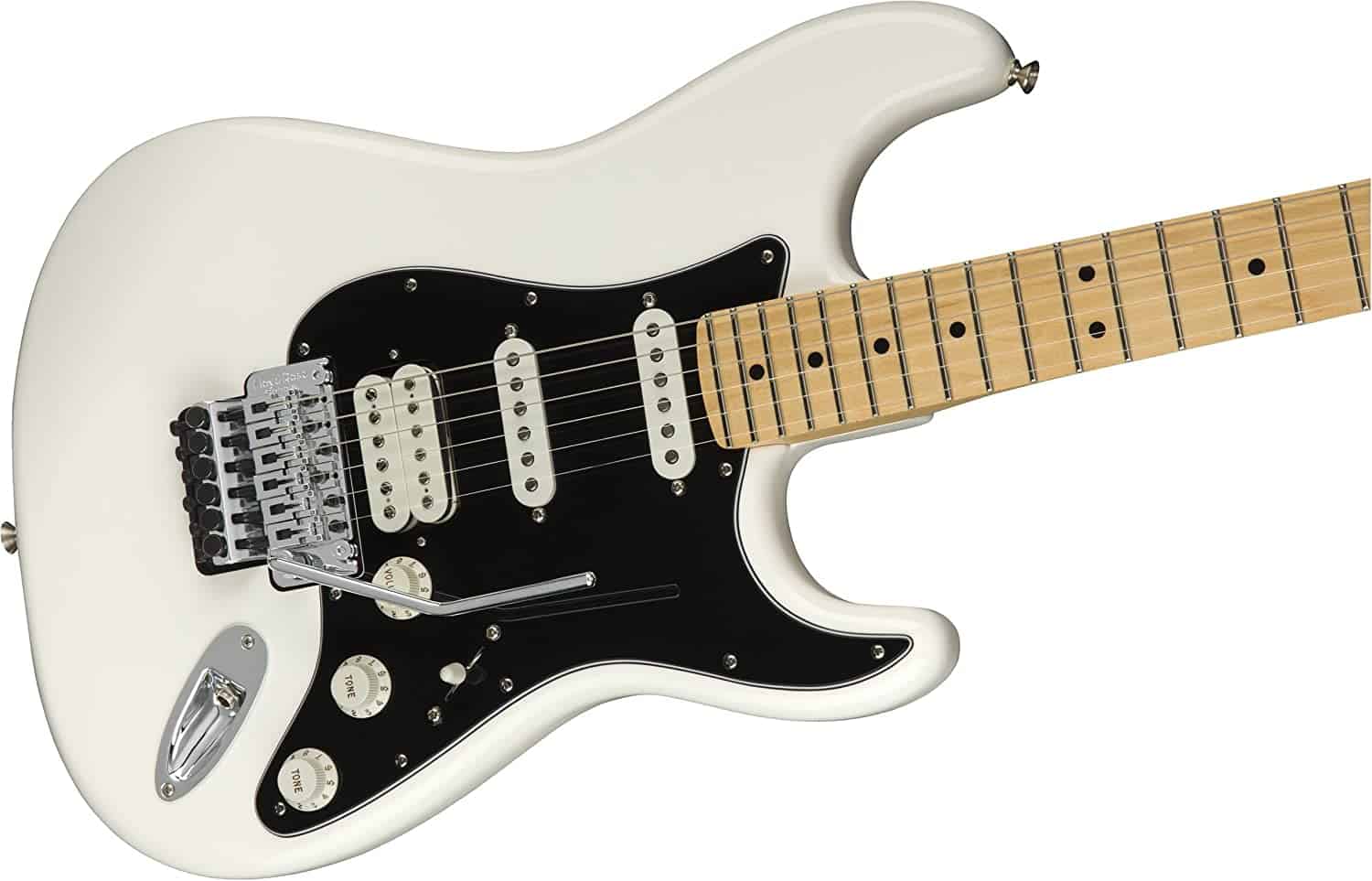 Looking for more great stratocasters? Find the full line up of the 10 best stratocasters on the market here
Fender Player Series Stratocaster buying guide
There are certain features to look for when buying a guitar that's suited to your needs.
Color & finish options
The Fender Player Stratocaster is available in a wide variety of colors and finishes. You can get the guitar in one of 8 colors.
This guitar has a sleek and cool look. It comes with a black pickguard which makes it look striking and different from other guitars.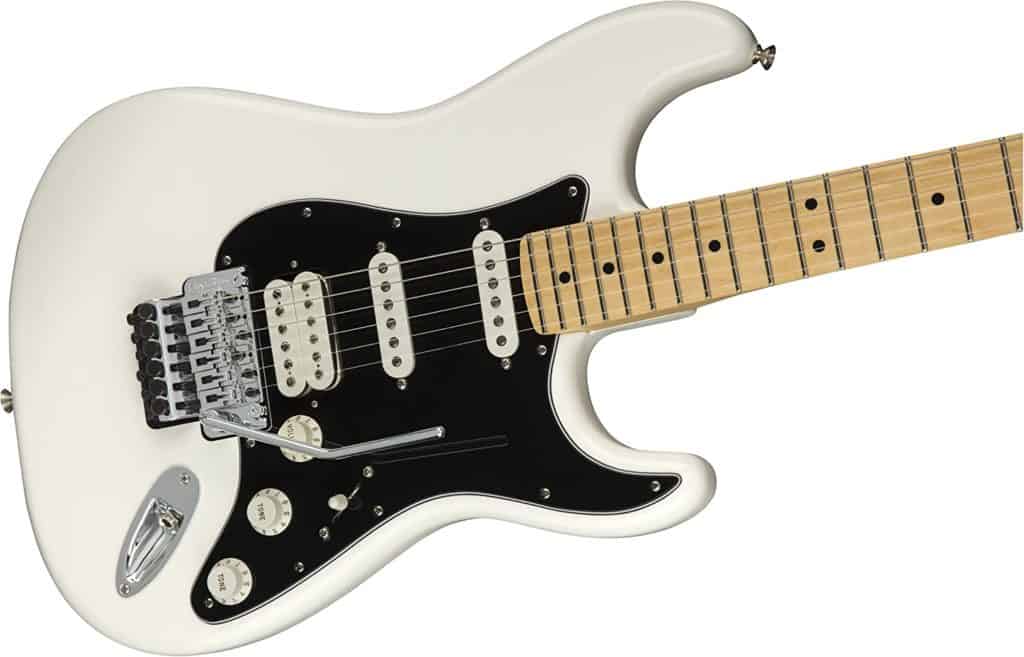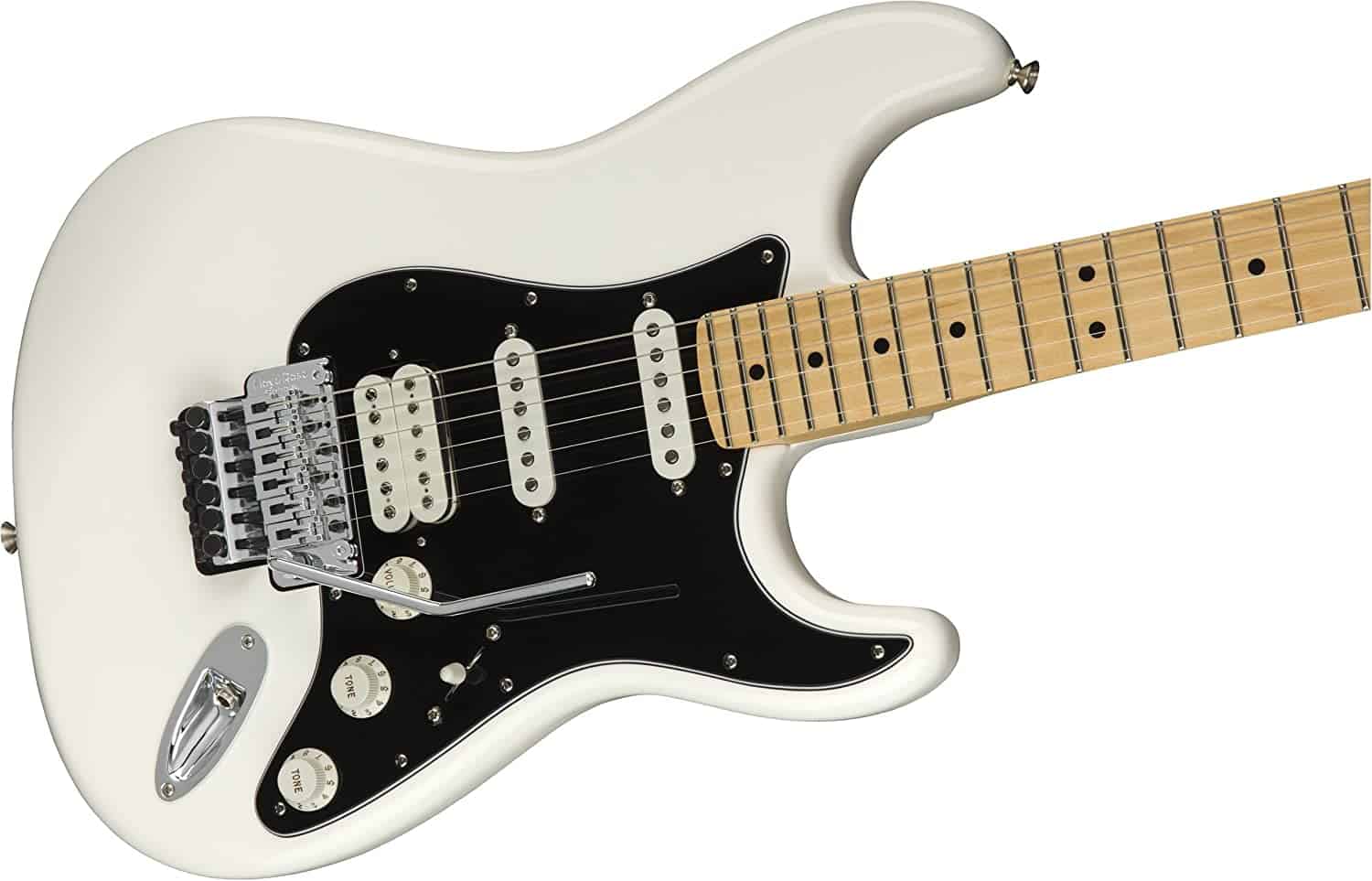 In contrast with the glossy Urethane finish, the black pickguard really pops out and adds a touch of style to the guitar.
The Floyd Rose Tremolo system has a classic nickel color like the locking nut and matches the cast tuning keys.
If you're looking for an attention-grabbing guitar, the Fender Player Stratocaster is a great one because it can compete with the more expensive American Ultra model when it comes to design!
Pickup configurations
The Fender Player Stratocaster is available in two pickup configurations: HSS and SSS.
The HSS configuration has a humbucker in the bridge position and two single coils in the neck and middle positions. The SSS configuration has three single coils.
The guitar's pickup selector switch is what makes this guitar so special. Fender's unique 5-way switching system gives you different sounds to choose from.
The different positions on the switch allow you to select which pickups are active, giving you a wide range of tones to work with.
Tonewood & body
The Fender Player Strats are made of an alder body with a maple neck and maple fretboard.
This tonewood combination is used on many of Fender's guitars because it provides a bright and snappy tone.
The alder body also gives the guitar some nice sustain. If you're looking for a guitar with a lot of sustain, this is a good one to consider.
The contoured body of the Stratocaster is comfortable to play, even for long periods of time.
And the maple neck provides a smooth and fast action that's perfect for players who like to shred.
Specs
type: solidbody
body wood: alder
neck: maple
fretboard: maple
pickups: One player Series humbucking Bridge pickup, 2 single-coils & neck pickup
neck profile: c-shape
has Floyd Rose tremolo system
size: 42.09 x 15.29 x 4.7 inches.
weight: 4.6 kg or 10 lbs
scale length: 25.5-inch 
The Player also comes in a left-handed version which is usually hard to find.
Overall best stratocaster
Fender
Player Electric HSS Guitar Floyd Rose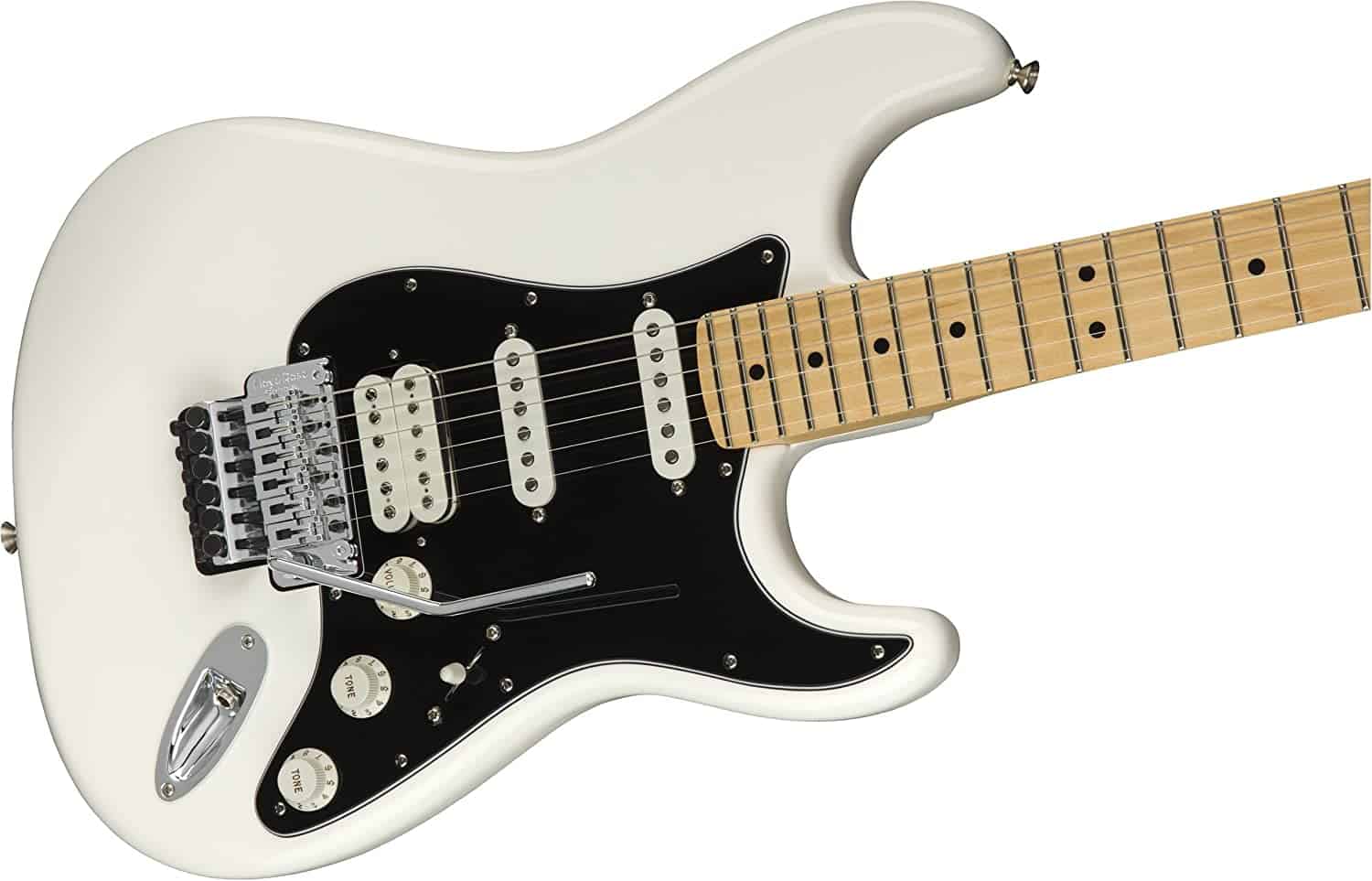 Best for
has a Floyd Rose tremolo

bright, full tone

available in left-handed version
Falls short
doesn't have locking tuners
Why the Player Stratocaster is the best overall Strat for all skill levels
The Fender Player Stratocaster is one of the most popular guitars on the market, and it's easy to see why.
With its versatile design, affordable price tag, and classic Fender sound, this guitar is perfect for any level of player.
It can handle most musical styles quite well, especially rock and blues.
Having a floating tremolo makes this particular Strat a bit un-Strat-like!
However, you still get the classic contoured vintage style body shape, so it's going to feel like you're playing one of the other Stratocaster models.
Sure, you can go with the pricier American Ultra or the cheaper Squier, but, in my opinion, the Player model is just right.
It's the perfect guitar for those who want a great Stratocaster but don't want to break the bank.
Its playability makes it stand out from other brands. It also has a fast-action neck that's perfect for shredding.
The pickups are responsive and offer a wide range of tones.
Plus, what I like most is that the guitar feels well made. It's not going to fall apart on you after a few months of playing.
Let's take a look at all the features that make the Player Strat stand out.
Configuration
This Strat is available with the classic SSS or the HSS with Floyd Rose (like the guitar I've linked).
The difference is that the SSS has Alnico three single-coils, while the HSS has a humbucker in the bridge and two singles in the neck and middle.
I've chosen the HSS configuration for this review because I think it's the most versatile, and it gives you a wider range of tones to work with.
The Floyd Rose tremolo system is also a great addition, especially if you're into more aggressive styles of music like metal.
If you're not familiar with Floyd Rose tremolos, they allow you to do things like pull-offs and dive-bombs without the guitar going out of tune.
It's a great feature to have if you're into that style of playing.
Build & tonewood
It had a body made of alder, which has become one of Fender's most commonly used woods since they discontinued using ash.
This tonewood is pretty good since it's responsive and lightweight.
Strats can sound different depending on what type of wood they are made of.
Alder is a common tonewood because of its punchy attack. The tone is warm and full, with good sustain but overall well-balanced.
The maple neck has a fantastic Modern C-shaped profile. This is a very comfortable neck shape that's great for both lead and rhythm playing.
The fretboard is also made of maple and has 22 medium-jumbo frets.
In terms of build quality, the frets have smooth ends, they feel polished, and the crowns are well leveled, so you won't have any issues with string buzzing, and they won't hurt or make your fingers bleed.
The only downside to the maple neck is that it's more susceptible to temperature changes than rosewood or ebony.
So if you live in a place with extreme temperature changes, you might want to consider a different neck material.
The tone knobs are very simple and easy to use. They're made of plastic and have a smooth action.
The volume knob is also very easy to use and has a nice, solid feel to it.
Playability & sound
This guitar plays fast – the neck is fast, and the Floyd Rose tremolo system stays in tune very well.
The guitar's intonation is also spot on, so you won't have any issues with the strings going sharp or flat when you play higher up the fretboard.
In terms of sound, the Player Stratocaster is very versatile. It can go from clean and mellow tones to distorted and aggressive tones without any problems.
I wish it had a bit more mid-range growl to it, but that's just a personal preference.
Being a Stratocaster, it is incredibly easy to play in any position.
This is largely attributable to the lightweight and excellent body contours, which allow you to stand or sit as you please.
Because it's so comfortable, the factory performance is outstanding.
It has an exceptionally comfortable fretboard with a modern 9.5″ radius that works well with the low string height. It allows for expressive playing.
See a nice simply sound demo here:
Pickups
As you might already know, the Player Stratocaster is a 3-pickup guitar.
The pickups are a significant improvement over the ceramic ones found on the old Standard, delivering a wider range of Strat sounds.
But what makes it such a versatile guitar for different musical genres is the pickup selector switch.
The selector allows players to control which of the pickups are on, and you can combine them how you want, depending on the sound you're after.
Not all guitars have the switch mounted on in the exact same position.
For the Fender Player Strat, the 5-position blade switch is placed diagonally and mounted on the bottom half of the pickguard.
It's located on the side with the treble strings in front of the control knobs.
Of course, it's placed there deliberately because you can then reach it easily while you play.
It's close to your picking and strumming hand, yet not close enough that you accidentally touch it and change the sound in the middle of a song.
The 5-position blade switch gives you a lot of options for different sounds. The different positions on the switch are as follows:
Position 1: Bridge Pickup
Position 2: Bridge and Middle Pickup in Parallel
Position 3: Middle Pickup
Position 4: Middle and Neck Pickup in Series
Position 5: Neck Pickup
These different positions allow you to get a wide range of sounds, from the classic Stratocaster sound to more modern tones.
Author Richard Smith makes an interesting remark about the unique sound of Fender Strats, and it's all thanks to this five-way selector switch for the pickups.
This produces:
Since Stratocasters are so versatile, they're used in a wide range of musical genres. You'll see them in country, blues, jazz, rock, and pop, and people just love their sound.
What others say
If you're curious about what others are saying about the Player Stratocaster, here's what I've gathered:
Amazon buyers are super impressed by the weight and heft of this guitar. But the main selling point is the Floyd Rose.
"The Floyd Rose Special is pretty darn good. People complain that it's not as good as the FR Original. Honestly, if I were to close my eyes and play both, I really couldn't tell the difference. As for longevity, who knows? I don't beat on trems so it'll probably last a while for me."
The guitarists at Spinditty.com really appreciate this guitar's versatility:
"They sound amazing, look as cool as their American counterparts, and have what it takes to get the job done jamming in the basement or onstage at the club."
They recommend this electric guitar for intermediate players because it's affordable and plays nicely.
Plus, you get those classic Fender tones because the pickups are nearly as good as the Fender Custom Shop ones.
One common build issue is the pesky output jack plate which always needs more tightening at the nut.
But since it's a cheaper guitar, you can expect minor flaws and some lower-quality components compared to an American-made Strat.
Who is the Fender Player Stratocaster not for?
If you're a professional musician performing on stages around the world, you probably won't be satisfied with the Player Stratocaster.
While it's a great guitar for beginners and intermediate players, there are some definite drawbacks that more experienced musicians would find annoying.
The biggest issue is that the Floyd Rose tremolo isn't as good as the original.
You might consider the Fender American Ultra Stratocaster, which I've also reviewed because it has upgraded features like a D-shaped neck and the better Floyd Rose tremolo.
But those upgrades come at a much higher price tag, so it all depends on your budget and what you're looking for in an electric guitar.
The Fender Player is also not for complete beginners looking for the most affordable Strat. It's best to get a Squier by Fender Affinity Series Stratocaster, which only costs about $260.
While that one has a good sound, it doesn't have the same heft and feel as the Player Stratocaster. The pickups also feel and sound a bit cheaper.
Alternatives
Fender Player Stratocaster vs Player Plus
Both of these guitars are extremely similar since they're part of the same series. However, the Player plus has some notably different features.
Here are the bonus Player Plus features:
noiseless pickups: the Player Plus has vintage noiseless pickups in the neck and middle position, which are less susceptible to interference.
locking tuners: the Player Plus has locking tuners that make it easier to change strings and stay in tune.
push and pull tone pot: the Player Plus has a push and pull tone pot, which allows you to split the bridge pickup for single-coil tones.
flatter fretboard radius: the Player Plus has a flatter 12″ fretboard radius, which gives you more space to play around with.
Fender Player Stratocaster vs PRS SE Silver Sky
There was pure outrage from Fender fans when John Mayer ditched the Strat and got the PRS Silver Sky.
This newer guitar is based on the classic Strat but with a few modern updates.
Currently, both the Player Strat and the SE Silver Sky are excellent instruments.
While the PRS is mostly based on Fender's Stratocaster, they have distinctly different personalities, so it depends on what musical style you prefer and what your playing style looks like.
The main difference is the tonewood: the PRS is made of poplar, whereas the Player Strat is made of alder.
This means that the PRS will have a warmer, more balanced sound. The alder on the Player Stratocaster gives it a brighter sound.
The pickups are also different. The PRS has Vintage-Style Single-Coil pickups, which are great for that classic Strat sound.
The Player Strat has Alnico V Single-Coil pickups, which are great if you want a brighter sound.
If you get the HSS Player you also get the much-wanted Floyd Rose tremolo system, which is great for players who want to be able to do some serious bending and vibrato.
FAQs
What does HSS mean on a Fender Stratocaster?
The HSS refers to the order of the instrument's pickups. The "H" stands for humbucker, the "S" stands for single-coil, and the "S" refers to another single-coil.
This in contrast to the SSS model, which has three single-coil pickups. The HSS is a great in-between model if you want the best of both worlds.
Where is the Fender Player Stratocaster HSS made?
This model is manufactured in Fender's Ensenada, Baja California factory in Mexico.
Is the Fender Player Stratocaster HSS a good guitar for beginners?
The Fender Player Stratocaster HSS is a great guitar for beginners. It's a versatile instrument that can be used for various genres, and it's also affordable.
What are the dimensions of the Fender Player Stratocaster HSS?
The dimensions of the Fender Player Stratocaster HSS are: 106.93 x 38.86 x 11.94 cm or 42.09 x 15.29 x 4.7 inches.
Are Mexican Fenders good?
Yes, Mexican Fenders are good. They're well-constructed, and they sound great.
They use some lower-quality materials compared to American-made Fenders, but they're still good instruments.
Takeaway
The Fender Player Stratocaster HSS is a great guitar for beginners and intermediate players, but even pros will appreciate the tone and can use it for gigs.
This guitar is versatile, affordable, and sounds great. It's also built to last, so you can be sure that it will withstand the test of time.
The addition of the humbucker in the bridge position gives you more sonic options, and the Floyd Rose tremolo system is a nice touch.
If you're looking for a great Stratocaster in the mid-price range, the Player Strat is a great option to consider.
You'll get the classic Fender Strat sound, but with some modern updates that make it even better.
What makes Fender so special? Find a full guide & history of this iconic brand here
I'm Joost Nusselder, the founder of Neaera and a content marketer, dad, and love trying out new equipment with guitar at the heart of my passion, and together with my team, I've been creating in-depth blog articles since 2020 to help loyal readers with recording and guitar tips.
Check me out on Youtube where I try out all of this gear: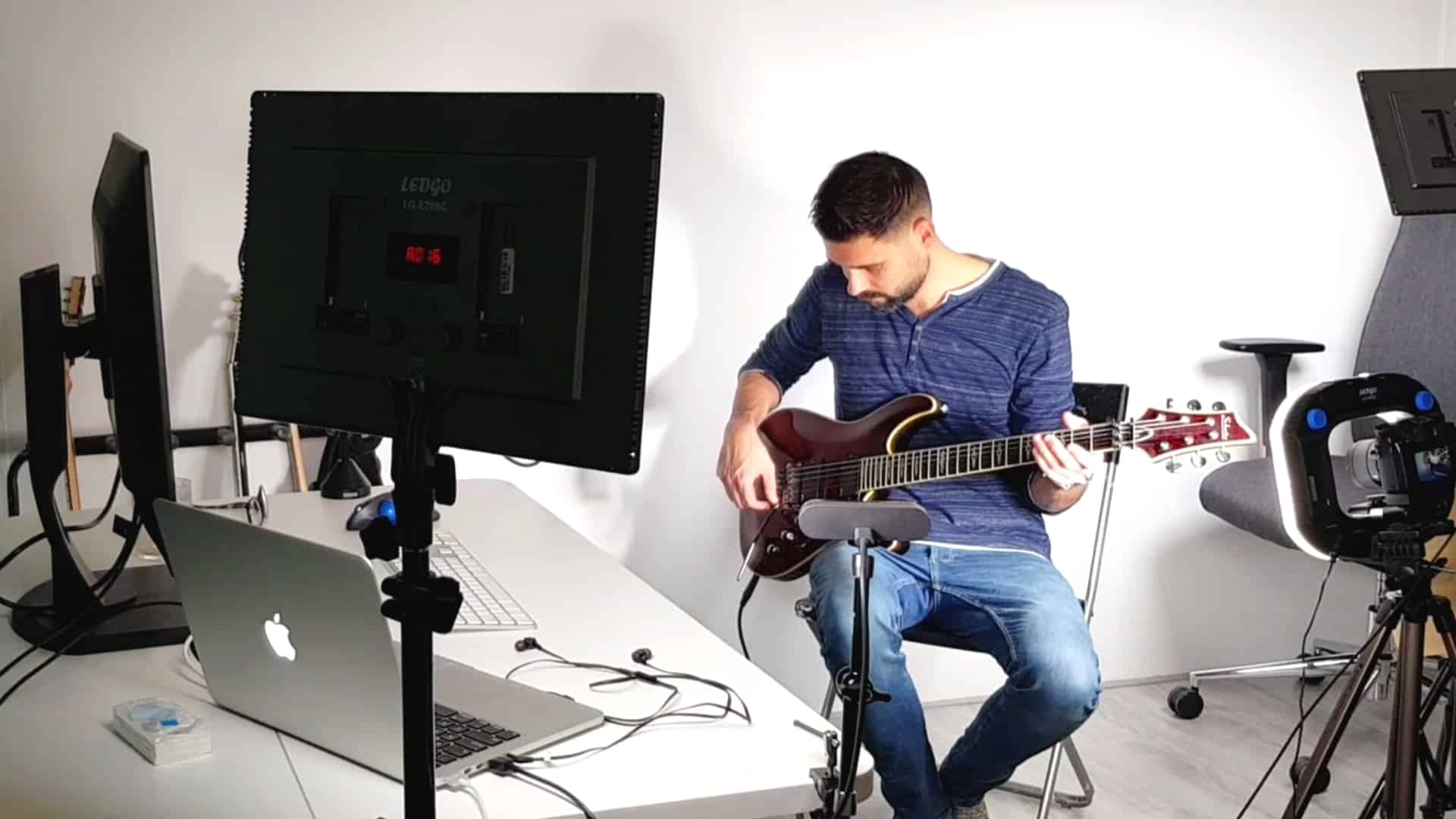 Subscribe