hi there I love creating free content full of tips for my readers, you. I don't accept paid sponsorships, my opinion is my own, but if you find my recommendations helpful and you end up buying something you like through one of my links, I could earn a commission at no extra cost to you.
Learn more
So you are one of our confused friends who has come across a Korean guitar and don't know if you should pay your hard-earned money for it?
Well, here's the thing! You are not the only person having this confusion. In fact, anyone who has drawn the comparison between American-made and Korean guitars has gone through this dilemma.
The reason? They confuse it for some low-quality knock-offs of premium models. However, that isn't the case.
Despite being the cheaper versions of famous US-made guitars, many Korean-made guitars are original and well thought out. The manufacturer may have saved on production costs, but often not skimped on the quality of materials and parts. This makes them darn good value for money and definitely something to consider. 
In this article, I'll be discussing some of the best Korean-made guitars from almost every major brand and explain which ones are worth their price tag and which ones you better stay away from.
Best Korean made electric guitars
You'd be shocked if I tell you that Korean factories were one of the leading electric guitar manufacturers in the world in the 1900s.
And all that while keeping the price primarily to three figures.
In some models, the quality was so awesome that it almost blurred the line between Asian and American-made models.
Though the production of Korean electric guitars might not be at its peak right now, there are still some models you can pick for quality and sound.
Let's look at some of the best quality Korean electric guitars you could get your hands on.
Best Korean Dean: Dean ML AT3000 Scary Cherry
When talking about the best Dean that has ever come from South Korea, we cannot simply ignore the ML AT3000 Scary Cherry.
A gorgeous guitar with a unique finish, Its awesomeness expands beyond the borders of looks alone.
The ML AT3000 sports a classic mahogany body and neck, with a 22-fret board made of rosewood and a unique set of markers that adds to the guitar's overall aesthetics and playing experience.

The guitar also features two pickups, one at the bridge and the other at the neck, with stunning sound quality, especially if we talk about the one at the neck.
It's very clear, with an extremely warm tone that makes it perfect for classic rock or anything you can make with an electric guitar.
The build is also pretty solid if we consider its price tag. But obviously, you cannot compare it to something made by giant US guitar vendors like Gibson, Fender….or even Dean. Plus, it's pretty heavy!
However, if we compare it to something from Chinese or Indian brands, it's one of those bangs for the buck instruments that I would easily choose over anything in its price tag. Guess what? The quality is simply unmatched.
Best Korean made Fender: Fender Showmaster Solid Body
Call it a relic from the glory days when Fender used to manufacture guitars in Korea.
The design, the shape, the sound, everything about the Fender Showmaster is spot on.
The guitar features two Humbucker pickups, with the Seymour Duncan SHPGP-1P Perly Gates Plus Hambuker at the bridge and the Seymour Duncan SH-1NRP '59 Reverse polarity Hambukcer at the neck.
Both are excellent quality and have the fantastic familiar sound every metal fan adores.
The guitar also features a solid body made of basswood that is exceptionally light compared to its Gibson or Ibanez counterparts.
As with any Korean model, the fretboard is rosewood, with a very smooth and flat overall profile.
That, when combined with the maple neck, gives the guitar a very warm and snappy tone that is perfect for heavy metal music.
Overall, It's a great piece that perfectly balances budget and quality and has the potential to be a dream guitar for every mid-budget player. My only concern about it is the availability factor.
Given the discontinuation of Korean Fender guitars in 2003, It's difficult to find a Showmaster these days or any other similar quality guitar made in Korea.
These days, the only alternatives available are made in China, which is nowhere close to the Korean model. What does that mean?
Well, you need a lot of luck to find one even in used!
Also read: 5 Tips You Need When Buying A Used Guitar
Best Korean made PRS: PRS SE Custom 24 Electric Guitar
While the PRS original remains nothing more than an aspiration for budding guitarists, the PRS SE Custom 24 catches up with the model at a significantly lower budget than its US-made counterpart.
Besides, it has just the same brilliant build, sound, and overall user experience as the original. The only difference is the made-in-South Korea tag, which no one will notice anyway.
Talking of the guitar itself, the Paul Reed Smith SE has a sturdy mahogany body that comes in various colors, from sunburst to Quilt Charcoal and anything in between.
One thing common between all varieties? They are all visually stunning.
The neck profile is relatively thin with a shallow depth, also known as the Slim D Shape.
Moreover, the fretboard is made of high-quality rosewood, with 24 beautifully polished crowns that add to the buttery smooth tone characteristic of Paul Reed Smith products.
As the PRS SE guitars are specially targeted towards intermediately experienced guitarists, the guitars are made mainly with comfort in mind.
All in all, PRS SE is a great guitar that ticks every box of being a perfect choice for aspiring guitarists.
It's easy to play and highly comfortable, with all the mumbo-jumbo required to create some great music.
Best Korean made Gretsch: Gretsch G5622T Electromatic
We all know what Gretsch is known for: immaculate quality and luxury.
And guess what? Gretsch stays true to its values without distinguishing between the USA and Korean-made guitars.
Thus, this is one of the reasons why the price of the G5622T Electromatic is a bit on the upside compared to its other Korean-made models.
However, as soon as you know what it brings, the high price seems well justified.
That being clear, G5622T is one of the finest musical instruments you will ever get your hands on.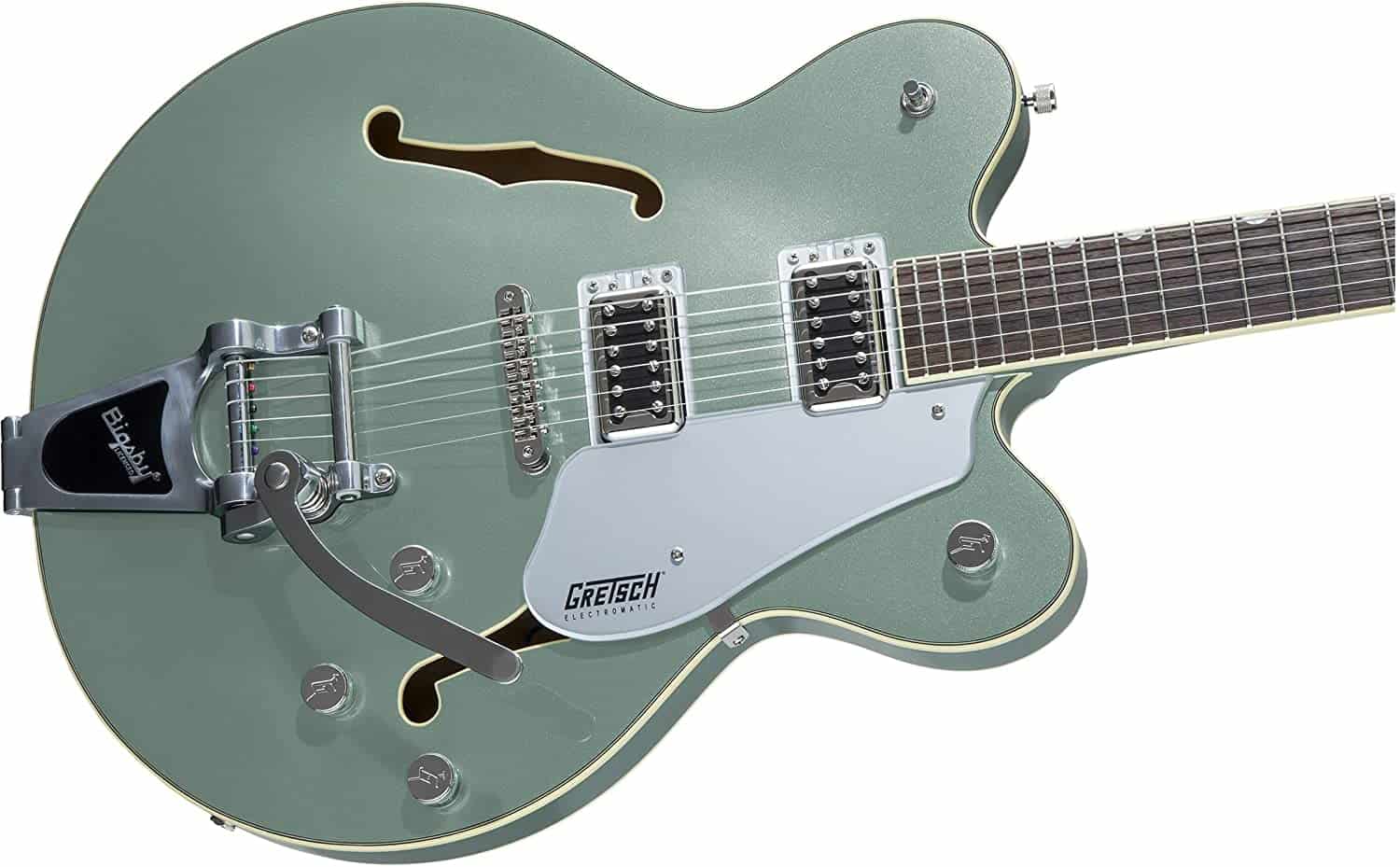 The guitar features a laminated, semi-hollow maple body, with a tailpiece bridge screwed directly into the center block for more sustain.
The neck of this model is also made of maple; however, with a laurel fretboard with 22 frets, that is extremely easy and smooth to play.
Like other premium models, this one also features two Hot Broadton pickups, having a thunderous and full sound compared to other models.
Although these are highly recommended for higher grain tones, you can use them for anything with proper voice control.
There are 3 knobs on the guitar, 2 for volume and one for tone.
Besides, the Bigsby B70 tailpiece, vibrato, and die-cast tuners create the smoothest and most melodic sound produced by any guitar in this budget.
It's simply fantastic.
Best Korean Made Hamer: Hamer Slammer DA21 SSH
It's a pity Fender had to discontinue the Hamer range because, boy, these guitars are still going strong under the name of KMC.
Slammer is one of the two ranges that have been exclusively manufactured in Asian countries, including South Korea.
As well as probably one of the best to come from the brand in the mid-low budget price range.
It has a strat mahogany body with a black gloss finish and a Rosewood fretboard.
The combination of both gives the guitar a pleasant aesthetic and has a significant role in providing that warmer tone to the instrument.
Another good thing about this guitar is the 21 jumbo frets. It makes it significantly easier to bend the notes as you can push the strings to the edge of the frets quite easily.
Guess what? With this guitar in hand, all those runs, licks, and riffs will be way easier than what you have experienced with the standard electric guitars.
Slammer models also have an HSS pickup configuration, with a humbucker near the bridge, a single-coiled pickup at the center, and another single-coiled pickup near the neck.
Such configuration makes this guitar extremely versatile for different music genres.
Just so you know, the Humbucker has a relatively fuller sound, so it's ideally used for lead and high-gain amp settings.
If you are more into creating a cleaner tone, the single-coil pickups at the center and the neck will suffice to give you that ultra-clear sound. Not to mention the 5-way pickup selector!
This model is just what you need if you are a beginner. Easy-to-play, amazing sound, and durable build, it's a proper bang for the buck.
You can also look at more options in the Slammer series, but those are for advanced guitarists.
Best Korean made Ibanez: Ibanez Prestige S2170FB
As much as I know, the final product exclusively produced by Korean vendors for Ibanez was back in 2008.
This means you've got to be really lucky to find Ibanez musical instruments that have a made-in-Korea tag on it.
That being said, it might not come as a shocker if I pick something that belongs to the same era, like Prestige S2170FB.
It was among the absolute bests from the exclusive Korean masterclass S line of guitars from 2005 to 2008.
The S2170FB is best preferred for clean music without even a subtle hint of distortion.
It features an HSH pickup configuration with a bridge Humbucker, a middle single-coil, and a neck humbucker, a design inspired by the super start era of 1986.
The HSH configuration is way more versatile than conventional HH or SSH configuration. This means you get to experience what a guitar with HH can do and much more.
Just one thing you must know, I wouldn't use this instrument for hot stuff like heavy metal with the stock pickups on, which requires highly amplified distortion.
Talking of the looks and stuff, it's as good as any guitar made in Japan! Everything about it, from the body to the neck and every little detail in between, is just perfect.
The guitar uses several kinds of wood, like mahogany for the body and rosewood for the neck.
The body has a lacquer coat with natural oil, which looks as stunning as any model from Japan and Indonesia.
With everything considered, it's a cheap but stunning guitar that leaves no box unchecked. The only drawback? You'll only find it in "used" condition now.
Best Korean Epiphone: Epiphone Les Paul Black Beauty 3 pickup
Hah! This one is interesting. It's the cheapest version of a cheap copy of a premium brand.
The thing that I like about Epiphone is that they keep the quality of the guitar uniform throughout their range.
Thus, whether it's Korean-made (which isn't manufactured now), Indonesian-made, or even Chinese-made, you won't see any significant difference in the guitars throughout.
That being clear, Les Paul Black Beauty 3 is an instrument that is both beauty and the beast, but at a budget.

It has the same tone as the original Les Paul (close enough to not be noticed) and is suitable for every Genre, whether jazz, blues, rock, metal, punk, and whatever you could think of.
It also has the same standard Les paul overall setup with 4 knobs and a Grover tuner. Plus, the same playing experience and quality as you would expect from any Epiphone guitar.
As we dive deep into the spec sheet, we see three Probucker Humbuckers, Standard LP volume, a 3-way tone pot, and a standard 3-way selector switch.
Interestingly, the middle and neck humbuckers are out of phase. This creates some interesting and versatile sounds, almost like the original Les Paul when used professionally.
The body and the neck of Black Beauty are made of mahogany, accompanied by the Ebony fretboard with a total of 22 medium Jumbo frets, making it easier to play riffs, especially for newbies.
All in all, this has everything you could ask for under the $1000 range. The aesthetic, sound, build, everything is top-notch. It's nothing less than a gift for our budget buddies.
Best Korean made LTD: ESP LTD EC-1000 Electric Guitar
One sentence to describe the ESP LTD EC-100 electric guitar? It's a lightweight, screamingly loud, and fast Korean beauty that everyone wants, but a few can afford.
You read that right; it's a $1000+ piece even at its lowest price, but quite well justified.
Talking of the details, the guitar has a beautiful mahogany body with the distinctive Les Paul design with a small cutaway and a set-in neck.
Both, when combined, aids its overall aesthetic while also making one of the easiest-playing guitars. As well as the 24 extra-jumbo frets rosewood fretboard that makes the guitar relatively easier to play.
The overall design is based on the ESP's classic, Eclipse, so you can expect some outclass comfort.
EC-1000D also features a set of two EMG humbucker pickups that give it a very raw and brutal sound, ideal for metal enthusiasts.
The guitar comes in various colors, including Amber Sunburst, Vintage Black, Simple Black, and See-through Black Cherry.
If you are looking for a fast, mean, and aesthetically stunning instrument, giving this one a chance won't disappoint!
Best Korean made Jackson: Jackson PS4
The first must-know thing about the PS4? It's a gorgeous guitar that you wouldn't get enough of.
The second thing? This isn't manufactured anymore, so the only thing you can do about it is buy it in "used" condition.
So, again, your luck will come into play here too.
Getting a bit into the conspicuities of the guitar, the Jackson PS4 has a beautiful alder body with a maple neck and a rosewood fretboard with 24 frets, pretty much a standard for Jackson guitars.
The instrument also has a reversed headstock that gives it a more unique and metal-ish look. Moreover, the neck has a very flat profile, making it extremely easy and fast to play.
The thing that concerns me about this model is the relatively average quality hardware and the difficulty you will have finding certain parts.
For example, the guitar has three pickups. Each one belongs to the J series (two humbuckers and one single-coil), which are of pretty average quality.
Thus, where these pickups will do pretty good in average circumstances, you would have to replace them with something more high quality to push the guitar to its actual limits.
The drum, per se, is awesome, though!
The Jackson PS4 is available in five beautiful finishes, including black, black cherry, red-violet, dark metallic green, and dark metallic blue.
All in all, it's a pretty decent quality guitar that came from the Samick factory back in the nineties and gives off as much as you could expect from a 500 bucks piece.
If you invest a bit in it, believe me, this guitar will give you an experience nothing less than an expensive Les Paul. Write that down!
Best Korean made B.C Rich: B.C Rich Warlock NJ Series
B.C Rich Warlock NJ Series is a guitar straight out of a metal freak's dreams. As they say, it's a heavy metal best out of hell!
With the double-cutaway body design, the glossy finish, and the ebony fretboard, there's nothing bad you would hear about this guitar in the price tag.
The 24 frets ebony fretboard of the guitar is amazingly smooth with an ideal ratio radius of 12″, that when combined with the jumbo frets, makes it incredibly easier to play.
Moreover, the double-cutaway design, as mentioned, takes comfort and access to another level, ensuring you can touch even the highest frets without any problem.
There are also two Duncan-designed Blacktop humbuckers, one at the neck and one at the bridge.
Although the combination of both makes the guitar way easier to play for people just starting off, let me warn you, lack of clarity can be an issue.
As the guitar is primarily designed for heavy metal, the double humbuckers are for the "much required" distortion and warmth. This means a casual player might not like it.
That being clear, it's a pretty awesome piece and a great artifact of the glory days of B.C Rich.
Have you even wondering which guitar tuning Metallica uses?
Best Korean made V-shaped ESP: ESP LTD GL-600V George Lynch Super V
The GL-600V Super V Black is the made-in-Korea version of the iconic and only V-shaped electric guitar of the George lynch series.
The first thing to know about this thing? It's a lot cheaper than the original.
And the second thing is that it has a different color than the signature black cherry, which is basically the identity of the original.
If we ignore those two things, GL-600V is the most perfect Korean guitar in the electric category.
The GL-600V features a matt black finish with the original mahogany body and Tone Pros tailpiece and bridge, which, by the way, are staples in Japanese guitars as well.
The guitar features dual pickups, with a Seymour Duncan Phat Cat in the neck and the Humbucker in the bridge.
The best thing about both?
Both pickups produce a clear and chime sound even when overdriven, making them highly suitable for musicians who love to push their instruments to the limits.
The experience is even enhanced with the Master volume and tone controls and the 3-way selector switch.
The light and comfortable neck with 22 frits makes it an ideal choice for any player and playing style.
All in all, it's a great guitar with tons of versatility and pristine quality that screams about the craft of Korean manufacturers.
Best budget Korean-made electric guitar: Agile AL-2000 Guitar
Well, here's the thing! For a fan of the classic Les Pauls with a lower budget, the Agile AL-2000 guitar might be something interesting.
Especially for someone looking for a solid alternative to the Epiphones.
That being said, It's one of the best ever guitars produced by South Korea in the electric guitars category. The feel, the weight, the action, everything is just spot-on.
Agile AL-2000 features premium quality wax-potted ceramic humbucker pickups, 2 volume controls, and 2 tone controls for a more customized and enhanced playing experience.
Like its previous counterpart, it's also a loved model among many guitarists for its sheer clarity when overdriven.
The 5-way pickup selector switch, stop-bar tailpiece, and overall high-quality hardware add to the list of good stuff Al-2000 brings to the table.
It's a great guitar that balances both functionality and beauty while staying true to the classic, powerful and girthy sound texture of Gibson Les Paul.
Simply one of the most quality instruments a guitarist can have.
Best Korean made acoustic guitars
Remember when I talked about Korean guitar manufacturers establishing themselves as the staple name for electric guitars back in the day.
Turns out, they are doing great in the acoustic guitars industry as well. Following are some of the best Korean acoustic guitars you would like to have a look at.
Best Korean made Ovation: Ovation Mod TX Black
Well, Ovation has been producing some high-quality instruments for decades now. However, it's quite recent that they started concentrating on improving their Korean-made guitars.
And guess what, the quality is now as good as any of their Japanese-made variants. In fact, they now produce most of their products in South Korea.
One of those, for example, is Ovation Mod TX Black. It's generally counted as one of the best from the company and perhaps the best ever from any brand in the budget range.
The instrument is a beast of a thing despite being cheap.
Moreover, the shape of the Ovation Mod TX is such that it gives you the fast-paced feel of an electric guitar, however, with much less weight.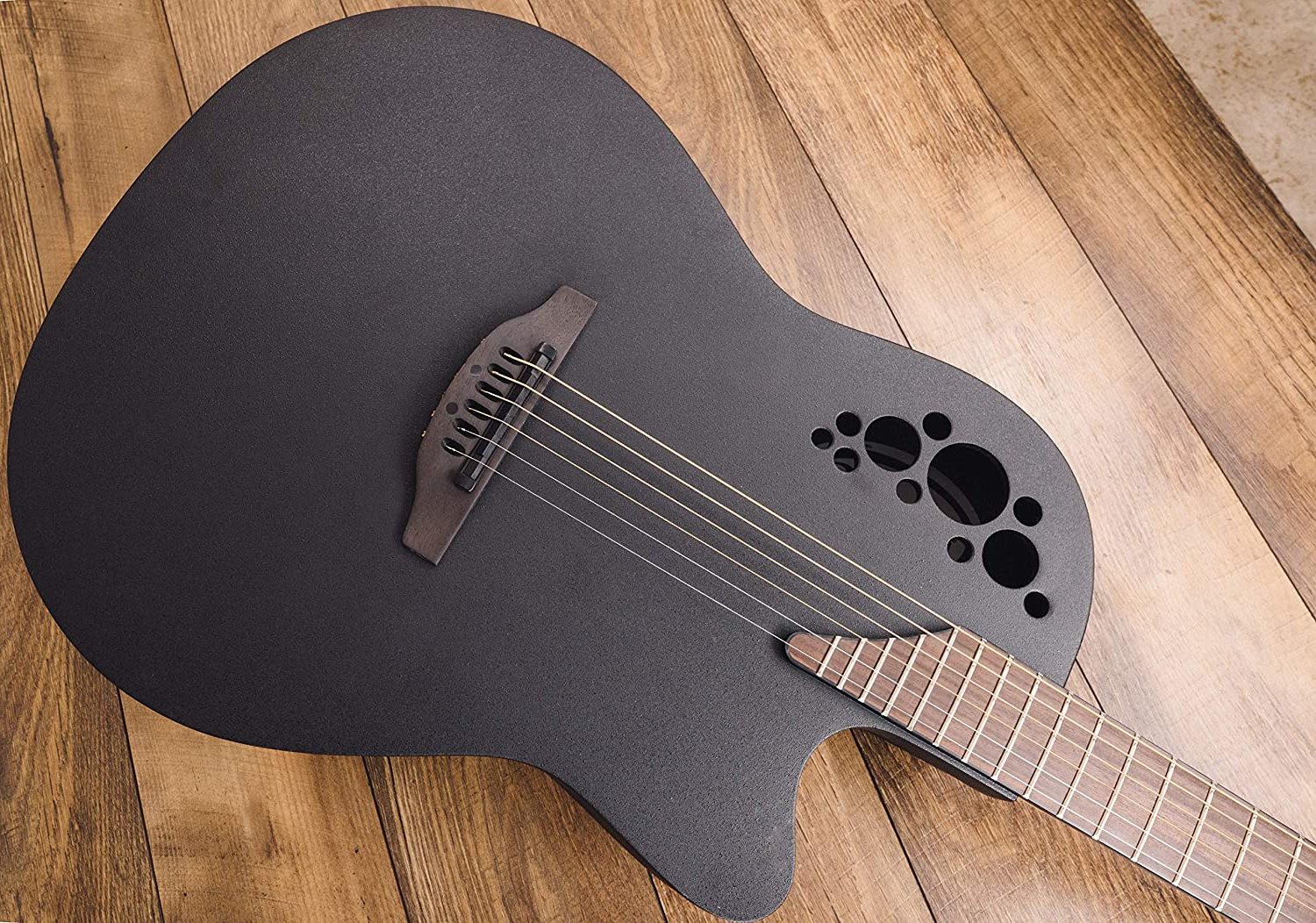 It has a rock maple neck that gives the guitar its characteristic brightness.
Plus, the soundholes on the body lessens the possibility of feedback, with extended bass response and volume. The mid-depth of the body also contributes to the sound quality.
The OP-Pro preamp and OCP1 pickup, when plugged, produce a really high output with a vibrant and solid output when plugged.
Moreover, the overall action of the guitar is very low, eliminating the chances of any buzzing whatsoever.
A great choice for everyone!
Also check the best acoustic guitar amps (top 9 reviewed + buying tips)
Best Korean made Harmony: Harmony Sovereign H6561
Harmony Sovereign H6561 is the Korean version of the 1960s iconic US-made 12860.
The exciting thing is that both aren't manufactured anymore. Thus, let it be clear that you'll have difficulty finding either.
The H6561 is considered one of the most classic budget relics of the past, with a performance that could give a hard time to most premium models produced by other brands today.
As much as I know, the H6561 features the same build and material as the 12860. Thus, the guitar has a solid mahogany top and spruce back and side.
The fretboard is made of standard Brazillian rosewood like many other made-in-Korea guitars at the time.
The combination of the aforementioned woods makes the guitar sound a mixture of warm and bright.
Thus, it is not punchy loud but good enough to give you a premium feel. The bass and action are also great, so that's another plus.
Overall, it's a pretty decent model for its price. However, I must mention again, you need to be really lucky to find one. ;)
Best Korean made Sigma: Martin Sigma DM4 Dreadnaught
Here's another masterpiece from Korea that isn't in production anymore.
The last guitar produced in the range was 1993 when Martin ceased manufacturing their Sigma range in Korea.
But again, what is luck for! If you got to find one for yourself these days, you will be the owner of one of the most gorgeous dreadnaught acoustics ever.
The Sigma DM4 features a solid spruce top with a mahogany back, sides, neck, and an excellent ebony fretboard. The combination of these woods gives off quite a well-balanced, bright sound with a subtle hint of warmness.
Since the guitar you will get (if you ever do) will be at least 35-40 years old, the vintage vibe alone is enough to bet your bucks for.
For all it's worth, paying a few hundred bucks is a steal deal you don't want to miss, especially when the sound is as awesome as this.
Beste Korean made acoustic guitar for beginners: Cort Standard Series Folk Guitar
Ok! Before you read the rest of the review, let me tell you one thing straight off; this one is for those who are just learning the instrument from scratch.
It has excellent sound, easy playability, and the best value for the money in the market.
That being said, Cort Folk Guitar comes from Cort's oldest line of acoustics. It has a standard-sized body, which means you won't be getting that extra bass of the dreadnaught.
However, with a strong mid-range and complete emphasis on balance, you can expect sweeter highs and a powerful mid-range.
The guitar's top is made of spruce, with mahogany wood at the back and sides.
Both wood selections, when combined, give the guitar fantastic flexibility and strength while bringing out the characteristic bright-ish, warm and soothing tone at best.
All in all, this is one of the few guitars that stay as a testament to the meticulous craftsmanship of Korean guitar manufacturers.
Material quality, sound, and value, the Standard series simply ticks every box.
Best Korean made acoustic guitar for sound: Crafter GA6/N
Going for a Crafter GA6/N would be a more sensible choice if you are willing to raise the budget a bit.
Though the price isn't super high, the few extra bucks you pay for this one fully justifies the features it brings to the table.
The guitar's top is made of sturdy spruce wood, with the sides and back made of traditional mahogany wood. The fretboard, though, is made of Indian Rosewood, which means the overall feel will be great.
But hey, here's the thing. What makes this guitar unique isn't the use of materials but the overall sound quality.
The GA6/N has a pleasant round sound like any premium quality auditoriums from Ibanez, Epiphone, or Gretsch.
The saturated low frequencies make it even better, which convert to even more pronounced sounds when we crank up to the upper-middle tones.
This makes it highly suitable for fingerstyle as well.
Moreover, the guitar has a relatively large neck with a matt back, which makes it super comfortable, with the transition between frets as smooth as a breeze.
All in all, a beast for the budget.
Best Korean made dreadnaught: Cort AD10 OP
Cort AD10 OP belongs to the same line of guitars as the previously mentioned one. Plus, it uses the same material too.
The only difference is that it has a dreadnaught shape, with the feel and quality of any premium brand.
Having a bright sound with a mild touch of warmth at mid-range, an effortless playing experience (thanks to the loose strings), and good action, it's a great option for finger and flat-picking.
In the shortest words, it's simply the go-for choice if you are trying to save some extra bucks without compromising on quality.
Are Korean-made guitars good?
Well, in fair honesty, yes, they are!
Although no big names in the industry have their own factory in Korea and many have now ceased importing guitars from the region, the craft that has been put in the Korean guitars is hard to find these days.
One of the biggest factors that stay as a testament to their immaculate quality is that most people still use and sell Korean models made back in the 80s and 90s.
And the interesting thing is, they are in as good condition as they were back in the day, with a sound that gives competition to some of the best in business.
So yeah, maybe they are not as good as their US and Japanese counterparts (because they're cheap), but nothing compares to the price value!
What about Korean-made guitar quality?
I would describe that for you in just one word: "Awesome."
Pick anything from the 70s, 80s, 90s, or even something from their most recent makings like Cort, Dean, PRS, or Gretsch; the consistency is appreciable.
There are also other brands making guitars in Korea, like Schecter. Still, the ones above are simply the champions of the category.
From electric to acoustic and anything in between, you will find every range in Korea. The only difference is that they are way cheaper and premium. ;)
Which one is the best Korean guitar factory?
When we talk about Korean guitar manufacturers, there's only one factory ruling the market. And that is World Music Instruments Korea.
If we talk about the current market, at least a single range of every big brand, from Agile to Schecter, Dean and anyone in between, is manufactured by the WMIK.
In fact, the name has become synonymous with quality!
Another factory named Samick also manufactures guitars in Korea, however, their glory days in the particular market were over in the nineties.
Their primary clientele either ceased to make a particular range of guitars or simply moved their manufacturing facilities to other countries.
To my knowledge, the only big brand that still trusts Samick for its guitar manufacturing is Epiphone.
Conclusion
Korean-made guitars are a great value for the money. You can find high-quality instruments at a fraction of the cost of guitars made in other countries.
While some Korean brands may not be as well known as big-name guitar companies, they offer features and quality that rival even the best guitars on the market.
So yeah! If you're looking for an affordable guitar that doesn't sacrifice sound or playability, a Korean-made guitar is definitely worth considering.
In this article, I discussed some of the best Korean guitar models available (and not available) today and reviewed them one by one to help you make your choice.
I'm Joost Nusselder, the founder of Neaera and a content marketer, dad, and love trying out new equipment with guitar at the heart of my passion, and together with my team, I've been creating in-depth blog articles since 2020 to help loyal readers with recording and guitar tips.
Check me out on Youtube where I try out all of this gear: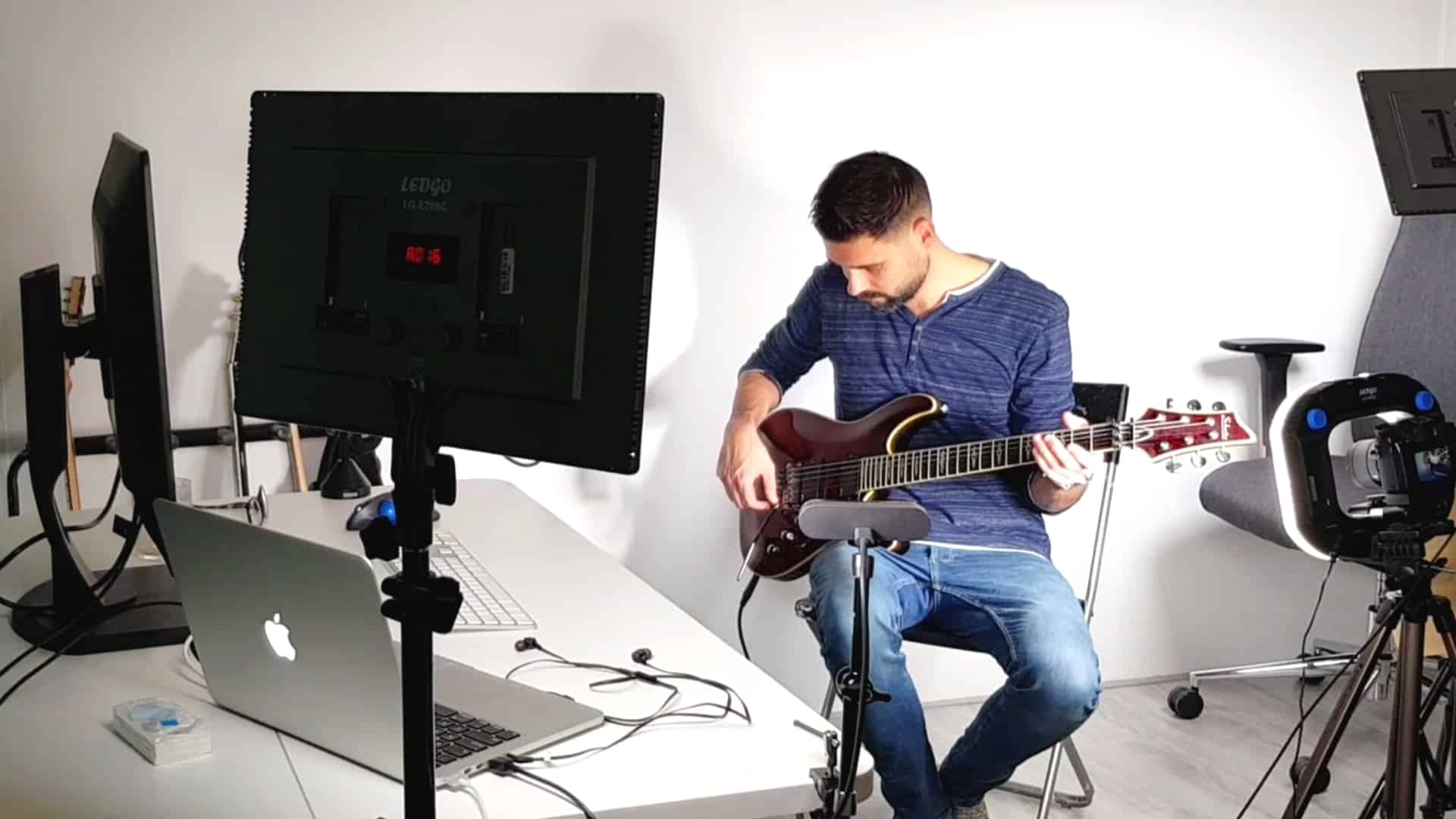 Subscribe