hi there I love creating free content full of tips for my readers, you. I don't accept paid sponsorships, my opinion is my own, but if you find my recommendations helpful and you end up buying something you like through one of my links, I could earn a commission at no extra cost to you.
Learn more
A lot of people know that Korea is famous for its cars, electronics, and kimchi. But did you know that they're also making some pretty sweet guitars these days?
Korea has built guitars for over a century, including some of the most renowned guitar makers in the world. The first were made by Japanese luthiers, who immigrated to the country after the Japanese annexation in 1910. These guitars were modeled after popular Japanese brands of the time, like Yamaki.
History of Guitar Making in Korea? Well, that's a question that could fill a book, but we'll look at the highlights.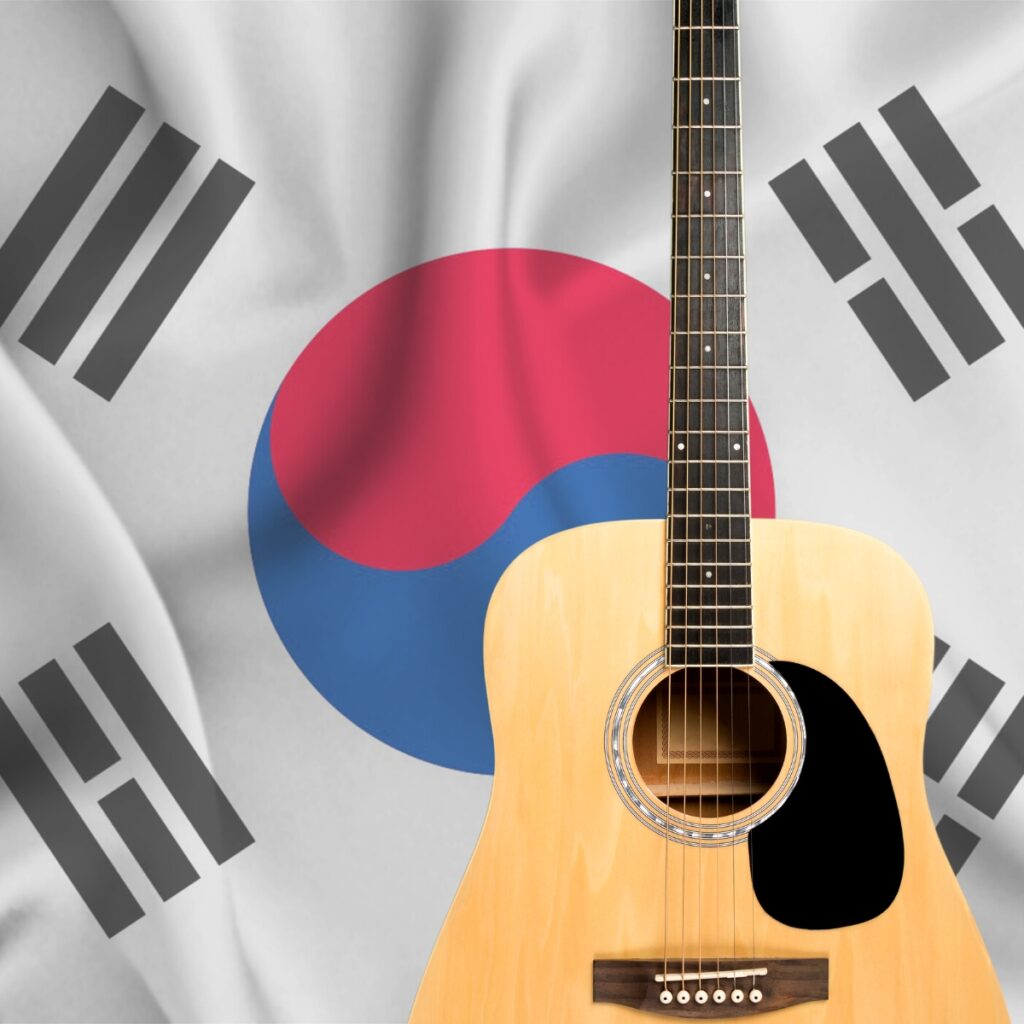 Guitars Made in Korea
Gretsch
Gretsch is an American guitar company that's been around for over 139 years. They offer a wide range of guitars from acoustic to electric, perfect for beginners and pros alike. Most of their guitars are made overseas, with Fender Musical Instruments Corp. handling the manufacturing and distribution. Several factories produce Gretsch guitars in countries like Japan, China, Indonesia, and Korea.
Their Electromatic line of hollow-body guitars are made in Korea (the solid-body are made in China). This line of guitars is considered mid-range, but for the price, the quality is great. Plus, they come in a variety of designs and colors.
Eastwood Guitars
Eastwood Guitars is based in Canada, but most of their guitars are built in China and Korea. They specialize in vintage-style guitars, from acoustic to electric, as well as ukuleles and electric mandolins.
Their guitars are built overseas before being shipped to Chicago, Nashville, or Liverpool for a final inspection. It's unclear which Eastwood guitars are made in Korea, but it seems like the lower price point guitars are made in China and the higher price point guitars are made in Korea at World Musical Instruments.
Guild
Guild is a US-based guitar manufacturer that's been around since 1952. They make acoustic, electric, and bass guitars. While they used to make all their guitars in New York City, they now manufacture them in California, China, Indonesia, and South Korea.
Their Newark St. electric guitar is made in South Korea, Indonesia, or China, depending on the model.
Chapman Guitars
Chapman Guitars is based in the UK and was founded by Rob Chapman in 2009. They make electric and baritone guitars, as well as bass guitars.
Their British Standard Series is made in the UK, their Standard Series is made in Indonesia, and their Pro Series is made in Korea at World Music Instruments.
Dean Guitars
Dean has been making and manufacturing guitars for 45 years, including electric, acoustic, and bass guitars. They were founded in the US, but now manufacture their guitars in the US, Japan, and Korea.
Their guitars made in Korea are mostly entry-level to mid-range guitars.
BC Rich
BC Rich has been making guitars for over 50 years. This American brand is known for producing guitars associated with heavy metal music. They make electric, acoustic, and bass guitars, but it's unclear where they are manufactured.
Brands You May Know
Are you looking for a guitar that's made in Korea? You're in luck! The World Musical Instruments factory in Incheon, South Korea is the place to go for high-quality guitars. Here are some of the brands you may know that have chosen to produce their guitars there:
Fender: Fender used to build some of their guitars in Korea, but due to increasing costs, they moved operations to Mexico in 2002-2003.
Ibanez: Ibanez also made guitars in Korea, as well as other Asian countries for some time.
Brian May Guitars
Line 6
LTD
Wylde Audio
Guitars You May Not Know
There are some other guitar brands out there that you may not have heard of that are also made in South Korea. Here's a list of some of them:
Agile
Brian May Guitars
Line 6
LTD
Wylde Audio
Guitars Made in Korea: A Brief History
Fender
Fender had a brief stint of making guitars in Korea, but decided to pack up and move to Mexico in the early 2000s. It was a tough decision, but they had to do it to keep costs down.
Ibanez
Ibanez also had a go at making guitars in Korea. They also made guitars in other Asian countries, but eventually decided to call it quits.
Where Are Guitars Made Now?
If you're looking to get your hands on a guitar made in Korea, you're in luck! Most guitars coming out of Korea are made at the World Musical Instruments factory in Incheon. It's got a great reputation for producing high-quality instruments.
So, if you're looking for a guitar that's been crafted with care and precision, you know where to go!
The Final Strum
If you're looking for the best guitars made in Korea, read our article here!
Cort Musical Instruments of Korea
From Pianos to Guitars
Cort's story starts in 1960 when Young Park's dad decided to get into the import business. He called it Soo Doh Piano and it was all about the keys. But over the years, they realized they were better at making guitars than pianos, so in 1973 they switched their focus.
Contracting with the Big Names
Soo Doh changed their name to Cort Musical Instruments and began making guitars under their own brand in 1982. They also started making headless guitars in 1984, which was a pretty big deal. This got the attention of other big names in the industry and they started contracting Cort to make guitars for them.
Cort's Big Break
Cort's big break came when they started making guitars for well-known brands like Hohner and Kramer. This helped them get their name out there and made them a household name in the electric guitar market. Nowadays, Cort is known for making quality guitars and they're still going strong.
What Goes Into Quality Control for Guitars?
The Different Levels of Quality Control
When it comes to guitars, there's a whole lot of quality control that goes into making sure they sound and play just right. From the factory in South Korea to the stores in the US, there are a few different levels of QC that make sure the guitars are up to snuff.
Here's a quick breakdown of the different levels of QC:
PRS sets up all of their SE line at their US factory before they go out to stores and customers.
Chapman guitars are QC'd by the stores that buy them to sell to customers.
Rondo ships their Agile guitars to customers without any QC – and this is reflected in the price.
Why the Price Difference?
So why is there such a big difference in price between all these guitars? Well, it all comes down to the different levels of QC. The more QC that goes into a guitar, the higher the price. So if you're looking for a quality instrument, you're gonna have to pay a bit more.
But don't worry, there's still plenty of great guitars out there that won't break the bank. So if you're looking for a good guitar without breaking the bank, you can still find one that fits your budget.
Understanding Quality Variations Across Brands
What is CNC?
CNC stands for Computer Numerical Control, and it's a fancy way of saying that a machine is controlled by a computer. It's used to make all kinds of things, from guitars to car parts.
How Does CNC Affect Quality?
When two companies partner up to make guitars, they'll agree on a bunch of manufacturing standards. These standards can have a huge effect on the quality of the guitars. Here are some of the things they might agree on:
How often the CNC machine is reset: This is important because machines can get out of alignment over time, and resetting it ensures that it cuts in the right spots.
Whether the frets are glued or just pressed in: This affects how well the frets stay in place.
Whether they're dressed on site or not: This affects how smooth the frets are.
What kind of internal wiring is used: Cheap wiring can cause problems down the line.
All of these small details can add up to make a big difference in the quality of the guitars.
So What Does This Mean?
Basically, it means that if you're looking for a good guitar, you should pay attention to the details. Cheaper brands might skimp on some of the finer points of manufacturing, which could mean lower quality instruments. So if you want a good guitar, it's worth it to do your research and find out what kind of manufacturing standards the company has.
The Controversy Surrounding Cort and Cor-Tek
The Events
It's been a tumultuous few years for Cort and Cor-Tek, with a whole host of controversies surrounding the Korean factories. Here's a quick rundown of what's gone down:
In 2007, Cort closed its Daejon factory with no warning.
Later that same year, all staff from its Incheon plant were made redundant.
Union officials and members were fired and mistreated.
In protest, a Cort worker set himself on fire in 2007.
In 2008, workers conducted a 30-day hunger strike and sit-in on a 40-meter electricity tower.
The Response
The controversy surrounding Cort and Cor-Tek didn't go unnoticed, with a number of high-profile figures speaking out against the mistreatment of workers.
Tom Morello and Serj Tankian of the Axis of Justice held a protest concert in Los Angeles in 2010.
Morello said "All American guitar manufacturers and the people that play them should hold Cort accountable for the awful way they have treated their workers."
The Outcome
The controversy went through various legal stages in Korea from 2007 through 2012. In the end, Cort received favorable decisions from the Supreme Court in Korea, absolving them of any further liability to the terminated employees.
What is WMIC's Reputation?
The Quality is Unmatched
World Musical Instruments Korea (WMIC) has been crafting guitars for decades, and they've earned a reputation for producing top-notch instruments. Phil McKnight, a renowned guitar expert, once said WMIC is "the biggie for quality". They don't mess around with cheap stuff, only making the good stuff so they can keep their quality up.
The People Have Spoken
It's no secret that WMIC has a great reputation. People have been raving about their guitars for years, and it's easy to see why. Their craftsmanship is second to none, and they make sure to use only the best materials. Plus, their customer service is top-notch. What more could you ask for?
The Final Word
If you're looking for a guitar that'll last you a lifetime, you can't go wrong with WMIC. They've got the goods, and they've got the reputation to back it up. So don't waste your time with the cheap stuff – go with the best and get a WMIC. You won't regret it!
What's the Future of World Musical Instruments?
PRS SE Imports: Are They Any Good?
It's no secret that PRS SE guitars used to be made in Korea, but in 2019, they decided to switch up their production and move it to Indonesia. So what's the deal?
Well, the main reason for the switch was that PRS wanted to have a facility that was 100% dedicated to their guitars. No more sharing production with other brands, no more switching from making a Hagstrom one day to an ESP the next.
Plus, the economics of moving from Korea to Indonesia were more favorable. So, while you can still get some SE guitars made in Korea, it's likely that won't be the case for much longer.
What About WMIC?
Don't worry, WMIC isn't going anywhere! They still have a ton of brands that rely on them for their quality and consistency. Plus, they're willing to make small batches of as little as 50 guitars – perfect for those up-and-coming brands.
So What's the Verdict?
It looks like the future of world musical instruments is in good hands! PRS is dedicated to making sure their guitars are of the highest quality, and WMIC is still around to help out those smaller brands.
So if you're looking for a new guitar, you can rest assured that you'll be getting something of the highest quality, no matter what brand you choose.
Differences
Korean Vs Indonesian Guitars
Korean-made guitars have been around for decades, and they've earned a reputation for being quality instruments. But when the Japanese workforce became too expensive to produce budget guitars, production was moved to Korea. Now, with Korean workers getting paid as much as their Japanese counterparts, manufacturers had to look elsewhere for cheaper labor. Enter Indonesia. The factories there are set up, trained, and overseen by the same people who ran the Korean plants. So, what's the difference between the two? Well, the Korean guitars tend to have a more utilitarian look to the headstock, whereas the Indonesian guitars have a more pronounced binding and the Paul Reed Smith signature logo. Plus, the Indonesian guitars have more pronounced contours and binding. So, if you're looking for a guitar with a bit more flair, the Indonesian models might be the way to go.
FAQ
Are Korean guitars any good?
Korean made electric guitars are definitely worth considering if you're looking for a quality instrument. I spent several months in Changwon, Korea in 2004 and was able to get a firsthand look at the craftsmanship and attention to detail that goes into making these guitars. From the intricate woodwork to the precision of the electronics, I was impressed with the quality of the instruments.
The sound quality of Korean guitars is also impressive. The pickups are designed to deliver a warm, rich tone that will make your music stand out. The hardware is also top-notch, with solid construction and reliable tuning machines. All in all, if you're looking for a quality electric guitar, you should definitely check out what Korean manufacturers have to offer. You won't be disappointed!
Conclusion
The history of guitar making in Korea is a fascinating one, full of innovation and creativity. From the humble beginnings of Soo Doh Piano to the modern-day Cort Musical Instruments, it's clear that Korean guitar makers have become masters of their craft. From the intricate details of the manufacturing process to the final QC process, it's no wonder why so many guitar brands choose to partner with Korean manufacturers. So, if you're looking for a guitar that's well-made, reliable, and affordable, look no further than a Korean-made guitar! And remember: you don't have to be a ROCKSTAR to play one!
I'm Joost Nusselder, the founder of Neaera and a content marketer, dad, and love trying out new equipment with guitar at the heart of my passion, and together with my team, I've been creating in-depth blog articles since 2020 to help loyal readers with recording and guitar tips.
Check me out on Youtube where I try out all of this gear: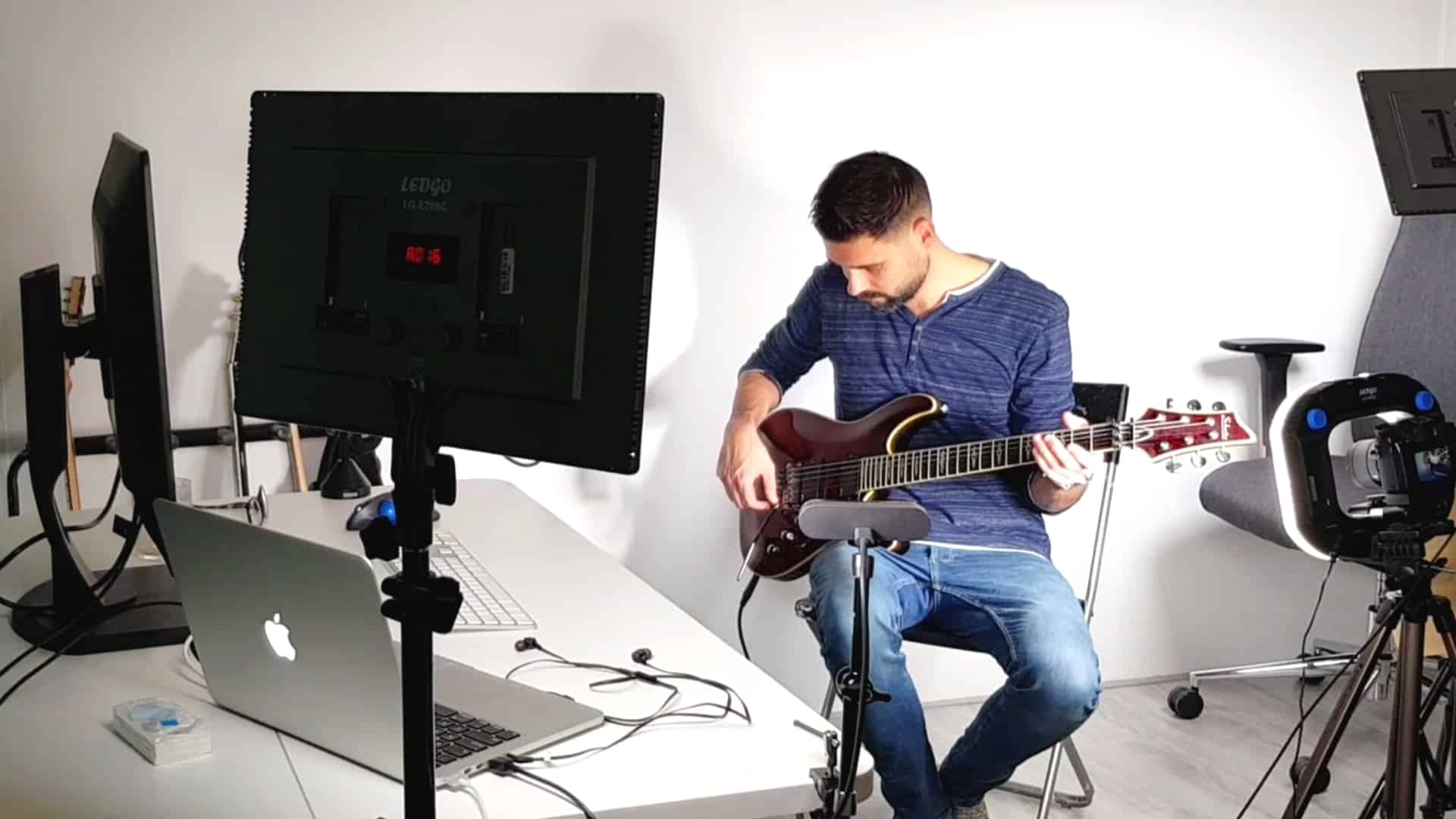 Subscribe