I love creating free content full of tips for my readers, you. I don't accept paid sponsorships, my opinion is my own, but if you find my recommendations helpful and you end up buying something you like through one of my links, I could earn a commission at no extra cost to you.
Learn more
Folk is a traditional music genre known for bold vocals and acoustic accompaniment. For American folk music, no instrument is more iconic than the acoustic guitar.
In fact, most folk musicians use 12 string acoustic guitars, but some, like Bob Dylan, proved that an electric guitar could sound amazing in folk music too.
So, if you want to play folk, what guitar should you get?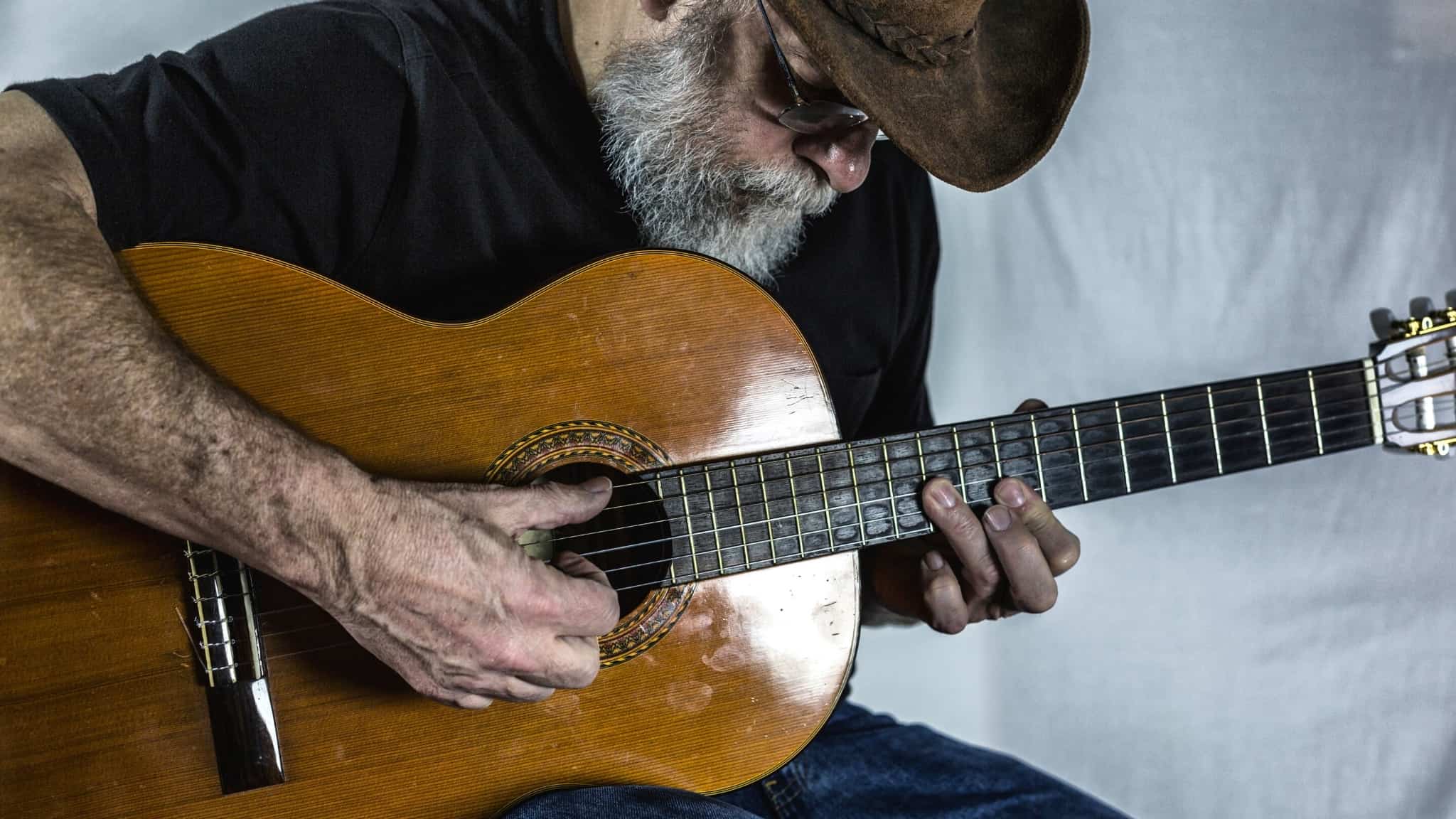 The best overall guitar for folk music is this Ovation Celebrity CS24-5 Standard because it's affordable, has a spruce body, and good tone. It's great for fingerpicking and strumming, and it's very durable, so it's great for touring because you can take it on the road with you.
I am reviewing the best folk guitars from the most affordable to the classic Telecaster, played by Bob Dylan.
Whether you want to start learning folk or need a durable guitar for fingerstyle play, I've got you covered!
I am sharing full reviews down below, but here's an overview chart first.
Folk guitar vs. folk-sized guitar: what's the difference?
There is some confusion about folk guitars.
Just because an acoustic guitar is labeled as a folk guitar doesn't mean it's used exclusively for this musical genre. In fact, folk is played on many different types of guitars.
The folk-sized guitar is not necessarily a guitar for folk music. The term refers to a guitar with a certain body shape and size, which is similar to classical guitars and slightly smaller than most other acoustics.
Most have steel strings, and the headstock lacks holes in it. It's designed to create a balanced sound compared to dreadnoughts, which have more bass.
A folk guitar comes in many sizes, though, and should not be mistaken for the folk-sized, which is simply a bit smaller than the classical guitar.
As a general guiding principle, the folk guitar used to play folk music refers to a small to a mid-sized guitar with a balanced sound.
When it comes to playing folk music, you don't need a big guitar. If you do more fingerpicking, you need a guitar that offers well-balanced sound.
You can get that from a mid-sized guitar and not the folk-sized. If you're more into strumming, then a dreadnought or a bigger guitar helps you get the sound you want.
Many folk musicians also use parlor guitars and use them to travel and play small gigs.
Steel strings
Folk guitars usually have steel strings.
Unlike classical guitars, which have nylon strings, the acoustics used in country, folk, blues (& other genres), have modern steel strings.
The reason for this is that these guitars are louder and have a brighter sound. Folk guitarists prefer steel strings because these strings give a bright and crisp tone compared to nylon.
As well, steel offers lots more volume and power, which a genre like folk needs. Classical music, for example, is better suited to the delicate sound of nylon strings.
Also read: Best acoustic guitar amps: Top 9 reviewed + buying tips
Best folk guitars reviewed
Now let's look at the best folk guitars out there.
Overall best value for money: Ovation Celebrity CS24-5 Standard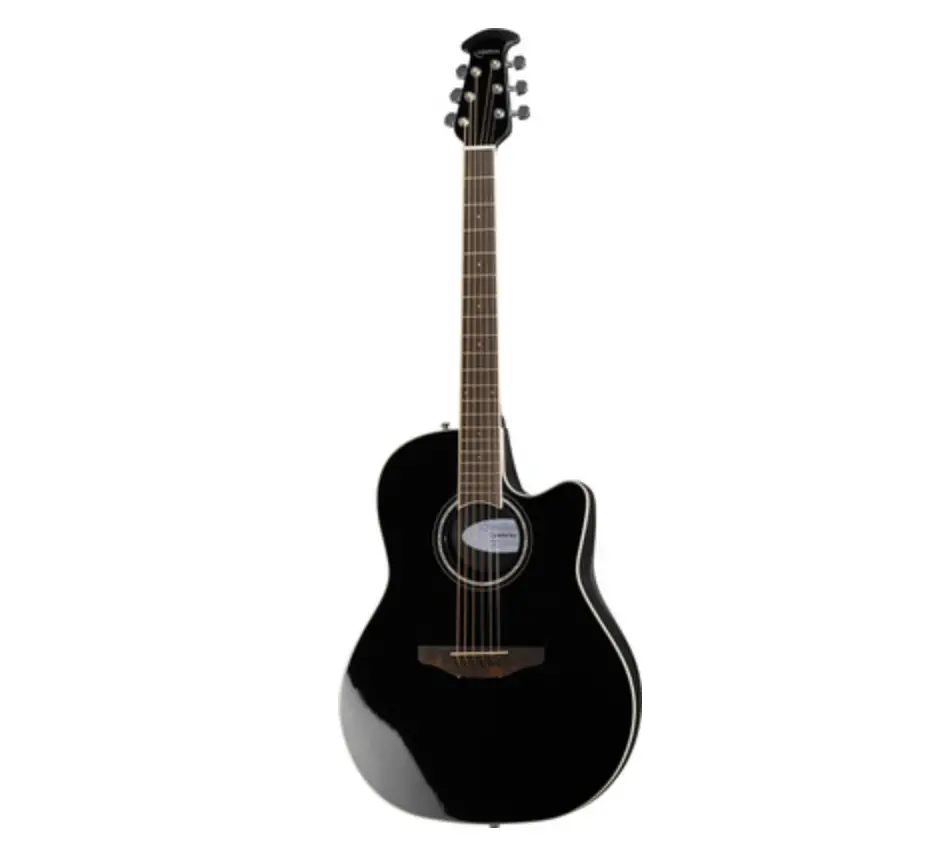 When it comes to playability, the Ovation is the type of guitar that you can just start to play as sound as you get it in your hands.
It has a lower edge that doesn't slide off your leg if you play sitting down. It's a steel-string guitar with a glossy black finish, making it one of the best-looking guitars on this list.
Made with a solid spruce top, nato neck, and rosewood fretboard, it has a mid-depth cutaway body, and it's overall a very well-built guitar.
One thing that makes this one different from other acoustics is that it has a lyrachord back, a kind of fiberglass material. It helps give the guitar excellent volume, projection, and a distinct tone.
This guitar has exceptional clarity, so you can hear all the notes coming through when strumming chords.
Watch guitarist Mark Kroos discuss why he likes the Ovation Celebrity Standard Series:
At one point, he mentions that playing this acoustic feels a lot like you're playing an electric guitar but with the acoustic sound, of course.
It also has a bright tone, and it sounds good when you fingerpick too, and it's great for all the different playing styles of folk music.
It costs about $400, which is a good low to mid-range price for an acoustic.
Oh, and the guitar comes with a preamp, built-in tuner, and an Ovation slimline pickup, so you're pretty much set up to play.
Check the latest price here
Overall best electric guitar for folk music: Fender American Performer Telecaster

Musical legends like Bob Dylan and Bruce Springsteen played some of the best folk and folk-rock melodies on electric guitars, namely the Fender Telecaster.
Photo of Bob Dylan and Telecaster: https://bobdylansgear.blogspot.com/2011/02/sunburst-fender-telecaster-50s.html
It's an expensive guitar, but it's one of the most popular models of all time.
A Telecaster is a great option for folk and country because it has single-coil pickups, which helps it take the compression without losing tonal clarity.
Thus, it has a clear tone, packs a bite, and has that bit of twanginess and chimeyness folk is well-known for.
This guitar is durable and heavy-duty, so it makes it ideal for gigging and touring. Even if you're on the road all the time, the guitar holds up well and requires minimal maintenance.
It's not surprising that famous musicians love this guitar so much, it's probably one of the most durable when it comes to construction, and you can be sure it's going to last a lifetime.
Price-wise, it's a premium guitar with a cost of over $1200, but it's a classic and sound-wise, it's one of the most versatile electrics out there.
Check Dylan Mattheisen presenting this guitar:
If you want to hear blues/folk musician Steve Cropper talking about why he loves Telecasters, check it out here:
So, I recommend this one if you play professionally or you want to get a guitar for life.
Check prices and availability here
But, if you want a cheaper alternative, check out the Squier below.
Budget electric guitar for folk music & best electric for folk-rock: Squier Classic Vibe 60's Telecaster

This affordable alternative is inspired by the 1960s Telecaster and designed by Fender.
The Squier is made in their overseas factories in Indonesia, Mexico, or China, but it's still a well-built nato tonewood instrument.
Players are very satisfied with this model because it costs less than $500 but still has the original Fenders' vibe. It has a vintage gloss finish on the neck, so it tricks the eye into thinking it's vintage.
What's really cool is that this model has vintage 50s throwback headstock markings.
Watch Landon Bailey's review:
If you want to see this guitar in action, check out this clip of Snooks Eaglin playing it live:
With a laurel fingerboard, this guitar also has an alnico single-coil pickup, but weight wise it's much lighter than the Telecaster.
The vintage-style tuners are pretty good, and you'll get a good sound when playing almost all genres. There are many similarities between the Squire and the original, including the C-shaped neck.
Both are fun to play and have a pretty similar tone. One downside to owning the Squire is that there's more fret buzzing when you play.
But, if you just want a good quality electric guitar to play folk-rock, this one does not disappoint.
Check the latest price here
Best budget acoustic guitar for folk music: Takamine GN10-N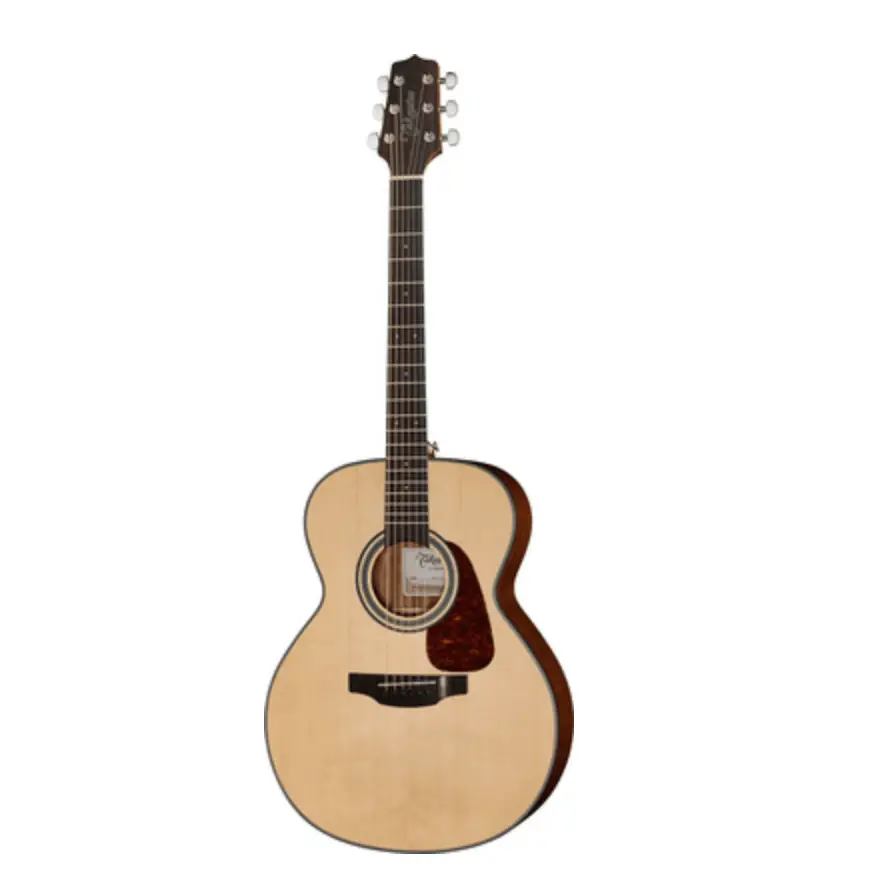 If you're just getting into folk music, you probably don't need an expensive acoustic. You can get away with a cheaper guitar, and this Takamine is perfect for everyday playing.
This guitar has a spruce top and mahogany back and sides, but it's well-constructed and durable.
Takamine is a Japanese brand, and their G-series guitars are well-suited for beginners as well as seasoned players. This model is one of their cheapest and costs under $250.
Thus, it's great if you're looking for a guitar with a good tone and a simple design.
Here's a demo of the guitar:
I like this guitar because you don't need to really set up too much, as it's very playable and you can start playing almost immediately.
It's not very stiff, which is good news since a lot of cheaper guitars are so stiff, your fingers hurt as you play.
This nut holds the string a bit too high up, but it's still playable, and the sound is quite lovely. You'll appreciate that it has that tinny tone you want for folk, but it's not overly bright.
Takamine is a well-beloved brand used by the likes of Jon Bon Jovi, Glen Hansard, Don Henley, and Hozier.
They use more expensive acoustics from Takamine, but if you're looking to try the budget version, the GN10-N is a great option.
Check out the latest price here
Best Gibson folk guitar: Gibson J-45 Studio Rosewood AN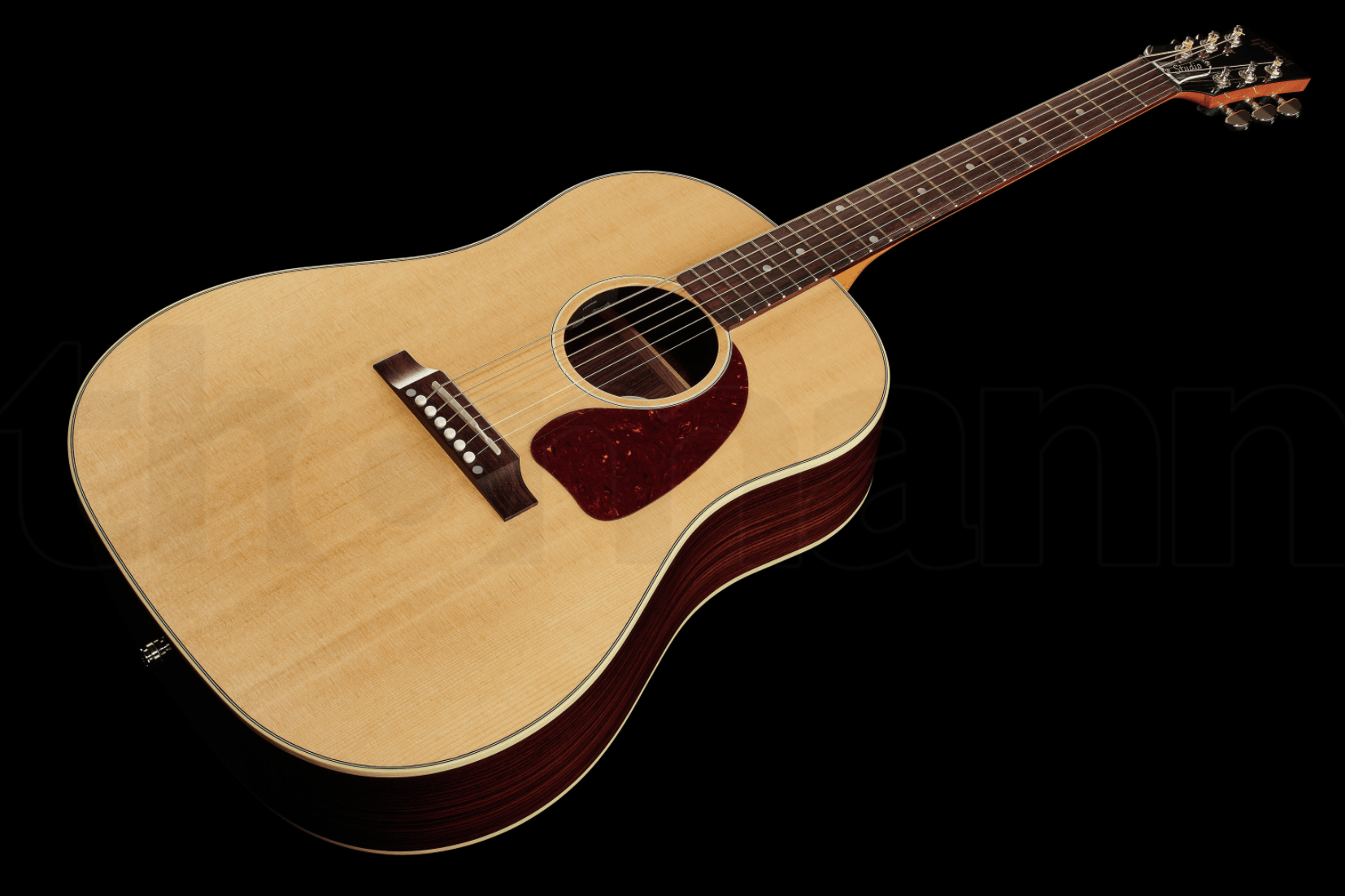 As far as quality, the Gibson J-45 is at the top of the list.
This is one of those dreadnought guitars that professional musicians have used and continue to use because it's a durable and great-sounding instrument.
It's pricy at almost $2000, but it's one of those classics that will last you a lifetime.
Woodie Guthrie really popularized this guitar back in the day, and Buddy Holly, David Gilmour, and Elliot Smith have all played this Gibson.
Check out David Gilmour playing the J-45 in concert:
This guitar is known for bright, robust tones, so it's perfect for playing gigs and stage performances.
That's why famous guitarists love to use this guitar in concerts and live performances. It's also a good-looking guitar with rounded shoulders, a beautiful spruce body, and a rosewood back.
You can expect warm mids, a full and balanced expression, and a warm yet punchy bass in terms of tone and sound.
It also has a dynamic range so that you can play more than just folk.
It's an overall great-toned guitar, and there's not much to criticize, so if you're serious about playing folk, this modern updated version of the Gibson 'workhorse' is a great investment.
Check prices and availability here
Best folk guitar for beginners Yamaha FG800M
As a first-time folk player, you don't need to spend a fortune on a folk guitar.
This Yamaha model is one of the best for beginners because it's affordable, and it's made of good tonewoods, so you get an excellent sound.
It really lends itself to rough strumming and rough playing, which you might be doing while learning.
It has a solid spruce top, and that really makes a difference in a folk guitar and gives it that tone you're used to hearing when listening to folk music. The fretboard is made of rosewood, and it has nato sides and back.
The guitar is well built, considering it's a bargain price-wise.
Here's a Yamaha overview:
And check out Kraft's Jake Blake's demo to get a feel for the sound:
I prefer this one over the Takamine for beginners because you can set it up easily, and it has a 43mm nut width, so you don't need to stretch as much when playing complicated cords.
I recommend taking this instrument to a guitar shop to have the frets filled, the neck altered, and get the nut filed down if necessary.
Once you take the time to set up the guitar, you can learn to play it.
Since this is a $200 guitar, you can afford to make the changes and mold this guitar to work for you, and it makes playing so much easier.
Check the latest prices here
Check out more good beginner guitar here: Best guitars for beginners: discover 13 affordable electrics and acoustics
Best guitar for fingerstyle folk: Seagull S6 Original Q1T Natural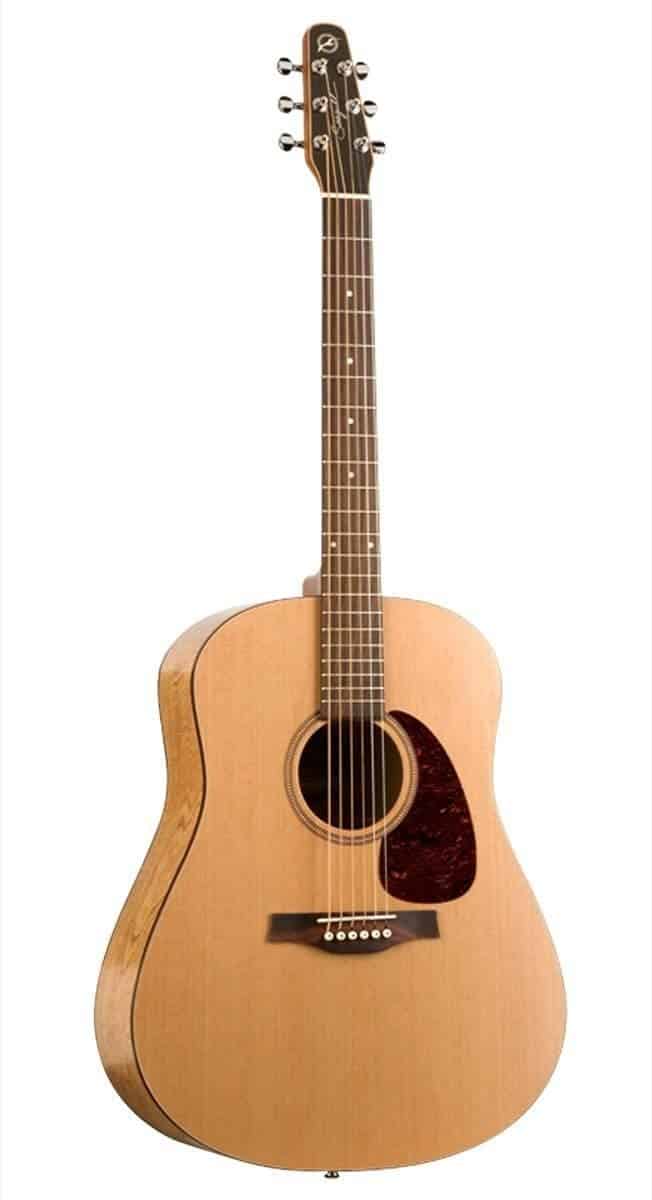 Fingerstyle is a popular playing technique folk musicians love to use. Picking with your fingers produces a distinct sound, and you want a guitar that sounds good as you play fingerstyle.
This Seagull S6 model is a great mid-range priced guitar ($400). It has a full-sized dreadnought-style body made of a cherry back and sides, and it has a solid cedar top.
This tonewood combination is quite unique as you don't see it too often, but it contributes to a warm and balanced tone.
Check out Andy Dacoulis playing this guitar in their demo video:
Popular singer and songwriter James Blunt also plays the Seagull S6. He used to use this guitar for live performances back in the 2000s.
It also has a silver maple leaf neck and rosewood fingerboard, which make this a great guitar in terms of sonic quality.
Since it has a big body, this guitar project lots of volume, which is great when you play dynamic fingerstyle.
The Seagull has good string action, so it's one of the more playable guitars in its category. Since it's easier to play smoothly, your fingerstyle passages sound cleaner and better.
Just be sure to order a good gig bag or case when buying this guitar because it doesn't come with one, and you want to protect it.
But overall, this is a good alternative to expensive dreadnoughts.
Check the latest prices here
Best guitar for indie-folk: Alvarez RF26CE OM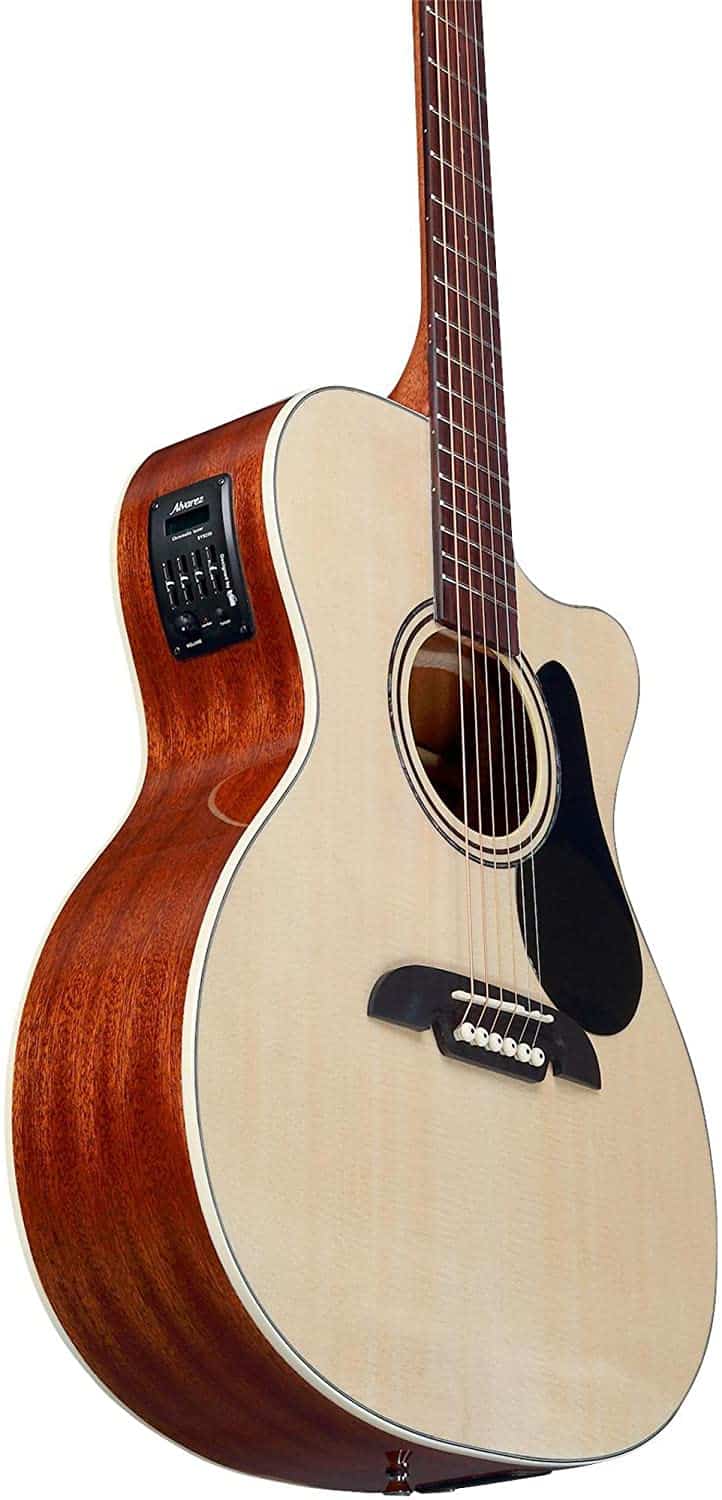 This guitar is designed with folk music in mind. The Alvarez RF26CE is a great acoustic-electric you can use to play indie-folk.
This musical genre relies on the bright and warm tones of acoustic guitars, but the modern rock influences of the electric contribute to this distinct style of music.
At around $250, this is a very affordable guitar, it sounds great, and it's versatile so that you can play more than one genre.
It has a spruce top and glossy mahogany back and sides, so it looks good too.
See how this guitar sounds when played:
The Alvarez Regent Series is a versatile guitar, so I think it's good for all playing types. Whether you're a beginner or just trying out the indie-folk genres, this guitar is suitable.
It has a slimmer neck profile, so it's also a good option for learning to play because you can hold it easily.
The 43mm nut width also makes it ideal for fingerpicking and fingerstyles if you want something cheaper than the Seagull.
Also, if you're just looking for a good folk guitar to experiment with, this one does a fine job, and you'll find it easier to play clear notes on it.
Ani DiFranco is a big Alvarez fan, and she uses a lot of their guitars.
Check the latest price here
Best acoustic guitar for folk-blues: Gretsch G9500 Jim Dandy Flat Top

The Gretsch Jim Dandy G9500 is a revamped and updated version of a well-known classic.
It's a parlor-sized guitar, so it's smaller than a dreadnought, but it's really good for playing blues, slide guitar, and jazz, so of course, folk-blues is no exception.
It's a great guitar for small gigs, practicing, and playing around the campfire because it really packs a pun when it comes to tone and sound projection.
The tone is a bit boxy and sweet, so it sounds great if you play folk-blues. While you can't expect the volume of a larger acoustic, this parlor still delivers excellent tone and sound.
Best of all, it doesn't lose its tuning every time you pick it up and put it down!
Check out Hawaiian guitarist Jon Rauhouse playing the Gretsch:
Considering this guitar costs less than $200, it has pretty good hardware like a rosewood bridge and an Agathis body.
The neck is the size of a dreadnought, so you're not missing out compared to other guitars. Overall, it's a nice style of guitar, with vintage-inspired design details and a semi-gloss finish.
It's well-built, so you can't really tell this is a cheap guitar. Many players find this guitar to be unique because of the low action, which is similar to an electric guitar, so it's great for folk-blues and folk-rock too!
I recommend it as a fun addition to your guitar collection.
Check prices and availability here
Folk music guitar FAQs
What is the difference between a folk guitar and a classical guitar?
The difference lies in the strings. A classical guitar has nylon strings, whereas a folk guitar has steel strings.
The sound is very different between the two, and they are relatively easy to distinguish.
In general, the folk guitar is known for its versatility in comparison with classical guitars. The classical, however, is more comfortable to fret.
What is the difference between a folk guitar and an acoustic guitar?
Again, the main difference is the strings. The classical guitar has nylon strings, and the folk has steel strings.
You don't hear many people refer to folk guitars these days, as they're part of the acoustic guitar category.
What is the difference between a folk and a dreadnought guitar?
They're both considered to be acoustic guitars. Many folk players use dreadnought guitars.
But, the folk-style guitar is similar in size to the classical guitar. It's also smaller and has a curvier shape than the dreadnought.
Do more expensive acoustic guitars sound better?
In most cases, yes, the more expensive the instrument, the better the sound.
The main reason for this is the tonewood it's made from. If the guitar is made of expensive tonewoods, the sound is superior to the cheaper woods.
As well, costly guitars are better constructed and of better quality.
There is far more attention to premium guitars' details, which ultimately influences the instrument's tone and playability.
Bottom line
Folk music is about traditional melodies, oral storytelling, and a classic, simple chord progression.
Yet, some of the guitars that these folk musicians use really put a hole in your budget. They're often far from simple, and the best models cost upwards of 2,000 dollars.
But hopefully, you can find a cheaper alternative that sounds great, projects good volume, and plays easily so you can enjoy playing the most beautiful folk melodies.
With all of the guitars on this list, it's crucial to have a good setup and steel strings to help you get that twangy sound you're after.
More into metal after all? Read Best Guitar for Metal: 11 reviewed from 6, 7 & even 8 strings
          Joost Nusselder, the founder of Neaera is a content marketer, dad and loves trying out new equipment with guitar at the heart of his passion, and together with his team, He's been creating in-depth blog articles since 2020 to help loyal readers with recording and guitar tips.
Check me out on Youtube where I try out all of this gear: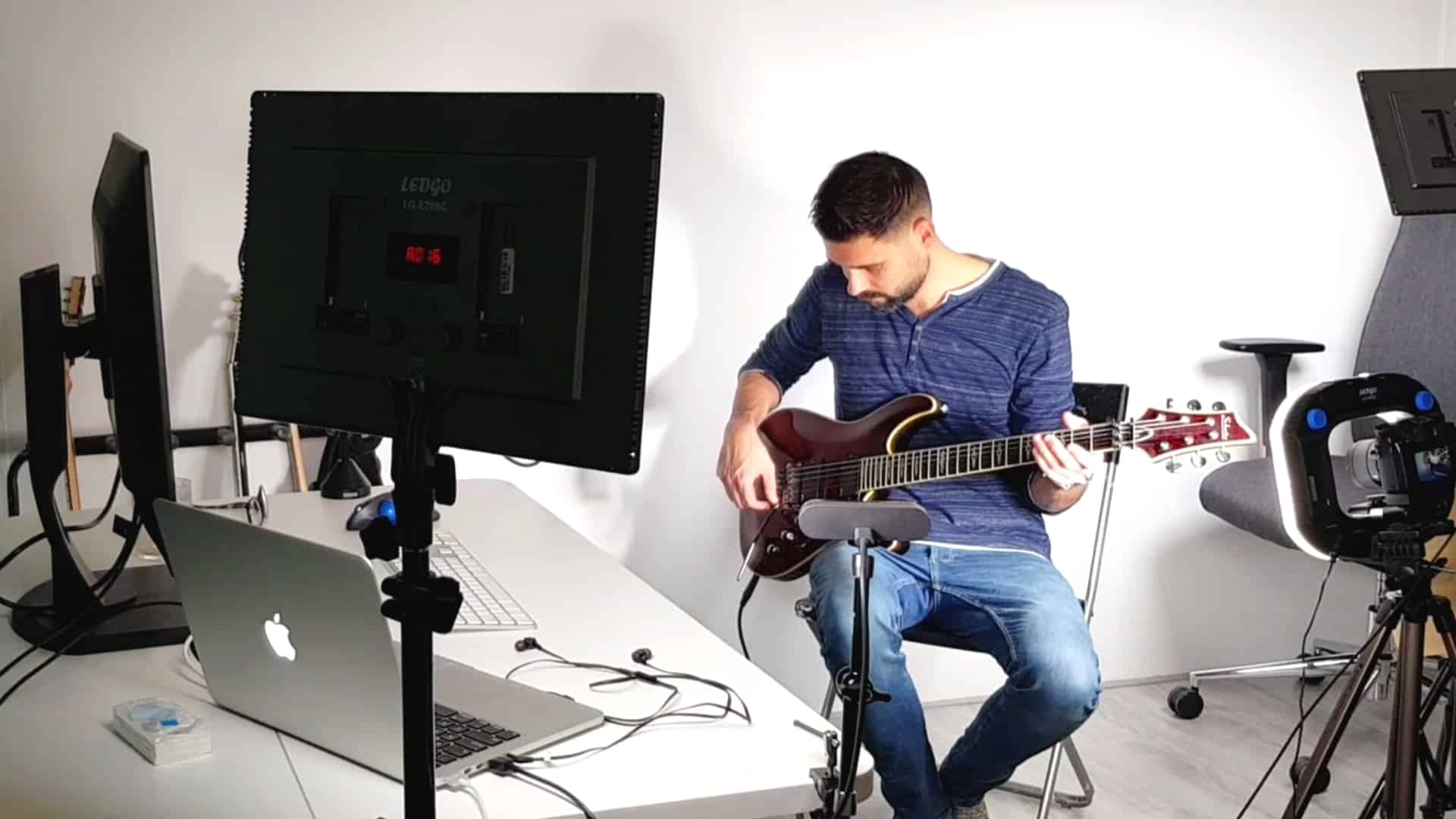 Subscribe