hi there I love creating free content full of tips for my readers, you. I don't accept paid sponsorships, my opinion is my own, but if you find my recommendations helpful and you end up buying something you like through one of my links, I could earn a commission at no extra cost to you.
Learn more
If you want perfect intonation for your low strings but still great playability for the higher strings, a multiscale guitar is the way to go. Plus, the fanned frets just look cool, don't they?
There are some very expensive fanned fret instruments as it's quite a specialized niche market, but this Schecter Reaper 7 is the best affordable choice that's still very playable. Plus it sounds great and I just love the feel of the neck.
I've played many multiscale guitars for my Youtube channel, and in this article, I'll review the Schecter Reaper 7 and other fanned fret multiscale guitars so you can pick the one that's best for you.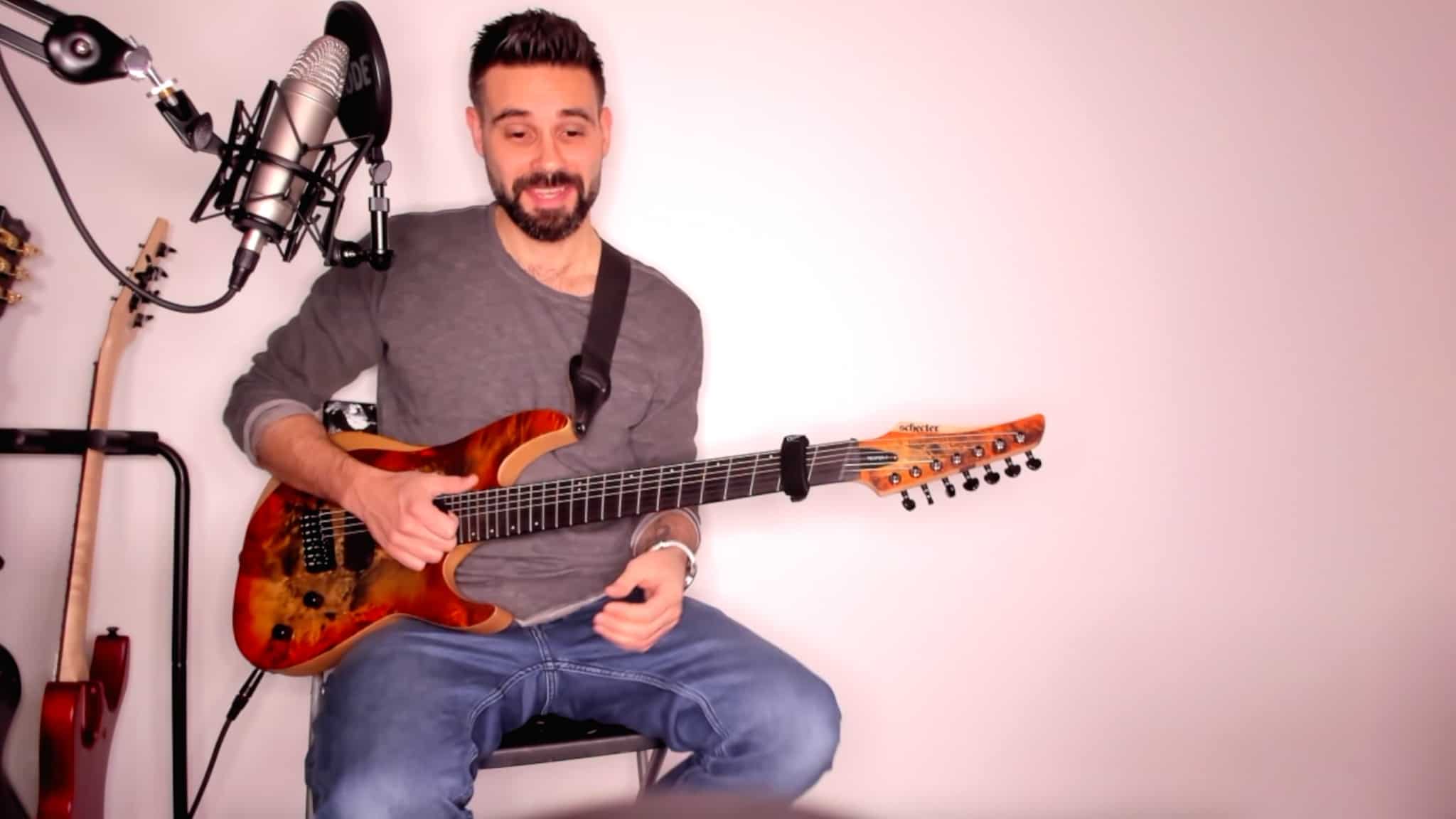 Let's look at the top choices real quick. After that, I'll look at each more in-depth.
Best multiscale fanned fret guitar for metal
Schecter
Reaper 7
A multiscale guitar designed to have a lot of gain while remaining very versatile with unbeatable intonation.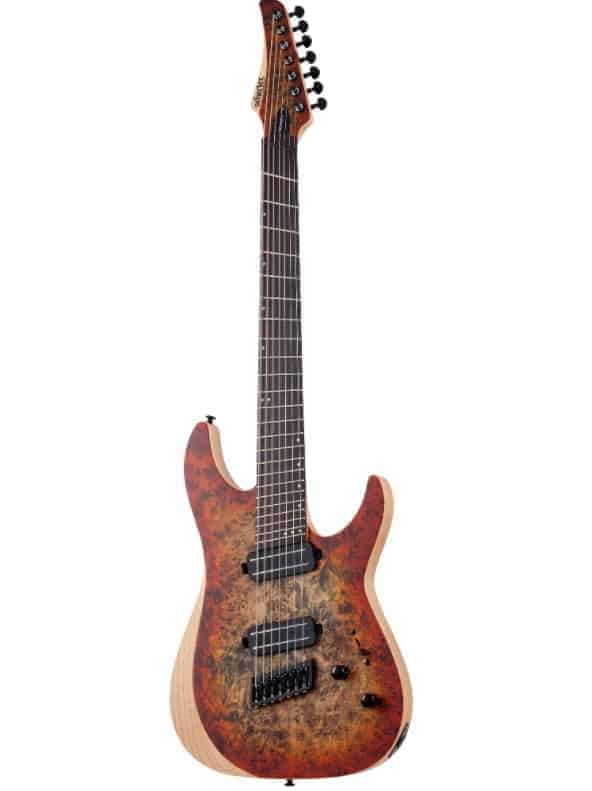 Best budget fanned fret guitar
Jackson
DKAF7 MS X-Series Dinky GB
Its reasonable price tag makes it a great choice for guitarists that want to find out what it's like to play on a fanned fret. The Jackson name means it has a great metal edge.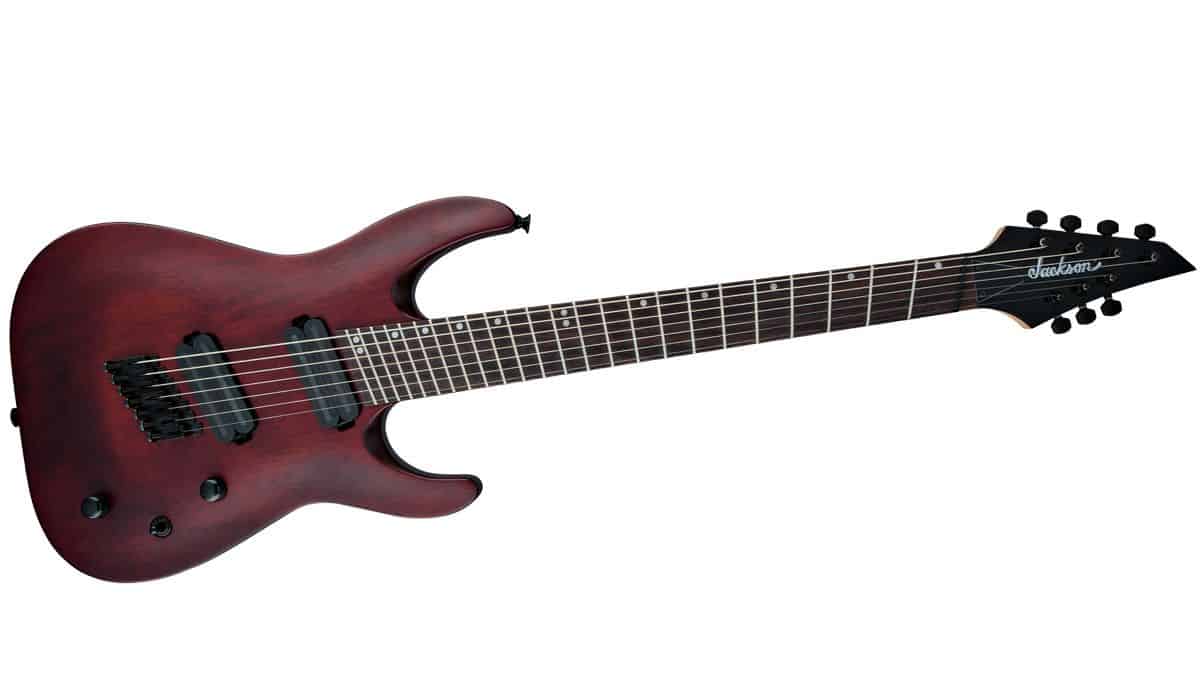 Best 8-string fanned fret guitar
Jackson
Soloist SLATX8Q
An 8-string guitar is a favorite with metal guitar players. It helps them better achieve drop-down tunings and it gets a nice bass tone.

Best headless fanned fret guitar
Strandberg
Boden Prog NX 7
A headless guitar is a favorite for many guitarists. Since it is lighter weight, the distribution of mass brings the guitar closer to the body and the tuning is more stable.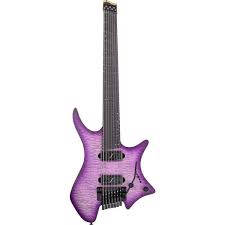 Best 6-string fanned fret guitar
Why would you use a fanned fret multiscale guitar?
A multi-scale guitar is known for it's improved intonation and string tension. The longer strings on top provide a bassy tone while the high strings produce a smooth, clear upper range. The end result is an instrument that combines tight lower strings while still keeping the higher strings easily playable.
Multiscale fanned fret guitars are a favorite for many guitarists because they provide increased comfort, better control, and improved intonation.
Additionally, the string placing and tension make for a more comfortable playing experience. Both soloing and rhythm playing are easier to achieve and guitar players have more control overall.
However, fanned frets have their share of pros and cons. Here are some to consider:
Pros of a multi-scaled guitar
Less string tension on the higher strings make them easy to bend so soloing is easier
More tension of the lower strings allows you to use lower gauge strings to enhance the sound
High strings produce a smoother sound
Low strings make a clearer, tighter sound and provide better intonation
More space between the higher strings makes it easy to play rhythms
Produces a progressive increase of string tension so they work better with most string gauges
Less cutting out of high and low strings
Cons of a multi-scaled guitar
Longer scale length takes some getting used to and may not be right for all players
A large fan can be uncomfortable for some players and make it difficult to form certain chord shapes
Limited pickup options although the market is improving
Limited production options although the market is improving
If you want a specific fan, you may have to get it customized
Multiscale guitars are most common with guitarists that play progressive and technical metal.
What to look for in a fanned fret multi-scale guitar?
Sound: As when buying any guitar, you will want a superior sound.
Durability: You will want your guitar to have a durable build so it withstands the test of time.
Comfort: A fanned guitar takes some getting used to, but ultimately, you will want one that is as comfortable to play as possible.
Fan: The fan you choose will have a direct effect on the sound. For instance, if you get a guitar 25.5"-27" guitar, it will have a 1.5" fan with each string getting .25" longer as it goes up from highest to lowest.
Other features: Because fanned fret guitars aren't as popular as other guitars, you may struggle to find ones with specific features and pickups. However, every year, manufacturers are updating to make more models available.
Get your guitar safely from A to B with the best guitar cases and gigbags.
Top 5 fanned fret guitars reviewed
Now that we've gone over what a multiscale fanned fret guitar is and what to look for when you are guitar shopping, let's take a look at what's out there.
Best overall fanned fret guitar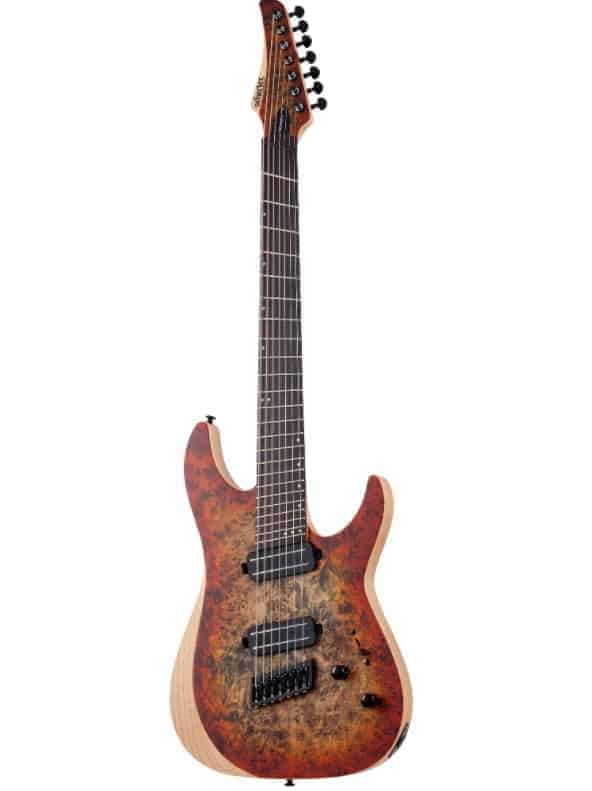 Best for
Great value for money in terms of playability and sound

Swamp ash sounds amazing with the coil split
Schecter is known for making metal guitars and with a name like 'Reaper' you know this model will be perfect for guitarists who play heavy music.
The body has a Swamp Ash finish that makes for a great alternative look.
The Reaper is a seven-string with a Swamp ash body and ebony fretboard. It has a hardtail Diamond Decimator hipshot string through body bridge and Diamond Decimator pickups.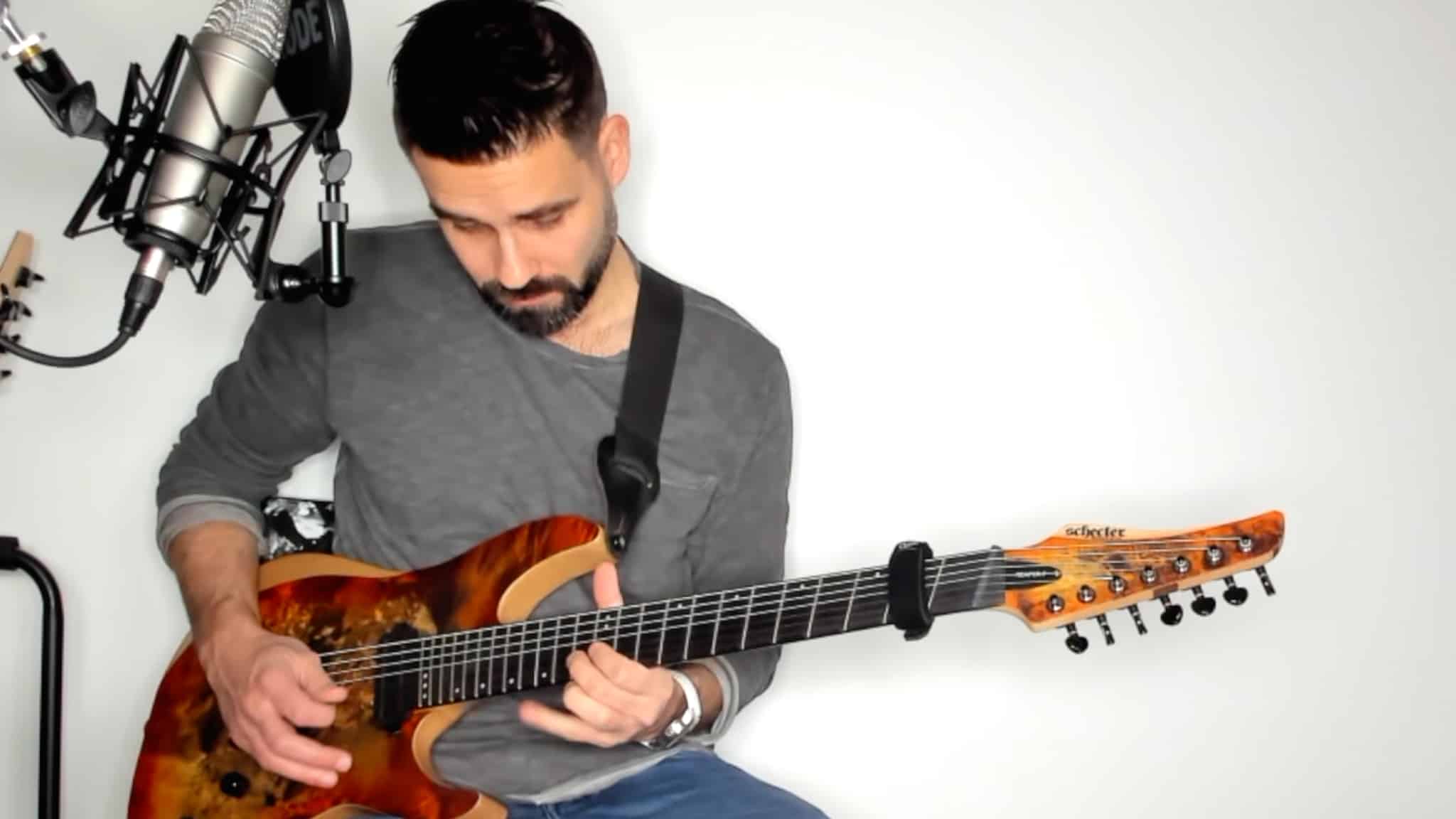 The swamp ash body is similar to those used in many Stratocasters. That means you get a lot of treble for a bright pronounced tone or "Twang."
Swamp Ash also gives a lot of sustain to hold your notes for longer.
The neck pickup is great when distorted and even better with the clean sound. In combination with the swamp ash, it has a very warm and defined tone, especially with the coil split.
At first glance I thought that the finish looked a bit cheap because it wasn't finished across the side and the poplar top doesn't have a high gloss so it looks a bit dull.
But it looks quite nice, kind of like a tiger's skin.
The neck plays like a dream for me in a shredder-friendly C shape, and is made from mahogany and maple with a rod made of carbon fiber to reinforce it, the Reaper-7 is built to withstand all kinds of abuse.
An overall great multiscale guitar for metal, but a lot more versatile than it looks.
Best budget fanned fret guitar
Jackson
DKAF7 MS X-Series Dinky GB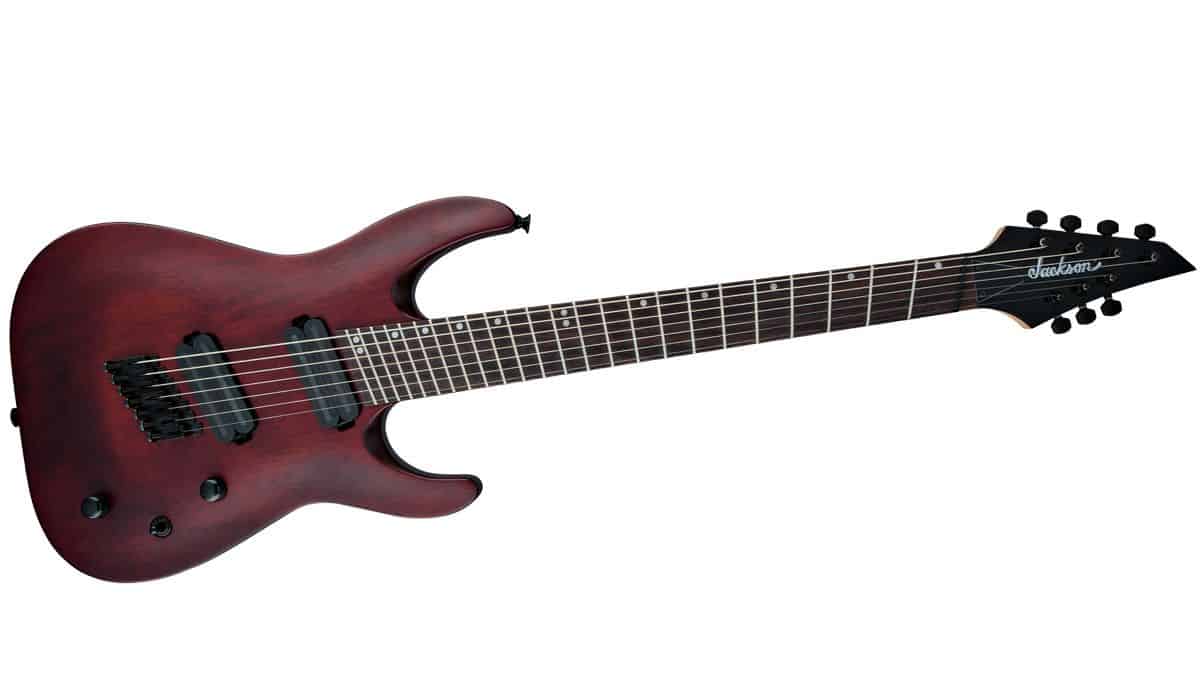 Best for
Very affordably priced

Bridge pickup sounds great
Falls short
Neck pickup in combination with poplar is very muddy
The Jackson DKAF7 is a Dinky model with 7 strings and a fanned multiscale fretboard.
It's a budget guitar made of poplar with Jackson hardware and pickups.
Its reasonable price tag makes it a great choice for guitarists that want to find out what it's like to play on a fanned fret. The Jackson name means it has a great metal edge.
It's the best budget fanned fret guitar I've seen!
The guitar has an arched poplar body, and a one-piece bolted mahogany neck made of a durable graphite reinforcement and scarf joint.
The laurel 7 string fretboard has 24 jumbo frets. The scale ranges from 648 to 686 mm and the nut width is 47.6 mm.
It comes with 2 Jackson Blade humbucker pickups and features a volume control, a tone control and a 3 way toggle switch.
Best 8-string fanned fret guitar

Best for
8-string guitar that still offers great playability

Affordable tonewood but great build
Falls short
Jackson Blade pickups can be muddy
An 8-string guitar is a favorite with metal guitar players. It helps them better achieve drop-down tunings and it gets a nice bass tone.
The Jackson Soloist is a great choice for metal guitarists looking into fanned fret guitars.
The guitar has a poplar body, a maple neck, and neck-thru attachments. The fretboard radius spans 12″-16″ Compound Radius (304.8 mm to 406.4 mm) with 24 fanned medium jumbo frets.
It has a 26″ – 28″ Multi-Scale (660 mm – 711 mm). It includes 2 HI-Gain humbucking pickups, one tone knob, one volume knob, and a three-way switch.
Its glossy black finish makes it an attractive choice.
For more great metal guitars, check out Best Guitar for Metal: 11 reviewed from 6, 7 & even 8 strings.
Best headless fanned fret guitar
Strandberg
Boden Prog NX 7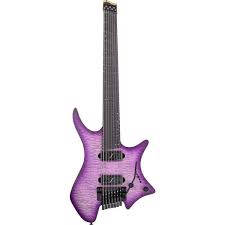 Best for
Perfectly balanced for standing

Very well built

Incredible tonal range
A headless guitar is a favorite for many guitarists. Well, not that many, actually. It's kind of a niche thing.
But the headless design makes the guitar lighter and more balanced playing sitting down or standing up.
The first thing I felt is how lightweight this guitar is. I can just stand around with it for hours without hurting my neck or shoulders. It's only 5.5 pounds!
Sound
The chambered Swamp Ash body keeps the guitar lightweight but also helps make it highly resonant. Swamp Ash is known for its firm lows and twangy highs, which makes it perfect for 7-strings.
It has become a little more expensive, but premium instruments like this still use it. It's also perfect for distorted tones.
I always use a little distortion, even on my clean patches, so this is perfect for rock and metal players.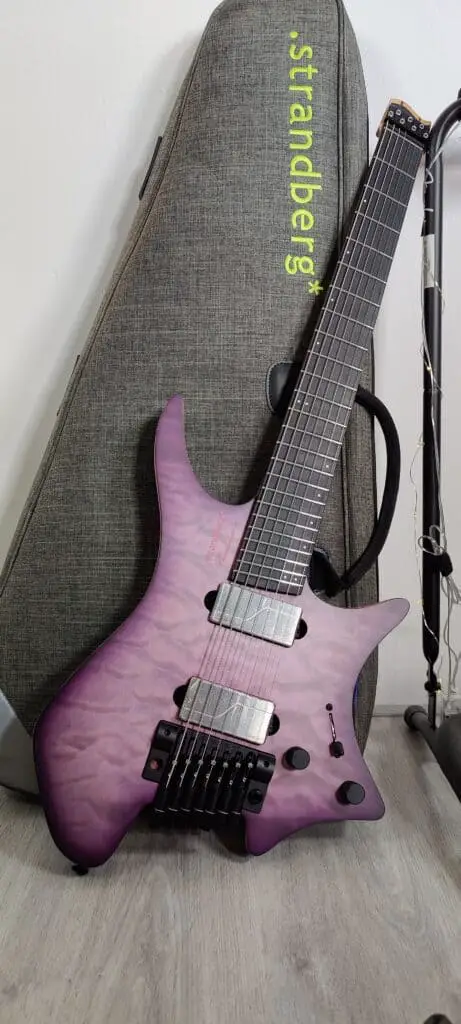 The dense wood of the maple neck also produces a bright, sharp tone. The combination of Swamp Ash and maple is often found on Stratocasters, so the Prog NX7 is clearly made to be a versatile instrument.
This model has active Fishman fluence pickups. The Modern Alnico at the neck and Modern Ceramic at the bridge.
Both have two voice settings you can control through the push-pull of the tone knob.
At the neck, you can get a tremendous active humbucker sound with the first voicing with a full and boosted sound. The articulation is perfect for distorted solo's in the higher regions of the guitar.
Click to the second voicing, and you get a more clean and crisp sound.
At the bridge, you get a crisp growl with a tight low end without getting muddy, perfect for the low 7th string.
Click to the second voicing and you get a more passive humbucker tone with a lot of dynamic response.
Every aspect of this guitar is very well designed and thought out without the constraints of traditional guitar making.
From the innovative neck shape
to the ergonomic lap rest at different positions
to even the way the guitar cable is positioned underneath the body, so it doesn't get in the way
I thought the single coil sound could be better. I like my guitars to have a little more twang in the middle pickup position with the coil-split active, like with the Schecter Reaper 7.
Best six-string fanned fret guitar

Best for
Affordable shredding machine

Seymour Duncans sound perfect
Falls short
Bolt-on neck provides a little less sustain
Most of the guitars listed here are seven strings, but if you like the fanned fret style and prefer to keep things simple, the ESP LTD M-1000MS may be more your speed.
ESP's have quickly gone from being a boutique brand to becoming a mainstream favorite, especially among shredders. They are known for producing attractive, great-sounding guitars.
This guitar has a mahogany body, a flamed maple neck, and a 5 piece maple purpleheart fingerboard.
The neck is thin and features 24 jumbo frets making for great playability and a wide range of tones. The scale ranges from 673 to 648 mm.
It has one Seymour Duncan Nazgul pickup and one Seymour Duncan Sentient pickup. Knobs include volume control and push-pull tone control.
Its locking tuners will keep you in pitch. Its attractive see-through black satin paint job makes it aesthetically pleasing.
Fanned fret multiscale guitar FAQ
Now here are some FAQ's about fanned fret multiscale guitars:
Are multiscale guitars hard to play?
Multiscale guitars take some getting used to but most guitarists say that once you catch on, they provide a more comfortable playing experience.
This is because the setup follows the natural splay of your fingers on the fretboard.
What is the advantage of a seven-string guitar?
Many multiscale fanned fret guitars feature seven or even eight strings.
The added strings provide you with a wider range of notes to play without changing the tuning of the sixth string.
It also makes it easier to form chord shapes and makes for more convenient finger placement.
It provides low-pitched notes that are ideal for heavier styles of music.
What is the standard tuning for a seven-string guitar?
Seven string guitars have a top string tuned to B and all the rest of the strings are in standard tuning.
So while the seventh string is tuned to B, the rest of the strings are tuned to E A D G B E going down from the sixth string to the first.
However, many metal guitarists will tune the top string down to A to achieve better drop-down tuning, improved bass lines, and easier power chord formation.
Eight string guitars have a top string tuned to F# which many guitarists tune down to E for the same reasons they tune the B to an A on a seven-string.
Are multiscale guitars better?
That's a subject that's up for debate and really depends on the player.
However, most guitarists agree that the longer length of the lower string provides better tension.
They also claim that it evens out the tension on the guitar which improves the intonation.
What is a zero fret guitar?
Zero frets are frets placed at the headstock of guitars and similar instruments such as banjos, mandolins, and bass guitars.
If you look at these guitars, you will notice a few centimeters of space between the end of the neck and the first fret marker.
This setup works to keep the strings spaced properly. Some also claim zero fret guitars are easier to play.
The fanned fret multiscale guitar is a great choice for guitarists seeking benefits like improved comfort and intonation.
When it comes to fanned fret options, I feel the Schechter Reaper 7 is best due to its sturdy construction, its great looks, its seven strings, and its other features that provide terrific sound and versatility.
But with so many of these guitars on the market, you clearly have your work cut out for you.
Which will you choose as a favorite?
Just starting out with the guitar? Read Best guitars for beginners: discover 13 affordable electrics and acoustics
I'm Joost Nusselder, the founder of Neaera and a content marketer, dad, and love trying out new equipment with guitar at the heart of my passion, and together with my team, I've been creating in-depth blog articles since 2020 to help loyal readers with recording and guitar tips.
Check me out on Youtube where I try out all of this gear: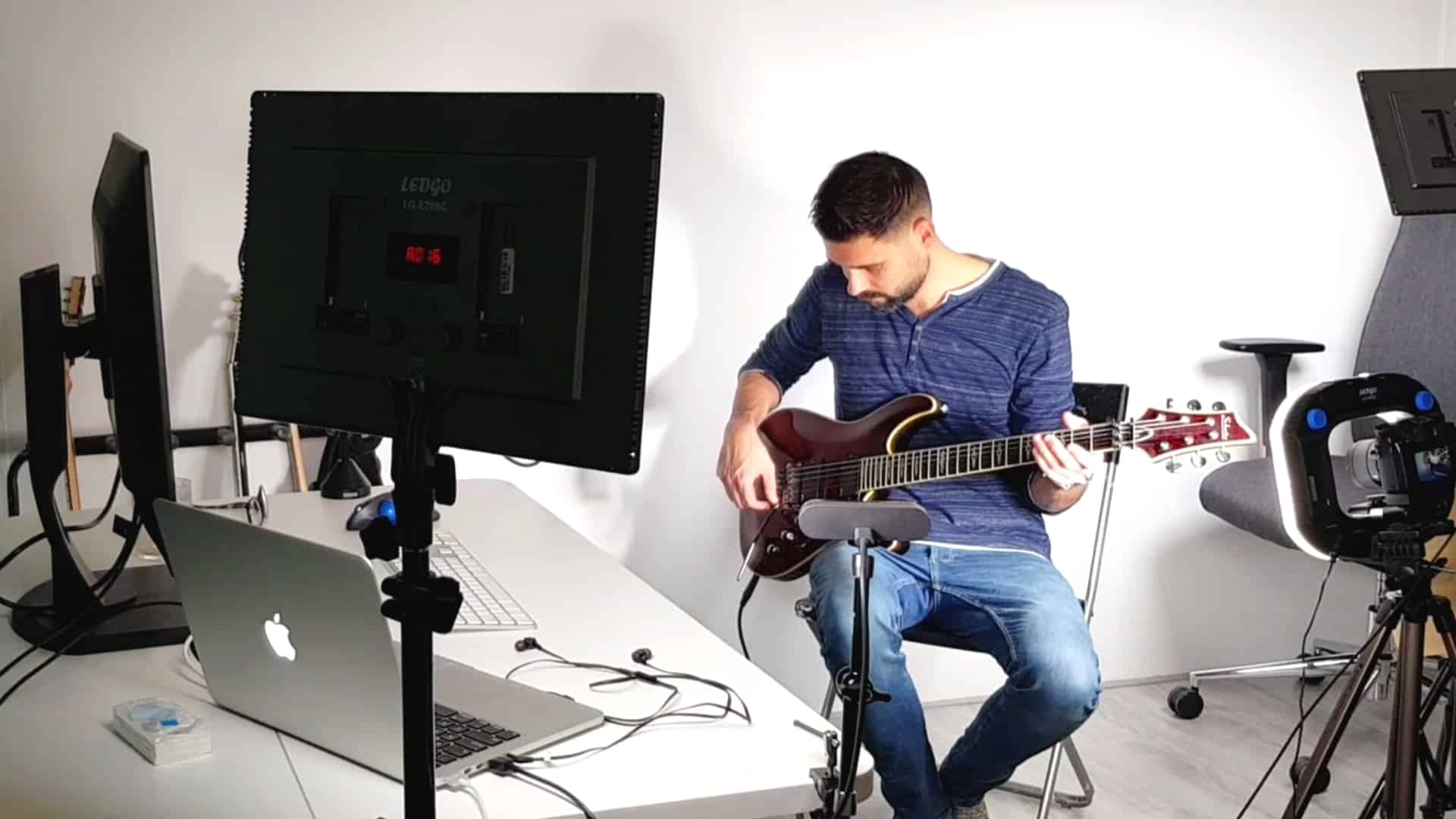 Subscribe