hi there I love creating free content full of tips for my readers, you. I don't accept paid sponsorships, my opinion is my own, but if you find my recommendations helpful and you end up buying something you like through one of my links, I could earn a commission at no extra cost to you.
Learn more
A headless guitar is a favorite for many guitarists. Well, not that many, actually. It's kind of a niche thing.
Probably because it looks so different, many players aren't yet used to the idea. But since it's lighter, it's a lot easier to hold, and the weight distribution is perfect.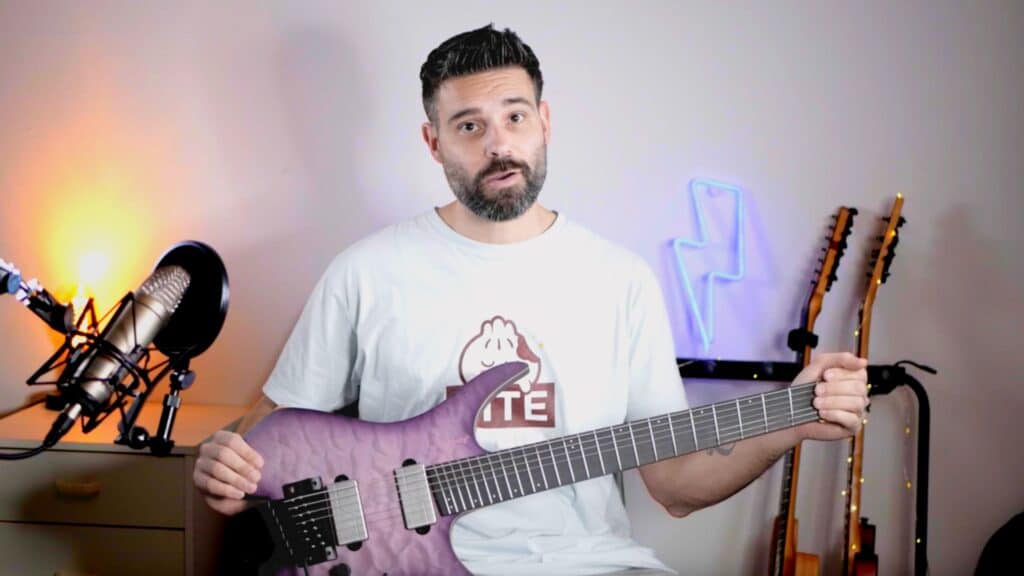 In this article, I'll take an in-depth look at this instrument as Strandberg was kind enough to send me a loan instrument to try out (upon my request, I wasn't paid to write this review or make it more positive).
Best headless fanned fret guitar
Strandberg
Boden Prog NX 7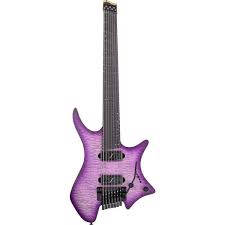 Best for
Perfectly balanced for standing

Very well built

Incredible tonal range
Let's take a look at the specifications first:
Specifications
Scale length: 25.5" to 26.25"
String spread at nut: 42 mm/1.65"
String spacing at bridge: 10.5 mm/.41″
Neutral fret: 10
Construction: Bolt-On
Body wood: Chambered Swamp Ash
Top wood: Solid Maple
Finishes: Charcoal Black with 4A Flame Maple veneer or Twilight Purple with Quilt Maple
Weight: 2.5kg / 5.5 lbs
Country of manufacturing: Indonesia
Bridge: Strandberg EGS Pro Rev7 7-string tremolo system & string locks
Black anodized hardware
Original Luminlay™ Green Side Dots
Original Luminlay™ Green Inlays
Neck: Maple
Neck shape: EndurNeck™ Profile
Fretboard: Richlite
Fretboard Radius: 20"
Number of frets: 24
Pickups: 2 humbuckers
Neck pickup: Fishman Fluence 7 Modern Alnico
Bridge pickup: Fishman Fluence 7 Modern Ceramic
3-Way Pickup Selector
Master Volume with push-pull for Split Coil
Master Tone with push-pull for Voice
What is the Strandberg Boden Prog NX7?
The Strandberg Boden Prog NX7 is a headless guitar with a multiscale fretboard, also known as fanned frets.
This fanned fret design provides a better tone for both the low and the high strings and better playability for the high strings because it allows for different scale lengths across the strings.
The headless design makes the guitar lighter and more balanced playing sitting down or standing up.
The body shape isn't a standard Les Paul or Strat shape but has multiple cutouts to give multiple options for playing sitting down.
The EndurNeck™ shape is not a C shape or D shape neck but is changed ergonomically across the neck to help you keep a correct playing position on the top as well as the bottom of the neck.
The strings are held by the string locks of the Strandberg EGS Pro Rev7 tremolo which is made to increase string vibration through the body.
The tuners are on the bridge as well since there is no headstock.
What makes the Strandberg Boden Prog NX7 a good guitar?
Size and weight
The first thing I felt is how lightweight this guitar is. I can just stand around with it for hours without hurting my neck or shoulders. It's only 5.5 pounds!
That's a nice thing, but with guitars, it's all about playability and sound, right?
It's also very small in the compact carrying case so it's easy to take with you
Sound
The chambered Swamp Ash body keeps the guitar lightweight but also helps make it highly resonant. Swamp Ash is known for its firm lows and twangy highs, which makes it perfect for 7-strings.
It has become a little more expensive, but premium instruments like this still use it. It's also perfect for distorted tones.
I always use a little distortion, even on my clean patches, so this is perfect for rock and metal players.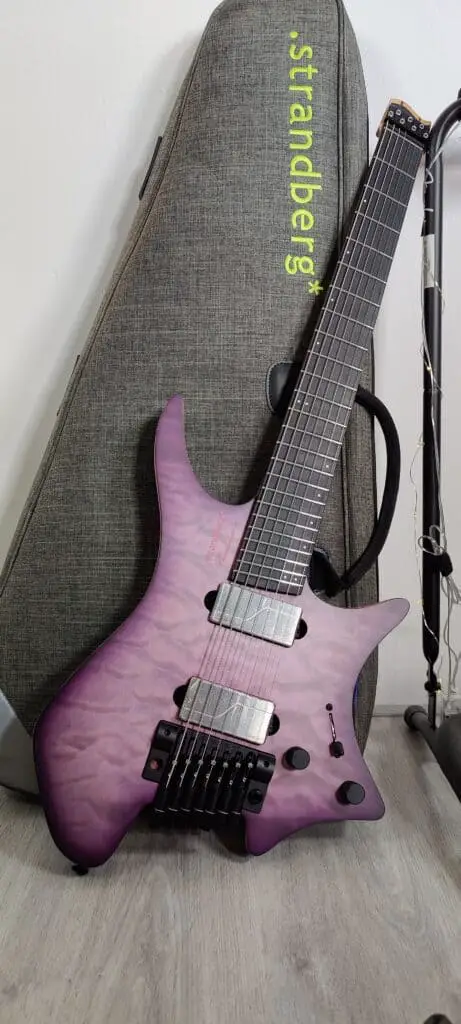 The dense wood of the maple neck also produces a bright, sharp tone. The combination of Swamp Ash and maple is often found on Stratocasters, so the Prog NX7 is clearly made to be a versatile instrument.
You can also see this in the type of guitar players these Strandberg guitars attract. With artists like Plini, Sarah Longfield, and Mike Keneally, who have an extensive tonal range.
You could say it's a good headless Strat with a better ergonomic design, but the choice of pickups is where it turns away from the analogy.
This model has active Fishman fluence pickups. The Modern Alnico at the neck and Modern Ceramic at the bridge.
Both have two voice settings you can control through the push-pull of the tone knob.
At the neck, you can get a tremendous active humbucker sound with the first voicing with a full and boosted sound. The articulation is perfect for distorted solo's in the higher regions of the guitar.
Click to the second voicing, and you get a more clean and crisp sound.
At the bridge, you get a crisp growl with a tight low end without getting muddy, perfect for the low 7th string.
Click to the second voicing and you get a more passive humbucker tone with a lot of dynamic response.
The Fluence Core in these Fishman pickups is wound differently than most pickups with two multi-connected-layer boards so it's able to eliminate any hum or noise.
And you get a coil-split in the volume knob to get even more tonal options to play with.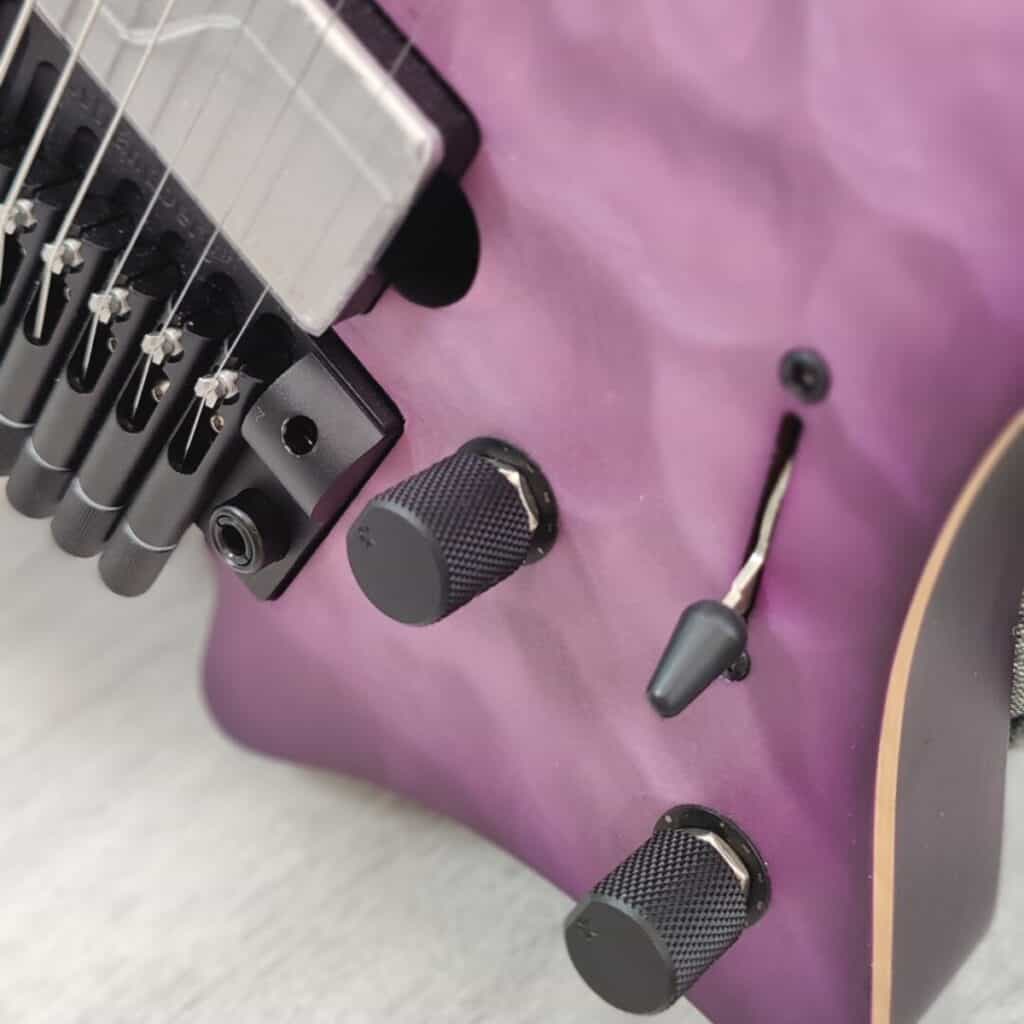 My favorite position is the middle pickup with the coil split engaged to get a little more twang out of the Fishmans.
Playability
The Richlite fretboard plays great. It's not quite a tonewood but it feels a bit like ebony. Richlite is a more modern material that's easy to maintain and doesn't warp. So can wipe this off very easily.
But the real magic comes from the back of the neck where there is the EndurNeck profile.
It has this warped cutout, and it feels designed to move your hands smoothly across the surface.
It changes shape from up the neck towards the body.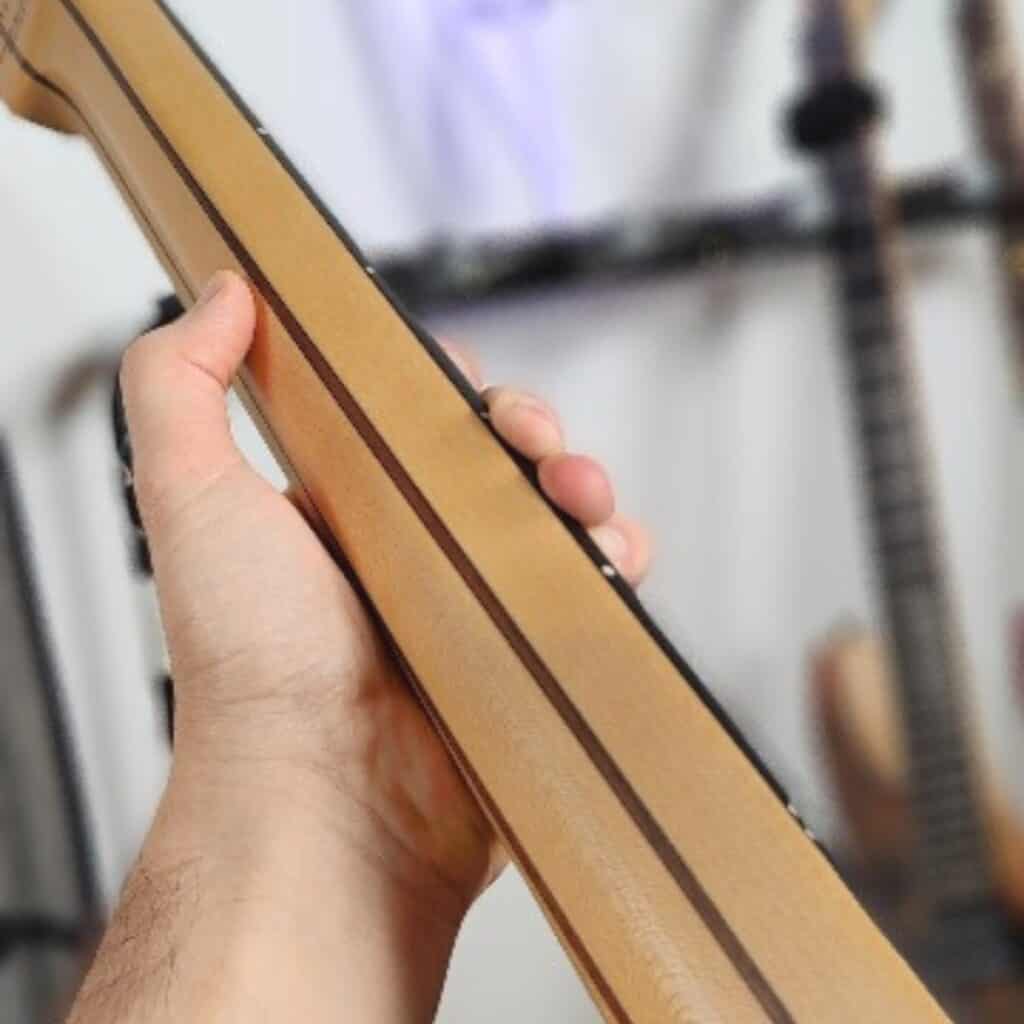 When you're playing fast licks and flying across the fretboard, it can be hard to position your hand correctly every time, because the position at the middle of the neck plays so differently from the top of the neck.
I thought it would feel strange playing it because it's so different, but it feels natural.
I haven't tried the guitar long enough to be able to say that this will help you from getting injured from playing guitar, but I do see the point of this design.
The tremolo system works great and I wasn't able to get this out of tune even if I tried. That's a major advantage over guitars with a headstock and tuners.
You can still quickly change the strings like with normal tuners but have the advantage of avoiding string slippage like with locking nuts.
Every aspect of this guitar is very well designed and thought out without the constraints of traditional guitar making.
From the innovative neck shape
to the ergonomic lap rest at different positions
to even the way the guitar cable is positioned underneath the body, so it doesn't get in the way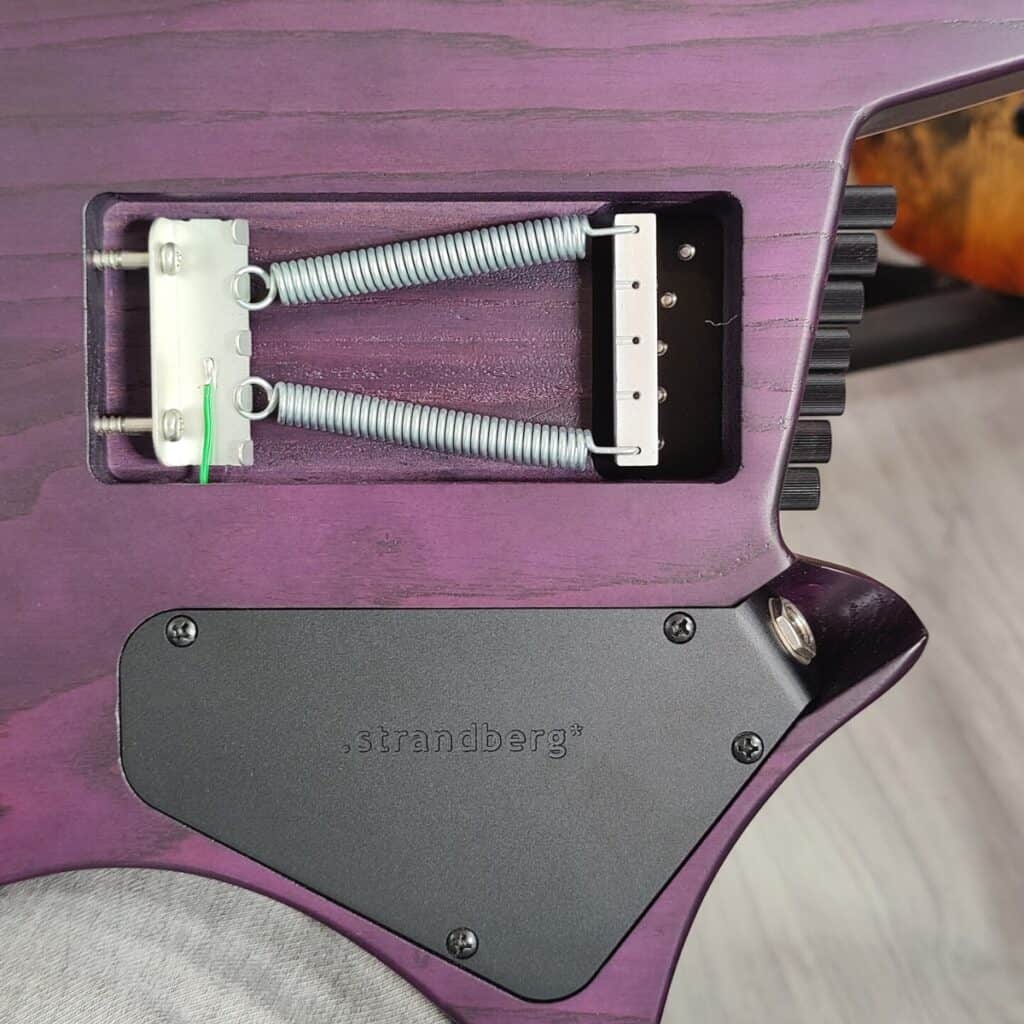 I've tried the NX7 but it's also available as a 6-string.
Best headless fanned fret guitar
Strandberg
Boden Prog NX 7
A headless guitar is a favorite for many guitarists. Since it is lighter weight, the distribution of mass brings the guitar closer to the body and the tuning is more stable.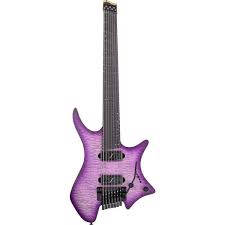 Disadvantages of the Strandberg Boden Prog NX7
The most obvious disadvantage is that it has a certain look. You either love the headless design or you hate it, but it hasn't gained that much popularity yet.
You're almost certain to be labeled as "progressive" when playing this so that's a personal choice.
But the guitar is quite expensive. Every bit of the money went into the design and materials, but at this price range, it's only for serious musicians.
I also had some trouble tuning the guitar because the tuning pegs are on the tremolo bridge, so when touching them I lifted the bridge as well.
Maybe there's a better way to do that, or I was just too impatient. But it took a lot longer to tune than it normally takes me.
I also thought the single coil sound could be better. I like my guitars to have a little more twang in the middle pickup position with the coil-split active. But that's just my personal preferred style.
Conclusion
It's a very well-built guitar with lots of tonal options. Enough for anyone, especially heavy prog players to be able to get enough tonal versatility for a number of playing styles.
I highly recommend trying it out!
I'm Joost Nusselder, the founder of Neaera and a content marketer, dad, and love trying out new equipment with guitar at the heart of my passion, and together with my team, I've been creating in-depth blog articles since 2020 to help loyal readers with recording and guitar tips.
Check me out on Youtube where I try out all of this gear: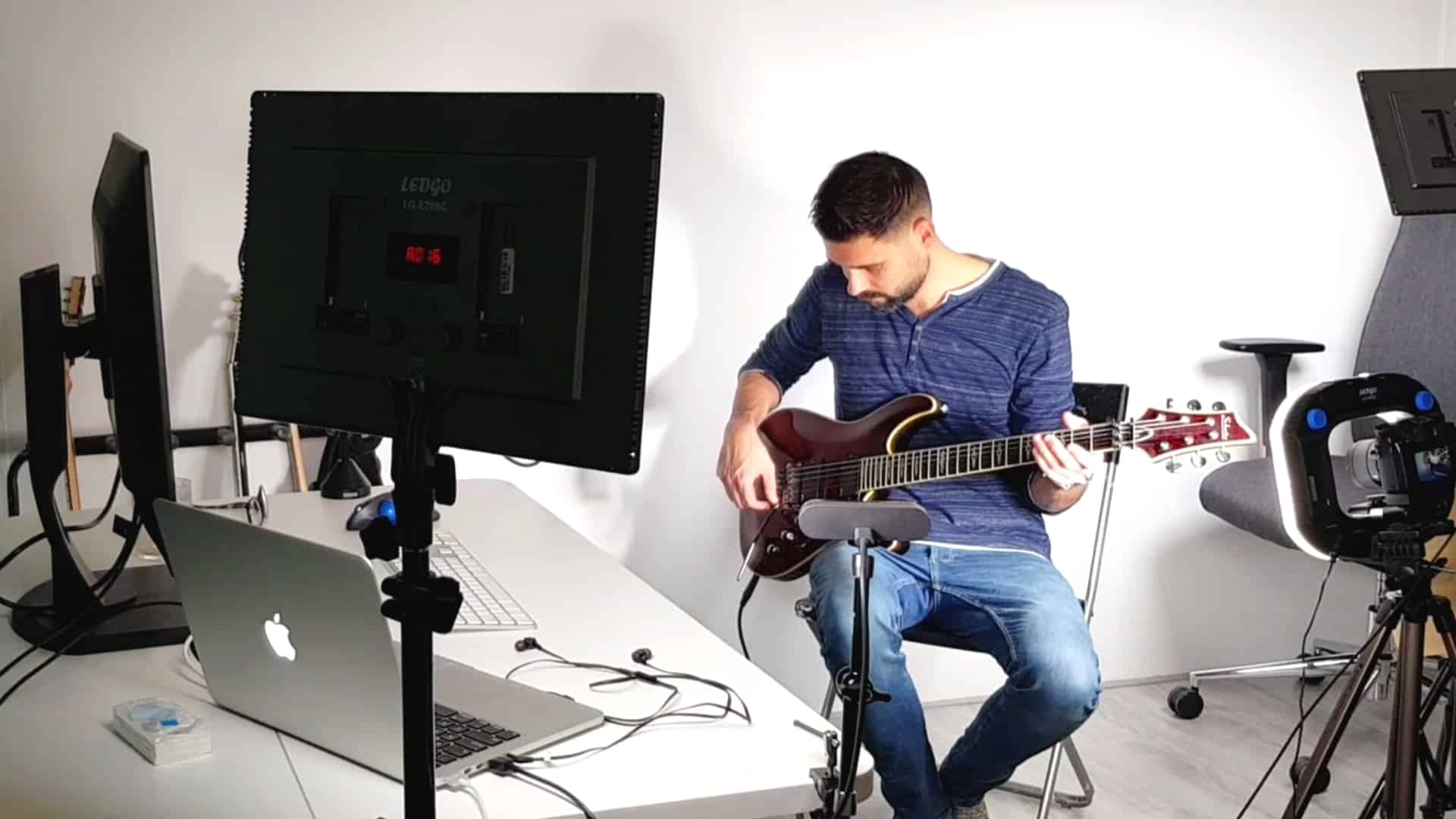 Subscribe