hi there I love creating free content full of tips for my readers, you. I don't accept paid sponsorships, my opinion is my own, but if you find my recommendations helpful and you end up buying something you like through one of my links, I could earn a commission at no extra cost to you.
Learn more
Perhaps the first thing you notice about the Reaper is its beautiful poplar burl top available in a few color options ranging from reddish to blue.
After that you'll probably see the fanned frets of this multiscale 7-string.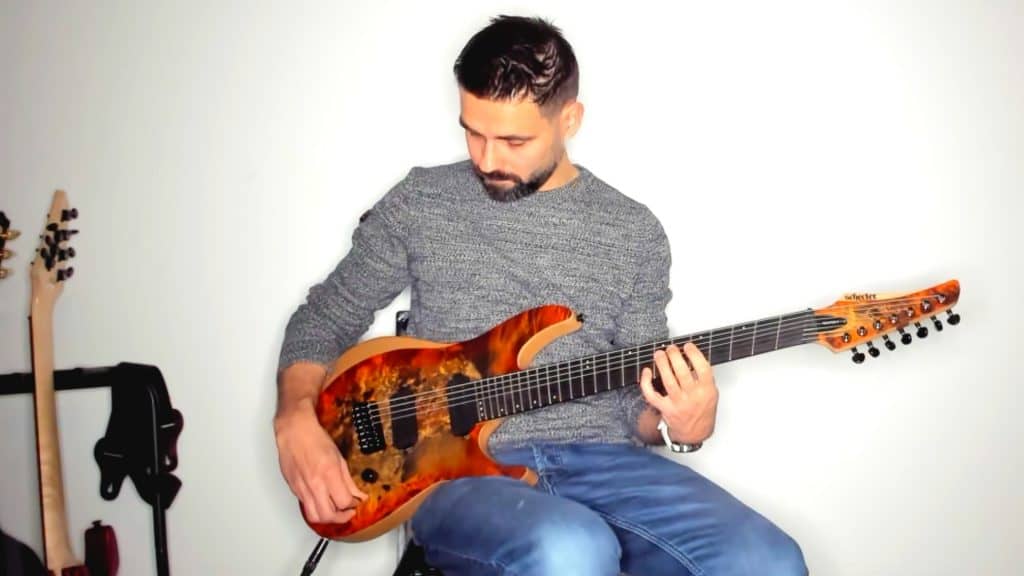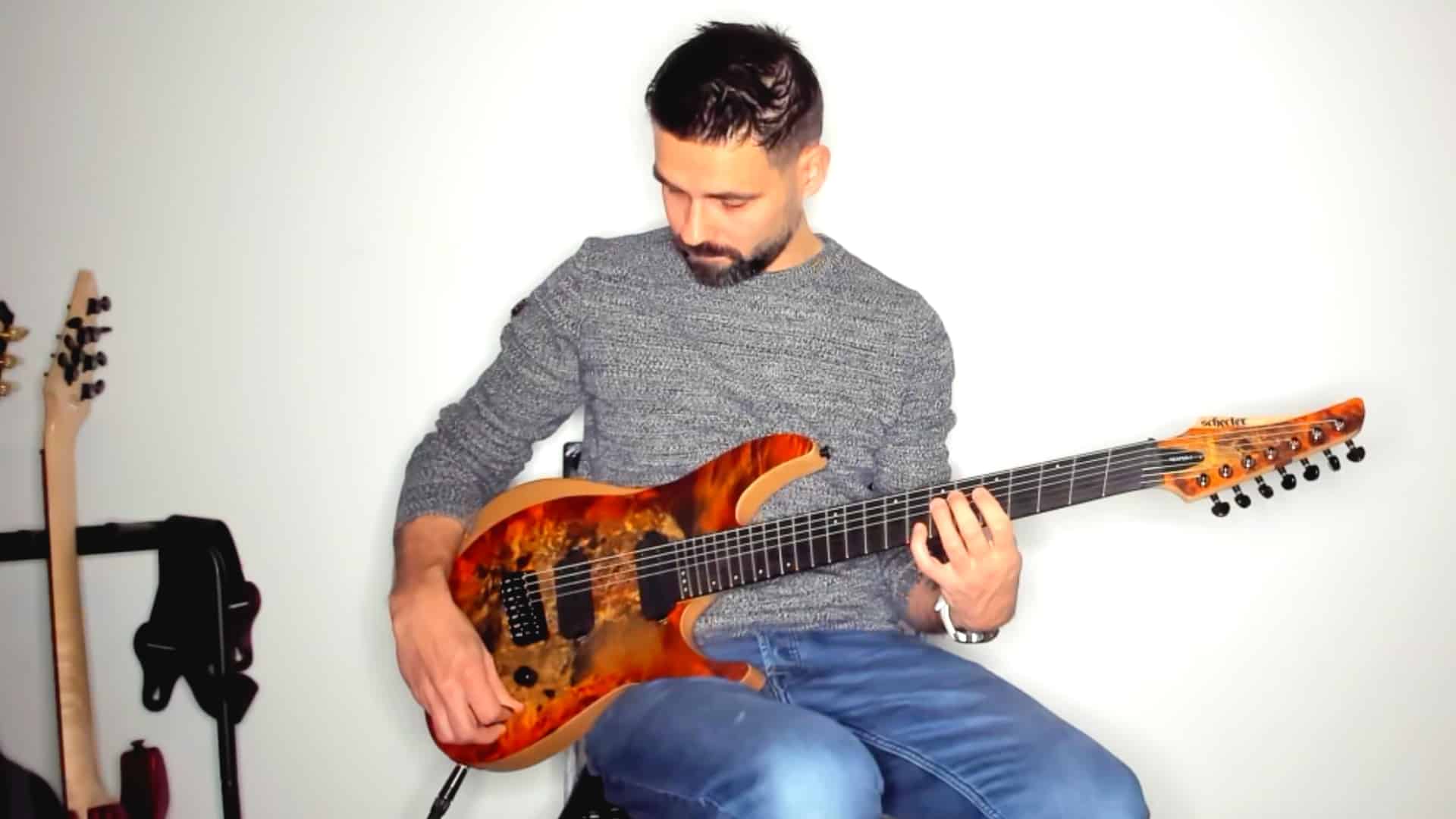 It's a very versatile guitar for a wide range of musical genres.
Best multiscale fanned fret guitar for metal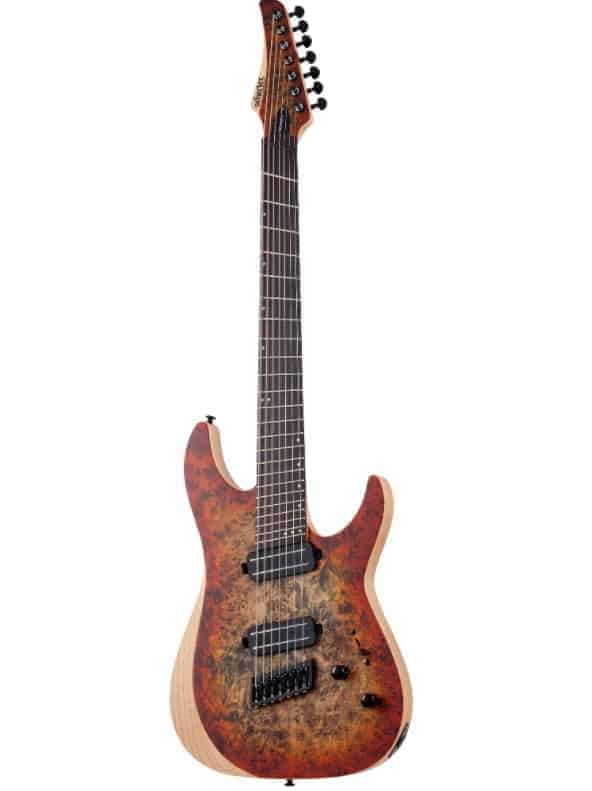 Best for
Great value for money in terms of playability and sound

Swamp ash sounds amazing with the coil split
Let's first get the specs out of the way:
Specifications
Tuners: Schecter
Fretboard Material: Ebony
Neck Material: Maple/Walnut Multi-ply w/ Carbon Fiber Reinforcement Rods
Inlays: Pearloid Offset/Reverse Dots
Scale length: 25.5″- 27″ (648mm-685.8mm)
Neck Shape: Ultra Thin C-shaped neck
Frets: 24 Narrow X-Jumbo
Fretboard Radius: 20″ (508mm)
Nut: Graphite
Nut Width: 1.889″ (48mm)
Truss Rod: 2-Way Adjustable Rod w/ 5/32″ (4mm) Allen Nut
Top Contour: Flat Top
Construction: Set-Neck w/Ultra Access
Body Material: Swamp Ash
Top Material: Poplar Burl
Bridge: Hipshot Hardtail (.125) w/ String Thru Body
Controls: Volume/Tone (Push-Pull)/3-Way Switch
Bridge Pickup: Schecter Diamond Decimator
Neck Pickup: Schecter Diamond Decimator
What is the Schecter Reaper 7?
The Reaper is a seven-string with a Swamp Ash body and an ebony fretboard. It has a hardtail Diamond Decimator hipshot string through bridge and Diamond Decimator pickups.
It is a multiscale guitar designed to have a lot of gain while still remaining very versatile.
Sound
The swamp ash body is similar to those used in many Stratocasters. That means you get a lot of treble for a bright pronounced tone or "Twang."
Swamp Ash also gives a lot of sustain to hold your notes for longer.
The poplar has a beautiful grain, but it doesn't give much sustain, so it's only used as a top here not to affect the sound too much.
How are the Schecter Decimator pickups?
The neck pickup is great when distorted and even better with the clean sound. In combination with the swamp ash, it has a very warm and defined tone, especially with the coil split.
The bridge pickup was a bit too hot for me. I think it's around 18 kilowatt ohms, and it sounded overly harsh and almost nasal.
I lowered the pickup to a much lower height, which greatly helped. I like the humbucker power it delivers now for distorted sounds, but I rarely use it clean.
My favorite sound is a twangy single coil setting and the selector in the middle. It reminds me of a much higher-priced Fender I used to have, and it's my favorite clean setting.
You get a coil split function in the tone knob that can split the humbuckers, and I like the twang this guitar gives.
That gives it a lot more flexibility than just metal. You can play a lot of cool jazz on this as well, plus some cool funky licks.
Also read: these are the best guitars for metal, this Schecter is one of them
Build
The Reaper 7 has this great alternative look with the unfinished sides and the beautiful poplar top.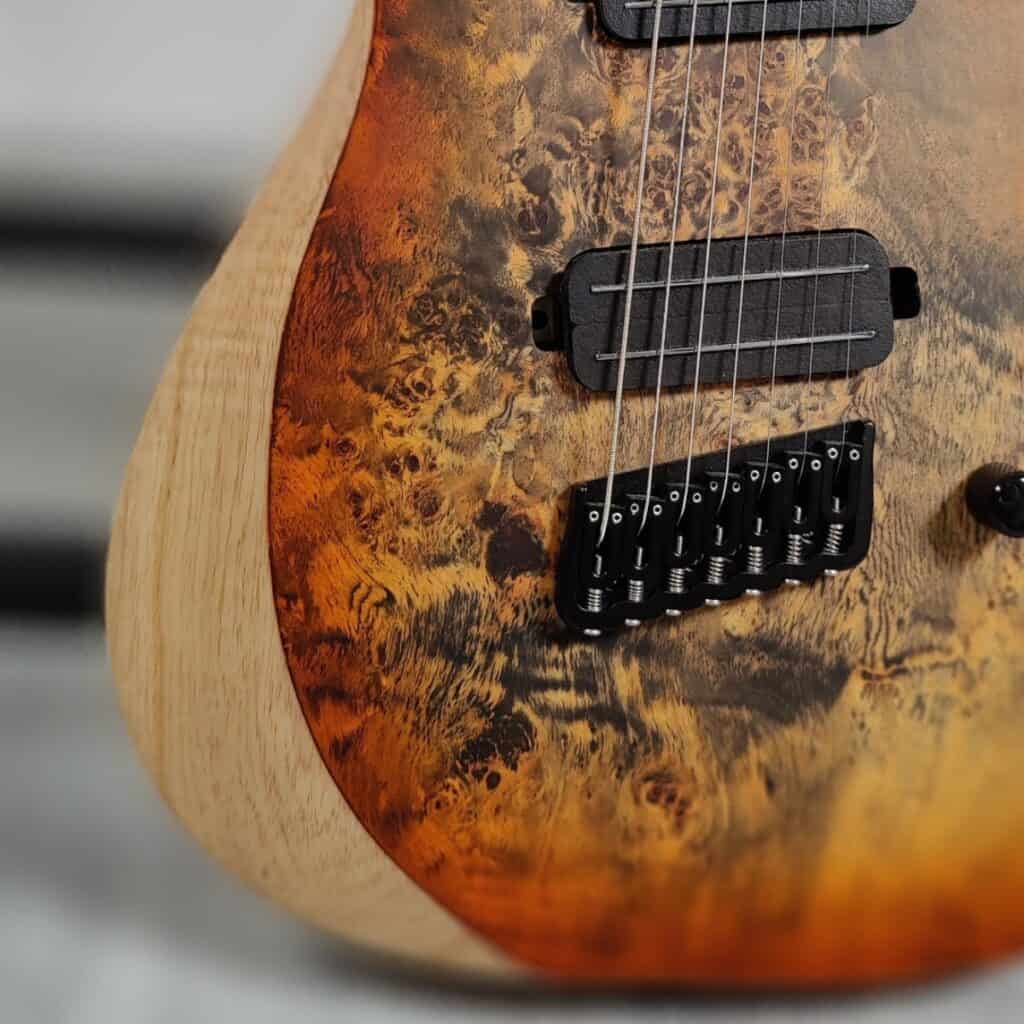 I guess it's not for everyone. I can understand that. But it does give your guitar a quite different look than other guitars.
At first glance I thought that the finish looked a bit cheap because it wasn't finished across the side and the poplar top doesn't have a high gloss so it looks a bit dull.
But it looks quite nice, kind of like a tiger's skin.
The back is completely natural wood, and so is the neck. You can see it's a set neck, so there are no bolts. This gives it great sustain as well.
It still has the metal look with the sharp headstock, but it also looks like a guitar that could be used anywhere, and I think that's what they intended for it.
It's very light, light enough to hang it off your shoulder for a long gig.
The finish is very basic indeed. No bindings to speak of and an almost minimalist design. That could be its strength or its weakness.
The tone knob is a bit wobbly when extended to use the coil split so that's something that could be improved upon.
I love the intonation of the guitar right out of the factory. But it can be tricky to get the intonation right when switching to a different string gauge.
It's also difficult to intonate correctly when changing the tuning.
Best multiscale fanned fret guitar for metal
Schecter
Reaper 7
A multiscale guitar designed to have a lot of gain while remaining very versatile with unbeatable intonation.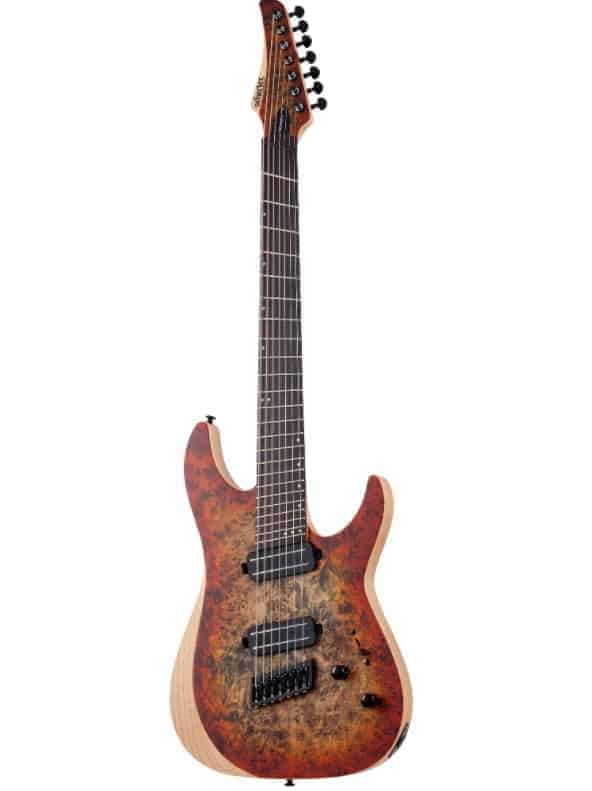 Why would I want a multiscale guitar?
You can't beat the intonation a multiscale provides you on every part of the fretboard, and you get the benefits of a shorter scale length on the high strings while still having the deep bass of the lows.
The scale length is 27 inches on the 7th string and tapered accordingly to reach a more conventional 25.5 inches on the high one.
It also helps maintain tension in the neck.
With 7 strings you often have to choose between the easy playability of a 25.5-inch scale on the high strings with a dull low B, and certainly not the possibility to down tune.
Or you get the reverse with a 27-inch scale which makes the high E string difficult to play and sometimes loses its clarity.
A multiscale fretboard does take a little getting used to, but it's actually much easier to play than I first thought.
Your fingers naturally go to the right places and when you're not looking you'll find that your fingers already know where they need to place themselves.
So it's more that if you are looking then you might overthink it and you could make some errors.
How is the neck?
The neck plays like a dream for me in a shredder-friendly C shape, and is made from mahogany and maple with a rod made of carbon fiber to reinforce it, the Reaper-7 is built to withstand all kinds of abuse.
Mahogany makes for a very stable neck because of its even density, and it doesn't warp.
This gives you an instrument that will last a lifetime.
The 20″ radius is between a Fender or Musicman and the Ibanez Wizard necks.
It is maple, so it gives great sustain. The fretboard is ebony, so you can easily slide your notes.
Schecter Reaper 7 alternatives
Ibanez GRG170DX GIO
Ibanez
GRG170DX Gio
The GRG170DX may not be the cheapest beginner guitar of all, but it offers a wide variety of sounds thanks to the humbucker – single coil – humbucker + 5-way switch RG wiring.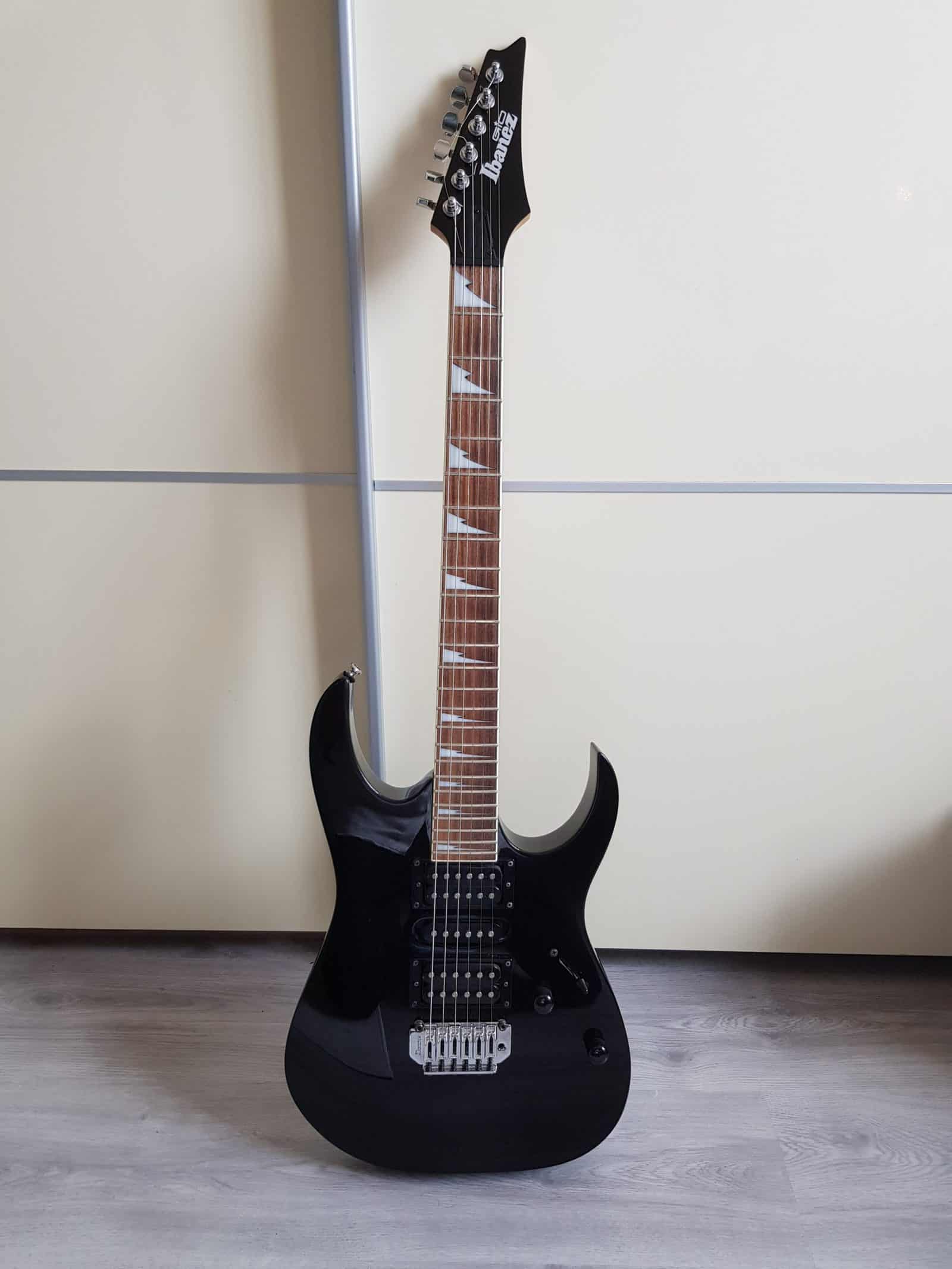 If you're on a tight budget and don't mind investing in a 6-string rather than a multiscale 7-string guitar, the Ibanez GRG170DX GIO (full review here) is a great instrument.
It offers a vibrato arm and the pickups do a great job in clean and distorted settings.
It's nowhere near the same build quality of the Reaper 7, but a great instrument nonetheless.
Conclusion
With the Schecter Reaper 7, you get a great guitar for an affordable price and I think most the budget went into the wood and pickups. Plus adding the coil split.
Just making this an overall great guitar instead of all of these extra things like beautiful bindings and finishes.
This is a great guitar if you just want a good playing machine without all of the bells and whistles.
I'm Joost Nusselder, the founder of Neaera and a content marketer, dad, and love trying out new equipment with guitar at the heart of my passion, and together with my team, I've been creating in-depth blog articles since 2020 to help loyal readers with recording and guitar tips.
Check me out on Youtube where I try out all of this gear: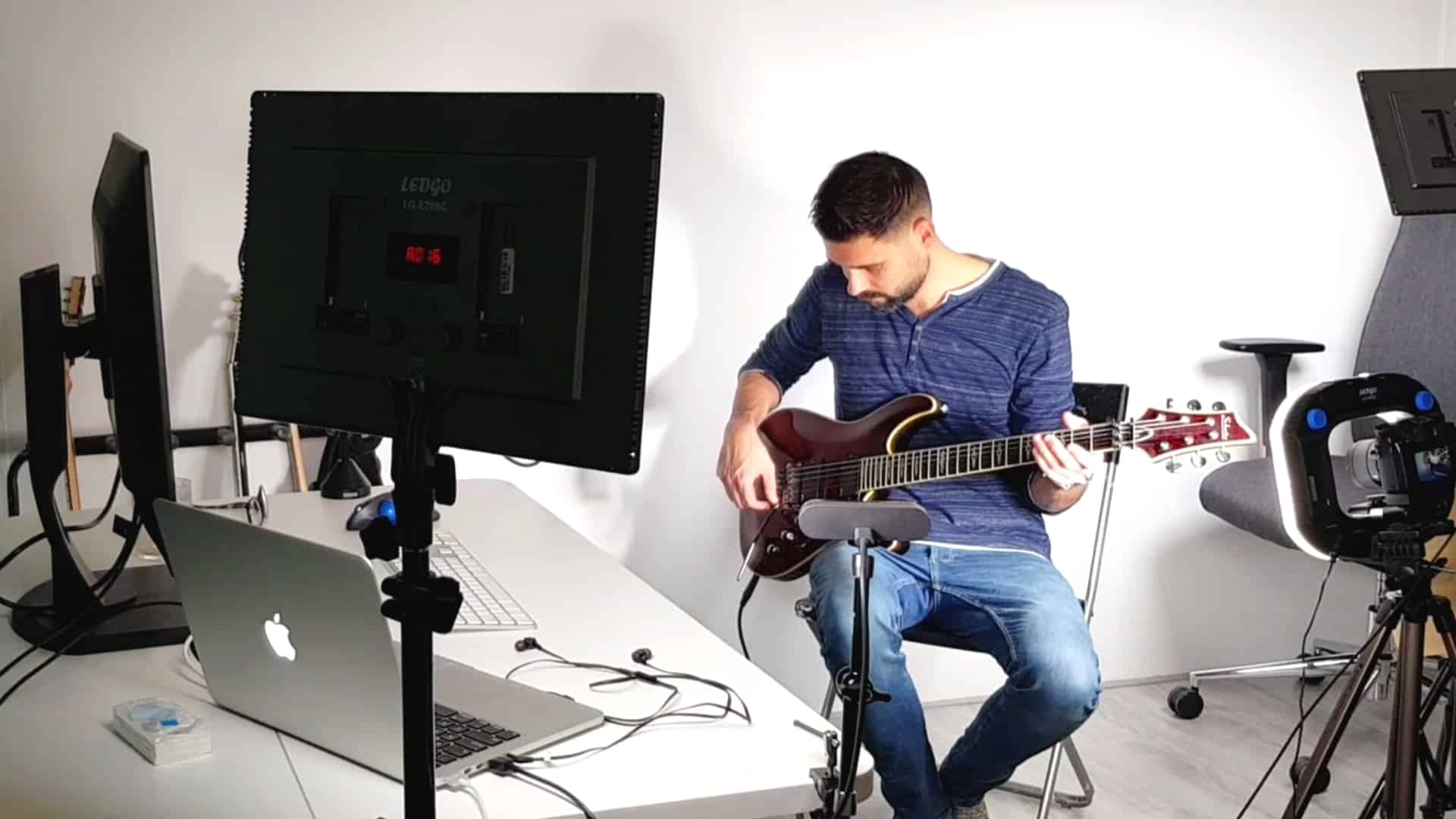 Subscribe