hi there I love creating free content full of tips for my readers, you. I don't accept paid sponsorships, my opinion is my own, but if you find my recommendations helpful and you end up buying something you like through one of my links, I could earn a commission at no extra cost to you.
Learn more
If you're interested in buying a new acoustic guitar right now, then you really should be looking into a carbon fiber model.
These guitars have all the usual features of regular wooden guitars, but they travel well, don't go out of tune as often, and will impress your friends when you show them that it's made from carbon fiber instead of wood.
I've reviewed a selection of the best acoustic carbon fiber guitars that are currently available on the market.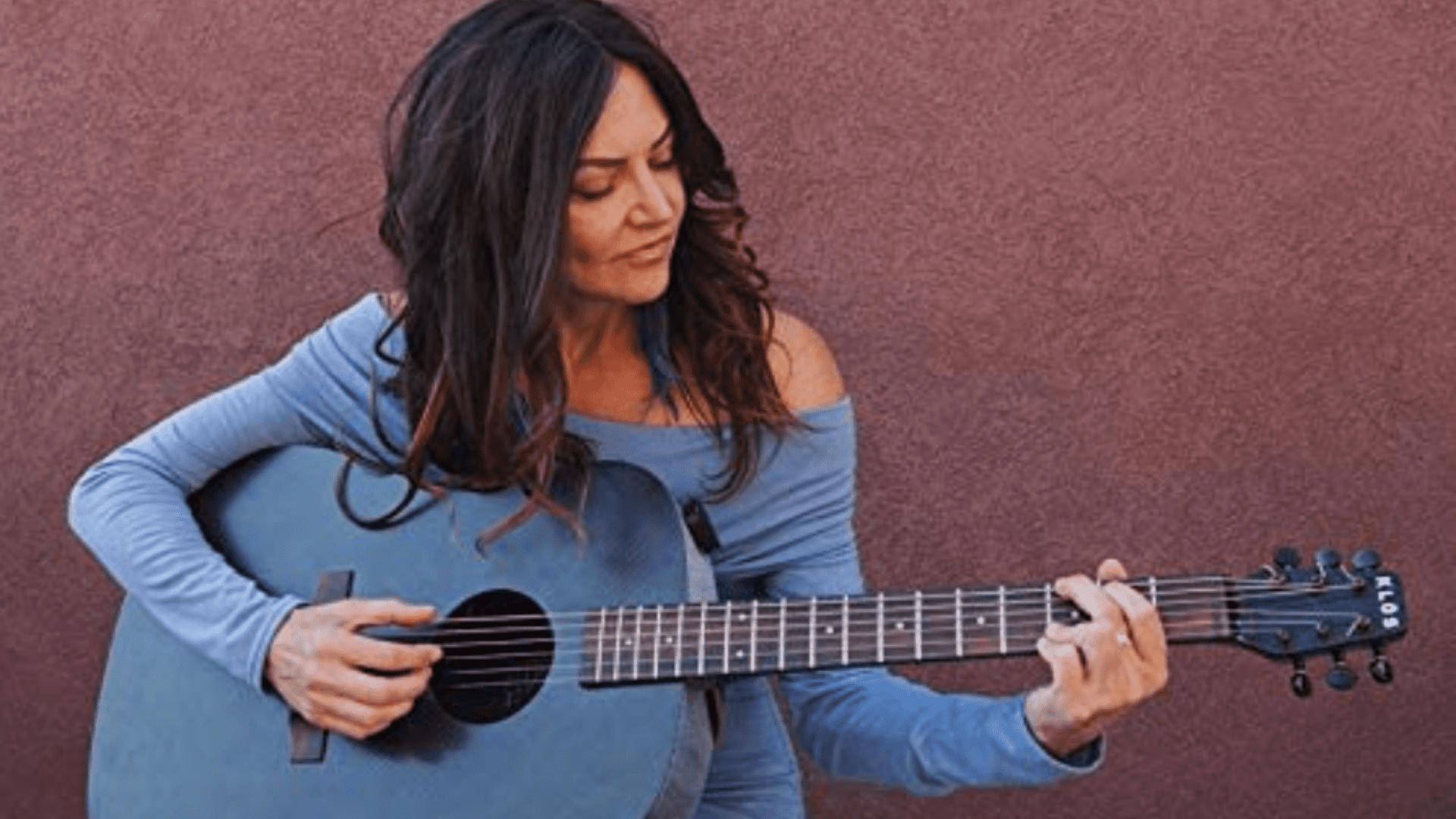 My personal favorite is the Klos Deluxe model carbon fiber acoustic-electric guitar because of the quality of the build and how close it sounds to a traditional classical wood guitar, plus it comes with a whole lot of really useful added extras including a Fishman Sonitone pickup.
Each one on my list has different features though, and I've highlighted the positives and negatives of each to help you decide which carbon fiber guitar suits your needs best.
What to look for when buying a carbon fiber guitar
Before you start looking for the carbon fiber guitar of your dreams, there are five key things you should decide on first.
Knowing what you want will help you narrow down the options on the market, and get the best guitar for you and your budget.
Size
If you want a guitar that travels well, then size may be important, depending on the type of travel you're doing.
If you're simply flying then it's not such a big deal, but if you're hitch-hiking or cycling, it's a different story. In those cases, you want the smallest one you can find.
Otherwise, the size of the guitar comes down to your body size and personal preference.
Shape
If you want an acoustic guitar then you really just need to choose between the standard-looking designs and the more modern ones. They do the same things, so it's all about looks and how that impacts size for travel.
Other than that, there are nylon string guitars that sound more 'classical', archtops that have a jazzy electric sound (and won't be that loud acoustically), and ukuleles, which are an entirely separate instrument altogether.
Budget
Are you after a guitar that will travel well for little money, or a guitar that sounds a certain way due to the material it's made out of? This question should guide your budget decision.
If you just want a travel-friendly guitar then spend less. If you want something to play on stage with, maybe you'd be better off with a better guitar.
Pickup
Do you want to plug the guitar into an amp? If so, it needs a pickup.
Once you've decided this, then you need to decide what pickup you want. The easiest way to do this is to go onto YouTube and listen to samples and find the one that sounds the best to you.
Extras
If you're going to travel with the guitar then it'd be nice to get a travel-friendly case with it, right? And how about a strap?
These extras can cost quite a lot extra, so it's great if they come with the guitar.
The best carbon fiber guitars reviewed
Now let's dive into my top 5 best carbon fiber guitars. I'll explain why these are so great, and when you should consider each option.
Best carbon fiber guitar overall: Deluxe KLŌS Full Size

The Klos Deluxe model carbon fiber acoustic-electric guitar is a real winner. It's a very well-built guitar with a lot going for it looks and sound-wise, especially if you like the classic build of guitars.
Plus it's got everything one could wish for in terms of added extras – D'Addario EXP26 strings, TUSQ nut and saddle, Graph Tech Ratio tuners, and a Fishman Sonitone pickup.
Check out this sound demo to get a feel for it:
It also comes with a full travel bag and rain cover, a strap, a capo, and some tools for taking it apart and putting it back together again.
Add this to the already solid package of a well-built guitar, and you'll be wondering what else could compare.
Size: Full size acoustic
Weight: 4.29lbs
Pickup: Yes – Fishman Sonitone
Extras: Strap, bag, capo, rain cover, tools
Also check out my review of the best guitar stands to complete your set
Best professional carbon fiber acoustic guitar: LAVA Me Pro 41 inch

The LAVA Pro acoustic guitar is another one you must look at if you are into getting the best of what's around.
It comes with a lot of premium features, including an L.R. Baggs pickup system, a PLEK process to set up the frets, an AirCarbon soundboard (25% lighter at the same thickness), and a Flyneck+ neck.
These carbon fiber acoustic guitars are super-easy to play, and that's what they're made for. When you plugin, you also get access to effects without using pedals, making your packing for travel even easier.
Size: Full size acoustic carbon fiber guitar
Weight: 3.7lbs
Pickup: Yes – L.R. Baggs with effects
Extras: Case
Best quality folding carbon fiber guitar for travel: Journey Instruments OF660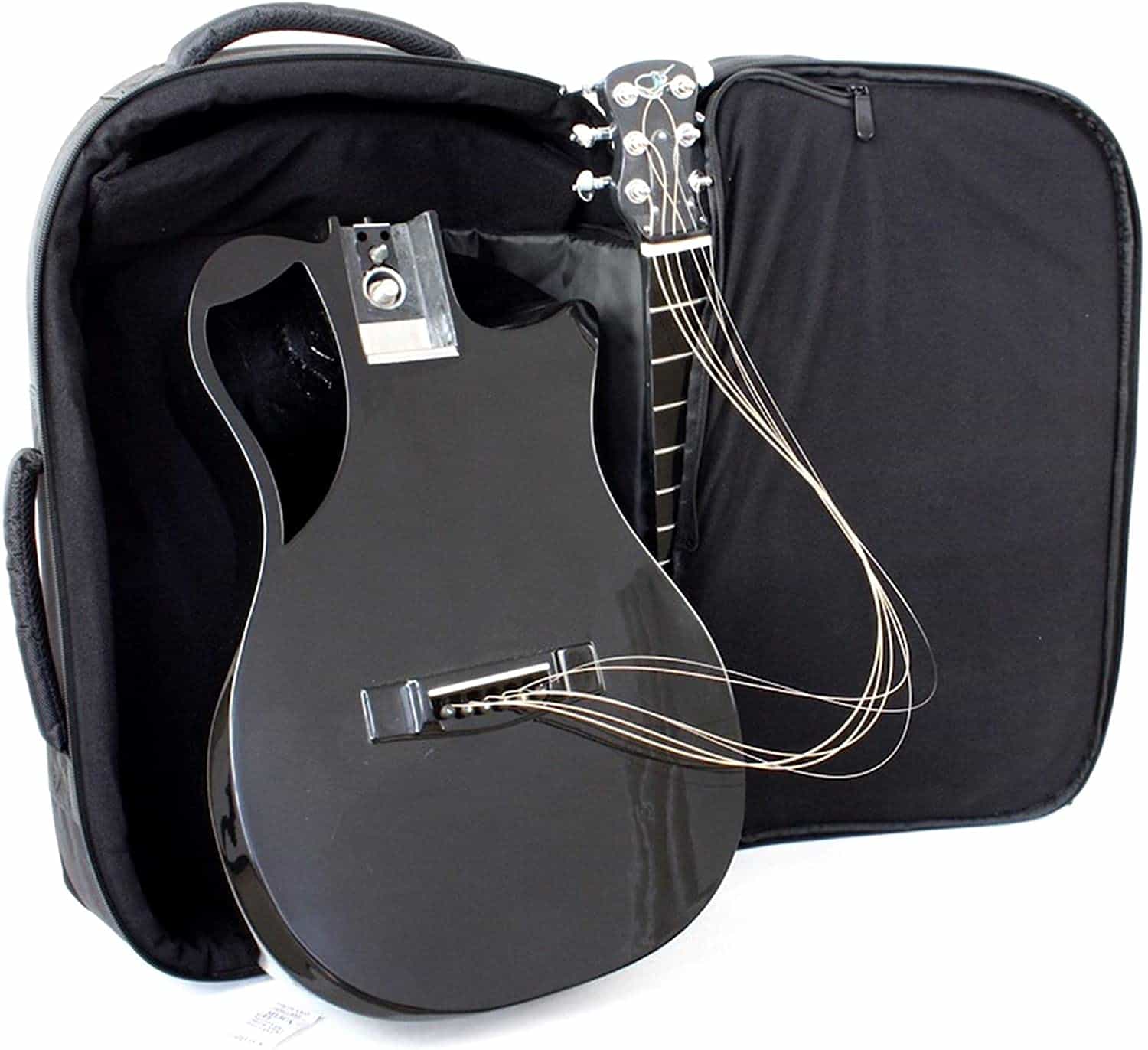 The Journey Instruments OF660 is the best overall folding carbon fiber guitar if what you want to do is travel with your guitar.
This carbon fiber travel guitar features a full-sized body with some top-quality hardware and has a body that was designed with comfort in mind, so it's nicely rounded where your arm will be.
It comes apart and goes back together in a couple of seconds due to the clever way it was designed, with a push-button for locking and unlocking the neck.
Added to this, it comes with a travel bag approved for carry-on by the TSA.
See it being put through its paces here:
It sounds great acoustically, and if you want the same thing with a pickup they have options for that, too, with the same collapsible build and bag.
Size: Full-size carbon fiber guitar, comes apart at neck for travel
Pickup: Yes – Journey Undersaddle
Extras: TSA-approved case, lifetime warranty
Best budget carbon fiber guitar for travel: KLŌS Travel Acoustic Electric

If your budget doesn't allow you to get the ones above then you're in luck, because if you wanted the Klos Deluxe but couldn't afford it, there's the Klos Acoustic Electric for less cash.
And while it is a cheaper travel guitar, it's certainly not cheaply made. It's still got the same body and neck, and the same Fishman Sonitone pickup.
Where it sacrifices for the price is the tuning heads, nut, and saddle – which are standard ones instead of branded ones – and the accessory pack which you may not need anyway.
This is a really good deal!
Size: Carbon fiber travel guitar, but full-scale length neck
Weight: 3.06lbs
Pickup: Yes – Fishman Sonitone
Extras: Gig bag, strap, capo, tools
For more travel guitar options, check my review of the Traveler Ultra Light Guitar here
Best full-sized budget carbon fiber guitar: Enya X4 Pro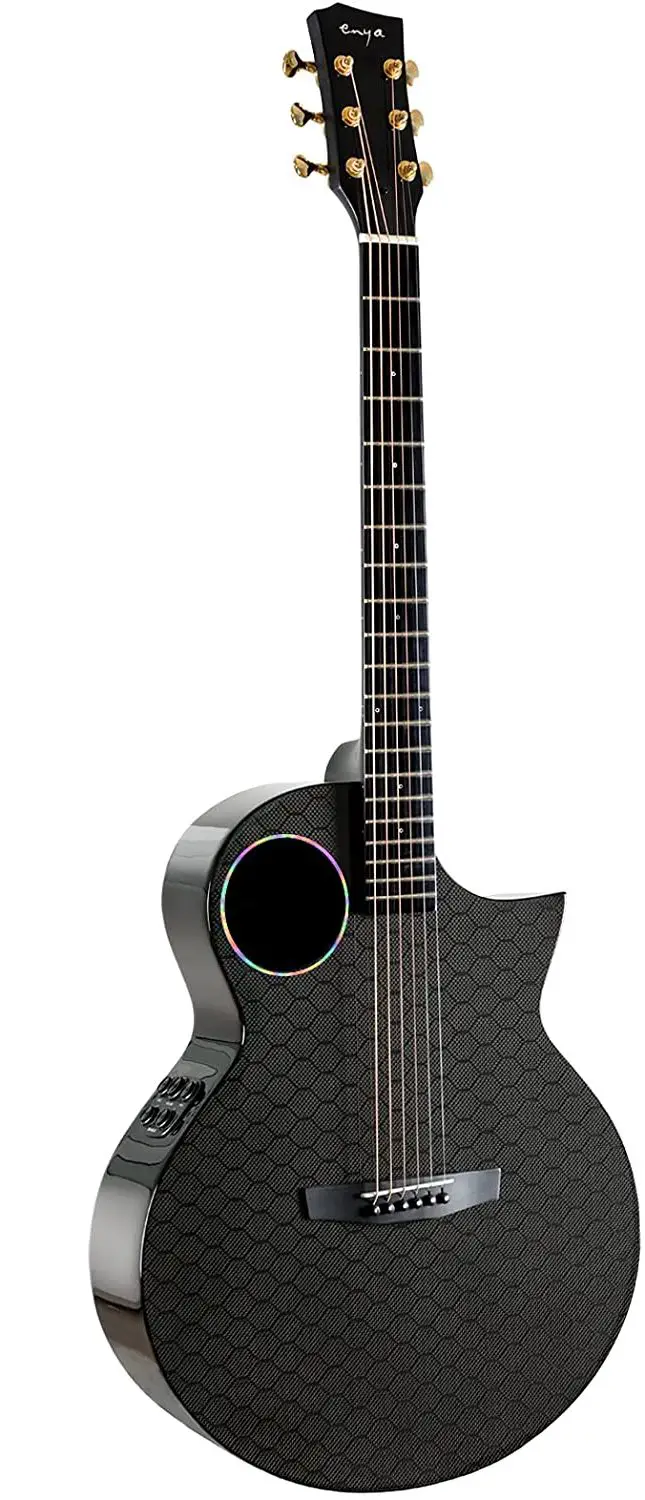 The Enya X4 Pro is a full-sized carbon fiber guitar that is very well priced in terms of what you get.
It is acoustic-electric, meaning you get a pickup built-in, and the pickup (called an "AcousticPlus") also features some effects, so you won't have to pack your pedals.
It comes with gold tuning heads, and the soundhole is moved toward the player making the guitar seem louder to them without losing anything from the audience.
Here's a nice extensive review to learn more about this great guitar:
The Enya X4 Pro comes with a hardshell case, but this guitar doesn't come apart like other carbon fiber guitars, so maybe something to bear in mind if traveling is your thing.
Size: Full-size carbon fiber acoustic guitar
Pickup: Yes – AcousticPlus with effects
Extras: Case and strap
Carbon fiber guitar FAQ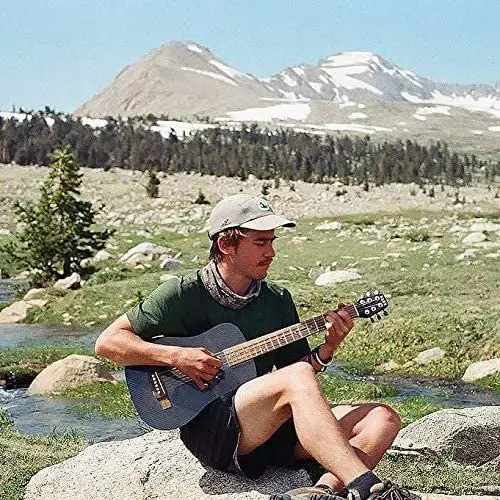 What exactly is carbon fiber?
You hear the term 'carbon fiber' when it comes to sports equipment, aircraft, and racing cars. And now it's even being used in musical instruments!
So what exactly is carbon fiber, and why is it such a popular manufacturing material?
Basically, carbon fiber is a polymer that produces a material that is both super light and extremely strong.
In fact, it's at least five times stronger than steel! It's also relatively easy to shape and mold.
For guitars, carbon fiber cloth is saturated with a special heat-reactive resin and then pressed into molds under pressure.
Carbon fiber is stiff, lightweight, and extremely strong, making it an ideal material for building acoustic guitars.
Are carbon fiber acoustic guitars better than traditional wooden ones?
There's a lot of nostalgia associated with playing a wooden acoustic guitar. But it's not necessarily the best, most durable material for the job.
Over the years, even the best-made guitars made from the highest quality wood can warp. This affects the overall sound quality as well as the tuning of the guitar.
Carbon fiber acoustic guitars are far more durable than wooden ones. Once the resin has set, the guitar won't warp or change over time.
According to most musicians, the sound is as good (or even better) as traditional wooden guitars, and they are far less prone to damage.
If your guitar strap snaps accidentally, your carbon fiber guitar will be far better off than a wooden one if it hits the floor. Carbon fiber guitars also won't be damaged by pick wear, sudden temperature changes, or age.
Is a carbon fiber guitar waterproof?
If you've ever owned an acoustic guitar made from wood, you'll know that it can be negatively affected by the weather. Extreme temperatures wreak havoc on the tuning – especially when it's really humid.
If it gets really wet, the wood can warp, glued joints can fail, and wooden finishes can start to lift. A damp, water-soaked wooden guitar will sound dull and lifeless.
That's why a carbon fiber guitar is so durable. You can 'sing in the rain' without any negative effects. Take your portable carbon fiber guitar on a camping trip, or a skiing trip, and it will still sound as good as new.
Are carbon fiber guitars indestructible?
Strong, durable, and water-resistant – these are the top benefits of a carbon fiber guitar, and one of the reasons why so many people think that they are indestructible!
While I wouldn't run over my guitar with a four-ton truck, these instruments are extremely resistant to damage and can withstand a lot of abuse.
Shipping them is a breeze, as you don't need to protect them like you would when shipping a wooden guitar without a case.
They are more expensive than conventional wooden guitars, but I'd recommend them for children – who tend to be less careful with their belongings.
And they are also highly recommended for musicians who travel a lot. Flight cases are sturdy, but pairing a flight case with a really solid instrument that can withstand a lot of transport punishment gives you the ultimate peace of mind.
There's nothing worse than rocking up to a gig only to find that your guitar neck has snapped, or there's a huge dent in the side!
Are carbon fiber guitars worth the price?
Yes, carbon fiber guitars are more expensive than traditional wooden guitars, but the price you pay is more than worth the investment.
A carbon fiber guitar will last a lifetime, and its sound will never change.
The strong, rounded, full, and resonant tones you hear when you first strum your carbon fiber guitar will be the same in 20 years, and in 100 years (just remember to change your strings!).
While some musicians feel that the subtle differences you get from the sound of each individual wooden guitar are part of the attraction, many recording musicians are more inclined to the stability of the carbon fiber guitars.
What you hear at the beginning of the album is what you'll get at the end, and that same sound will be heard on stage by your fans.
The consistency and reliability of carbon fiber guitars are a huge plus – especially for professional musicians.
Who makes the best carbon fiber guitars?
Just because carbon fiber guitars are made in molds, doesn't mean that there isn't a lot of precision craftsmanship involved in the manufacturing process.
Just like wooden guitars, carbon fiber instruments are made by specialist craftsmen who manage the entire process from molding to fit and finish.
KLŌS Guitars
A top manufacturer of carbon fiber guitars is KLŌS Guitars. The company is based in Utah in the United States.
The company gained notoriety in 2015 when it used a Kickstarter campaign to launch its first product – a hybrid travel guitar that was made from fiber and wood:
KLŌS has grown into a multi-million dollar company since then.
LAVA Music
LAVA Music was launched in China in 2015 by founder and CEO, Louis Luk.
In 2017, Louis released the innovative LAVA ME guitar series and patented the one-piece injection-molded guitar made with its specialized AirSonic carbon fiber material.
Journey Instruments
Journey Instruments is based in Austin, Texas, and as their name suggests, they specialize in manufacturing travel guitars and instruments.
They do 'hundreds of hours' of research before they launch a new product, and it shows in their exacting features and perfect builds.
They use premium materials and equip the guitars with Elixir strings, too, so you're getting real quality from the ground up.
Enya Guitars
Enya Guitars is a Houston, Texas, based company that says its goal is to make professional-quality but affordable instruments so that all musicians can play on great gear.
They have guitars and ukuleles and the people who buy them seem to think they are amazing.
Conclusion
Now you know about all the carbon fiber guitars from acoustic carbon fiber guitars to travel carbon fiber guitars, and my personal recommendation of the best carbon fiber guitar overall, and their various pros and cons.
It's time to decide which of the best carbon fiber guitars you should get so you can pick up your guitar and start playing!
Read next: How do you clean a carbon fiber guitar? Complete clean & polish guide
I'm Joost Nusselder, the founder of Neaera and a content marketer, dad, and love trying out new equipment with guitar at the heart of my passion, and together with my team, I've been creating in-depth blog articles since 2020 to help loyal readers with recording and guitar tips.
Check me out on Youtube where I try out all of this gear: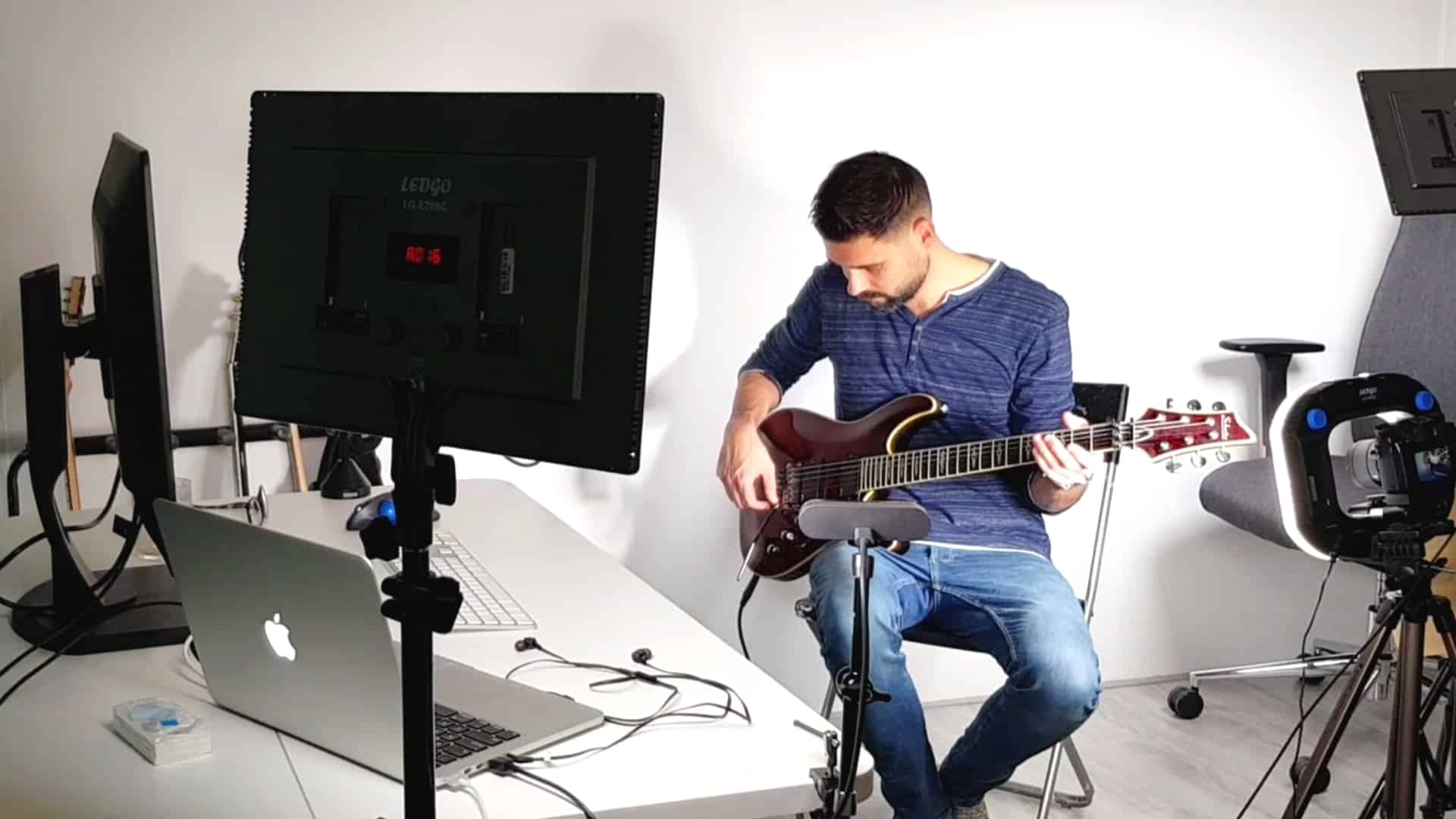 Subscribe