I love creating free content full of tips for my readers, you. I don't accept paid sponsorships, my opinion is my own, but if you find my recommendations helpful and you end up buying something you like through one of my links, I could earn a commission at no extra cost to you.
Learn more
When you think of a ukulele, you're probably imagining people playing and singing on the pristine beaches of Hawaii.
But this instrument is actually very versatile and great for playing different genres of music.
If you've put off buying a ukulele, you're missing out on a really cool, fun-to-play small string instrument.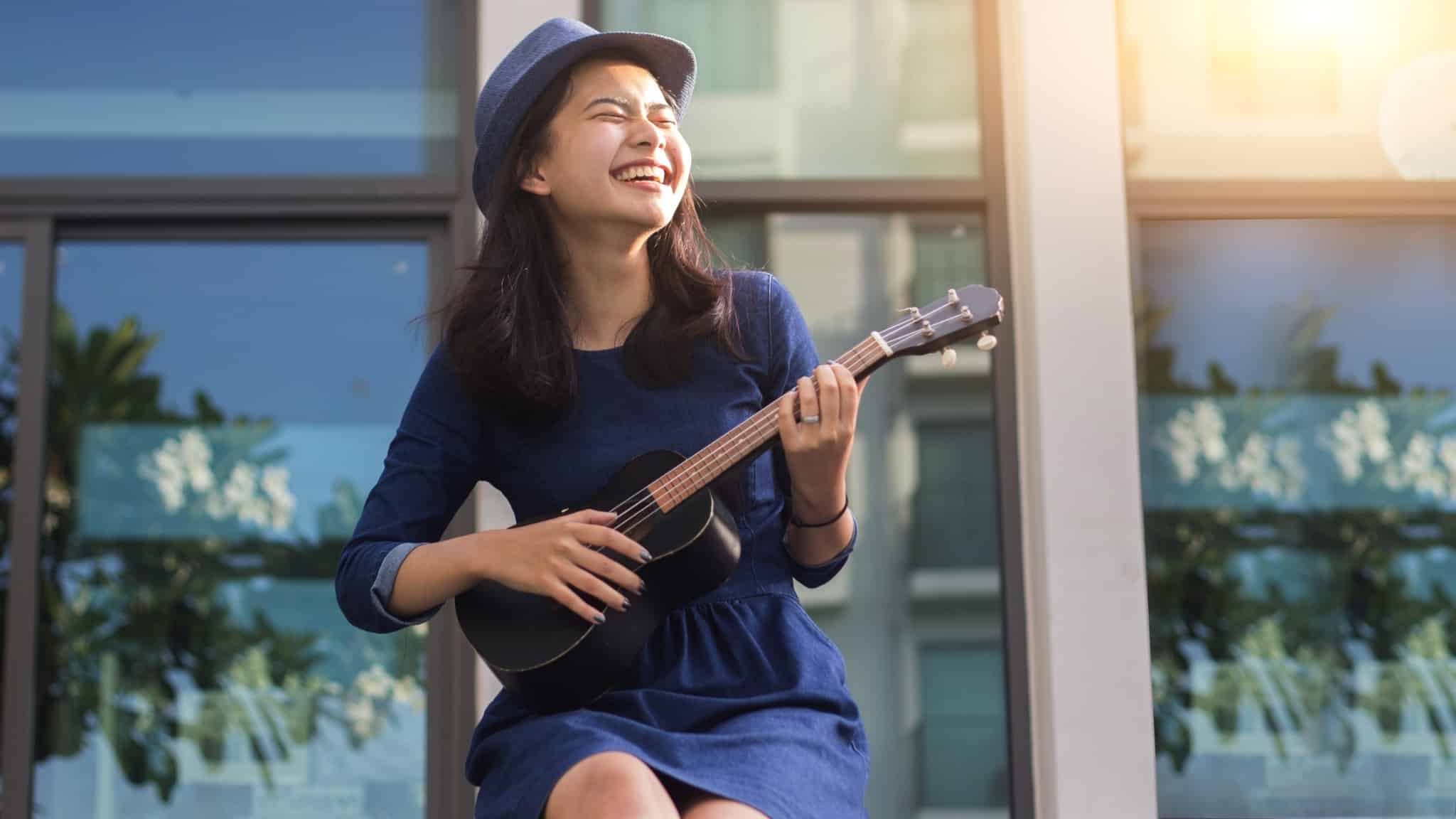 There are so many ukuleles out there, so it's easy to feel overwhelmed while shopping, and that's where this guide comes in handy. I'm reviewing 11 of the best ukuleles on the market.
The overall best value ukulele is this Fender Zuma Concert. It's bigger than a soprano, has a high-quality Fender build, and a warm, full-body tone so you can play all music genres. It costs a bit more than a toy instrument does, but you get a great-sounding instrument.
It's not as loud as a Kala Acacia Cedar, but if you're playing at home and small gigs, you don't need the powerful volume of a $500 uke.
I'll review all ten ukes and give you all the details about why they're good and what you can expect from each.
Keep reading below to find detailed reviews of each instrument.
Why play the ukulele, and how much do they cost?
Ukuleles have four strings and are tuned in fifths; thus, they are easier to play than guitars.
The challenge when playing them is the "high G" played on the lowest strings. But, overall, it's a fun instrument to learn.
What makes the ukulele a great stringed instrument for all ages?
It is easier to learn than a guitar
Cheaper than most guitars
It has a fun, unique sound and tone
Great for busking
Sounds really good during live performances
It's light and portable
It's best for kids and adults to learn to play their first instrument
I'm sure you're wondering, "Are ukuleles expensive?"
The prices vary – there are many cheap, well-built ukuleles, and then there are expensive splurge instruments.
The vintage and one-of-a-kind ukuleles are the most expensive, and you'll probably only want to invest in such a model if you really love this instrument or you're a collector.
If the ukulele is not your main instrument, a budget instrument will be fine for your playing needs.
If, however, you want to be serious about this instrument, it's worth investing in something more expensive to get a superior-sounding ukulele.
Also read: Learn How To Play An Acoustic Guitar
How to choose the type of ukelele to buy
When it comes to choosing a new ukulele, there are certain features to consider.
In this buyer's guide, I want to share two important aspects: the price and body size.
Size is also very important. Ukuleles come in four sizes, from smallest to largest:
Soprano (21 inches)
Concert (23 inches)
Tenor (26 inches)
Baritone (30 inches)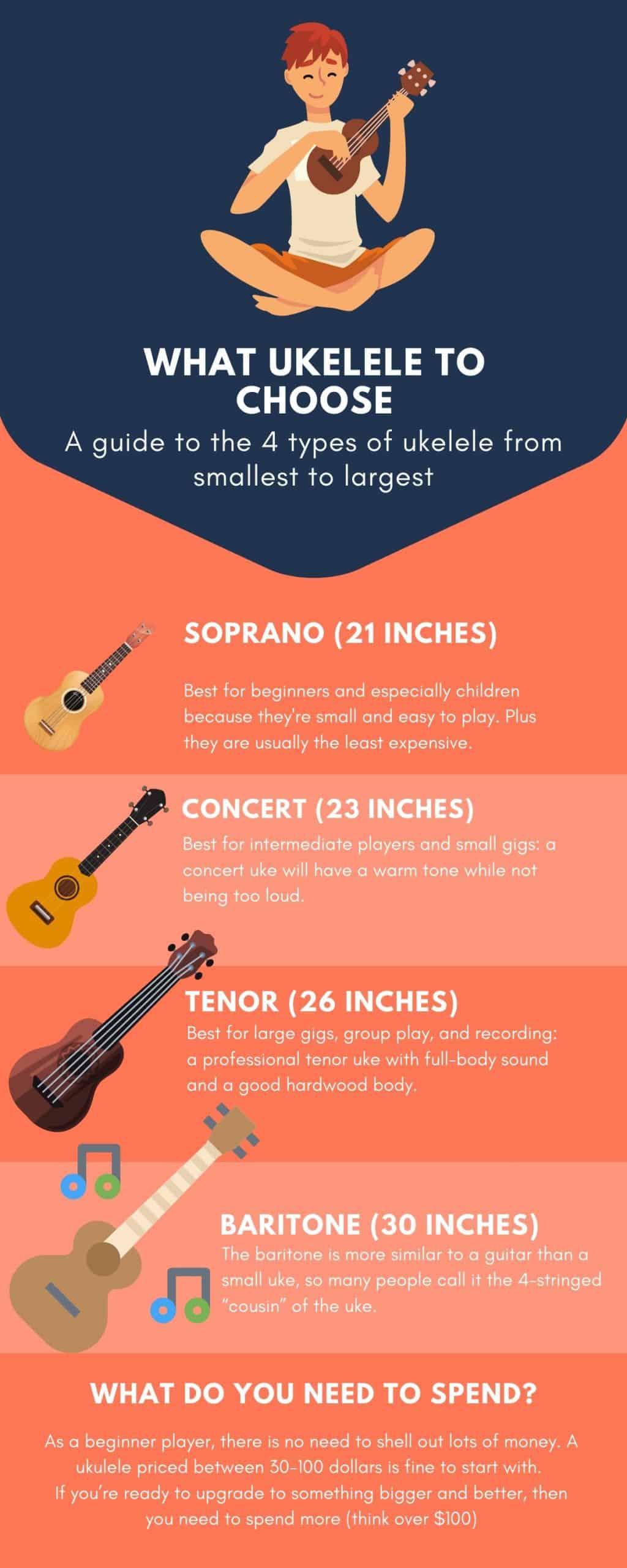 In terms of build, even though they are of different sizes, they are basically the same, so if you know how to play one, you can play them all with a little bit of practice.
The baritone is more similar to a guitar than a small uke, so many people call it the 4-stringed "cousin" of the uke.
As a beginner player, there is no need to shell out lots of money. A ukulele priced between 30-100 dollars is fine to start with.
If you're ready to upgrade to something bigger and better, then you need to spend more (think over $100).
A more expensive ukulele comes with better features, including:
Excellent craftsmanship
Better playability and better quality components
More intricate design, with inlays, bindings, and rosettes
Premium materials (like exotic woods)
Better tone as a result of the solid wood top, back, and sides
Electronic features so you can connect the instrument to an amp.
Find the best amps in my review of Best acoustic guitar amps: Top 9 reviewed + buying tips
When to choose which & what musicians use
Most famous ukulele players like to use a concert or tenor-sized acoustic-electric ukulele.
Artists want an instrument with powerful volume that stands out when it comes to tone when playing on the stage.
The best ukes are made of a hardwood body like mahogany, rosewood, or cedar.
The uke setup includes an electronic tuner, picks, extra strings, and some also use an amp.
Which type of ukelele should I buy?
Here's what the pros recommend:
Beginners: a soprano because it's small and easy to play.
For intermediate players and small gigs: a concert uke which has a warm tone.
For large gigs, group play, and recording: a professional tenor uke with full-body sound and a good hardwood body.
America's Got Talent's Grace VanderWaal is a really popular uke player.
Her setup includes the Fender Grace VanderWaal Signature Ukulele (included on this list), which has a Fender-style peghead and four tuning machines all on one side.
Check out Grace playing her signature Fender:
On the other hand, Tyler Joseph of the band Twenty One Pilots uses a Kala Hawaiian Koa Tenor Cutaway, which is made of real Hawaiian Koa wood, one of the best there is.
Check out Tyler Joseph of Twenty One Pilots playing a Kala Tenor:
I'm reviewing that one in the best tenor category down below.
After all, it comes down to personal preference.
Buying guide: best ukulele woods
Most ukuleles are made of several different kinds of wood. It all comes down to combining the best woods to get the best tone.
Most ukulele manufacturers offer their instruments in a variety of different woods at various price points.
When it comes to the soundboard, known as the "top," the wood must be hardwood or resistant wood. It should be quite elastic so it can withstand string tension and resist any deformation.
But, it must also have great resonance. Therefore, the most popular top woods are koa, mahogany, spruce, and cedar.
Koa is expensive because it's only sourced in Hawaii, whereas mahogany, spruce, and cedar are available in many places and cheaper.
The sides and bottom of the ukulele must be made of dense, heavy-duty wood. The wood contains the sound in the soundbox, but it must not disperse it.
Some of the best woods for this are koa, mahogany, rosewood, and maple.
The uke's neck has to resist the string tension, and usually, woods like mahogany and maple are used.
Now, for the soundboard and bridge, they use hardwood that's resistant to the playing pressure. Rosewood is the most popular for this, and on expensive instruments, ebony is used too.
Here are the main characteristics of ukulele tonewoods:
Koa: this is an exotic wood that's sourced in Hawaii only, and it's what traditional ukes are made of. In terms of sound, it's a combination between rosewood and mahogany but has a distinct brightness and clarity. It has a beautiful grain, it looks great as an instrument top, but it's used to make premium ukuleles (think $300+).
Mahogany: This is one of the most popular ukulele tonewoods because it's accessible. It has a dark reddish-brown color. It's a light wood and is pretty durable and resistant to deformation. You can expect a sweet, well-balanced sound, and the mid frequencies sound best.
Rosewood: This is another more expensive type of wood, and it's mostly used for soundboards and bridges. It is a strong, hard, and heavy wood with a noticeable brown grain. The sound is well-rounded and warm and gives a long sustain.
Spruce: known for its light color, this type of wood is pretty common because it's highly resonant. It has a bright and well-balanced tone, so it's used to make many of the low and mid-priced ukes. Spruce is the kind of wood that ages very well, and the uke sounds better and better as time goes by.
Cedar: this wood is darker than spruce, but it's still beautiful. It is known for making a warm, soft, and more rounded sound. The tone is bright, like koa, but it's more aggressive and loud, so it's best for players who like to really hear the uke's tone.
Best ukuleles for all budgets reviewed
Now it's time to get into detailed reviews for all of the best ukuleles.
I've got an instrument for all budgets and all playing needs.
Best overall & best concert: Fender Zuma Concert Ukulele
This concert ukulele is the best for those who are pretty good at playing the ukulele and even seasoned players looking for excellent quality.
It's a mid-price uke with pretty good sound and tone, similar to Fender guitars. It's versatile, and you can play at home or at gigs and sound great.
This Fender model is a mid-sized concert instrument with a great design and premium features. For example, it has a slim C-shaped neck which makes playing easy.
As well, it has a pull-through bridge which helps you change the strings quickly.
It's made of a mahogany top and Nato neck and has a beautiful natural satin finish. You can get it in a glossy and satin finish and a few different colors, so I've got to say it's quite aesthetically pleasing.
But, it has a great chimey and rich tone in terms of sound, it's pretty balanced and full-bodied, and it sounds almost like a premium uke.
It's not quite as loud as some more expensive models, but it still packs a punch. Since it sounds great fingerpicked and strummed, you can play at home, busk, gig, and even play along with others no problem.
Best ukulele under $50 and for beginners: Mahalo MR1OR Soprano
This 4-string soprano ukulele is the ultimate entry-level cheap ukulele for beginners to learn on.
Known for its cheerful sound, the Rainbow series instrument is my top pick for those looking to learn to play.
Each instrument comes with Aquila Strings that are not flimsy, and they are quite good at holding their tune after a few days of play.
Mahalos are some of the most popular affordable ukuleles in the world. You'll see them everywhere, from busker performances to classrooms.
While you can't expect amazing quality in a $35 instrument, rest assured that these instruments are still durable, well-constructed, and they hold their tuning well.
The sound quality is pretty good too, so it's perfect for learning. There are so many fun models and colors of this ukulele to choose from.
So, since this ukulele is suitable for all ages, kids and adults will find a cool design.
These designs might not be everyone's cup of tea, especially if you're a professional player and you want a distinctive tone and sound.
But, this Mahalo is more than enough if you plan to play fun summery tunes.
Check the price on Amazon
Best ukulele under $100: Kala KA-15S Mahogany Soprano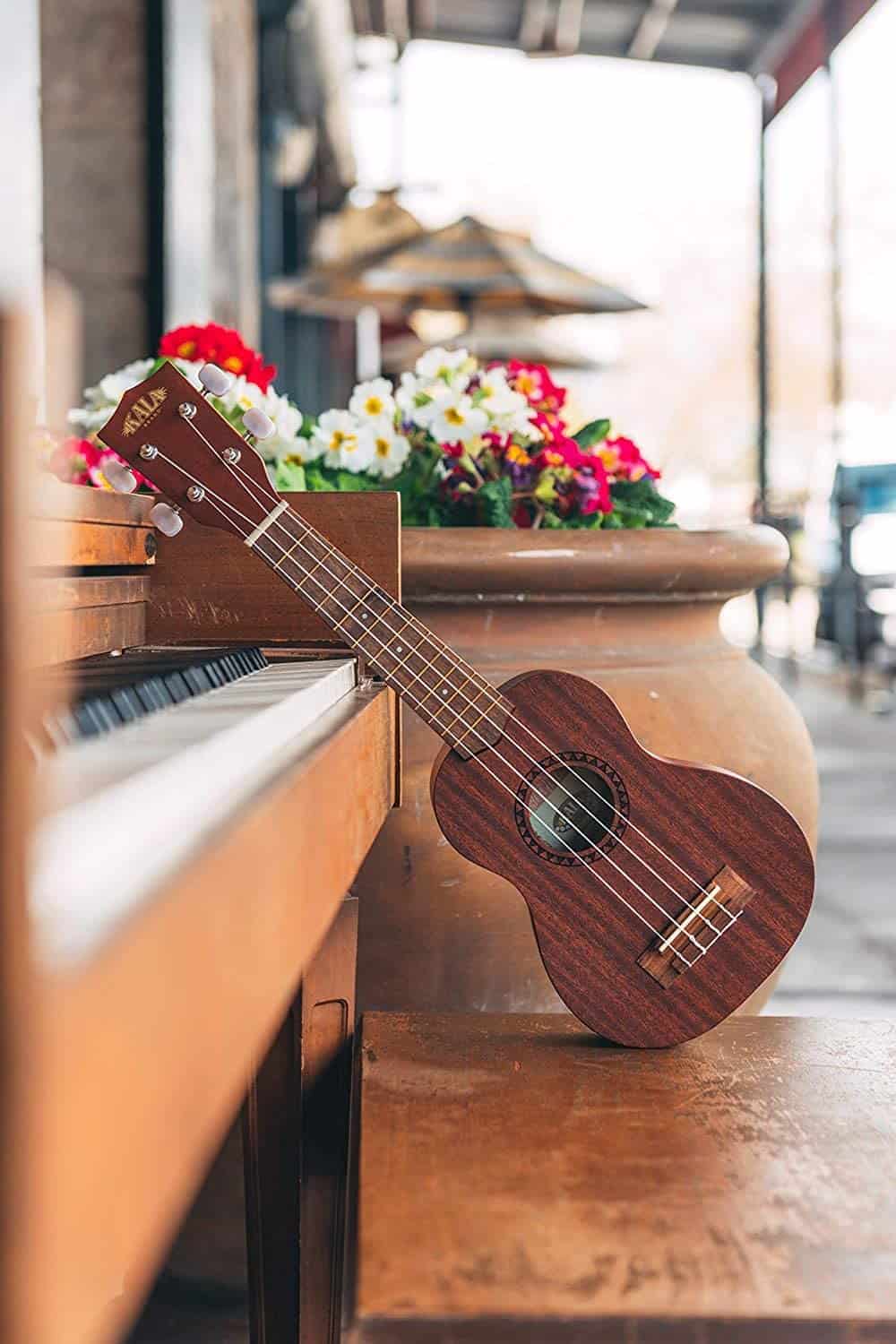 It's definitely an upgrade to entry-level ukuleles.
This Kala is the best for at-home use, and small gigs use because it sounds excellent, it's still affordable (under 100), and it's made of beautiful dark mahogany wood.
It has a full-bodied tone, and it's great for most musical styles and genres. I recommend this ukulele for playing at home and playing with others at gigs.
Since it has concert voicing, you can play confidently knowing the instrument sounds good.
This uke has geared tuners that help the instrument stay in tune, and you know how important that is while playing.
As well, this one has low, and even action, meaning the strings are not too high off the neck, so it offers a better playing experience.
It's easier to play than the more expensive alternatives so that beginners can learn on this, and seasoned players can keep it as a backup instrument.
What's surprising about this uke is that it has quite a beautiful satin finish and stylish design, with good bindings.
Check prices and availability here
Best ukelele under $200: Epiphone Les Paul VS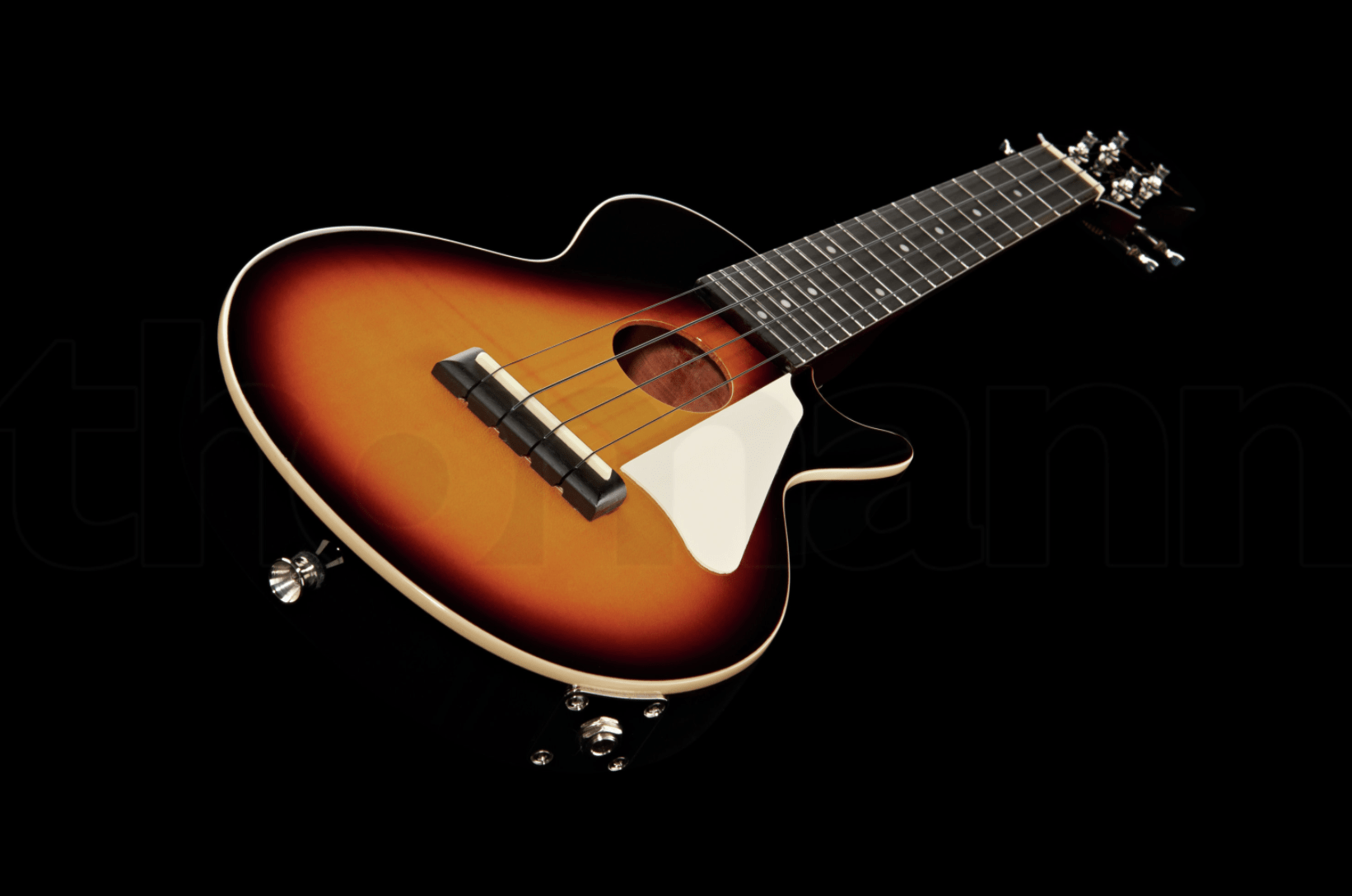 When it comes to sound, it's hard to beat a tenor uke, and this one is no exception.
It is a great value buy because it costs less than $200, but it's made of premium mahogany wood. Therefore, this Epiphone offers a throwback to the Gibson all-mahogany guitars.
The uke has a similar texture and feel to it and, of course, a very sleek and glossy look. The woods bring out the best tone, and with 21 frets, you can play all kinds of genres.
Another benefit of this ukulele is that it's an electro-acoustic voiced instrument.
With its 17-inch scale length, it really brings out warmth when you play. It comes with onboard undersaddle electronics, and these give those delightful amplified tones you're looking for if you play professionally.
I like that this uke has the classic Les Paul-shaped pickguard and their headstock signature, which makes you feel like you're playing their signature premium instruments.
Check the latest prices here
Best ukulele bass & best under $300: Kala U-Bass Wanderer

Most U-Basses are quite expensive because they're less common than regular ukuleles. But, this Kala model comes in under $300 and has a really good tone and sound.
While it's a stripped-back version of other Kala basses, it delivers all the basic features you need to play gigs, record, and perform with others.
If you don't necessarily need premium tuning hardware, then there's no need to spend more money because this uke performs nicely.
It's an acoustic-electric bass with four strings. Most players praise this instrument because it plays a really good low end.
You can expect a similar tone and sound as those super-expensive models. What I like though is that this ukulele has a laminated mahogany body and a minimalist design.
It's shaped like a dreadnought which means you get optimal acoustic projection and really superb sound.
In my opinion, this affordable model stands out because it comes with a Shadow pickup and EQ with a built-in tuner to help maintain the intonation.
Check the latest prices here
Best ukulele for professionals & best under $500: Kala Solid Cedar Acacia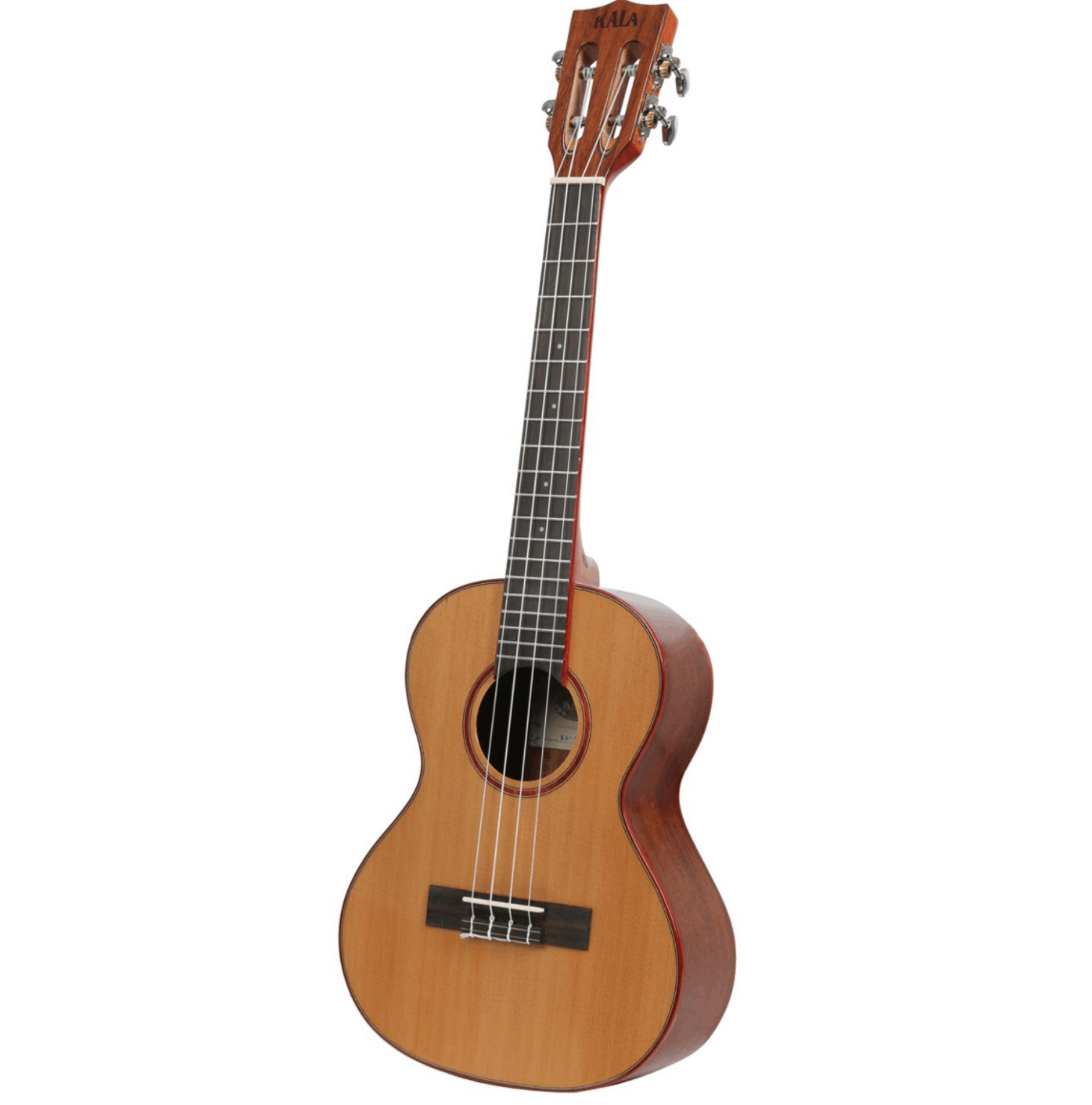 There are many ukulele brands out there, but as a professional, you want good quality, excellent tone, and a brand with a rich history of making great ukuleles.
When you search for the best, you most often come across a brand called Kala. It has the biggest range of instruments for all skill levels and budgets.
The Elite range of Kala ukes is handmade in California with handpicked wood and expert craftsmanship. Uke virtuoso Anthony Ka'uka Stanley always and Hawaiian singer-songwriter Ali'i Keana'aina both play Kalas.
They have some unique ukes designed for pros, like the Kala Solid Cedar Acacia, made of multiple tonewoods. It has a premium price, but it's still under $500, so it's a great value instrument.
The uke looks beautiful, with a rosewood fingerboard, solid construction, and a glossy finish.
Many professional players prefer this Kala tenor model because it is known for its flawless intonation, excellent warm tones, and well-balanced sustain.
The instrument is lightweight, so it's perfect for the stage and gigs. The wood combo helps give lots of volume and richness when you play, and it's one of the best ukes for pros.
Check the price here
Best tenor & best traditional: Kala Koa Travel Tenor Ukulele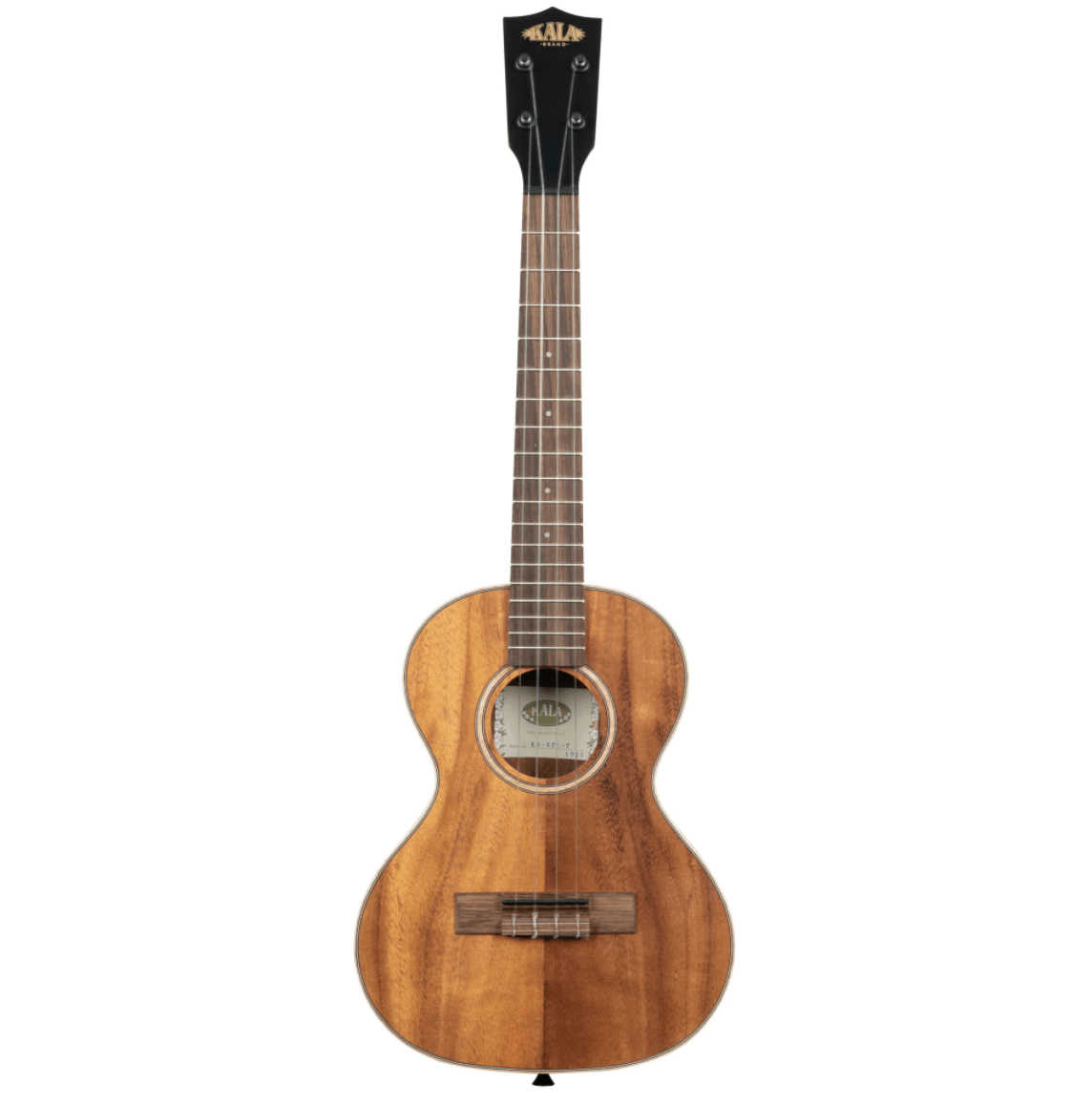 The Kala Koa is made of real Hawaiian Koa wood, and it's one of the best tonewoods for ukuleles.
Even Tyler Joseph of the band Twenty One Pilots uses a tenor uke from the Koa series because it has a distinct "Hawaiian" tone and sound.
After all, Koa is the traditional wood for ukuleles and has been since the instrument was invented. It's pricier than other tenor ukes, but the wood makes it all worth it.
The Koa offers a crisp sound and warmth, which is ideal when strumming and playing folk-pop.
This Kala has a narrow body compared to similar models, so it might take you a while to get used to it, but once you start playing, there's no going back.
One thing that sets this instrument apart from other tenors is the bright sound of strings and the great volume. It's perfect for live performances at gigs and concerts.
It's not the type of uke that gets lost in the sound of other instruments. I highly recommend this classic instrument, especially if you're already a professional player or a big uke fan.
Check prices and availability here
Best acoustic-electric ukulele: Fender Grace VanderWaal Signature Uke
When it comes to a combo uke, this Grace VanderWaal inspired instrument is one of the best.
Grace is a young and talented ukulele player known for her amazing strumming technique. It's the perfect-sized instrument for women, but its dark walnut color makes it appealing to everyone.
This Fender comes equipped with a Fishman preamp and pickup system and onboard controls, which amplifies your uke so everyone can hear its pure and rich tone.
The sapele-body is an amazing tonewood and offers a very wide range of tones, so you can really play any genre. Since it has a sapele body, it has an upper-midrange sound and leans toward brightness rather than warmth.
Compared to electric-only ukes, this instrument gives flawless string action. It has a good quality pull-through bridge, so the strings are easy to change.
The design is very neat, too, and lives up to the premium price tag. It has a really smooth walnut fingerboard, gold sparkle rosette, and floral soundhole label.
Check prices and availability here
Best ukulele for kids: Donner Soprano Beginner Kit DUS 10-K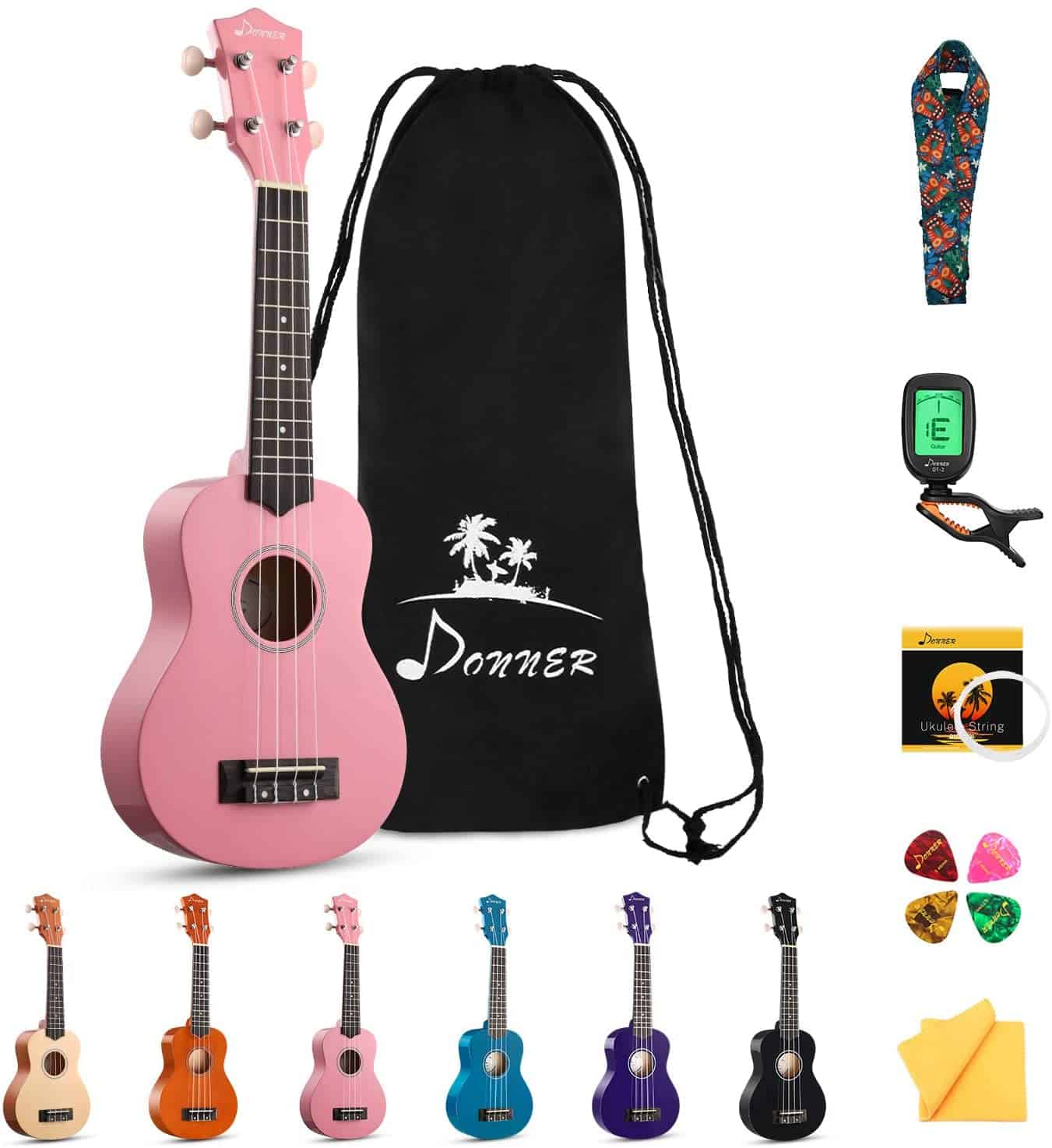 Ukuleles are great instruments for kids because they're cheap and relatively easy to play.
You'll want to invest in a beginner kit because, for under $50, you get a colorful instrument, online lessons, straps, a clip-on tuner, and a carrier bag.
This Donner soprano is a small ukulele for kids of all ages. While it's not the highest-quality instrument out there, it's best for learning and playing.
The uke has nylon strings, so it's best for learning, not serious playing. It has a decent sound, and it's suitable for classroom learning too.
After all, you don't want kids to damage expensive instruments and this one is pretty sturdy.
One of the beginner-friendly features is the guitar-style tuners which help your child keep the instrument in tune. This leads to less frustration and more interest in playing and learning.
The handy adjustable strap helps your child learn proper playing posture and keeps the instrument close to the body. As well, it's less likely the child will drop the uke.
Therefore, I recommend this uke for its ease of use, and I think it has a pretty good tone for beginner melodies.
Check the price on Amazon
Best left-handed ukulele: Oscar Schmidt OU2LH

If you're a leftie like me, you need a good left-handed ukulele that's comfortable to play.
This Oscar Schmidt is really affordable (under $100!), and it's a great fit for left-handed players because the manufacturer designed it with lefties in mind.
It's similar to the Kala Mahogany uke I mentioned earlier, and it's crafted to look similar too.
This concert size model has a mahogany top, back, and sides and a pretty satin finish, so it looks more expensive than it is.
The ukulele has a lively full-body resonance and excellent sound. Be prepared for outstanding highs and warm lows.
The 18-fret fretboard and bridge are made of rosewood, which is a great tonewood. One disadvantage is the plastic saddle which is a bit flimsy, but it has closed gear tuners that make up for it.
I recommend this one for beginner players, especially because it can help you get used to proper playing posture. You know that it's super hard to learn on a rightie uke as a leftie.
Check prices and availability here
Best baritone ukulele: Kala KA-BG Mahogany Baritone

If you're going to pick a baritone ukulele, it's worth investing in a really good one.
It sounds different to other ukes, and it's actually more similar to a guitar. This one has a mahogany body and white bindings, which make it look like a premium instrument.
It has that typical glossy finish that Kala is known for, which enhances the appearance of the wood grain, so it looks stylish. The neck has a C shape, which makes it easier to play.
The baritone uke one has a full-bodied, warm tone which is quite balanced and sounds really nice, especially if you play blues and jazz.
Unlike other Kala models, this one has a spruce top, which alters the sound a bit and gives it a pronounced sound.
Additionally, the spruce top gives a bit of treble and increases the uke's volume.
It seems the instrument is louder, which is ideal if you're playing with a group. People will surely hear your solos.
Check the price on Amazon
Final words
If you've never played a stringed instrument before, it's best to start with a cheap soprano uke and then work your way up to a tenor once you begin to play very well.
All of the instruments on our list are suitable for different playing levels, and you need to choose the size that fits your body shape and tonal requirements.
If you're thinking of getting a ukulele for your kids, then it's best to start with cheap laminate models until the kids learn the hang of it, or else you risk damaging the instruments.
But, whatever you choose, have fun and don't be shy to play for a crowd because people love the ukulele's unique sound!
When buying a stand for your stringed instrument make sure its the right fit!
          Joost Nusselder, the founder of Neaera is a content marketer, dad and loves trying out new equipment with guitar at the heart of his passion, and together with his team, He's been creating in-depth blog articles since 2020 to help loyal readers with recording and guitar tips.
Check me out on Youtube where I try out all of this gear: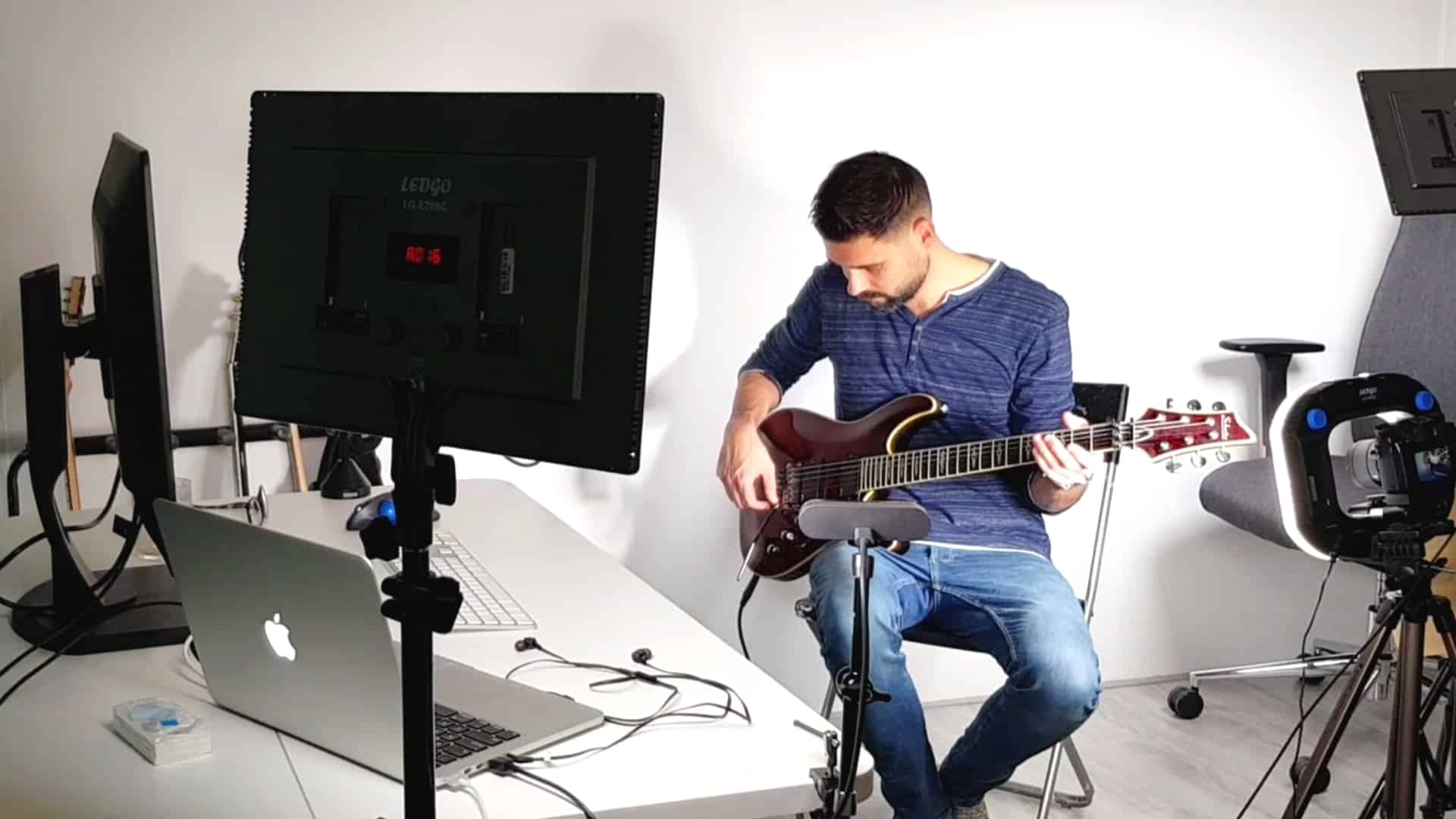 Subscribe