hi there I love creating free content full of tips for my readers, you. I don't accept paid sponsorships, my opinion is my own, but if you find my recommendations helpful and you end up buying something you like through one of my links, I could earn a commission at no extra cost to you.
Learn more
Guitar tutors are expensive these days. But, with a bit of willpower, dedicated time for learning, and lots of practice, you can learn guitar at home.
I'm sharing reviews of the best self-teaching guitars, tools, and teaching aids in this post. These guitars and tools are suitable for absolute beginners, and they will enable you to start playing.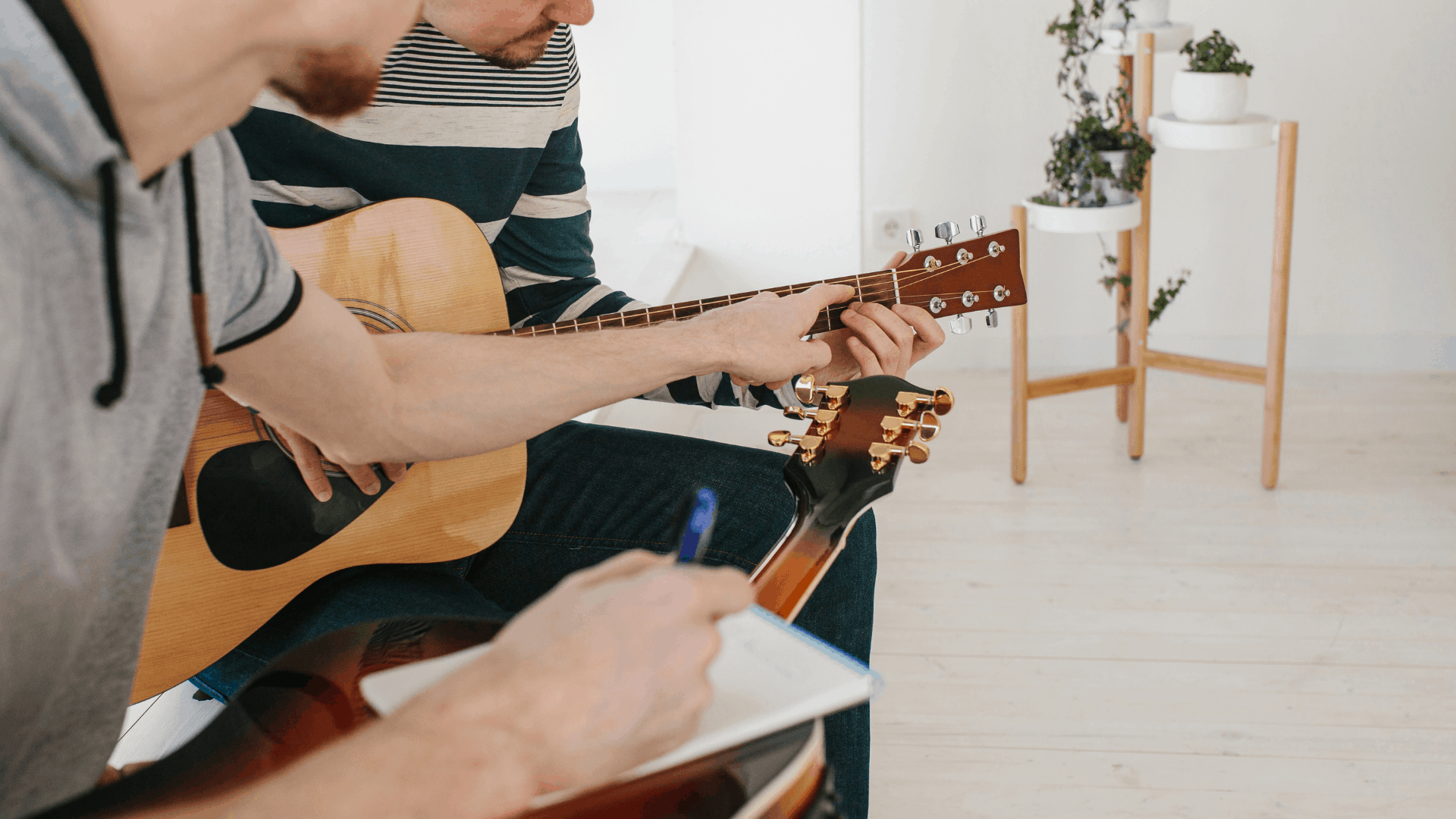 If you want to teach yourself guitar, you need the right aid that's up for the task. Using these for your next at-home lesson will inspire you to improve and start playing your favorite songs.
There are all kinds of smart guitars, Midi guitars, guitar teacher tools, and guitar teaching aids on the market.
The best overall tool when it comes to teaching yourself guitar is the Jammy G MIDI guitar because it feels like you're playing a real guitar, but you have the modern features of an app-enabled device. Therefore, you can learn chords, effects, and how to strum with the app's helpful tips and guidance.
So, now that you know teaching yourself guitar is possible, it's time to look at the best tools to do that. I'll share a few guitar tools for beginners so you don't feel like learning guitar is impossible.
Check out the list of the best self-teaching tools, then scroll down for full reviews of each. So, whether you want to play the electric guitar or start strumming an acoustic, you'll get the best aids to do so.
Buyer's guide for self-teaching guitars & learning tools
There's no real way to learn to play guitar overnight, and whichever guitar or learning aid you choose, it's still going to take effort on your part.
Learning to play comes with a set of challenges. But, one of the biggest is learning the chords when you are an absolute beginner.
Let's look at some of your best options.
Chord learning tool
Before you invest in an expensive acoustic or electric guitar, you should start off with a chord learning device like the ChordBuddy or Qudodo.
These are simple plastic tools that are placed on the instrument's neck. With color-coded buttons, you can learn the strings and which color to press first to play a chord.
These tools are very beneficial for newbies and kids who haven't taken guitar lessons but want to learn at home.
Small practice tool
Now, learning to play takes time, remember? So, whenever you've got some time to kill, I recommend a small foldable or pocket-sized practice tool like the Pocket Tool device, which teaches you chords.
Teaching yourself guitar will seem a bit easier because this noiseless device won't disrupt people around you, and you can even practice in public.
MIDI & digital guitars
These are almost guitars but not quite.
Some, like the ION, have a guitar shape, but they're digital. This means they are connected to wireless technology, Bluetooth, or tablets, PCs, and apps.
Thus, you can learn to play the guitar while connected to the Internet. There are many benefits of this system because you can see how you play in real-time and correct mistakes.
Also, this type of guitar usually has real steel strings, so you get that sound that you want. So, if you want to play guitar and feel like it's the real deal, then a digital guitar is a good choice.
You usually get cool features like synthesizers and effects too. Plus, you can plug in the "guitar" and practice with headphones on.
Student and traveler guitars
A student guitar is a small-sized guitar, usually acoustic, designed for students and people who want to learn guitar at any age. These are affordable guitars, so it's a great idea to get one so you can get used to holding an instrument.
The traveler guitar, though, isn't specifically designed for learning to play. It's used by touring musicians too because it's lightweight, portable, and foldable.
It's also a small guitar so that a guitar teacher might recommend it for beginners.
Price
The best thing is that learning the guitar is not very expensive. The Jammy and Jamstick might set you back a bit but still, compared to a real full-size guitar, they're not as expensive.
Keep in mind that you won't be using these tools forever, only a short period until you master the basics. In the beginning, you might get stuck learning chords, so a chord aid is an essential part of the learning process.
Expect to spend between $25-500 to get the things you need to begin your guitar-playing journey.
Then you need to get a guitar, too, unless you opt for the student guitar. This might set you back another few hundred dollars.
Best self-teaching guitars and guitar learning tools reviewed
It's time to get on to the reviews now because I have some interesting tools and guitars for you. Surely you'll be able to play in no time even if you don't have a guitar teacher.
There are many helpful apps to teach you music theory, and even as a beginner guitar player, you can start playing songs with the help of the products I'm reviewing.
Overall best MIDI guitar: JAMMY G Digital MIDI Guitar

Imagine plugging in and starting to play guitar or another instrument instantly. Well, with the Jammy Guitar, you can do just that.
Just imagine that there's no tuning required, and you can start to play and learn on this cool MIDI guitar.
A MIDI refers to a special electronic language that picks up the signals from string vibration and turns the string into a pitch.
All you have to do is plug the Jammy into a PC via USB or connect it to your phone. It makes learning guitar easier than the old paper and sheet music method.
The benefit of this type of learning guitar is that you can plug in your headphones and practice in silence.
Sure, it's not like taking lessons and having your tutor there, but when you use learning books, apps, and follow tutorials, you'll be learning and playing music in no time.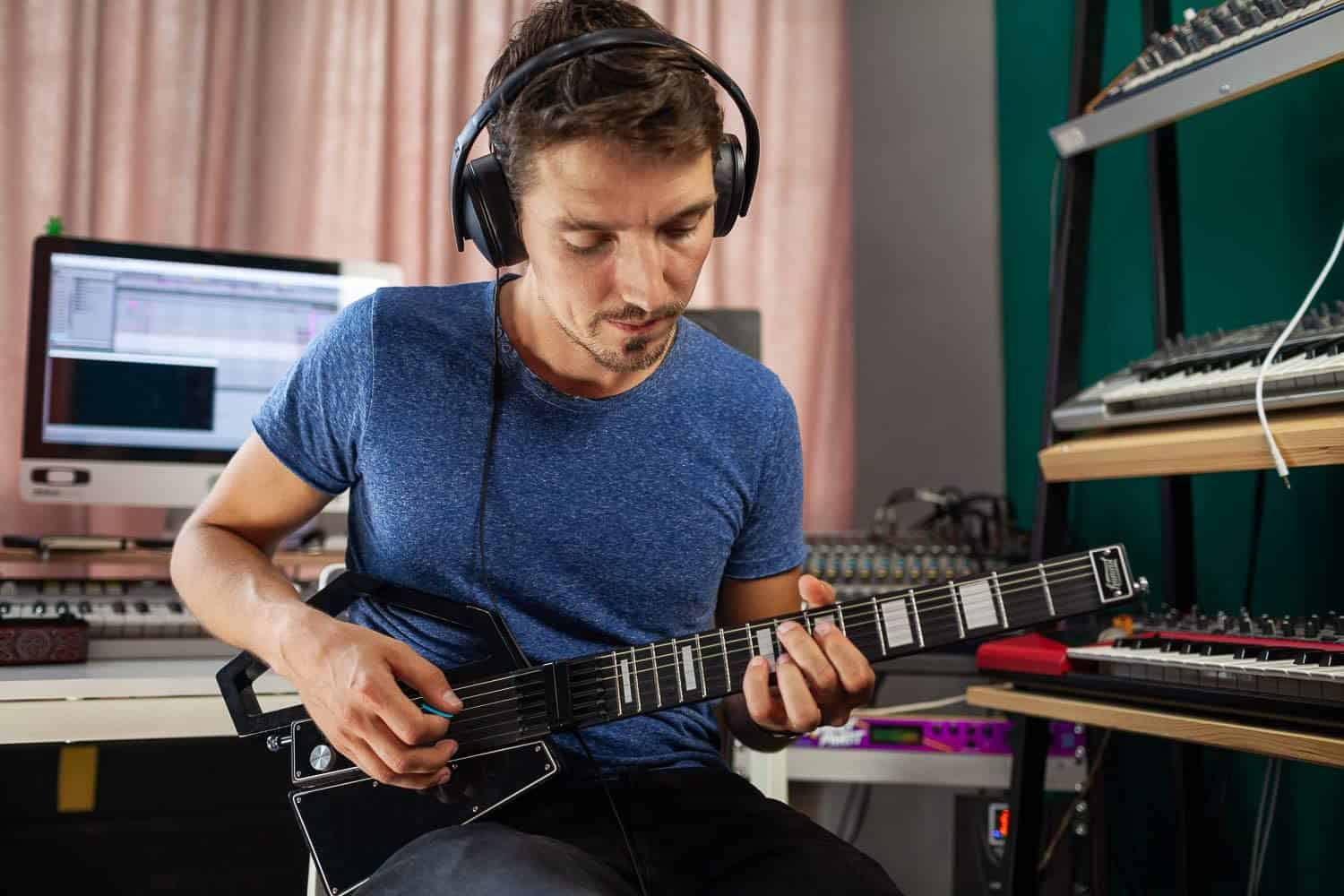 With digital guitars, the user experience is that of a traditional electric or acoustic guitar combined with the modern digital experience.
They play synthesizer sounds so that you can switch between guitar and piano, for example. Everything is app-enabled, which means you can access the features with the click of a button.
Therefore, it's easy to switch between other tunings and change the sound of the guitar. But what I like is that this one has real steel strings, so you're getting an authentic guitar experience.
You can see it in action here:
Even pro guitar players can have fun with this, not just absolute beginners.
Best guitar chord practice tool: Moreup Portable Guitar Neck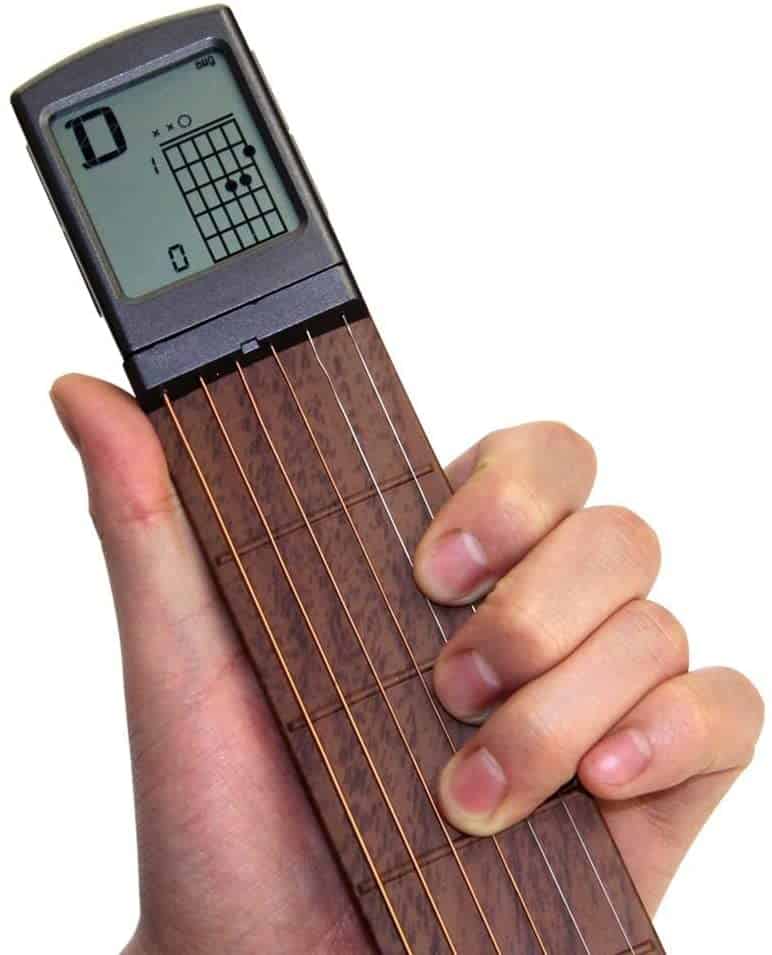 Okay, imagine you can keep a handy chord practice tool in your pocket and whip it out when you have some free time.
With the Smart Guitar Chords training tool, you can do just that and practice on a device with real strings and a digital display.
It also has a cool feature that similar tools lack because it comes with a built-in metronome so you can learn to play on tempo.
There are 400 chords you can learn with this pocket tool, and it shows you precisely how to position your fingers, so it's definitely very helpful.
Just so you know, this isn't an actual guitar, just a chord practice gadget, so there is no sound! It's completely silent, but it improves your playing ability.
Therefore you can practice anywhere, even on the bus ride home, without disturbing anybody.
Here's Edson trying it out:
It runs on batteries, so you don't have to charge this tool.
So, if you want to learn the chords before you pick up a real guitar or use this alongside the instrument, I highly recommend it because it's affordable.
Every new guitarist can benefit from some extra chord training because even if you watch tutorials online, it's not the same as physically touching the steel strings.
Also read: How long does it take to play guitar?
Jammy G vs Pocket Chord Practice Tool
While these are not quite comparable, I want to suggest that you use them together to complement each other.
The Jammy G is a great MIDI guitar that works on an app. The chord practice tool is a small device that fits in your pocket and helps you practice chords silently.
When used together, you can learn faster than with traditional methods. After you practice playing with the guitar and apps, you can then spend time offline playing some chords.
It's easy to fret along to 400 chords stored on the battery-powered device.
So, when you want to teach yourself guitar fast without paying for expensive guitar lessons, then you can combine two learning methods and tools to progress quickly.
The Jammy G can sound like an acoustic or electric, or even a keyboard, so practice is fun. But, with the pocket tool, there is no audible sound, so it's not like actually playing a real guitar.
To play guitar, you have to learn effects too, so the Jammy G lets you practice those too. Overall, it's a great tool for beginners.
Best guitar learning aid for all ages: ChordBuddy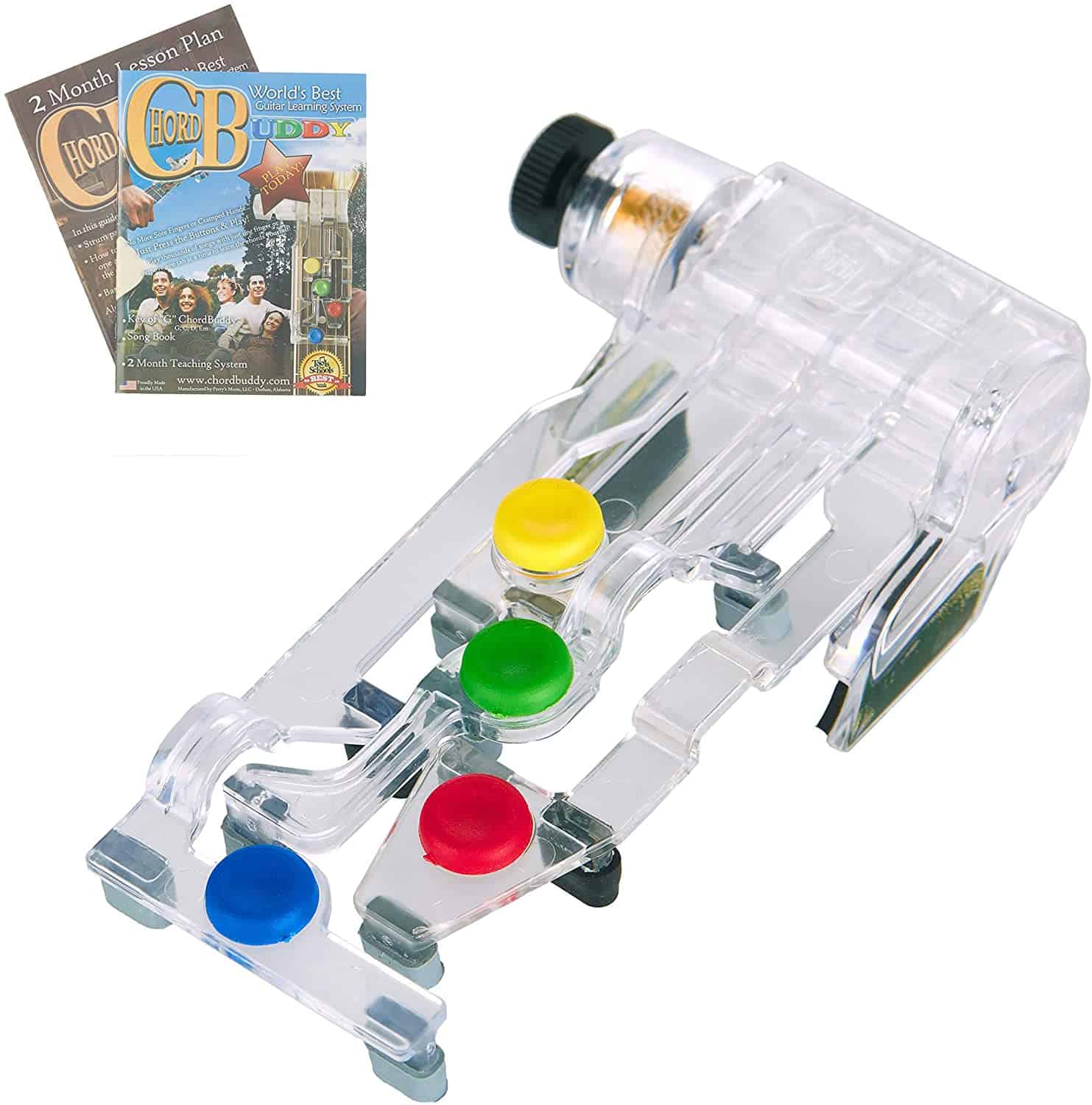 If you want to learn the guitar the fast way, this ChordBuddy learning tool claims to teach you in two months or less. After, you'll be able to remove the aid from the guitar and play without it. Sounds pretty promising, right?
Well, this is a see-through plastic tool that you add to the neck of your guitar, and it has four color-coded buttons/tabs that each corresponds to a string.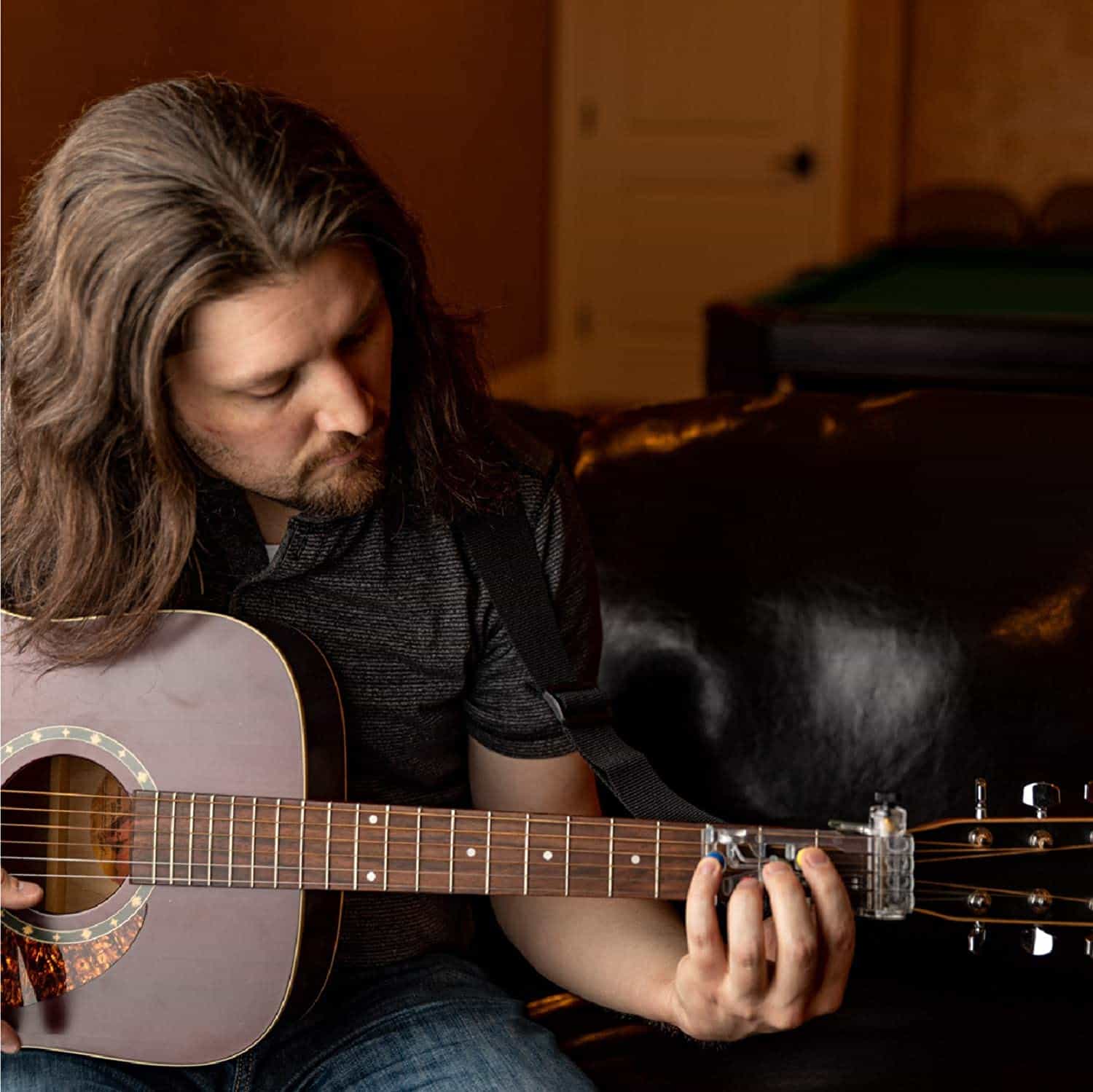 It basically teaches you the chords. As you learn them better, you gradually remove the tabs until you can play without them.
But, honestly, the ChordBuddy is best for mastering the basic chords and learning how to use your fingers.
Fingering chords can be tough for complete beginners, so you can learn to strum the basic chords and get the hang of how rhythm works with this tool.
Here's how it works:
You no longer get a DVD with a lesson plan like back in the day, but you get this pretty cool app full of visual song lessons and some helpful tutorials.
So, the basic idea is that you build the finger strength in your left hand with this aid. Then, you learn to strum with the right hand.
This is all vice versa if you have a left-handed guitar. Oh, and the good news is you can also buy ChordBuddy junior for kids.
Budget guitar teaching aid: Qudodo Guitar Teaching Aid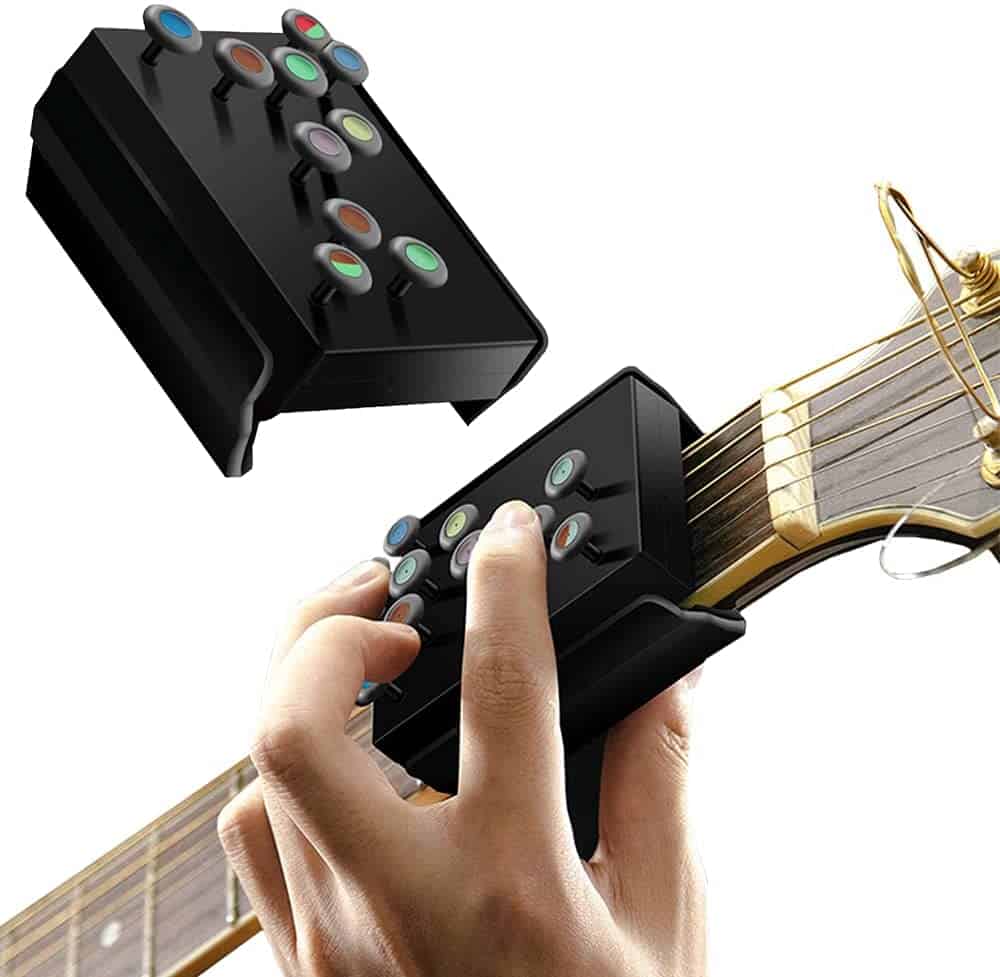 If you want to play the guitar without your fingers hurting, you can start with a teaching aid. The tool looks similar to the Chordbuddy, but it's got a black color and more color-coded buttons.
Also, it's much cheaper, so it's my top pick for a budget-friendly guitar learning aid.
You press the buttons with the corresponding colors to play chords, and it's pretty simple for beginners.
One of the challenges, as you learn how to play, is that you can be forgetful. The colored buttons help you remember how to play chords and make those chord transitions without making mistakes.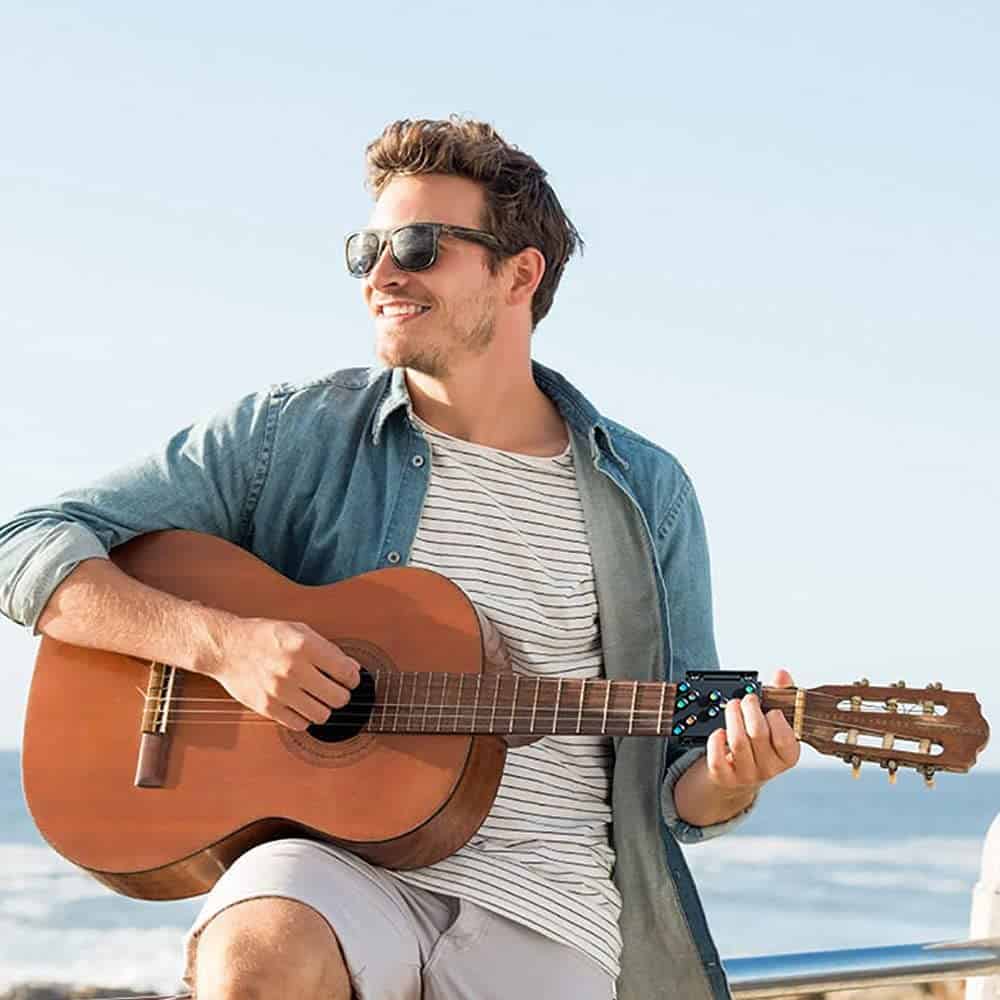 Installing this device is easy, and all you have to do is clamp it on the instrument's neck.
After a while of using the Qudodo, you'll notice that your playing gets a bit smoother, and your fingers don't hurt anymore. That's because it gives your hand muscles a mini workout as you learn to play.
I really like the tool's simplicity, and since there are no fancy features, it's easy to install, use, and then remove. I recommend this for a folk guitar or small guitars.
Anyway, it's a good idea to get a guitar that's smaller when you first learn to play.
ChordBuddy vs Qudodo
These are two of the best chord teaching tools on the market. The Qudodo is somewhat cheaper than the world-famous ChordBuddy, but they will both teach you the basic guitar chords in a short period of time.
These tools are both installed on the neck of the guitar, and they both have color-coordinated buttons.
The ChordBuddy is made of see-thru plastic, and it only has 4 buttons, so it's easier to use. Qudodo has 1o buttons, which makes it a bit more confusing to use.
In terms of player comfort, the ChordBuddy takes the top spot because your fingers don't hurt at all after practice. Even if you strum for hours, you won't feel any serious strain on your hands and wrists.
Both of these tools are quite similar, and it comes down to how much you're willing to pay. The Qudodo is less than $25, so it might be a good choice if you're unsure about using a chord teaching aid.
But, you have to keep in mind that both of these tools go on the neck of a guitar, so you need to purchase the instrument first! These don't replace a real guitar.
Going for a secondhand guitar to learn? Read my 5 Tips You Need When Buying A Used Guitar
Best smart guitar: Jamstik 7 GT Guitar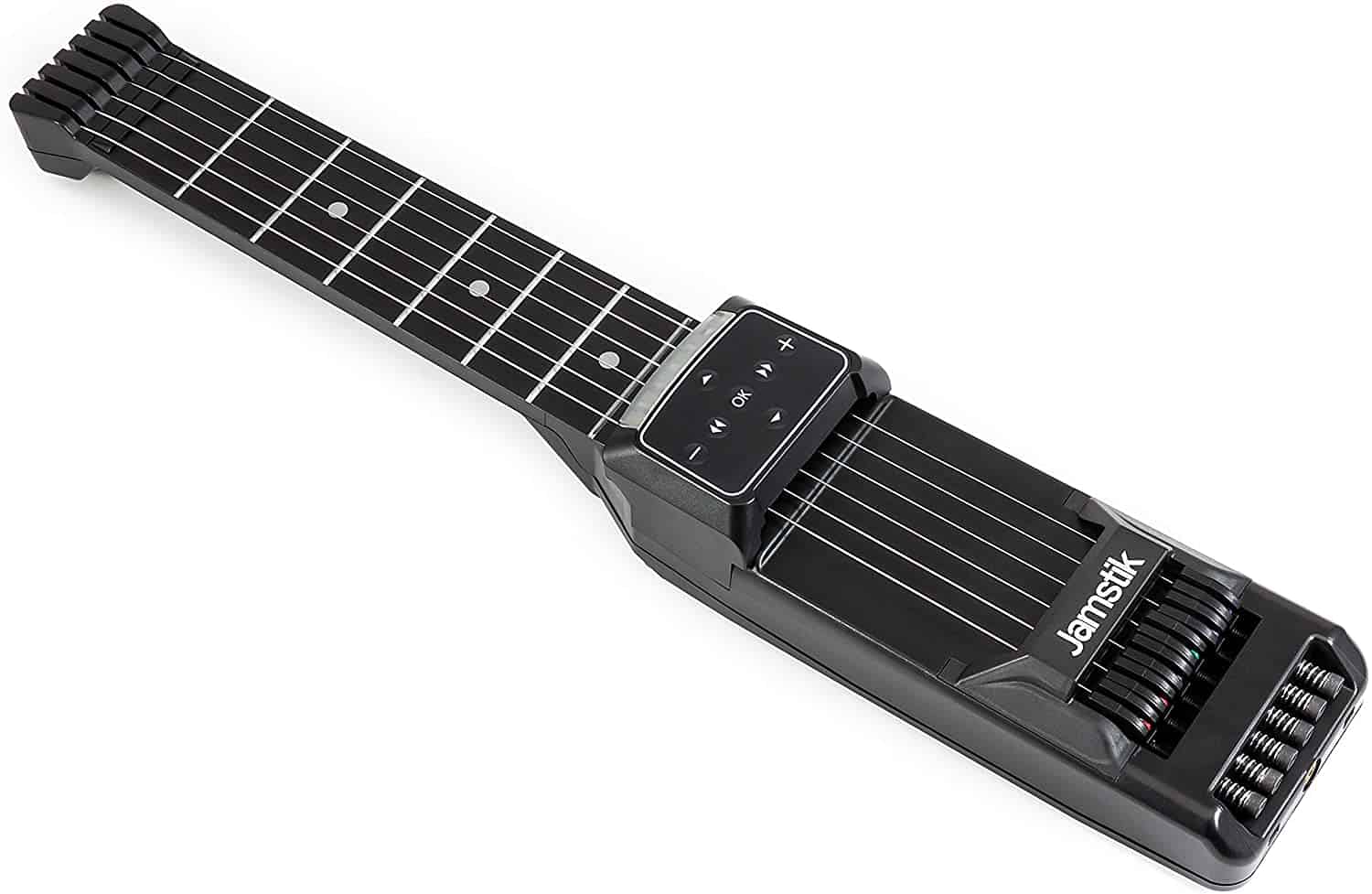 When it comes to smart guitars, they're increasingly popular, and although they're not specifically designed for beginners, the bundle edition is one of the best guitar trainers.
It's a great tool for learning because it has real strings, so it feels like you're playing a real instrument and not the actual Jamstik. Basically, it's the ultimate gear for people with no guitar skills whatsoever.
This device is completely portable, compact (18-inches), wireless, and it's a MIDI guitar that connects to the apps you need to teach yourself guitar.
Here's an extensive review showing you how it works:
Not only does it offer the best iPhone apps for learning basic guitar, but it gives you access to wireless connectivity via Bluetooth.
Thus, you can import your tracks to music editing apps on your Macbook. So, this is completely wireless, and it uses Bluetooth 4.0 for all of the smart features. Also, you can connect via USB.
As you play, you can watch the screen and see your fingers in real-time. This real-time feedback is one of the best features of this device.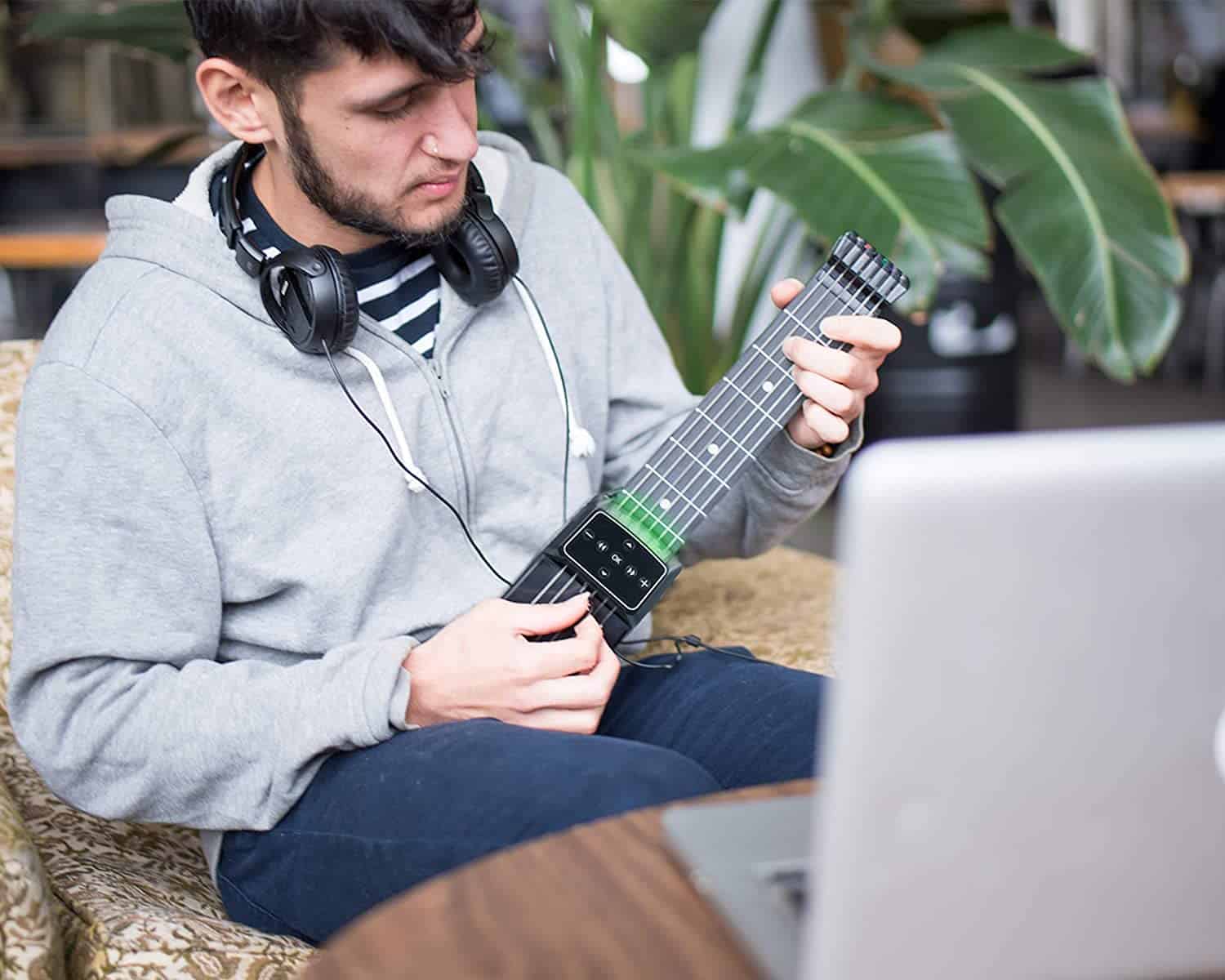 The bundle includes:
guitar strap
four picks
4 AA batteries that last for up to 72 hours of non-stop play
carrying case
extension piece
The one thing to note is that this guitar has a right-hand layout, and you need to order a special leftie version from Jamstik if you need it. Also, it's not compatible with Android, which can be a real issue for some.
Best guitar for iPad & iPhone: ION All-Star Electronic Guitar System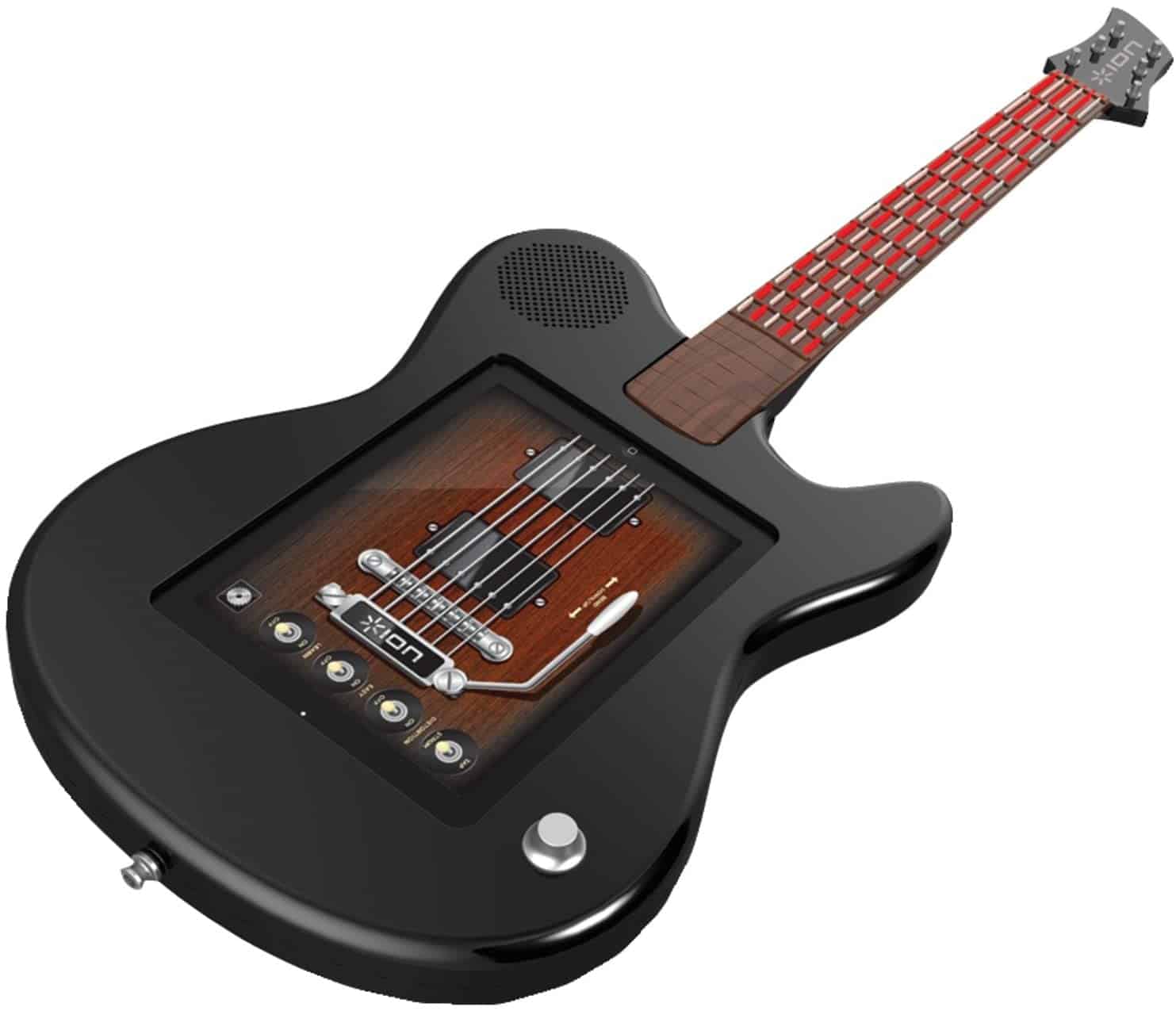 Are you looking for an electronic guitar system that works with your iPad and iPhone apps like Garage Band?
Well, this ION system looks very similar to a real guitar, but it's got a lighted fretboard, perfect for beginners, and the free All-Star Guitar app to help you play. There is a handy iPad holder in the middle body of the guitar.
There's also a dock connector so you can play comfortably while seeing the screen clearly.
The lighted fretboard is a game-changer because you can see your fingers as you play chords. When you strum the strings, you're strumming on the tablet screen, but it's still fun to play:
What I like about this device is that it's got a built-in speaker and easy volume control, and an iPad headphone output that lets you practice silently without bothering your neighbors.
We all know that when you're learning guitar, nobody really wants to hear you.
The app is particularly good because it has some built-in effects. These include reverb, distortion, flanger delay, and others, so you really feel like you're rocking out!
A disadvantage of this electronic guitar is that the operating system is outdated, and it's fit for iPad 2 & 3, and many players don't even own these anymore. But, if you do, this is an easy way to teach yourself guitar.
Jamstik vs ION-All Star
These two digital guitars are a great starter tool if you need to learn guitar.
They are both guitar trainers, but the Jamstik is definitely more high-tech and full of modern features. The ION runs on older iPad models, so it might be harder to use if you don't have one.
But both of these devices are for iOS only and not Android compatible, which is a bit of a letdown.
A major difference between them is that the Jamstick offers Bluetooth connectivity, whereas the ION runs on apps from iPad and iPhone.
So, with the Jamstick, you're not putting the tablet inside the digital guitar like the ION. While the ION is shaped like a real guitar, the Jamstik is a long plastic tool that's not shaped like a guitar.
When it comes to features, the Jamstik is better for guitar practice and learning chords because it's wireless, Bluetooth operated and has Fingersensing technology.
Even the app seems to run smoother. But if you want to try and learn how to hold a real guitar and feel like you're playing the real thing, the ION is a fun way to learn basic songs and teach yourself the main chords.
Best student guitar: YMC 38″ Coffee Beginner Package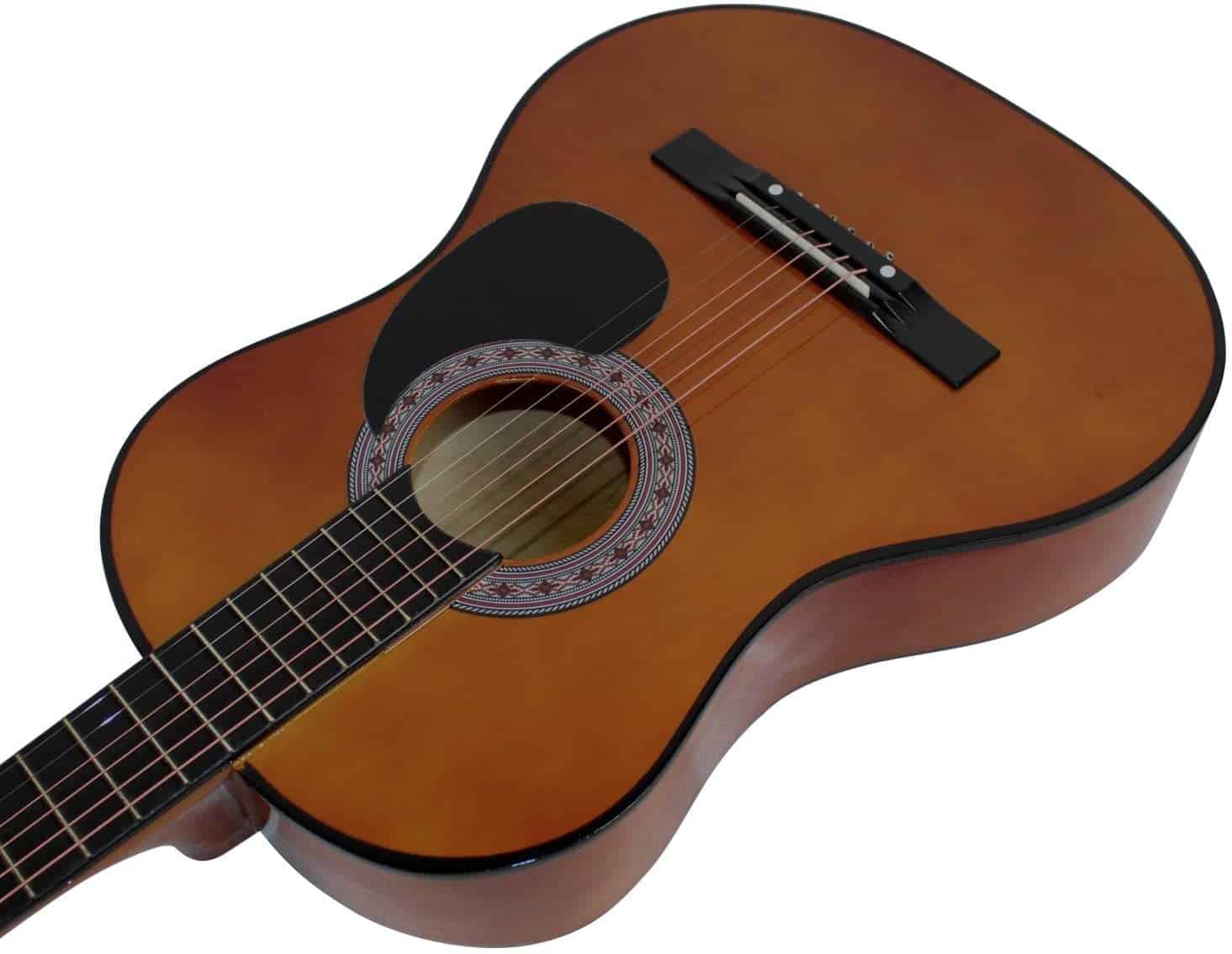 Another great way to teach yourself guitar is to use a student guitar. This is an inexpensive 38-inch acoustic guitar made for practice.
So as you learn theory and scales, you can do so on a real instrument and not just a learning tool. It's a decent-quality small guitar with a full wood construction and steel strings.
But, what makes it even better is that it's a complete beginners kit. It's the kind of guitar that can inspire you to learn to play.
Since it's a full starter package, it includes:
38-inch acoustic guitar
gig bag
strap
9 picks
2 pickguards
pick holder
electronic tuner
some extra strings
The YMC is a beloved guitar by teachers because it's the perfect small-size instrument for new students. It's even suitable for use by children looking to become professional players or those trying to relearn guitar at an older age.
Considering the low price, this guitar is well-made, pretty strong, and it sounds good too.
The thing is that when you want to teach yourself guitar, a smaller entry-level instrument is better because it takes a while to get the hang of holding your fingers, and you must get used to moving up and down the fret first.
Best traveler guitar for beginners: Traveler Guitar Ultra-Light

They say that a traveler guitar is ideal for beginners because it's smaller in size, and thus it's easier to hold when you're not used to playing guitar yet.
But, it's a great way to get accustomed to the shape and feel of an electric acoustic instrument.
Traveler is one of the most popular guitars for touring musicians who want a small instrument on the road.
The good thing about a traveler guitar is that it sounds just like a real guitar. It's not controlled by an app, and it's real hands-on learning.
This Traveler guitar only weighs 2 lbs, so that you can take it with you anywhere, even to guitar class to practice.
Here you can see how small and compact it is:
But even if you're not looking for guitar teachers, then you can count on this small instrument to help you learn notes, chords, and how to play on each string.
This guitar has a maple body and walnut fretboard, which are some of the best tonewoods. Therefore, you can be sure it sounds good.
I still recommend using a special app for learning the guitar and learning songs combined with the Traveler and one of the teaching aids I am mentioning.
Unlike the guitar practice tools, this is a real guitar, so you can plug it into an amp and start practicing or playing anytime.
Student guitar vs Traveler
The main similarity between these self-teaching guitars is that they are both fully functional instruments. However, the Traveler is a real guitar, often used by guitar players for playing at concerts, busking, and touring, so it's more expensive.
The Traveler is not really designed just for beginners, but it has a similar size to the student guitar, so it's best for those learning to hold guitars and how to play chords.
The main difference is the design and the fact that the student guitar is a complete starter pack with everything you need to start learning guitar.
The Traveler doesn't include anything besides the instrument, so you have to purchase everything else separately.
What's cool about the Traveler is that it is an acoustic-electric, whereas the student guitar is a full acoustic. It really depends on what you want to learn and what kind of music genres you're into.
An important takeaway is that if you're looking for an easier way to learn, you're better off with a small student instrument.
But, if you can take lessons online or in person, you'll love the sound of the Traveler. However, it might be harder to teach yourself without some extra help.
Takeaway
The main takeaway is that as soon as you decide not to hire a guitar teacher, you need to purchase some guitar learning aids to make your life easier.
Something like the Jammy is an excellent guitar to learn on, but you'll also benefit from a practice tool like the Pocket Chord Tool and the ChordBuddy, which teaches you the main chords.
There's no reason not to take advantage of the latest technology, too, and don't hesitate to connect your devices to apps that help you learn guitar.
These will show you how to play songs and how to master chords, rhythm, and tempo. Now, all you have to do is start the fun learning process!
And now for your first guitar lesson, here's how to properly pick or strum a guitar (tips with & without pick)
I'm Joost Nusselder, the founder of Neaera and a content marketer, dad, and love trying out new equipment with guitar at the heart of my passion, and together with my team, I've been creating in-depth blog articles since 2020 to help loyal readers with recording and guitar tips.
Check me out on Youtube where I try out all of this gear: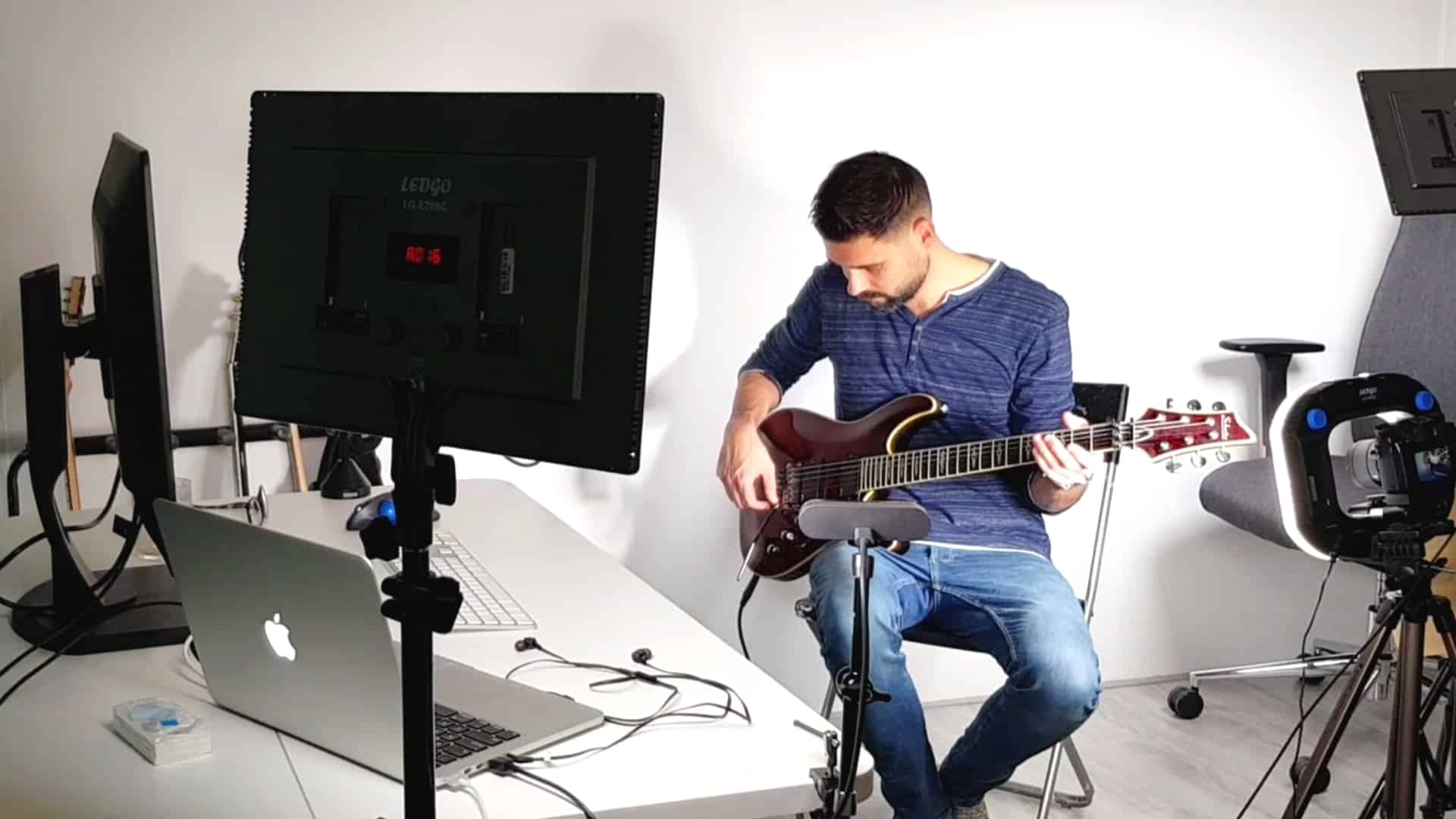 Subscribe