hi there I love creating free content full of tips for my readers, you. I don't accept paid sponsorships, my opinion is my own, but if you find my recommendations helpful and you end up buying something you like through one of my links, I could earn a commission at no extra cost to you.
Learn more
The best electric guitar for metal guitarists who want to keep their tone
So I've had the good fortune and great pleasure to be able to try out this ESP LTD EC-1000.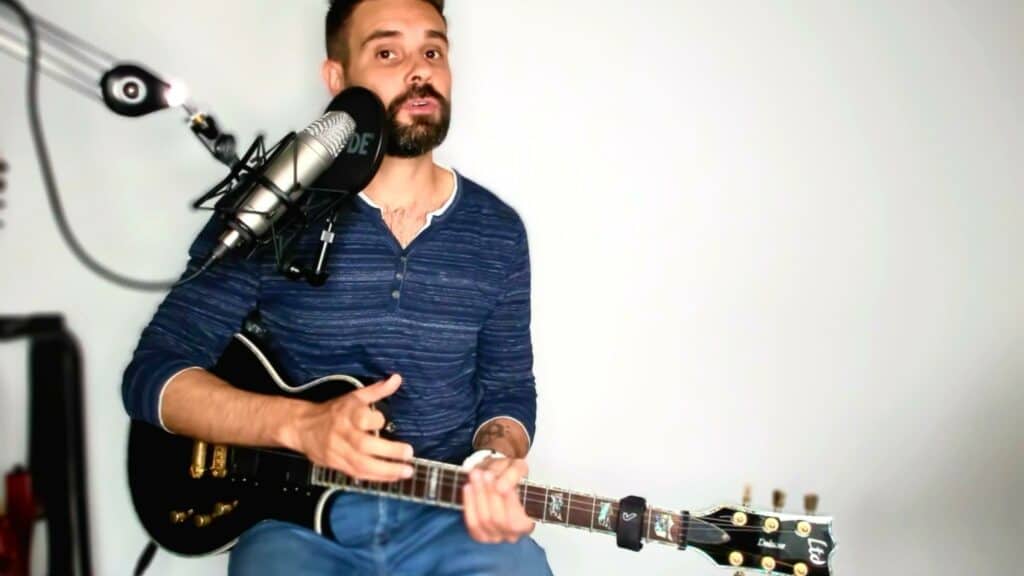 I've been playing it for a couple of months now and compared it to some other comparable guitars, like the Schecter Hellraiser C1 which also has EMG pickups.
And I must say I really did think that this guitar came out on top and that's for a few reasons.
The EverTune bridge makes a big difference in tuning stability and the EMG pickups here really deliver some extra gain.
Best overall guitar for metal
ESP
LTD EC-1000 [EverTune]

Best for
Great gain with the EMG pickup set

Metal solos will come through with mahogany bodu and set-thru neck
Falls short
Not a lot of lows for darker metal
Let's get the specs out of the way first. But you can click on any part of the review you're interested in.
Buying guide
Before you buy a new electric guitar, there are some features to look out for. Let's go over them here and see how the ESP LTD EC-1000 compares.
Body & tonewood
The first thing to look at is the body – is it a solid-body guitar or semi-hollow?
The solid-body is most common and usually has an interesting shape to it. In this case, the guitar has a Les Paul body style.
Then, you should consider the tonewood of the body – is it made of a hardwood like mahogany or a softer wood like alder?
This can have an effect on the sound of the guitar, as a harder wood will produce a warmer and fuller tone.
In this case, the EC-1000 is made from mahogany which is a great choice for a tone that is full and balanced.
Hardware
Next, we should look at the hardware on the guitar. Does it have locking tuners or a tremolo.
Also look at features like the EverTune bridge, which is found on the EC-1000.
This is a revolutionary system that maintains the guitar's tuning even under heavy string tension and vibrato, making it great for metal and rock players.
Pickups
The pickup configuration is also important – single coils or humbuckers.
Single coils generally produce a brighter tone, while humbuckers are usually darker and more suited for heavier playing styles.
The ESP LTD EC-1000 comes with two active pickups: an EMG 81 in the bridge position and an EMG 60 in the neck position. This gives it a great range of tones.
Active pickups are different from passive pickups because they need power to produce sound.
This can require an extra battery pack, but it also means that the tone of your guitar is more consistent and reliable.
Neck
The next thing to consider is the neck and fretboard.
Is it a bolt-on, set neck, or a set-thru neck? Bolt-on necks are usually found on lower priced guitars while set-thru necks add more sustain and stability to the instrument.
The ESP LTD EC-1000 has a set-thru construction which gives it better sustain and easy access to the higher frets.
Also, the shape of the neck is important. While most electric guitars now have the Stratocaster style C-shaped neck, guitars can also have a D-shaped neck and U-shaped neck.
The EC-1000 has a U-shaped neck which is great for playing lead guitar. U-shaped necks provide more surface area for your hand to grip the neck, making it easier to play.
Fretboard
Finally, you should also look at the fretboard material and radius. The fretboard is usually made from ebony or rosewood and has a certain radius to it.
The ESP LTD EC-1000 has a rosewood fretboard with a 16″ radius which is slightly flatter than the standard 12″ radius. This makes it great for playing leads and chords.
What is the ESP LTD EC-1000?
ESP is widely recognized as a top guitar manufacturer. Established in Japan in 1956, with offices in both Tokyo and Los Angeles today.
This company has earned a stellar reputation among guitarists, particularly those who play metal.
Kirk Hammet, Vernon Reid, and Dave Mustaine are just a few of the legendary shredders who have endorsed ESP guitars at various points in their careers.
In 1996, ESP launched the LTD line of guitars as a lower-priced option.
These days, metal guitarists looking for a high-quality yet reasonably priced instrument often opt for one of the many ESP LTD guitars available in a wide range of body shapes and designs.
The ESP LTD EC-1000 is a solid body electric guitar that has all the features that have made the ESP LTD brand so beloved by guitarists.
It strikes a great balance between quality and price, continuing ESP's legacy of producing high-caliber guitars.
The ESP LTD EC-1000 is made from mahogany, the same tonewood used in many of ESP's signature guitars. This gives it a warm and full sound with plenty of resonance.
There's an EverTune bridge on the EC-1000, which is a revolutionary system that maintains the guitar's tuning even under heavy string tension and vibrato.
The guitar also features a set-thru construction for improved sustain and easy access to higher frets.
It has two active pickups: an EMG 81 in the bridge position and an EMG 60 in the neck position, offering a wide range of tones.
The guitar can also be ordered with Seymour Duncan JB humbuckers.
The ESP LTD EC-1000 is an exceptional guitar that offers the perfect combination of quality, performance, and price.
Specifications
Construction: Set-Thru
Scale: 24.75″
Body: Mahogany
Neck: 3Pc Mahogany
Neck type: u-shape
Fingerboard: Macassar Ebony
Fingerboard radius: 350mm
Finish: Vintage Black
Nut width: 42mm
Nut type: Molded
Neck contour: Thin U-shape neck
Frets: 24 XJ Stainless Steel
Hardware color: Gold
Strap button: Standard
Tuners: LTD Locking
Bridge: Tonepros Locking TOM & Tailpiece
Neck Pickup: EMG 60
Bridge pickup: EMG 81
Electronics: Active
Electronics layout: Volume/Volume/Tone/Toggle Switch
Strings: D'Addario XL110 (.010/.013/.017/.026/.036/.046)
Playability
I like the size of the neck. It's thin, set-thru for great sustain and you're also able to set the action of this guitar quite low.
That's a must for me playing a lot of legato.
I've adjusted the factory settings because the action was still a bit high.
I put on Ernie Ball .08 Extra Slinky strings (don't judge me, it's what I like) and adjusted it a bit, and it's great for those fast legato licks now.
Sound & tonewood
The body wood is mahogany. A warm tone while still being affordable. Though not as loud as other materials, it offers a lot of warmth and clarity.
The mahogany makes for an incredibly warm and full-bodied sound that is great for hard rock and metal.
This tonewood is also very comfortable to play, as it's quite lightweight. The mahogany produces a smooth, resonant sound that enhances the output of the EMG pickups.
The mahogany is also very durable and will last a long time under normal playing conditions.
That's why it's a very popular choice for guitars that will be subjected to hard use and heavy distortion.
The only disadvantage is that mahogany doesn't offer many lows.
Not a deal-breaker for most guitarists, but something to consider if you're looking to get into dropped tuning.
There are quite a few different sounds it can produce by using the switches and knobs.
Neck
Set-thru neck
A set-thru guitar neck is a method of attaching the neck of a guitar to the body where the neck extends into the body of the guitar rather than being separate and attached to the body.
It offers increased sustain and stability compared to other neck joint types.
The set-thru neck also ensures more stability and resonance to the sound of the guitar, making it perfect for metal and hard rock.
I have to say the set-thru neck on this ESP gives it increased sustain and stability compared to other neck joint types.
It also offers better access to the higher frets, making it easier and more comfortable to play when soloing.
U-shaped neck
The ESP LTD EC-1000 has thin U-shaped neck which is perfect for playing speedy riffs and solos.
The neck profile is comfortable to grip, so you won't tire your hand or wrist out even after extended playing sessions.
The U-shaped neck also offers excellent access to the upper frets, which makes it great for leads and bends. With 24 jumbo frets, you'll have plenty of room to explore the fretboard.
Overall, this neck profile is perfect for fast playing and shredding, making it an ideal choice for metal guitarists.
Compared to a C-shaped neck, the U-shaped neck offers more sustain and a slightly rounder sound. That said, the C-shape is still a great choice for those who prefer playing rhythm parts.
Also read: What guitar tuning does Metallica use? How it changed over the years
Pickups
It's got a three-way pickup selector switch to select between the 2 humbucker EMGs. Those are active pickups, but you can buy the guitar with passive Seymour Duncan's as well.
The pickups are either a Seymour Duncan JB humbucker paired with a Seymour Duncan Jazz humbucker, but I would advise you to go for the active EMG 81/60 set if you're planning on playing metal.
The Seymour Duncan passive JB humbucker offers clarity and crunch and is a good option if you're looking to use this guitar for rock and more modern genres and aren't looking for a specific metal sound.
The JB Model gives single notes an expressive vocal sound with moderate to high amplification.
Complex chords still sound accurate even when distorted, with a strong bottom end and crunchy middle that are ideal for playing chunky rhythms.
Players are saying that the pickups fall in the sweet spot between dirty and clean for most amplifiers and clean up well for jazz chord melodies.
Alternatively, they may be driven into overdrive by turning the volume knob.
Now if you want to use the ESP LTD EC-1000 as the amazing metal guitar that it is, I recommend going for the active EMG 81/EMG 60 pickup combination.
It's the best option for heavy metal distorted sounds.
Combining an active humbucker with a single-coil pickup, as in the EMG81/60, is a tried-and-true method.
It excels at distorted tones, but can also accommodate clean ones. You can play some serious riffs with this pickup setup (think Metallica).
The 81 has a rail magnet and produces a more forceful sound, while the 60 has a ceramic magnet and produces a mellower one.
Together, they make a fantastic sound that is both clear and robust when required.
You can have the best of both worlds with these pickups, as they produce a harsh, cutting tone with plenty of distortion, even at modest volumes.
With the selector switch, you can select between them so the bridge pickup is a more trebly sound and the neck pickup for a slightly darker sound.
I like to use the neck pickup for solos when I play higher up the neck.
There are three knobs for the volume of the bridge pickup and a separate volume knob for the neck pickup.
This can be quite handy, and some guitarists use that for:
a slicer effect where you turn one volume pot all the way down and switch to it so the sound gets cut off completely.
as a way to instantly have more volume for a solo when switching to the bridge pickup.
The third knob is a tone knob for both pickups.
You can also set the pickup selector to the middle position, which gives it a slight out-of-phase sound.
It's a nice feature, but I didn't really like that twang sound of this guitar. If you're playing with a twangy sound then this is not the guitar for you.
It's got quite some gain because of the active pickups, but it's less versatile than, say a Fender guitar or guitar with humbuckers that you can coil split, or like the Schecter Reaper I've reviewed.
There's no coil split in this guitar, and I do like to have that option for different styles of music.
If you're playing this for metal then it's a great truly great guitar, and you can also get a few good clean sounds out of it as well.
Best overall guitar for metal
ESP
LTD EC-1000 (EverTune)
The best electric guitar for metal guitarists who want to keep in tune. A mahogany body with a 24.75 inch scale and 24 frets.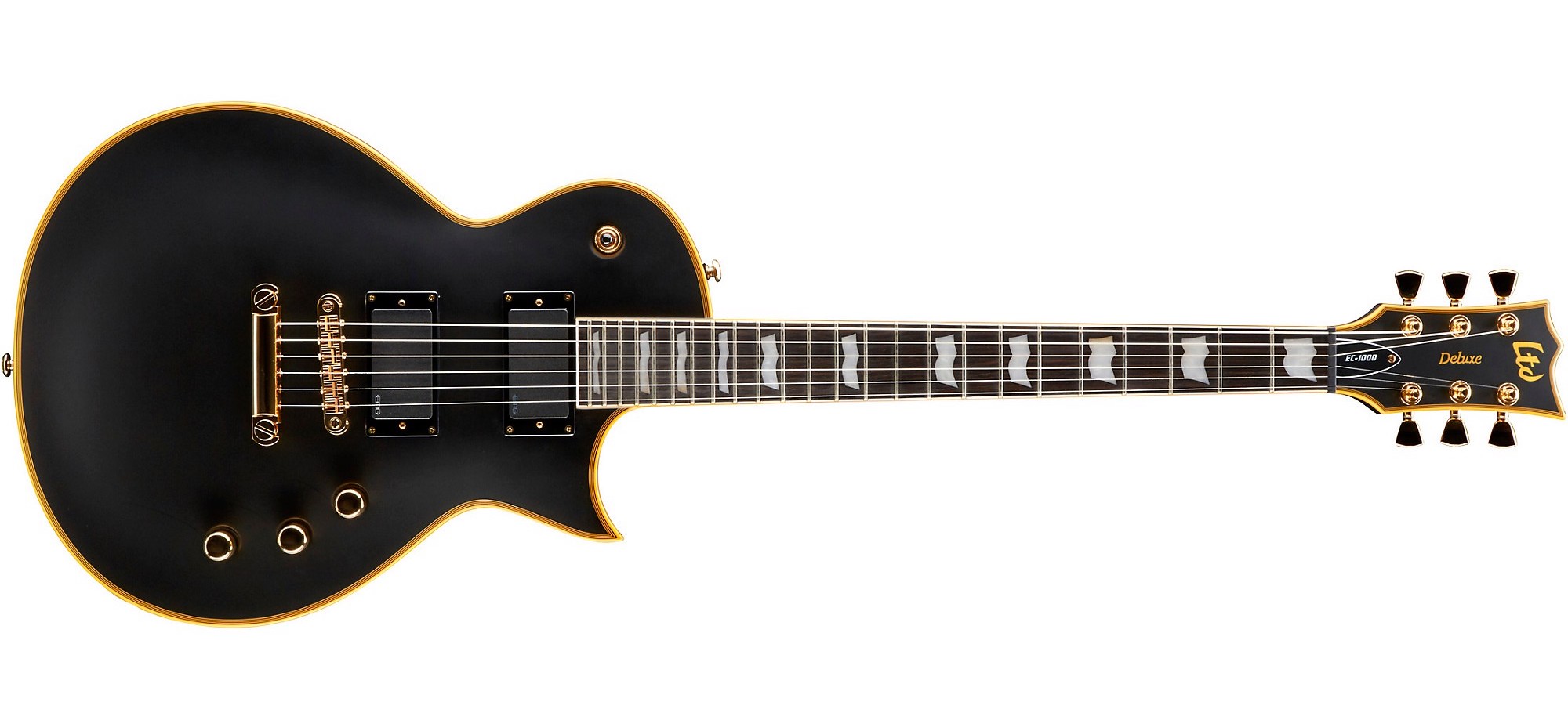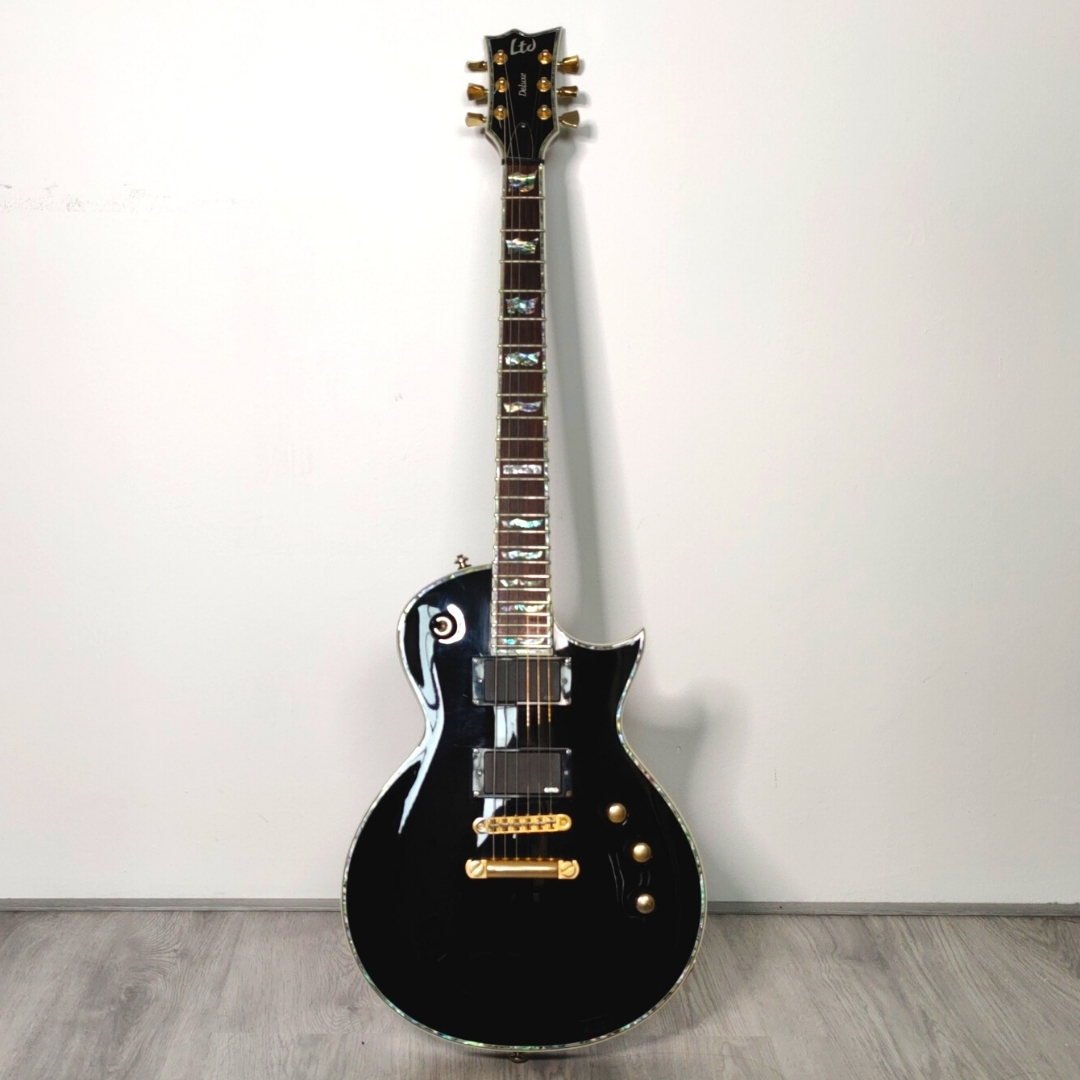 Also read: the 11 best guitars for metal reviewed
Finish
It's a great quality build with attention to detail. The binding and MOP inlays are just beautifully done.
I don't care much for binding and inlays. Most of the time, I think they can make an instrument look tacky, to be honest.
But you can't deny this is some great craftsmanship and elegantly chosen color scheme with the gold hardware: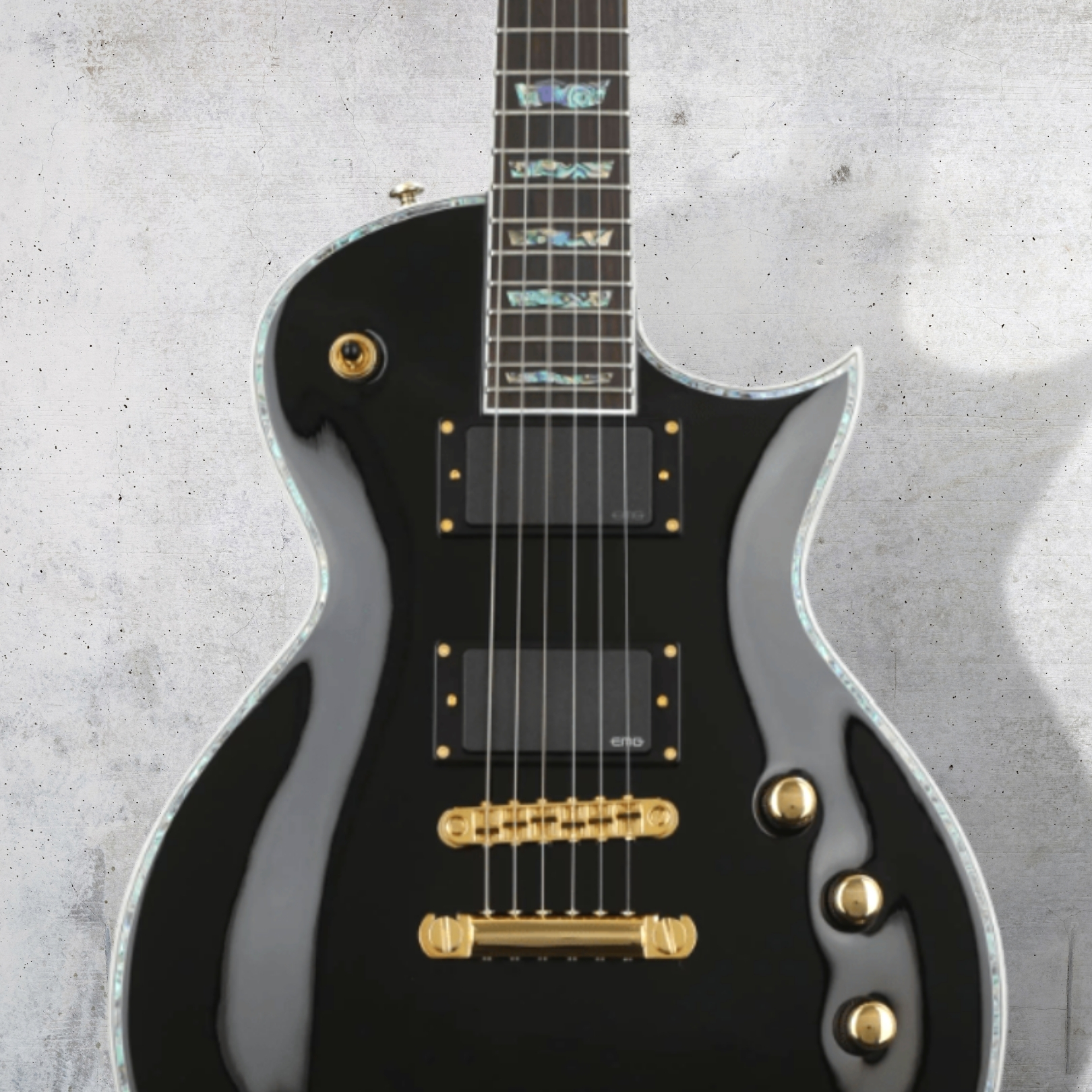 EverTune bridge & why I prefer it
ESP has taken that quality to the extreme by also making a model with the Evertune Bridge to fully claim their steady status.
It's the feature that really impressed me about this guitar – it's a game changer for heavy metal.
Unlike other tuning systems, it does not tune your guitar for you or provide modified tunings.
Instead, once tuned and locked in, it will simply stay there thanks to a series of tension calibrated springs and levers.
The EverTune Bridge is a patent-protected bridge system that utilizes springs and tensioners to keep guitar strings in tune, even after extensive playing.
That's why it's built to sound the same over time.
So, even with extensive vibrato use, you can be sure that your notes won't sound out-of-tune.
The EverTune bridge is also great for fast solos, as it maintains your guitar's tuning with no need for frequent retuning.
The EverTune bridge is a great addition to the ESP LTD EC-1000 guitar, and one that will be appreciated by the experienced metal player as much as it will be for the beginner.
The main selling point, however, is the guitar's superb tonal stability with standard Grover locking tuners and optionally a factory EverTune bridge.
I tested this one without Evertune Bridge and it is certainly one of the most tonal guitars I've ever known:
You can try anything you can to make it fly out of tune and detune it: huge three step bends, wildly exaggerated strings stretching, you can even put the guitar in a freezer.
It will bounce back in perfect harmony every time.
Plus, a guitar that's perfectly tuned and voiced up and down the neck seems to play much more musically. I am also not aware of any compromises in the tone.
The EC sounds as full and aggressive as ever, with the softer notes of the neck EMG being pleasantly round, devoid of any metal spring tone.
If it's important to you never to go out of tune, this is one of the best electric guitars out there.
Also read: Schecter vs ESP, what you should choose
Extra features: tuners
It comes with locking tuners. Those make it really fast to change strings.
A nice option to have, especially if you're playing live and one of your strings decides to break during an important solo.
You can quickly change that out for the next song. These locking tuners should not be confused with locking nuts though. They'll do nothing for the tone stability.
I find Grover locking tuners to be a bit more stable than these LTDs, but that only mattered when really chugging down on the strings.
You can get it with the EverTune bridge which is one of the greatest invention for guitarist who bend heavily and really like to dig into the strings a lot (also ideal for metal), but you can also get the stoptail bridge.
It is available in a left-handed model, although they don't come with the Evertune set.
What others say
According to the guys at guitarspace.org, the ESP LTD EC-1000 exceeds expectations when it comes to sound and playability.
They recommend it as the type of guitar experienced players will appreciate:
If you're after a raw, massive, and uncompromisingly brutal sound, ESP LTD EC-1000 might be just what you need. Although you surely can teach this instrument a trick or two from any musical genre and style of play, there's no doubt about the main purpose of its existence: this guitar was meant to rock, and it uses various features and components to excel in this field.
So, as you can tell, the ESP LTD EC-1000 is an amazing guitar that offers quality, performance and price – all in one great package.
The reviewers at rockguitaruniverse.com debate whether the ESP LTD EC-1000 is just another Les Paul-type guitar. But they agree that this guitar is excellent value for its price!
The sound of the guitar is amazing thanks to the combination of pickups, and EMGs are one of the best options you can find if you are into humbuckers and heavier sound. You can easily change the sound using pedals, especially if you have an expensive amp. 
However some Amazon customers are saying that since the pandemic, the build quality has gone down a bit and they're noticing air bubbles on the finish – so that's something to consider.
Who is the ESP LTD EC-100 for?
For the discerning hard rock or metal guitarist looking for a high-quality instrument at a reasonable price, the ESP LTD EC-1000 is an excellent choice.
The EC-1000 is a solid choice if you're a working musician in need of a guitar that sounds great when distorted but can also produce pleasant clean tones.
However, if you're just getting started with guitar and can afford to spend a little more than a grand on an instrument, this is a great choice.
This guitar has a nice neck size and set-thru neck so it's good quality and offers excellent playability. It also has a great range of tones, thanks to the EMG pickups and EverTune bridge.
Overall, the ESP LTD EC-1000 is more of a quality-oriented instrument than a budget option. It's well suited for the experienced guitarist who wants a reliable yet affordable tool for their craft.
If metal and hard rock is your thing, you'll enjoy the playability and tones of this guitar.
Who is the ESP LTD EC-100 not for?
The ESP LTD EC-1000 is not for guitarists who are looking for a budget instrument.
While this guitar offers good quality and performance at an affordable price, it still has a fairly hefty price tag.
The EC-1000 is also not the best choice if you're looking for a guitar that will cover a wide range of genres.
While this guitar sounds great when distorted, it can be a bit limited in terms of clean tones.
I wouldn't recommend it as a blues, jazz or country guitar as its best for metal and progressive metal.
If you're interested in a more versatile electric guitar, something like the  the Fender Player Stratocaster.
Conclusion
The ESP LTD EC-1000 is a great choice for guitarists looking for an affordable yet reliable electric guitar.
It features high-end components such as an EverTune bridge and EMG pickups, making it well-suited for metal and hard rock.
The mahogany body and U-shaped neck offer a smooth, warm tone with plenty of sustain. The set-thru neck also provides increased stability and resonance to the sound of the guitar.
Overall, the ESP LTD EC-1000 is a great guitar for intermediate to advanced players who need an affordable yet reliable instrument for metal and hard rock.
If you feel like you've played them all, I recommend giving ESP guitars a try since they're surprisingly good!
Check out my full comparison of the Schecter Hellraiser C-1 vs ESP LTD EC-1000 to see which comes out on top
I'm Joost Nusselder, the founder of Neaera and a content marketer, dad, and love trying out new equipment with guitar at the heart of my passion, and together with my team, I've been creating in-depth blog articles since 2020 to help loyal readers with recording and guitar tips.
Check me out on Youtube where I try out all of this gear: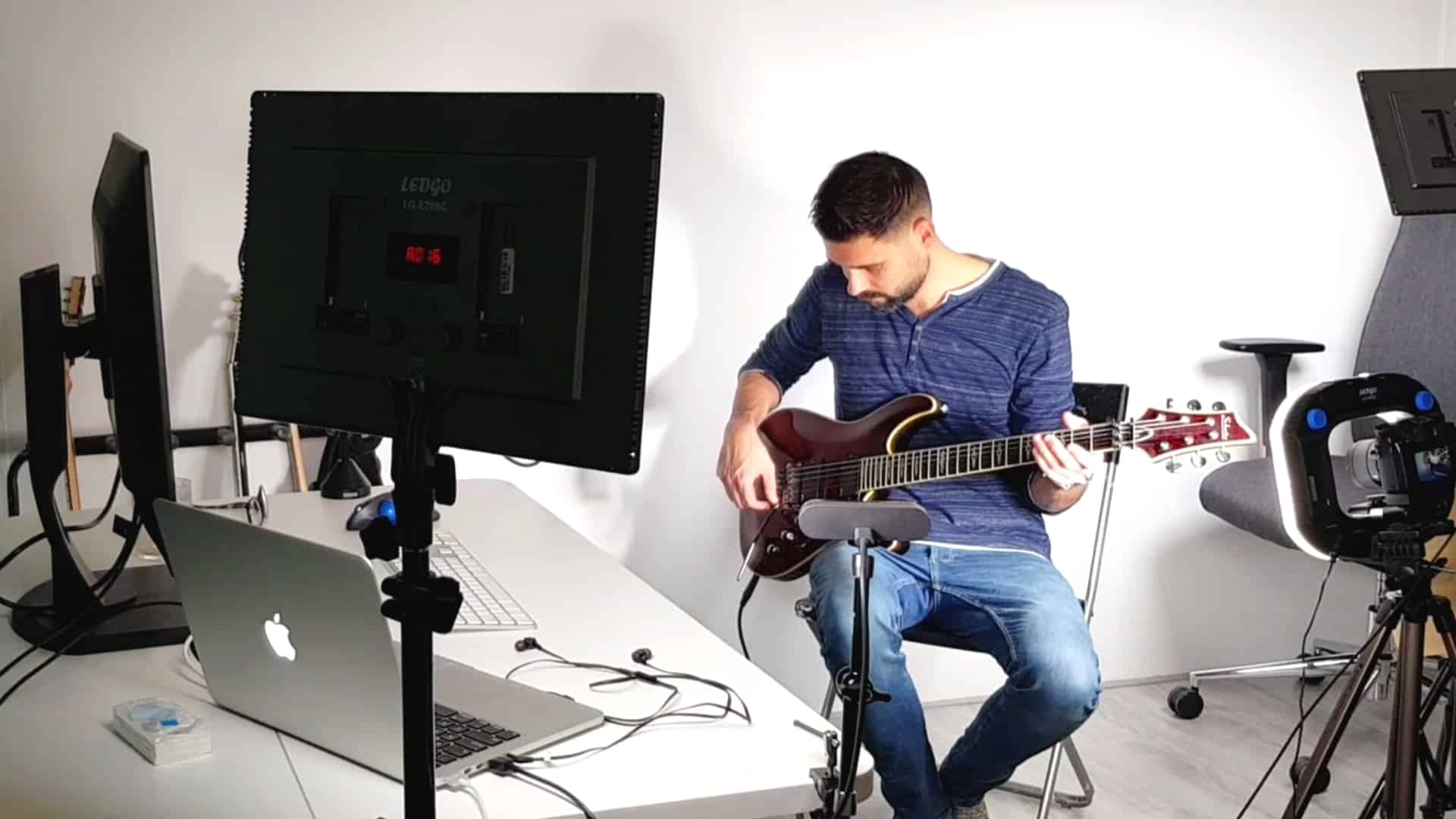 Subscribe