hi there I love creating free content full of tips for my readers, you. I don't accept paid sponsorships, my opinion is my own, but if you find my recommendations helpful and you end up buying something you like through one of my links, I could earn a commission at no extra cost to you.
Learn more
The EMG 81 is a versatile pickup that delivers thunderous growl metallic beefy tones. It's a popular choice among metal guitarists like Zakk Wylde and James Hetfield for its ability to provide a bridge position guitar with the perfect sound.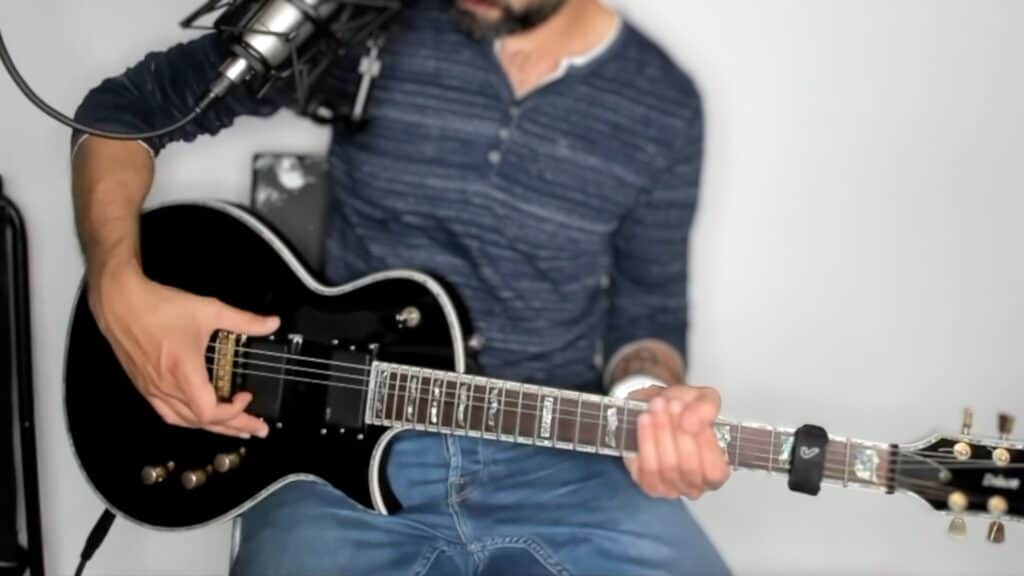 In this review, I'll be discussing the EMG 81 pickup's features, benefits, and downsides. This will help you decide if it's the right pickup for your needs.
EMG
81 Active Bridge Pickup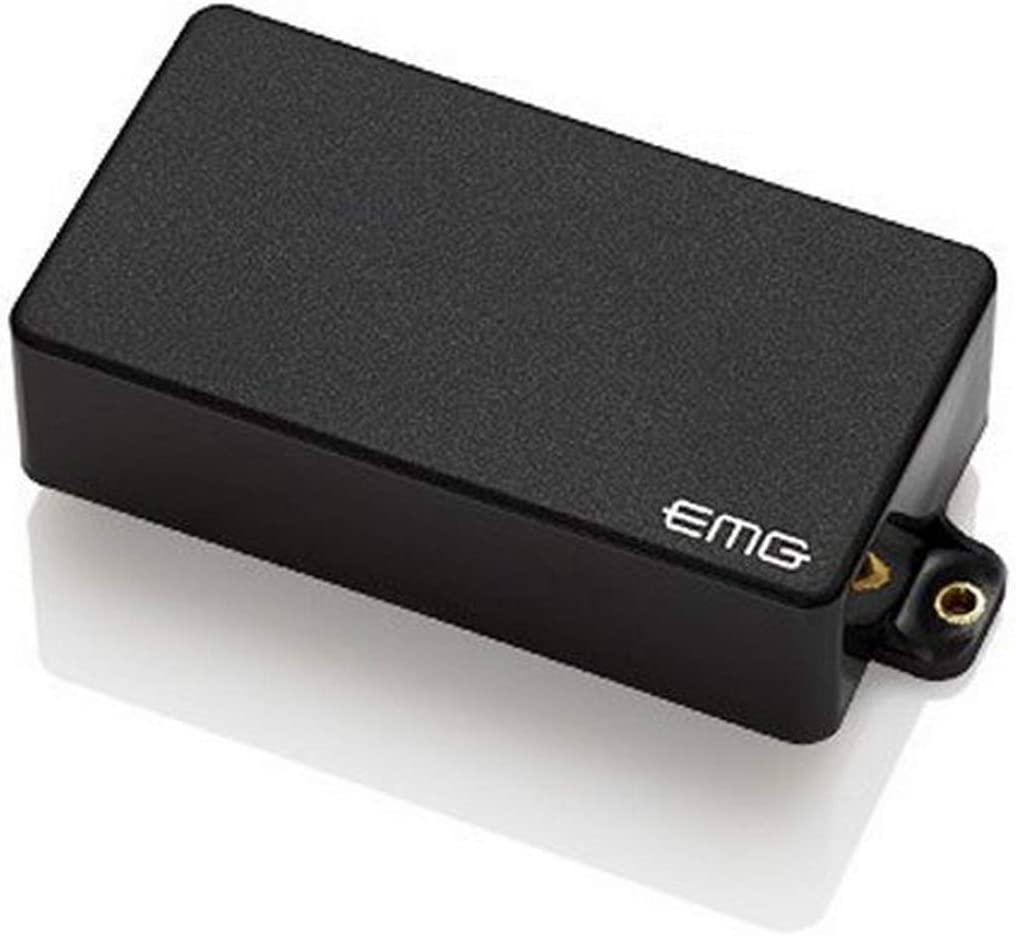 Best for
Noiseless and humming-free operation

Smoothness and rounded tones
Falls short
Doesn't produce a lot of twang

Not splittable
Why EMG 81 is the Best Pickup for Hard Rock and Extreme Tones
EMG 81 is a humbucker pickup designed for electric guitars, and it is one of the most popular pickups in the world. It is traditionally used in the bridge position, and it utilizes powerful ceramic magnets and close aperture coils to deliver intense and detailed tone with an incredible amount of high-end cut and fluid sustain. The pickup is pretty obvious and remains the choice of plenty of guitarists looking for a powerful and smooth tone.
EMG 81: Features and Benefits
EMG 81 is an active pickup that features exceptional output and works perfectly with overdrive and distortion. It is loaded with sophisticated features that enable guitarists to convey their latent emotions through their music. Some of the features and benefits of EMG 81 include:
Noiseless and humming-free operation
Smoothness and rounded tones
Sustained fade and switching
Exceptional output and high-end cut
Muscular growl and chunky rhythms
Distinctive and extreme tones
EMG 81: Bridge and Neck Position
EMG 81 is designed to work best in the bridge position, but it can also be used in the neck position. When paired with EMG 85 or EMG 60 pickups, it provides a combination of tones that is pretty hard to beat. The pickup is recommended for guitarists who play hard rock, extreme metal, and blues.
EMG 81: Guitarists and Bands that Use It
EMG 81 is pretty popular among guitarists who play hard rock and extreme metal. Some of the guitarists and bands that use EMG 81 include:
James Hetfield (Metallica)
Zakk Wylde (Ozzy Osbourne, Black Label Society)
Kerry King (Slayer)
Alexi Laiho (Children of Bodom)
Kirk Hammett (Metallica)
Synyster Gates (Avenged Sevenfold)
If you're looking for a pickup that packs a punch and delivers exceptional tones, EMG 81 remains the obvious choice. It works amazingly well with high-gain amps and provides a sophisticated rhythm model that is pretty hard to match.
EMG 81 Pickups — Sensitivity, Tone, and Power!
EMG 81 pickups are loaded with unparalleled sensitivity, making them the perfect choice for guitarists who love to cut through the mix. The pickups deliver an incredible amount of power, allowing you to slice through even the densest of mixes with ease. The EMG 81 pickups are designed to be used in the bridge position of your guitar, giving you the thunderous growl and metallic beefy tone that metal guitarists all over the world crave.
The Ceramic Magnets and Aperture of EMG 81 Pickups
The EMG 81 boasts ceramic magnets and an aperture humbucker that delivers an unyielding intensity to your tone. The pickups are fluid and responsive, making them the perfect choice for leads and solos. The densest of mixes won't be able to load down the EMG 81 pickups, allowing you to pummel your audience with the most intense and powerful tone possible.
The Solderless Swapping and Appreciated Load of EMG 81 Pickups
One of the most respected features of EMG 81 pickups is their solderless swapping system. This allows you to easily swap out your pickups without having to worry about soldering anything. The pickups are also appreciated for their load, which is perfect for guitarists who want to cut through the mix without sacrificing tone or power.
If you're a metal guitarist looking for pickups that can deliver a thunderous growl and unparalleled power, the EMG 81 pickups are the right choice for you.
The pickups boast an incredible sensitivity, tone, and power that will make any guitarist appreciate the unyielding intensity they deliver. So head on over to Sweetwater and grab a set of EMG 81 pickups today!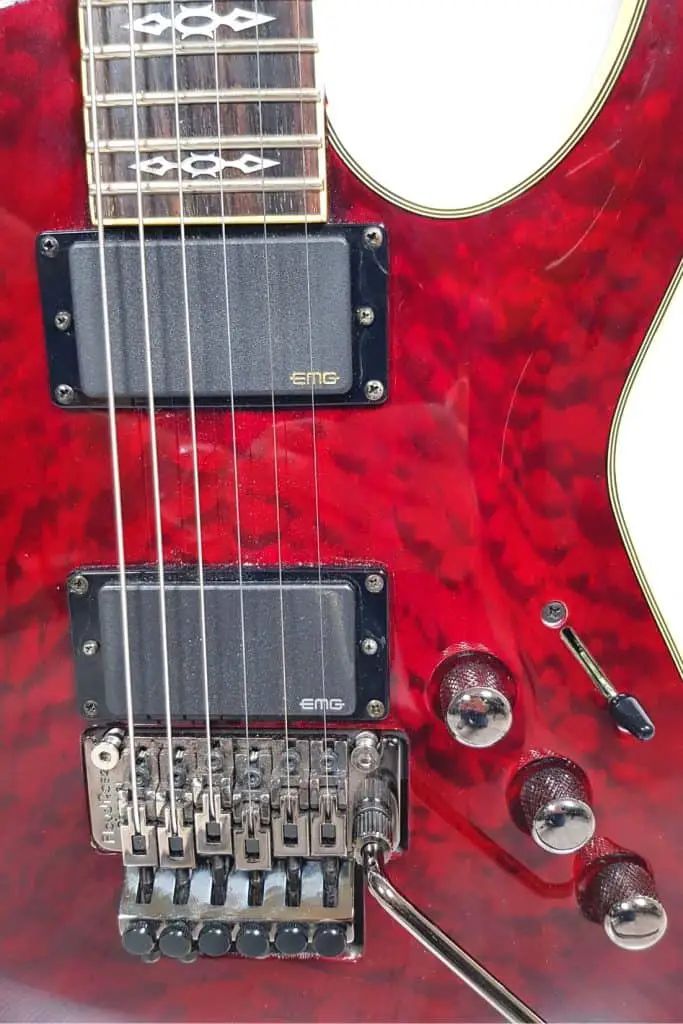 Unleashing the Power of EMG 81 Active Pickup: A Comprehensive Review of its Features
The EMG 81 is an active pickup that is loaded with incredible features that guitar players love. Here are some of its design features:
Uses powerful ceramic magnets that deliver a thunderous growl and metallic beefy tones
Includes aperture coils that offer unparalleled clarity and sustain
Designed to work with hard rock and metal guitars, but versatile enough to work with a lot of other guitar types
Offers a lot of tonal potential, depending on how you dial it in
Has a smooth output that works well with high-gain amps
Has a solderless design that makes swapping pickups easy and worry-free
The EMG 81 Pickup Tones: Close to Pure and Lush
The EMG 81 pickup is known for its incredible tone. Here are some of its tonal features:
Offers a lot of clarity and definition, even when playing with a lot of gain
Has a fat and rich sound that guitarists love
Has the ability to cut through a mix and slice through any hard rock or metal song
Has plenty of sustain, making it a great choice for lead guitar players
Has an obvious lack of noise, making it a popular choice for players looking for a clean sound
Works well for cleans, offering warm and lush tones
The EMG 81 Pickup Examples: Guitarists Who Love It
The EMG 81 pickup is a popular choice among guitarists. Here are some guitarists who use it:
James Hetfield of Metallica
Zakk Wylde of Black Label Society and Ozzy Osbourne
Kerry King of Slayer
Max Cavalera of Sepultura and Soulfly
Mick Thomson of Slipknot
The EMG 81 Pickup Potential: Adding it to Your Guitar
If you're looking to add the EMG 81 pickup to your guitar, here are some things to keep in mind:
Make sure it's the right fit for your guitar. EMG 81 pickups are usually available in a humbucker form, but there are also single-coil versions available
Consider the components you'll need to make it work. EMG 81 pickups require a 9V battery and an active preamp
Don't worry about the lack of tone controls. The EMG 81 pickup is designed to deliver a great tone without the need for a lot of tweaking
Experiment with different amp settings to find the best sound for your playing style
Enjoy the power and versatility that the EMG 81 pickup delivers!
In conclusion, the EMG 81 active pickup is a powerful and versatile pickup that offers guitarists a lot of tonal potential. Its design includes powerful ceramic magnets, aperture coils, and a solderless design that makes swapping pickups easy. Its tones are close to pure and lush, with plenty of sustain and an obvious lack of noise. Guitarists who love it include James Hetfield, Zakk Wylde, and Kerry King. Adding it to your guitar requires some consideration, but the potential for a great sound is definitely there.
EMG
81 Active Bridge Pickup
Powerful ceramic magnets and a solderless design make swapping pickups easy. Its tones are close to pure and lush, with plenty of sustain and an obvious lack of noise.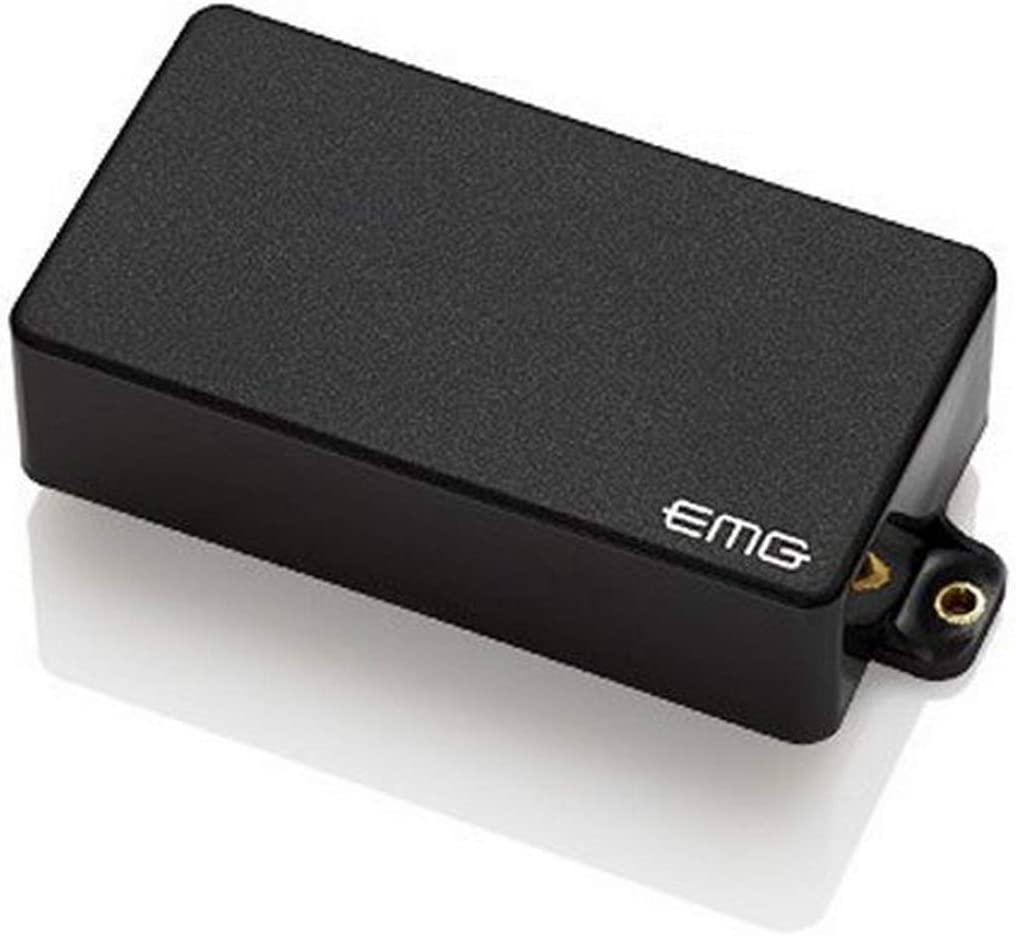 Guitar Heroes Who Swear by EMG 81 Pickups
EMG 81 pickups are a staple in the heavy metal scene, and many of the genre's most iconic guitarists rely on them for their signature sound. Here are just a few of the legends who have used EMG 81 pickups:
James Hetfield of Metallica
Kerry King of Slayer
Zakk Wylde of Black Label Society
Modern Metal Masters
EMG 81 pickups continue to be popular among modern metal guitarists, who appreciate their clarity, punch, and high output. Some of the most notable players in this category include:
Ola Englund of The Haunted
Mark Holcomb of Periphery
Misha Mansoor of Periphery
Other Genres
While EMG 81 pickups are most commonly associated with heavy metal, they can be used in a variety of genres. Here are a few examples of guitarists who have used EMG 81 pickups outside of the metal world:
Tom Morello of Rage Against the Machine
Dave Mustaine of Megadeth (who also used them in his brief stint with Metallica)
Alexi Laiho of Children of Bodom
Why They Choose EMG 81 Pickups
So why do so many guitarists choose EMG 81 pickups? Here are a few reasons:
High output: EMG 81 pickups are active pickups, which means they require a battery to operate. This allows them to produce a high output signal that can drive an amplifier into distortion.
Clarity: Despite their high output, EMG 81 pickups are known for their clarity and definition. This makes them ideal for fast, intricate playing styles.
Consistency: Because they are active pickups, EMG 81s are less susceptible to noise and interference than passive pickups. This means they can deliver a consistent tone even in noisy environments.
Whether you're a heavy metal shredder or a versatile player looking for a reliable pickup, the EMG 81 is definitely worth considering.
Best guitar models that use the EMG 81
Schecter Hellraiser C-1
Schecter
Hellraiser C-1 FR S BCH
When you pick up a Schecter Hellraiser C-1 guitar you will be amazed at all the details and finishing touches that make this a truly remarkable instrument.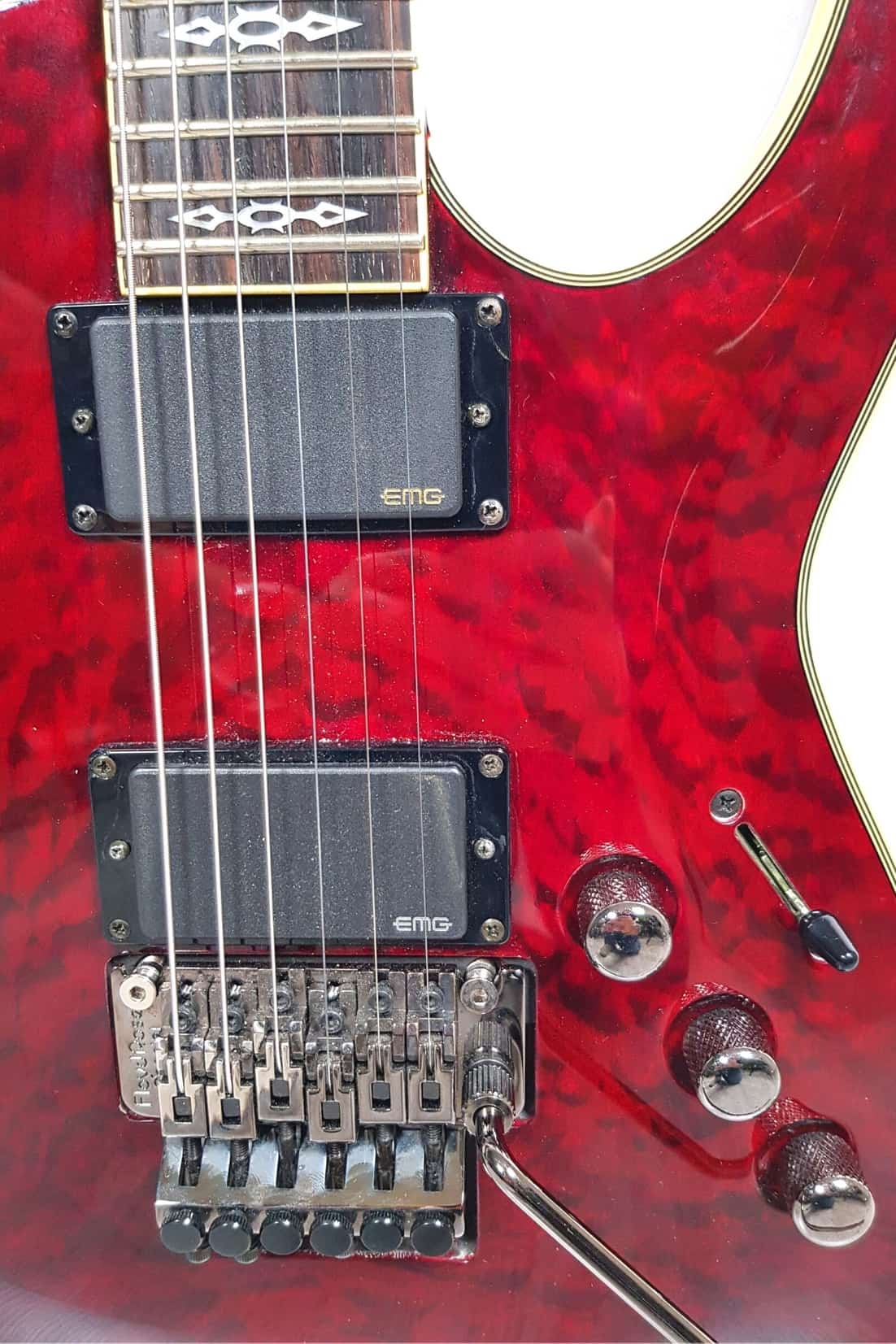 This Schecter Hellraiser C-1 FR (full review here) gives you a mahogany body a quilted maple top a thin mahogany neck and a rosewood fingerboard that delivers solid base and bright overtones.
You have a regular variant with active emg 81/ 89 pickups, the one I played here. But Schecter is one of the few guitar brands that also include an ultra cool sustainiac pickup in their factory models.
With the emg 81 humbucker at the bridge and the sustainiac at the neck plus a Floyd Rose tremolo you have a solid metal machine.
ESP LTD EC-1000
Best overall guitar for metal
ESP
LTD EC-1000 (EverTune)
The best electric guitar for metal guitarists who want to keep in tune. A mahogany body with a 24.75 inch scale and 24 frets.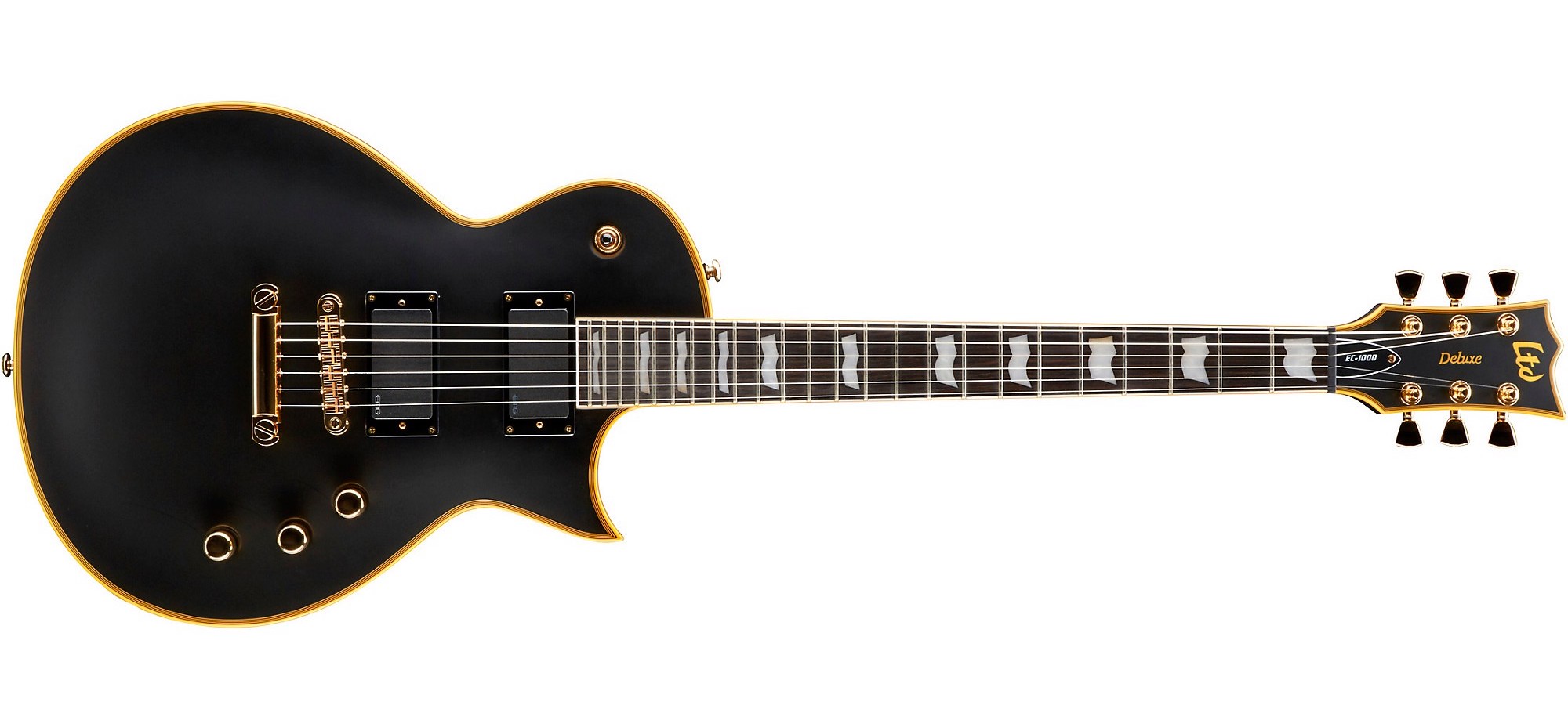 The ESP LTD EC-1000 (full review here) has a three-way pickup selector switch to select between the 2 humbucker EMGs. Those are active pickups, but you can buy the guitar with passive Seymour Duncan's as well.
Now if you want to use the ESP LTD EC-1000 as the amazing metal guitar that it is, I recommend going for the active EMG 81/60 pickup combination.
It's the best option for heavy metal distorted sounds.
Combining an active humbucker with a single-coil pickup, as in the EMG81/60, is a tried-and-true method.
It excels at distorted tones, but can also accommodate clean ones. You can play some serious riffs with this pickup setup (think Metallica).
EMG 81 Pickup FAQs: Everything You Need to Know
Are EMG 81 pickups a standard size?
EMG pickups are standard size humbuckers that fit perfectly in a humbucker slot. You do not need to make any adjustments to your guitar to accommodate them.
How often do I need to change the 9-volt battery in my EMG 81 active pickups?
EMG active pickups require a 9-volt battery to operate. The battery lasts quite a while, but if you notice your guitar sounding different or not working at all, it's likely time to change the battery. A good rule of thumb is to change the battery every six months to ensure optimal performance.
Do EMG 81 pickups come with volume and tone pots?
Yes, EMG pickups come with a set of split shaft volume/tone control pots (10mm), output jack, battery clip set, screws & springs. EMG's exclusive Solderless Install System makes installation easy and hassle-free.
What is the recommended distance to mount EMG 81 pickups from the strings?
EMG pickups should be mounted at the same distance as your passive pickups. There's no difference between passive and active pickups when it comes to string distance. However, you can experiment with different distances to find the sound that suits you best.
Where can I find wiring instructions for my EMG 81 pickups?
EMG pickups usually come with a pamphlet showing different wiring diagrams. If you did not receive one, you can check the EMG website for instructions. Wiring instructions can vary depending on the guitar, so it's essential to follow the correct diagram for your specific setup.
What's the difference between EMG 81 and 85 pickup models?
The EMG 81 is designed for the bridge position and has a more crunch sound. It's great for playing solos and has excellent harmonics over distortion or drive. The EMG 85, on the other hand, is designed for the neck position and has a fat, clean sound that's perfect for rhythm and bass. Popular guitarists like Vernon Reid, Zakk Wylde, and many others use this pickup combination.
Will EMG 81 pickups fit my guitar?
EMG pickups will fit any 6-string humbucker guitar. If your guitar has single coils, you can cut the pickguard or buy a new one with a cutout for a humbucker to accommodate the pickup. However, it's always essential to check the dimensions and ensure a proper fit.
Do EMG 81 pickups come with pickup rings?
No, EMG pickup kits do not include pickup rings. However, the pickup may fit in your existing ring, so it's always a good idea to check the dimensions before purchasing.
How easy is it to install EMG 81 pickups, and do they come with instructions?
EMG pickups are easy to install, especially if you're dropping them into a standard type guitar. The Solderless Install System makes the installation process straightforward. However, the instructions may not cover every possible wiring scenario, so it's best to double-check and follow the
Conclusion
So there you have it- the EMG 81 is a great pickup for hard rock and metal guitarists looking for a powerful and smooth tone. I hope this review has been helpful and you now know a little more about them.
Also read: this is the EMG 81/60 vs the 81/89 combos compared
I'm Joost Nusselder, the founder of Neaera and a content marketer, dad, and love trying out new equipment with guitar at the heart of my passion, and together with my team, I've been creating in-depth blog articles since 2020 to help loyal readers with recording and guitar tips.
Check me out on Youtube where I try out all of this gear: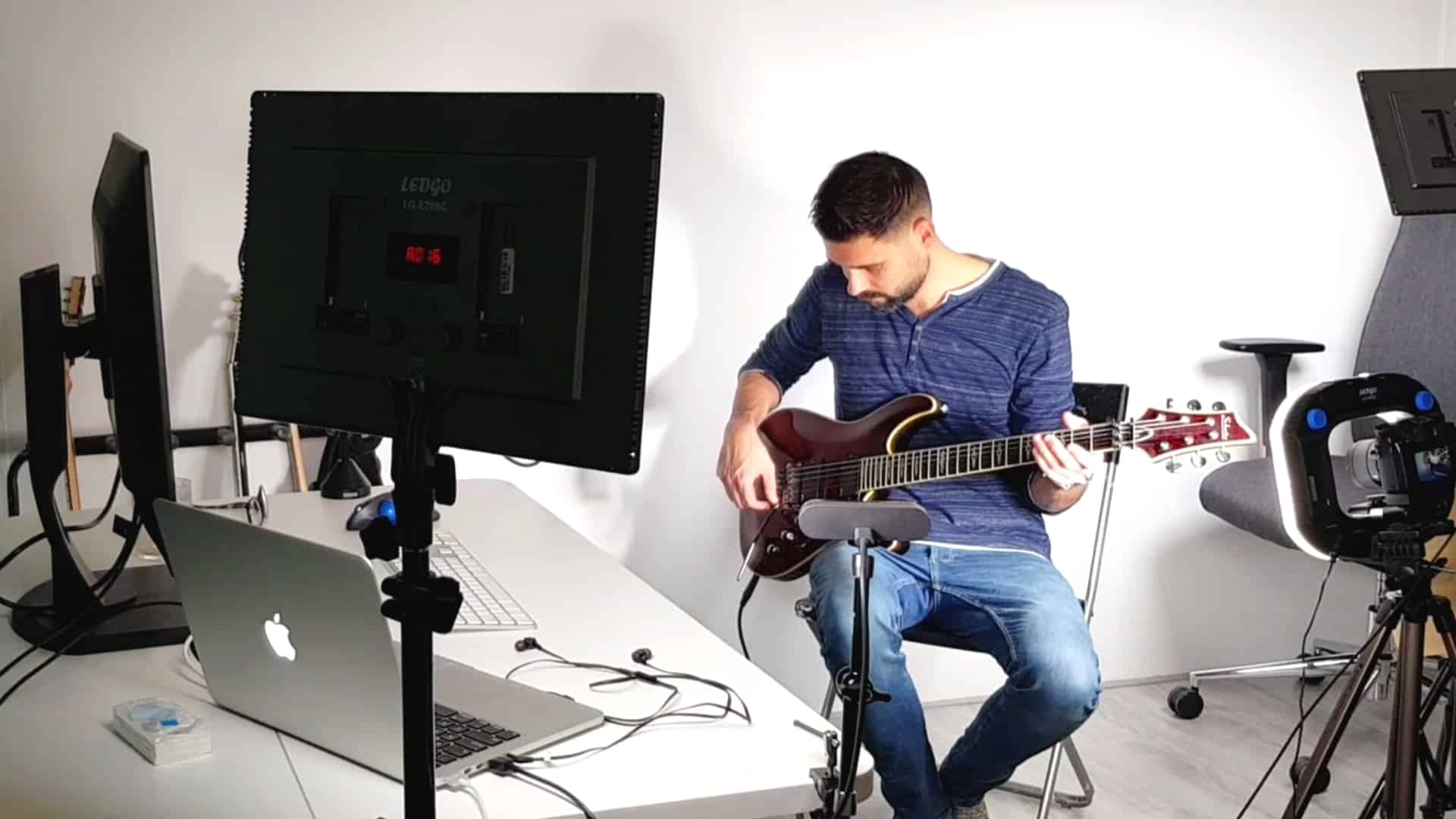 Subscribe