hi there I love creating free content full of tips for my readers, you. I don't accept paid sponsorships, my opinion is my own, but if you find my recommendations helpful and you end up buying something you like through one of my links, I could earn a commission at no extra cost to you.
Learn more
I have two great metal guitars I want to compare: the Schecter Hellraiser C-1 and the ESP LTD EC 1000.
When I play these guitars, people always ask how they're similar and what makes them different.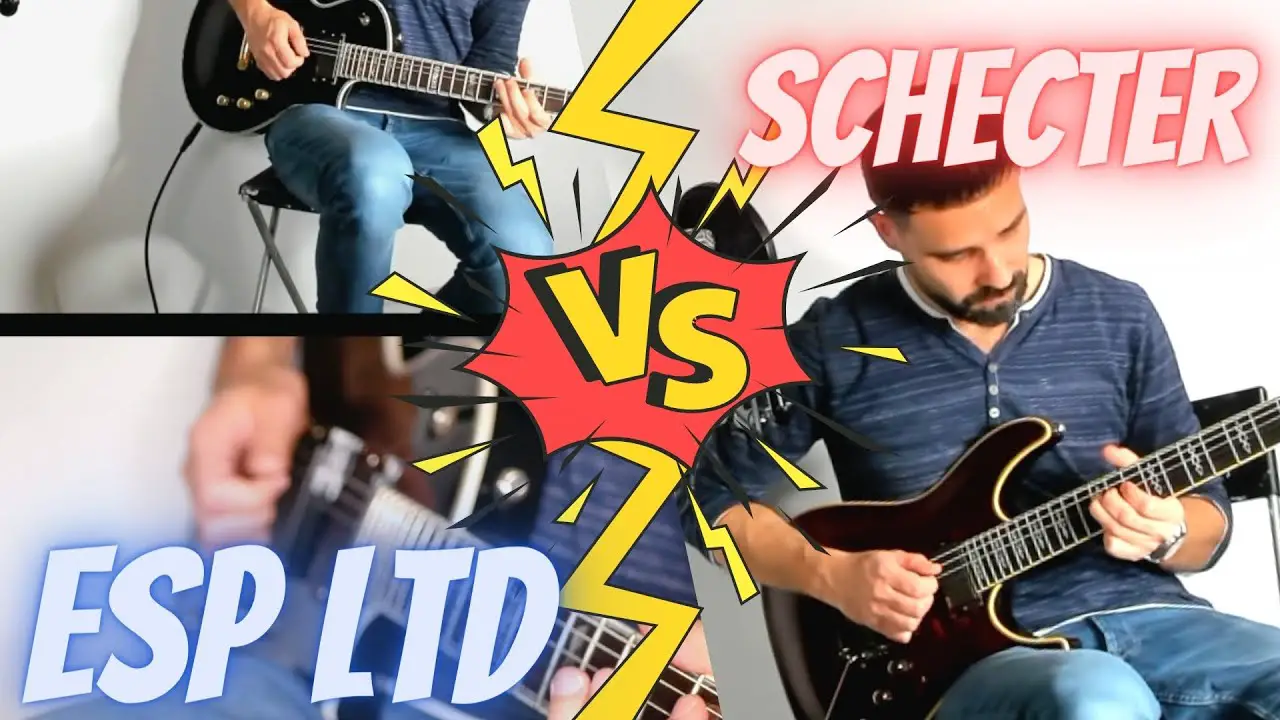 First, I want to talk about the Schecter Hellraiser C-1 – it's a special edition guitar. It's got the Floyd Rose.
Then, I want to look at the differences between this one and my other guitar, the ESP LTD EC-1000. That's an LTD guitar, and many people have asked what's exactly the difference in sound between the ESP and these Schecter guitars because both are in a similar price range.
But they're really different guitars, so even though they both have active EMG pickups, they produce different sounds. Although they're both used by heavy metal and rock musicians (there the top choices in our heavy metal guitar list), the Hellraiser has Floyd Rose tremolo, which is ideal for extreme bends. The ESP LTD has models that are equipped with an Evertune bridge, so your guitar stays in tune no matter what. 
And I also want to look at some of the differences in the type of wood and type of neck, so let's get into it.
Schecter Hellraiser C-1

This is one of the most attractive and well-built guitars for metal. Many guitars in the same price range have similar specs, but the Hellraiser has many cool features and the EMG pickups everyone wants.
Pickups
This guitar has EMG pickups, which are known for a specific tone. I would describe it as bold, aggressive, and big.
The only thing that adds more warmth is that mahogany body, but besides that, get ready for sharp definition.
The pickups are not the classic combination of 81 & 85. Instead, you've got an 81 TW and 89R. Therefore, both pickups are coil-split.
This, in turn, gives you a wider range of possible tones. When you split the 89R, you get a Strat-type single-coil tone which is a unique sounding combination.
Materials used and build
The make of this guitar makes it really special and unique. Let's look at what it's made of.
Body & top
The guitar body has a double-cut super-strat shape with a carved top, which is very much associated with the Schecter brand.
The body and neck are made of mahogany wood. In fact, mahogany offers excellent reverberation. As a result, you can expect bigger and warmer sound even though the EMG pickups are treble-heavy.
Hellraiser has a gorgeous, quilted maple top. But what really makes this a beautiful instrument is the multi-ply abalone binding which adds depth and creates nice light refraction.
Learn more about the Best Wood for Electric Guitars in my Full Guide Matching Wood & Tone
Neck
The C-1 has a mahogany 3-piece set-in neck. It's designed for speed for those fast metal solos, and you also have upper fret access. Therefore, you can really play fast and still get rough but clear tone.
The guitar has a thin-C neck profile and a short neck joint (heel). This influences how you play the instrument because since the heel's ramp is pushed close to the guitar's body, it is steep.
But this means you can slide your hands to the top of the fretboard without feeling a change in the thickness.
Fretboard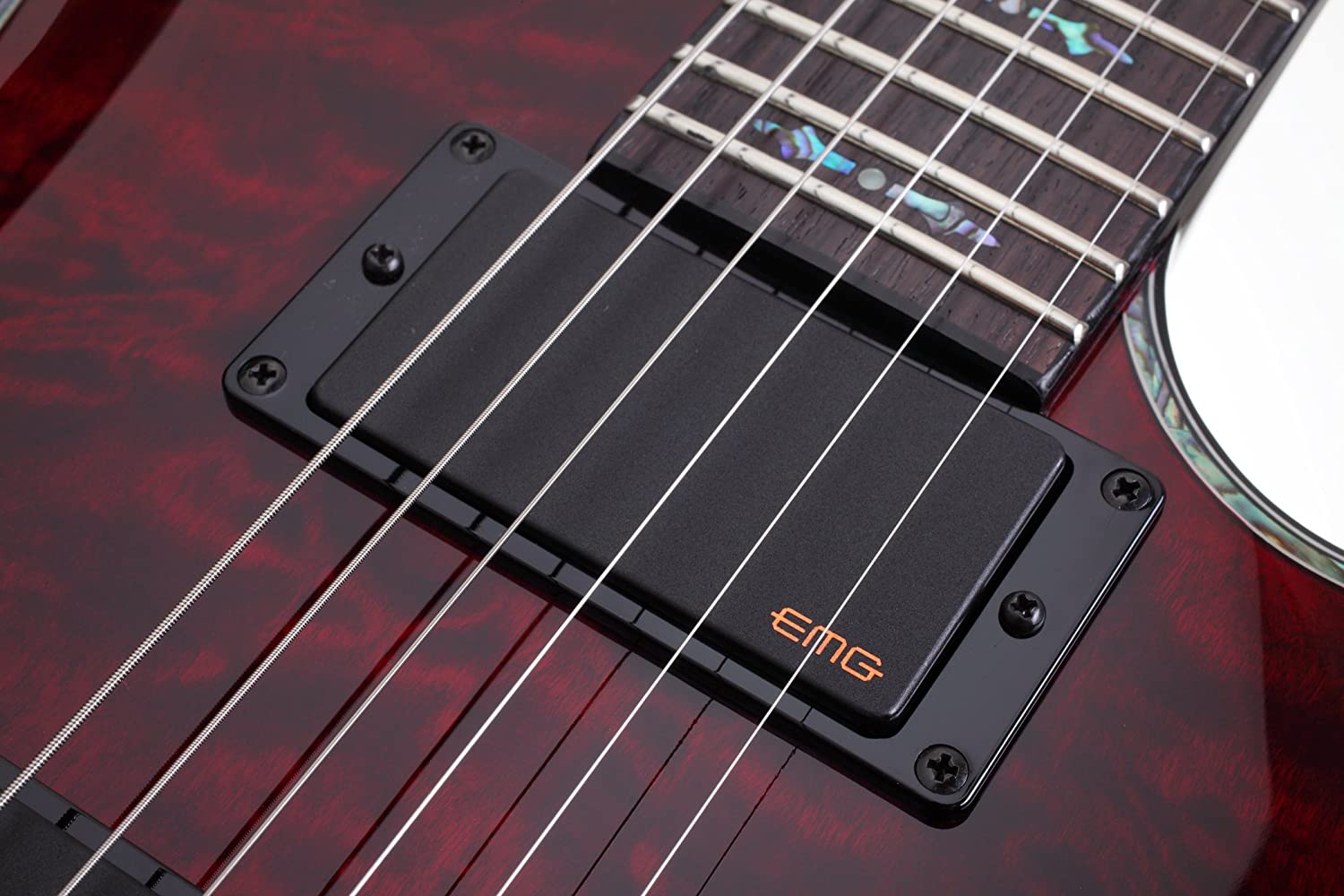 The Schecter Hellraiser C has a rosewood fretboard. It has a 14," and this means that your bends have a wide area of pitch.
Like you'd expect from a metal guitar, the Hellraiser has gothic cross inlays made of multi-ply abalone, just like the binding.
Rosewood is a nice fretboard material, but perhaps ebony might be even better. But, overall, it's a great quality instrument.
Bridge
The Schecter Hellraiser C1 comes with two bridge options to please a wide range of players. The most popular are the Floyd Rose tremolo (the one I have) and the Tone Pros Tune-O-Matic.
The Floyd Rose double-locking tremolo is a great addition, but it doesn't increase your sustain the way the Tone Pros does.
Check prices and availability here
ESP LTD EC-1000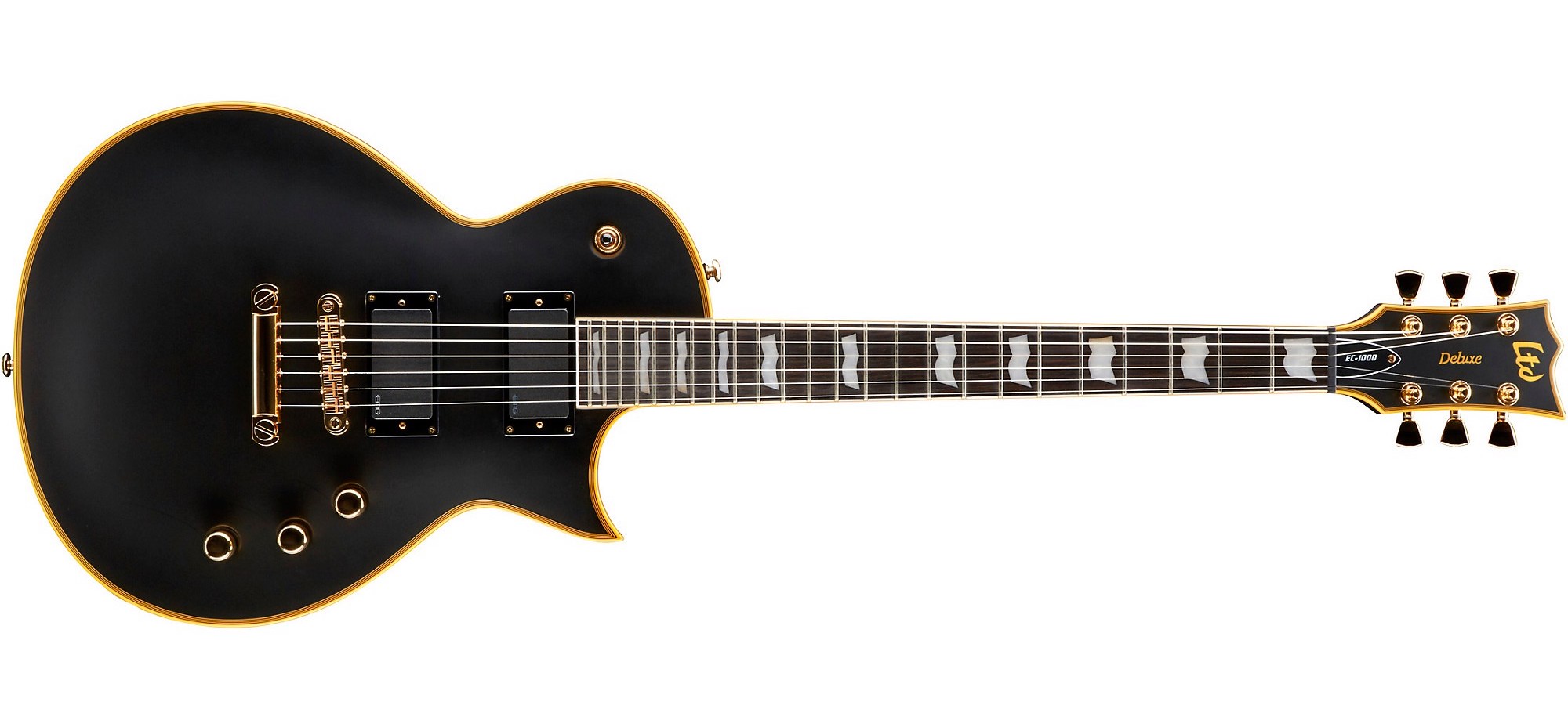 This is another guitar for metal and rock players, but it's specially designed for massive attack playing styles. It has excellent sustain and resonance, and it's one of the top choices for heavy metal musicians.
The black color and eclipse style is classic and timeless.
Pickups
Like the Schecter Hellraiser C1, the ESP LTD EC also has the EMG Humbucker pickup, giving it high-octane tones. The benefit of the humbuckers is that they provide high levels of tonal strength for heavy metal and rock.
So, if you're after the heavy sound that two pickups give, you'll like the sound of this guitar. But keep in mind that these are active pickups, so you need to have an energy source.
Materials used and build
Let's dive into the makeup of this guitar.
Body & top
Mahogany is great quality wood, and the guitar is made of this dense wood. Not only is it very durable and long-lasting, but mahogany helps you to shred without holding back because it provides a fast and smooth playing surface.
The body shape is a classic Eclipse, and many people love this design. What sets it apart is the small bottom cutaway. It is sharp and gives you quick and easy access to higher frets.
You definitely need that for serious shredding. Also, the single-cutaway gives this instrument truly epic sustain.
If you're wondering about comfort, well, the ESP LTD EC-1000 is very comfortable as a result of the slightly arched top. So, your hand can rest without getting overly tired or uncomfortable.
Neck
This guitar has a set-in neck made of mahogany. The set-in neck actually helps by improving the guitar's sustain. Therefore, you can hold the notes for a long time, and there's no thinning out and less cutting.
The thin U shape also makes the guitar more aesthetically beautiful with a polished, slick look. This set-neck is a major advantage and much better than a guitar with a bolt-on neck, especially for heavy metal.
Fretboard
This guitar is definitely worth the money, considering it's such a great build. The extra-jumbo fretboard is usually made of rosewood.
But vintage models are constructed out of Macassar Ebony, which is top-notch. So, ESP hasn't spared anything when it comes to high-quality materials.
Bridge
I like the Tonepros TOM bridge because it gives the instrument tuning stability and keeps its intonation really well. Therefore, you can go all out and still keep your tone.
The bridge gives you excellent sound, and you can play with precision and really go for those solos.
Check prices and availability here
Schecter Hellraiser C-1 vs ESP LTD EC-1000: what are the differences?
Many heavy metal and rock musicians use both these guitars to play, but the sound is different from each, so you can't really say they are very similar.
Floyd Rose Tremolo
Okay, so the first real noticeable difference is, of course, the Floyd Rose tremolo bridge on the Schecter guitar. It's an incredibly stable Floyd Rose, and you can use it to do some dive bombs.
I've also got a video about the Floyd Rose and how it sounds on the Schecter:
Then with the locking nuts, it makes it an incredibly versatile and also tone stable guitar.
After all, the Floyd Rose is made for extreme bends, and it's hard to match it with other tremolos.
Don't underestimate the ESP LTD EC-1000, though. So, it doesn't have a Floyd Rose bridge, but if you like the Les Paul type of guitars more, then this is a great metal guitar in that format.
Design
Now, the Hellraiser has a mahogany body and a quilted maple top which makes it really beautiful especially compared to the solid black that you get with the EC-1000.
It also has a thin mahogany neck and a rosewood fingerboard that delivers solid bass and bright overtones.
EMG Pickups
This Schecter Hellraiser C-1 has active EMG pickups, and it has an 8189 set which gives it a heavy sound in both the neck and bridge positions.
The C-1 has a fixed neck with an ultra-axis heel cut giving you easy access to those higher hard-to-reach threads with the neck through the Floyd Rose 1000 series bridge.
It's available with the Sustainiac pickup, and this gives you the best sustain in a metal guitar you will ever find.
The ESP LTD EC-1000 has an 8160 EMG active pickup set, and a 60 is more of a lighter version, so you can also do a few different types of music like lighter rock, for example.
The Hellraiser is less suitable for light rock now.
Tune
Don't underestimate the ESP LTD E -1000. It has another cool feature: the EverTune bridge.
The one I have here for testing doesn't have it, but you can also get it with an Evertune bridge. It's one of the few stock models that have this Evertune bridge, and it helps the guitar stay in tune no matter what you do.
But even if you don't use that bridge, the locking tuners on the back help your guitar stay in tune for those extreme bends you can do or even the hardest choking riffs you can put out there.
Locking tuners vs. locking knots
ESP LTD EC-1000 locking tuners
Let's talk about the locking tuner. The locking tuners on the EC-1000 are from Grover, which is the number one brand for locking tuners, and it's very easy to swap strings out using this system.
So, this gives you the ability to change strings very fast, like for a live gig, and especially faster than the locking nut of the Schecter Hellraiser.
Therefore, if you're looking for easy string swaps, I recommend the ESP LTD EC-1000 over the Schecter Hellraiser c 1.
So, I've got a Gibson-style bridge on my guitar, and this model has got some locking tuners. The guitar has these knobs at the back, with which you can lock the string into place.
A lot of people think that these locking tuners actually help with maintaining the tune of your guitar. The truth is, they do a little, as opposed to the strings on a normal type of tuner, but not in the way you think they lock the string into place.
That's very useful because you can change the strings faster than with a normal tuner, so that's the main reason that you'll want locking tuners is that you can change strings faster, and they help to keep the string in tune a little bit more than a normal tuner.
That's because there's no string slippage; you've got it tilted a bit so you can pull it through. Just pull because it's strung already quite tightly, then lock it into place then you don't have to do as much manual tuning as with a normal guitar.
Schecter locking nuts
Now most often, you will see these locking nuts on guitars with a Floyd Rose tremolo. With the locking nuts, a player can do really deep dives, and that's because these actually hold the strings in place.
So, you have the tuners which are normal and not blocking tuners. You wrap the string around the tuning peg a few times, just like you would with a normal one.
Then you have the locking nuts, which keep string tension right there in place.
Schecter Hellraiser C-1 vs ESP LTD EC-1000: what about the sound?
Both the Schecter and ESP have a three-way selector switch with either the neck or the bridge pickup or a combination of both for twangier sound.  Now I think the EC-1000 has a bit more of a twangy sound in the middle than the Hellraiser does.
The Hellraiser has more sizzle, and the tonewoods lend towards the low end; therefore, the guitar is best for heavy metal music.
You can get more overdrive and gain with the ESP ltd and, of course, massive sounds, perfect for heavy genres.
Metal and modern rock players will love both guitars; it all really depends on your playing style.
Check out my review on Youtube and see how I change the strings:
Schecter vs ESP: about the brands
Both Schecter and ESP are well-known guitar brands so you can trust that they make good instruments. Of course, some people are more loyal to one brand but in terms of value, both are good and in a similar price range.
Schecter
Schecter is an American guitar manufacturer. The brand was founded in the seventies but only gained mass popularity sometime in the nineties.
Their electric guitars are aimed at rock and metal musicians looking for high-quality instruments with the tones heavy music requires.
One defining feature of the Schecter brand is that they use the Floyd Rose tremolo. As well, they have locking tuners and EMG pickups (both active and passive).
The overall consensus is that Schecter Guitars are of great value for your money due to their superior build, design, and sound.
Popular guitarists who use Schecter Guitars
One of the most popular Schecter players is the leading guitarist of the band Avenged Sevenfold, Synyster Gates. Another popular player is Pete Townsend of The Who.
Here are some other players you may know: Yngwie Malmsteen, Mark Knopfler (Dire Straits), Lou Reed, Jinxx, Charlie Scene (Hollywood Undead), and Ritchie Blackmore.
ESP
ESP is a Japanese guitar manufacturer. Founded in Tokyo in 1975, it has become a favorite for those looking for guitars that are similar to the Les Paul models.
The guitars are known for their easy playability because they have a thin neck.
Rock and metal players have been using ESP guitar for decades, and the LTD EC-1000 is one of the favorites. These are steady, well-built, and beautiful instruments that are suitable for massive attacking playing styles.
Sure, the guitars are pricey, but they are made out of the best material, and the attention to detail is excellent, so they deliver great sound, and I believe they're worth the money.
Popular players who use ESP Guitars
ESP is a popular brand. James Hetfield and Kirk Hammett of Metallica are two of the most famous players.
Other notable players include Stephen Carpenter, Ron Wood (Rolling Stones), Frank Bello, Alexi Laiho (Children of Bodom), and Will Adler (Lamb of God).
Takeaway
If you're after a high-quality metal guitar, both the Schecter Hellraiser and the ESP LTD are great options. You can play those dive bombs and take advantage of clear rough tones.
Basically, the EC-1000 vs Schecter debate is more about personal preferences. The Floyd Rose tremolo is a beloved Schecter C 1 feature, while the ESP has amazing Grover locking tuners.
They are both great guitars for pros and metal players, but if you really want to, you can always play more traditional genres too. You're getting a pretty good value for your money with either of these popular guitars.
Also read: Best guitar cases and gigbags reviewed: solid protection
I'm Joost Nusselder, the founder of Neaera and a content marketer, dad, and love trying out new equipment with guitar at the heart of my passion, and together with my team, I've been creating in-depth blog articles since 2020 to help loyal readers with recording and guitar tips.
Check me out on Youtube where I try out all of this gear: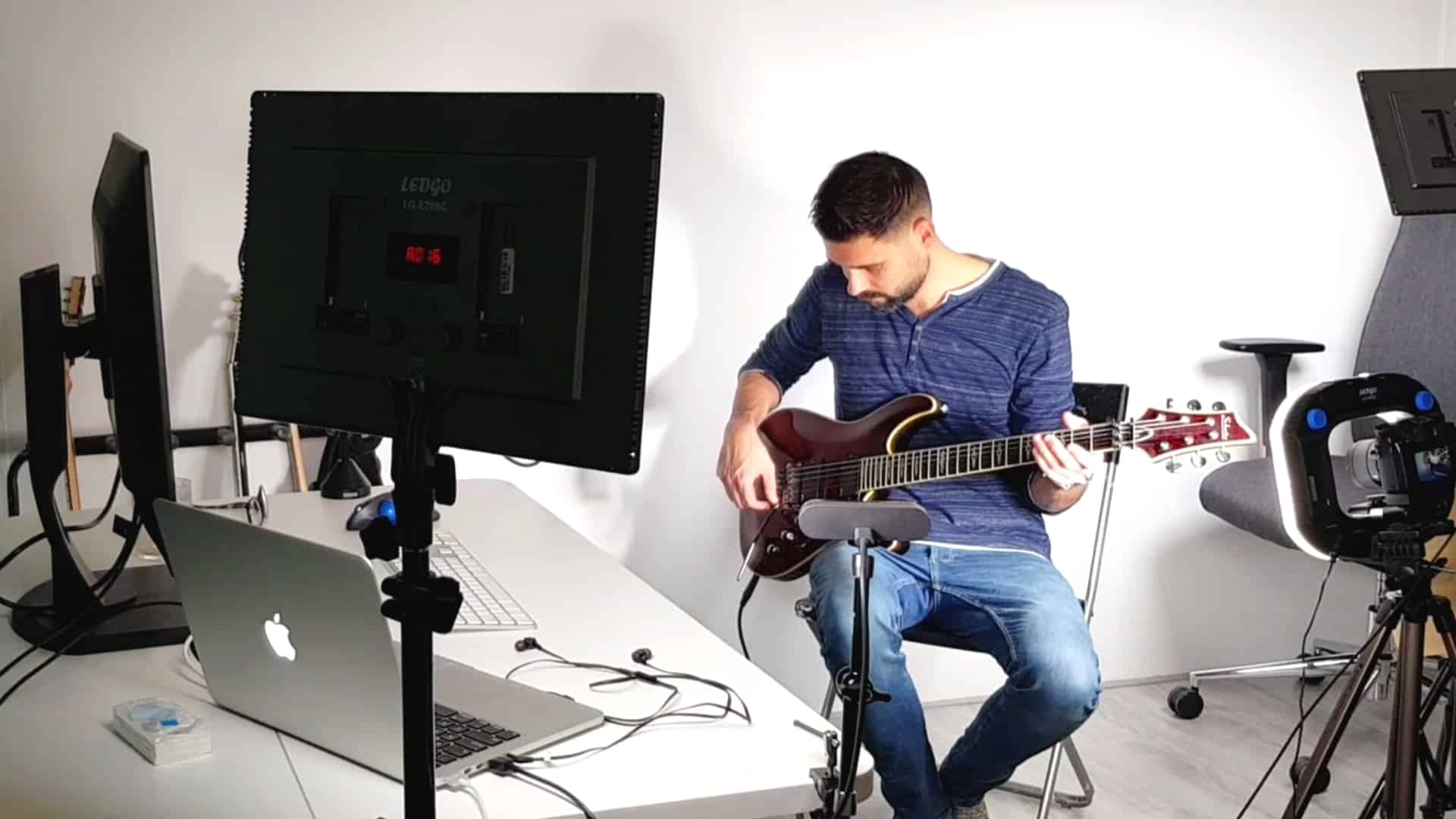 Subscribe