I love creating free content full of tips for my readers, you. I don't accept paid sponsorships, my opinion is my own, but if you find my recommendations helpful and you end up buying something you like through one of my links, I could earn a commission at no extra cost to you.
Learn more
If the thought of becoming a guitarist takes your fancy, you are one of the many beginners that are starting out this month!
If you are already one of the expert guitarists who have been on your guitar journey for some time, you know that a good instrument is crucial, and I have some surprisingly good guitars for you.
Nevertheless, it is very important that you choose the right instrument and that it suits your playing style, and Yamaha produces some of the most special top quality guitars in the world.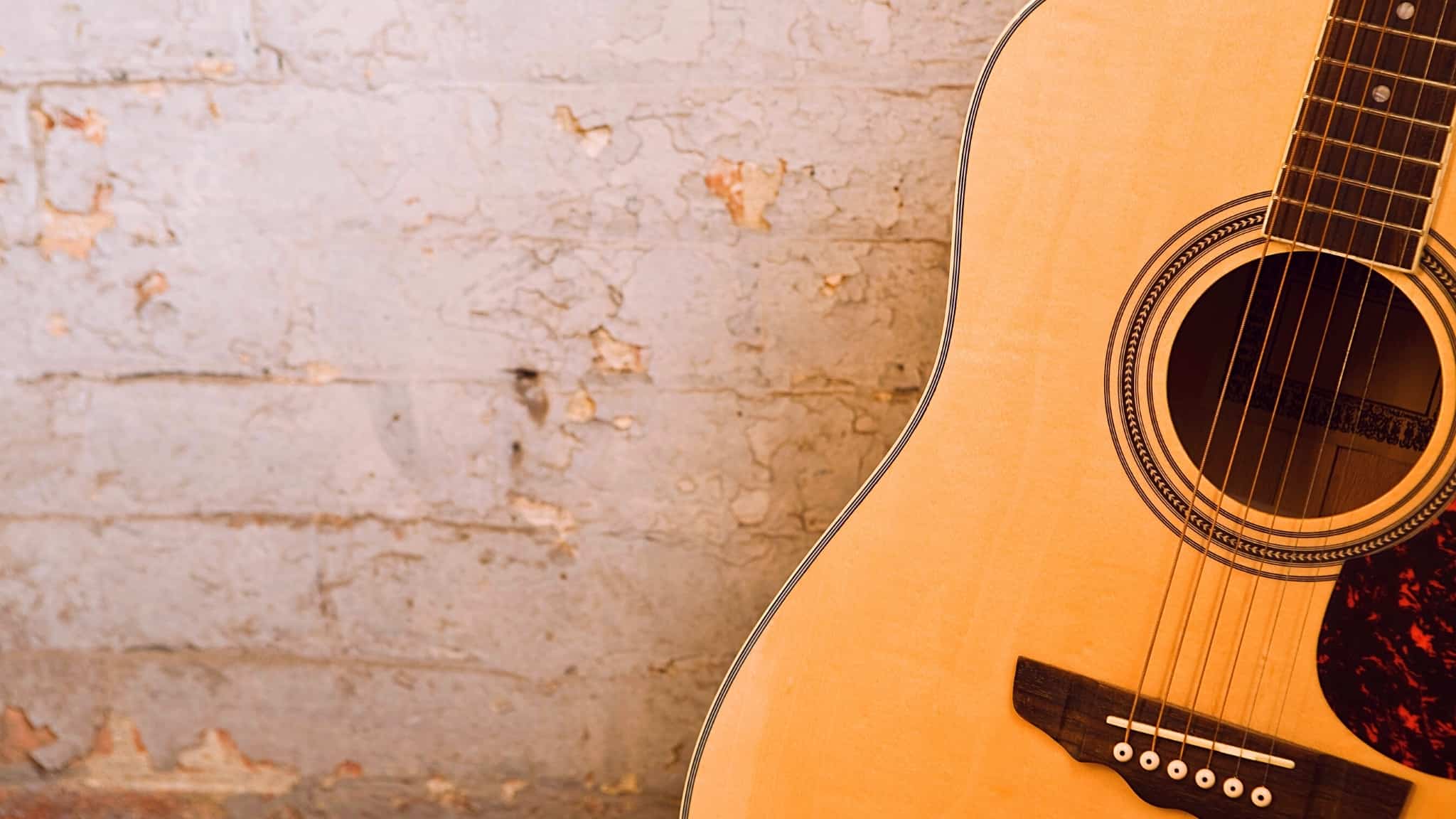 Since Yamaha has been around for a long time and given their manufacturing quality, they are definitely among the best brand names in the guitar building industry.
Although they are mostly famous for their quality acoustics, and I'll get into that in a minute.
My main goal is to help you narrow down and decide the options.
Let's look at the top Yamaha guitars real quick, then I'll dive into each of these in more detail:
I'll include some general features here that can help make your choice easier and help you get the most out of their best guitar range.
But first and foremost, let's give some reasons why you want a Yamaha guitar!
Why Yamaha Guitars?
Yamaha is a very successful brand and they are at the top of their market when it comes to producing high quality instruments. They also have a lot of experience in making great instruments.
Additionally, they have a very wide range of varieties when it comes to guitars, which is why they are a reliable brand when it comes to making guitars of all shapes and sizes, and for all budgets.
Not only are Yamaha's guitars great at providing high quality, they also have plenty of budget-friendly guitars, which alone help make Yamaha a remarkably distinctive brand apart from the other brands in the same industry.
Yet they sometimes also produce a number of misses, so it is wise not to just grab any model of Yamaha.
Best Yamaha Acoustic Guitars reviewed
Best Guitar for Beginners: Yamaha C40 II
Yamaha has been an excellent option for those looking to purchase a classical guitar for beginners for many years.
If you were to ask some professionals I bet they would tell you they started with a Yamaha, when in this case the Yamaha C40 was built with beginners in mind, and it's a full-size classical guitar.
It's not quite the high quality guitar you'd expect, of course you can tell by the price, it's the perfect option for people just starting out, or for someone who doesn't really want to spend a whole fortune on a guitar.
First, let's start with the construction.
This C40 model features a spruce top and if you've done your research you probably know that's quite common with guitars, while the sides and back are made from Meranti.
Plus, the manufacturer made it as a wood laminate, which means the projection won't be as good as a solid wood guitar, but for the price it's pretty good considering this is a beginner guitar.
To go further, the neck is built out of Nato with a rosewood fingerboard and it is wide, just like any other classical guitar you can buy.
In addition, the C40 has a glossy finish, which is traditional with classical guitars, it adds a nice touch to the overall appearance of the guitar.
Right out of the box, the C40 comes with a padded gig bag with the strings already installed, meaning you can get started right away without having to follow any instructions.
Since you are a beginner, you can start playing right away, while an electronic tuner is also available for added convenience.
Apart from that, this particular model also comes with loads of extra's like a string winder and guitar polish.
However, for more quality I would like to suggest something, you won't really like the factory strings so I recommend changing them within the first month to get the most quality out of the guitar, although that might just be my personal opinion, so first see how it feels.
Yamaha is known for providing durable products, which is an advantage over all the other beginner guitars out thereit has a smooth neck and an appropriately sized body.
It gets 5 stars from three reviews, and one customer says:
Good quality for such a cheap guitar, looks nice too. So if you just want to start and don't want to spend too much, I definitely recommend this one
Here is also 5 minute music with an explanation of when to choose this guitar:
But it is not the perfect choice for a younger player. You might consider other smaller ones for kids, for example the Yamaha CS40 II, which is much the same guitar with a thinner body and shorter scale length.
This allows them to hold the guitar more comfortably while learning to play.
In other words, I would highly recommend the Yamaha C40 to those just starting out unless they are kids.
Check the latest prices here
It's budget-friendly, and it's definitely better than most of the other guitars from various brands you see online. Still, it just missed my list of best beginner guitars here.
Best Electro Acoustic Guitar: Yamaha FG-TA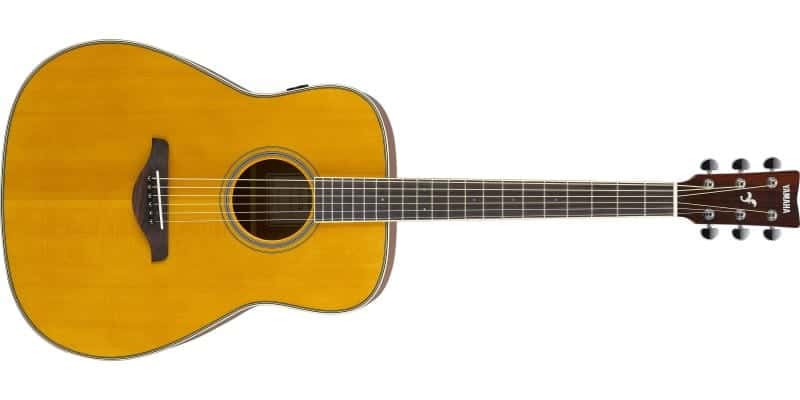 The TransAcoustic FG-TA is a 6-string acoustic and electric guitar that produces a high-quality sound and delivers an excellent experience, with rich tones and vibrant acoustic space.
In terms of design, this particular model has a dreadnought body with a mahogany back and sides and a solid Sitka spruce top which is available in various colors.
It is also made in four different sizes:
classic
parlor
concert
and dreadnought
As you can see, you have plenty of options to choose from, and you can always find the one that best suits your requirements.
What sets this guitar apart from the others on the market is its groundbreaking TransAcoustic technology that allows the guitar to provide built-in reverb and chorus effects, so this guitar does not require external amplification.
Plus, you can mix the effect via the easy-to-use controls, while afterwards you can access those tones connected via the guitar's System70 + SRT Piezo pickup system.
To be more specific, this technology is possible thanks to the small device hidden in the guitar, as soon as the strings vibrate, the actuator also vibrates, where these vibrations are then transferred to the guitar body, as well as the air around the guitar
All this results in authentic reverb and chorus, meaning you don't need any extra amplification or effects.
For your information, Yamaha's FG series is a worldwide best seller due to the comfortable dreadnought bodies they offer, the professional tonewoods and fast playing necks that make the guitar a perfect choice for beginners and experienced players just wanting a second guitar want for the stage.
It's also important to note that the TransAcoustic effects provide a different kind of control at your fingertips.
Using the easy-to-use controls, you can bring in different effects during a set, depending on the piece of music you're playing.
Aside from that, you will find the built-in reverb quite inspiring as it allows you to get a great atmosphere in the room.
Here is Dawson's Music talking about it with Yamaha:
There really is a lot to say about this guitar, but for the most part I've mentioned everything important.
This particular guitar from Yamaha is also an affordable model that will bring innovation and creativity to the guitar enthusiasts, and if you ever decide to buy it I assure you it will take your experience to a whole new level.
Check prices and availability here
Read more: acoustic multi-effects pedals that take your guitar sound to the next level
Best Mid-Range Folk Guitar: Yamaha FS850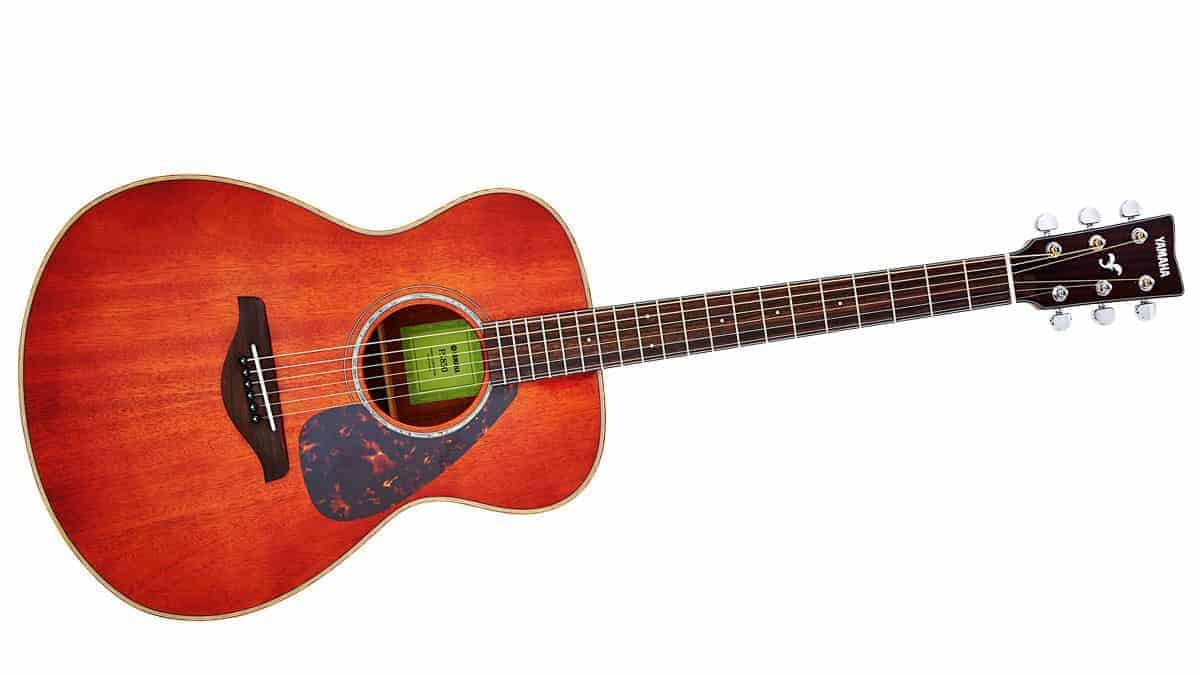 The Yamaha FS850 is a mid-range acoustic guitar that delivers a very warm and full sound, it is well built and beautifully crafted with a small body that makes it the choice for younger guitarists.
You can get this guitar in two different sizes, dreadnought and concert, depending on your requirements.
For this review, I chose the concert body type with a solid mahogany top, mahogany back and sides, and a scalloped X-bracing pattern.
In addition to all this, the Yamaha FS850 has a glossy body finish that gives a great look to the guitar's overall appearance.
The FS body ensures that tone and volume are not sacrificed to give users a comfortable playing experience.
Thanks to its slim body, the FS offers users greater comfort and playability without losing volume or bass, while making the guitar more attractive to beginners and smaller guitarists, and especially the lower feedback propensity makes it ideal for stage use.
It has a nut width of 43mm which can be frustrating for some users as sometimes your fingers get too close together for more refined sounds, but that's just my personal opinion.
The fingerboard is rosewood and the neck is nato, while it has a scale length of 24.9 inches and a total frets of 20.
Combining the hardwood top and scaled-down size in one piece, this guitar delivers a slightly thinner sound which might be insufficient if you like that full bassy thump.
The FG has a louder and stronger sound in the low to midrange, all this is achieved by using analysis and simulation to arrive at the best bracing design without relying on tradition or guesswork.
Plus, the Yamaha FS850 looks great, it's really light, resonates well and holds its melody superbly, while delivering great warmth like a mahogany guitar should.
And this is especially ideal for beginners who want to upgrade their music experience to a whole new level.
Here's Gear4Music with their take on the beautiful guitar:
The only thing that caught my attention was the hideous pickguard, which can be easily removed though, you just have to loosen the glue and it doesn't leave any residue, so that's always another option.
In summary, the Yamaha FS850 makes an ideal acoustic guitar with a structure that keeps a durable top while bringing out the full-bodied sound that Yamaha has to offer.
Yamaha credits this to their new bracing design, which is slightly scalloped.
Check the most current prices and availability here
Best beginner guitar for kids: Yamaha JR2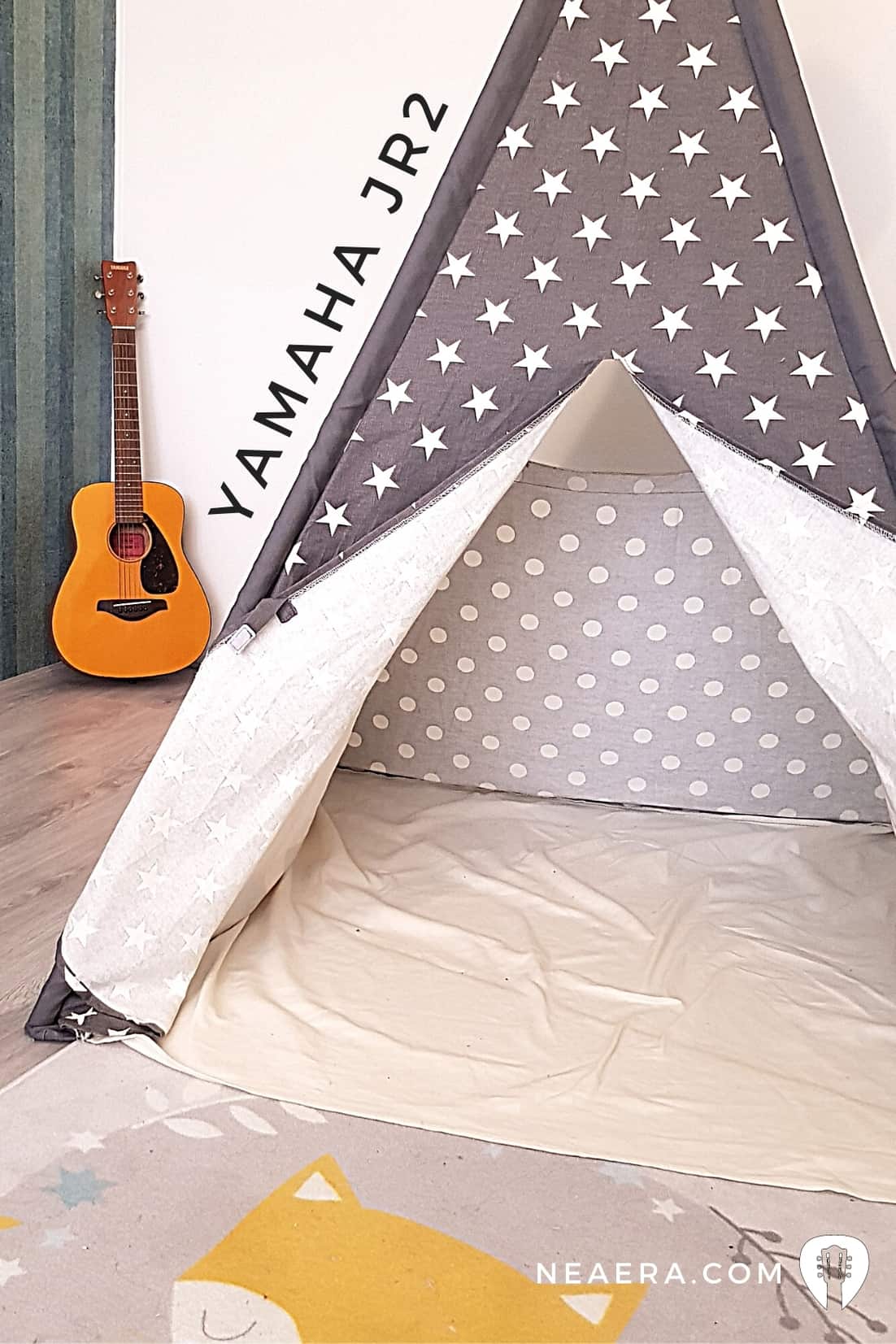 When you pick up one of Yamaha's JR guitars you will no doubt find that these guitars are small in size, making them classified as a beginner-friendly guitar.
Its size helps make it easier for children or those with smaller hands to play.
Full-size guitars make the learning process a bit more difficult for people just starting to play guitar, which is why this is a perfect choice as your starting point for your learning journey.
Although this guitar has a small size, this guitar is nevertheless produced according to the high-endYamaha standards. This is definitely not a toy!
Even though his body might fool you into thinking this guitar can't produce the sound you want, with this JR you can discover that looks can be deceiving.
Yamaha's JR1 features a spruce top with meranti back and sides, and has a rosewood fingerboard on nato neck, which makes it very easy to slide across the (small) neck.
Meranti wood together with Nato are a cheap substitute for mahogany, although they tend not to produce the rich sound and depth of the tone like the mahogany topped guitars.
The difference between the JR1 and JR2 is a bit in the price, but if you have a little more to spend then I would opt for the JR2 with mahogany and a strong fuller sound.
A small extra investment that will certainly give you extra pleasure for a long time.
Overall, this is a quality guitar that will help a beginner start their journey with the right resources.
This guitar can also be used as a travel-friendly guitar for the experienced players who like to get out and play in the park or on the beach or who travel around from time to time.
Check the most current prices here
Affordable Fender Alternative: Yamaha FG800M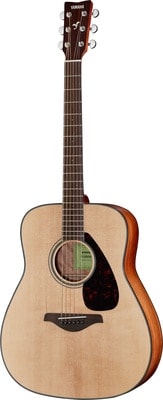 If you argue about the best-selling acoustic guitar of all time, the Yamaha FG 800's reputation is sure to crop up.
This well-balanced acoustic guitar with a quality character and solid durable build will make you fall in love with the Yamaha manufacturers as you don't have to spend as much money as you would on another guitar for your guitar lessons.
The Yamaha FG 800 Acoustic Guitar is well suited for the newcomers and the veterans will also enjoy the tonality and playability.
The FG800 offers powerful quality and has the most vibrant sound you can find on a budget acoustics, all thanks to the solid body it possesses.
The full size guitar delivers a punchy tone with a rich, lively sound that you'd expect to hear in the more pricey guitars range.
As with most of Yamaha's acoustic guitar features, it all comes down to the sturdy durable design and the tonal quality they produce.
The FG800 is typically built using the materials used by Yamaha to build their most solid acoustic structures.
This guitar has a solid Sitka spruce with a rosewood fingerboard and a nato back that is also used for the sides and neck.
Nato wood has similar properties to mahogany and it certainly contributes to providing depth of sound and great tonality.
The Spruce top usually helps to create a more articulate character and give it a touch of clarity in music.
Here Alamo Music Center compares the FG800 to Fender's CD60-S:
Overall, this guitar is one of the best you can find, especially when starting out. The ease of playing helps make this guitar the most laudable acoustic guitar available.
View the most current prices here
Best Yamaha Electric Guitars
I will keep this list pretty short since there are so many better electric guitars for sale, there are some models that stand out that I want to mention and are very good for their price:
Best Yamaha Guitar for Beginners: Pacifica 112V and 112J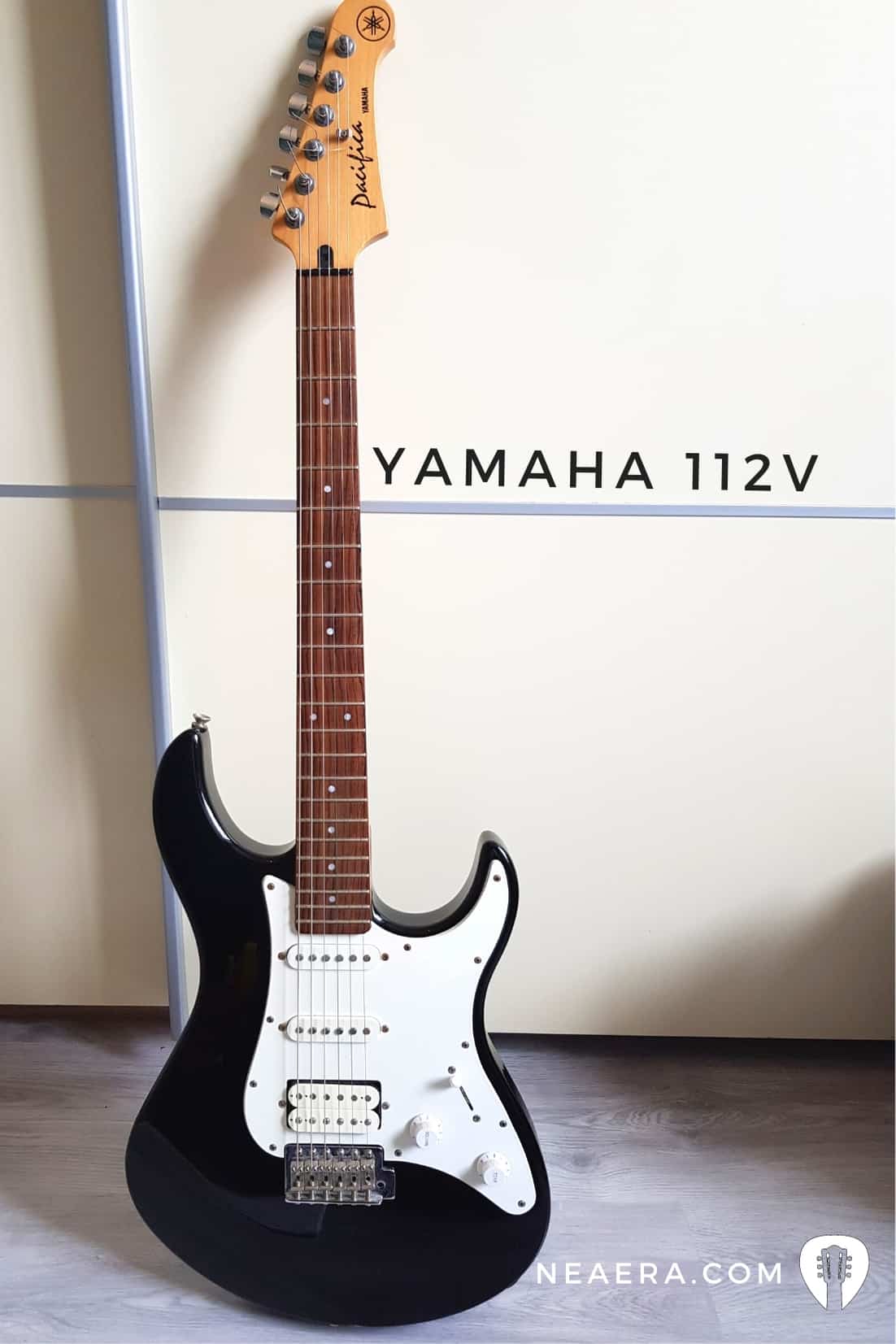 The Pacifica looks a lot like a Stratocaster, and – with its nice slim neck and a five-way switch to jump between the three pickups – it plays as one too.
A very nice guitar to add some more rock sound to your repertoire. The humbucker in the bridge makes this Yamaha Pacifica 112J a real "Fat Strat", a Stratocaster that can produce a somewhat heavier rock sound.
Even the bolt-on whammy bar is the same. However, unlike the classic Strat, you get a humbucker in the bridge position, giving you the option to growl a little more when you need it.
It's not exactly the cheapest guitar on the market: and the Squier-brand Stratocasters from Fender's more affordable line of guitars are going for as low as $ 150.
Even the Yamaha Pacifica 012 is a more affordable option, although I wouldn't recommend it.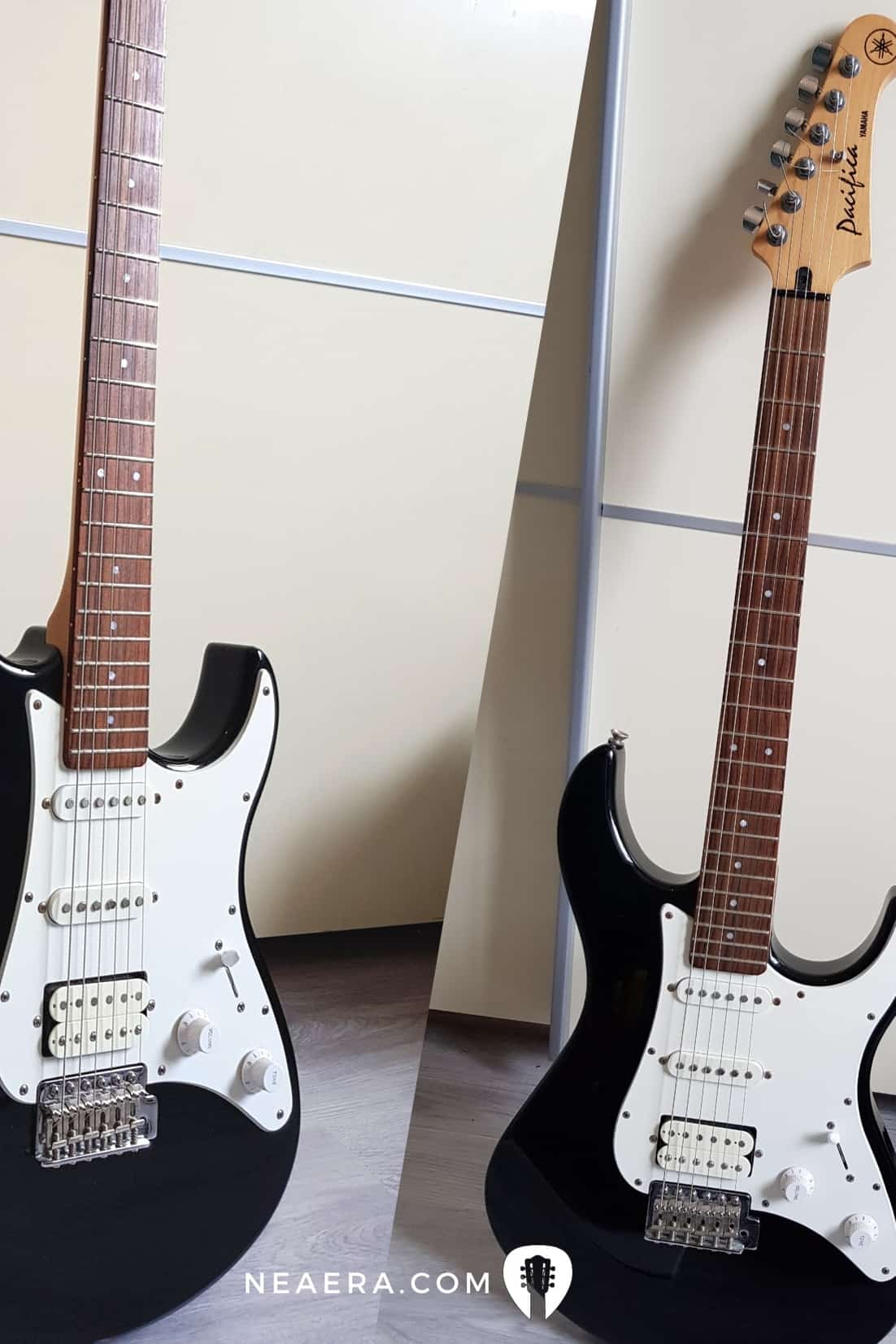 But the Pacifica 112V is a better investment.
It uses quality hardware that won't die on you mid-gig with Alnico V pickups, most often found on much higher priced guitars.
A fantastic beginner guitar that you will not outgrow.
Here's GearFeel with the sounds of the 112V:
The 112J is also a great guitar made of the same wood, but has slightly less hardware such as the bridge, pickups and switching options. You can opt for that if you want to spend a little lessand.
Check the most current prices here
Read a full review in our article on the best guitars for beginners
Best classic rock sound: Yamaha RevStar RS420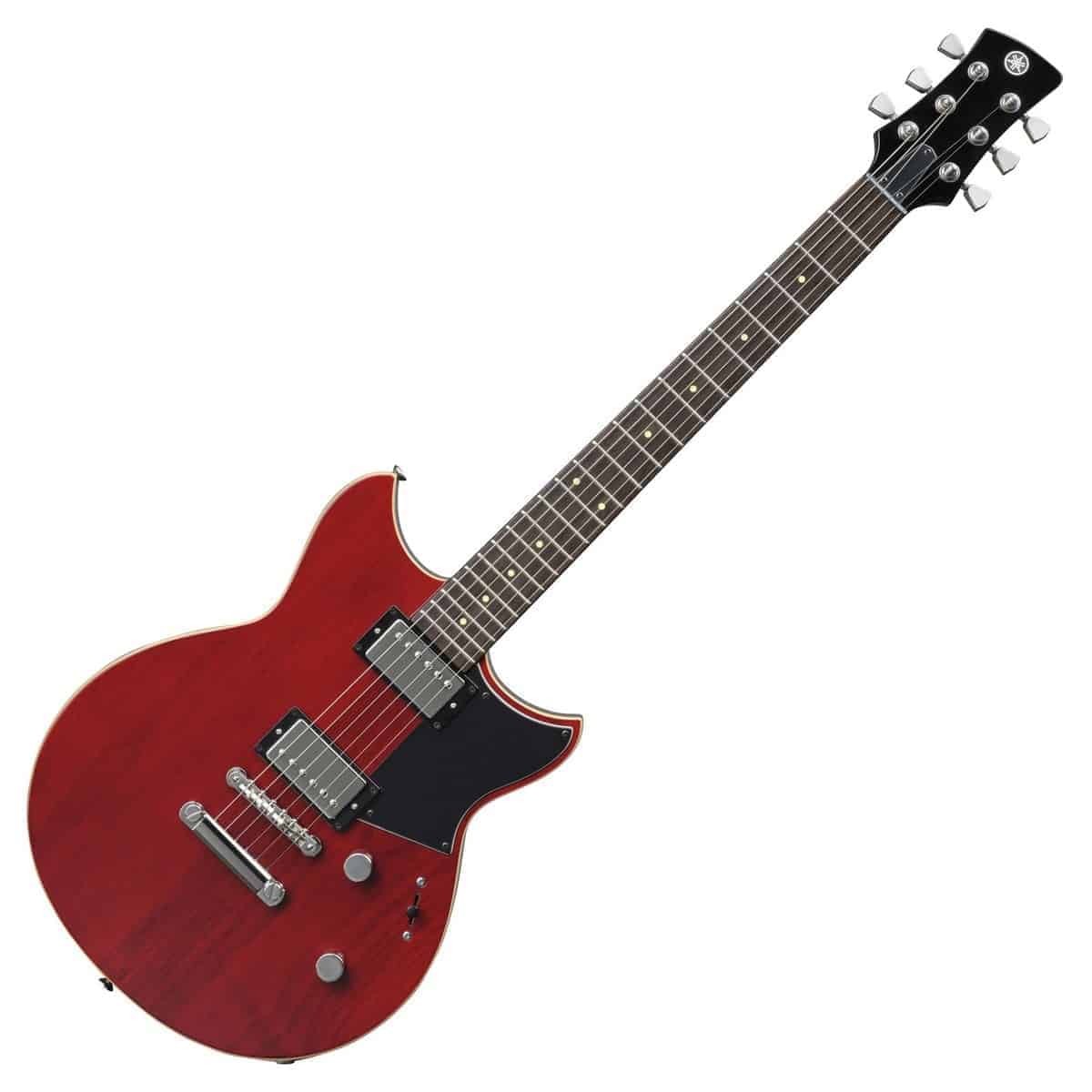 Retro players can get ready for a great guitar model! This affordable model is a real treat for vintage enthusiasts as it offers cool retro looks as well as a vintage tone to match.
The classic rock sound of the Revstar is mostly due to the VH3's, plus they are equipped with a "Dry Switch" which gives you a single-coil tone while still being hum-free.
This gives you enormous versatility in this guitar.
The design is brilliant and looks like something straight out of the London street racing scene of the 1960s, just what Yamaha had in mind!
It is a very versatile guitar that gets a 4.4 overall and you can go in all directions with it, like what this customer said in his extensive review:
… it's a great blues machine. However, it is more than capable of doing the higher gain stuff as well (if you like a fat gain sound). Fretwork done right with no fret buzz issues.
The only criticism is that the volume knob turns the guitar off or on full. There is no significant volume increase when increasing the volume with the button
Here is also Absolute Music with a nice demo:
The body has a double cutaway and you can get the nato wood with maple top finished in a variety of hip classic colors.
Check prices and availability here
Frequently asked questions (FAQ)
Are Yamaha Acoustic Guitars Good?
This answer can be easily answered by the sales and popularity of Yamaha's acoustic guitars as I can certainly say that Yamaha has the most affordable yet better made guitars on the market and it has not been difficult to choose an instrument from their own Product Range.
What is the best Yamaha acoustic guitar for beginners?
While the company was known for its premium models that dominated the market, the company has brought the best entry-level models to market in recent years, while offering ease of use and value for the price. However, the best for beginners in their lineup is the Yamaha C40.
Where are Yamaha guitars made?
I can safely say that most of the Yamaha models on the market are made in Singapore or Taiwan, but this only applies to the entry-level and mid-range guitars. However, their high-end models are all made in Japan, with careful craftsmanship and expertise, but they come at a price that goes with it.
How can I best care for my Yamaha acoustic guitar?
I would recommend that you always store your guitar in a case when not in use, preferably a case and they should be stored in a room of about 21 degrees Celsius. However, this applies to any guitar brand and not just Yamaha acoustic guitars.
          Joost Nusselder, the founder of Neaera is a content marketer, dad and loves trying out new equipment with guitar at the heart of his passion, and together with his team, He's been creating in-depth blog articles since 2020 to help loyal readers with recording and guitar tips.
Check me out on Youtube where I try out all of this gear: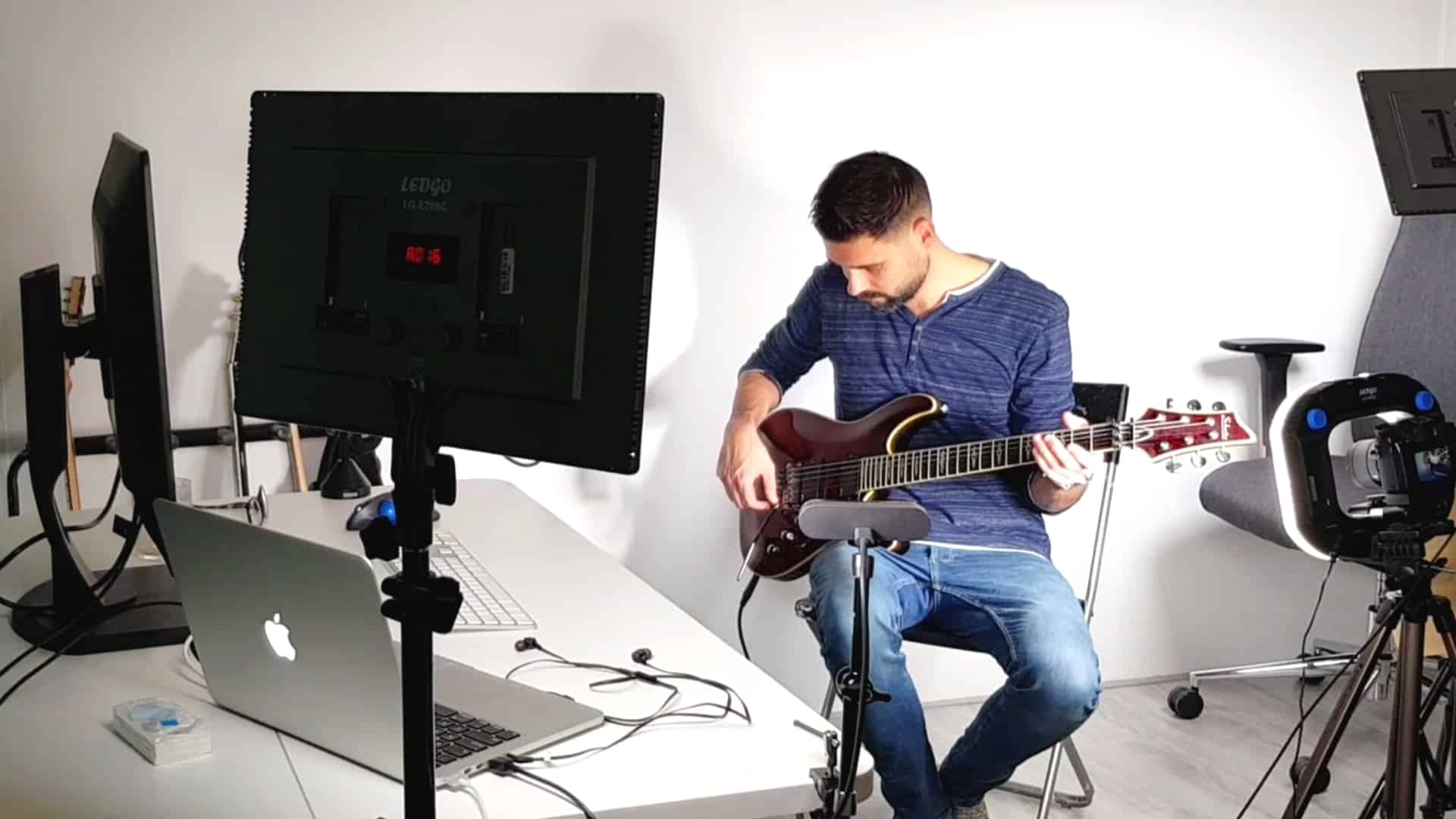 Subscribe