hi there I love creating free content full of tips for my readers, you. I don't accept paid sponsorships, my opinion is my own, but if you find my recommendations helpful and you end up buying something you like through one of my links, I could earn a commission at no extra cost to you.
Learn more
If you are doing any sort of recording that requires audio, you will want to use a filter on the mic. This will serve to limit noise making for a clear, crisp sound quality.
Microphone filters go by many names, but in the industry, they are usually known as windscreens or pop filters.
However, these aren't just two different names for the same item.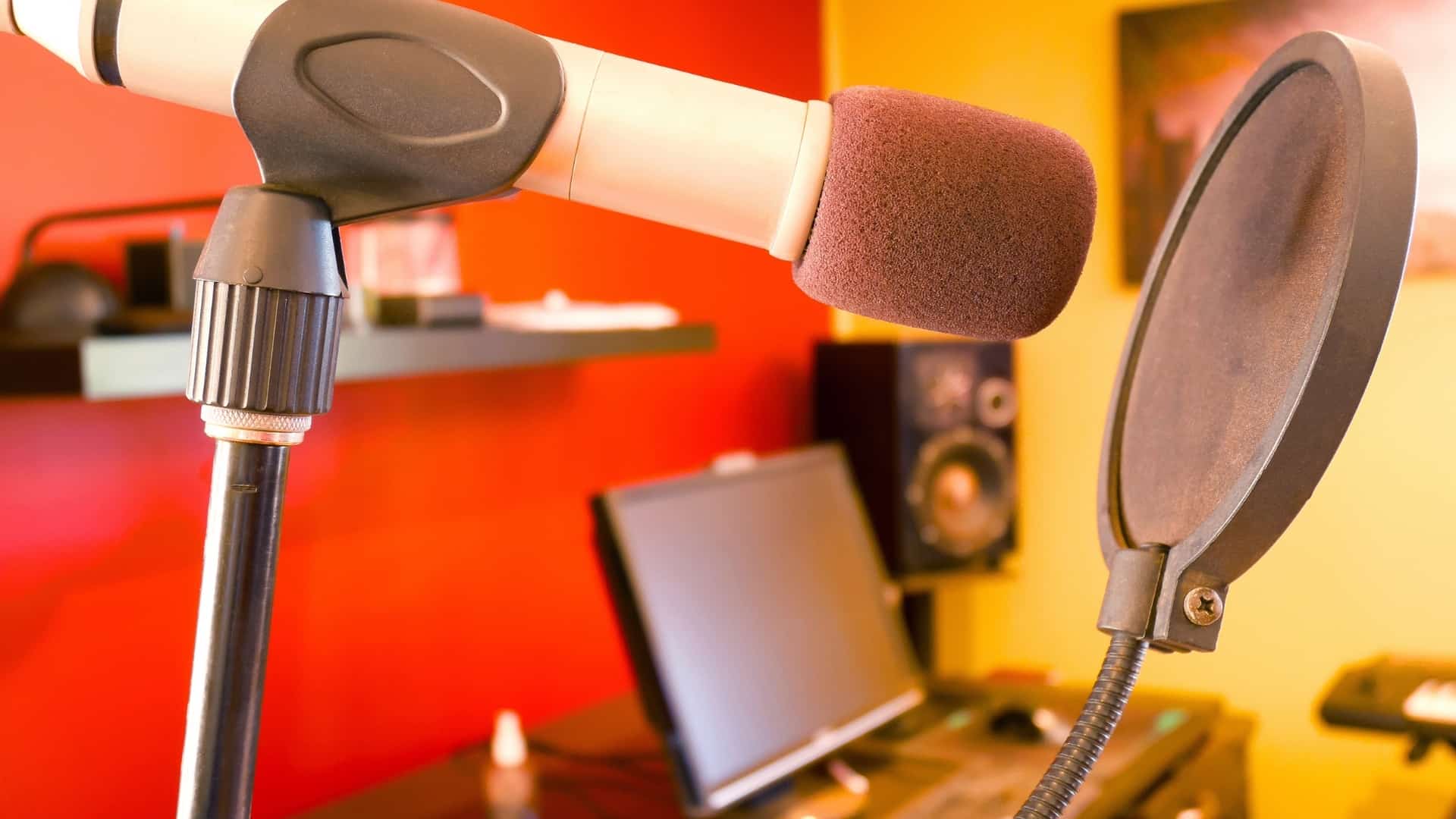 Even though they serve a similar purpose, they have their differences.
Read on to find out about windscreens and pop filters so you can determine which one will work best for your needs.
Microphone Windscreen vs. Pop Filter
Microphone windscreens and pop filters are both meant to shield a recording device from capturing unwanted sounds or noise.
There are some characteristics that set them apart from each other though.
What is a Microphone Windscreen?
Windscreens are screens that cover the entire mic. They are used to stop wind from hitting the mic and causing unwanted noise.
They are great for filming outdoors because they allow you to capture ambient noise without adding a lot of distortion.
For instance, if you're filming on a beach, they will capture the sound of the waves without overpowering your actor's voices.
There are three different kinds of windscreens to choose from. These are as follows:
Synthetic Fur Covers: Also called 'dead cat', wind muff', 'windjammers', or 'windsocks', these are slipped over shotgun or condenser mics to filter sound for outdoor recordings.
Foam: These are foam covers that are slipped over the mic. They are usually made of polyurethane and they are effective in blocking wind.
Baskets/Blimps: These are made of a mesh material and they have an inner layer made out of a thin foam that covers the entire mic, but unlike most mics, they have a chamber that sits between each of the layers and the microphone.
What is a Pop Filter?
Pop filters are ideal for indoor use. They improve the quality of your recorded voice.
Unlike windscreens, they do not cover the mic.
Instead, they are small devices that are placed between the mic and the speaker.
They are meant to reduce popping sounds, (including consonants like p, b, t, k, g and d) that can sound more pronounced when you sing.
They also reduce breathing sounds so it doesn't sound like you're spitting when you're singing.
Pop filters come in a variety of shapes. usually curved or circular.
The thin material lets through more high-frequency sounds than foam covers so they are ideal for vocal performances, podcasts, and interviews.
Differences Between Microphone Windscreen vs. Pop Filter
You see that windscreens and pop filters are very distinct items with their own use.
Some of the main differences are:
Windscreens are mainly for outdoor use, pop filters for indoor.
Windscreens are meant to filter out background noise, while pop filters filter the sound or voice itself.
Windscreens cover the entire mic, pop filters are placed before the mic.
Windscreens need to fit the mic perfectly, pop filters are more universally compatible.
Not just the windscreen of pop filter is important for clear audio recordings. Als make sure you use the best microphone for noisy environment recording.
Best Brands Windscreens and Pop Filters
Now that we have established the differences between the two, it's clear both have very practical, but different uses.
If you are working on building a recording studio, or do a lot of work behind a camera, you will want to therefore add both pop filters and windscreens to your arsenal.
Here are some products that are recommended.
Best Microphone Windscreens
BOYA Shotgun Microphone Windshield Suspension System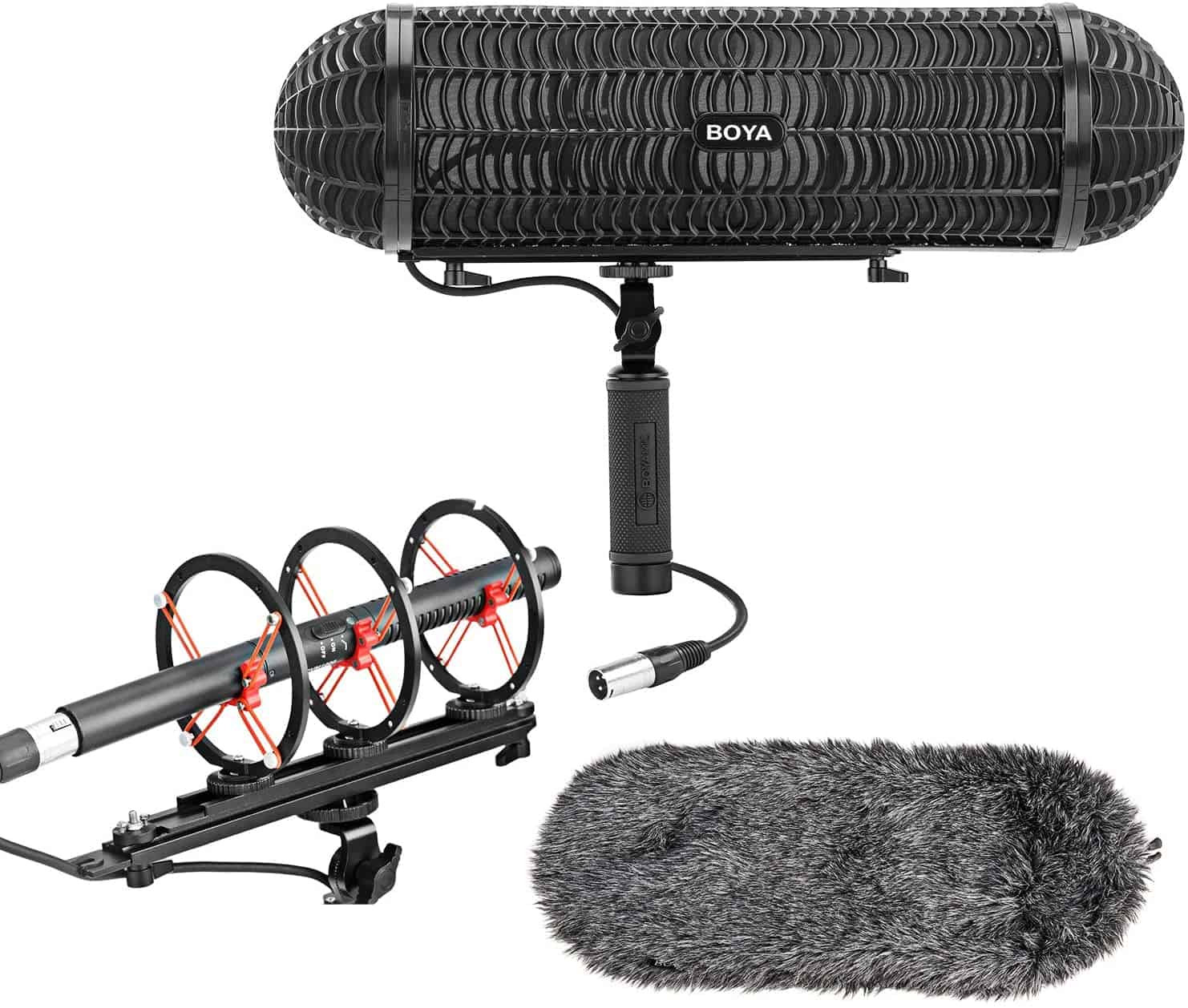 This is a set for the pro's, with both the artificial fur cover and blimp style microphone windshield mount.
It features a blimp capsule, a shock mount, a "Deadcat" windscreen for noise reduction, as well as a rubberized grip handle.
It is a durable set that will last you a long time, and it fits most shotgun-style microphones.
This suspension system is mostly designed for outdoor use, to prevent wind noise and shock. It however also be used indoors as a microphone shock mount.
It is our top choice for when you want to go pro with your recordings.
Movo WS1 Furry Microphone Windscreen
This cover is great for outdoor recording with small microphones.
The fake fur material will reduce outdoor noise from wind and background, as well as noises produced when handling your microphone.
It is small and portable, simply slip the windscreen over your microphone and start recording a crisp audio signal with minimal high-frequency loss.
This wind muff is great to record your podcasts or use it to record voice-overs or interviews, and much more.
It fits microphones that measure up to 2.5″ long and have a diameter of 40mm.
Mudder 5 Pack Foam Mic Cover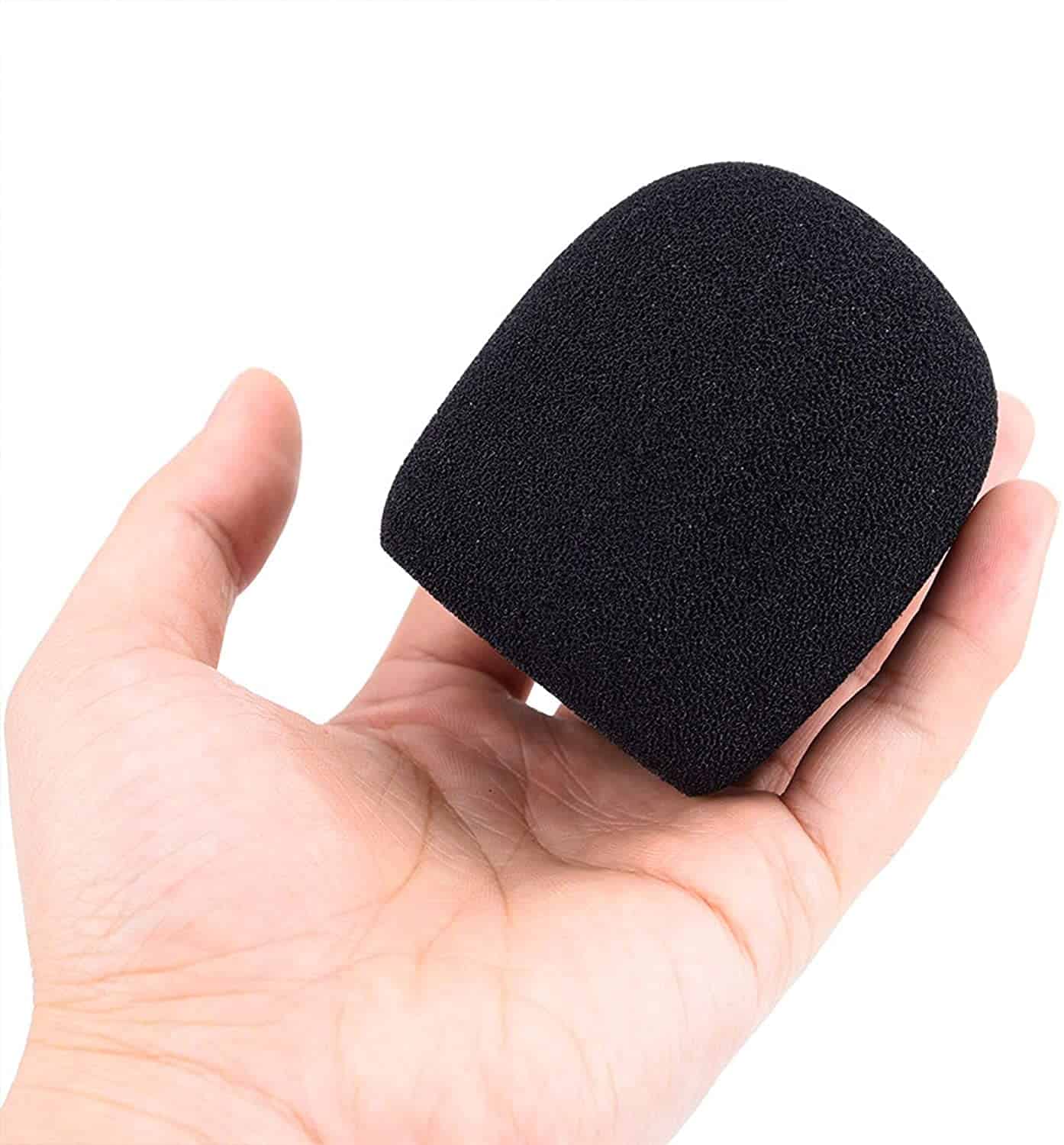 This five-pack includes five foam covers that are 2.9 x 2.5" and have a caliber of 1.4".
They are suitable for most handheld mics. The material is soft and thick making it effective at keeping out outside sound.
It also has optimal elasticity and resists shrinkage.
The covers will keep your mic protected from saliva and bacteria. They are recommended for a wide variety of applications.
Check prices and availability here
Best Pop Filters
Arisen Mic Pop Filter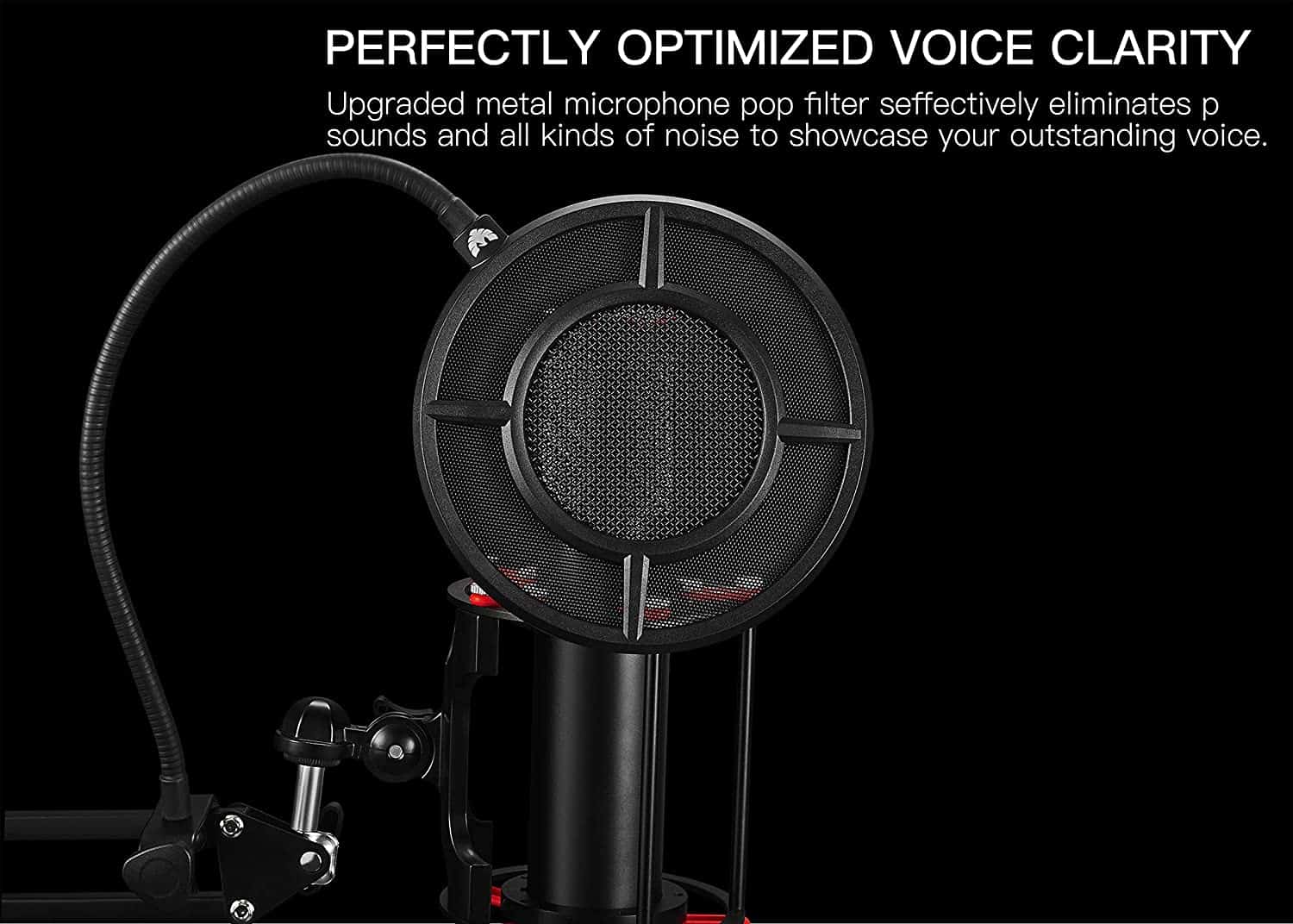 This pop filter has a double layer of metal material that is guaranteed to keep your mic safe from corrosion.
The double layer is more effective than most in limiting sound.
It is effective in reducing hard consonant sounds that can ruin a recording.
It has a 360-degree adjustable gooseneck that is stable enough to hold the weight of the filter but can be manipulated to provide the effect you need.
It is easy to install on any mic stand.
Aokeo Professional Mic Filter Mask
This dual-layer pop filter is effective in blocking air blasts which are then contained between the two layers.
The metal gooseneck is sturdy enough to hold the mic and also allows you to adjust it to the angle that works best for you.
It eliminates lisping, hissing, and hard consonant sounds allowing singers to sound their best.
It has an adjustable, scratch-proof rotating clamp that can be connected to any microphone.
It also works as an amplification modifier evening out the sound so the voice never sounds too loud.
EJT Upgraded Microphone Pop Filter Mask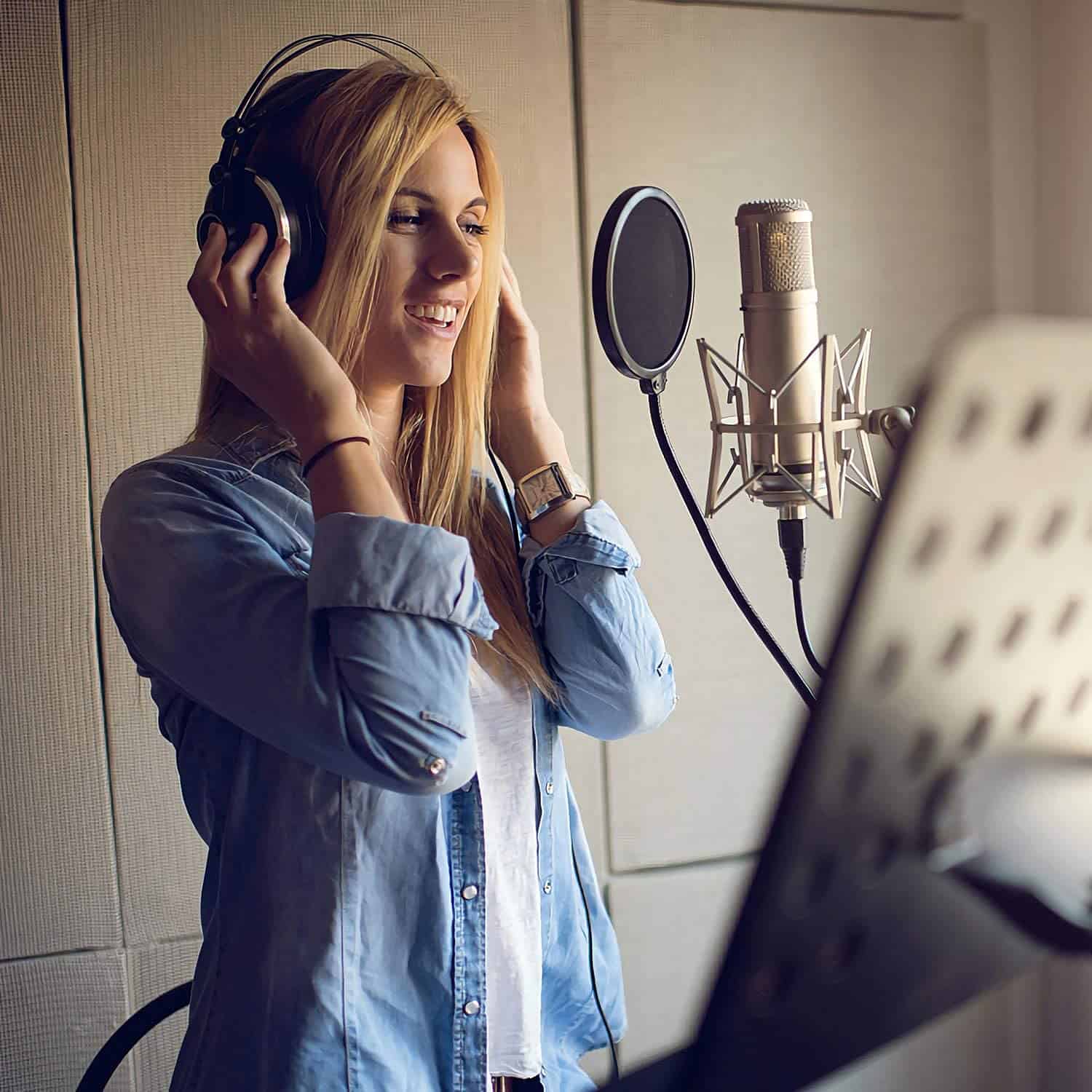 This pop filter has a double screen design that is effective in eliminating pops and also protects the mic from saliva and other corrosive elements.
It has a 360 gooseneck holder that provides stability and flexibility when it comes to getting the right angle for your recording.
The inner rubber ring makes for easy installation and it can fit any microphone stand.
Mic Windscreen and Pop Filter: Not the Same but You'll Want Both
If you plan on doing a recording, a pop filter or windscreen will be effective in limiting unwanted noise.
While windscreens are recommended for outdoor use, pop filters are a great choice for the studio.
Which will you be using at your next session?
Keep reading: Best Microphones for Acoustic Guitar Live Performance.
I'm Joost Nusselder, the founder of Neaera and a content marketer, dad, and love trying out new equipment with guitar at the heart of my passion, and together with my team, I've been creating in-depth blog articles since 2020 to help loyal readers with recording and guitar tips.
Check me out on Youtube where I try out all of this gear: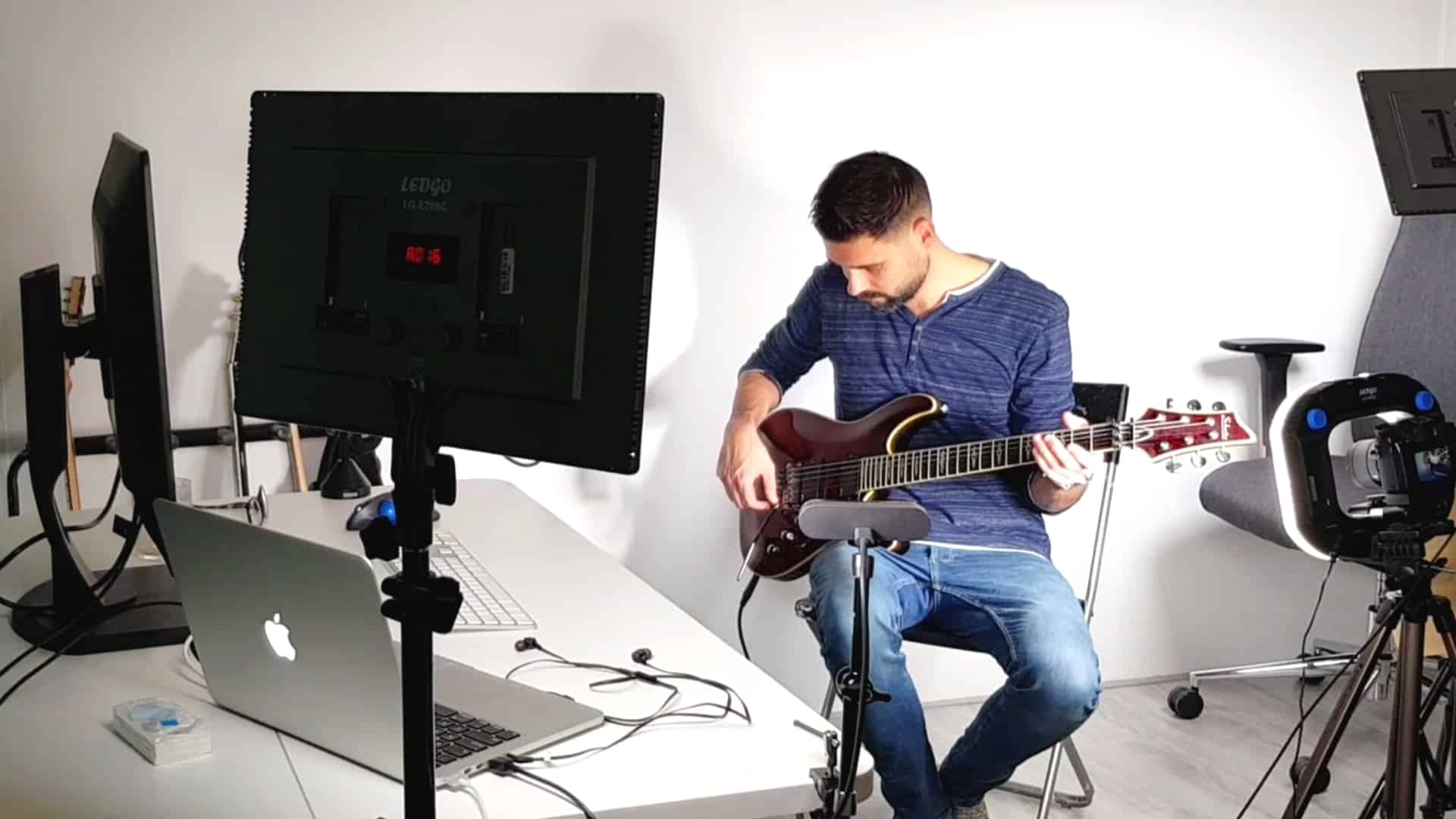 Subscribe