hi there I love creating free content full of tips for my readers, you. I don't accept paid sponsorships, my opinion is my own, but if you find my recommendations helpful and you end up buying something you like through one of my links, I could earn a commission at no extra cost to you.
Learn more
Mixing your music is a form of art, which requires you to have the skills and right equipment to be able to perform your work.
To obtain the perfect mix, as much as it requires experience and creativity, you also need a good mixing console. This device will inspire you to bring out your best music.
As a musician, purchasing one of the best mixing consoles for a recording studio would be a wise investment. That way, you can produce the top masterpieces existing in the market!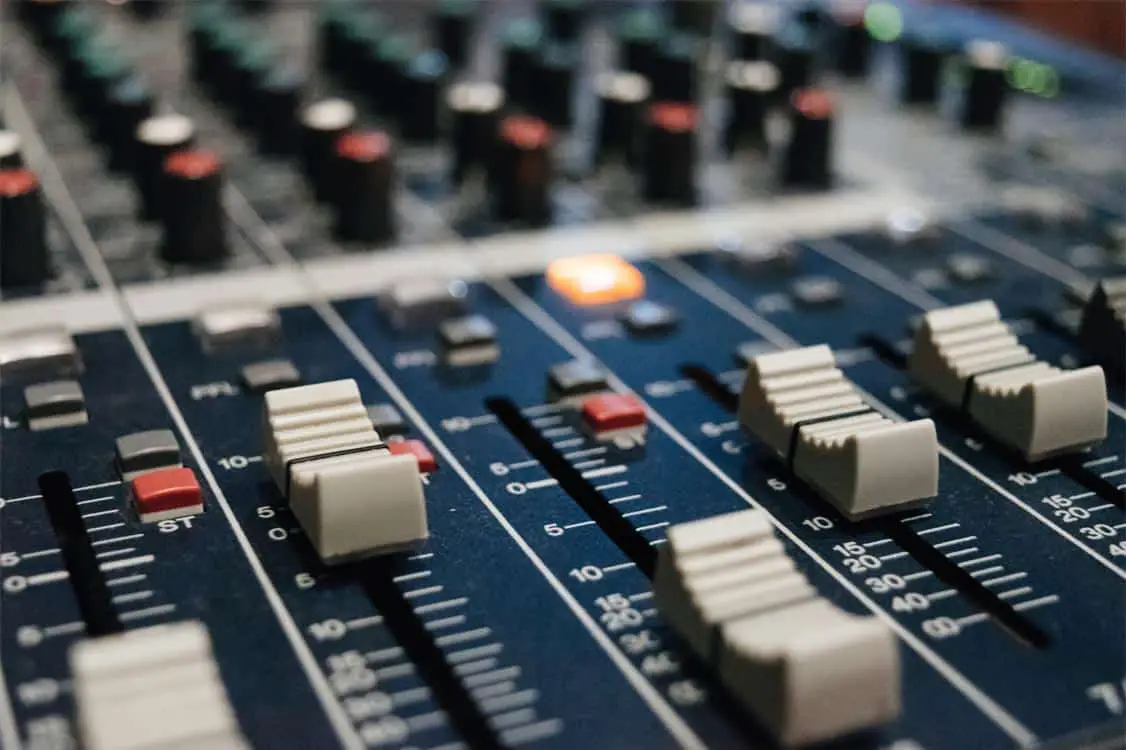 With the improvement of technology throughout the world, it's become important to emulate it, even in the music industry.
But choosing the best mixing console may not be a walk in the park.
If you want an affordable mixing solution, I'd suggest spending a little more and going for the Allen & Heath ZEDi-10FX.
Although the Mackie mixer is a good choice if you're just starting out and it really is a lot cheaper, chances are, you'll probably need an upgrade when you're getting into recording more.
The Allen & Heath mixer really gives a lot of options at an affordable price with 4 mic/line inputs with XLR, and even 2 separate high impedance DI guitar inputs. You'll have enough to get you through the most challenging recording sessions.
Below, I've picked the best consoles for a recording studio, noting their pros and cons. And finally, I've come up with the best console existing in the market.
Let's quickly take a look at the top ones and then dive straight into it:
Console
Images
Best cheap budget mixing console: Mackie ProFX 6v3

 

(view more images)
Best console for the money: Allen & Heath ZEDi-10FX
(view more images)

Best iPad & tablet controlled mixing console: Behringer X AIR X 18
(view more images)
Best large recording mixer: Yamaha EMX5014C
Best professional mixing console: Presonus StudioLive 16.0.2
(view more images)
Reviews of best mixing consoles for a recording studio
Best cheap budget mixing console: Mackie ProFX 6v3
This is one of the best mixing consoles on the market today and does an excellent job in ensuring that you'll get the best sounds ever.
Wouldn't it be amazing to feel like you're the best in the whole world when it comes to producing the best mixes in the music industry?
With this mixing console, you'll get many buttons and slides to use throughout your mixing adventure. This is sufficient for you to get the best output from your music.
If you're looking for a device that you can easily carry around, then this would be the most suitable one for you. Its weight and size makes the device more portable, so you can use it everywhere you go for a comprehensive experience.
However, you'll love it not only for its portability, but also for the high quality performance you'll get from it.
Check out idjnow with his take:
The Mackie ProFX comes with a various number of effects that'll help you get high quality audio for your music.
With 16 excellent effects, what else would you expect from it, other than the best experience?
It comes with an FX effects engine, which is specifically designed to produce high quality audio. You'll certainly impress your audiences.
It also comes with easy to use controls. With this model, mixing will be easier, thanks to the USB port that'll help you connect the mixer directly to your computer to start the process.
It also includes traction software, which is easy to use. It allows you to record your mixes faster.
Pros
Compact in construction
Highly affordable
Produces high-quality audio
Excellent sound effects
Inbuilt USB interface for easy recording
Able to run with 12-volt batteries
Cons
Channels appear to be fuzzy
Best console for the money: Allen & Heath ZEDi-10FX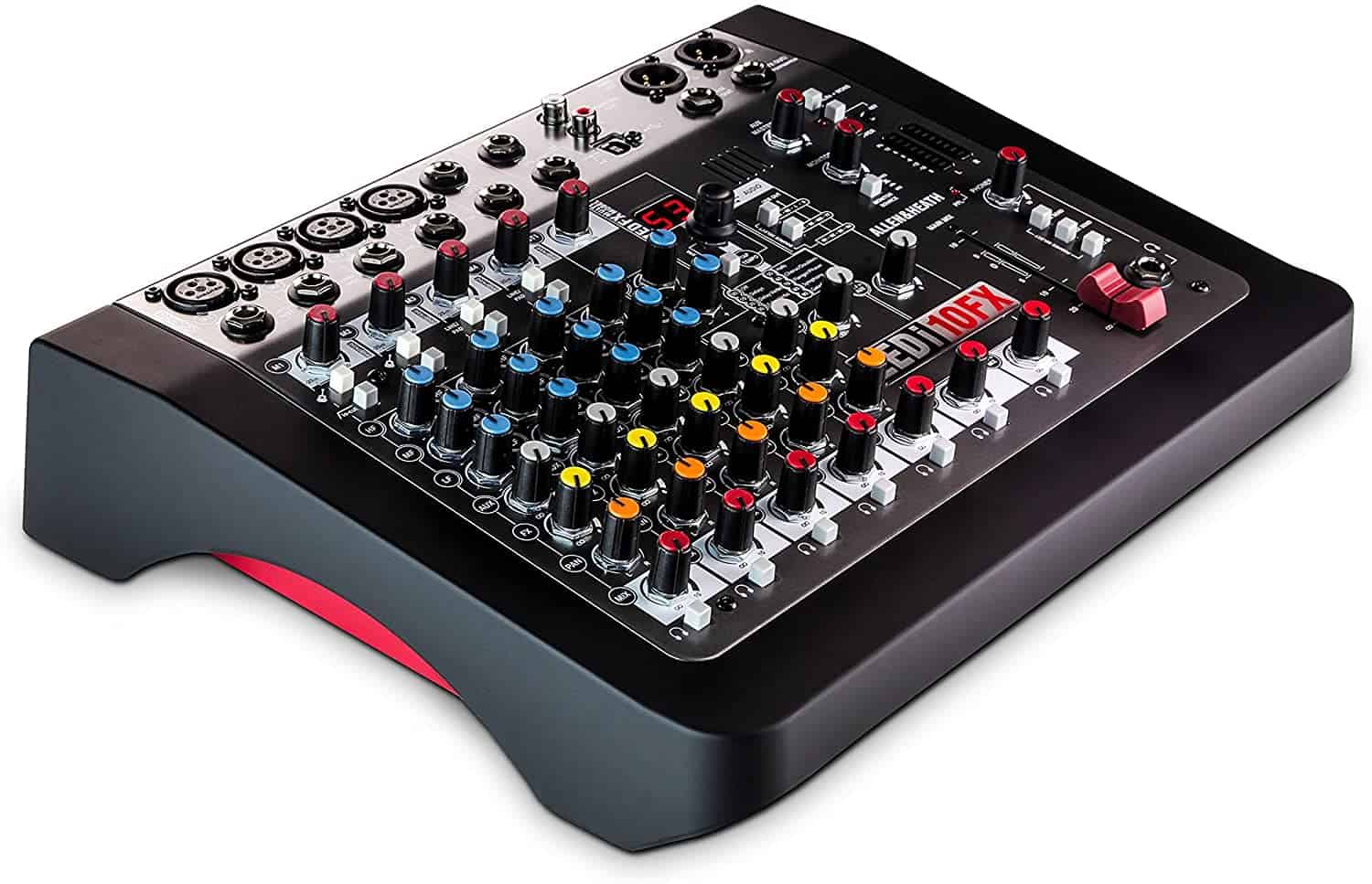 This is one of the best mixing consoles and has an easy setup process. With this model, it's priceless to be able to start your mixing process immediately after you set up the device.
It comes in a compact design that's highly attractive. With this product, you'll never have to worry about where to place the device.
This product is much more affordable and still gives you the best experience, the same as expensive models do.
This makes it the best mixing console, especially for guitar lovers. It comes with 2 excellent channels that have guitar modes, which makes it much more fun and enjoyable to use the mixer with the guitar.
Here, you can see it on AllThingsGear's channel:
The EQs ensure that you get high-quality live performances with clean and clear sounds.
The USB interface makes the mixing process much easier. The manufacturer of this product designed it in such a way that its left side is used to hold the channels.
It allows you to secure your microphones with 3 stereo inputs, which you actually need for your mixing experience.
Its controls are designed to make it easier for you to change their settings in order to come up with the perfect sounds.
Pros
Super quality sound
Excellent analog mixing with digital power
Compact design
Cons
Has a loud hum on the microphone input
Best iPad & tablet controlled mixing console: Behringer X AIR X18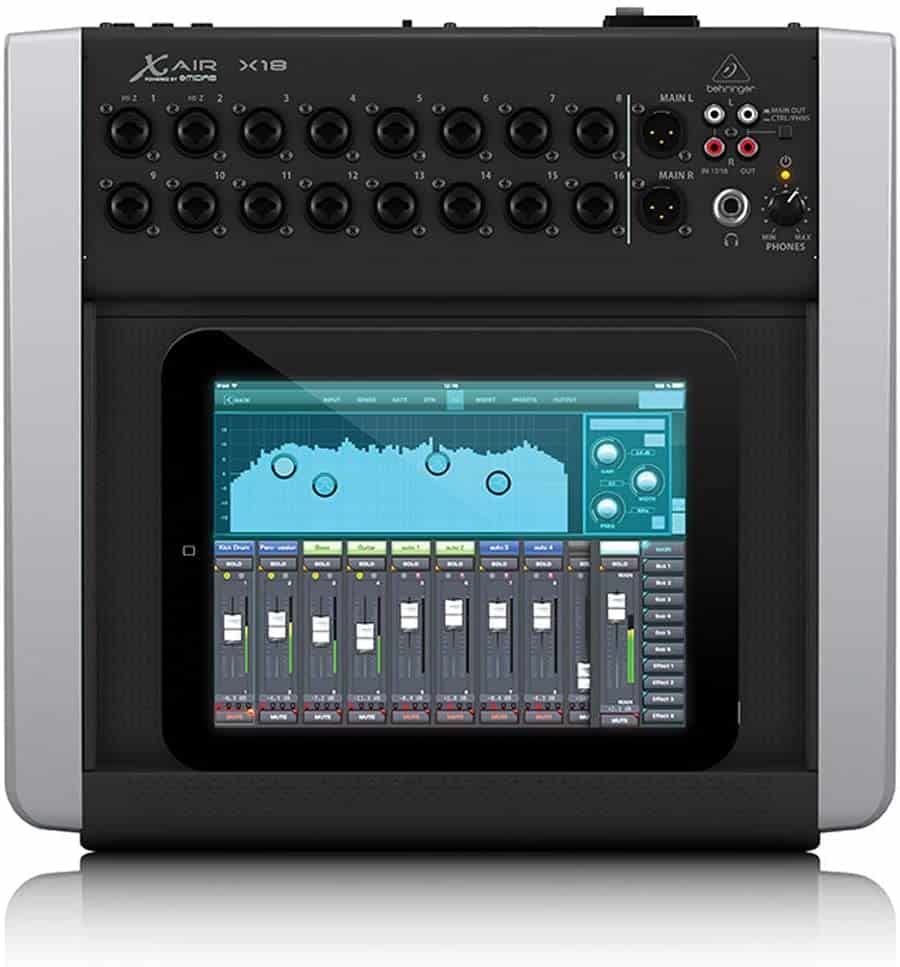 This is one of the best multi-functional models on the market. It comes with newly designed features that'll have you purchasing it, all without considering the price!
It's accompanied by 18 channels with a USB interface that'll make your recording and mixing process both fast and professional at the same time.
Another feature that makes it purchase-worthy is its inbuilt Wi-Fi system that gives you good connectivity with other devices to give you a better performance.
It also features programmable preamps that ensure you get high-quality audio. You'll get the best performance you've always dreamed of.
For those who prefer to go for something that's much more durable, then this device is what to go for.
Sweetwater has a great video on it:
It's built solidly, so you'll be able to use the device for a long time without needing to replace it. This is important for those people who buy items as investments.
Apart from the above features of this model, it's also personalized to help with monitoring. With the tablet touchscreen, it becomes easy to monitor and control the process.
This is the best device for musicians who want to emulate technology in mixing.
Pros
Its solid construction makes it durable
Amazing audio quality
Integrated with excellent technology
Cons
The touchscreen might be unresponsive at times
Best large recording mixer: Yamaha EMX5014C
Yamaha is the most well-known company when it comes to the best sounds in the music industry.
Its history remains undefeated. With the Yamaha EMX5014C, you'll get the best quality possible, as the company wants to live up to the its standards and reputation. They don't want to disappoint their customers.
This model does a great job of producing high-quality sounds. The Yamaha EMX5014C comes with all the tools that make mixing your music an easy and professional task.
It comes with 14 input powered mixers, two 500-watt amplifiers, and inbuilt effects that you'll need in mixing.
The good thing with all these is that they're housed in a mounted rack, which is made of sturdy steel.
With the possibility of easily switching the 2 amplifiers to the right and left outputs, it's easier to control the kind of sound you want to produce.
It's designed with an easy set up that'll enable you to pick up the process in a shorter time.
What you'll love the most about the Yamaha EMX5014C is its single knob compressors that give you control of the vocals. It also lets you keep the tightness of the bass.
The model comes with 9 band graphics. It's possible to monitor the audio you're producing very closely.
With the SPX effects that are inbuilt, you're assured of the sound.
Pros
Highly versatile
Produces clean audio
Highly powered amplifiers
Easily portable
Cons
Quite expensive to purchase
Best professional mixing console: Presonus StudioLive 16.0.2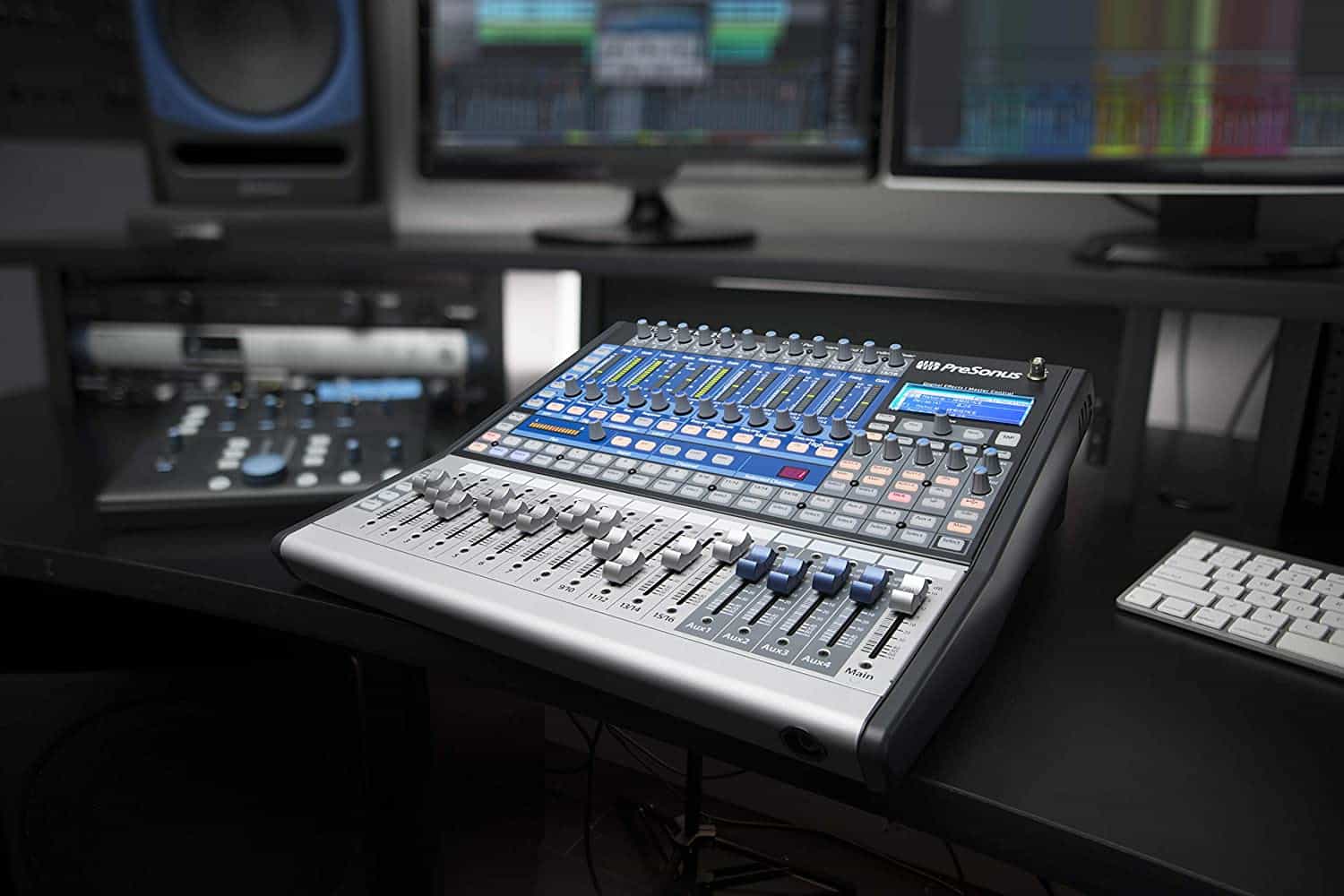 Presonus StudioLive models turn your music mixing into a very easy process. With this one, you'll be able to combine analog with digital, and you'll get the best out of it!
It has an analog-like surface that combines with digital power to ensure that you get great sound when you integrate it with the required mixing software.
Presonus StudioLive is one of the best if you're looking for an excellent and creative production environment. It offers wireless connectivity to any available network and has a multi-touch control surface, which is good for personalized monitoring.
It has signal capabilities that help you to receive high-quality sounds from the channels you choose.
With its wide range of knobs and sliders, and 24 input channels, you'll get nothing but the best from this device.
It comes with 20 mix buses that have an easy configuration. This model is totally worth investing in!
Pros
Great sound quality
Memory recall capability for various channels
Excellent channel processing
Cons
Disturbing fan noise
Expensive to purchase
Get a fantastic mixing console
To select the best mixing console for a recording studio, there are various factors that you need to take into consideration.
You need to check your budget because they come at different prices from the highest to the lowest. The features are another thing to look at because they each have very different ones.
Hopefully, this article has given you a good starting point so you know which mixing consoles are good for you. Happy shopping!
I'm Joost Nusselder, the founder of Neaera and a content marketer, dad, and love trying out new equipment with guitar at the heart of my passion, and together with my team, I've been creating in-depth blog articles since 2020 to help loyal readers with recording and guitar tips.
Check me out on Youtube where I try out all of this gear: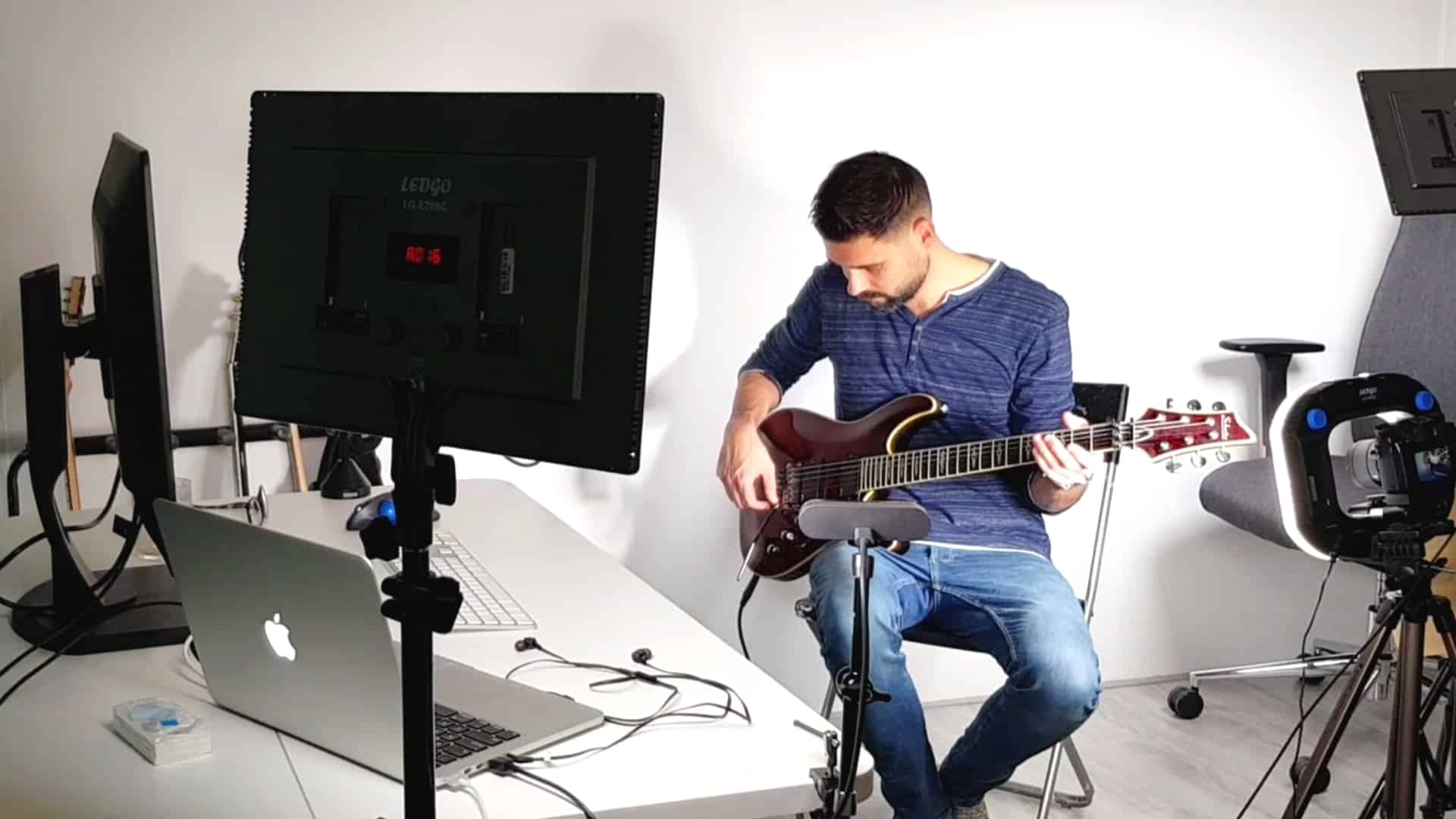 Subscribe