I love creating free content full of tips for my readers, you. I don't accept paid sponsorships, my opinion is my own, but if you find my recommendations helpful and you end up buying something you like through one of my links, I could earn a commission at no extra cost to you.
Learn more
Have you ever seen a singer recording tracks in the studio and noticed that he or she has some sort of barrier between themselves and the mic?
This is what's known as a mic shield.
It is used to reduce sound wave reflection and ambient and unwanted noise. It isolates the mic from its surroundings to improve the sound of the recording.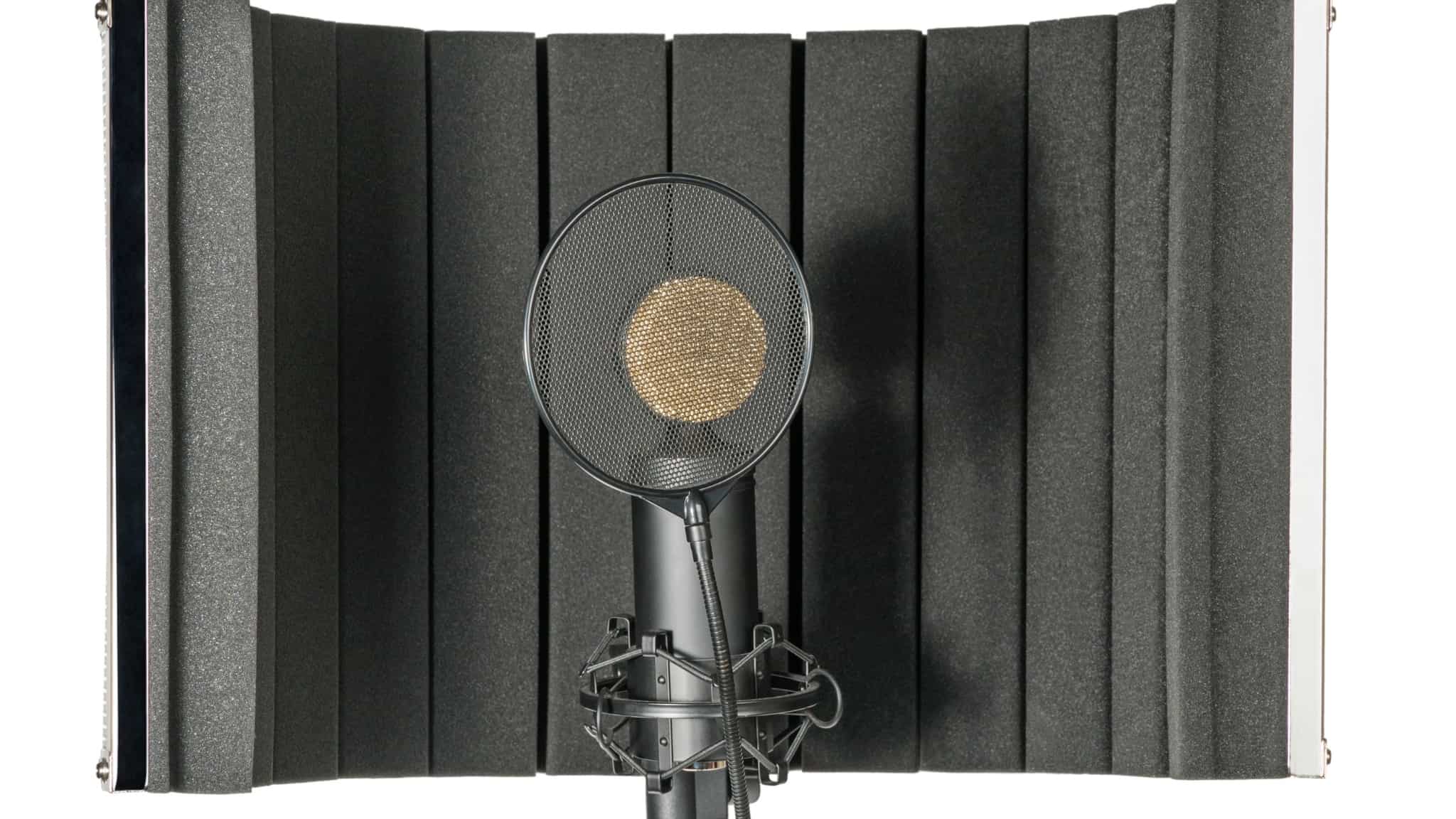 Read on to learn more about mic shields, and a review of the best mic shields on the market today.
If you want a great sounding recording with a minimal amount of noise sE Electronics Space Vocal Shield will get the job done.
It has ten different layers that help muffle noise over a wide range of frequencies and it provides a natural sound. It is also adjustable so it can work with a variety of mic sizes and can be tilted as needed.
The sE Electronics Space Vocal Shield is far from the cheapest option but it is well worth the investment.
Once you buy this shield, you shouldn't need another. It will hold up and provide a terrific recording quality.
And while sE is our choice for the best mic shield, there is a wide variety out there.
These range in price and have different features that may make them more suitable for your needs.
We'll have a full review of each and let you know how they can help you get a great recording.
What to Know When Buying a Mic Shield
Before we get into the different mic shields, it's important to understand what to look for so you can make an educated choice when it comes to buying one that is best for you.
Here are a few things to consider.
Placement and Mounting
Some mic shields are made for mic stands while others are more compact and can be used on desktops.
The one you choose will depend on where and how you like to record.
For instance, if you are recording standing in a studio, you will want a shield that can be placed on a mic stand.
If you record sitting down while recording, a desktop model will be preferable.
Adjustability
Many mic stands can be adjusted in terms of tilt, height, and more.
The more adjustable features it has the better. This will ensure that it can be used in a variety of situations.
Shield Weight
While a heavy shield may be more durable, consider that you may have to move the shield from room to room and studio to studio.
It is for this reason that you will want to find a shield that isn't too heavy. If it folds up to become portable or if it can fit in a case, that is even better.
Shield Size
The shield size you choose can vary according to your personal needs and the equipment you are using, but in general, bigger is better.
A wider shield will fully wrap around the mic to eliminate any outside noise.
A taller shield will minimize noises reflecting from the top or bottom and it will be ideal for smaller and larger mics.
Materials and Construction
Obviously, you will want a mic shield that's made of durable materials and that is well constructed.
This means it will last longer and it will absorb sound better.
Compatibility
Make sure the mic shield you buy is compatible with your equipment.
Price and Budget
While everyone wants to save money, in general, the more you pay for your mic shield, the better it will work and the longer it will last.
With that being said, you still won't want to break the bank.
Best Mic Shields reviewed
Now, without further ado, let's get into reviewing the best mic shields for your money.
Overall Best Mic Shield: sE Electronics Space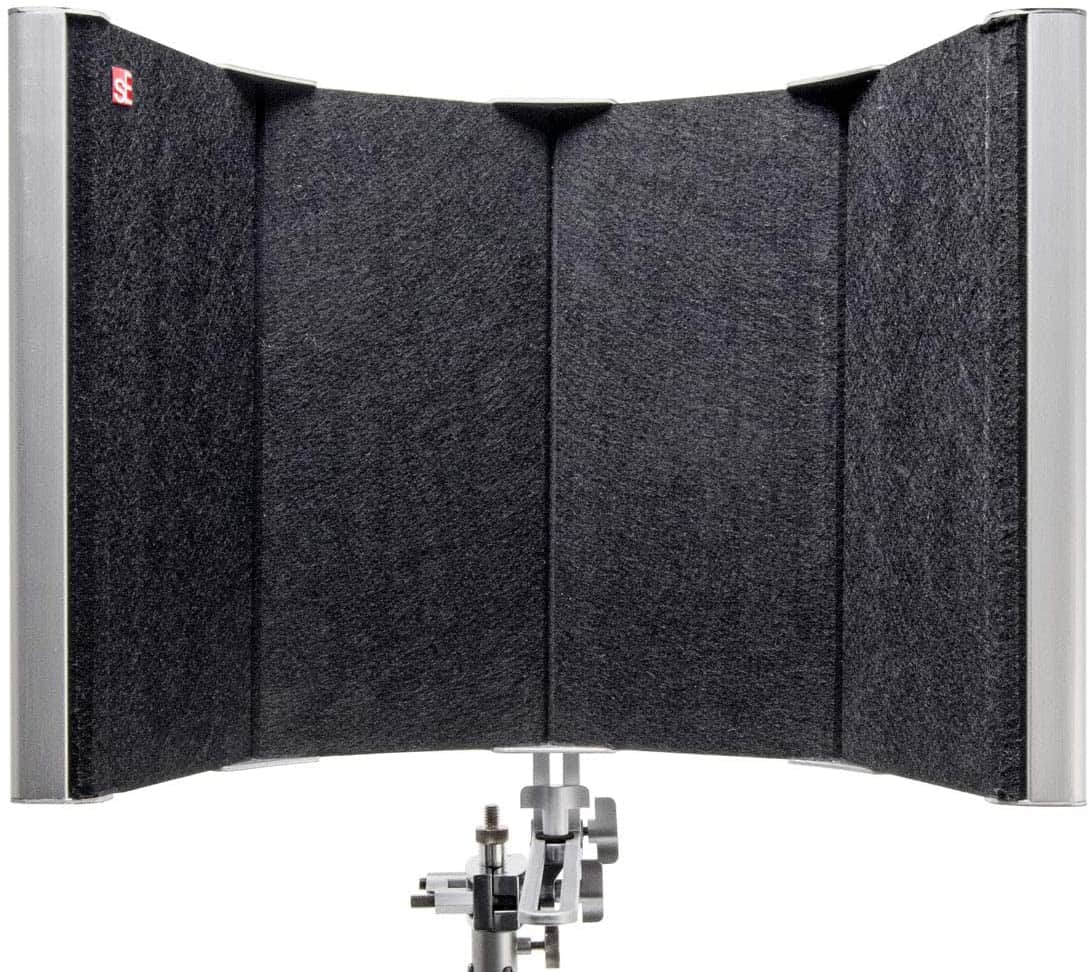 This sE Electronics Space Vocal Shield is pricier than most, so it's not for amateurs.
If you are looking for a great, professional-sounding recording, this is a perfect choice.
The mic has a large surface area so it is optimized to eliminate noise and it will work on mics of all sizes.
The multilayers are ideal for keeping the sound the mic picks up isolated. Its deep air gaps provide diffusion that helps you control the acoustic environment.
It offers full bandwidth absorption.
The product was built by hand to provide the ultimate in quality.
Its flexible, versatile hardware allows it to be mounted on any type of mic. It adjusts and tilts easily and locks in place.
Check prices and availability here
Best Halo Shaped Mic Shield: Aston Halo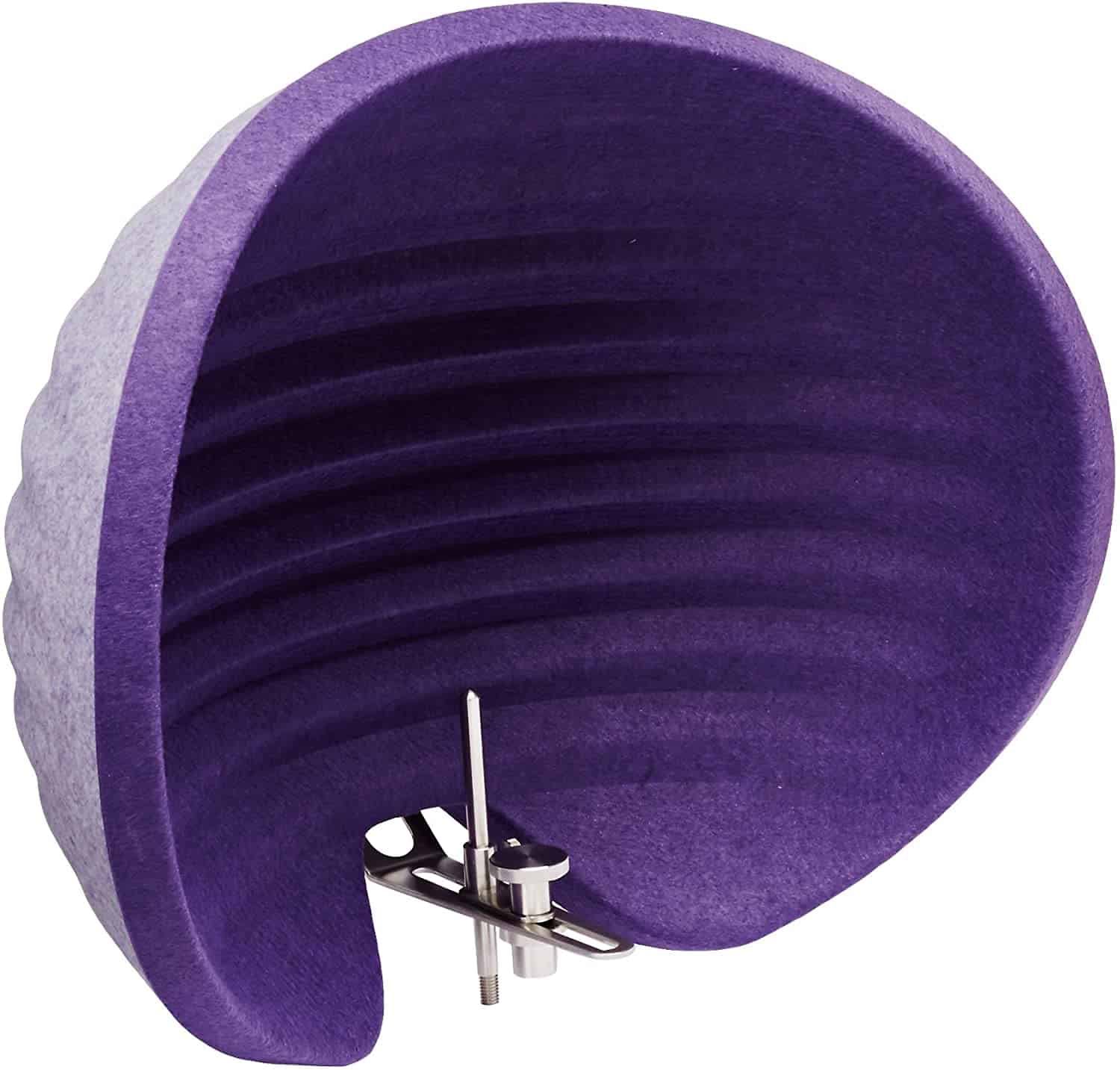 This Aston Halo Reflection Filter is another shield that is quite expensive but it may just be 'the mic shield' for professionals.
It has a unique halo shape that makes it perfect for blocking sound from all angles. Its lightweight, easy mount design makes it perfect for engineers who need to haul around their gear often.
The mic shield has an innovative shape that allows it to offer the ultimate in sound reflection.
It is made with a patented PET felt making it one of the most lightweight and efficient products of its kind.
It comes with easy-mount hardware that makes it ideal for setting up at any location. (As an added bonus, the material is also recyclable).
The shield is large enough to work with a variety of microphones and it is terrific for sound diffusion.
Best Large Mic Shield: Monoprice Microphone Isolation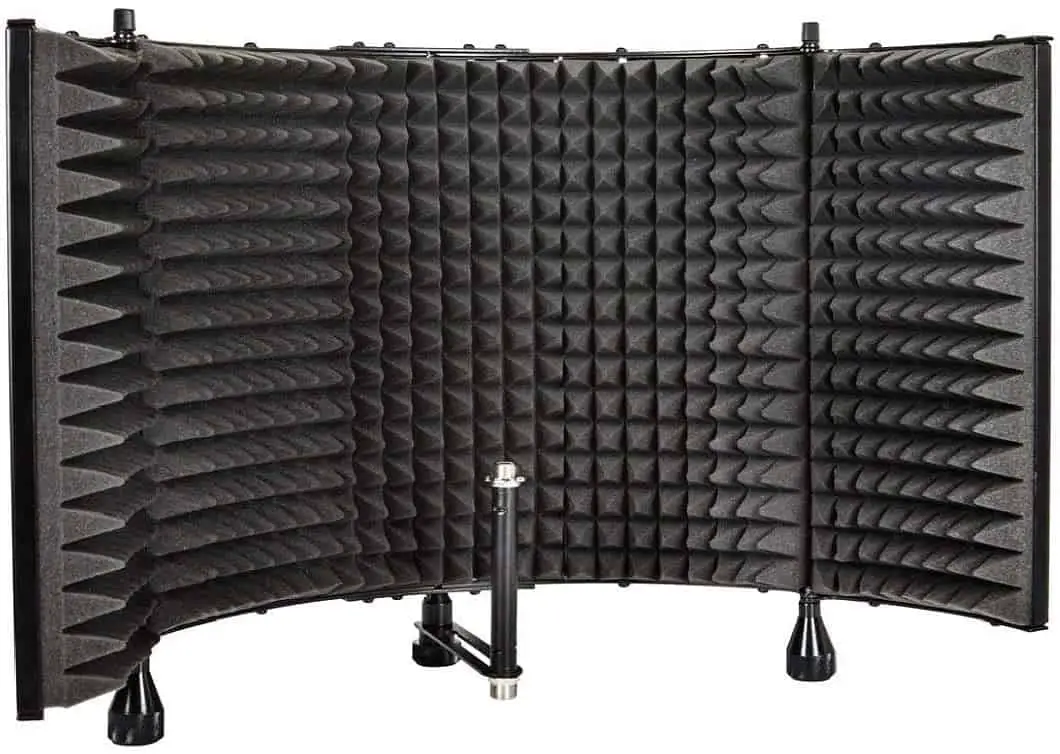 We have spoken about the benefits of working with a lightweight shield for portability but added weight will help keep the shield stable during recordings.
Heavier materials also tend to go hand in hand with durability. Because this shield is heavy, it is recommended for engineers who don't need to move around as often.
The Monoprice Microphone Isolation Shield has an acoustic foam front and a metal backing.
This makes it ideal for letting the microphone breathe while minimizing sound reflection.
The dual clamped mounting bracket attaches to boom stands that are 1 ¼" in diameter. It also has a 3/8" to 5/8" thread adapter.
It has side panels that can be folded in for portability. It can be used upright or inverted if you are hanging a microphone upside down in the studio.
Check prices and availability here
Also read: Best Mixing Consoles For a Recording Studio reviewed.
Best Convex Mic Shield: Auralex Acoustic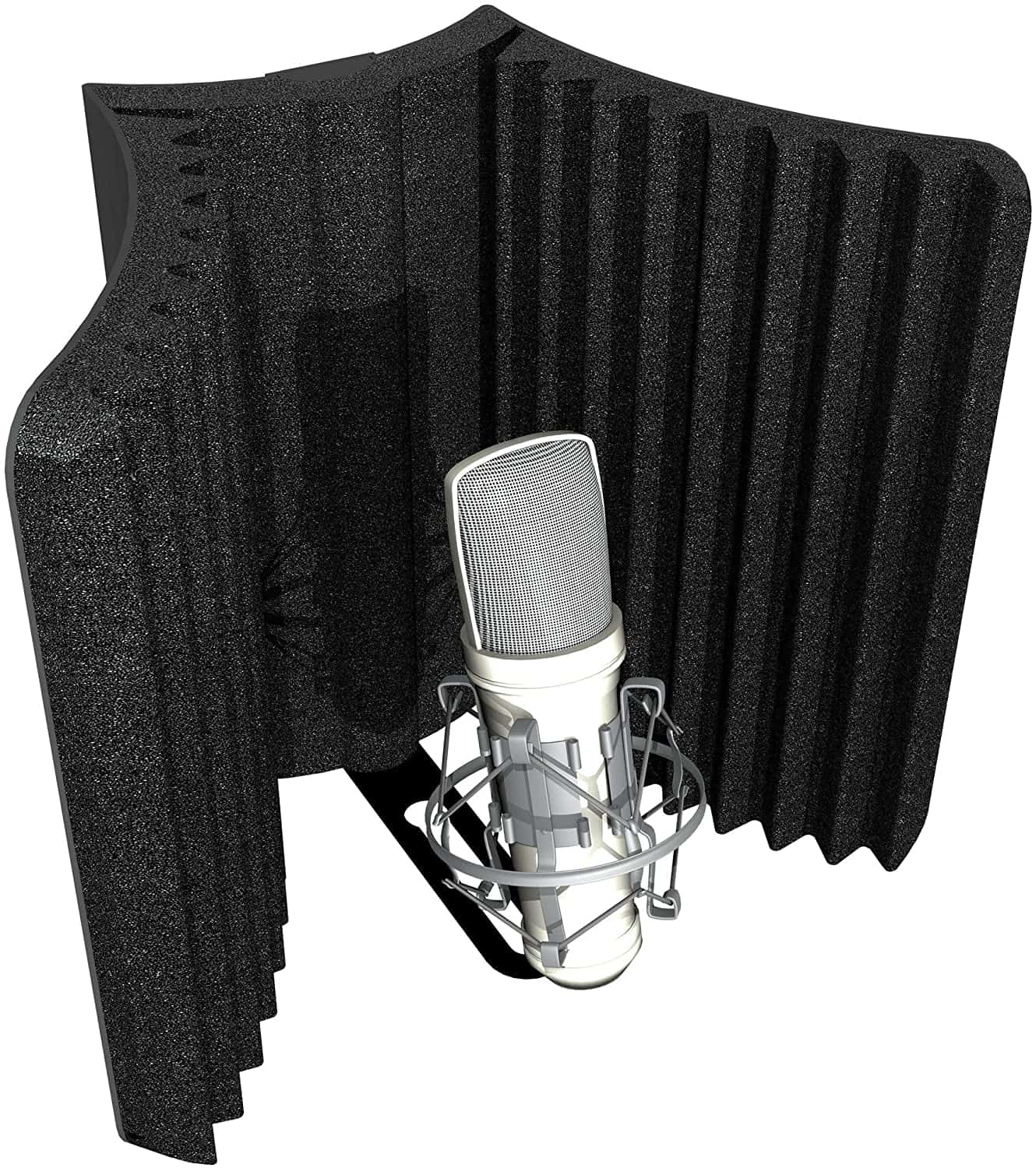 This Auralex Acoustics Microphone Isolation Shield is professional grade.
Its convex shape is perfect for bouncing room reflections away from the mic. Its lightweight makes it ideal for portability.
The shield has a non-perforated solid back that provides maximum sound isolation.
The included hardware makes the shield easy to mount and adjust.
The way the mic is adjusted in relation to the shield can also affect the sound of the recording.
If it is positioned into the shield, the upper and high frequencies will be reduced making for a more present mid-range and a drier sound.
If the mic is positioned away from the shield, it will pick up more room reflections making for more of a live sound.
Best Portable Mic Shield: LyxPro VRI 10 Foam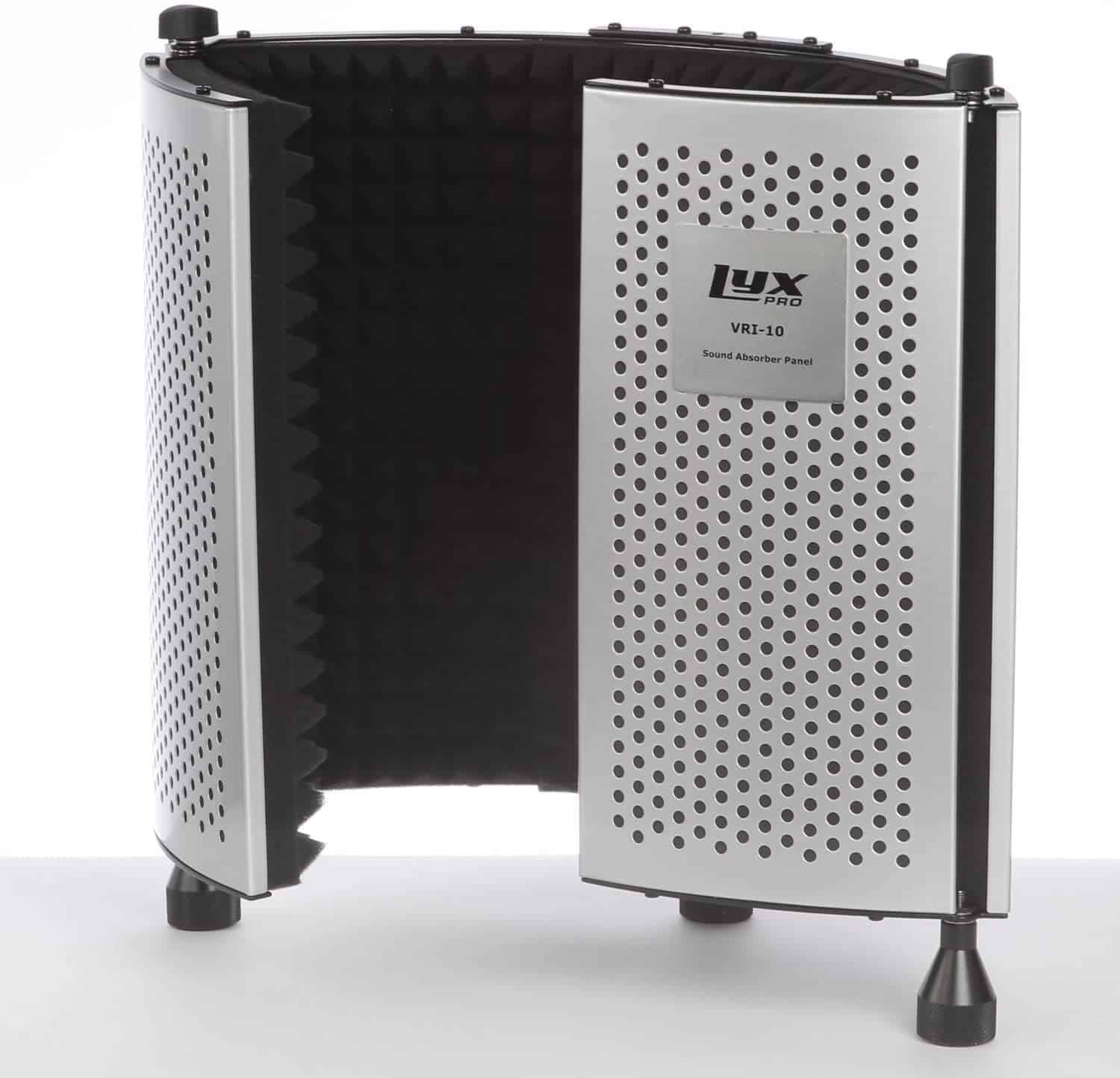 If you do a lot of recording on the road, the LyxPro VRI-10 Vocal Sound Absorbing Shield may be for you.
It is lightweight and folds up or disassembles making it easy to take around with you. It comes in various sizes ranging from mini to extra large.
The sound-absorbing panel is great for producing a high-quality sound, even when the best equipment may not be available.
It eliminates noise and its aluminum panel is lined with high-quality foam that reduces bounceback.
It requires minimal assembly and can be set up in seconds. The sturdy clamp ensures it will stay in place while you are recording.
You can fold it up, or if necessary, completely disassemble it so it fits in a suitcase. It will be easy to reassemble the next time you use it.
Best High-End Mic Shield: Isovox 2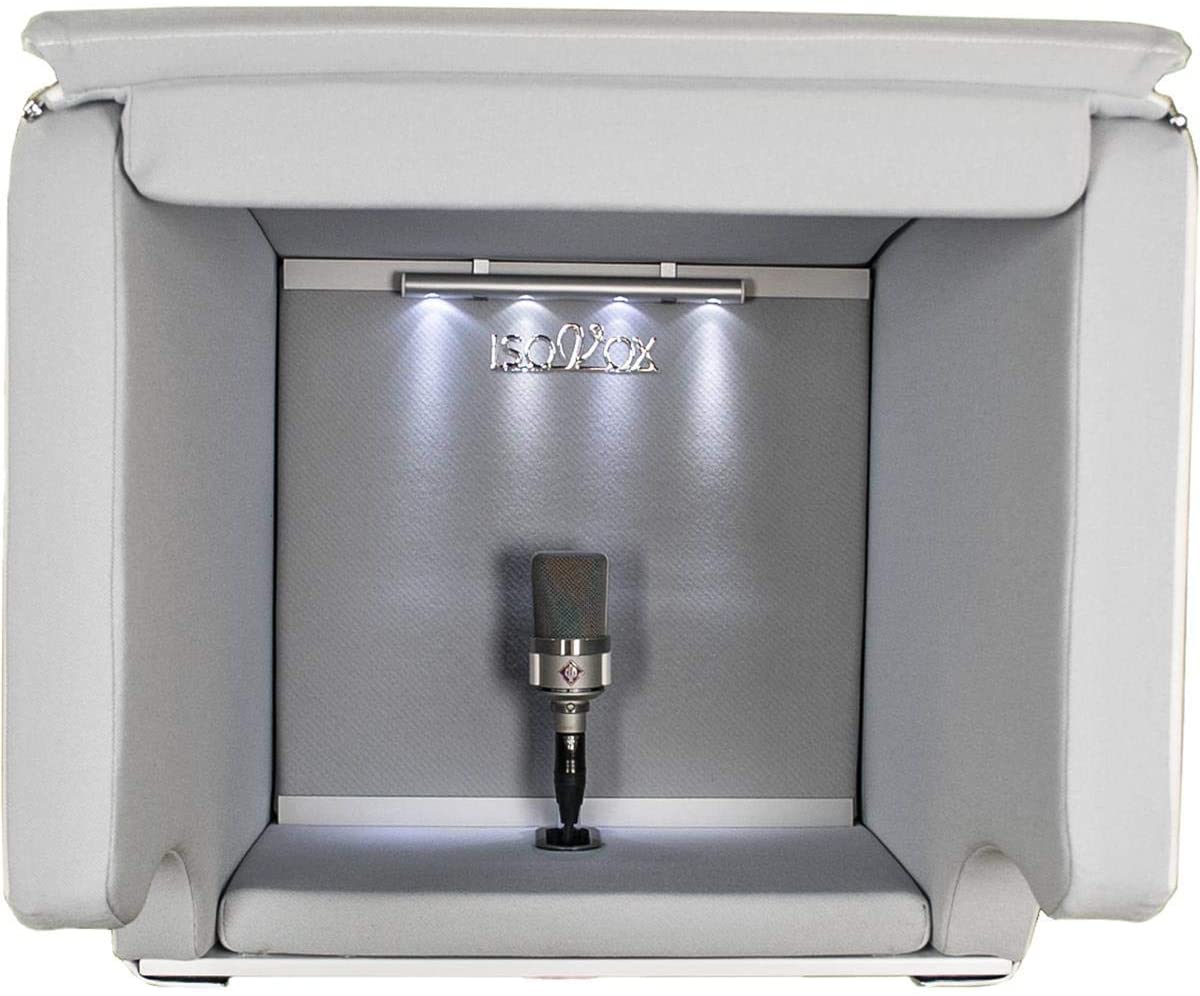 With prices ranging near $1000, this is an extremely high-end shield recommended for professionals. However, the quality it provides may just make it worth the price.
The ISOVOX Portable Mobile Vocal Studio Booth claims to have superior noise-reducing properties to the point where you won't even need to soundproof your room.
It has four layers of superior acoustic material that gives vocals a nice warm tone.
It controls sound waves from all angles, a characteristic that is unique to this product. It has a patented pro acoustic system that blocks out sound like no other shield.
It comes with an LED light that makes singers feel like stars while recording. It comes with a zip case that provides excellent portability.
Best Mic Pop Shield: EJT Upgraded Pop Filter Mask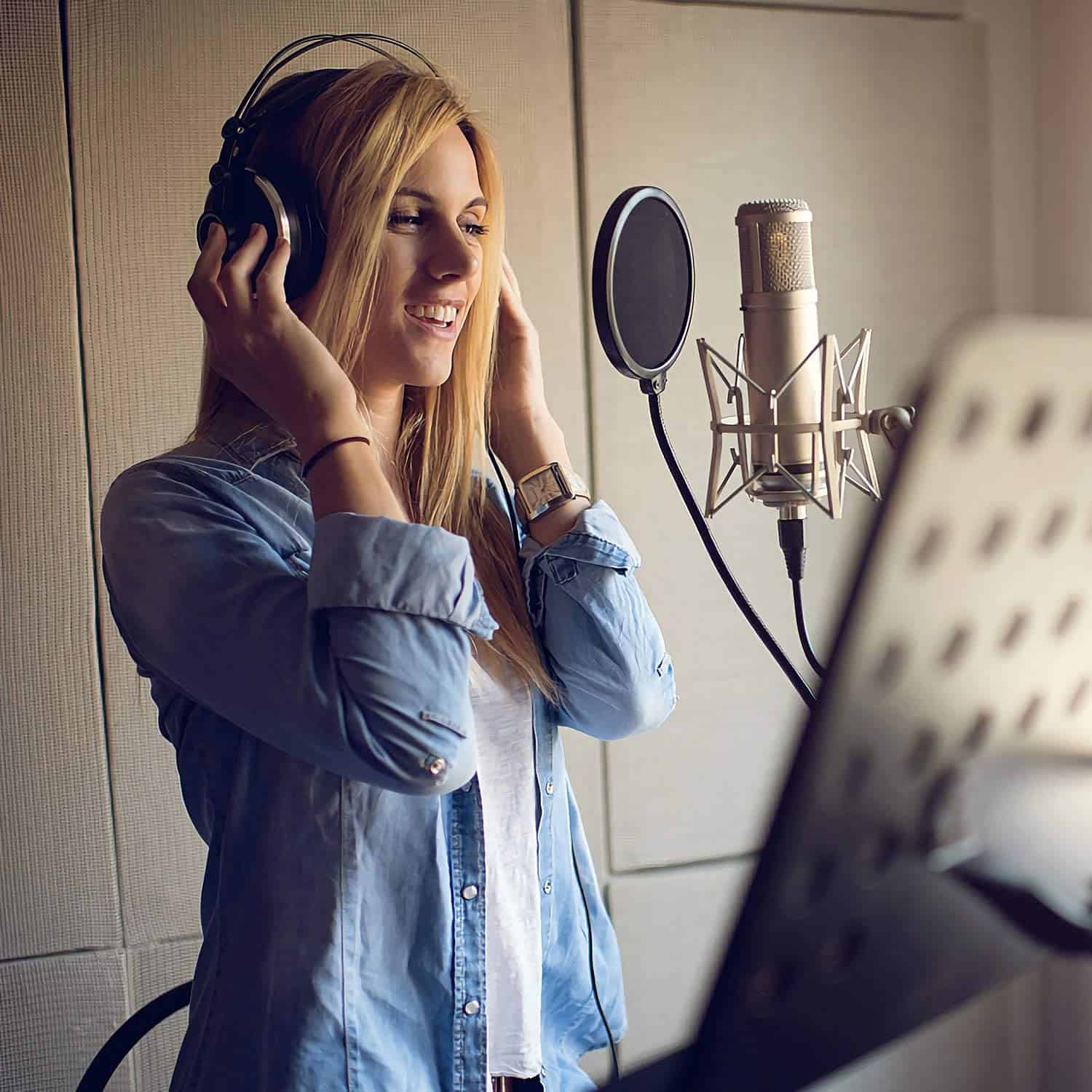 Unlike a full shield, a pop filter does not block out sound as effectively. However, it does reduce unwanted sound.
It is also a lot cheaper than a full shield. This makes it a good option for those that are just starting out with their own studios.
The EJT Upgraded Microphone Pop Filter is a recommended product because it has a double screen that is more effective in blocking noise than single-screen filters and it also reduces pops that occur when saying certain consonants.
It is easy to set up and has an adjustable 360-degree gooseneck. It works with a wide variety of equipment and microphones.
Read all about the differences between a Windscreen vs. Pop Filter for Microphone here.
Best Mic Windscreen Cover: PEMOTech Upgraded Three Layer Windscreen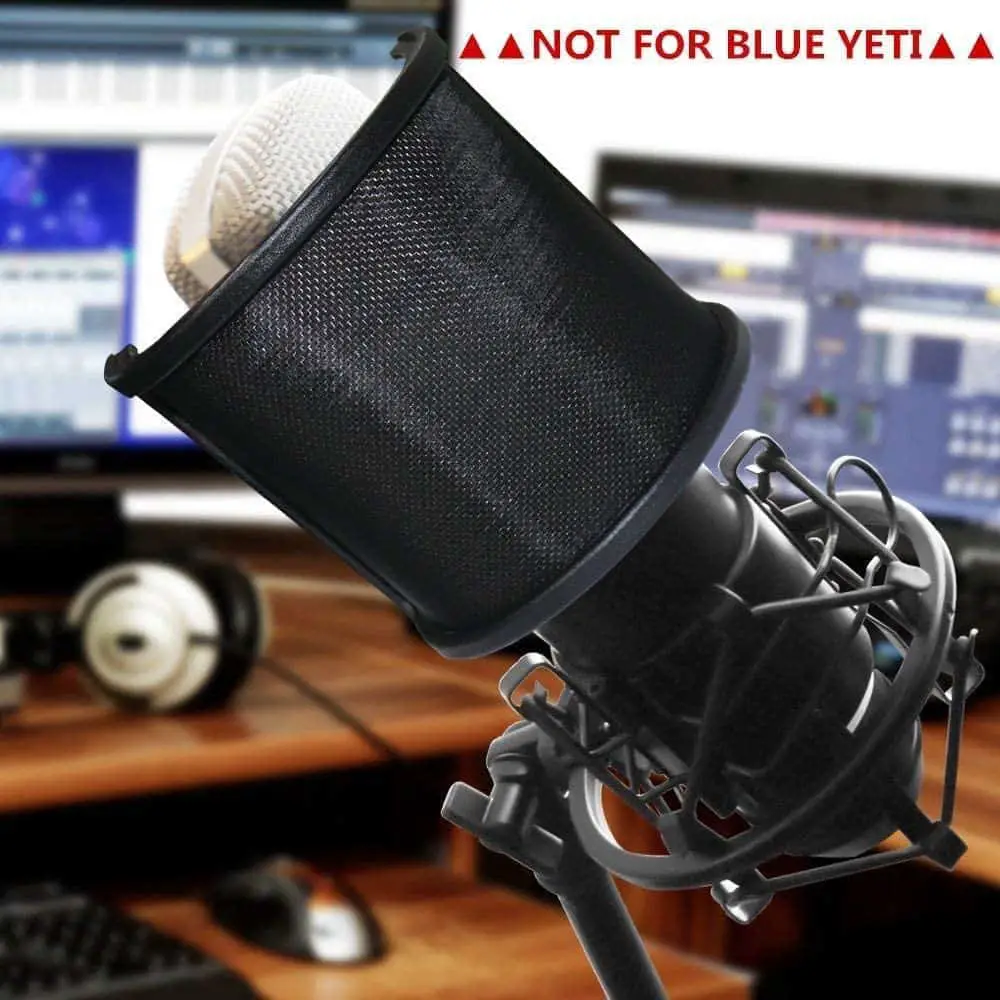 This windscreen cover is not as pricey as some of the shields listed above, but it is effective at reducing excess noise that can come from wind and other ambient sources.
It also works to minimize pops that come from consonant sounds like P's and B's. It is a good tool for those starting out with their own recording studios.
The PEMOTech Microphone Windscreen Cover works for microphones that range in size from 45 to 63 mm.
The three-layer design includes foam, metal net, and etamine. The metal mesh and plastic are easy to clean and naturally protect against saliva.
It is easy to assemble and disassemble.
Best Mic Reflector Shield: APTEK 5 Absorbing Foam Reflector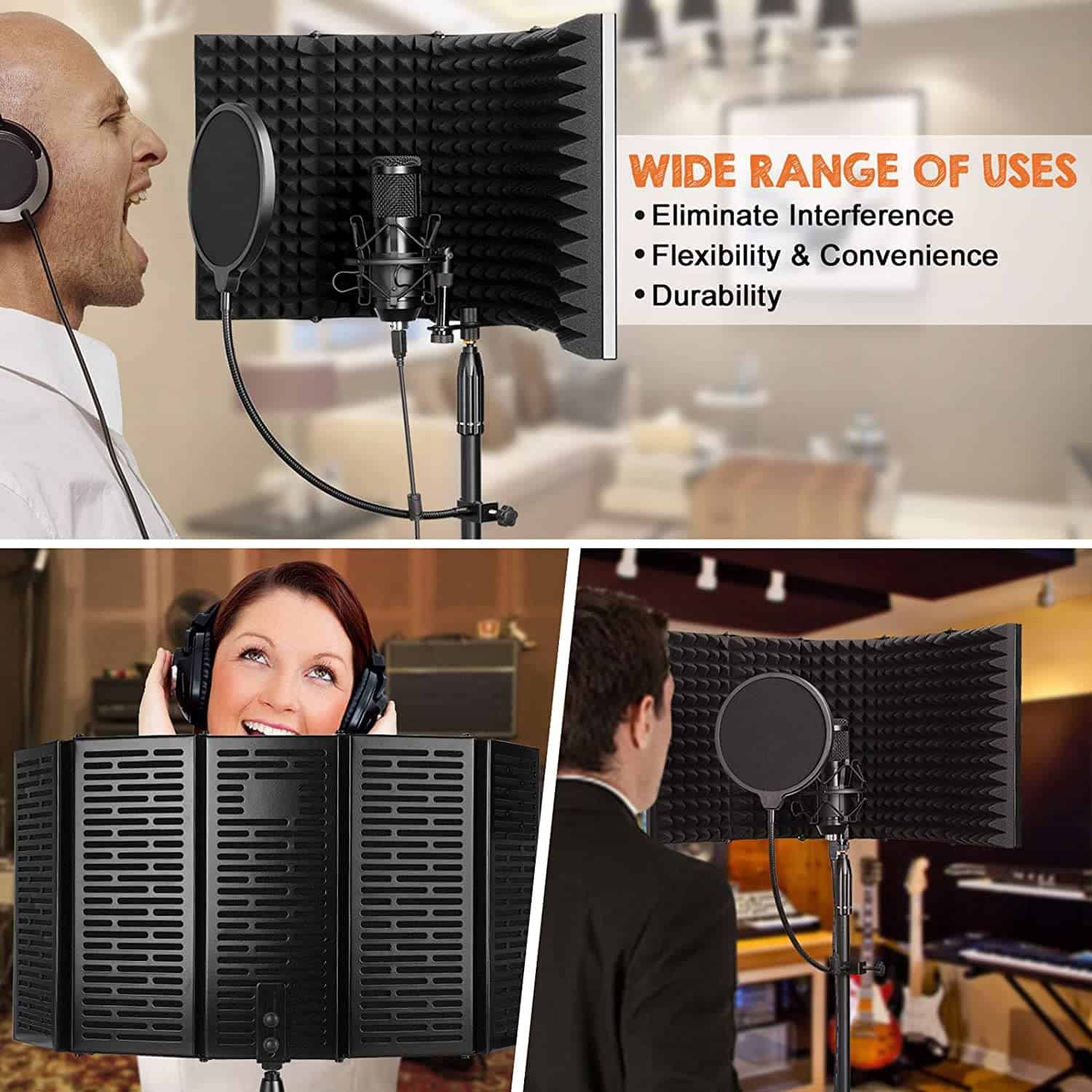 This AGPTEK Microphone Isolation Shield is reasonably priced, making it ideal for beginner to intermediate level engineers.
Its foldable panels make it easy to take from one place to another.
The shield is unique because the inner side is made of an insulating material that reduces echo and sound reflection.
It is 23.2" in length so it provides adequate coverage for most microphones.
Its folding panels make it easy to adjust and carry. It is made of durable steel and high-quality screws so it will endure the test of time.
It comes with an additional pop filter, which you can use with the shield to make your recordings even clearer.
Conclusion
With so many mic shields available, it may be hard to choose one.
The sE Electronics Space Vocal Shield stands out because it is a high-end shield with excellent noise control capabilities and durable construction that will last.
However, there are many other options listed here that may be better suited to your needs.
Which one is right for you?
Besides a good mic shield, when recording in a noisy environment, it's also important to choose the best microphone.
          Joost Nusselder, the founder of Neaera is a content marketer, dad and loves trying out new equipment with guitar at the heart of his passion, and together with his team, He's been creating in-depth blog articles since 2020 to help loyal readers with recording and guitar tips.
Check me out on Youtube where I try out all of this gear: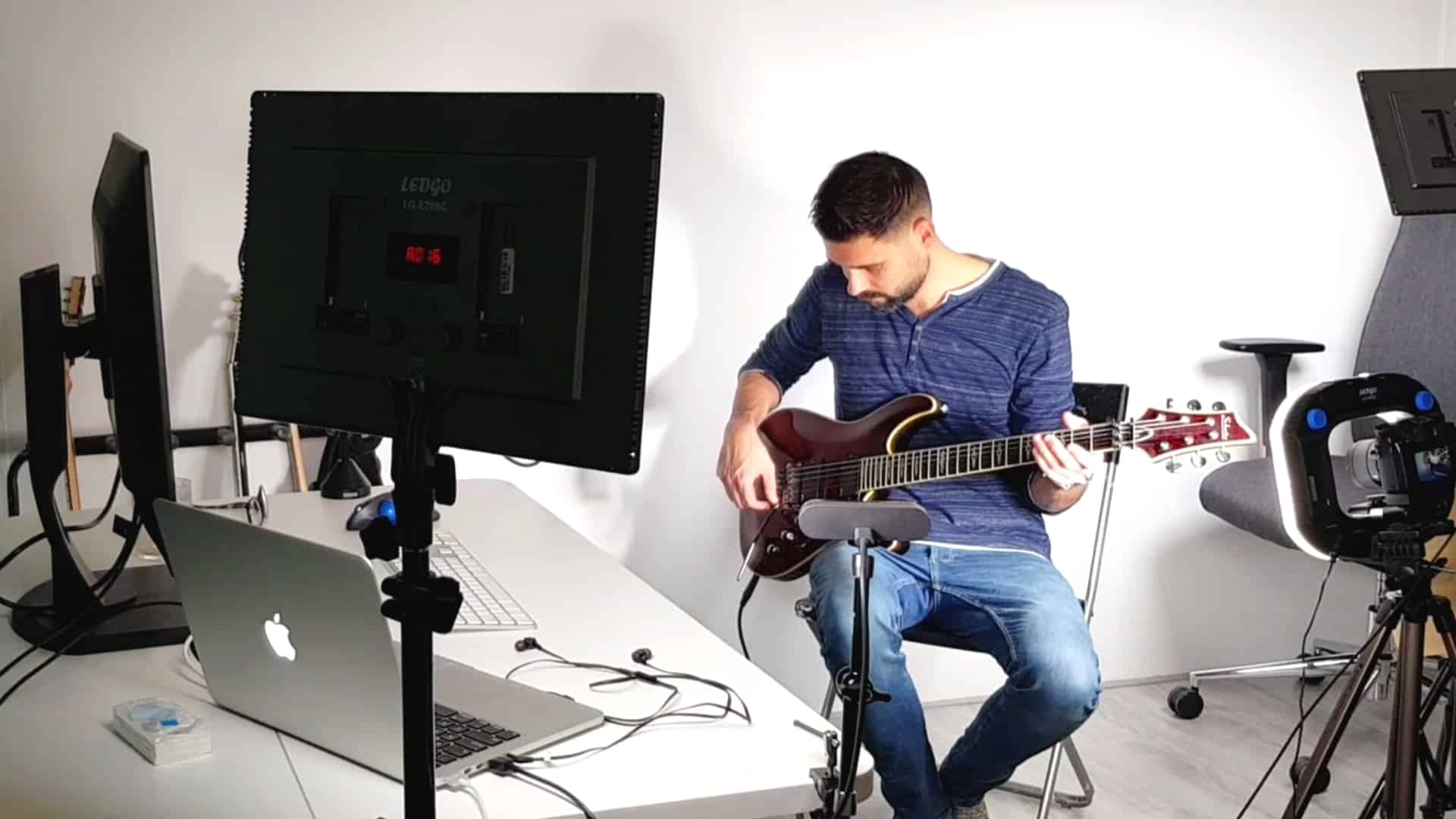 Subscribe