hi there I love creating free content full of tips for my readers, you. I don't accept paid sponsorships, my opinion is my own, but if you find my recommendations helpful and you end up buying something you like through one of my links, I could earn a commission at no extra cost to you.
Learn more
Once, there was a time when most guitar players used a legendary piece of gear. This was none other than the Echoplex (EP-3).
Most popular guitarists throughout the world used this and created unbelievable tones that are still remembered.
Now, Xotic is trying to capture the same magic with its new and tiny EP booster.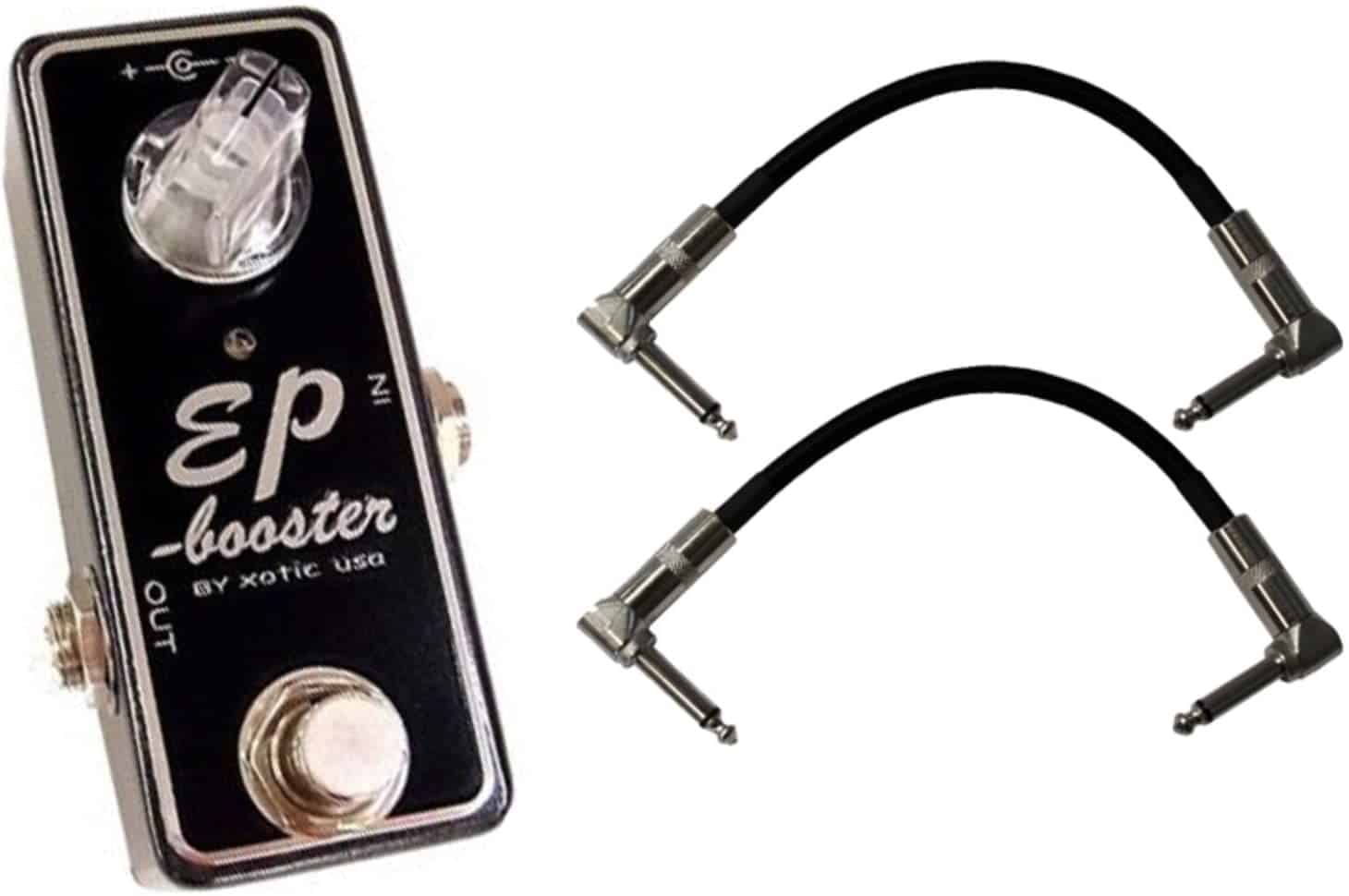 Here, we will try to share with you an unbiased and genuine review of Xotic EP Booster.
So, let's start unveiling the most prominent features of this product.
Xotic EP Booster Mini EQ Effect Pedal
Xotic is a renowned company, which was born in 1996 in Southern California.
After its inception, the company instantly gained popularity for its high-quality, impressive, and bass preamps.
The company is extending its pedal line by creating small yet effective EQ boosters. The Xotic EP Booster is designed for the electric guitar.
It works at the preamp stage, which was previously handled by the classic EP-3 echo.
Who is this product for?
This product is carefully created to meet the needs of both amateur and professional guitarists.
With an extremely reasonable price tag, almost any guitar lover can buy this booster.
Furthermore, the quality of this particular amp is great, making it an excellent choice for quality-conscious people.
Technically speaking, if you are not satisfied with the sound produced by your guitar and the amp doesn't offer much of the boost, this tiny little booster should be the option to consider.
With this device, you can create a wide range of variations regarding a single tone; it's the best way to enjoy the sound while playing your guitar.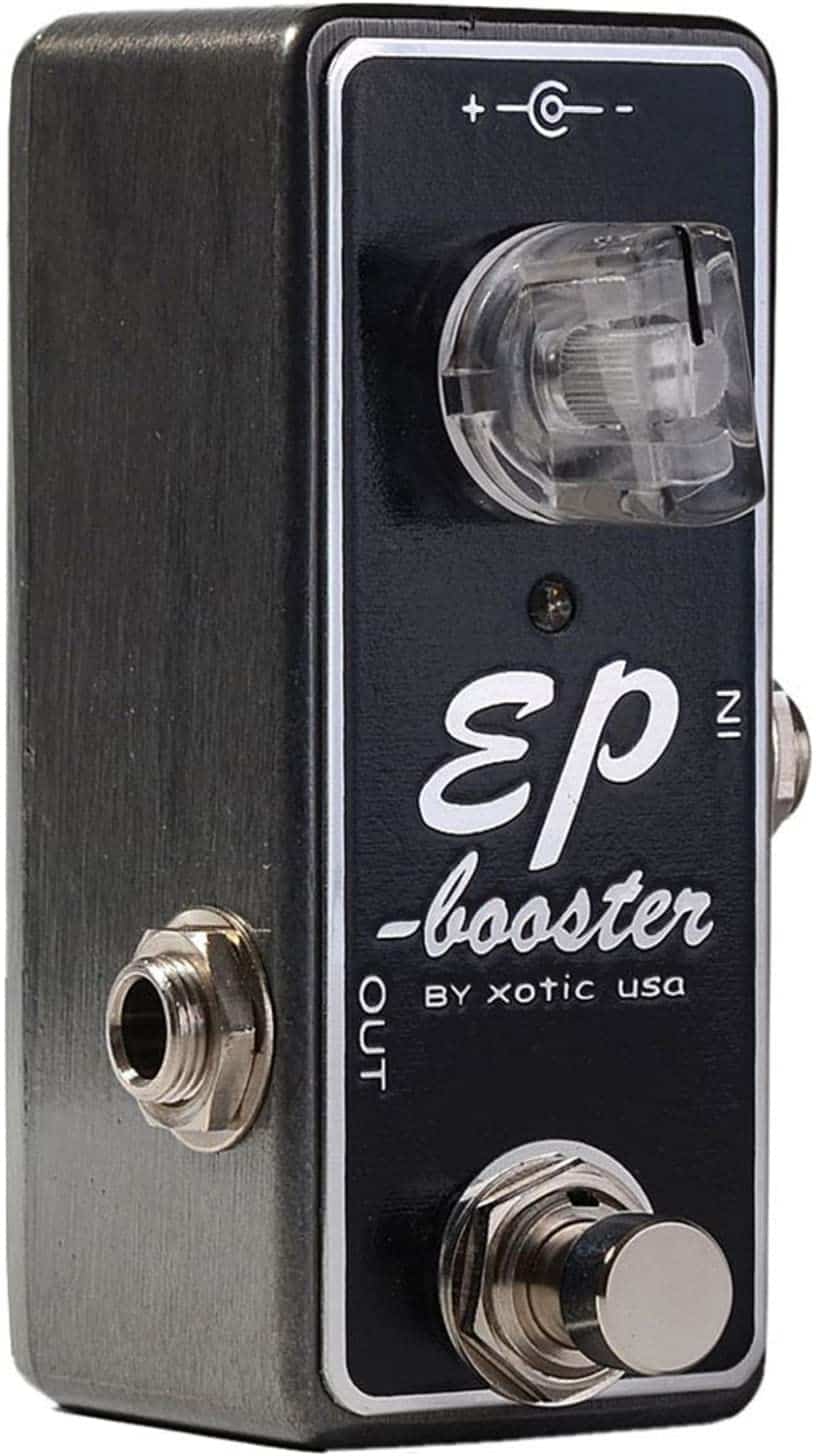 What's included?
Taking a look inside the package, there isn't anything extra included. The Xotic EP booster is sold separately without accessories.
In addition, it doesn't come with a 9v battery, which you have to buy separately.
Overview of features
The Exotic EP Booster pedal is capable of delivering up to 20 dB of sound boost.
This addition will undoubtedly introduce a rich character to the original tone of your guitar.
With the help of internal dip switches, you can fine-tune the EQ settings and boost frequencies.
With its 3db switch off, and the knob reversed, you will get the same natural sound of your guitar.
However, when your pedal is engaged, it brightens up the tone and makes it clearer. It not only enhances the sound but also gives a refined and subtle feel to it.
This specific booster shaves off the required amount of high end and allows the sound to stay warm and gentle.
Once you are familiar with the settings, it would be much easier to get the maximum advantage out of this booster pedal.
While using this booster, the noise floor tends to rise a little bit, so you should be careful when cranking the knob.
By changing the pedal's characteristics, you will experience an impressive change in sound; make such changes only when you feel there is a need to introduce a new tone.
When using the booster with high amp settings, the volume boost produced through the EP Booster appears to diminish.
However, the mojo coming out from the pedal is always there. Using it is simple and hassle-free; you can simply attach it with your guitar and forget it.
In fact, the subtle character enhancement matches with almost any tone produced by your guitar.
The sound produced is as clear and robust as with any other available booster. You can feel a subtle jolt of extra power when running this EP Booster at 18V.
Hence, if you want to draw the most out of it, consider running it on an 18V power supply.
As a whole, this EP booster by Xotic is a great product, capable of offering required performance.
How to use
Here is a quick video on how to use this booster:
Pros
Generates tone instantly
Extended boost
Easy to use
Cons
Check prices and availability here
Alternatives
Even if, after reading the above review, you are looking for an alternative with additional features, here is a similar product that you can consider.
It has almost identical quality and offers similar features.  The difference between these two is mainly about the price.
The booster mentioned below is cheaper than the Xotic EP Booster. Hence, it may serve as a great option for those who are tight on budget.
MXR M101 Phase 90 Guitar Effects Pedal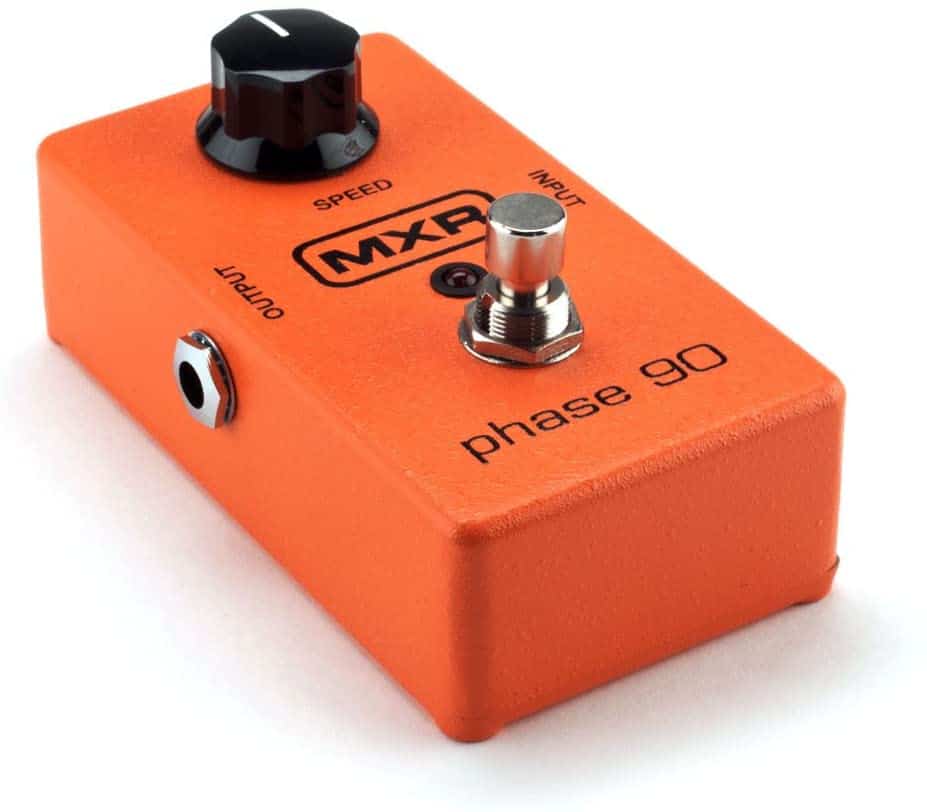 For more than four decades, this particular guitar effect pedal has been available on the market.
The MXR PHASE 90 has served as a popular effects pedal for thousands of musicians and guitarists throughout the world.
No matter whether you are playing metal, rock, jazz, or alternative, Phase 90 has always been there to create some amazing sound.
With this booster, you always get the same rich and warm tone. This company has served as the pioneer of the EQ boosters or effects pedals.
MXR has introduced revolutionary technology into the booster paddles. The design of this product is simple yet practical.
It offers a 100% rich analog tone and subtle enhancement.
Features
This particular phase shifter can also serve the purpose while recording an instrumental or songIntroduce a dramatic swooshing and shimmery velocity to your tone
It works perfectly well on a single 9-volt battery; besides, you can also use an ECB003 AC Adapter when the battery is discharged
Affordable and high-quality booster for extensive use
Works perfectly well with almost any guitar amp
Conclusion
Once you have read the basic information about this product, you can't help but be impressed by this Xotic EP Booster.
The availability of too many options on the market may turn out to be confusing; this requires understanding the perfect breakdown of a suitable boost paddle.
This is the reason we have discussed all the essential features and working capacity of the Xotic EP booster.
This mini EQ is capable of generating fantastic sound without investing much. You can use this booster with your guitar without any issue.
It's a universal booster paddle, which also works seamlessly with any guitar amp. With so much to offer, you won't regret considering this booster.
Also read: these are the best solid state amps you can buy when playing blues
I'm Joost Nusselder, the founder of Neaera and a content marketer, dad, and love trying out new equipment with guitar at the heart of my passion, and together with my team, I've been creating in-depth blog articles since 2020 to help loyal readers with recording and guitar tips.
Check me out on Youtube where I try out all of this gear: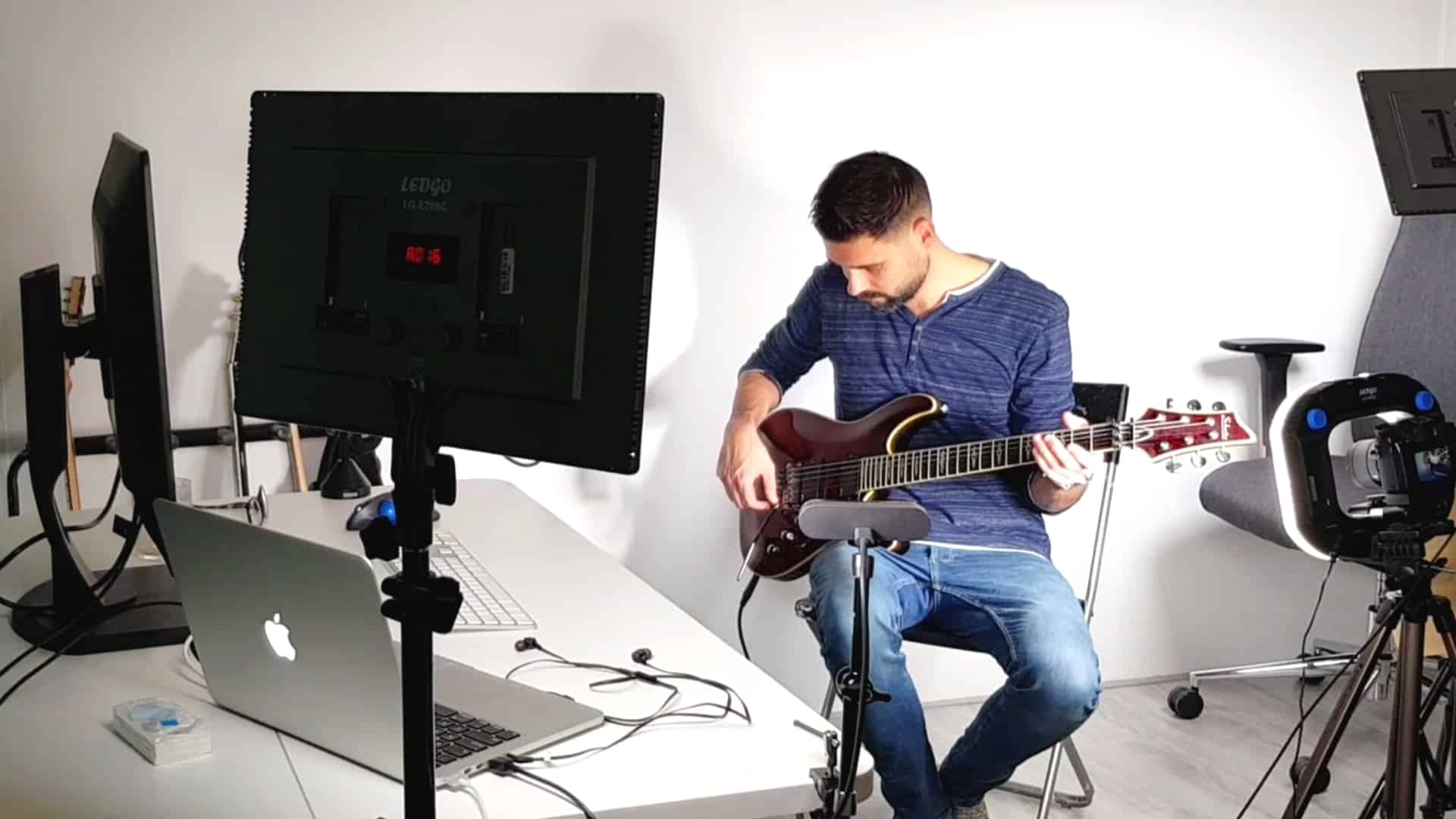 Subscribe