hi there I love creating free content full of tips for my readers, you. I don't accept paid sponsorships, my opinion is my own, but if you find my recommendations helpful and you end up buying something you like through one of my links, I could earn a commission at no extra cost to you.
Learn more
The best wireless microphones for churches come in different shapes, sizes, and prices too.
And so are the varying preferences of the people who intend to buy church microphones online or offline.
So whether you are looking for a first-time buyer guide or upgraded replacement of what you have used before, these wireless microphone system reviews will help to fulfill your need.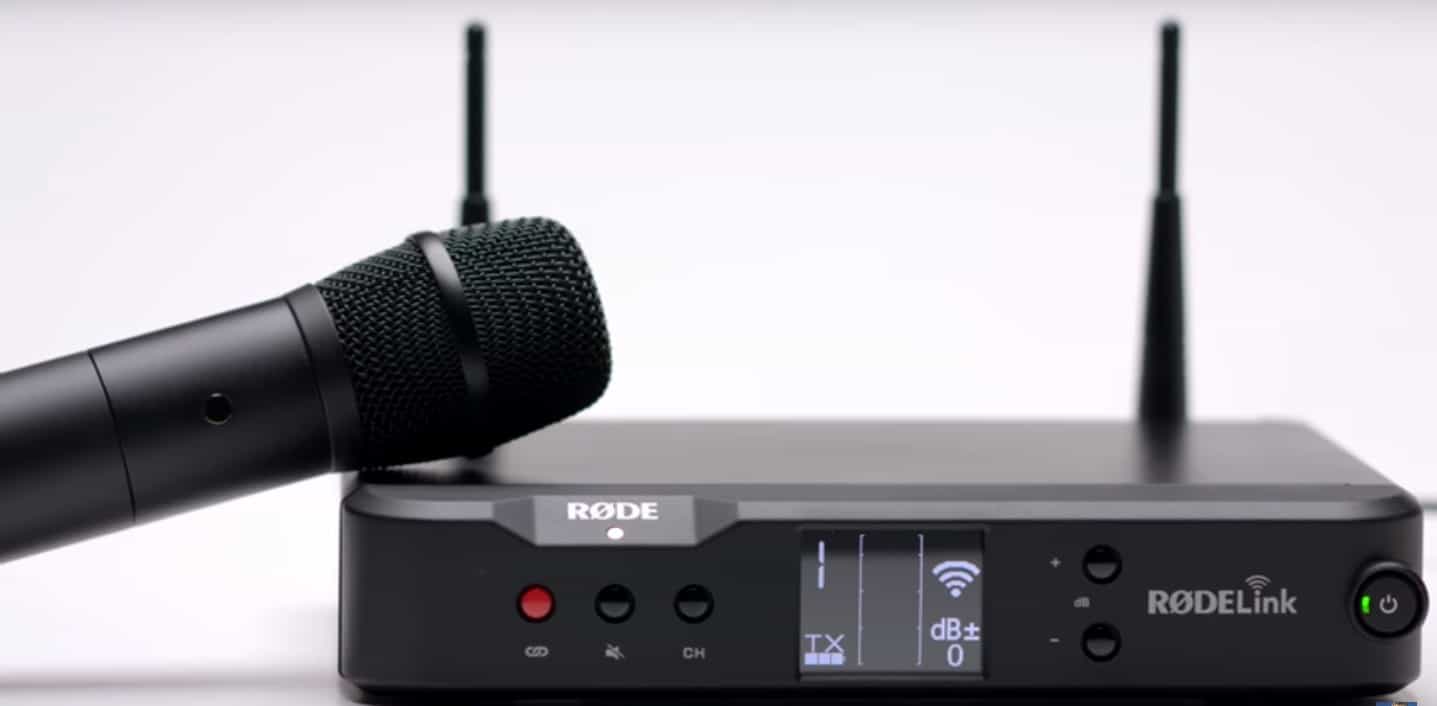 One interesting thing to note is that almost all of the ones reviewed here are very likely to fall within your budget. Hence, you can order one immediately if you follow the links here.
If you're looking for a good quality wireless set that can grow with you, like adding additional mics when you need them, this Shure SLX2 is a great one to choose.
You won't pay for any additional mics you perhaps won't need now but have the option to add some more, like for lead singers or passing around the mic along the congregation.
Let's look at the top choices real quick and then I'll get more into the types and what to look for:
What to look for in a church mic
Now let's say you are a pastor or choirmaster. Probably, you are not a sound technician at the same time.
For this and other reasons, finding the best microphone for churches could be a little bit daunting. Besides the price factor, there are other things to consider as well.
Understanding these things will make it easier to find the one that will suit your intended context, needs, and preferences.
Some of them include the following:
Wireless system types for church
When you are searching for and intending to buy microphone for churches, it is very important to understand the types that are available in the marketplace.
However, by narrowing it down to a wireless microphone only, making the choice becomes practically easier.
In this modern age, who will still want to meddle with long mic wires while doing their thing on stage?
In the context of this article we'll look at two types of wireless church microphones; the hand held options and lavalier microphone option.
Wireless Handheld microphones are rugged and versatile.
These microphones feature the highest audio quality out of all of the wireless options due to the size of the diaphragm that is on the handheld microphones.
This one is usually good for stage speakers, musicians, live performance guitarists and Q/A sessions.
Lavalier microphones, commonly referred to as lapels are great for keeping your hands free during a presentation.
Lavaliers are also easily hidden using the many versatile mounting options available.
The reduced size of the microphone means that there is a slight loss of quality, but often the increased mobility will make it worth it.
On the other hand, you can view these types on microphones based on frequencies like UHF and VHF.
Best Wireless Microphone systems For Church reviewed
Best expandable church set: Shure wireless Microphone SLX2/SM58
If you're looking for top of the line sound quality from your wireless mic, the SLX2 from Shure is a choice you want to look at. It gives you Shure's top-level sound capture and reproduction.
It's tailored for an ideal vocal response, with a spherical filter that's extremely effective at limiting background noise.
This mic might be a bit on the pricier side, but for the extra investment, you get a microphone that's built to last.
It has a sleek metal design that's comfortable to hold and won't take damage easily, while the shock mounting protects the interior components and prevents noise from handling.
If you're a professional looking for a convenient wireless option, the Shure SLX2 is a great choice.
You can get more than one mic out, put them on your mic stands and add them to this system, mute the ones you aren't using and open their audio signal as soon as you need them.
You can get a quick mic to go around the congregation for example or invite someone up to the front to speak while you still have your own mic ready to go.
Here's North Ridge Community Church showing you their model:
As for features, the Shure SLX2 is a unidirectional and cardioid mic with 50 – 15,000Hz frequency response. The battery life in this product is stated to be 8 hours+.
Best wireless microphone headset for church: Shure BLX14/P31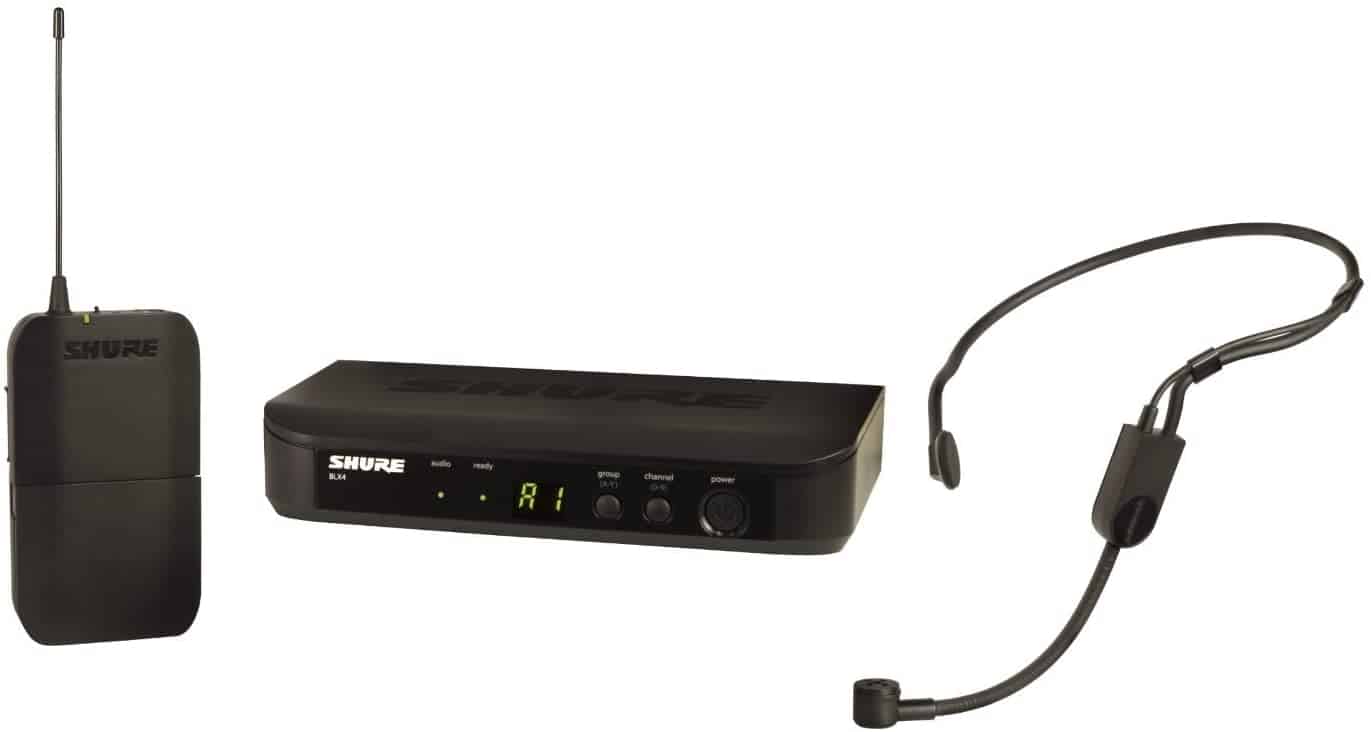 Specifications
Power and battery status LED
Adjustable gain control
Quick & easy frequency matching
300 feet (91 m) operating range (line of sight)
If you're more into putting on a headset than walking around with a mic in your hand, the little sister of the Sure SLX2/SM58 is also a great option to choose.
It has the ALX1 Body pack transmitter to make sure your audio never cuts out during your important sermon. The best thing is that you can get around 12 to 14 hours of non-stop preaching from the 2 AA batteries so you'll never lose the audio signal!
It's got easy LED indicators to show you the power and battery levels so you don't need to worry about it being drained before you start.
One of the useful features of this set is that you get an adjustable gain control so you can dial in on the right level for your voice and background noise.
That's a great addition, especially for this price!
Best professional wireless handheld microphone: Rode Rodelink Performer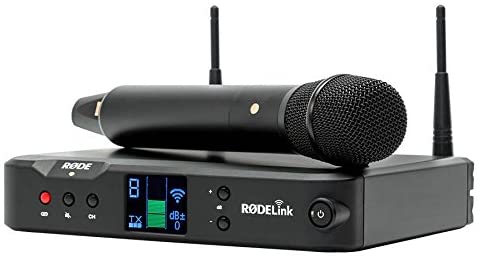 Specifications
Transmission Type: 2.4 Ghz Fixed Frequency Agile System
System Dynamic Range: 118dB
Range (distance): Up To 100m
Maximum Output Level: +18dBu
Max Input Signal Level: 140dB SPL
Max Latency: 4ms
Although it's a little more of an investment, this handheld mic is worth every penny thanks to the reliable RODE construction process, robust sound quality and automatic frequency management.
The clue is in the name with this one, as the team at RODE had specifically created this with the performer in mind.
It comes with everything you need to gig in the box, including TX-M2 condenser mic, desktop receiver, LB-1 Lithium Ion rechargeable battery, zip pouch, micro USB cable, DC power supply and mic clip.
The Rode RODELink Performer Kit ensures that your signal remains strong thanks to the automatic frequency management and the 100m range makes sure you have the freedom to move around wherever you need onstage.
It also sends the signal on multiple channels simultaneously so you'll never have your signal cut off.
That's called RODElink and it's the proprietary system that always chooses the strongest signal to broadcast over leaving nothing to chance.
That's what you get with a professional system like this one.
And it has a very easy setup because it chooses the channel automatically so you don't have to mess around with finding the right frequency band.
Best of all, you're never having to worry about short battery life, leaving you high and dry as the LB-1 lithium-ion battery can be charged without removing it from the microphone by connecting the included micro USB cable when you're not using it.
This is a system that will last you for many years to come.
Best hanging choir mic system: Astatic 900 Cardioid Microphone

Ok, so this is not a wireless mic but one of the best assets you can get when wanting to amplify the sound of your choir.
If you have been looking for great hanging condenser microphone with low noise before arriving here, this is it. It has a wide, flat frequency response that delivers unrivaled, natural sound quality.
This ASTATIC 900 cardioid choir microphone (see more choices here) minimizes the impact of feedback when using the sound-amplifying equipment.
The microphone features a flexible gooseneck-type body which is laminated in plastic. This makes it possible to direct the microphone head in the right place for dubbing.
The microphone is equipped with 3-pin mini XLR outputs with phantom power adapter.
The output impedance is this microphone stands at 440 Ohms. Frequency response is 150 Hz – 20k Hz.
Check prices and availability here
Best lavalier lapel microphone system: Alvoxcon TG-2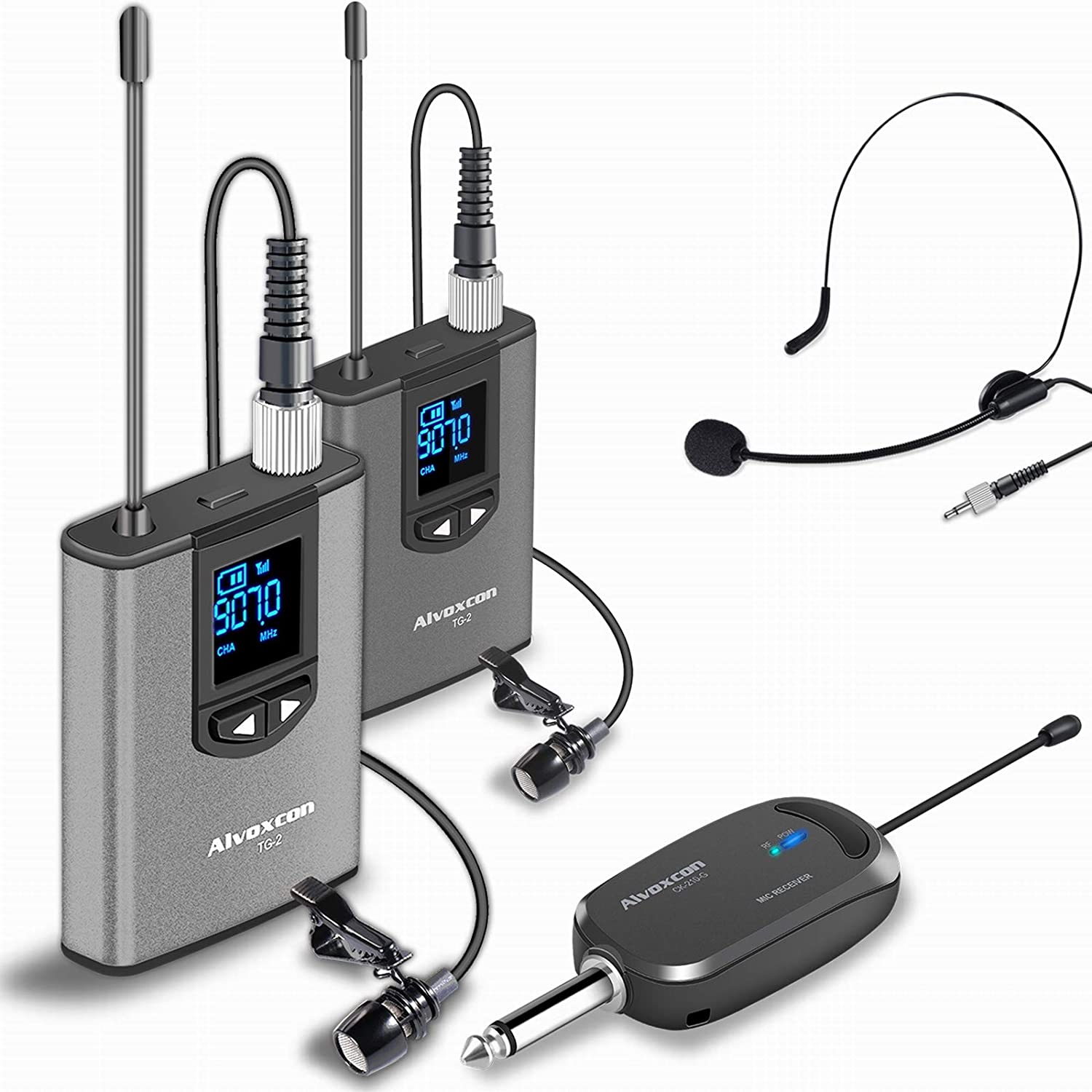 Sometimes, using a handheld mic isn't the best option, especially if you're one of those reverends who likes to talk with his hands a lot.
A headset might not really suit your taste because it's just so obviously there, even though the audio quality is pretty good when using one.
If you want something a little less conspicuous, you will want to go for a lapel mic. It's a lavalier microphone you can pin on your lapel so you have your hands free while talking.
But the added headset you can plug in gives you a little more flexibility to choose the right option for your church event.
The Alvoxcon TG-2 is the best system in its price range to use in a noisy church setting, and the dynamic range is superb.
It's a budget-friendly option because it comes with a wireless receiver that has a 1/4 inch jack so you can plug that into any PA system you already have.
If you already have a nice sound system and want a quick and hassle-free solution, this is the set for you. Especially since it uses strong UHF frequencies to transmit.
Do you know why you need that? Because it reduces interference from mobile wifi and Bluetooth that use the same frequency as most transmitters, which almost everyone is carrying into church these days.
Conclusion
Besides the issue of affordability, the best wireless microphone for your church should deliver what you want in terms of sound quality and ease of use.
Fortunately, all the options mentioned have you covered regardless of your most import buying considerations.
So whether it's for the formation of a new church branch, outside singing competition, or the addition of new singers, you are definitely going to find what suits your need here.
I'm Joost Nusselder, the founder of Neaera and a content marketer, dad, and love trying out new equipment with guitar at the heart of my passion, and together with my team, I've been creating in-depth blog articles since 2020 to help loyal readers with recording and guitar tips.
Check me out on Youtube where I try out all of this gear: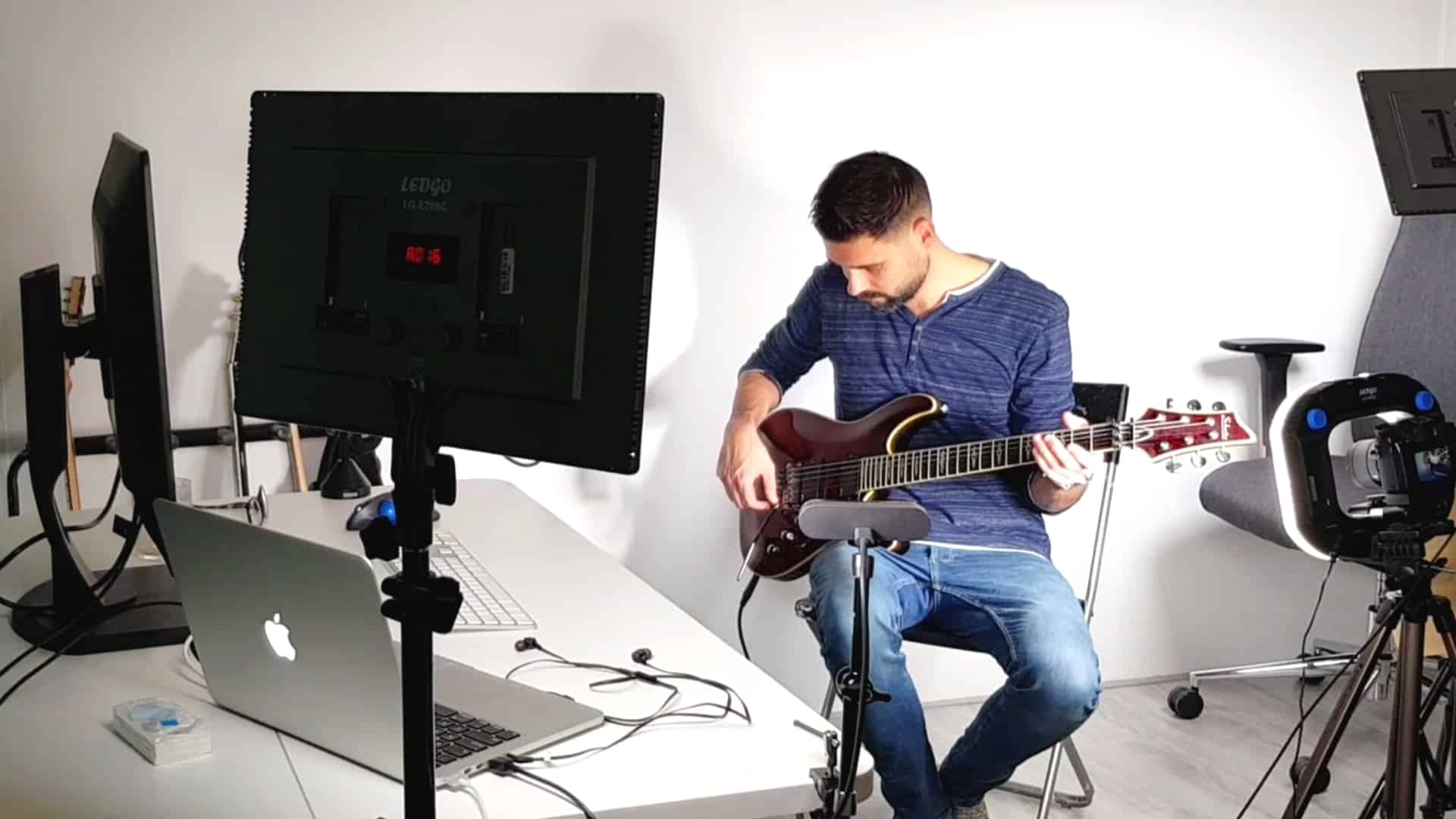 Subscribe