hi there I love creating free content full of tips for my readers, you. I don't accept paid sponsorships, my opinion is my own, but if you find my recommendations helpful and you end up buying something you like through one of my links, I could earn a commission at no extra cost to you.
Learn more
Unlike other mics that are designed to project one voice, choir mics should pick up every singer to produce a great full sound. So choosing one can be quite challenging.
For recording a small to medium-sized choir, this matched pair set of Rode M5-MP Condenser Microphones is the best value for money with great coverage from the front. This matched pair makes sure they both pick up the same volume level on both sides of the choir.
As an audio technician, my challenging task is to provide a well-balanced sound from all the voices, give a natural sound, and have a high gain before feedback. So this guide will help you do just that.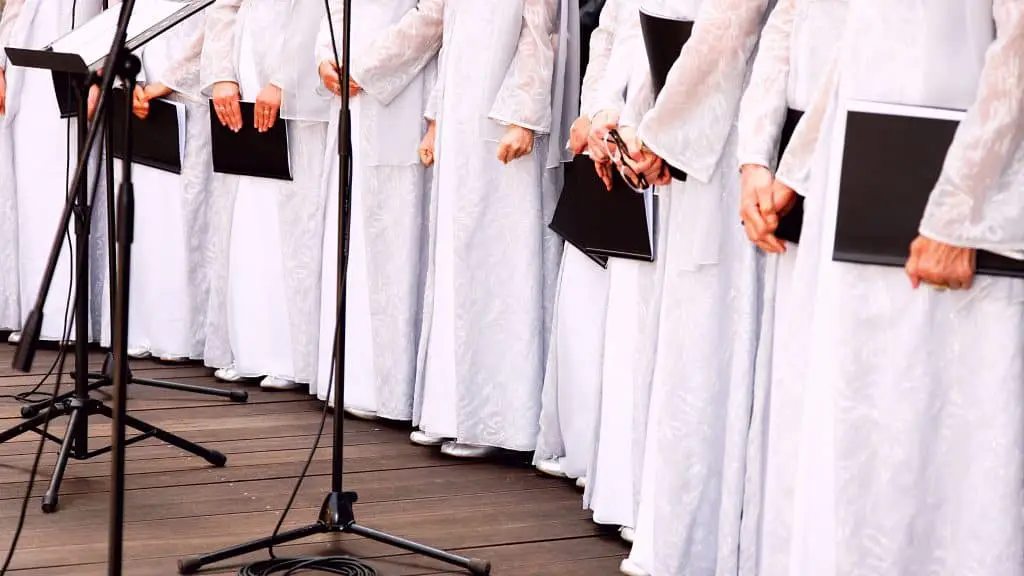 This article will talk more about the Rode as well as other choir mics that are suitable to your needs. I also discuss the best boom stands to get for your next choir performance.
Buying guide
The top choice for choir mics is usually a condenser microphone with a cardioid or super-cardioid polar pattern. 
That's because this mic rejects most feedback and pickups of sound from multiple singers very effectively, thus offering good coverage. 
If you ask the experts, they'll tell you that cardioid condenser microphones are the best choice for choirs. These are compatible with most accessories and they have tons of great features.
Overall, you should look for a long cable if you choose a wired mic and it should deliver quality output without any interference. The most important thing is that your mic captures the audio well.
Here are some things you will want to consider when purchasing a choir mic.
Position
There are three main types of choir mics and each type is installed in a specific spot to ensure the best sound pickup.
The first is an overhead microphone which is installed above the choir. This is the top option because this positioning ensures the mic picks up all the voices from above.
Next, there's the classic mic on a stand. It's a good option but can be a bit less balanced.
Third, you can get mics that go at foot level on the floor. The mic can be placed near the choir's feet.
Learn more about choir mic placement and other tips for the best church recording here
The pickup pattern
Microphones have unique pickup patterns that help you capture sounds.
Most choir mics will feature a cardioid pattern which is also great for minimizing distortion and background noise.
Wired vs wireless
Both of these sorts of choir mics have advantages and disadvantages.
When it comes to mounting, wireless mics have no restrictions. But, the distance range it should connect to the receiver is something to think about.
Wired microphones have a greater sound quality than analog wireless microphones. However, in terms of sound picking and amplification, they are equivalent to wireless digital mics.
The disadvantage of wired microphones is that they "mess" up the stage. Furthermore, if the stage is large, you will need to employ long cables.
VHF and UHF
A microphone's frequency level is described as ultra-high frequency (UHF) or very high frequency (VHF). These refer to the transmission of voice signals from your microphone to its receiver.
A VHF microphone transmits between 70 MHz to 216 MHz. In comparison, the UHF microphone transmits about 5 times more, so 450 MHz to 915 MHz.
Of course, the UHF mic is much more expensive than that VHF because it offers better sound.
The average-sized church or school choir doesn't need a UHF mic unless it's a special recording day. The VHF mic is great because the frequency will get disturbed by interference too much.
The one special instance when you might really need a UHF is if there are transmitters in or near the venue or church which interfere with your frequency.
In that case, the UHF can deal with the transmitter much better than a VHF mic.
Quality and Budget
As with buying any product, quality and budget go hand in hand. It's great to save money, but not if you end up with a product that doesn't last.
For best results, find something in your price range that has gotten favorable reviews and is manufactured by a brand you can trust.
Also read: Dynamic vs. Condenser Microphone | Differences Explained + When to Use Which
Best choir mics reviewed
Now that we know what to look for in a choir mic, let's talk about some terrific products you can use.
Best overall choir mic set: Rode M5-MP Cardioid Condenser Microphones
Position: RM5 stand mounts for front & overhead
Pickup pattern: cardioid condenser
Wired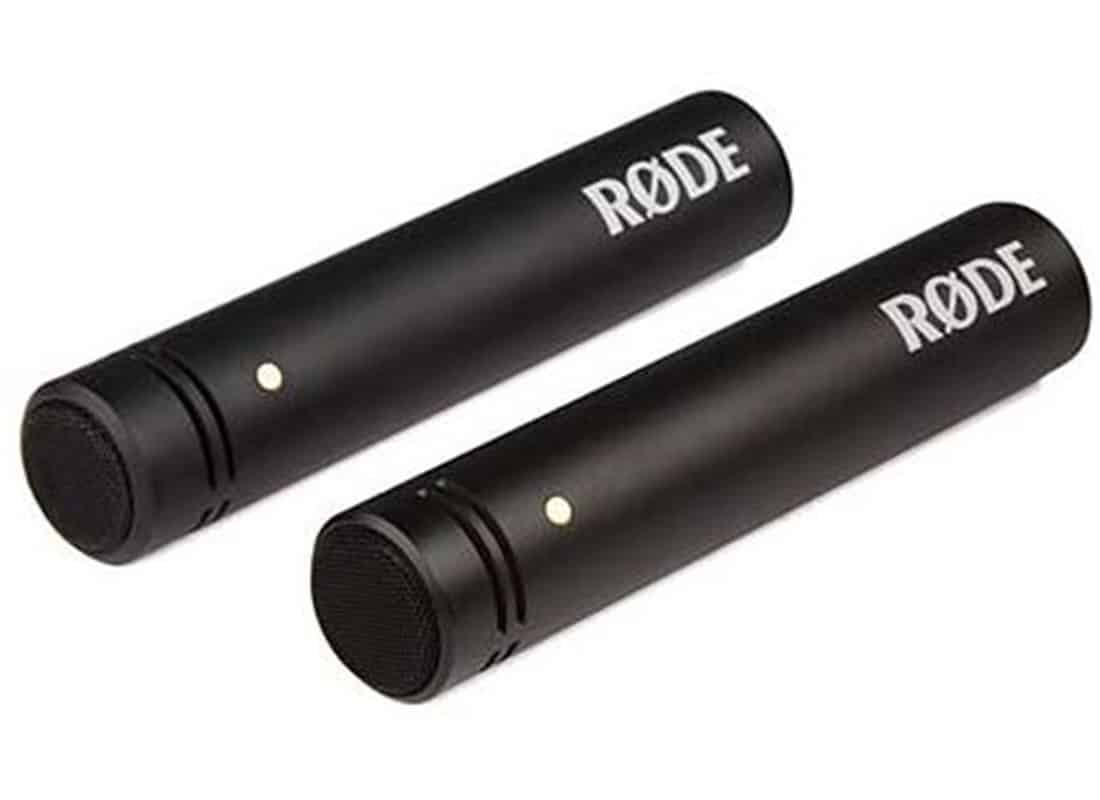 If you're looking for a great pair of microphones that won't break the bank, the Rode mics are among the best value for money because they offer superior audio output.
The sound frequency is excellent and works well for on-stage choir performances as well as for recording in the studio.
These compact ½ inch cardioid condenser mics are perfect for reducing noise and distortion.
They provide a full frequency response. As a matched pair, they have a 1dB sensitivity with a low pickup that's ideal for group singing.
The WS5 windshield is a piece of protective equipment that protects against wind noise.
Rode mics require 24V or 48V of phantom power and they produce a highly defined sound.
The sleek matt black finish not only looks expensive but it camouflages really nicely on the stage so it's not distracting for the audience.
Rode's ceramic coating is very good quality and doesn't scratch easily so it will look nice even after many years.
Compared to other microphones, the RODE is better because it can be set up easily. The RM5 mounts can be used in front of the choir, instruments, or singer on the stage or in the studio. But you can also extend the mount and place it overhead so you can capture the best sound above the choir.
Basically, it's a complete package for choirs, especially if you're using the mics on stage for live performances.
One of the only cons with this mic is that it's not as great for studio recording as some others because it can record some static. This static noise can be quite annoying and distracting and destroy the beauty of the music.
Also, if you have musicians playing instruments with the choir, you might want to check if violins don't buzz when the chords are played. For vocal music though, there are no issues with any buzzing.
The Rode mics are great for live singing and the sound they offer is neutral and a bit warm. Luckily, there are no shrill high-end sounds like you sometimes get with the cheaper Behringer mics.
Best budget condenser choir microphones: Behringer C-2 Studio
Position: stand mounts
Pickup pattern: cardioid condenser
Wired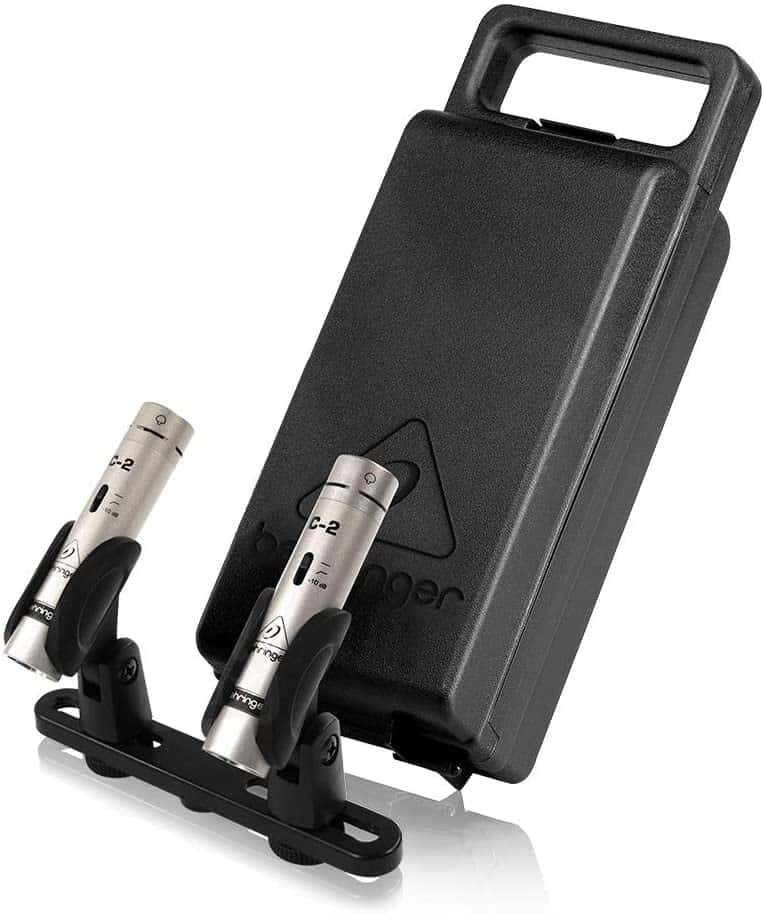 If you're looking for a cheaper alternative for the Rode mics, the Behringer C-2 is a great option. These are great mics for children's choirs, small to medium-sized, choirs, school and church choirs.
Although it's marketed as a studio mic, it's actually a really good mic for choirs.
With a cardioid pick-up pattern, these mics are good at eliminating noise and feedback during the performance.
These matched condenser microphones are great for recordings and live performances. They can work as main mics or support mics.
Their low mass diaphragm provides an ultra-wide frequency response making for the ultimate in sound reproduction.
I like that you can switch the low-frequency roll-off and the input attenuation.
They feature a durable construction and come with a case that makes for convenient portability. They require phantom power.
There's an excellent ultra-low-noise FET (transformerless).
The body is die-cast, has a sleek silver color, and feels very well-made and sturdy.
The XLR pin connector is gold-plated which doesn't cause any signal problems.
Although this pair of mics is relatively cheap, it comes with everything you need.
You get a stereo bar so you can mount the mics to perfect stereo alignment. Then, you can get adapters and windscreens to reduce noise. All of these are placed in a compact transport case so you're ready for the road.
People who own these mics are saying that they are quite sensitive so you can use them and get great sound with all kinds of choirs, even jazz and acapella. Compared to more expensive mics like Shure, these give a clear, clean sound. They even pick up slight nuances in sound but there are no harsh or shrill sounds.
For professional studio recordings, there aren't the best though and the studio sound quality is below that of Shure mics. But, if you're just looking for a reliable pair of mics you can use in any context, Behringer C-2 is excellent.
Check the latest prices and availability here
Rode vs Behringer cardioid condenser mics
At first glance, these two mic pairs seem very similar. 
The Rode mics have a smaller 0.5" diaphragm compared to 0.6" of the Behringer but they have the same frequency range. 
Although there are many similarities between these two mics, there's an audible sound quality difference. You can tell that the Behringer mics are cheaper because the sound isn't quite on par with the Rode. 
With the proper low end, the Rode mics sound very professional and compete with the likes of Shure's high-end models. 
As well, there are fewer shrills compared to the Behringer. 
However, the Rode mics have a high self-noise of 19 dB. 
But, the Behringer isn't bad – it's a great pair of budget mics. In fact, jazz and acapella choirs love the way these mics reproduce the audio. They give a clear sound and are sensitive enough to pick up nuances. 
These mics have gold-plated XLR connectors and these keep their signal integrity quite well. The Rode is missing the gold-plated connectors so you might get some occasional buzzing. 
When it comes to choosing between the two, it depends on how professional the choir is. 
If you're looking for excellent sound Rode is among the top brands, but it's still more expensive than other mics in the same "budget" category. Behringer mics are really good too and miking a large choir won't break the bank. 
Best centraverse choir microphone: Shure CVO-B/C Overhead Condenser Microphone
Position: overhead
Pickup pattern: cardioid condenser
Wired (25 m)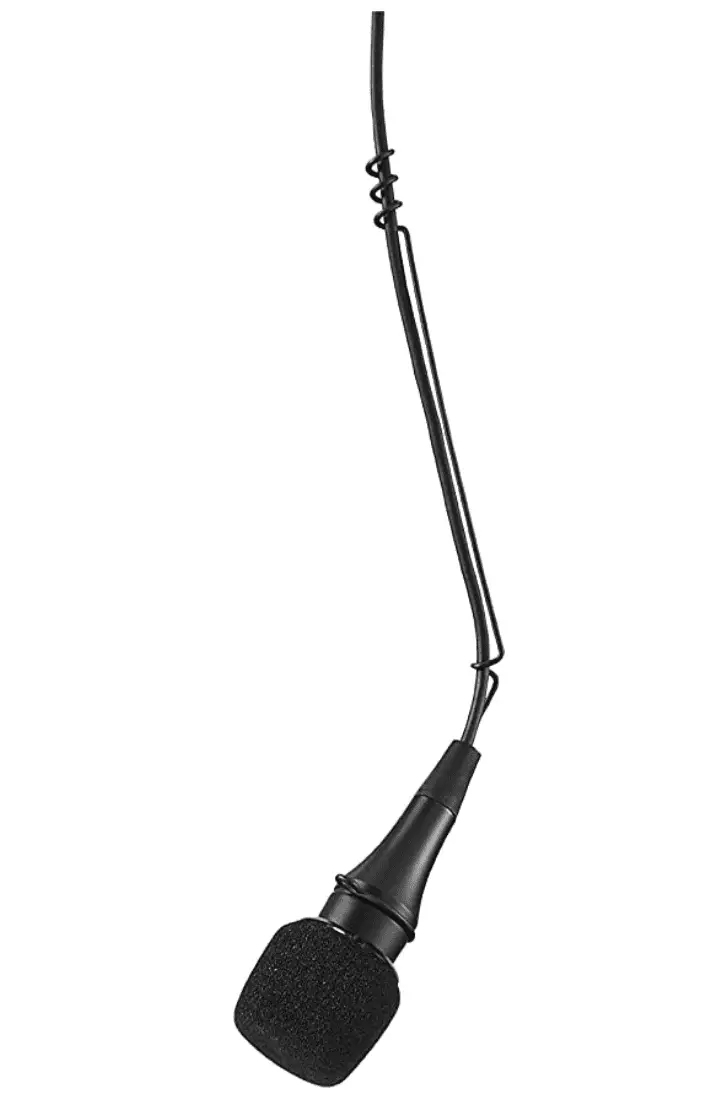 Large choirs face a whole set of challenges when it comes to sound output. The problem is that with large choirs, the sound balance is essential. Therefore, you need a mic like the Shure CVO overhead model. 
This mic is also known as a centraverse condenser microphone. It's really not that fancy, but it works well in large venues where live music is played. 
Centraverse microphones still aren't the most popular for choirs, but that doesn't mean they aren't suitable for the task. 
Shure is one of the world's most popular microphone manufacturers and they offer many models, but the centraverse is particularly amazing for capturing sounds from all parts of the choir. 
Just think about it: when lots of people are all singing at once, some choir members are louder than others. So, what do you do to ensure the other singers aren't drowned out? 
Well, you need a mic that can pick up and deliver balanced sound. So, for balanced sound reproduction, the centraverse mic is a lifesaver because you can use it as an overhead, or place it anywhere. Just move it as needed.
Because this mic is designed for choir use, it's got a tailored frequency response that can capture all the fast transients above the choir members. 
The Commshield Technology is a good guard against RF interference from portable wireless devices which you certainly don't want the audience to hear. 
This mic has 25 ft cable which is quite long for most setups. 
Some users report some slight distortions and crackling when used in large venues. Also, they could improve the angles of the anger to be towards the speakers and the performers as this would result in better pickup. 
Mounting is a bit difficult but once done correctly, the voice quality is top-notch.
But overall, most people recommend this mic for live streams and choral performances where it's hard to pick up the sounds of hymns. You can even use it as the only input. 
Best overhead choir mic & best quality: Shure MX202B/C Condenser Microphone Cardioid
Position: overhead
Pickup pattern: cardioid condenser
Wired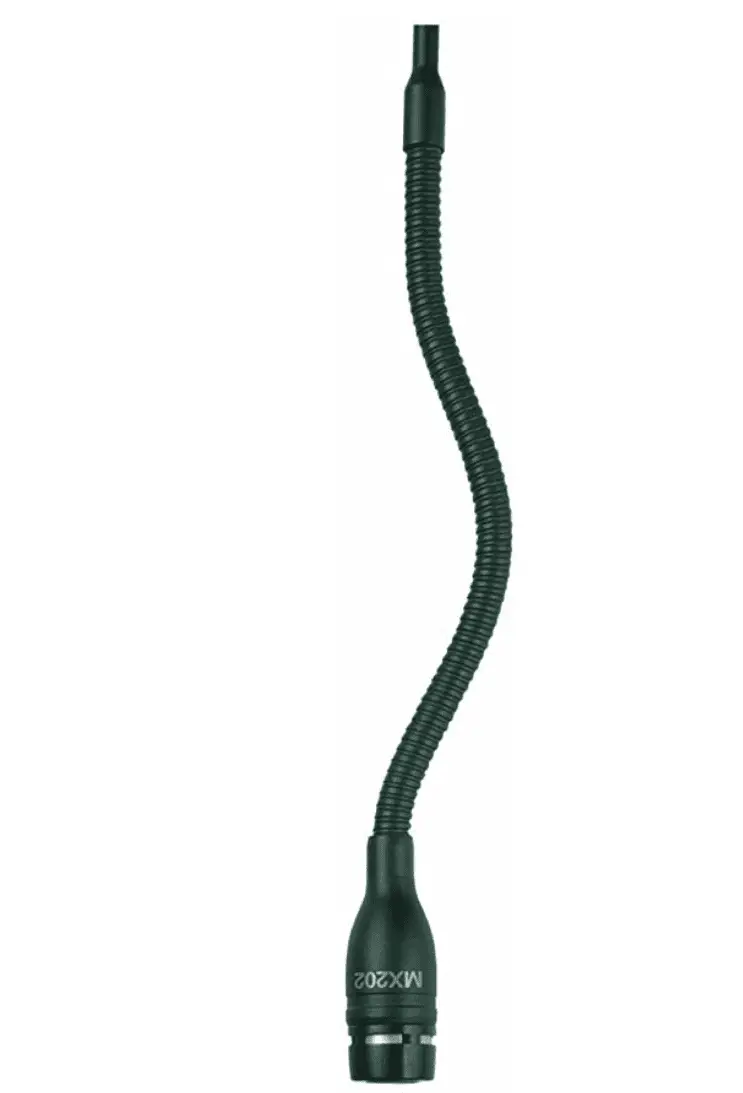 Church choirs, whether performing at the local church, a large megachurch, or concert halls need to make the sound as clean and clear as possible so all the members of the audience can enjoy the beautiful music.
An overhead mic is excellent for church choirs and mid to large-sized choirs in all types of venues because they pick up the sound from above, thus you can hear singers from all areas of the choir, not just those in the front couple of rows.
Shure is the kind of brand you can turn to when you want a high-quality mic that will surely deliver great sound. This MX202 B/C model is an upgraded version of their lower-priced models.
When you install this mic, you'll quickly notice how good the sound is. There's almost zero hissing, shrilling, and off-axis clutter. If you were using an older mic before, you were probably dealing with too much noise and buzzing so this is definitely an upgrade.
Although it's slightly more expensive it comes with an interesting design feature – multi-pattern pickup. Like the Neewer mics, the cartridges are changeable so you can customize them with different installations and the polar patterns required.
Having more than a single polar pattern has its advantages. Depending on your recording or performance needs, you can switch between cardioid, supercardioid, or an omnidirectional cartridge.
Another neat feature is that the mic has a great frequency response and wide dynamic range. So, you can reduce preamplifier gain by approximately 12 decibels.
This means that the sound reproduction is much cleaner and more accurate as a result of RF filtering.
This cardioid condenser mic comes with a mini-condenser that you can use with an in-line preamp or a stand adapter.
It's all designed so that the mic delivers a balanced output. Unlike cheaper mics, you don't need a transformer for this one thus there's less of a chance of unwanted noise from those really long (and annoying) cables.
You might still hear some minor interference or a very faint electromagnetic hum, but it's unlikely.
If you like mics that are almost invisible and barely visible in video recordings, you'll enjoy how small and minimalist this Shure mic is.
The mic is also very strong and durable – you can just see and feel it in the build.
One complaint about this Shure mic is that it's not loud enough if you only use these 2. For a small choir, it is loud enough but the best practice when miking the choir is to use more mics for larger choirs.
Shure Overhead Centraverse vs Shure Overhead MX202B/C
I've already talked about how good Shure mics are, so it's no wonder their overhead mics are some of the best for choirs. 
These two models are different because the Centraverse is cheaper, whereas the MX202 is a premium-quality overhead microphone. 
The centraverse mic is great for large venues and churches where it's hard to capture every singer's voice. A centraverse mic picks up more sound than a regular overhead mic. 
The MX202 mic delivers better sound though, and this is something to consider when making your selection. If you're most concerned about absolute sound clarity and tone, the more expensive Shure model is better. 
With the centraverse mic, the angles of the anger aren't easy to position and their positioning is limited. In comparison, the MX202 mic has more accurate positioning. 
But the most notable and important difference between these two mics is that with the MX202 model, you can change the pickup pattern because there is a cardioid, supercardioid, and omni option. 
Overall, the Shure MX202 is more versatile and produces superior sound output.
Best wireless choir mic & best with interchangeable pickup patterns: Neewer 2-Pack Pencil Stick
Position: stand mount
Pickup pattern: cardioid, omnidirectional, super-cardioid
Wireless & wired option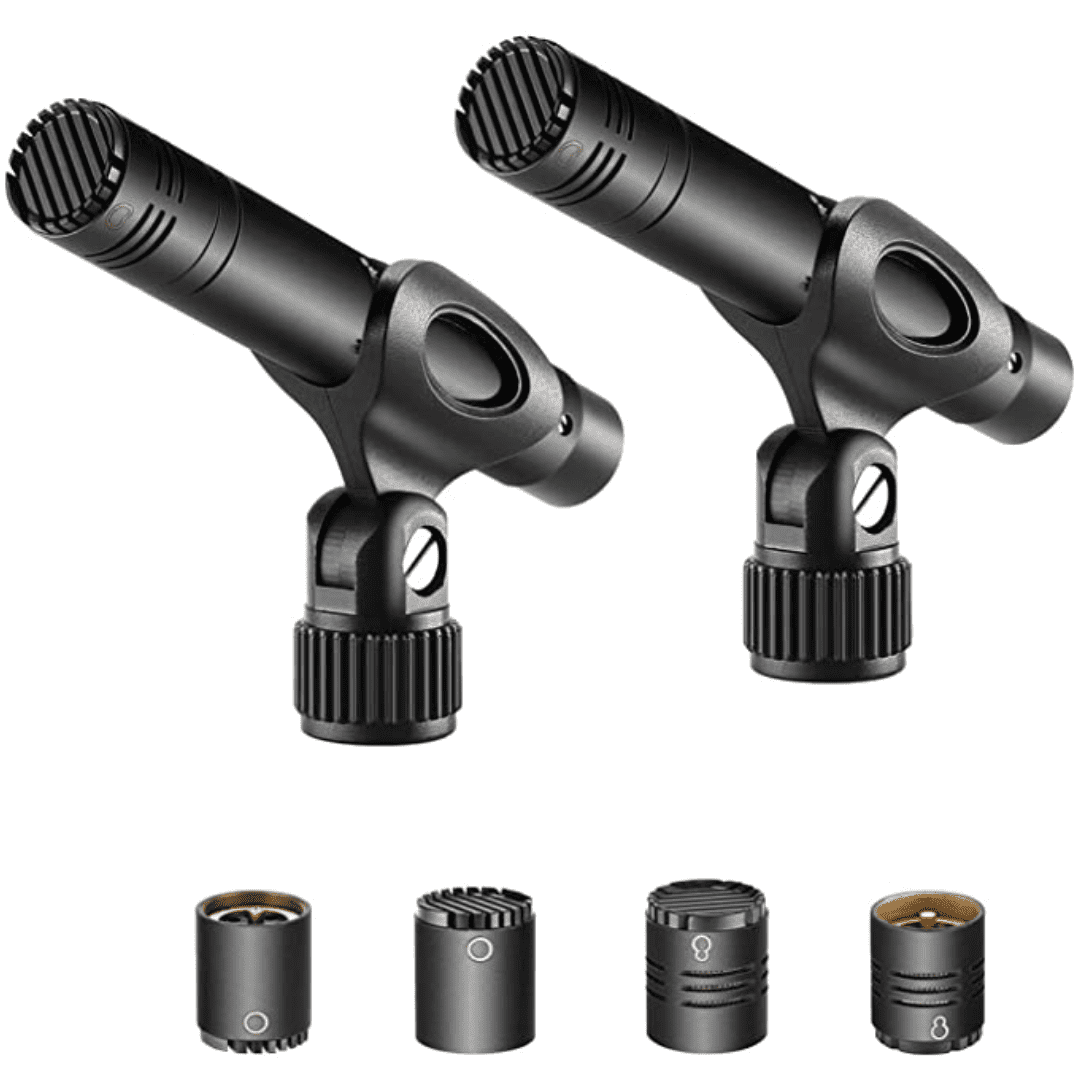 Although you should use a cardioid mic for choir performances, you might need an omnidirectional mic (vs directional) to pick up sounds from all directions, especially for a packed or outdoor venue.
The advantage of the Neewer mics is that you get interchangeable capsules so you can change between the cardioid and omni mics. Thus, you can decide what works better for your recording situation.
The Neewer mics are some of the best for choral groups because they offer 3 interchangeable capsules.
For live choir performances, the super-cardioid mic is great at focusing the audio capture and thus it reduces feedback and background noises so your audience can hear the highest quality sound from the singers.
With these mics, you can record all the subtle nuances of sounds during a studio recording as well as the dynamic noises of a live orchestra and choir combo.
Although Neewer mics are relatively affordable, they produce excellent sound quality. They are highly sensitive to ultra-low noise too. There's also a sturdy head grille and a simple electric circuit.
The frequency response of 30 Hz to 18 kHz isn't amazing, so these mics are definitely not the top choice for professional choirs, but for schools, churches, and amateur choirs, they deliver good sound.
The mics are used with mounts and you can easily mount and install them without any issue.
You also get a 5/8″ mic clip that fits almost all mic stands that have a 5/8″ thread and this lets you hold the microphone in various positions.
There's a foam windscreen that minimizes any air interference so your recordings and performances are clear.
The kit also includes a travel case made from foam padded aluminum so it doesn't break and lasts for a long time. Also, the foam padding protects your mic and all the accessories from scratches during transport.
One issue with these mics is that compared to an SM57, the sound is darker, and not quite as bright. But, it's to be expected since these are cheaper mics.
What makes them good though is that they have low self-noise and won't interfere with your singer's lyrical melodies.
Overall, users are loving these mics because they are budget-friendly and offer amazing sound, comparable with the likes of Rode and Behringer. They're excellent for beginners, or just people looking to get some affordable mics for their choir.
Check prices and availability here
Best choir mics for outdoor use:
Samson C02 Pencil Condenser Microphones

with Stands
Position: stand mount
Pickup pattern: cardioid
Wired (XLR connector)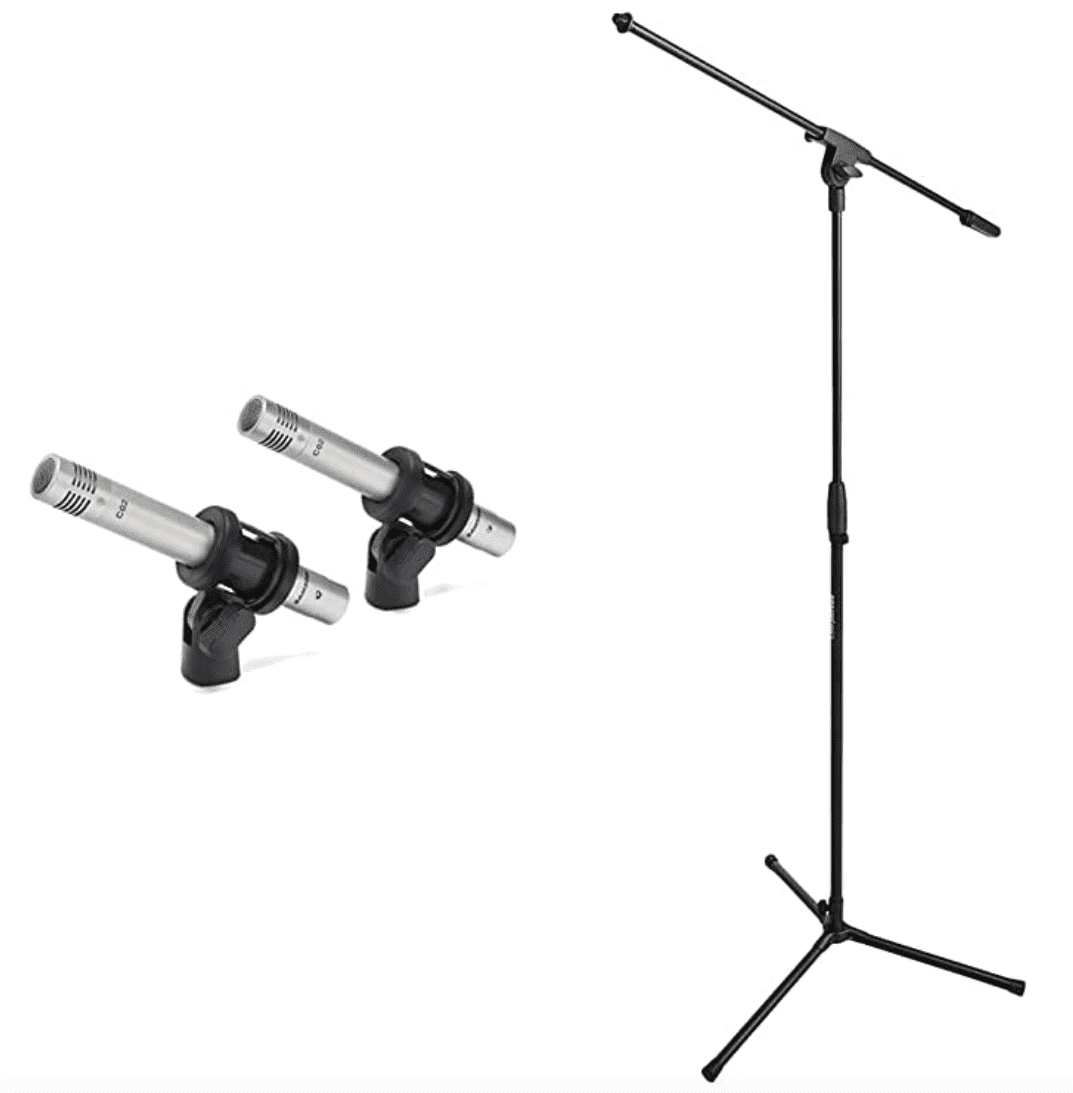 Singing outdoors comes with its own set of challenges. Wind, background noise, interference are all possible risks that can make the music sound less than perfect.
But, with some sturdy boom stands and Samson's pencil cardioid condenser mics, you're almost guaranteed to deliver amazing sound.
The portability, durability, and ease of use of these choir microphones with stands make them ideal for outdoor applications.
They come with boom floor stands that pick up sound from overhead eliminating the need to run cables or hang mics so they are convenient for outdoor spaces.
Therefore, these Samson Pencil mics are great for live performances in parks, fairs, and festivals.
The mics are also ideal because they stand up to a variety of quality and coverage demands. They offer a sufficient range and high-quality sound input.
With the right placement, they will provide optimal redistribution and you will be able to hear your entire chorus clearly.
These pencil mics are called that because of their shape and they have a small 12 mm diaphragm.
Samson mics are popular because they produce a smooth response for a wide frequency range.
What I like about these mics is that they are heavy-duty but quite lightweight and low mass. The housing is brass plated which won't get damaged if you drop it. But also the XLR pins are corrosion-proof and this means they are good contacts
They have a plated brass housing which means they can withstand a few knocks. Also, the XLR pins are gold-plated, ensuring they will not corrode and will maintain good contacts but this isn't quite a special feature since most mics have it.
Also, they're quite multi-functional and you can use these for indoor as well as outdoor events.
But, just keep in mind that these mics require phantom power to have sound.
Most customers say these mics are similar to the Rode pair but the sound is a bit inferior because there's a tone difference.
Just a heads up, the stands are Amazon brand, not Samson, so the quality is good but not top-notch. They aren't as sturdy as the actual mics.
Overall, this is a great choir mic because it picks up the pattern from the front while minimizing any unwanted noises. When performing outside, you need to make sure that the vocals are loud and clear.
Looking for a good mic for the speaker in church? See our review for the Best Wireless Microphones For Church.
Neewer Wireless vs Samson mics for outdoor use
Samson pencil condenser mics are very popular because they offer great sound pickup and output. 
The Neewer mics are multi-functional and great value products. The mics can be mounted on stands with cables or wireless. This is handy when you are filming and don't want all those pesky cables hanging about in your recording. 
Also, the best part of the mics is that they come with interchangeable capsules. So, when you need omni, or supercardioid sound pickup you can remove the cardioid capsule and change it. This is a major advantage over the Samson mics. 
When it comes to sound though, Samson's pencil microphones are superior because they deliver a smooth, clean response from a wide frequency range. 
The boom stands are great for outdoor use since they pick up sound from a wide area and overhead, offering excellent audio. I wouldn't recommend using Neewer mics outdoors because your sound will most likely be full of hissing and buzzing. 
When it comes to choosing which mics to use, the Neewer mics are more suitable for kids' choirs or amateur choirs, school performances, and small theater productions. They are not as professional as the Samson brand products. 
The Samson mics are most often compared to Rode NTG1 which are more expensive shotgun microphones. However, shotgun mics aren't the best choice for choirs, they're better for recording. That's why I didn't include that model in my review and chose Samson as a more suitable option. 
Best choir mic boom stand with extra long arm: LyxPro SMT-1 Professional
Because a choir requires mic positioning that is not exactly traditional, the mic stand is a very important element.
Since you are miking from overhead, you will want to use boom stands.
These are mic stands with an arm that extends out horizontally to pick up sound from above.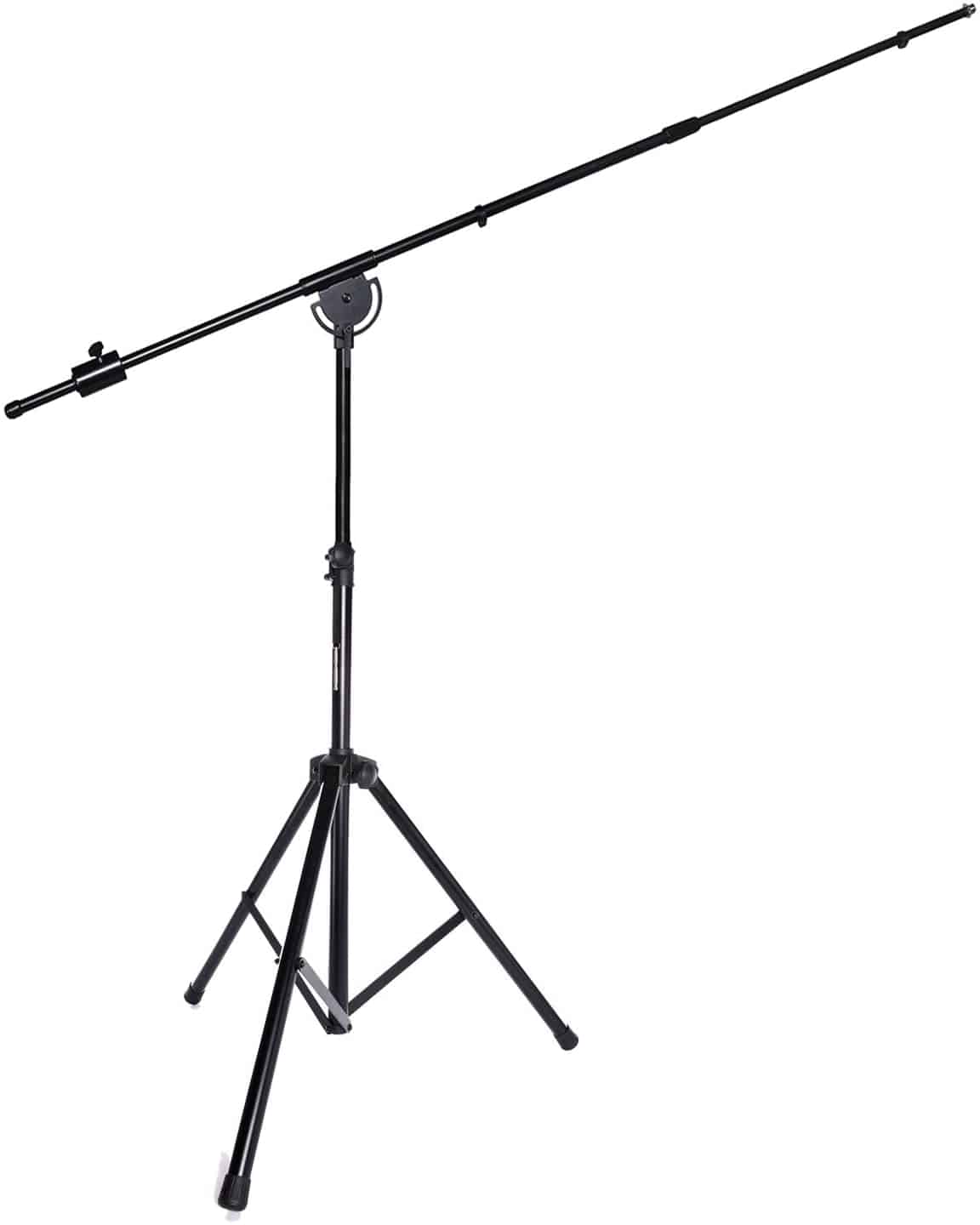 Having a stand with an extra-long arm comes in very handy.
These days, it's not unusual to perform in non-traditional venues and places. Having a very long mic stand allows you more flexibility when it comes to positioning and setting up the sound system.
This LyxPro Professional Microphone Stand features an extra tall stand that ranges from 59" to 93" as well as an extra-long arm that measures 45" to 76".
It is great for picking up choirs at distances and it can also work for guitar, piano, and drum performances. Therefore, when the performance is filmed, you don't need to have the mics in the singers' faces and they can be at a slight distance so that it's not distracting.
The heavy-duty telescopic arm can accommodate a wide variety of diaphragm microphones both large and small. It features durable construction and adjustable legs providing sturdy and reliable balance.
The retractable parts fold up easily making for convenient portability.
Many people don't like cheap boom stands because the boom arm is not removable in most cases. But, with this pricier product, you can remove it!
All you have to do is loosen the extension hand tightener until it's completely loose and then lift out the extension and remove the boom base right out of the yoke.
A problem some people have with this stand is the metal-on-metal friction. This means that the boom angle adjustment isn't the best since the boom bends once you add barbell plates or other counterweights.
However, if you use it correctly without too much extra weight it's super sturdy and doesn't tip over.
Check prices and availability here
Best choir mic boom stand two-pack: LyxPro Podium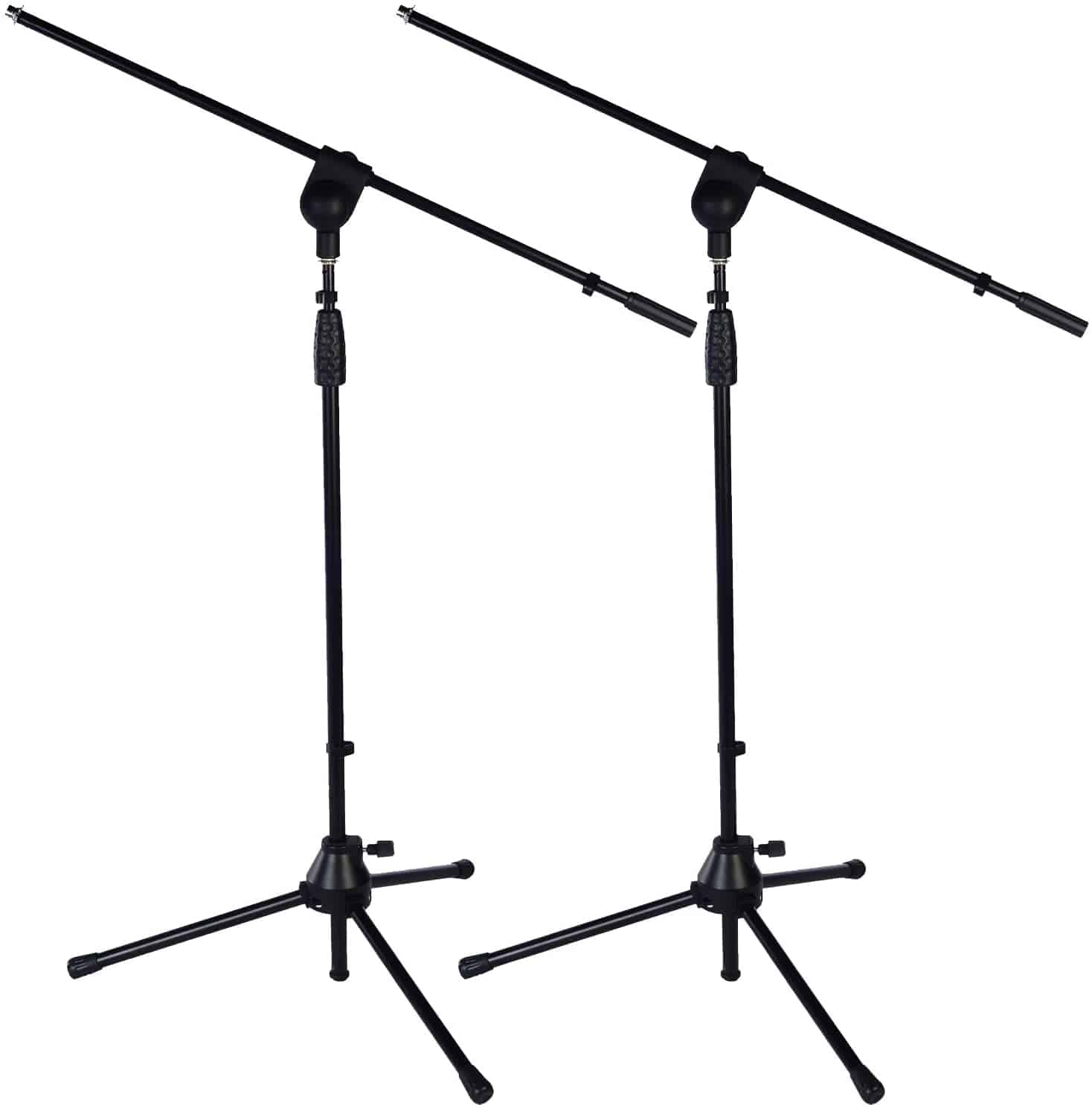 When you're miking a choir, you will most likely need more than one mic stand. If you don't really need an extra-long telescopic arm, this 2-pack of budget-friendly boom stands is a great value purchase.
This two-pack LyxPro Microphone Stand Boom is very convenient. It's great for live and studio performances because it makes your life easier when miking. You can position the stands for optimal sound pickup and near-perfect sound isolation.
You can use them with Behringer, Rode, and Shure small condenser mics for high-quality audio.
The stands adjust from 38.5 to 66" high and the boom arm is 29 3/8" in length. They feature durable construction but they are lightweight and collapsible for convenient portability.
They come with a base locking knob, a boom counterweight, and a 3/8" and 5/8" threaded mount.
The quality is surprisingly good for the price and can hold the mic without bending or tipping over for many hours of recording. Choirs use them for 20+ hours of nonstop recording with no issues.
I would say these stands are medium durability and much better than those cheap $40 no-brand stands.
My only concern is that there are some plastic components that feel flimsy so these stands might not last for too many years. The metal parts are much more sturdy and heavy-duty.
Also, the counter-balance is not weighty enough for very heavy mics, so keep that in mind.
Overall though, this is a great budget-friendly option for choirs. It's a reliable pair of stands that stay on their feet and are compatible with most mics.
LyxPro extra long arm boom stand vs LyxPro 2-pack 
If you're looking for boom stands for a choir performance, the LyxPro brand is one of the best value for money options. 
It's all about how long you want the boom stand telescopic arm to be. If you have a large stage and you need to bring the mic closer to the vocalists, you might want the extra long arm stand. 
For regular choir performances, you can stick to the 2-pack because it's more budget-friendly, and these stands are pretty sturdy, so they're not likely to topple over. 
The two-pack has some flimsy plastic parts whereas the mic stand with the super long arm seems to have a better build and the metal seems durable for the long term. 
Some of the cheaper mic stands like Amazon's own brand, or Samson's budget option are okay, but they just aren't as steady and sturdy and can bend. The counterweights just aren't well designed. 
That's why LyxPro is my top choice. After all, you need booms stands that can hold even more weighty mics without tipping over during the performance.
What is a condenser & cardioid microphone?
The condenser microphone is a device that has an electrically charged diaphragm that moves and vibrates when it senses sound waves.
The signal generated is proportional to the sound it picks up. 
A condenser mic is better at picking up delicate and high-frequency sounds than a dynamic mic. It is the preferred choice for recording music because of its increased sensitivity. 
A cardioid mic is a unidirectional microphone that picks up the sound from mostly one direction.
In this case, the cardioid mic has a pickup pattern that is most sensitive and responds uniformly to the sounds that are coming 180 degrees from the front. Thus, it picks up minimal sounds or only from the back and the sound from the sides is significantly quieter than the front. 
Basically, cardioid mics reject feedback but pick up the well from the various singers in the front. 
There are super cardioid mics too and these, along with the original cardioid models get their name from their rounded shape. This design reduces sound pickup so it gives a very clear, crisp sounding output.
How to use a choir mic
Even if you buy the most expensive high-quality microphone for the choir, it might underperform unless you place it strategically to optimize sound. 
So, to maximize the output of a choir mic, you need to consider the following factors:
Choose the right mic for your choir
The most important thing to consider is your choir's specific setup. 
If you're setting up mics for a huge choir, an overhead choir might be a better choice, whereas a small choir can create a great sound with a stand mic. It all depends on the size of the choir and venue. 
But the most common choice for a choir mic is the cardioid condenser microphone which is available at many price points but offers great quality. This kind of mic can serve the purpose of most choirs.
The condenser mic is the best option when it comes to sensitivity, especially in indoor environments. This microphone has a thin membrane, located between the capacitor plates and this enhances the ability of the device to pick up high frequencies.
The good news is that there are many mic options and ways to use them and place them. You can mount the mic on a stand, have it overhead, or it can be integrated into a mic/stand combo.
Choose the setup that is most convenient for the choir when recording and performing. 
Number of mics
Just because a choir is large, doesn't mean you need a lot of microphones for good sound. In fact, some people make the mistake of setting up too many mics and this actually muffles and makes the audio worse. 
In some cases, one high-quality condenser mic is all you need for superior output. Less is more is true in the case of choirs because if you have fewer mics, you're less likely to experience feedback. Also, having too many mics can cause your equipment to squeal and buzz. 
One single mic can cover sound for approximately 16-20 people so if you get a pair of condenser mics, you can cover about 40 singers. Choirs of 50 singers or more have at least 3 mics set up for clean, clear sound. 
Where to position the mic
The first thing to consider is your venue and the conditions there and then to decide where to put the mics and how high they should be.
Usually, the experts recommend that you raise the mic as high as the tallest singer in the last (back) row. You can even raise it about 1 or 2 feet to ensure the mic picks up the sound well. 
In order to get a harmonized and well-balanced sound, you need to place mics about 2 to 3 feet away. 
When you're dealing with larger choirs, you'll need to add more microphones if you want to ensure the sound is crystal clear. Adding more mics 
If you place your mic properly as suggested, you can reduce hollow sounds which happen due to phase cancellation and comb filled effect. 
When two of the mics each pick up a different vocal signal, you get these annoying effects. One mic will produce a direct output while the second will be slightly delayed. This also creates a much-dreaded echo. 
Just keep in mind that you want to avoid over-amplifying the choir so it's best to add 2-3 mics, but not too many, or else the sound will be poor quality. 
How do you mic a choir?
Start by figuring out where the mics should go to best capture a blend of all your singers.
Use as few mics as possible with one for every 15-20 singers. 
Adjust the mics to a height that is even to the tallest singer in the back row (some soundmen will go 2-3 feet higher). Place mics 2-3 feet from your front row of singers.
If you are using multiple mics, space them so they are equidistant from each other based on how far they are from the front row.
So if the center mic is placed 3 feet from the front row, additional mics should be placed 3 feet from the central mic.
Conclusion
There are many mics that are great for recording choirs but the Rode M5-MP Matched Pair Cardioid Condenser Microphones stand out as the best.
Their cardioid pattern produces a terrific sound while the condenser element reduces noise.
The fact that they come in a set means that you may not need to get additional mics.
But with so many mics on the market, you have plenty of options when it comes to finding the one that's best for you. Which will you choose?
Read next: these are the Best Microphones for Acoustic Guitar Live Performance
I'm Joost Nusselder, the founder of Neaera and a content marketer, dad, and love trying out new equipment with guitar at the heart of my passion, and together with my team, I've been creating in-depth blog articles since 2020 to help loyal readers with recording and guitar tips.
Check me out on Youtube where I try out all of this gear: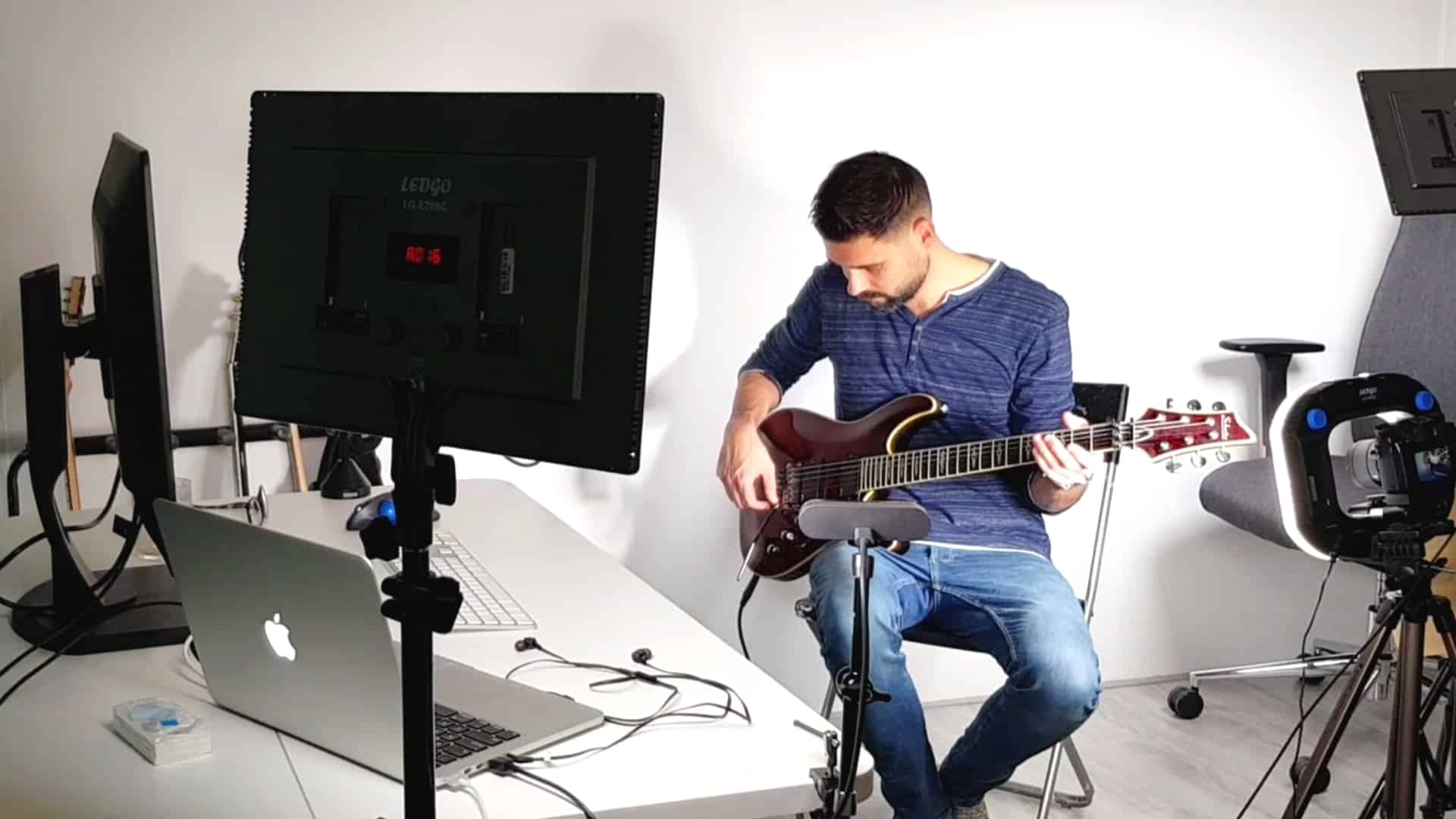 Subscribe