I love creating free content full of tips for my readers, you. I don't accept paid sponsorships, my opinion is my own, but if you find my recommendations helpful and you end up buying something you like through one of my links, I could earn a commission at no extra cost to you.
Learn more
Choir mics are microphones that are used for choirs.
They work to pick up the sound of the singers so that all voices are heard as a unit.
Unlike other mics that are designed to project one voice, they pick every singer to produce a great full sound.
Now, there are many choir mics on the market, but if I had to choose the best, this would be it:
If I was recording a small to medium-sized choir, I would have to go with this matched pair set of Rode M5-MP Condenser Microphones. They're not the most professional and definitely not the most expensive, but you probably don't need that and certainly don't need to spend that money on a set. Plus if you're going to get two, you want a matched pair to make sure they both pick up the same volume level on both sides of the choir.
While the Rode M5-MP is a great product, there are several others you can choose from.
This article will talk more about the Rode as well as other choir mics that are suitable to your needs.
What to Look For in a Choir Mic
Here are some things you will want to consider when purchasing a choir mic.
The Position of Your Mic: The most popular way to mic a choir is to install one overhead microphone. This will work to pick up all the voices from above. However, there are also mics that can be placed in front of the choir or on the stage near the choir's feet. Sometimes a combination of all these mics are used.
The Pickup Pattern: Microphones have unique pickup patterns that help you capture sounds. Most choir mics will feature a cardioid pattern which is also great for minimizing distortion and background noise.
Quality and Budget: As with buying any product, quality and budget go hand in hand. It's great to save money, but not if you end up with a product that doesn't last. For best results, find something in your price range that has gotten favorable reviews and is manufactured by a brand you can trust.
Also read: Dynamic vs. Condenser Microphone | Differences Explained + When to Use Which.
Best Choir Mics reviewed
Now that we know what to look for in a choir mic, let's talk about some terrific products you can use.
Best value for money: Rode M5-MP Cardioid Condenser Microphones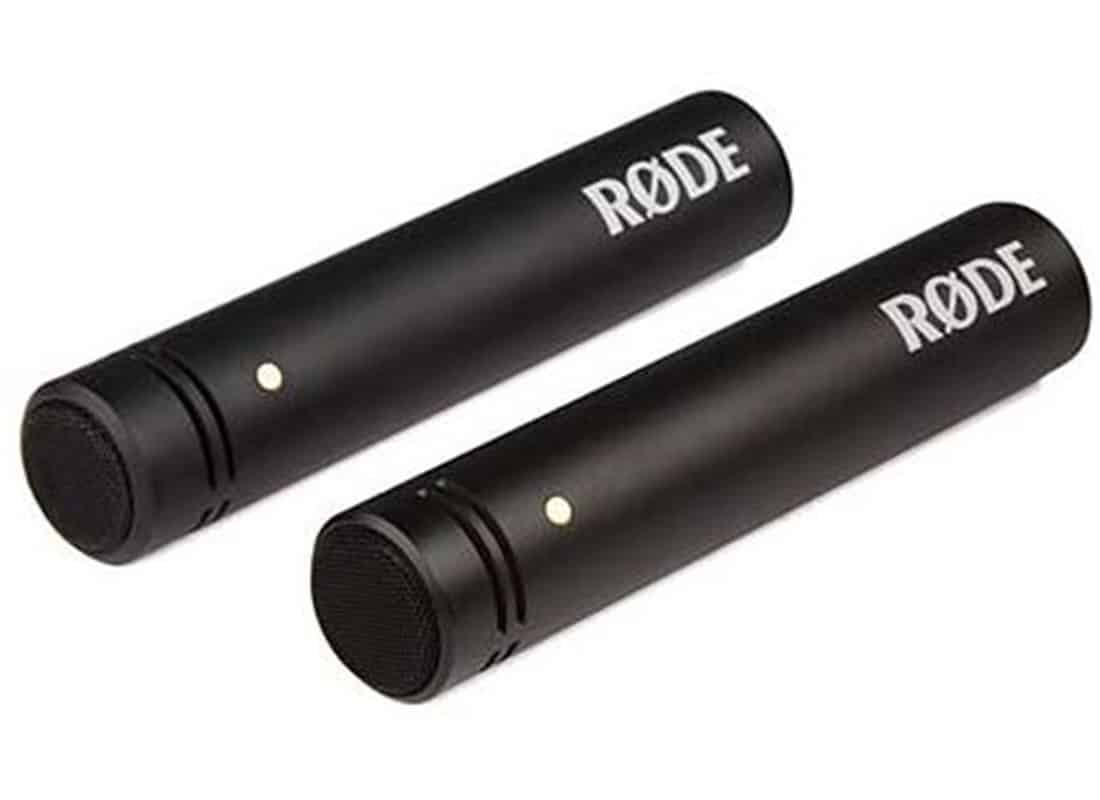 These compact ½ inch cardioid condenser mics are perfect for reducing noise and distortion.
They provide full frequency response. As a matched pair, they have a 1dB sensitivity with a low pickup that's ideal for group singing.
The mics have a durable design that includes a layered ceramic coating and a premium foil certification.
They come with RM5 stand mounts and a WS45 windshield and require 24V or 48V of phantom power. They produce a highly defined sound.
Best budget condenser choir microphones: Behringer C-2 Studio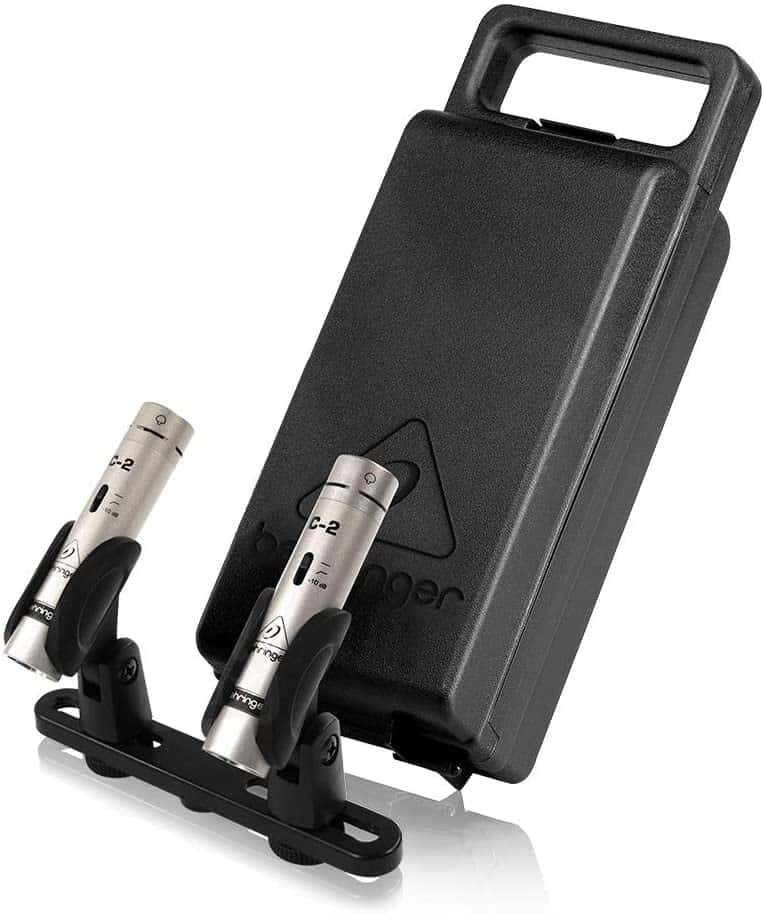 These matched condenser microphones are great for recordings and live performances. They can work as main mics or support mics.
They feature a cardioid pattern that reduces noise and feedback.
Their low mass diaphragm provides an ultra-wide frequency response making for the ultimate in sound reproduction.
They feature a durable construction and come with a case that makes for convenient portability. They require phantom power.
Check the latest prices and availability here
Best hanging choir microphone: Samson CM12C
This miniature hanging choir microphone is great for picking up overhead sounds. Its condenser elements and cardioid pickup pattern makes it perfect for reducing noise.
The mic includes a mini XLR connector, a steel hanging positioning bracket, a hard-wired 30-foot cable, and a mini to standard XLR connection that makes installation easy.
It comes with a multistage windscreen and works with 9-52 Phantom power.
The steel hanging bracket helps position the mic so it picks up the performance with optimal depth.
Best shotgun choir mic: LyxPro CMG-50
A shotgun mic can also be effective in picking up choirs. It can mount on a camera or mic stand to pick up sound from a distance making it extremely effective for large groups.
The LyxPro Condenser Shotgun Microphone is a superior product due to its cardioid polar pattern that reduces the noise coming from the side and rear.
It is .8" in diameter, about 10.2" in length and it weighs under five pounds. It has a switchable low-cut filter that reduces wind noise and a low battery indicator.
It can work on battery or phantom power. It comes in a rugged all-metal housing and includes a foam windshield, a shoe mount for the camera, and a storage pouch.
It screws to the mounts of standard mic stands.
Check out the latest prices here
Best choir mics for outdoor use: Samson Choir Microphone with Stands
The portability, durability, and ease of use of these Choir Microphone with Stands make them ideal for outdoor applications.
They come with boom floor stands that pick up sound from overhead eliminating the need to run cables or hang mics so they are convenient for outdoor spaces.
They are great for live performances in parks, fairs, and festivals.
The mics are also ideal because they stand up to a variety of quality and coverage demands. They offer a sufficient range and high-quality sound input.
With the right placement, they will provide optimal redistribution and you will be able to hear your entire chorus clearly.
Best semi-cardioid choir microphone: Audio Technica Pro 44 Boundary Mic
This Cardioid Condenser Boundary Microphone has a low profile look that is ideal if you don't want it to be noticeable during a live performance.
It's easy to use and position and it's great for picking up sound. The mic has a low mass diaphragm and a condenser element that provides superior sound.
It features self-contained electronics eliminating the need for external power devices.
It has a rugged construction and it comes with a 25' detachable cable.
In addition to being great for choirs, it will also work well for lectures, podiums, conferences, and other events where an installed sound solution is needed.
Best pencil condenser choir mics: Samson CO2
The thin construction of this pair of Samson Pencil Condenser Microphones makes them great for cutting out noise and distortion.
They are terrific eliminating unwanted sound in noisy environments.
The mics have a sturdy build that's good at resisting impact. They feature a protective design and foam windshields that further help to reduce noise and feedback.
They are easy to position and they come with shock-mounted clips for additional sound filtering.
Their cardioid polar pattern ensures their high-quality sound output. They come with gold plated XLR connectors and carrying cases that provide the ultimate in portability.
Looking for a good mic for the speaker in church? See our review for the Best Wireless Microphones For Church.
Best choir boom stand with extra long arm: LyxPro SMT-1 Professional
Because a choir requires mic positioning that is not exactly traditional, the mic stand is a very important element.
Since you are miking from overhead, you will want to use boom stands.
These are mic stands with an arm that extends out horizontally to pick up sound from above.
Here are some boom stands that are recommended for choirs.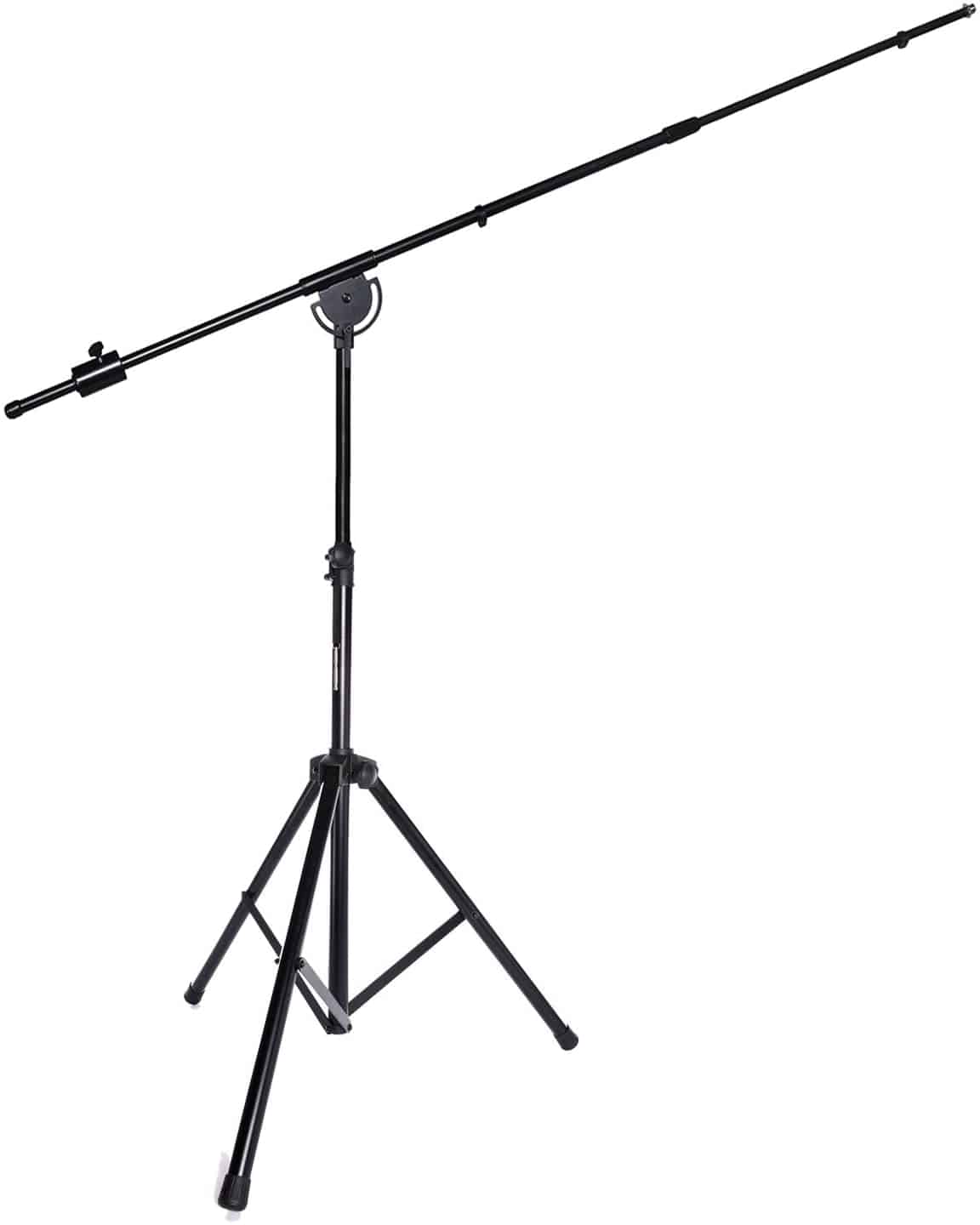 This LyxPro Professional Microphone Stand features an extra tall stand that ranges from 59" to 93" as well as an extra-long arm that measures 45" to 76".
It is great for picking up choirs at distances and it can also work for guitar, piano and drum performances.
The heavy duty arm can accommodate a wide variety of diaphragm microphones. It features durable construction and adjustable legs providing sturdy and reliable balance.
The retractable parts fold up easily making for convenient portability.
Check prices and availability here
Best choir boom stand two-pack: LyxPro Podium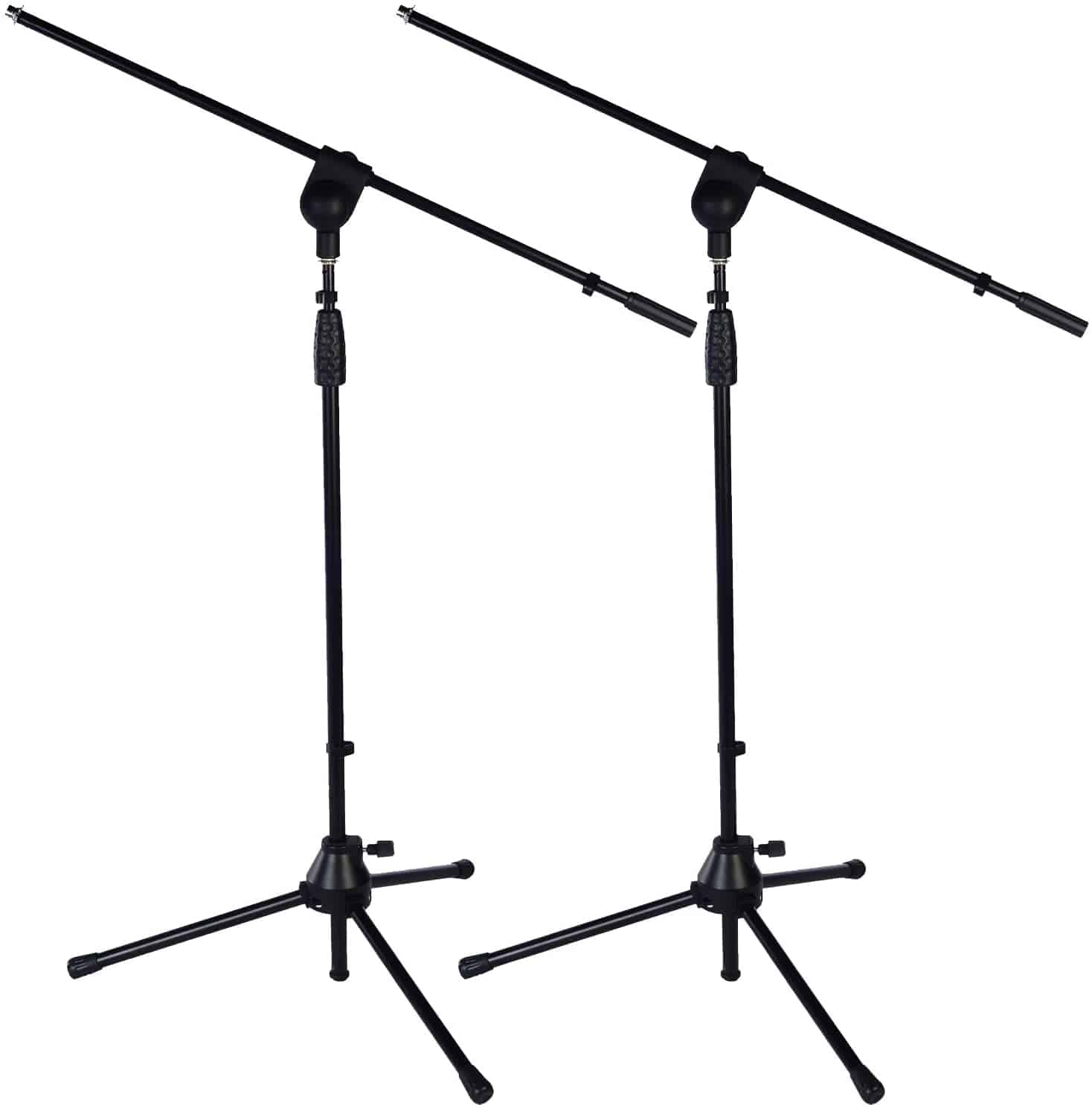 When you're miking a choir, you will most likely need more than one mic stand.
That's why this two pack LyxPro Microphone Stand Boom is so convenient. It's great for live and studio performances.
The stands adjust from 38.5 to 66" high and the boom arm is 29 3/8" in length. They feature durable construction but they are lightweight and collapsible for convenient portability.
They come with a base locking knob, a boom counterweight and a 3/8" and 5/8" threaded mount.
FAQ about choir mics
How do you mic a choir?
Start by figuring out where the mics should go to best capture a blend of all your singers.
Use as few mics as possible with one for every 15-20 singers.
Adjust the mics to a height that is even to the tallest singer in the back row (some soundmen will go 2-3 feet higher). Place mics 2-3 feet from your front row of singers.
If you are using multiple mics, space them so they are equidistant from each other based on how far they are from the front row.
So if the center mic is placed 3 feet from the front row, additional mics should be placed 3 feet from the central mic.
How do you mic a choir for recording?
If you are miking a choir for a recording, you will want to start by finding a room with great acoustics.
The atmospheric vibe is something that can't be produced in the mix so using the right space is essential.
You will also want to position your singers so you get the right blend of voices.
Many of the same rules apply in the spacing of the mics (see previous question) as far as the height and distance adjustments.
However, you might also want to use overhead mics to get a good mix. You can also add spot mics for solos and room mics for ambiance.
Finally, leave a bit of headroom to make up for singers that may increase or decrease in volume as they sing.
Conclusion
There are many mics that are great for recording choirs but the Rode M5-MP Matched Pair Cardioid Condenser Microphones stand out as the best.
Their cardioid pattern produces a terrific sound while the condenser element reduces noise.
The fact that they come in a set means that you may not need to get additional mics.
But with so many mics on the market, you have plenty of options when it comes to finding the one that's best for you. Which will you choose?
          Joost Nusselder, the founder of Neaera is a content marketer, dad and loves trying out new equipment with guitar at the heart of his passion, and together with his team, He's been creating in-depth blog articles since 2020 to help loyal readers with recording and guitar tips.
Check me out on Youtube where I try out all of this gear: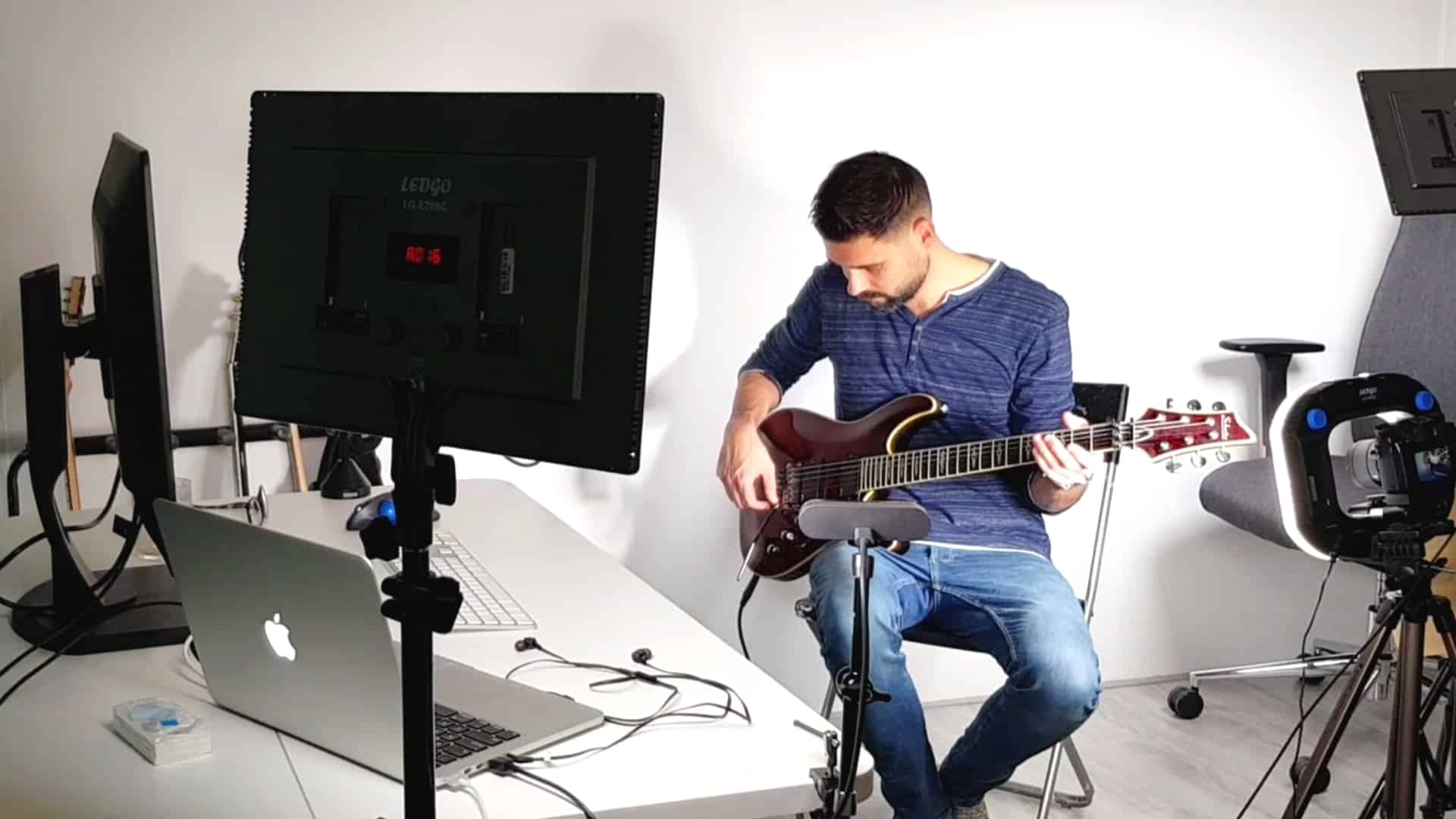 Subscribe