I love creating free content full of tips for my readers, you. I don't accept paid sponsorships, my opinion is my own, but if you find my recommendations helpful and you end up buying something you like through one of my links, I could earn a commission at no extra cost to you.
Learn more
Tuning a guitar is a necessary evil if you expect it to sound right.
That said, the days of doing this by ear are far gone, and there are some great guitar tuners out there now to make this task easier and faster.
If you don't know which one to go with, we have a list of the 3 best guitar tuner pedals, so let's take a closer look right now.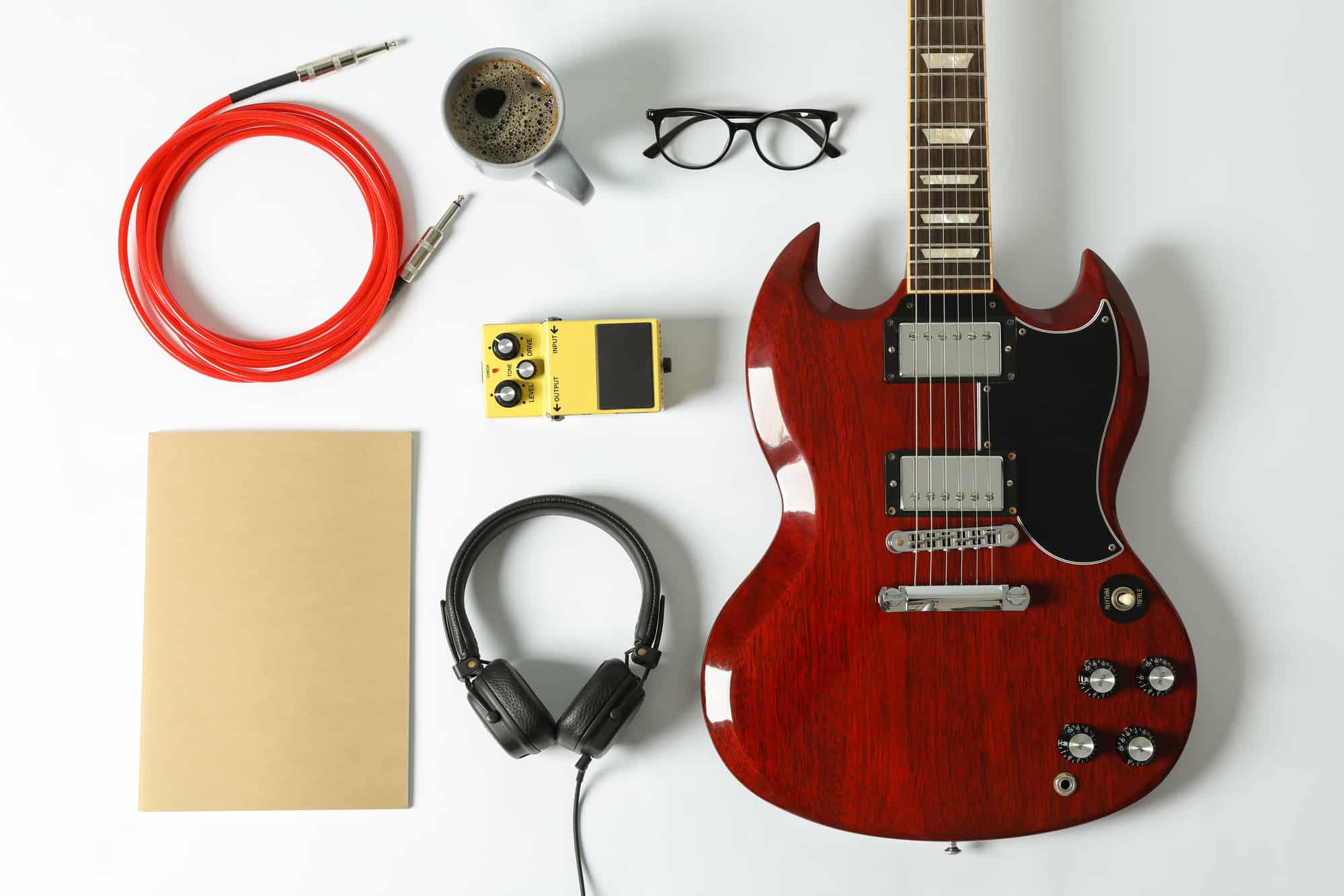 My top choice is this TC Electronics PolyTune 3. It's what the pros use and although it might be a little more expensive, a good performance starts and ends with your instrument being in tune.
You will absolutely LOVE the polytune option on this thing as it saves you so much time, especially on stage.
Of course, there are some great alternatives for different budgets. Let's take a quick look at the top choices and then get into a little more detail with each:
Best Guitar Tuner Pedal Reviewed
Overall best tuner pedal: TC Electronic PolyTune 3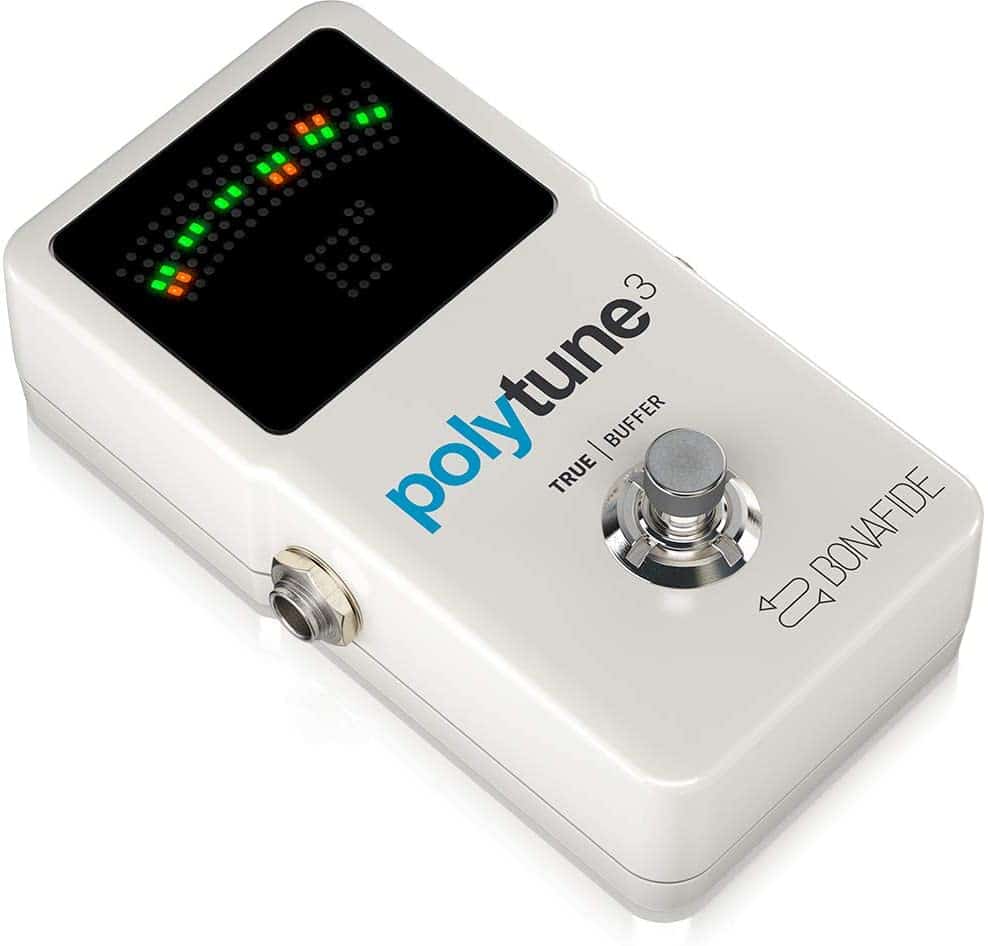 When it comes to simple, user-friendly, durable, affordable, and accurate guitar tuning pedals, the TC Electronic PolyTune 3 Guitar Tuner Pedal has to be one of the very best ones out there at this time.
Features
If it is a small, compact, and highly portable guitar tuner pedal you are after, this TC Electronic PolyTune 3 Guitar Tuner Pedal should be a prime choice.
It's so small that it can fit in your pants pocket, which is a convenient factor.
What is also convenient about this particular unit is that it comes with polyphonic, chromatic, and strobe tuning modes, so you can quickly and accurately tune your guitar.
It can even automatically switch between mono and poly tuning, depending on the number of strings you play at once.
The TC Electronic PolyTune 3 Guitar Tuner Pedal is pretty neat, because the polyphonic tuning mode allows you to tune all of your strings at once, something which helps make the process much faster and easier.
In terms of accuracy, the chromatic mode features 0.5 cent accuracy, and the strobe mode has ± 0.02 percent accuracy; it allows for highly accurate tuning so your guitar always sounds exactly as it should.
Moreover, this guitar tuner pedal also features switchable bypass/buffer modes for optimal signal integrity no matter the setup.
The other great feature is the large and bright LCD display which allows you to easily see what is happening in all viewing conditions, which is in part thanks to the ambient light detector.
On a side note, this is one of the more expensive options out there, just so you know.
Pros
Auto-detection for mono or poly tuning
Very accurate chromatic and strobe tuning
Allows you to tune all strings at once
Great signal integrity
Easy to read display
Small and compact
Cons
Very expensive
Limited lifespan
No power adaptor included
Check the latest prices here
Also read: how to build out a pedalboard with everything you need
​Best cheap budget tuner pedal: Donner Dt-1 Chromatic Guitar Tuner​
This is the most affordable and cost-effective guitar tuner pedal on the list today, a very simple yet effective one.
However, keep in mind that there is no power adaptor included, so you will need to buy that separately.
Features
The Donner Dt-1 Chromatic Guitar Tuner Pedal is a chromatic tuner that does not support strobe or polyphonic tuning.
While it is very accurate and will always have your strings in tune, you cannot tune multiple strings at once, such as with the tuner pedal we reviewed above.
That said, it does get the job done and it's very accurate, so that should not be an issue, but you do have to tune all strings individually.
The Donner Dt-1 Chromatic Guitar Tuner Pedal has a full alloy metal shell, so it is actually quite a durable tuner pedal. You could even drop it and it shouldn't break.
In terms of convenience and portability, it is extremely small and lightweight, so much so that you will barely notice it on your person at all.
This tuner pedal comes with true bypass for zero tone coloration, which allows the signal to pass through the non-electronic bypass, so you can feed a direct and unaltered signal directly to the amp from your instrument.
In other words, you don't even have to disconnect it once you are done tuning; simply play right through it.
Pros
Simple use
Very intuitive and user-friendly
Durable outer shell
Very accurate chromatic tuning
Bypass feature for ease of use
Very good price
Small and compact
Cons
No poly tuning
Buttons can get a bit sticky
Display may fade over time
Check the latest prices here
Best tuner pedal under 50: Snark SN-10S
When it comes to a mix of affordability and functionality, the Snark SN-10S Pedal Tuner is a good option to look into.
It's nothing overly special, but it does work like a charm.
Features
The Snark SN-10S Pedal Tuner is a chromatic tuner, so you do have to tune one string at a time, and it does not support polyphonic tuning.
As we said, it's a very simple chromatic tuner, and although you may not be able to tune multiple strings at once, what can be said is that tuning individual strings is about as accurate as it gets with this tuner.
What's really nice about the Snark SN-10S Pedal Tuner is the intuitive display.
For one, the display is very easy to read in all conditions, as it automatically detects the proper string and tune, and then features 2 small bars to show you how out of or in tune that particular string is.
It's very easy to use and it leaves nothing to guesswork.
Moreover, the Snark SN-10S Pedal Tuner features true bypass switching so you don't have to disconnect it all the time, plus it also comes complete with pitch calibration, which is more than necessary.
Now, the internal components may not have the longest lifespan, but if you treat it right, this tuner should last for quite some time, especially thanks to the die-cast metal shell.
Pros
Simple and effective
Decent price
Accurate chromatic tuning
Bypass feature
Intuitive and bright display
Durable outer shell
Cons
Interior components may not be the most durable
No polyphonic tuning
Some trouble with the display after prolonged use
Check prices and availability here
Final Verdict
When it comes down to it, although all three of these guitar tuner pedals reviewed here today are great in their own way, there is one which we have to recommend over the others.
The TC Electronic PolyTune 3 Guitar Tuner Pedal is hands down the best option here today.
Although it is more expensive than the others, it does feature 3 tuning modes instead of just 1, which is a big deal.
Also read: these are a few cheap multi-effects units with built-in tuners you can check out
          Joost Nusselder, the founder of Neaera is a content marketer, dad and loves trying out new equipment with guitar at the heart of his passion, and together with his team, He's been creating in-depth blog articles since 2020 to help loyal readers with recording and guitar tips.
Check me out on Youtube where I try out all of this gear: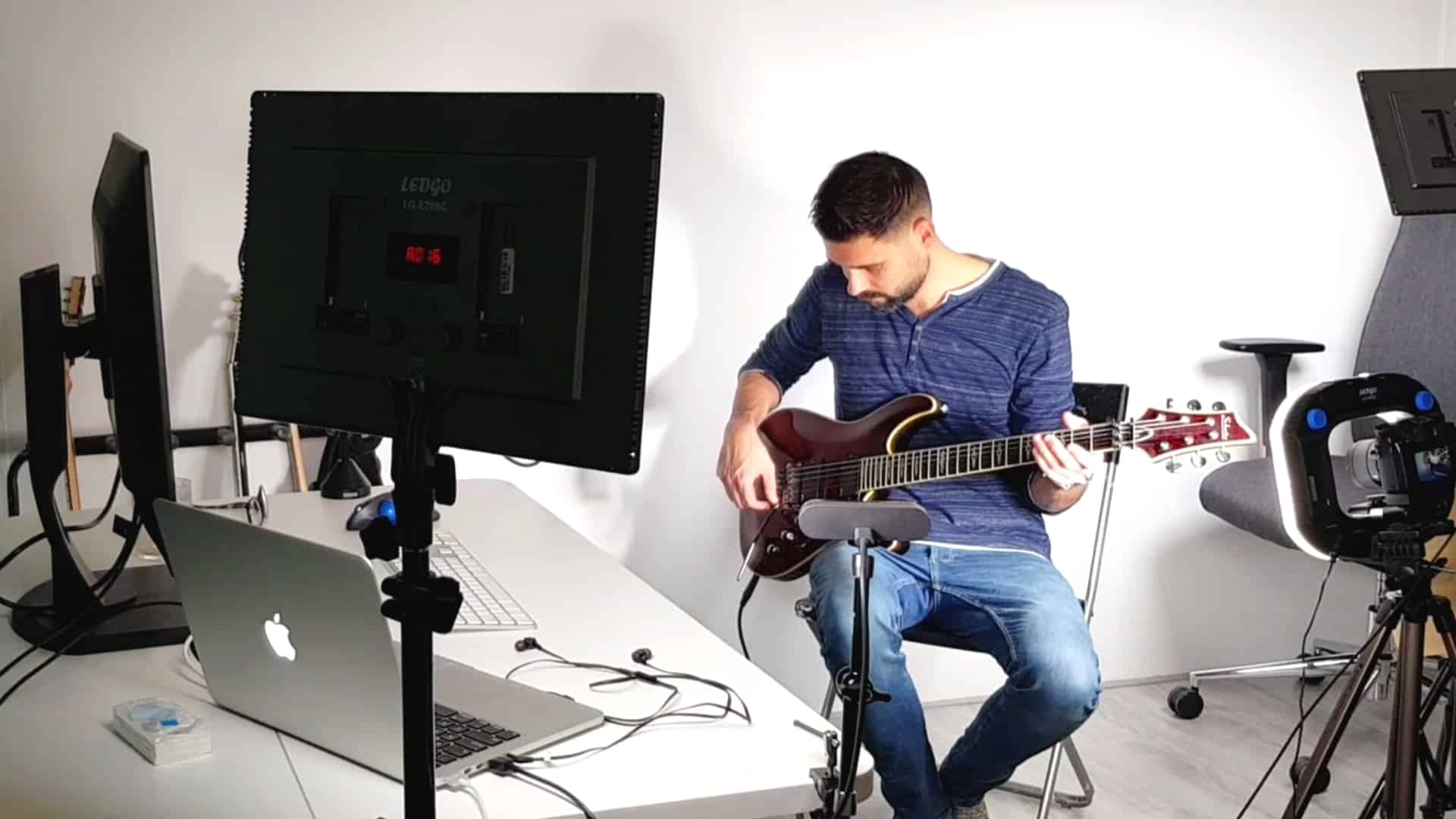 Subscribe