hi there I love creating free content full of tips for my readers, you. I don't accept paid sponsorships, my opinion is my own, but if you find my recommendations helpful and you end up buying something you like through one of my links, I could earn a commission at no extra cost to you.
Learn more
Oil finish is a type of finish that uses natural oils and varnishes to give the wood a protective coating that can last for years. It's commonly used on guitars to protect the wood from wear and tear.
In this guide, I'll explain what it is, how to use it, and some tips to keep in mind.
Tru Oil: A Finishing Option for guitars?
What is Tru Oil?
Tru Oil is a finish that's often used on gun stocks and is pretty easy on the wallet. It's a breeze to apply with just a clean, soft cloth and dries quickly, so you can get multiple coats done in one day. The formula is a mix of linseed oil, oil varnish, and mineral spirits, so it's more of a varnish than a pure organic oil.
What Can You Use Tru Oil For?
Tru Oil is great for bringing out the beauty of wood and protecting it. It can be used on any bare wood, but it's often used on unfinished necks. With enough coats, you can get a fast-feeling finish that won't get sticky or tacky in humid environments. Here are some of the benefits of using Tru Oil:
Quick and easy to apply
Dries quickly
Builds up a relative level of hardness
Resists stickiness in humid environments
Enhances the beauty of wood
Protects wood
Conclusion
Tru Oil is a great option for gun stocks, or any other bare wood, that you want to bring out the beauty of and protect. It's easy to apply, dries quickly, and resists stickiness in humid environments. So if you're looking for a finish that won't break the bank, Tru Oil is worth a shot.
How to Refinish an Unfinished Guitar Body
Level Out Marks and Dents
If you've got an unfinished guitar, you'll need to level out any marks or dents with wood filler before you can get started. Sand it down and clean it up, and you'll be ready to move on to the next step.
Oil It Up
It's time to get your guitar body looking good! Here are some of the most popular oils you can use on an unfinished guitar:
Tung Oil: This oil is extracted from the nuts of the Tung tree and leaves a transparent coat on the body. It's great for protecting the wood from humidity and weather.
Koa Oil (Poly Stain): If you're looking for a dark finish, Koa oil is the way to go. It's commonly used in Hawaii for making furniture and other items.
Catalyzed Lacquer: This is a great option if you're looking for a durable finish. It offers great water, chemical, and abrasion resistance.
Maintenance
It's important to keep your guitar in tip-top shape. After each session, wipe down your guitar neck with a soft cotton towel. Every six months, you should do a deep clean and maintenance on your guitar.
If your fretboard is looking a bit grubby, you can use Gorgomyte to clean it up and oil it at the same time. It's one of the best cleaning products for guitar fretboards.
How to Give Your Guitar a Finishing Touch
Wood Oils: A Practical and Aesthetic Choice
If you're looking to give your guitar a unique and beautiful finish, wood oils are the way to go! From clear to colored and tinted, you can find a variety of finishes to choose from.
The Finishing Process
The finishing process for a guitar is a long and arduous one. It involves oiling, staining, painting and more. If you want to lacquer an unfinished guitar, you'll need to refinish and oil it.
What Oil Should I Use?
In Hawaii, koa oil is often used to make furniture and other items. If you're looking for a darker finish, such as a koa wood finish, you can use it on your guitar. Lacquer is the most cost-effective, long-lasting and dries quickly of any paint, so it's a great choice.
Cleaning the Fretboard
For a shiny finish on your fretboard, you can use Gorgomyte solution. This oil contains boiled linseed oil, mineral spirits, oil varnish and sunflower oil. Applying multiple coats of paint to the guitar neck will give it a beautiful and charming look.
Oil-Free Guitar Care
If you're looking for an oil-free guitar care routine, you should opt for natural/organic oils and avoid petroleum distillates like baby oil. There are a few exceptions, such as when you use the oil to lubricate the strings. Just make sure not to soak your guitar in the oil and you'll be good to go!
Guitar Maintenance: What Oils to Use?
Unfinished guitars need oil to keep them in good condition, but there are also different types of oils that can be used for regular guitar maintenance. Keeping your guitar in tip-top shape is important, so let's take a look at what oils you should be using!
Clean Your Fretboard First
If you're like most guitarists, you probably don't clean your fretboard after every session. But it's important to do so, otherwise the wood could dry out and you risk cracking your fretboard. To keep your fretboard clean, make sure to wipe it down with a soft cotton towel after every session. Different types of fretboard wood have different cleaning routines, so make sure to look those up before you start cleaning.
Gorgomyte: Clean and Oil in One
Gorgomyte is a great product for cleaning and oiling your fretboard all in one go. It was first introduced by luthier Jimmy Johns, and it's perfect for all types of fretboard wood. Plus, you don't have to worry about masking off your fretboard during the cleaning process. So if you're looking for a quick and easy way to clean and oil your fretboard, Gorgomyte is the way to go!
Gunstock Oil: The Durable Choice
Gunstock oil, also known as true oil, is a popular choice for guitar maintenance. It's known for its long-lasting durability, grain-enhancing properties, and ease of application. It's made of boiled linseed oil, mineral spirits, and oil varnish, and applying multiple coats will give your guitar neck a beautiful, shiny look. So if you're looking for a durable oil to use on your guitar, Gunstock oil is the way to go!
What is Tung Oil Finish?
What is Tung Oil?
Tung oil is a natural oil that comes from the seeds of the tung tree, and it's been used for centuries in Asia for its waterproofing and protective properties. It's a popular finish for woodworking projects because it's easy to apply and has a beautiful luster.
How to Apply Tung Oil Finish
Applying tung oil finish is easy and straightforward:
Start by making sure your wood surface is clean and sanded to 220 grit (or 320 dry grit).
Use 0000 steel wool (or equivalent) to get a smooth finish.
If you get a gummy resin instead of white powder after sanding, wait a day.
Optionally, add 50% turpentine to thinning agents to improve penetration and speed drying time.
Apply the tung oil finish with a brush or cloth and let it dry.
Benefits of Tung Oil Finish
Tung oil is a great alternative to walnut, linseed, or soy oil because it's versatile, easy to use, and environmentally friendly. It chemically bonds to the surface, creating a layer of repulsable water up to 5 mm thick. Plus, it's non-toxic and won't leave a glossy coating.
Removing Tung Oil Finish
If you want to remove tung oil from wood after it has cured/dried, you'll need to use sandpaper and elbow grease. It's not an easy task, but it can be done. And if you're looking for a quicker solution, you can try using clean pads and fresh water.
The Future of Tung Oil Finish
Tung oil is here to stay! On February 6, 2022, the world will be changed forever as tung oil is used to coat fine wood furniture with a transparent, wet finish. So, if you're looking for a way to protect your wood and make it look great, tung oil is the way to go!
What's the Best Oil for Your Acoustic Guitar?
The Debate
Ah, the age-old debate: what's the best oil for your acoustic guitar? Some say lemon oil, some say olive oil, and some say "who cares, just oil it up!" Ultimately, it's up to you to find out which oil works best for your axe.
The Fretboard
The fretboard is one of the most sensitive parts of your guitar, so it needs regular oiling. F-One's all-natural ingredients won't leave any synthetic residue or damage your instrument. But oil alone won't keep your fretboard looking and sounding its best – you'll need a few other things.
Here's what you need:
A tube of Frine Fret Polish
Three fretboard guards
A bottle of Jim Dunlop's 6554
D'Addario Lemon Oil
Peavey Fretboard Oil
What Does Each Oil Do?
Lemon oil is great for protecting, preserving, and lubricating rosewood and ebony fretboards. D'Addario Lemon Oil is perfect for those who want a gentle treatment. If you have a maple fretboard, you don't need oil – just a good conditioner.
Peavey Fretboard Oil is a great value, and it adds a smoothness to the wood. It contains petroleum distillates, so use it sparingly. It also provides a protective layer against grime, sweat, and dust.
Gerlitz Honey is a great choice for exotic woods like Hawaiian Koa and Ziricote. It'll make your instrument sound better and keep grease and grit away.
The Bottom Line
When it comes to oiling your fretboard, there's no one-size-fits-all solution. Experiment with different oils and see which one works best for your guitar. Jim Dunlop's and D'Addario's oils are great for cleaning and protecting, while Peavey's Lemon Oil is perfect for those who want a more gentle treatment. And don't forget about Gerlitz Honey for exotic woods!
Should You Use Tung Oil on Your Guitar?
If you're looking for a wood finish that will give your guitar a natural feel, tung oil is a great choice. Just keep in mind that it needs to be reapplied periodically and doesn't offer the most robust protection. Plus, you need to make sure you're using pure tung oil – not just "tung oil finish." So, if you're willing to put in the extra effort, tung oil can give your guitar a unique look and feel.
What Kind of Oil Should I Put On My Guitar?
The Benefits of Mineral Oil
When it comes to oiling up your guitar, mineral oil is the way to go! Here's why:
It's clear, odorless, and won't evaporate or harden.
It won't damage your guitar's finish.
It's non-toxic, so you don't have to worry about poisoning yourself.
Other Oils to Consider
If you're feeling adventurous, there are a few other oils you can use on your guitar. Here's the lowdown:
Linseed oil: This oil will give your guitar a nice shine, but it can also darken the wood over time.
Lemon oil: This oil will make your guitar smell like a citrus grove, but it can also be a bit too harsh for some finishes.
Tung oil: This oil will give your guitar a nice, deep finish, but it can also be a bit too thick for some guitars.
Conclusion
In conclusion, when it comes to oil finishes for guitars, there is no one-size-fits-all solution. It all depends on your personal preference and what you're looking for in a finish. TRU Oil and Tung Oil both provide a hard, varnish-like finish, while lacquer offers good protection but requires more maintenance. So, if you're looking to give your guitar a unique finish, why not TRY ALL THREE and see which one you like best? Just don't forget to use the right tools, like a good quality brush.
I'm Joost Nusselder, the founder of Neaera and a content marketer, dad, and love trying out new equipment with guitar at the heart of my passion, and together with my team, I've been creating in-depth blog articles since 2020 to help loyal readers with recording and guitar tips.
Check me out on Youtube where I try out all of this gear: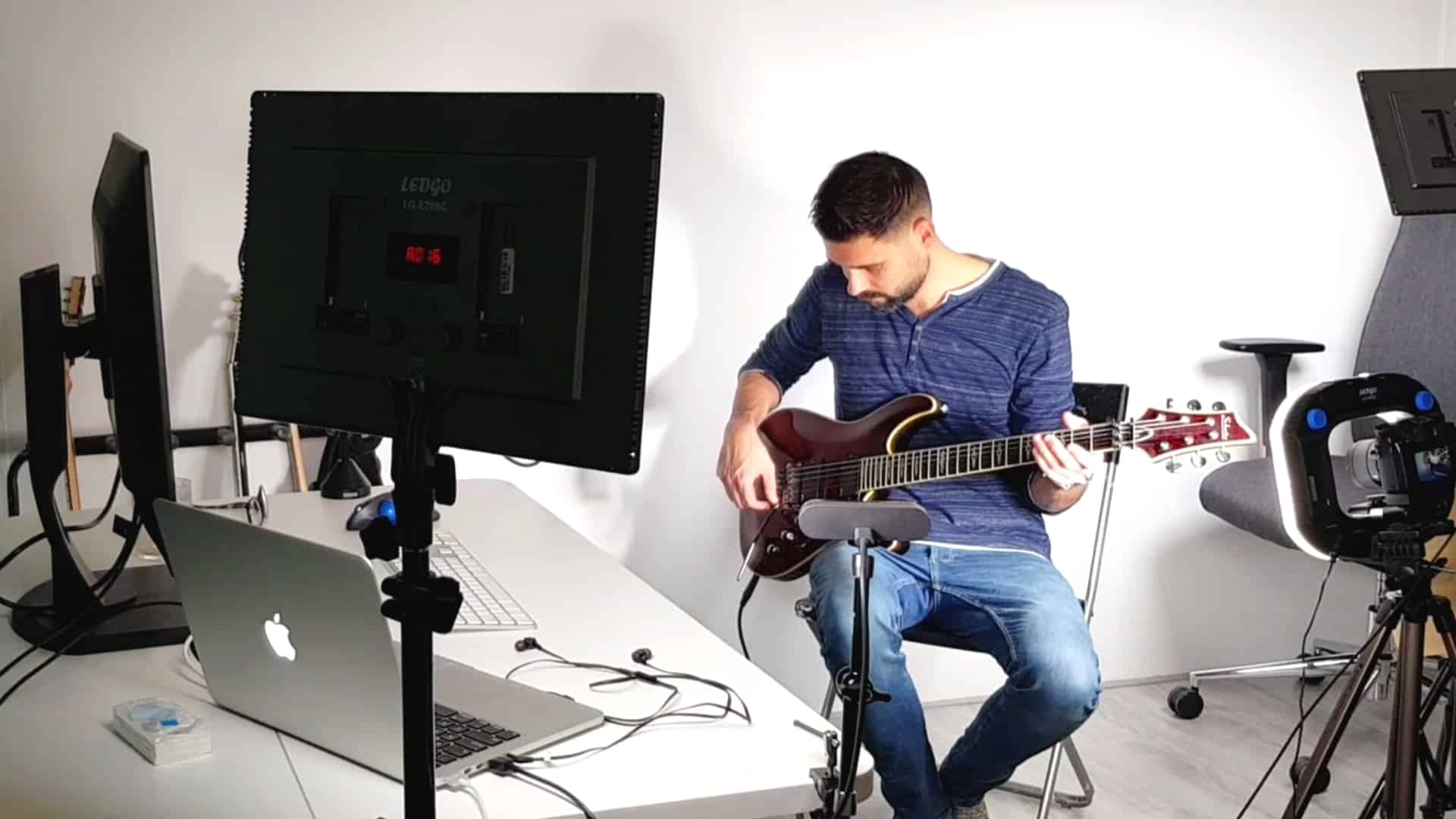 Subscribe