hi there I love creating free content full of tips for my readers, you. I don't accept paid sponsorships, my opinion is my own, but if you find my recommendations helpful and you end up buying something you like through one of my links, I could earn a commission at no extra cost to you.
Learn more
Marshall is one of the most iconic amp brands in the world, known for their high-gain amps used by some of the biggest names in rock and metal. Their amplifiers are also highly sought after by guitarists in all genres. So WHERE did it all begin?
Marshall Amplification is a British company with guitar amplifiers among the most recognized in the world, known for their "crunch," conceived by Jim Marshall after guitarists such as Pete Townshend complained that available guitar amplifiers lacked volume. They also manufacture speaker cabinets, and, having acquired Natal Drums, drums, and bongos.
Let's look at what this brand did to become so succesful.
The Story of Jim Marshall and His Amplifiers
Where it All Began
Jim Marshall was a successful drummer and drum teacher, but he wanted to do more. So, in 1962, he opened a small shop in Hanwell, London, selling drums, cymbals, and drum-related accessories. He also gave drum lessons.
At the time, the most popular guitar amplifiers were the expensive Fender amplifiers imported from the US. Jim wanted to create a cheaper alternative, but he didn't have the electrical engineering experience to do it himself. So, he enlisted the help of his shop repairman, Ken Bran, and Dudley Craven, an EMI apprentice.
The three of them decided to use the Fender Bassman amplifier as a model. After several prototypes, they finally created the "Marshall Sound" in their sixth prototype.
The Marshall Amplifier is Born
Jim Marshall then expanded his business, hired designers, and started making guitar amplifiers. The first 23 Marshall amplifiers were a hit with guitarists and bass players, and some of the first customers included Ritchie Blackmore, Big Jim Sullivan, and Pete Townshend.
The Marshall amplifiers were cheaper than the Fender amplifiers, and they had a different sound. They used higher-gain ECC83 valves throughout the preamplifier, and they had a capacitor/resistor filter after the volume control. This gave the amp more gain and boosted the treble frequencies.
The Marshall Sound is Here to Stay
Jim Marshall's amplifiers became increasingly popular, and musicians like Jimi Hendrix, Eric Clapton, and Free used them both in the studio and on stage.
In 1965, Marshall entered into a 15-year distribution deal with British company Rose-Morris. This gave him the capital to expand his manufacturing operations, but it wasn't a great deal in the end.
Nevertheless, Marshall's amplifiers have become some of the most sought-after and popular in the industry. They've been used by some of the biggest names in music, and the "Marshall Sound" is here to stay.
The Incredible Journey of Jim Marshall: From Tubercular Bones to Rock 'n' Roll Legend
A Rags to Riches Tale
James Charles Marshall was born on a Sunday in 1923 in Kensington, England. Unfortunately, he was born with a debilitating disease called tubercular bones, which made his bones so fragile that even a simple fall could break them. As a result, Jim was encased in a plaster cast from his ankles to his armpits from the age of five until he was twelve and a half.
From Tap Dancing to Drumming
Jim's father, a former champion boxer, wanted to help Jim strengthen his weak legs. So, he enrolled him in tap dancing classes. Little did they know, Jim had a remarkable sense of rhythm and an exceptional singing voice. As a result, he was offered the lead singing position in a 16-piece dance band at the age of 14.
Jim also enjoyed playing around on the band's drum kit. He was a self-taught drummer, but his impressive skills earned him gigs as a singing drummer. To up his game, Jim took drum lessons and soon became one of England's best drummers.
Teaching the Next Generation of Rockers
Jim's drumming skills were so impressive that young kids started asking him for lessons. After a few persistent requests, Jim finally gave in and started teaching drum lessons at his house. Before he knew it, he had 65 pupils a week, including Micky Waller (who went on to play with Little Richard and Jeff Beck) and Mitch Mitchell (who found fame with Jimi Hendrix).
Jim also started selling drum kits to his pupils, so he decided to open his own retail shop.
Jimi Hendrix's Appreciation for Jim Marshall
Jimi Hendrix was one of Jim Marshall's biggest fans. He once said:
Another thing about Mitch [Mitchell] is that he was the one who introduced me to Jim Marshall, who was not only an expert on drums but the guy making the best guitar amps anywhere.
Meeting Jim was beyond groovy for me. It was such a relief to talk to someone who knows and cares about sound. Jim really listened to me that day and answered a lot of questions.
I love my Marshall amps: I'm nothing without them.
The History of Early Amplifier Models
The Bluesbreaker
Marshall was all about saving money, so they started sourcing parts from the UK. This led to the use of Dagnall and Drake-made transformers and a switch to the KT66 valve instead of the 6L6 tube. Little did they know, this would give their amplifiers a more aggressive voice, which quickly caught the attention of players like Eric Clapton. Clapton asked Marshall to make him a combo amplifier with tremolo that could fit in the boot of his car, and the "Bluesbreaker" amp was born. This amp, along with his 1960 Gibson Les Paul Standard (the "Beano"), gave Clapton his famous tone on the John Mayall & the Bluesbreakers' 1966 album, Bluesbreakers with Eric Clapton.
The Plexi and the Marshall Stack
Marshall released a 50-watt version of the 100-watt Superlead known as the 1987 Model. Then, in 1969, they switched up the design and replaced the plexiglass panel with a brushed metal front panel. This design caught the attention of Pete Townshend and John Entwistle of The Who. They wanted more volume, so Marshall designed the classic 100-watt valve amplifier. This design included:
Doubling the number of output valves
Adding a larger power transformer
Adding an extra output transformer
This design was then placed on top of an 8×12-inch cabinet (which was later replaced by a pair of 4×12-inch cabinets). This gave rise to the Marshall stack, an iconic image for rock and roll.
The Switch to EL34 Valves
The KT66 valve was becoming more expensive, so Marshall switched to the European-made Mullard EL34 power stage valves. These valves gave Marshalls an even more aggressive voice. In 1966, Jimi Hendrix was in Jim's shop trying out the amplifiers and guitars. Jim Marshall was expecting Hendrix to try and get something for nothing, but to his surprise, Hendrix offered to buy the amplifiers at retail price if Jim would provide him with support for them around the world. Jim Marshall agreed, and Hendrix's road crew were trained in the repair and maintenance of the Marshall amplifiers.
Marshall Amplifiers of the Mid-1970s and 1980s
The JMPs
Marshall amps of the mid-1970s and 1980s were a whole new breed of tone monsters! To make production easier, they switched from handwiring to printed-circuit-boards (PCBs). This resulted in a much brighter and aggressive sound than the EL34-powered amps of the past.
Here's a rundown of the changes that happened in 1974:
'mkII' was added to the 'Super Lead' name on the back panel
'JMP' ("Jim Marshall Products") was added to the left of the power switch on the front panel
All amplifiers sold in the US and Japan were changed to the much more rugged General Electric 6550 instead of the EL34 output tube
In 1975, Marshall introduced the "Master Volume" ("MV") series with the 100W 2203, followed by the 50W 2204 in 1976. This was an attempt to control the volume level of the amplifiers whilst maintaining the overdriven distortion tones that had become synonymous with the Marshall brand.
JCM800
Marshall's JCM800 series was the next step in the evolution of their amps. It was made up of the 2203 and 2204 (100 and 50 watts respectively) and the 1959 and 1987 non-master volume Super Lead.
The JCM800s had a dual-volume-control (a preamplifier gain and a master volume) which allowed players to get the 'cranked Plexi' sound at lower volumes. This was a hit with players like Randy Rhoads, Zakk Wylde and Slash.
Silver Jubilee Series
1987 was a big year for Marshall amps. To celebrate 25 years in the amp business and 50 years in music, they released the Silver Jubilee series. It included the 2555 (100 watt head), 2550 (50 watt head) and other 255x model numbers.
The Jubilee amps were heavily based on the JCM800s of the time, but with a few extra features. These included:
Half-power switching
Silver covering
Bright silver-coloured faceplate
Commemorative plaque
"Semi-split channel" design
These amps were a hit with players who wanted to get the classic Marshall tone without having to crank the volume.
Marshall's Mid-80s to 90s Models
Competition from the U.S.
In the mid-80s, Marshall started to face some stiff competition from American amplifier companies like Mesa Boogie and Soldano. Marshall responded by introducing new models and features to the JCM800 range, such as the foot-operated "channel switching" which allowed players to switch between clean and distorted tones with the push of a button.
These amplifiers had more preamplifier gain than ever before thanks to the introduction of diode clipping, which added additional distortion to the signal path, similar to adding a distortion pedal. This meant that the split-channel JCM800s had the highest gain of any Marshall amps yet, and many players were shocked by the intense distortion they produced.
Marshall Goes Solid-State
Marshall also began experimenting with solid-state amplifiers, which were becoming increasingly better due to technological advancements. These solid-state amps were a hit with entry-level guitarists who wanted to play the same brand of amp as their heroes. One particularly successful model was the Lead 12/Reverb 12 combo series, which featured a preamplifier section similar to the JCM800 and a sweet-sounding output section.
Billy Gibbons of ZZ Top even used this amp on record!
JCM900 Series
In the 90s, Marshall released the JCM900 series. This series was well-received by younger players associated with pop, rock, punk and grunge, and featured more distortion than ever before.
The JCM900 line had three variants:
The 4100 (100 watt) and 4500 (50 watt) "Dual Reverb" models, which were descendants of the JCM800 2210/2205 design and featured two channels and diode distortion.
The 2100/2500 Mark IIIs, which were essentially JCM800 2203/2204s with added diode clipping and an effects loop.
The 2100/2500 SL-X, which replaced the diode clipping from the Mk III with another 12AX7/ECC83 preamplifier valve.
Marshall also released a few "special edition" amplifiers in this range, including a "Slash Signature" model, which was a re-release of the Silver Jubilee 2555 amplifier.
Unlocking the Mystery of Marshall Amp Serial Numbers
What is a Marshall Amp?
Marshall amps are legendary in the music world. They've been around since 1962, when they first started filling stadiums with their unique sound. Marshall amps come in all shapes and sizes, from the classic Plexi panels to the modern Dual Super Lead (DSL) heads.
How Do I Identify My Marshall Amp?
Figuring out which Marshall amp you have can be a bit of a mystery. But don't worry, we've got you covered. Here's what you need to know:
Look at the back panel of your amp for the serial number. For models made between 1979 and 1981, you'll find the serial number on the front panel.
Marshall amps have used three coding schemes over the years: one based on the day, month, and year; another based on the month, day, and year; and a nine-digit sticker scheme that began in 1997.
The first letter of the alphabet (England, China, India, or Korea) tells you where the amp was manufactured. The next four digits are used to identify the manufacturing year. The next two digits represent the amp's production week.
Signature models and limited editions may differ slightly from the standard Marshall serial numbers. So it's important to cross-check the originality of parts like tubes, wiring, transformers, and knobs.
What Does JCM and DSL Mean on Marshall Amps?
The JCM stands for James Charles Marshall, the founder of the company. The DSL stands for Dual Super Lead, which is a two-channel head with Classic Gain and Ultra Gain switching channels.
So there you have it! Now you know how to identify your Marshall amp and what all those letters and numbers mean. With this knowledge, you can rock out with confidence!
Marshall: A History of Amplification
Guitar Amplifiers
Marshall is a company that's been around for ages, and they've been making guitar amps since the dawn of time. Or at least it feels that way. They're known for their high-quality sound and their unique tone, making them the go-to choice for guitarists and bassists alike. Whether you're playing in a small club or a massive stadium, Marshall amps can help you get the sound you're looking for.
Bass Amplifiers
Marshall may not be making bass amps right now, but they sure did in the past. And if you're lucky enough to get your hands on one of these vintage beauties, you'll be in for a treat. With their versatility and flexibility, these amps can be used in a variety of genres and settings. Plus, they look pretty darn cool too.
Easy to Use
Marshall amps are super easy to use, whether you're playing indoors or outdoors. Plus, they're surprisingly powerful for their size. So if you're looking for a great amp that won't take up too much space, Marshall is the way to go.
Conclusion
Marshall amplifiers have come a long way since their humble beginnings in 1962. When it comes to sound, Marshall amps are second to none. With their unmistakable tone, they're the perfect choice for any musician looking to get creative with their sound.
So, don't be afraid to ROCK out with a Marshall and experience the legendary sound that has been used by the likes of Jimi Hendrix, Eric Clapton, and many more!
I'm Joost Nusselder, the founder of Neaera and a content marketer, dad, and love trying out new equipment with guitar at the heart of my passion, and together with my team, I've been creating in-depth blog articles since 2020 to help loyal readers with recording and guitar tips.
Check me out on Youtube where I try out all of this gear: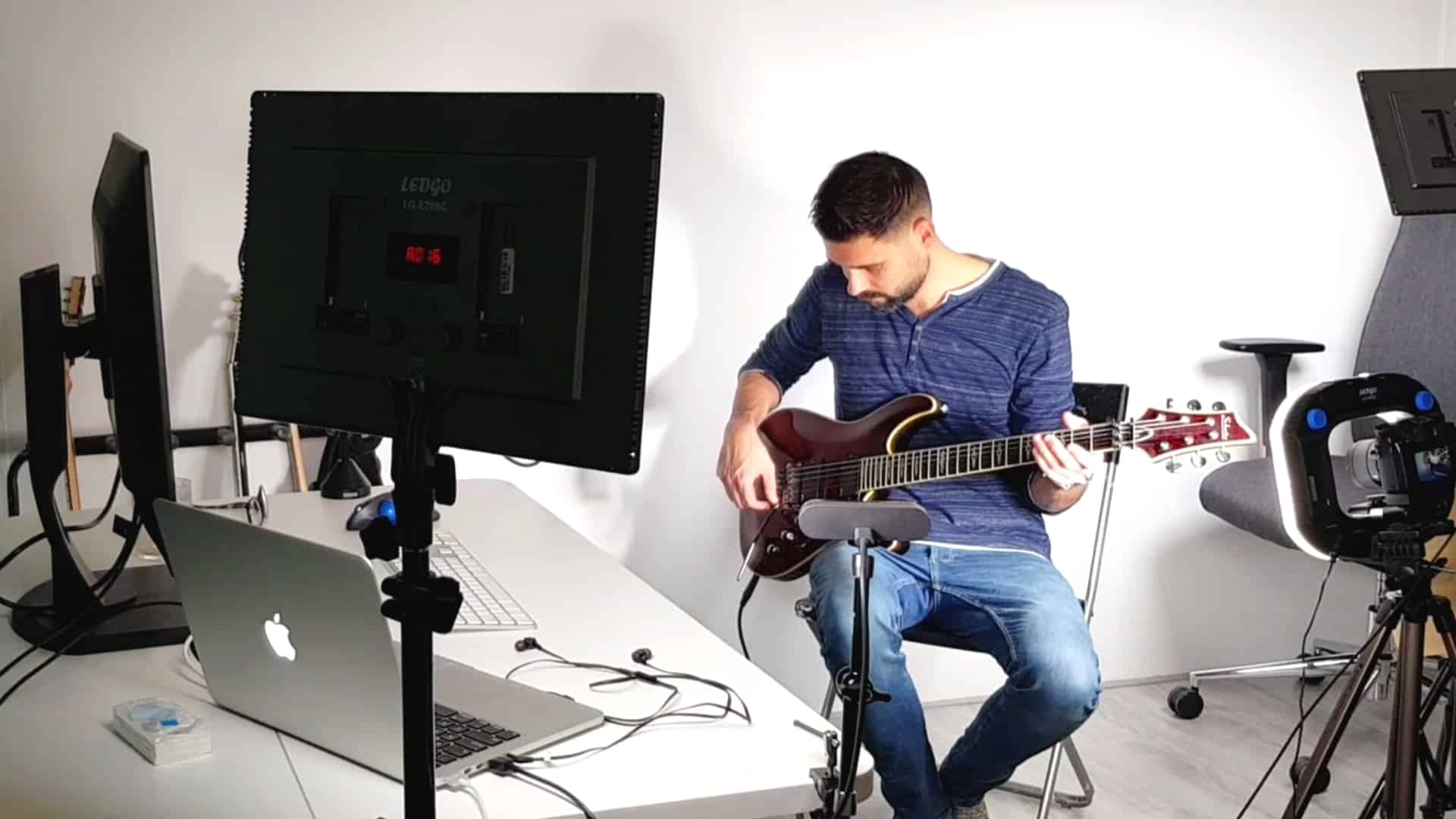 Subscribe