hi there I love creating free content full of tips for my readers, you. I don't accept paid sponsorships, my opinion is my own, but if you find my recommendations helpful and you end up buying something you like through one of my links, I could earn a commission at no extra cost to you.
Learn more
Jim Marshall was an English entrepreneur and musician who changed the music industry forever with his invention of the Marshall Amplifier.
He revolutionized the way that electric guitarists expressed and amplified their sound, creating a heavy rock and roll sound that still resonates today.
During his career, he provided iconic amplifiers and guitar cabinets to some of the greatest guitarists in the world. Let's take a deeper look into the life and accomplishments of Jim Marshall.
Overview of Jim Marshall

Jim Marshall (1923–2012) was widely known as the "father of loud". Born in London, he is credited with making modern-day loud rock and roll possible with the invention of his Marshall Amplifier in 1962. A self-taught electronics engineer, he opened a small music shop in 1960. In the following years, he completed three leading product lines for amplifying guitar and bass sounds — collectively referred to as the Marshall stack. He spent most of his career propelling rock music's evolution with this signature sound. Before Jim Marshall's amps and cabinets, electric guitars were used mainly as background instruments in live music. But once they had access to Marshall's equipment, guitarists could be heard above their rhythm sections and solo arrangements became a staple of rock bands.

Marshall's amplifiers have been used by some of the most influential guitarists through recent decades including Hendrix, Clapton, Page Slash, Jack White and The Who's Pete Townshend just to name a few. But he was also an innovator in other musical domains such as producing audiophile-grade studio recording audio equipment known as The Major which is still highly sought after today by analog recording fanatics due its distinct warm vintage tone. In addition to building iconic musical gear; Jim Marshall also facilitated personal relationships with legendary players providing invaluable insights for experimenting new sounds that would later become classic rock tropes appealing to generations across decades until present day.
Influence on Music

Jim Marshall was a British entrepreneur who, together with his business partner Ken Bran, revolutionized musical entertainment with the pioneering production of musical equipment. Marshall's products and innovations are still pervasive across multiple genres of music today and his influence has profoundly impacted the sound, range and styles of popular music around the world.

Marshall developed an enduring reputation for exemplary craftsmanship and reliability unprecedented in the industry at the time. His amplifiers such as the Marshall Super Lead or JCM800 were closely associated with some of rock music's most iconic stars like Jimi Hendrix, Jimmy Page, Angus Young and Slash; elevating their unique sonic identities which became associated closely with their brands. His development of speaker enclosures which changed the way audiences heard amplified sound allowed human ears to experience unprecedented levels of volume without distortion. This contributed to what is now called "massive sound," that could fill stadium-sized venues – turning many acts into Superstars overnight.

The evolution of Marshall's innovations also had a profound impact on sonic evolution across genres in other forms such as jazz fusion and blues as well as funk music in its heyday from 1970s onward to this day. He restructured studio recording techniques by introducing new amplifiers into the market that enabled long-lasting record durability for analog recording consoles by adding extra headroom for better audible clarity on any frequency range used in those settings; allowing further explorations into audio landscapes that were previously unattainable such as wooly amplifier saturation tones or clear acoustic bass notes without compression artifacts or harmonic distortion. It was this type of innovation that made Jim Marshalls products so sought after among players from all fields because they consistently provided premium quality tone reproduced exactly match what works best for individual needs .
Early Life
Jim Marshall, often called the "Father of Loud", was a British inventor, speaker designer and music-equipment designer. He was born in 1923 in London, UK, to a modest family. He had a keen interest in music from a young age, and it grew from there: he spent his childhood performing in various jazz and blues bands. In the 1940s, he served for the British Army in India, and then moved to the UK to pursue a career in music.
Childhood

Jim Marshall was born in London, England on July 29, 1923. His mother ran a newsagents shop and taught him to read when he was three. He also started to learn "real books" at this age and was reading novels by the age of five.

His interest in music did not develop until his teenage years, when he began playing guitar with a group of friends at their local church hall. They experimented with different musical styles such as jazz and blues but none of them were serious about music as a career until Jim came along. After attending Hornsey School of Art, Jim began developing an interest in photography as well as other visual arts such as painting and sculpture.

Always eager to explore various creative outlets, Jim eventually turned his attention to creating musical instruments – it was during this time that he learned the art of making guitar amplifiers. After working for several different companies experimenting with tubes and resistors, Jim opened his own business building amplifiers in 1961 which eventually led him to create Marshall amplifiers – the ultimate classic rock sound that many artists still use today.
Education

James Marshall Marshall was born in Melbourne, Australia, on January 18th, 1980. He grew up in the Inner West suburbs of Sydney and had an overnight interest in music from a very young age. As he matured, his talent began to truly open up and deepen.

Although James attended school regularly, by the time he was 12 years old his love for music had trumped his academic interests. Despite this passion and prodigious talent for music, his parents insisted that he finish school before pursuing it full-time.

At age 15, James received distinctions in both English Literature and Music Theory at North Sydney Boys High School. Every Saturday afterwards he would attend jazz classes at The Sydney Conservatorium of Music studying Jazz Performance under some of today's most respected names in the industry including Don Burrows and Mike Nock. Always ahead of his classmates and a legend within the scene almost straight away, at 17 Jim was asked to join Don Burrows Big Band as a trombonist – an opportunity that gave him first-hand access to some of Australia's top jazz musicians giving him even more notoriety throughout the nation's clubs as 'that kid who could swing with such ease' or 'that teenage prodigy with an ear beyond its years'.
Early Career


Jim Marshall was born in London on July 29, 1923. He worked a series of odd jobs while growing up but was mostly self-taught when it came to playing instruments. He joined the Royal Air Force during the Second World War and began to learn about the practical ways of fixing and maintaining musical instruments. After his service, he opened a music store in Denmark Street called Jim Marshall Sound Equipment Ltd., which evolved into a thriving business. Before long, Jim was selling not just hardware but sotfware too.

In 1964, Marshall Amplification was born by introducing Distortion and Tremolo effects to his amplifiers – both being features heavily used by bands like The Who, Cream and Pink Floyd. During this period Jim tailored many amps to individual customer's needs – so it's no surprise that the range of sounds that were available helped shape the landscape of modern music as we know it today. From Pete Townshend's cranked-up distorted sound on "My Generation" to Jimmy Page finding an alternative voice using sonic manipulation for Led Zeppelin songs such as "Whole Lotta Love" – all planted firmly with his amp design.
Music Career
Jim Marshall was an iconic guitar amp manufacturer, who was responsible for some of the greatest sounds in rock and roll history. He was the founder of Marshall Amplification and known for the "Marshall sound". In addition to amplifiers, Marshall produced speaker cabinets, amplifiers, effects pedals and other equipment that contributed to popularizing and revolutionizing the sound of rock and roll. He has left a lasting legacy in music. Let's take a closer look at what he contributed to music.
Founding of Marshall Amplification

Jim Marshall founded Marshall Amplification in 1962, creating the iconic Marshall stack that launched the sound of modern rock and roll. This ingenious invention has since become an essential tool for any musician, whether they are playing onstage or in a studio setting. Marshall Amplification produces a wide variety of products—amps, cabinets, combos and accessories—that can be found in music stores around the world.

Marshall also developed several innovative technologies, such as 'valve-rectifying' that provided a unique sound quality. His innovative designs enabled guitarists to access high-powered tones that could be heard both onstage and through PA systems, providing unprecedented sonic flexibility to those who employ it. Without the influence of Jim Marshall and his Marshall amplifiers, modern rock music would have been deprived of its signature guitar tones and sounds.
Development of the Marshall Sound

In the late 1950s, Jim Marshall was tasked with creating an amplifier suitable for modern jazz and rock music. His engineering skills were unparalleled and he developed a unique sound with his amplifiers that would define entire genres of music. His amplifiers projected a responsive, clear and punchy sound for electric instruments. His amplifiers made it possible for bands to turn it up as loud as they wanted without ever compromising warmth or clarity in the process.

Marshall also pushed boundaries with his bass amps which featured powerful 12-inch speakers that delivered more bass than ever before heard from an amp cabinet. And within a few short years of opening his first shop in London, the distinct sound of Marshall guitars and amps had spread throughout the UK, Europe and beyond.

Launching in 1967, Marshall's iconic JCM800 series of amps became the company's flagship product and redefined guitar tone around the world. With its rich mid-range attack, extended low-end frequencies as well as classic British-style distortion circuitry, JCM800 was a major force in making new musical genres possible like metal, hardcore punk and grunge rock. Even today artists continue to choose Marshall amplifiers to get the signature "Marshall sound" which continues to influence musicians around the globe.
Popularity of the Marshall Amplifier

Jim Marshall's biggest and most lasting contribution to the world of music was the development of the iconic Marshall amplifier. It first appeared in 1962 and rapidly rose to become the defining feature of electric guitar sound. Renowned as a "powerful yet toneful" amp, it has been used by some of the world's most celebrated stars – including Jimi Hendrix, Eric Clapton, Pete Townshend and Slash.

Marshall amplifiers were extremely loud for their size (which was larger than their competing models) making them ideal for live concerts where a large buildup of sound is needed. The cabinet was commonly made from solid birch-ply covered in vinyl accompanied by metal speaker grille cloths which soon became a distinctive motif associated with Marshall amplifiers.

The construction and design favored by Marshall led to an effective increase in bass frequency enabling it generate higher volumes without distortion – something that distinguished it amongst its peers at the time. Moreover, when paired with humbucker pickups, it enabled users to create powerful hard rock sounds – an effect that bands such as Led Zeppelin used frequently during their performances.

Coupled with their instantly recognizable look (infused with bold color schemes) this combination resulted in Marshall amplifiers becoming one of the most iconic products within Rock 'n' Roll history – earning Jim marshal recognition regard as one of contemporary music's all-time greats .
Legacy
Jim Marshall was a pioneer in the music industry who famously created the Marshall amplifier and changed the sound of rock and roll. His legacy is not only remembered for his monumental equipment and technology innovations, but for his passion for music, persistence to disrupt and innovative spirit. Let's look at the impact Jim Marshall had, and how his work still resonates today.
Impact on Music

Jim Marshall transformed the modern music scene for decades with his innovative work, which rose to some of its most iconic heights during the '60s and '70s. Born in the UK in 1923, the famous electrical engineer created revolutionary amplification systems that allowed musicians to develop their own compelling sounds — from classic rock and blues to pop and jazz.

Marshall's invention of a universal amplifier had an immeasurable impact on how musicians were able to perform live. He brought forth amplification that could keep up with aggressive guitar playing and he also eventually twinned 2×12″ speakers into cabinets. It was enough wattage that bands would not have to keep their volume low at nightclubs anymore; they could now play loud personal shows with great sound quality. This was an especially significant development for British invasion acts who wanted a powerful sound within such small venues like The Cavern Club or Marquee Club in London.

Jim Marshall also changed music equipment construction by creating robust amps with extra large transformers and reliable pots within them. These robust amps, affectionately referred to as "Marshalls", enabled bands to push their sound much further live, providing a new level of dynamism which further fueled their writing processes back at home. Legendary acts such as Led Zeppelin, Jimi Hendrix Experience and Cream used these new amplifiers, demonstrating how powerful –literally– Marshall's invention was for rock'n'roll development. To this day, his lifetime achievements continue to be celebrated in different events worldwide; rightfully honoring one of the greatest musical engineers humanity has ever known.
Awards and Recognition

Jim Marshall was an audio engineer, inventor, and entrepreneur who created the iconic Marshall Amplifier in 1962. His products revolutionized the sound of rock and roll, spawning a new era in music production. His company would eventually become world-renowned as an industry leader in amplifiers and audio equipment.

Marshall's work improved the possibilities of rock as we know it today, leading to recognition and awards for his lifetime achievements. He was honored with a Lifetime Achievement Award from the Audio Engineering Society ( AES ) at their 25th convention in 1972, and won the Royal Academy of Engineering Award for Innovation in 2002. In addition, Marshall received Grammy Award honors in 2009 for Technical Merit with Credibility to Innovation.

The company which bears his name is still very much alive today and continues to honor his legacy by producing innovative audio products that stay true to his principles of producing equipment of the highest quality at a reasonable price point while celebrating imagination over convention. Although he has passed away, Jim Marshall's impact on music will be felt forever through his contributions to sound production technology as well as through recognition by various awards committees.
Marshall Music Foundation

In his memory, Marshall left behind a legacy built on amplification, passion and deep admiration for music and those who make it. This legacy continues through the Jim Marshall Foundation – a charity formed in April 2013 with the aim of helping disadvantaged people to access music education opportunities. The foundation works to ensure music is accessible to everyone, no matter background or social status.

The foundation supports a number of programs which aim to help both adults and children benefit from musical education, including the Sound Bites musical outreach project, an educational partnership with the British Army's Music Worthy Program aimed at providing access to professional musical training for veterans and those wounded in action, and 'Ceol+' – a program based in Northern Ireland which provides both educational opportunities and wellbeing initiatives for disabled and handicapped individuals through participation in creative workshops.

The official Jim Marshall Tribute website serves as an interactive hub featuring artist interviews, old school photos from younger times spent on tour and various other documents related to Marshalls' life story-telling you what type of person he was. As an ongoing mission, the firm continues developing ways for all generations around the world to appreciate this towering figure in popular world of music's work.
I'm Joost Nusselder, the founder of Neaera and a content marketer, dad, and love trying out new equipment with guitar at the heart of my passion, and together with my team, I've been creating in-depth blog articles since 2020 to help loyal readers with recording and guitar tips.
Check me out on Youtube where I try out all of this gear: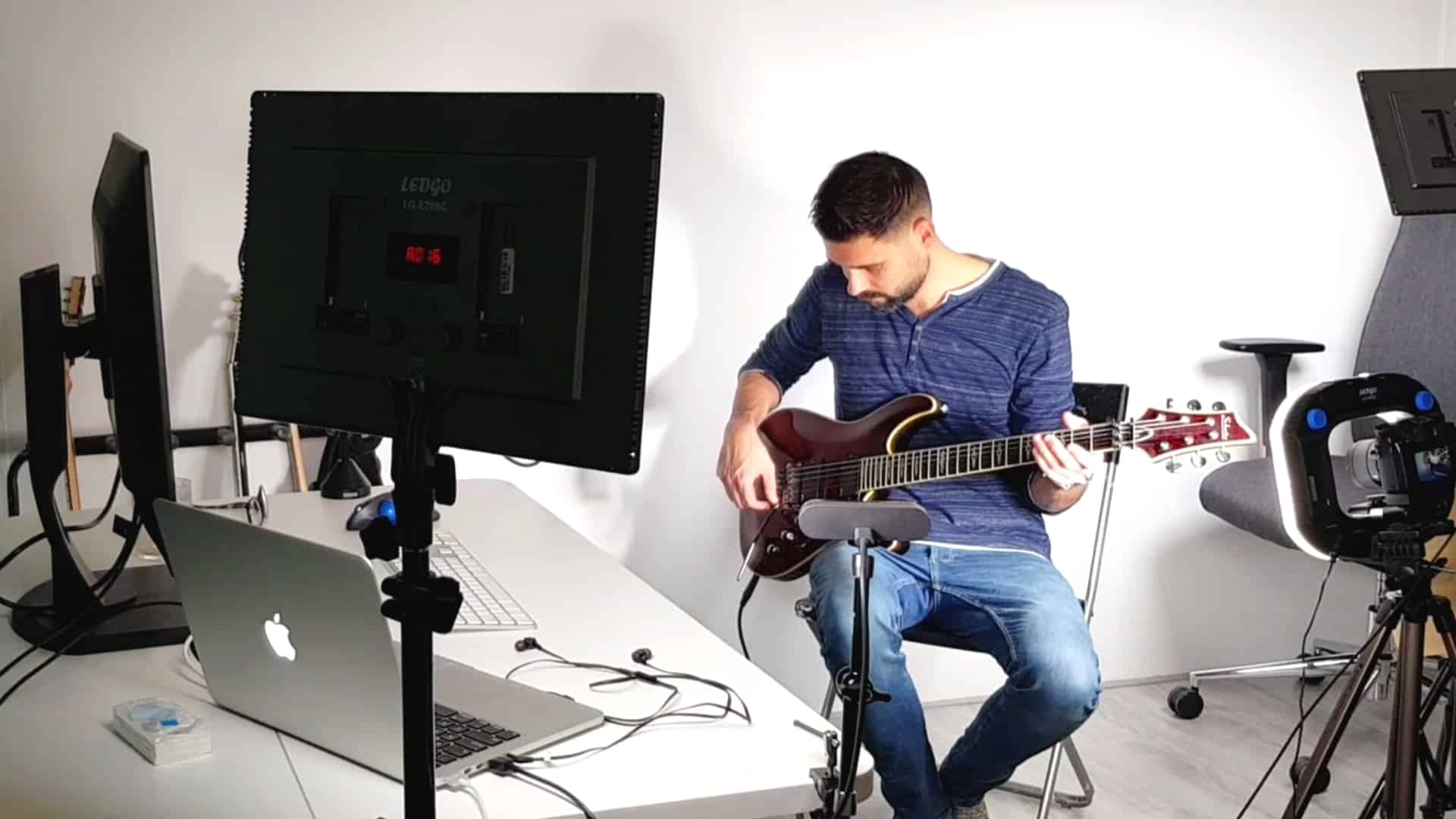 Subscribe