hi there I love creating free content full of tips for my readers, you. I don't accept paid sponsorships, my opinion is my own, but if you find my recommendations helpful and you end up buying something you like through one of my links, I could earn a commission at no extra cost to you.
Learn more
In today's tech-savvy world, having a reliable and flexible desk attachment system is essential.
Whether you're a content creator, photographer, or simply need a convenient way to mount your devices, the SmallRig Clamp offers a promising solution.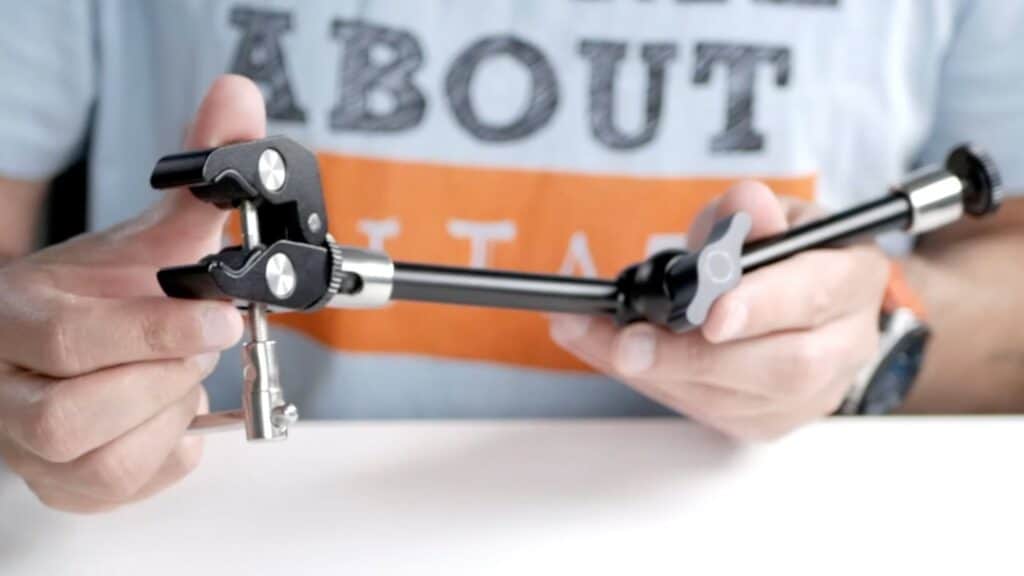 In this review, we'll explore the features and benefits of this popular desk clamp from SmallRig.
SmallRig
1/4″ and 3/8″ Thread Desk Clamp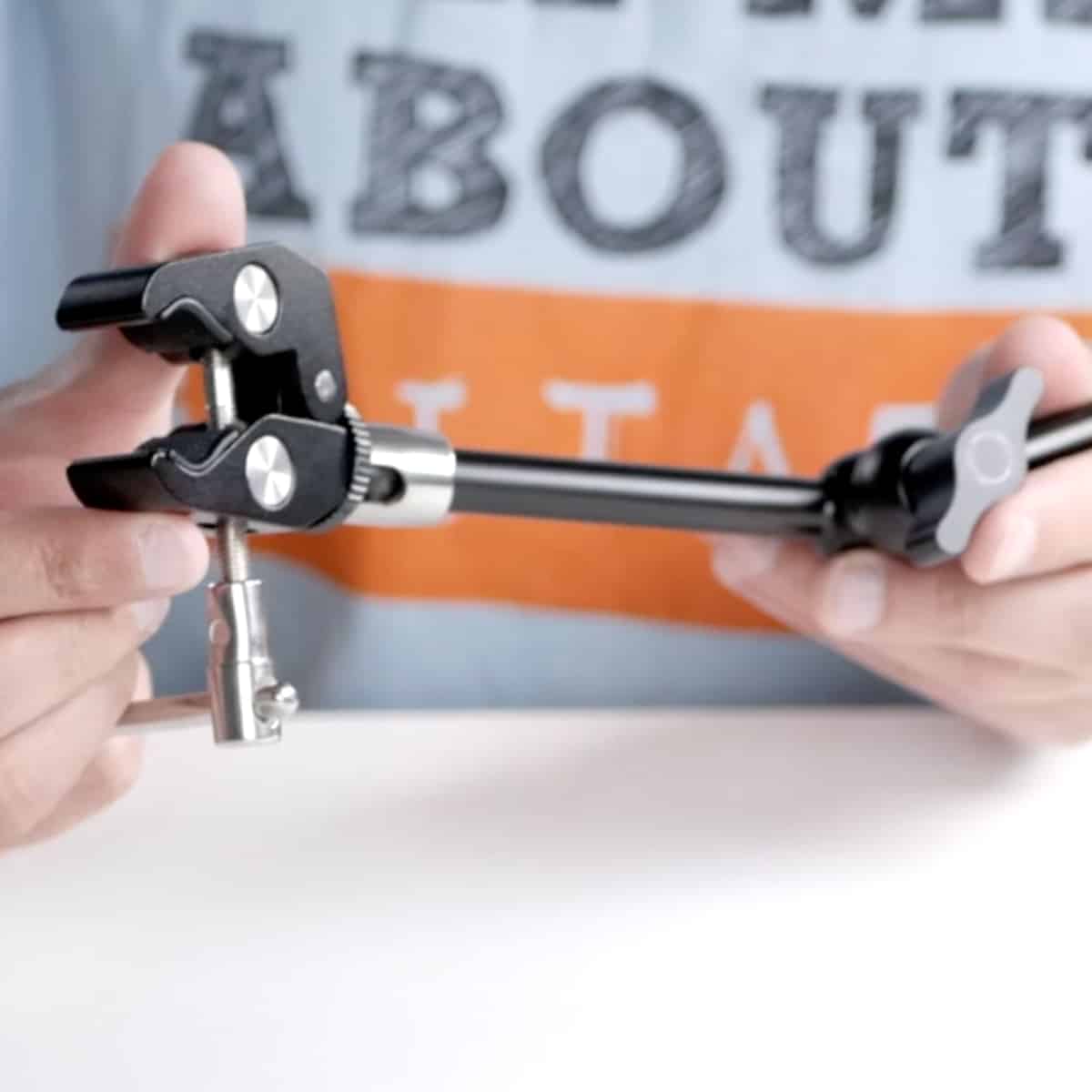 Best for
Versatility in its use, allowing you to mount various devices such as cameras, lights, umbrellas, and more

Made of lightweight aluminum alloy and stainless steel, providing a sturdy and durable build
Falls short
More suitable for lighter devices and may not be ideal for holding heavier cameras
Versatility and Compatibility
SmallRig is renowned for producing top-quality clamps, and their reputation holds true with this small rigged clamp. The greatest advantage of this system is its ability to accommodate a wide range of devices, including cameras, lights, and other accessories that utilize the same attachment mechanism. This level of versatility makes it a convenient choice for anyone in need of a reliable desk mount.
Sturdy and Scratch-Free
One of the standout features of the SmallRig Clamp is its exceptional build quality.
The clamp is constructed to be sturdy, ensuring a secure hold on your desk or any other surface you choose to mount it on.
The soft interior material prevents unsightly scratches on your desk while providing a reliable grip. You can rest assured that your valuable equipment is safely secured without compromising the integrity of your workspace.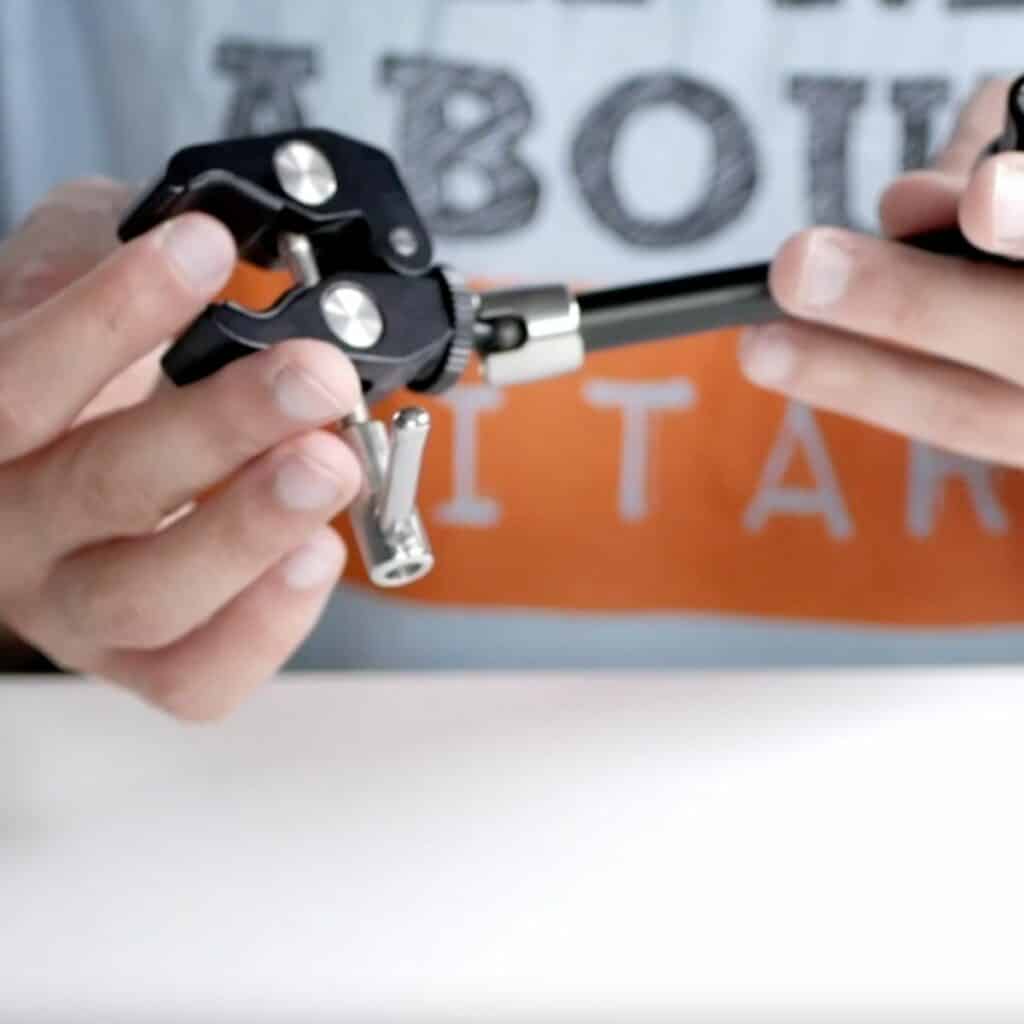 Adjustable Positioning
The SmallRig Clamp is designed with flexibility in mind. It includes a handy bearing that allows for easy adjustment, enabling you to position the clamp precisely as needed. Whether you prefer to attach your device at a specific angle or position it for optimal visibility, this clamp can adapt to your requirements effortlessly. The versatility of this feature enhances the usability and functionality of the clamp, making it a valuable addition to your setup.
Simple Setup and Ease of Use
Setting up the SmallRig Clamp is a breeze. In my video review I demonstrate just how quick and straightforward it is to attach the clamp securely to a desk or table. Once attached, loosening the clamp allows for seamless adjustments, giving you the freedom to position your device exactly where you want it. The intuitive design of the clamp ensures a hassle-free experience, allowing you to focus on your work or creative endeavors.
Practical Example
You can effortlessly attache a Logitech camera to the SmallRig Clamp, for example, instantly creating a convenient camera setup on the desk. This demonstrates how the SmallRig Clamp can enhance your workflow and provide a stable platform for your devices, promoting efficiency and productivity.
Questions to learn more about how the SmallRig works
What are the threads available on the SmallRig Clamp?
The SmallRig Clamp comes with 1/4″ and 3/8″ threads.
What is the maximum and minimum opening of the super clamp?
The super clamp can open up to a maximum of 54mm and has a minimum opening of 15mm.
Can the SmallRig Clamp be used with a GoPro?
Yes, the SmallRig Clamp can be used with a GoPro. However, you would need to use the adapter that came with your GoPro to attach it to the clamp.
What devices can be attached to the clamp using the articulating arm?
The articulating arm with 1/4″ screws on both ends can be used to attach various devices such as cameras, lights, umbrellas, hooks, shelves, plate glass, cross bars, and even other Super Clamps. It provides versatility in attaching accessories to the clamp.
Does the SmallRig Clamp come with a rubber cushion to prevent scratches?
Yes, both the Super Clamp and the Articulating Magic Arm feature a rubber cushion that helps prevent scratches on the monitor or other accessories being attached.
What materials are used in the construction of the clamp?
The SmallRig Clamp is made of lightweight aluminum alloy and stainless steel, which makes it sturdy and durable.
Are there any accessories included in the package?
Yes, the package includes a Super Clamp and an Articulating Magic Arm. These are the main accessories included with the SmallRig Clamp.
Is the SmallRig Clamp suitable for holding heavier cameras or only lighter devices?
The SmallRig Clamp is more suitable for lighter devices such as small cameras, lights, and monitors. It may not be recommended for heavier cameras due to its design and weight capacity, which is 1.5 kg (3.3 pounds)
How does the tension adjustment feature work?
The tension adjustment feature allows you to tighten or loosen the clamp and the articulating arm. By adjusting the tension, you can fix the position of the arm and lock it in place securely.
Does the SmallRig Clamp come with additional adapters for microphones or other accessories?
The SmallRig Clamp does not come with additional adapters for microphones or other accessories. It is compatible with devices that have a 1/4″-20 threaded hole, but you may need to use separate adapters or accessories depending on your specific requirements.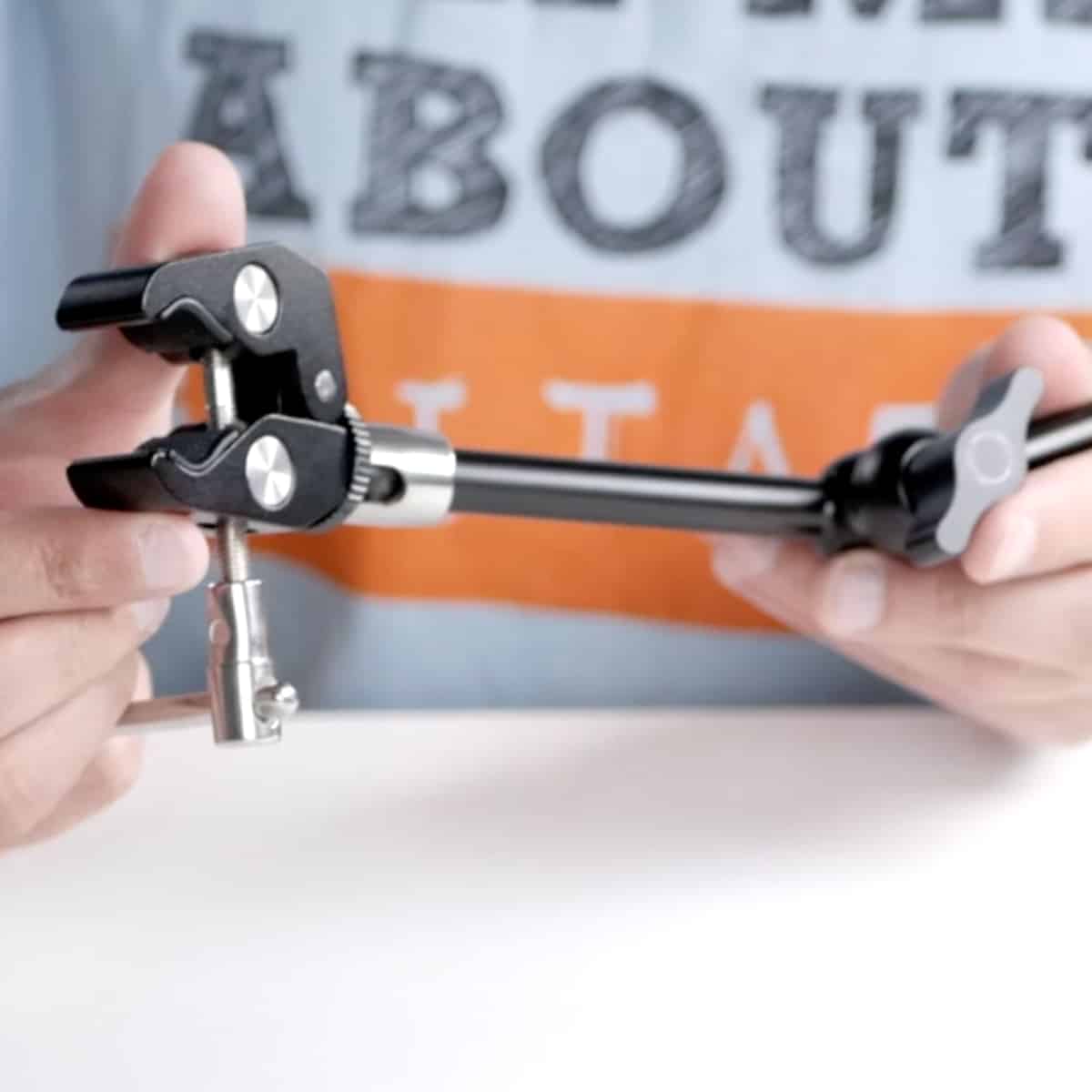 Conclusion
The SmallRig Clamp proves to be an exceptional desk attachment solution, combining versatility, sturdiness, and ease of use into a compact and reliable package. Whether you're a professional photographer, content creator, or simply someone in need of a practical desk mount, this clamp delivers on its promises. With its ability to securely hold various devices and its adjustable positioning options, the SmallRig Clamp proves to be an invaluable asset for anyone looking to optimize their workspace. Say goodbye to cluttered desks and unreliable mounts – the SmallRig Clamp is here to elevate your creative and professional endeavors.
I'm Joost Nusselder, the founder of Neaera and a content marketer, dad, and love trying out new equipment with guitar at the heart of my passion, and together with my team, I've been creating in-depth blog articles since 2020 to help loyal readers with recording and guitar tips.
Check me out on Youtube where I try out all of this gear: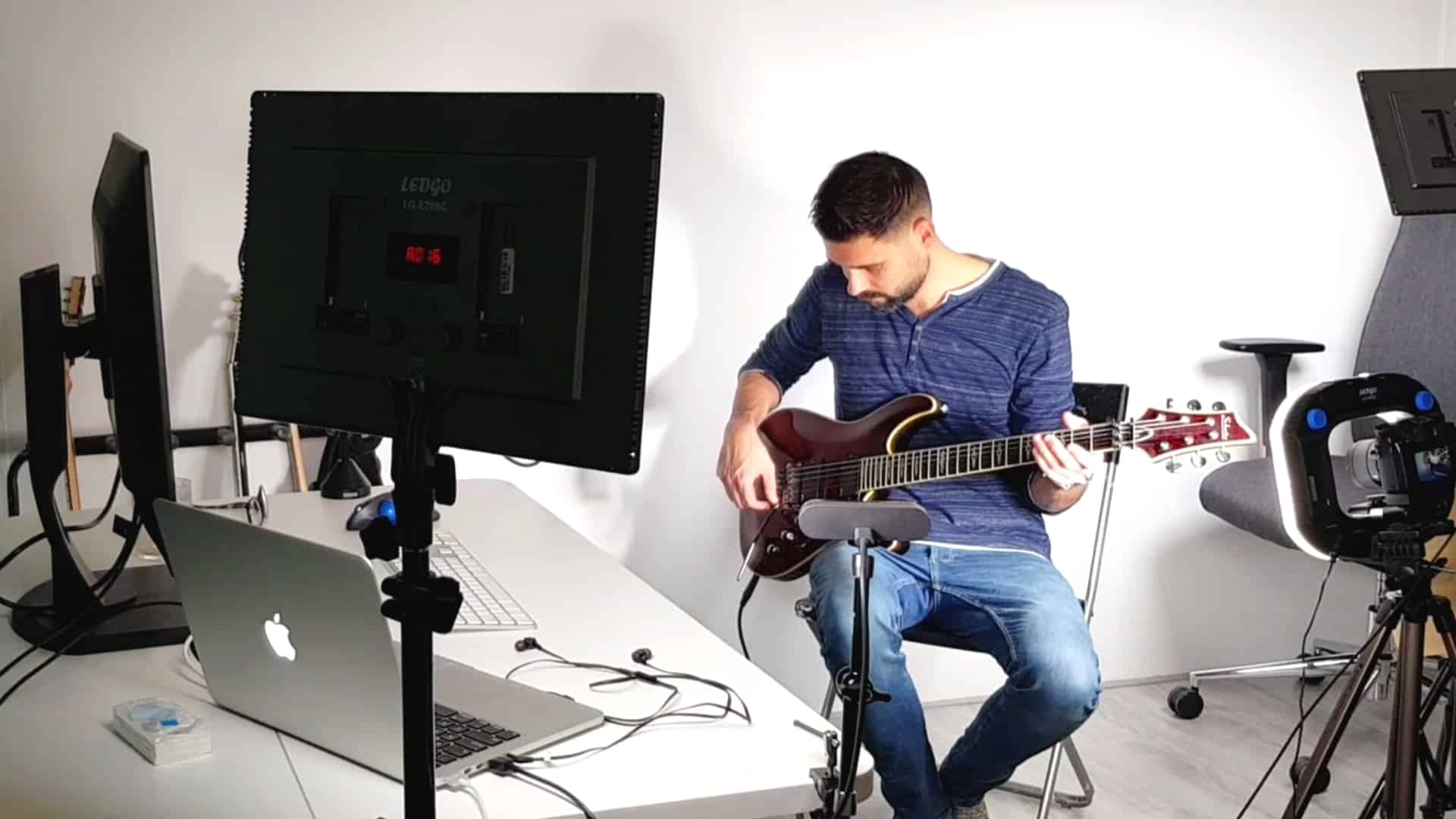 Subscribe