hi there I love creating free content full of tips for my readers, you. I don't accept paid sponsorships, my opinion is my own, but if you find my recommendations helpful and you end up buying something you like through one of my links, I could earn a commission at no extra cost to you.
Learn more
Peavey is a guitar amp brand that has been making some of the most iconic guitar amps for over 50 years and you might have heard of the Peavey Bandit, it's just about everyone's favorite!
Peavey Electronics Corporation is one of the largest audio equipment manufacturers in the world, headquartered in Meridian, Mississippi, United States. Their first amp, the Peavey Mark I, was released in 1964 and was quickly followed by the Bandit in 1973, which is still in production today.
I'll tell you all about the history of this iconic guitar amp brand and share some fun facts along the way.
Peavey: A Company with a Global Reach
Headquarters in Meridian, Mississippi
Peavey Electronics is a global powerhouse, with 33 facilities across North America, Europe, and Asia, and products distributed to 136 countries. They've got 180 patents and a whopping 2000 designs, with new ones added every year.
Closing of UK Facility
In 2014, Peavey made the tough decision to close their UK facility, citing the lower cost and advanced techniques of Chinese manufacturing.
Layoffs in the US
That same year, Peavey closed their A Street plant in Meridian, Mississippi and laid off nearly 100 employees. Then, in 2019, they laid off another 30 US-based employees.
Brands Owned by Peavey
Peavey Electronics owns a bunch of different brands, including:
MediaMatrix
Architectural Acoustics
PVDJ
Crest Audio
Composite Acoustic
Sanctuary Series
Budda Amplification
Trace Elliot
So, if you're looking for a company with a global reach, look no further than Peavey. They've got 180 patents, 2000 designs, and 8 awesome brands. Plus, their products are distributed to 136 countries. Talk about impressive!
Peavey: A Story of Amplification
The Early Days
Back in the early 60s, Hartley Peavey had a dream: to create the perfect amplifier. He was a high schooler at the time, but that didn't stop him from designing his own company logo and crafting his first amp. Fast forward a few years and he's got two models on the market: the Musician and Dyna Bass. These amps were built for the working musician, with plenty of wattage and some basic features.
The Classic Series
In the 70s, Peavey was hard at work on a series of amps inspired by the classic Fender Twin. These amps had 6L6 power tubes and two 6C10 pre-amp tubes, giving them a unique sound that was different from the Twin. Later versions of the series combined solid state pre-amps with tube power amps, paving the way for the all-tube Classic series.
The Classic series is now a fan favorite, with its EL84 power section that blends classic Vox and Fender tones into one handy amp. It's perfect for all kinds of music, from rock to jazz to country.
The Peavey Bandit: A Solid State Classic
The Peavey Bandit is a legendary solid state amp that has been around since 1980. It's been through many iterations, but it's still as popular as ever thanks to its TransTube technology that emulates the sound and feel of a tube amp.
The Bandit's Distinctive Look
The Bandit is instantly recognizable by its multi-colored knobs and silver panels. It's wattage has changed over the years, but it's still a reliable choice for solid-state amp lovers.
The Bandit's Legendary Tone
The Bandit's legendary tone comes from its TransTube technology, which models the overload characteristics of the amp and transformer, as well as emulates the sound of asymmetrically clipping tubes. This makes it sound like a tube amp, but with the power of solid state.
The Bandit's Enduring Popularity
It's no surprise why the Bandit has been around for so long. It's a reliable, powerful amp that sounds great. Plus, it's got a cool look that's sure to turn heads. So if you're looking for a classic solid state amp, the Bandit is the way to go.
Gaining Popularity: Peavey's '80s Metal Amps
The Butcher and VTM Series
The '80s was a time of big hair, big dreams, and big amps. Hair metal bands needed more gain to keep up with the new playing techniques of two-handed tapping and sweep picking. Peavey was ahead of the game with their Butcher and VTM series.
These amps were different from the Marshall JCM800 2203 in that they used 6L6 power tubes instead of EL34s. This gave them a darker sound and less of an upper-mid presence. Some say the VTM is like a souped-up JCM800 and the Butcher is like a regular JCM800, but they're really their own beasts.
Why You Should Check Them Out
If you're looking for a versatile amp that won't break the bank, Peavey's '80s metal amps are worth a look. Here's why:
They have a unique sound that stands out from the crowd
They're cheaper than other comparable amps
They offer a range of tones that can be tweaked to your liking
The Evolution of Heavy Metal Amps
The Early 90s
Back in the early 90s, metalheads were getting more and more demanding when it came to their amps. They wanted more gain, more power, and more options. Enter Peavey, who stepped up to the plate with the Ultra Plus. This three-channel head was the perfect amp for any genre of music:
A crisp and spanky clean channel for country
A crunch channel for rock's cutting midrange
An ultra-channel for searing leads and metal riffs
Plus, it had an active EQ section, so you could boost or cut any frequency with precision and dial in your own tone. It was powered by 6L6 tubes and had a whopping 120 watts of power, so it could handle any situation.
The Triple XXX Series
Peavey followed up the Ultra Plus with the Triple XXX series, which was basically the same amp with a metal faceplate and some updated aesthetics. Then they released the Triple XXX II, which had switchable power tubes from EL34s to 6L6s.
The Modern Metal Amp
These days, metalheads have more options than ever when it comes to amps. You can get anything from tiny little practice amps to massive heads that can power an entire stadium. So no matter what kind of sound you're looking for, you're sure to find an amp that can deliver it.
The Amp That Started It All
The Birth of the 5150
It all started with a wild idea. Two creative minds, one amp designer and one guitar player, decided to join forces and create something that would change the world of rock and metal forever. After two years of hard work, the 5150 was unleashed and it was a game changer.
What Makes the 5150 So Special?
The 5150 is a 120 watt all-tube 6L6 powered amp with two channels and a shared EQ. It can produce a variety of tones, from clean and crunchy rhythms to blistering lead tones. This amp is famous for its super high-gain sound, which can be used for anything from tight metal riffs to face-melting solos.
The Evolution of the 5150
The 5150 was so successful that it spawned a series of amps. The 5150 II was released with separate EQs for each channel, making it even more versatile. Then, after Eddie Van Halen and Peavey parted ways, the amp was rebranded as the 6505 and 6505+, along with the 6534 and 6534+, which feature an EL34 power section for a more British flavor.
Peavey's Mission
Peavey's mission is to make powerful, affordable amplifiers so that everyone can have the privilege of playing through one. So whether you're a bedroom shredder or a touring rockstar, Peavey has an amp for you.
Legal Cases Involving Peavey Electronics Corp.
2009 Lawsuits
In 2009, Peavey Electronics Corp. was not playing around. They filed two lawsuits against companies under the Behringer/Music Group umbrella for some pretty serious stuff, including patent infringement, trademark infringement, false designation of origin, trademark dilution and unfair competition.
2011 Lawsuit
In 2011, the Music Group decided to hit back and filed a lawsuit against Peavey Electronics Corp. for "false advertising, false patent marking and unfair competition". Music Group conducted an investigation of their own and assessed Peavey products with regard to US patent laws and FCC regulations.
2014 Fine
In 2014, Peavey Electronics Corp. got fined a whopping $225,000 by the FCC for not including the required labeling and marketing statements in their owner manuals. Ouch!
Conclusion
Peavey has come a long way since those humble beginnings in the 60s. Today, they're a leader in the world of amplification, with amps that are perfect for any musician and any style of music.
So if you're looking for a great amp, don't be afraid to ROCK OUT on a Peavey!
I'm Joost Nusselder, the founder of Neaera and a content marketer, dad, and love trying out new equipment with guitar at the heart of my passion, and together with my team, I've been creating in-depth blog articles since 2020 to help loyal readers with recording and guitar tips.
Check me out on Youtube where I try out all of this gear: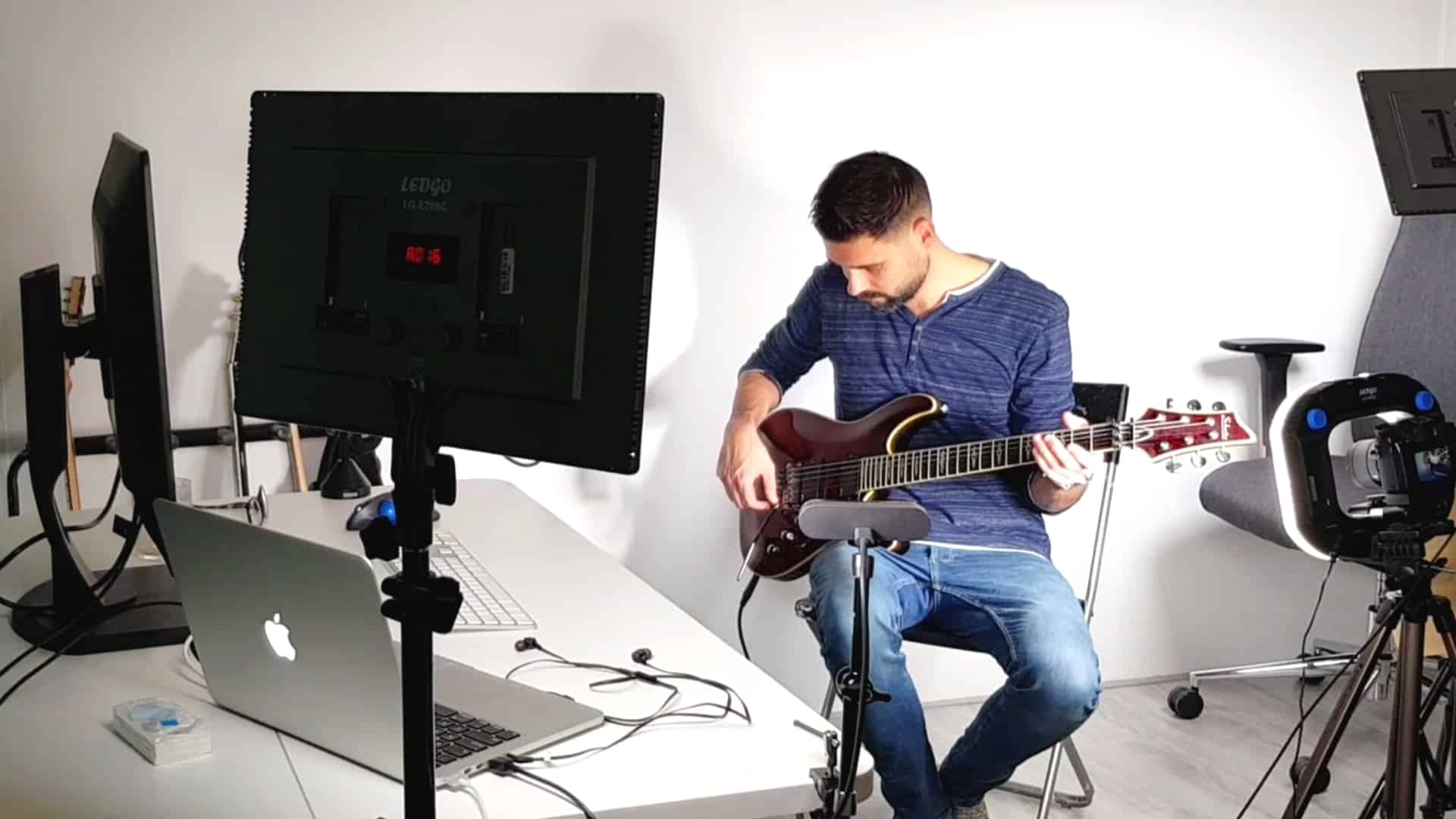 Subscribe