hi there I love creating free content full of tips for my readers, you. I don't accept paid sponsorships, my opinion is my own, but if you find my recommendations helpful and you end up buying something you like through one of my links, I could earn a commission at no extra cost to you.
Learn more
MXR, also known as MXR Innovations, was a Rochester, New York-based manufacturer of effects pedals, co-founded in 1972 by Keith Barr and Terry Sherwood, Art Thompson, Dave Thompson, The Stompbox, Backbeat Books, 1997, p. 106 and incorporated as MXR Innovations, Inc. in 1974. The MXR trademark is now owned by Jim Dunlop, which continues to produce the original effects units along with new additions to the line.
MXR started out as a manufacturer of high-quality audio equipment for professional use, but soon realized that musicians needed effects pedals for their home practice sessions. They developed the Phase 90 and Distortion+ pedals for this market, and these pedals soon became popular among guitarists.
In this article, I'll look at the full history of MXR and how this company changed the world of music.
The Evolution of MXR Pedals
From Audio Services to the MXR Brand
Terry Sherwood and Keith Barr were two high school buddies who had a knack for fixing up audio equipment. So, they decided to take their talents to the next level and opened up Audio Services, a business dedicated to repairing stereos and other music equipment.
This experience eventually led them to form MXR and create their first original effect pedal design: the Phase 90. This was quickly followed by the Distortion +, Dyna Comp, and the Blue Box. Michael Laiacona joined the MXR team in a sales position.
The Acquisition of MXR by Jim Dunlop
In 1987, Jim Dunlop acquired the MXR brand and has since been responsible for the traditional pedal line of original MXR classics, such as the Phase 90 and Dyna Comp, as well as modern pedals like the Carbon Copy and Fullbore Metal.
Dunlop has also added a line dedicated to bass effects boxes, MXR Bass Innovations, which has released the Bass Octave Deluxe and Bass Envelope Filter. Both pedals have won Editor Awards in Bass Player Magazine and Platinum Awards from Guitar World Magazine.
The MXR Custom Shop is responsible for recreating vintage models such as the hand-wired Phase 45, as well as doing limited runs of pedals featuring premium components and highly modified designs.
The Different Periods of MXR Pedals
MXR has gone through a few different periods of pedals over the years.
The first period is known as the "Script period," in reference to the cursive logo on the case. The earliest script logo pedals were made in the basement shop of the MXR founders and the logos were silk screened by hand.
The "Box Logo Period 1" began around 1975-6 and lasted until 1981, and is named for the writing on the front of the box. The "Box logo period 2" started in early 1981 and went until 1984, when the company stopped making pedals. The main change in this era was the addition of LEDs and A/C adaptor jacks.
In 1981, MXR introduced the Commande Series, a line of inexpensive plastic (Lexan polycarbonate) pedals.
The Series 2000 was a complete rework of the Reference and Commande lines of pedals. They were higher quality pedals, with electronic FET switching and dual LED indicators.
Jim Dunlop and MXR Pedals
Jim Dunlop's Acquisition of MXR
Jim Dunlop was feeling pretty lucky when he got his hands on the MXR licensing rights. Now he's the proud owner of some of the most classic effects pedals around. He's even gone so far as to make some new models, like the Eddie Van Halen Phase 90 and Flanger, and Zakk Wylde's Wylde Overdrive and Black Label Chorus.
Dunlop's MXR Pedals
If you're a musician looking for some awesome effects pedals, then you should definitely check out Jim Dunlop's MXR line. Here's a quick rundown of what you can expect:
Classic MXR effects pedals – Get your hands on some of the most iconic effects pedals around.
Signature pedals – Get your hands on signature pedals like Eddie Van Halen's Phase 90 and Flanger, and Zakk Wylde's Wylde Overdrive and Black Label Chorus.
New models – Jim Dunlop has created some new models that are sure to take your sound to the next level.
Why Choose MXR Pedals?
If you're looking for some of the best effects pedals around, then you should definitely check out Jim Dunlop's MXR line. Here's why:
Quality – Dunlop's MXR pedals are made with the highest quality components, so you know you're getting a great product.
Variety – With a wide range of classic and signature pedals, you're sure to find something that fits your sound.
Price – Dunlop's MXR pedals are surprisingly affordable, so you don't have to break the bank to get your hands on some awesome effects.
The History of MXR Pedals
The Early Days
It all started in Rochester, New York in the early 70s when two high school buddies, Keith Barr and Terry Sherwood, decided to start an audio repair business. They called it Audio Services and they fixed mixers, hi-fi systems, and other brands of guitar pedals. They weren't too impressed with the quality and sound of the pedals on the market at the time, so Keith got to work inventing and developing the MXR Phase 90 in 1974.
The name MXR was given to them by a friend who said, "Since you fixed mixers, you should just call it MXR, short for mixer." Well, they're not really known for mixers anymore; they're known for pedals, so they incorporated the name in as MXR Innovations, thinking they would branch out as a company to do other things.
The Script Era
The first era of MXR, starting around 1974-1975, is called the Script Era. These pedals are identified by the script or cursive writing on the enclosure, in comparison to the later seventies creations which use block writing.
The very first pedals MXR ever made were made in a DIY enclosure by a company called Bud, so they're referred to as Bud Box enclosures. These were painted by Terry and Keith in their basement shop with a $40 Sears spray system, and the script was hand printed by Keith. The circuit boards were also etched in a fish tank by Keith.
Most of these early pedals were sold out of the back of their cars at local shows. Yup, that's right. It's still a very popular method with DIYers.
The MXR Phase 90
The MXR Phase 90 was Keith's totally original phaser design. At the time, there was really only one other commercially successful phaser on the market for musicians. It was the Maestro Phase Shifter, and it was huge. It had push buttons and it basically simulated a rotary speaker.
Keith wanted to take these circuits and make them simple, accessible, and small. That's why the Phase 90 is really, really genius. The design comes from a radio textbook, like a handbook of schematics and circuits. It was a phaser schematic diagram that allowed people on radios to phase out interrupting signals. He adapted it, and added to it.
The Phase 90 was a total game-changer. It was small enough to fit into your gig bag and it sounded great. It was an instant hit and MXR was on its way to becoming a multi-million dollar company with over 250 employees.
The Legacy of MXR
MXR has become a legendary name in the world of guitar pedals. Their very first print ad appeared on the back of a Rolling Stone magazine, and it was an instant success.
The Phase 90 was the first of many iconic pedals that MXR has released over the years. They have influenced every pedal company that came afterwards and their pedals are still sought after by musicians all over the world.
So if you ever come across an MXR pedal with a Bud Box enclosure, grab it quick. It's a gold mine!
A Brief History of MXR Effects Pedals
The 70s: The Golden Age of MXR
Back in the 70s, it was almost impossible to find a hit song or a famous guitarist that didn't have an MXR pedal. Rock legends like Led Zeppelin, Van Halen, and the Rolling Stones all used MXR pedals to give their music that extra oomph.
The Present: MXR is Still Going Strong
Thanks to the Jim Dunlop Company, MXR is still alive and kicking. They've been building on the classic MXR pedals, creating new and exciting designs for all of us to enjoy. Here's a few of their most popular pedals:
The Carbon Copy Analog Delay: This pedal is perfect for adding a bit of vintage-style delay to your sound.
The Dyna Comp Compressor: This pedal is great for adding a bit of punch to your playing.
The Phase 90 Phaser: This pedal is perfect for adding a bit of swirly goodness to your sound.
The Micro Amp: This pedal is great for boosting your signal and adding a bit of extra volume.
The Future: Who Knows What MXR Has in Store?
Who knows what the future holds for MXR? All we can do is wait and see what they come up with next. In the meantime, we can all enjoy the classic pedals that have been around for decades.
Conclusion
MXR has been a major player in the music industry for decades, revolutionizing the way we make and listen to music. From the iconic Phase 90 and Distortion + pedals to the modern Bass Octave Deluxe and Bass Envelope Filter, MXR has consistently delivered quality products that have helped shape the sound of music. So, if you're looking to add some extra flavor to your sound, you can't go wrong with MXR – it's a surefire way to ROCK your next jam session!
I'm Joost Nusselder, the founder of Neaera and a content marketer, dad, and love trying out new equipment with guitar at the heart of my passion, and together with my team, I've been creating in-depth blog articles since 2020 to help loyal readers with recording and guitar tips.
Check me out on Youtube where I try out all of this gear: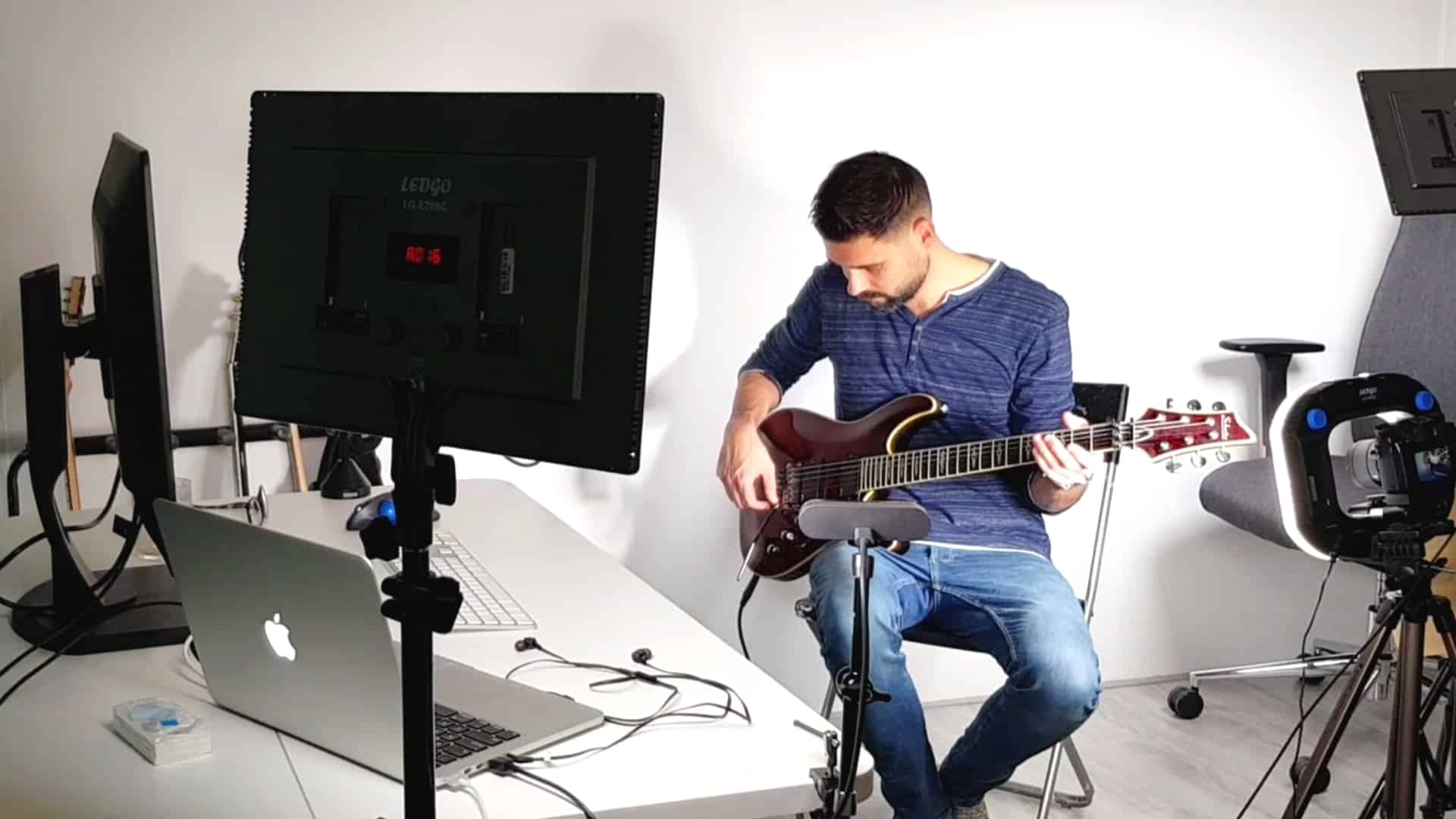 Subscribe