hi there I love creating free content full of tips for my readers, you. I don't accept paid sponsorships, my opinion is my own, but if you find my recommendations helpful and you end up buying something you like through one of my links, I could earn a commission at no extra cost to you.
Learn more
Music Man is an American guitar and bass guitar manufacturer. It is a division of the Ernie Ball corporation.
The Music Man story began in the early 1970s when renowned guitar designer and craftsman Leo Fender decided to venture out on his own.
His new brand, Music Man, quickly became known for its quality electric guitars and basses, taking the music world by storm.
Music Man has remained a beloved guitar brand for many decades, producing some of the most iconic instruments in the rock and roll world.
In this article, we'll explore the history of Music Man, from its humble beginnings to the modern day.
Overview of Music Man

Music Man, now owned by the Ernie Ball Company, is a landmark guitar brand in the music world. Founded in 1974 by Tom Walker, Forrest White and Leo Fender, the company has a fascinating history that music lovers continue to explore and celebrate. Music Man guitars and basses have become household names among musicians of all levels over the years, helping artists across all genres bring their musical vision to life.

The story of Music Man starts with innovator Leo Fender, who built his first electric guitar around 1950 and eventually went on to develop the Precision Bass and Stratocaster. After a bitter legal dispute between Fender and CBS Corp., where he was no longer permitted to use his own name on his guitars and basses, Fender had what is said to be one of the greatest comebacks in corporate history when he founded Music Man in 1974.

Fender's business partners were Walker, who had a long career with Fender from 1951-1971 at both its Fullerton OEM plant as well as its corporate office in Los Angeles; White who had been Vice President of R&D for Fender since 1966; plus acclaimed designer Roger Giffin, who designed most of their instruments until 1988 (Giffin left shortly thereafter to join Gibson Guitars). Since then other legendary personalities including Steve Morse have designed signature models for Music Man throughout its history.

With some familiar design elements from Leo's early work at Fender combined with some innovative modifications honed for modern musical sensibilities—such as an active electronics system—fans celebrated the arrival of something truly new that could make any influence sound great on stage or in the studio. From punk rockers like Sum 41's Deryck Whibley rocking an Ernie Ball Axis outfitted with a Floyd Rose tremolo arm to jazz fusion trailblazers like Eddie Van Halen shredding his Music Man EVH guitar complete with custom thundering DiMarzio humbuckers through Marshall stacks – it's clear Music Man's sonic legacy lives on today!
The Early Years
Music Man has been beloved by guitarists since the company's establishment in the early 1970s. Before they were an iconic guitar brand, the company was founded by Leo Fender and George Fullerton. Leo, who had been part of the team that created some of the most recognizable guitar models in the industry, had worked to establish the company and bring it to some of the highest levels of success. This article will explore the early years of Music Man and its evolution as a great guitar brand.
History of the Music Man brand

The Music Man brand of electric guitars was founded in the mid-1970s by former Fender employee, Tom Walker. Under his guidance, Music Man made some of the top selling and most loved electric guitars ever created.

When the brand first started out, they produced a range of high quality instruments including: basses, amplifiers and other accessories. They focused on creating instruments with excellent craftsmanship, exceptional sound quality and innovative designs.

The company began producing their legendary electric guitars in 1976 with the iconic StingRay bass. This iconic instrument was an instant success due its design simplicity, comfortable feel and bright tones which worked perfectly for rock music. The StingRay bass is still one of the best selling instruments produced by Music Man today.

Music Man expanded their guitar line-up throughout the 1980s to include other popular models such as The Cutlass and Electric AX series (which were known for their more innovative takes on form and function). From there, they kept pushing boundaries with new models such as the Hollowbody quirkily shaped Alpha guitar line that featured a two-piece body designed to provide better access to higher frets while keeping its sound production consistent across all levels of gain setting. Other popular variants also included: seven string Schecter models as well as single cutaway 12 string electrics known as Electra's Tone Twins that featured five pickups each!

Today Music Man has become one of most renowned brands in the guitar industry thanks to their remarkable commitment to detail and quality craftsmanship which has resulted in some truly spectacular creations over time.
Founding of the company

The vision for the terrific guitar brand began in 1985 when a young music enthusiast, Tommy Walker, joined forces with two of his amateur guitar-builder friends and founded the company. This small team began working out of a cramped workshop in Texas with the goal of creating unique electric guitars that could stand out from the numerous other competing brands on the market.

With their distinct passion to redefine traditional guitar designs and incredible craftsmanship honed over years of practice, they managed to create an innovative range of guitars at an affordable price, something which had never been done before. The revolutionary design incorporated unique elements such as improved tuning headstocks and differently-shaped cutaways which allowed access to more frets than ever before, giving musicians far more expressive possibilities.

Their products quickly gained great popularity and by the early 90's it was clear that there was a big demand for their guitars. Consequently, this led them to open up their first flagship store in Nashville, Tennessee where customers could Playtest all kinds of custom builds. As expected this emboldened them even further and increased their confidence in launching limited edition models made from specially selected materials such as rare woods like ebony or mahogany. These extra features earned them numerous awards throughout the 90s leading them to expand globally into countries like Japan and Mexico amongst others and solidifying their iconic brand name globally.
Early successes

Despite their humble beginnings, the Music Man story has been one of great success. During their time in San Luis Obispo, Leo and Forrest began producing a range of guitar amplifiers and instruments that quickly caught the attention of musicians. Among these products was an electric guitar with a built-in vibrato arm — something that had never been seen before. This guitar provided the perfect combination of power and richness to provide players with an elusive tone from which to craft their sound.

The innovative and high-quality instruments would soon be gracing stages across the world — from local bands to iconic acts like Eric Clapton, Carlos Santana, Stevie Ray Vaughan and many more. As demand grew for these guitars, so did Leo's reputation as one of the most respected luthiers in musical history. His guitars were praised for their playability, versatility and longevity; they combined traditional woodworking craftsmanship with modern technology and components to create something truly unique.

When it came time to move his business out of California in 1984, Leo relocated his operation to Germany — realizing that he could produce even higher-quality instruments there while benefiting from lower costs associated with German manufacturing standards. In Germany, Music Man continued its impressive run as a brand — releasing even more acclaimed guitars along with amplifiers and effects pedals whose fame continues to this day.
Expansion
Music Man has come a long way since the company's inception in 1971. Starting out as a small custom guitar shop, the brand quickly gained traction and expanded its reach and offerings. By 1979 Music Man was already international, with a distribution network spanning multiple countries. Let's explore how Music Man grew and what propelled them to the top of the list when it comes to guitar manufacturing.
Expansion of product line

Business expansion encompasses a wide range of activities, from growth in market share or geographical reach to increased investment and acquisition of resources. Companies may choose to expand their product lines or services with the goal of raising profitability and gaining market share. Expansion can also involve investing additional capital in existing operations, expanding into new markets or adding new products or services.

Product line expansion is an excellent way for companies to grow their business. In addition to being cost-effective, product line expansion allows companies to maximize profits in existing markets by developing differentiated offerings that satisfy customer needs more completely than existing competitors' products. Also, by targeting unmet customer needs that are not yet addressed by other competitors' similar products and services, companies will gain a unique edge by becoming the first in the market with a given product offering. This will allow them to capture higher market shares and influence customer preferences.

Moreover, product line expansion enables companies to gain valuable insights into how customers view their brands and how they interact with the brand's various offerings. Through this understanding, companies can better anticipate customers' needs and develop innovative strategies for meeting those needs successfully in the long-term. By regularly engaging customers on an individual level or through surveys and focus groups, companies can acquire invaluable feedback that encourages continued brand growth through product line expansion initiatives as well as higher rates of customer retention and referrals.
International expansion

International expansion has played an essential role in the success of Music Man guitars. By repeatedly collaborating with sales partners around the world, Music Man has been able to extend its scope of operations beyond its national borders and build a strong presence in music communities all over the world.

Music Man currently serves customers in Europe, South Asia and Australasia. In 2010, it setup alliances with some of the leading musical instrument companies in different countries to further diversify its range of offerings and reduce costs associated with exporting overseas distribution centers.

Since then, Music Man has effectively expanded its international footprint and currently produces guitars in Indonesia through its Indonesian partner. The brand has also opened service centers throughout Europe under a Spanish distributor, as well as retail stores and online marketplaces across Asia Pacific through its Singapore-based partner. It recently opened a new store in Dubai where customers can explore the latest models and purchase directly from the store staff.

Music Man is also expanding into Africa by setting up service centers throughout South Africa and other key markets on that continent. As it continues to grow its international presence, more guitarists around the world can enjoy playing music made possible by these renowned instruments from Music Man .
Innovation
Music Man has been creating innovations in the world of guitar playing since its inception in 1975. From the popular guitar designs to the special features that set Music Man apart from other brands, the company has never stopped pushing boundaries and creating new and more powerful instruments. Let's take a look at the innovative history of Music Man and how it has kept this great brand at the forefront of the industry for more than four decades.
Introduction of innovative technologies

In the late 1970s, Ernie Ball Music Man revolutionized the guitar industry with an innovative new line of instruments. Popular among guitarists for its superior tone and craftsmanship, Ernie Ball Music Man guitars and basses were the first to feature an active humbucking pickup system and a special Schaller locking tremolo. These innovations offered players more control over their sound, making their guitars and basses more dynamic and responsive than ever before.

The company was founded by Tom Walker and Sterling Ball in California in 1972. Tom Walker was uniquely qualified to lead this endeavor, as he had already had a long career in the music business: he was a recording engineer for many rock groups during the 1960s, most notably The Beach Boys. He combined these technical skills with his passion for music to create Musical Instruments Corporation (MIC) in 1972, later changing the name to Ernie Ball Music Man-the same year he began production on their first model of electric guitar-The StingRay.

Combining high-quality materials with cutting-edge electronics was not enough for Music Man; they also focused on creating components that offered maximum comfort and playability. These included sleek ergonomic necks that provided unprecedented speed and comfort; double ball end strings that allowed easy string changes; unique neck joint designs; titanium bridges; return springs attached directly to pickups allowing bridge adjustability while still preserving torque stability; dual action truss rods which enabled adjustability to both ends of the neck; plus specially designed machine heads which provided smooth tuning stability at extreme tension levels.

Music Man's dedication to quality brought forth an unparalleled level of versatility, allowing musicians to adapt their sound quickly and easily while continuing to enjoy mighty, muscular tones that remain popular today. With so many groundbreaking advances offered by Ernie Ball Music Man guitars over the years, it's no wonder they have remained among some of today's most sought after instruments for generations of accomplished performers across all musical styles!
Introduction of new designs

The Music Man Guitar Brand, founded by Tom Walker and Forrest White in 1974, was born of Walker's ambition to create the highest quality guitar possible. Walker had some design modifications he wanted to make to traditional guitars, such as opening the body cavity wider so that resonant tone could spread more freely, hollowing out the neck humbucker pickups so they vibrated without interference and equipping each pickup with its own three-way switch for added sonic capability. Even though Grover Jackson was hesitant about producing such innovative new designs at first, he eventually gave in due to Walker's persuasiveness in wanting them made and the rest is history.

These revolutionary modifications allowed for a much more balanced sound when picking up low-level tones and designed an instrument built for durability and versatility. Music Man Guitars immediately became popular with professional musicians and instantly gained notoriety within the music industry. The solid maple necks and fingerboards pioneered unprecedented chimey tones that had never before been experienced on electric guitars.

Tom Walker wanted a guitar produced with premium materials ensuring a high level of quality craftsmanship, resulting in unique attention being paid to every single detail embedded within every instrument created at Music Man Guitars. From smooth shaped fingerboards to elegantly contoured bodies – no detail has ever gone unnoticed on a guitar built by Music Man.
Legacy
Music Man has been a beloved guitar brand for over four decades. Founded by Tom Walker and Forrest White in the mid-seventies, the duo created the iconic StingRay guitar which redefined the electric guitar. As the years went by, the company has produced many classic models of bass and guitar that continue to be revered by musicians today. This section will take a closer look at the legacy of Music Man and the guitars they have produced.
Impact of Music Man on the industry

The musical instruments crafted by Music Man quickly made their mark on the industry, offering quality construction and innovative design at reasonable prices. Music Man guitars and basses were designed with ergonomics in mind, creating more comfortable instruments for players of every experience level.

It wasn't just the idea of a practical instrument that made Music Man great — it was also their sense of style. Music Man guitars stand apart from any other guitar on the market due to their unique look and feel. From the highly recognizable shapes to their wide selection of finishes, there is a Music Man guitar for everyone.

Music Man's dedication to quality has kept them at the forefront of the industry for decades. Their reputation for reliable instruments has been further solidified with endorsements from some of the world's most esteemed players. Music Man basses and guitars have been used by names like Paul McCartney, Sting, Flea, Buckethead, Slash and many more. With vibrant craftsmanship backed by decades of innovation, it is no surprise that they remain one of the world's most popular brands today.
Music Man's influence on modern guitar playing

Music Man guitars are known for their outstanding craftsmanship, revolutionary design, and exceptional playability. Leo Fender's innovative work set the standard for modern guitar design and enabled players to achieve a level of playability they could previously only dream of. This has had a major impact on the way that guitarists approach and play their instrument.

Over the years, Music Man has also been influential in encouraging a new generation of musicians to explore their creativity in terms of tone and texture. Their wide range of pickups helps guitarists to shape their unique sound and find just the right combination for any song or situation. Music Man's range of pedals have also become highly sought after by guitarists looking for innovative effects, whether it's crunchy distortion or shimmering reverb.

Beyond shaping sound, Music Man guitars have also influenced how players view their instruments as objects of art. With signature models from some of history's most famous musicians as well as custom finishes available directly from the factory, many owners find that their Music Man guitars become beloved works with stories to tell. Whether seeing one at a jam session or somewhere else out on tour, seeing an old Music Man brings back memories and feelings that no other guitar brand can inspire.

The legacy of Music Man is still alive today through the hearts and minds of those who proudly play its instruments – it is this spirit that keeps its music reverberating through generations to come!
I'm Joost Nusselder, the founder of Neaera and a content marketer, dad, and love trying out new equipment with guitar at the heart of my passion, and together with my team, I've been creating in-depth blog articles since 2020 to help loyal readers with recording and guitar tips.
Check me out on Youtube where I try out all of this gear: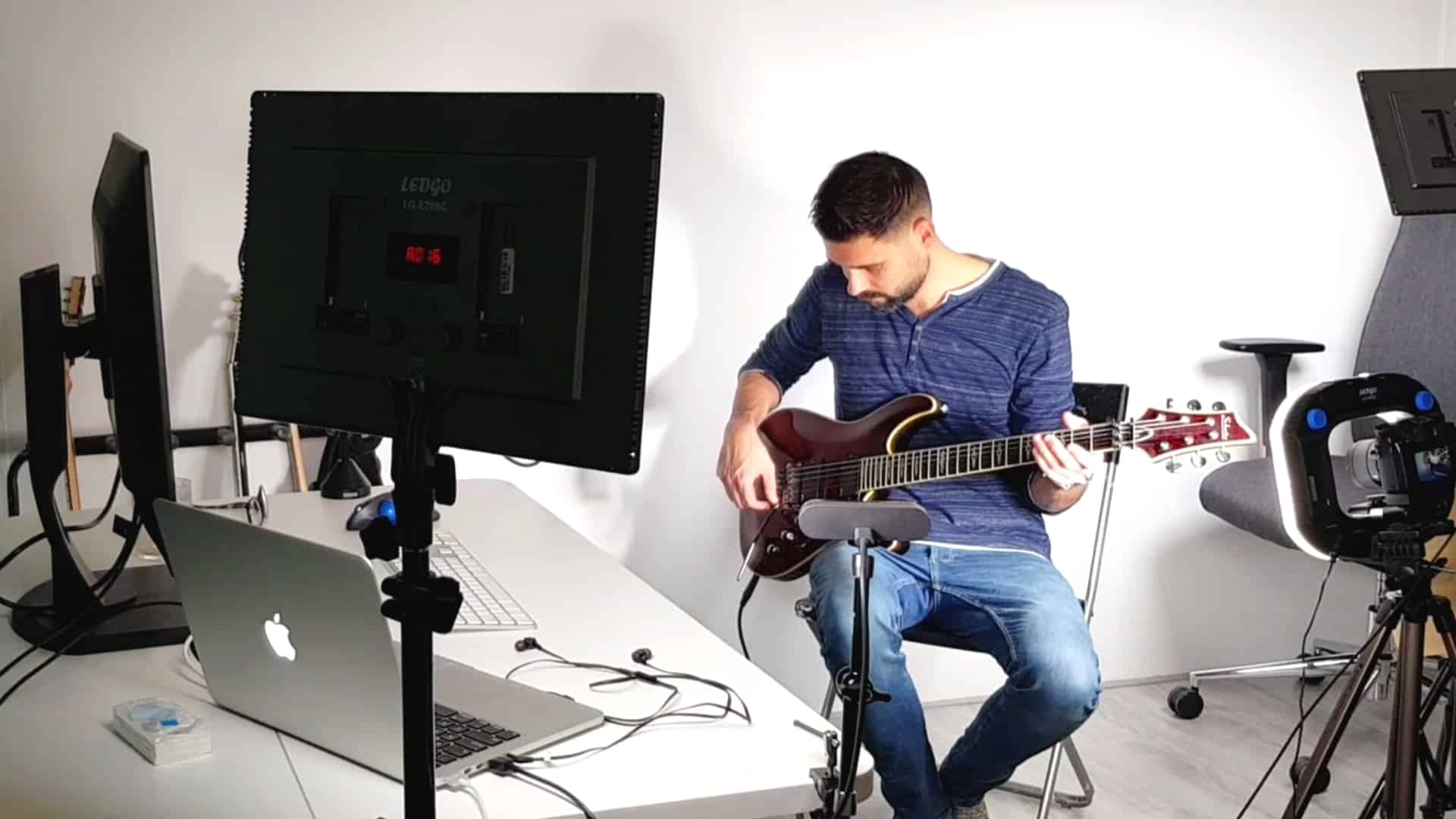 Subscribe