hi there I love creating free content full of tips for my readers, you. I don't accept paid sponsorships, my opinion is my own, but if you find my recommendations helpful and you end up buying something you like through one of my links, I could earn a commission at no extra cost to you.
Learn more
Line 6 is a brand that most guitarists know, but how much do you really know about them?
Line 6 is a manufacturer of digital modeling guitars, amplifiers (amplifier modeling) and related electronic equipment. Their product lines include electric and acoustic guitars, basses, guitar and bass amplifiers, effects processors, USB audio interfaces and guitar/bass wireless systems. The company was founded in 1996. Headquartered in Calabasas, California, the company imports its products primarily from China.
Let's look at the history of this awesome brand and find out what they've done for the music world.
Revolutionizing Music: The Line 6 Story
Line 6 was founded in 1996 by Marcus Ryle and Michel Doidic, two former engineers at Oberheim Electronics. Their focus was on serving the needs of guitarists and bassists by developing innovative amplification and effects products.
The Intercompany Collaboration
In 2013, Line 6 was acquired by Yamaha, a major player in the music industry. This acquisition brought together two teams known for pushing the boundaries of what's possible in music technology. Line 6 now operates as a wholly-owned subsidiary of Yamaha's global guitar division.
The Launch of Digital Modeling
In 1998, Line 6 launched the AxSys 212, the world's first digital modeling guitar amplifier. This groundbreaking product offered unique features and performance resulting in numerous patents and a de facto stage standard.
The Line 6 Promise
Line 6 is committed to giving musicians access to the tools they need to make their music. Their focus on technical innovation and easy-to-use products has resulted in dramatic leaps forward in the industry. Line 6's love for making music is evident in everything they do, and they are proud to serve the needs of musicians around the world.
History of Line 6 Amplifiers
Line 6 was born out of a love for making great sounds. The founders, Marcus Ryle and Michel Doidic, were working on wireless guitar systems when they thought of a promise they made to themselves: to stop building products that were just "good enough." They wanted to build the perfect product, and they knew they could do it.
Patented Technology
To achieve their mission, Ryle and Doidic collected vintage amps and went through a meticulous process of measuring and analyzing them to determine how each individual circuitry affected the sounds produced and processed. They then had their developers combine virtual circuits to control the sounds, and in 1996, they introduced the first Line 6 product, called the "AxSys 212."
Modeling Amps
The AxSys 212 was a combo amp that quickly became popular due to its affordable price and huge audience reach. It was perfect for beginners and professionals alike, offering dozens of sounds and effects that complemented any playing style. Line 6 continued to innovate and launched the Flextone series, which included pocket-sized amps and pro-level amps that were designed for fast and easy use.
The Helix Series
In 2015, Line 6 introduced the Helix series, which offered a new level of control and flexibility. The Helix series was designed for the modern musician who needs access to a wide range of sounds and effects. The Helix series also introduced a new wireless technology called "Paging" that allowed users to control their amps from anywhere on stage.
Continued Innovation
Line 6's commitment to innovation has led to the development of impressive products that have changed the way people think about amps. They have continued to introduce new technology, such as the patented "Code" technology that offers a new level of control and flexibility. Line 6's website is a great resource for people who want to learn more about their amps and the technology behind them.
In conclusion, Line 6 has come a long way since its inception. From humble beginnings to becoming a leading brand in the amp industry, Line 6 has always been committed to quality and innovation. Their patented technology and meticulous process of measuring and analyzing individual circuitry have led to some of the best-sounding amps on the market. Whether you're a beginner or a pro, Line 6 has something for everyone.
Manufacturing Locations of Line 6 Amps
While Line 6 is based in California, the majority of their products are manufactured near the state. The company has partnered with HeidMusic to produce their equipment, which has resulted in a greater variety of products being produced at a lower cost.
Line 6's Collection of Amps and Equipment
Line 6's collection of amps and equipment serves a variety of guitar brands, including:
Spider
Helix
Variax
MKII
Powercab
Their amps and equipment are modeled after boutique and vintage amps, and include a variety of configurations to select from.
Line 6's Collaboration with Reinhold Bogner
Line 6 has also formed a collaboration with Reinhold Bogner to develop a valve amp, the DT25. This amp combines old-school power with modern micro-technology, making it ideal for recording sessions and live performances.
Line 6's Loop Creations and Recorded Loops
Line 6's amps and equipment also include the ability to record loops and select from pre-recorded loops. This feature has been used by many guitarists to create unique sounds and compositions.
Line 6 Amps: Artists Who Swear By Them
Line 6 is a major player in the live music world, and for good reason. Their Helix processor is an extremely popular and widely used piece of equipment that is famous for its quality and innovation. Some of the artists who use the Helix include:
Bill Kelliher of Mastodon
Dustin Kensrue of Thrice
Jade Puget of AFI
Scott Holiday of Rival Sons
Reeves Gabrels of The Cure
Tosin Abasi and Javier Reyes of Animals as Leaders
Herman Li of Dragonforce
James Bowman and Richie Castellano of Blue Oyster Cult
Duke Erikson of Garbage
David Knudson of Minus the Bear
Matt Scannell of Vertical Horizon
Jeff Schroeder of Smashing Pumpkins
Jen Majura of Evanescence
Chris Robertson of Black Stone Cherry
Jeff Loomis of Nevermore and Arch Enemy
Relay Wireless System: Perfect for Live Playing
Line 6's Relay wireless system is another product that has gained a lot of popularity in the live music scene. It's widely used by guitarists who need the freedom to move around on stage without being tethered to their amps. Some of the artists who use the Relay system include:
Bill Kelliher of Mastodon
Jade Puget of AFI
Tosin Abasi of Animals as Leaders
Jeff Loomis of Nevermore and Arch Enemy
Beginner-Friendly Amps for Home Recording
Line 6 also has a range of amps that are well-suited for beginners or home recording. These amps offer a lot of versatility and are perfect for experimenting with different sounds.
The Controversy Surrounding Line 6 Amps
Line 6 amps have been the subject of much abuse online, with many buyers reporting that the factory presets fall short of expectations. Some have even gone as far as to say that the presets are so bad that they're unusable. Whilst it's fair to say that Line 6 has had its fair share of bad press over the years, it's important to consider a few things before judging the brand too harshly.
The Evolution of Line 6 Amps
Line 6 is a maker of music equipment centred in California, and it's been around for over two decades. In that time, the company has released a lot of different types of amps, each with its own unique sound. Line 6 is also the maker of the popularized Variax guitar collection. Whilst Line 6 has made some unfortunate missteps along the way, it's fair to say that the company has also made a lot of improvements over the years.
The Sense of Fairness in Judging Line 6 Amps
It's also worth noting that Line 6 amps are manufactured in China, whilst the majority of American and British amps are produced in higher-cost factories. Whilst this doesn't necessarily mean that Line 6 amps are poor quality, it does mean that they're often judged unfairly. In fairness, Line 6 has created a lot of good amps over the years, and whilst they may not be to everyone's taste, they're certainly worth considering.
The Line 6 MKII Series
One of the most popular Line 6 amp series is the MKII. These amps were designed to combine Line 6's expertise in digital amp modelling with traditional tube amp design. Whilst the MKII amps have received a lot of praise, they've also been the subject of some criticism. Some users have reported that the amps don't quite match up to the sounds they were anticipating.
The Orange and American British Amps
Another thing to consider is that Line 6 amps are often judged against the likes of Orange and American British amps. Whilst these amps are undoubtedly great, they're also much more expensive than Line 6 amps. For the price, Line 6 amps offer plenty of value, and whilst they may not be perfect, they're certainly worth considering for anyone who's looking for a new amp.
In conclusion, whilst Line 6 amps have had their fair share of problems over the years, it's important to remember that they've also created some great amps. Judging Line 6 amps based on their presets alone is unfair, and whilst they may not be to everyone's taste, they're certainly worth considering for anyone who's looking for a new amp.
Conclusion
Line 6's story is one of innovation and pushing the boundaries of what's possible in music.  Line 6's products have revolutionized the way we make and enjoy music today.  Line 6's commitment to quality and innovation has resulted in some of the most impressive guitar equipment available.
I'm Joost Nusselder, the founder of Neaera and a content marketer, dad, and love trying out new equipment with guitar at the heart of my passion, and together with my team, I've been creating in-depth blog articles since 2020 to help loyal readers with recording and guitar tips.
Check me out on Youtube where I try out all of this gear: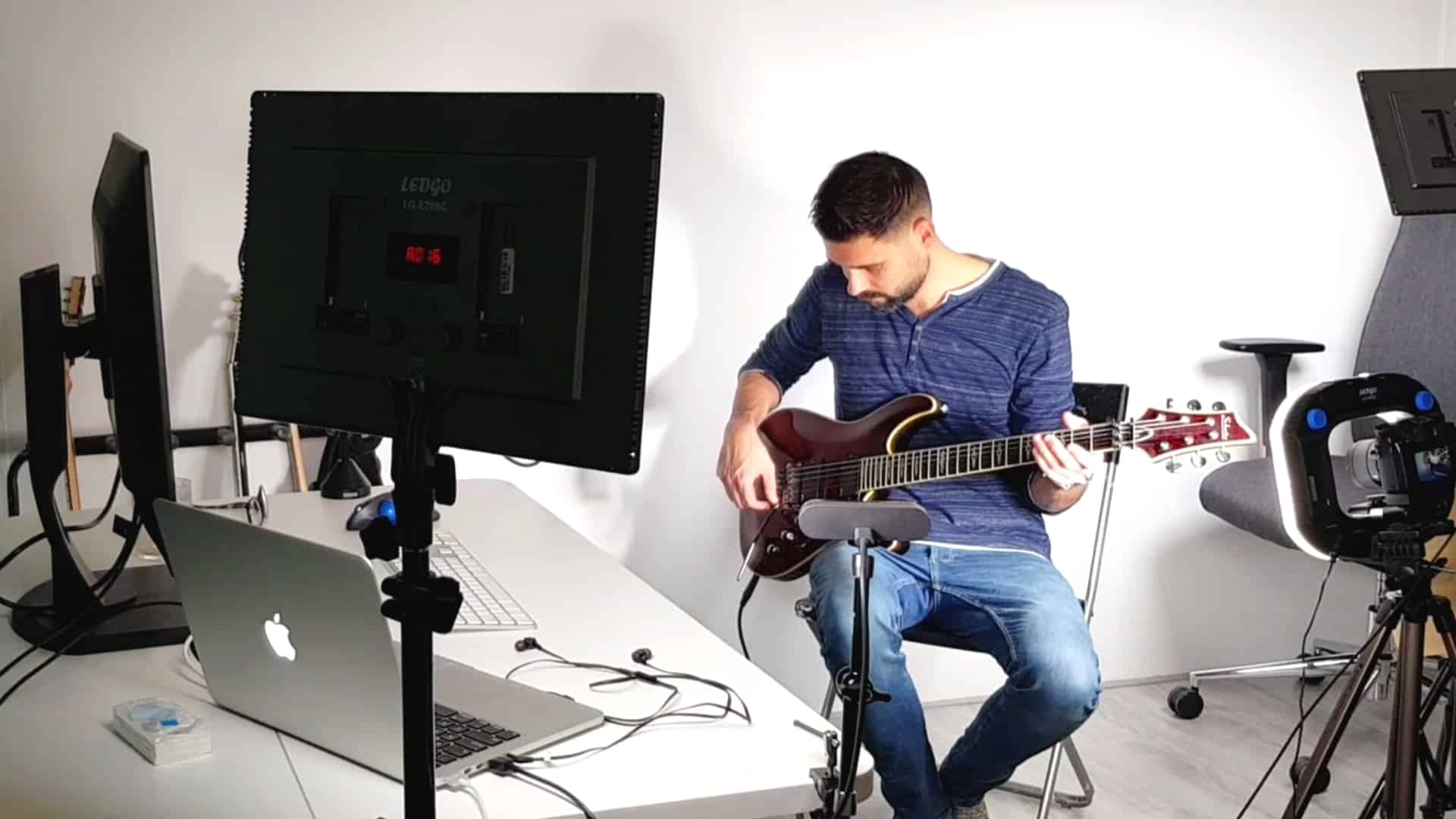 Subscribe